SellTheTrend Review: The Pros and Cons 2023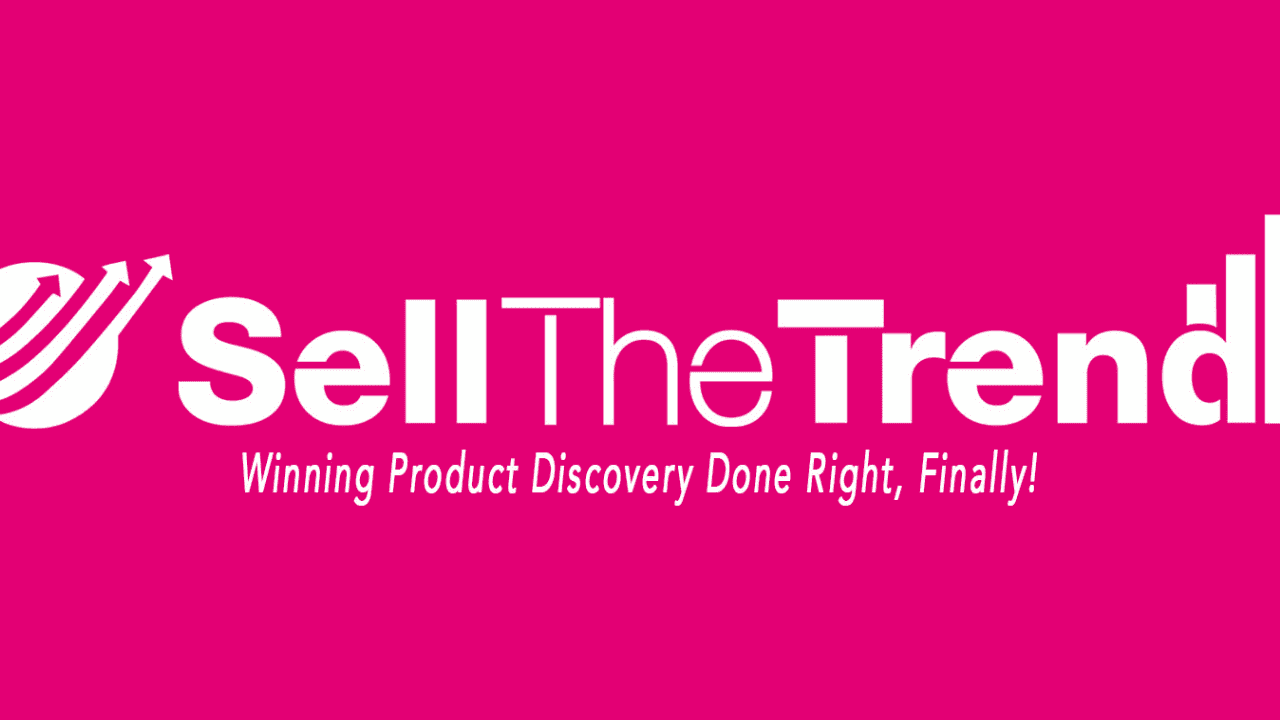 5.
SellTheTrend Review: The Pros and Cons 2023
Have you ever heard of Sell The Trend? Well, perhaps not! As you've already known – winning products can still be found using tools that offer you the best product research experience.
Many tools are only replicating other functioning tools and upload products that are not in fashion, knockoff products, and counterfeit products.
While researching, I stumbled upon this tool that has impressed me the most. Of all the research tools for trending products to sell in 2019, Sell The Trend has gone farther ahead as an essential tool for searching for hot-selling dropshipping products, more so for Shopify store owners.
Read along, evaluate, and justify if this product research tool will give you trending products to sell in 2019.
A Quik Summary Of Sell The Trend App
On a personal level, what caught my attention about Sell The Trend research tool, is the effectiveness of the product research icon and other extra features in the app.
This makes it seems like you have subscribed for so many plug-in tools – meanwhile, they are all a function of a single tool.
On the sleek dashboard, you can view about 2 million active and trending products that cut across Shopify, Amazon, AliExpress, Facebook, etc.
Presently, there are about 2.3 million products of which about 29,038 are new, about 4,077 hot trending products, and 257 news stars – which presumably is a result of customers' attestation to a product as being satisfactory.
Another fantastic feature of the Sell The Trend product research tool is the tutorial section; it includes about 9 HD videos on how to use the research tool effectively.
There is a link icon to the support Facebook page, where you have about 1000 members having discussions and bringing notifications about top trending products. This shows that many people are using the tool; Sell The Trend!
You will get firsthand information and inspiration on the kind of product to sell, Facebook ads, Shopify dropshipping store product samples, and lots more.
They offer a free 7-day trial for anyone to signup and check out the research they provide without any cost!

For a more in-depth review, then read on below!
Firstly, let's review the tools that could be found in Sell The Trend and what each tool does
In this review section, I will take you through Sell The trend App
Sell The Trend: The additional features on it
Favorite product of your choice To Your Wishlist
In every corner of a product listed, there is a red heart icon on the edge of the product or store of Facebook ad.
It saves you the stress of having to get worried every time you scroll down, to search for products, ad or stores that caught your interest.
It auto adds it to your favorite when you press the red heart.
Assuming you stumble on a product, and you will like to revisit the product as you find it to be a great product to sell. Check for the heart icon on the top corner and click on it.
Interestingly, you will also be able to see other popular stores that are selling the products. Isn't that beautiful?
The Product Filter Functionality
On each tool, there is a whole filtering option, to trim down your niche to the most relevant. You can't just exhaust all, am pretty sure!
When you select a product, there is a filtering and sorting tool that can tailor your search to the bare minimum niche for your business; you will get access to both the sorting and the filtering options. I believe that's awesome!
Ease of Sorting Products
The result of each search operations can further be niche down – using the sort tool and the kind of categories that can be sorted.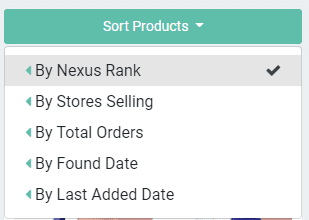 The categories are equivalent to a broad niche or general terms of products — examples of jewelry, furniture, kitchen, health, and beauty, etc.
That's cool, especially if you are still on the lookout for a niche to settle down for – on your dropshipping store. It gives you some idea and inspiration.
What's on this Page Preview Feature
"What's on this page" text is to display short description function of what the current tool does when you scroll your mouse over the tool.

Besides, there is also a "video play button" next to it – to give you a video demonstration on how the tool functions. It makes every tool simple and easy to use
What The Dashboard Entails
On the dashboard, the following section is available:
AliExpress product trend explorer
Amazon product trend explorer
The Nexus product trend explorer
Shopify product trend explorer
Facebook product trend explorer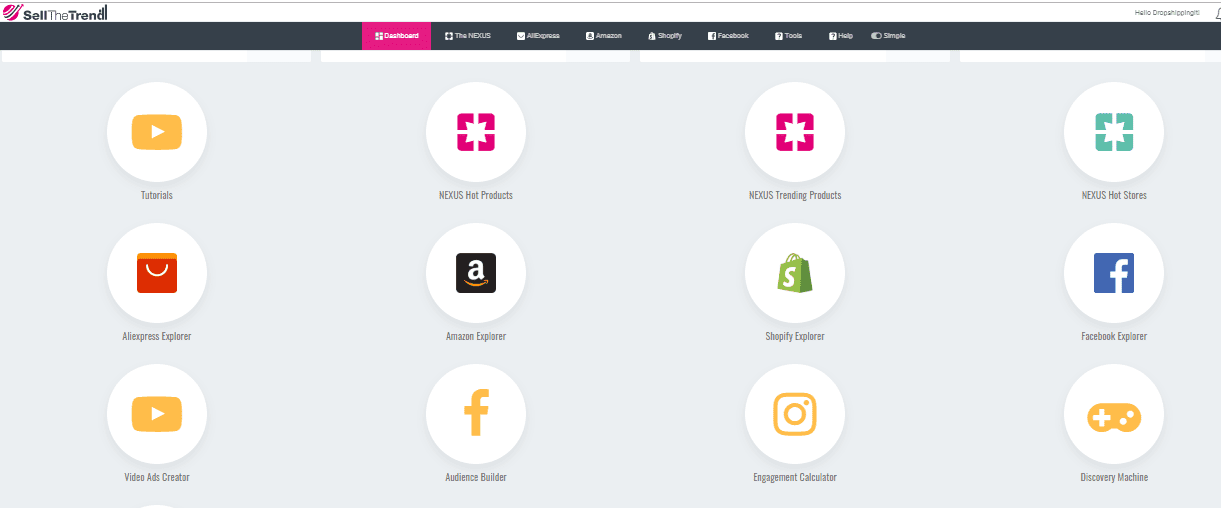 These sections are sub-categorized into various categories such as trending products, hot products, all products, new products, hot stores, favorite products, trending stores, and "on the rise" products or stores. All these are below each of the main platforms, and they are relevant to each platform. For instance, stores are related to Shopify, and products are relevant to Amazon or AliExpress.
AliExpress Product Trend Explorer
With AliExpress product trend explorer, you will be able to see all the hot products, the hidden gems on AliExpress and the new stars. That will be awesome right? With AliExpress product trend explorer view, you can see the products that are selling fast and the movers and shakers of your niche category.
Like I have explained above, you can filter and sort your products search using the filtering and sorting tool. Example, you can filter your search results to show only the products that are priced at a particular amount or to show only the products that have over a specific amount of all-time orders.
You can even sort out the product to check if that product has a video or not. In addition, you can view the results by category, trending points, and niche. You can also use their pre-defined subcategories for trending products, hot products, and new products.
Another beautiful feature of this great trend explorer is that a graph is attached to each product to project the information – like the number of orders the product has amassed over time.
This graphical representation would mean that – you need to only look out for products with a graph that is projecting higher as this implies high demand for such product.
Another inference from this graphical analysis is that a graph with a flat projection line, i.e., parallel graph line which is gradually moving up and up – would mean that there is a gradual demand for such product.
This is an effective method and simple tool for searching AliExpress to find trending products. Again you can click through to buy the product or view further product research.
My Thoughts on Aliexpress Trend Explorer
On a personal note, it's awesome that you can view the way a product is selling on AliExpress by judging it based on the orders within a particular period.
Obtaining this type of product data can be quite overwhelming without the graphical representation tool due to a large number of available products as you keep scrolling.
So, whenever new products start popping up, you can have a look at its data before deciding on whether to add it to your store or discard it without stressing yourself in making a decision.
Amazon Product Trend Explorer.
Without much hassle, Amazon is already known to be a great site to conduct product research, to see what sells online well and what doesn't. Amazon product trend explorer on Sell The Trend will enable you to view products from Amazon.com and a link in trying to find such products on AliExpress too.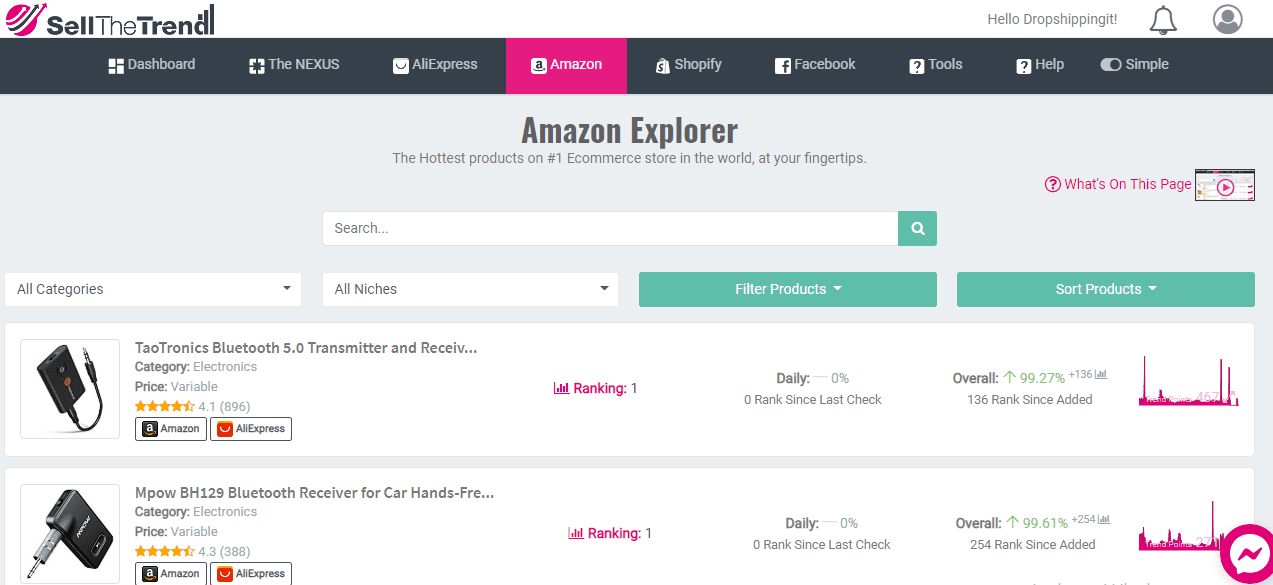 The tool will enable you to view the hidden gems, hot products, new stars on Amazon, daily variable (up or down products), product rankings, product ratings, average sales, and other categories.
Each product Trend points could also be provided – just like AliExpress trend explorer. You can view the rate of increase per day and the overall level of increment since the product began getting tracked. Also, some popular products have their Nexus product research tabs.
My Take On Amazon Explorer Feature
Honestly, it is amazing that you won't need to go to the Amazon platform anymore to manually check how a product is ranking in its category. One drawback is that; just like on Amazon itself, you can't sort out dropshipping products on the Amazon trend explorer.
But, it will definitely give you an idea on how a product is performing, how hot it is in the market zone – like any product selling well on Amazon hardly sell less on other platforms.
Nexus Product trend explorer
Nexus – This is another powerful product research machine. It is once equated to the Holy Grail of winning product discovery, and this is unquestionable – seeing how powerful its tools are. If you are the busy type drop shipper who does not have the time to search for the best product manually, and you are not interested in the above tools, then this is the right tool for you.
It has a unique feature which combines all the above features right from showing you the trending products, hot products, on the rise products, navigate through an endless list of products, search for products and the filter tool. It even enables you to view which Shopify stores are trending and hot.
For instance, when you choose a product, you can check the number of stores selling the products, the product price, product name, first and last seen, the link to the original store, product link to the original store and product and also best product alternative on Amazon, AliExpress and Facebook.
Take a product, for example, a phone case – the number times it has been ordered is said to be about 70,000 times. You can also see the product cost from what could be found on AliExpress, Amazon, the profit margin, selling, and total estimated sales.
When you click on the product research icon, you will see the real trending chart and all the stores that are selling the same product. In addition, you can also check if the product comes with an AliExpress video.
The Facebook targeting feature is another fantastic tool which gives you a quick start tab, websites, exciting brands, societies, communities, pages, jobs, magazines, and movies to the target audience. Where they don't have targeted ads, you can then use the built-in audience to create your own.
After selecting a product, you can click on the link to AliExpress or Amazon to know if a seller has been selling the product or evaluate if it could be a good FBA product. Additionally, you can also search for the product on Facebook and view posts videos and ads using the product.
There is a video ad for a product that has been viewed for over 3.5 million that can link to the sales page. The tool does a lot, and the video will explain everything to you.
There is much power in Nexus tool due to its very detailed research results.
Conclusion On Nexus Explorer Feature
Definitely, this is awesome. You can find lots of products that you can sell in your store, and you can have lots of data about the products. You will even see how relevant the products are, hot products section which you will all see in less than 10 seconds to find.
Shopify Product Explorer
This is a wonderful tool that gives you two options; the product option that allows you to search for products and the product store explorer that allows you to search for specific stores that are using Shopify.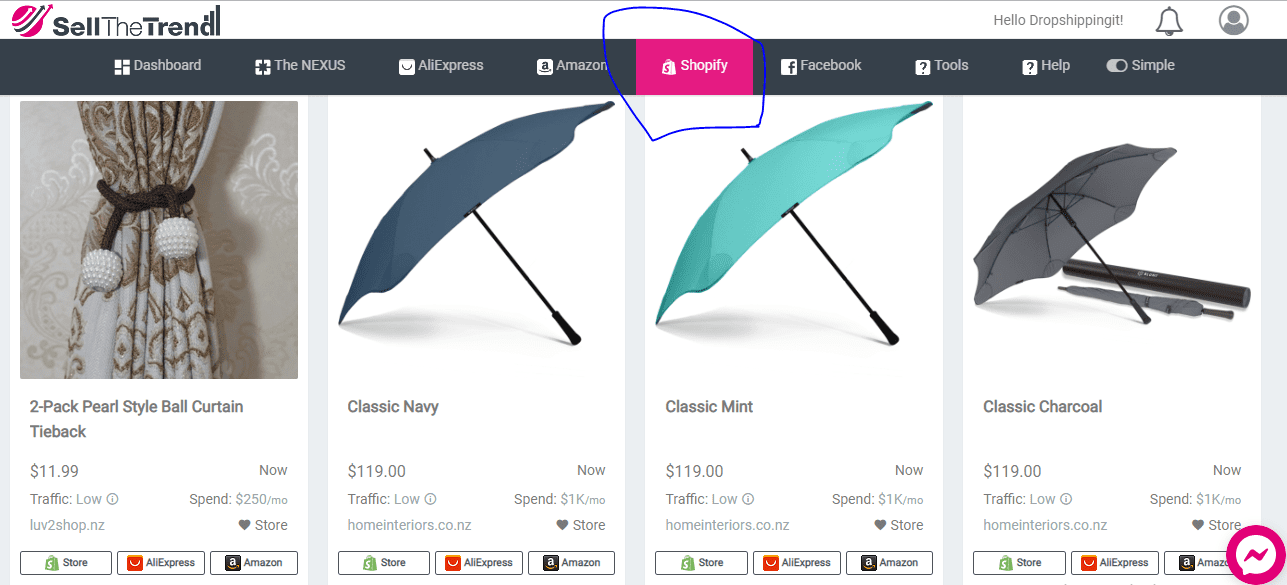 The product options also show the tracking of every product from every store. Apparently, it appears that Shopify product explorer has a vast database, perhaps from Builtwith.com, which allows them to trail for new Shopify stores and existing ones and new products.
You can search for products, view specific niches, and categories. Just like other explorer tool, lots of filtering and sorting of products are available to you through a number of categories. Also, all the products link to Amazon, AliExpress, and other Shopify store could be found.
One great feature in Sell The trend is that; you can filter your results by clicking on the "dropshipping Verification status" to only show you products that are certain to be from stores that enable dropshipping. Any other store that doesn't support drop shipping will be left out.
The Shopify store explorer, on the other hand, track and shows all Shopify store that is currently available. This feature also allows you to apply the filter tool, and you can filter the dropshipping stores as well. This will only show you the Shopify stores that will enable you to dropship.
As you've already seen in other explorers, there are lots of data that are made available to you. Other than just filtering out the dropshipping stores and Shopify name, the product pricing, estimated tech spent by the store ( eg. Shopify apps or plug-ins), when the product was last found, tracing or tracking of the store (including its facebook likes) and estimated traffic per month from each store (and if no information about the store could be found – it will merely show -"low traffic"). Daily orders, Alexa rank, social network profiles, and product links are also parts of the information that could be found.
My Take on Shopify Product Explorer
One thing is that – not all dropshipping stores are "Dropshipping verified," so you can search without enabling filter if you can't find more dropshipping stores. It's an easy way to find Shopify dropshipping stores that are available out there; you will also see what every store is doing with their home pages, product descriptions, and other information.
Facebook Product Tool Explorer (Ad Spy)
When you use Facebook as a source of data, you could enjoy two benefits; the Facebook Ads explorer and the Trackable Ads section.
With the Facebook Ads explorer, you will see the current best selection of Ads, including a wide range of older Ads and new Ads.
The Facebook Ads can be filtered by post date (e.g., last seven days, last 39 days, etc.), post type, photo ads, video ads and through engagements such as the number of shares, likes, most viewed, clicks, reaction, post count and post comments, etc.
This is an excellent tool for finding winning product Ads and their websites. As many people do, they link out to bit.ly to their stores or use keywords such as free, buy now or bit.ly to find eCom as this is found to be an excellent way of finding Ads.
Interestingly, you can even type a keyword that you might have used it when searching for ads on the Facebook search menu! Example free shipping, 50 / 60% discount, limited supply, etc. One compelling feature of this tool is that; it enables you to select ads that are trackable.
The ads that are track-able will show you Facebook ads with a link that can be tracked. Just like bit.ly where you can add a + at the end of the URL to view additional information about the link. At the same time, you can filter the Facebook ads and also sort them out just like other explorers.
My Thoughts on Facebook Ad Explorer
There are lots of available options and categories to filter and sort out search results. This tool incorporates everything you need to find the perfect Facebook Ads to enable you to enjoy the best ads.
Dropshipping Ads can be sorted out as well to see few ads from other stores and pages that support dropshipping from those that do not. Although it might seem challenging to find Facebook Ads from dropshipping stores, it equally gives you a lot of options to search.
There are other tools on offer that could enhance the functionality of the Sell The Trend platform. They include;
The Audience Builder Tool.
An audience builder tool is a tool that allows you to input a particular keyword.
The software will automatically generate similar keywords and target audience to match the entered keyword and gives you the target audience over Facebook and Instagram Ads.
With this, you can target a streamlined set of people that needs your product and are if common interests. You'll be able to target a defined group of audience, brands, societies, and public interests.
Video Creator Tool.
You can upload product images, choose image and text options, video frame. Even select your favorite music, and finally, get your video done.

The tool allows you to import your images within seconds and select the order of the photos by clicking the icons to arrange them to suit your taste. At the top bar, you can add "set text options" to display your brand name on the final screen either, bottom or middle.

The royalty-free music will also give the right feel to your video, and within a few minutes, your Ad video is ready to be uploaded. The tool is fantastic and comes in your membership.
Sell The Trend: My Conclusion
I highly recommend Sell the trend product hunting tool, there are other Product hunt or spy tools out there, but none has the uniqueness compared to this one. You thinking am bluffing? Well, try Free 7 days trial of Sell the trend and share your experience with us.