Discover Shopify Payment Providers For Dropshipping Store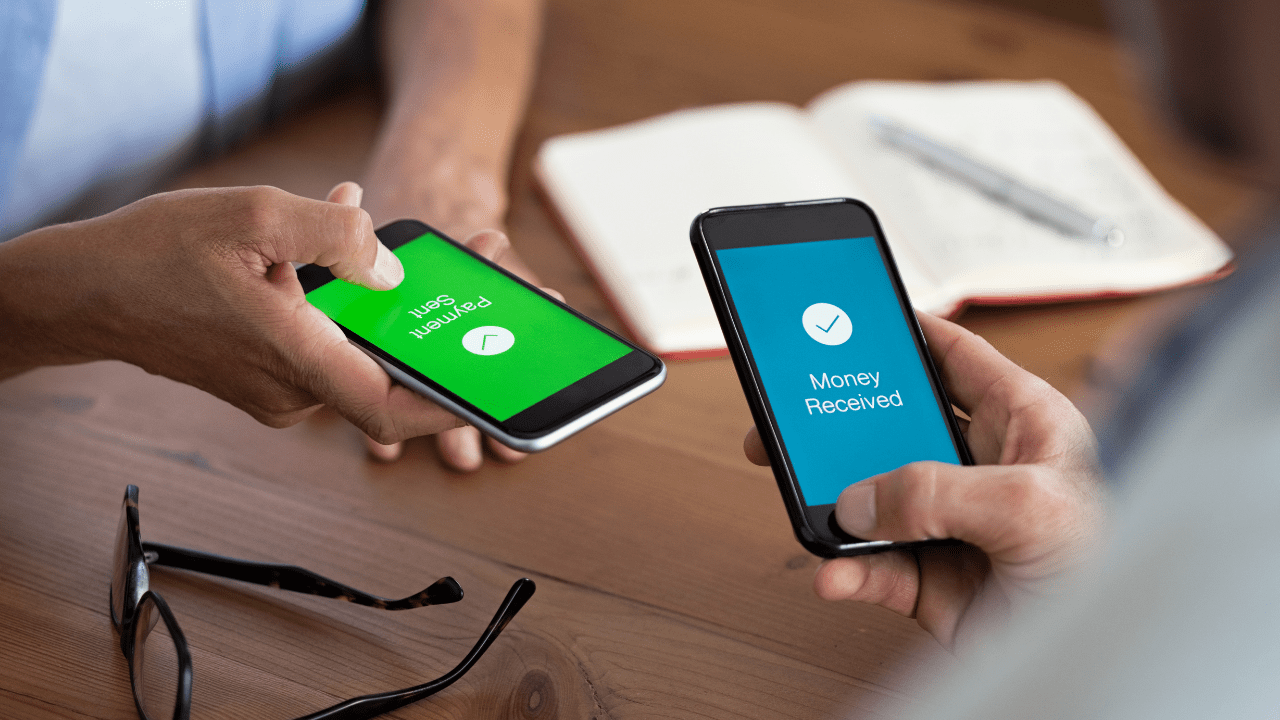 The next part we'll look into in this section is the actual settings of the store. And the first in line is Shopify Payment Providers.
You'll have to set up your Shopify Payment Providers, and the payment processors that you crucially need on your store include PayPal and Shopify payments or Stripe if you don't have access to shopping payments in your country. 
Shopify Payments
So, to install Shopify payments, go to activate Shopify payments, and then it will walk you through a step-by-step process to install everything.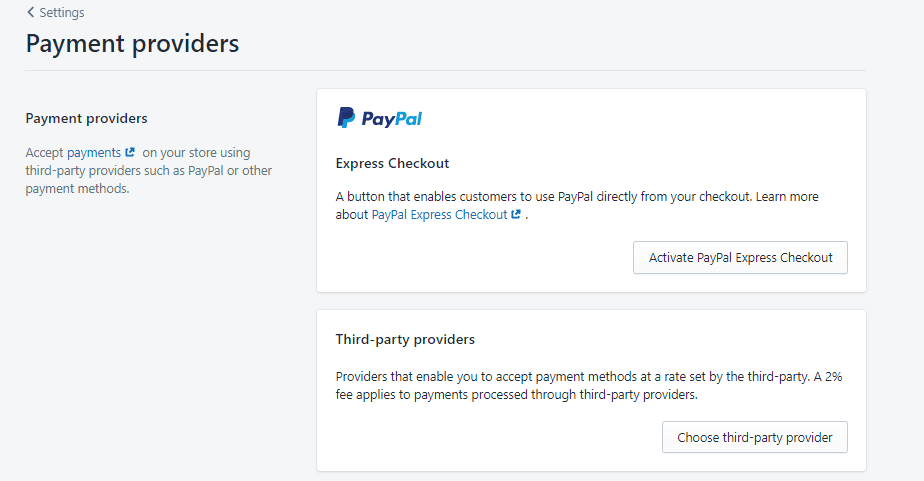 In case you don't have an LLC or a corporation, choose an individual or sole proprietorship, fill in your address, your city, and postal code, that would be your house. 
If you have a business, in the Business type box put corporation, fill in the legal business name.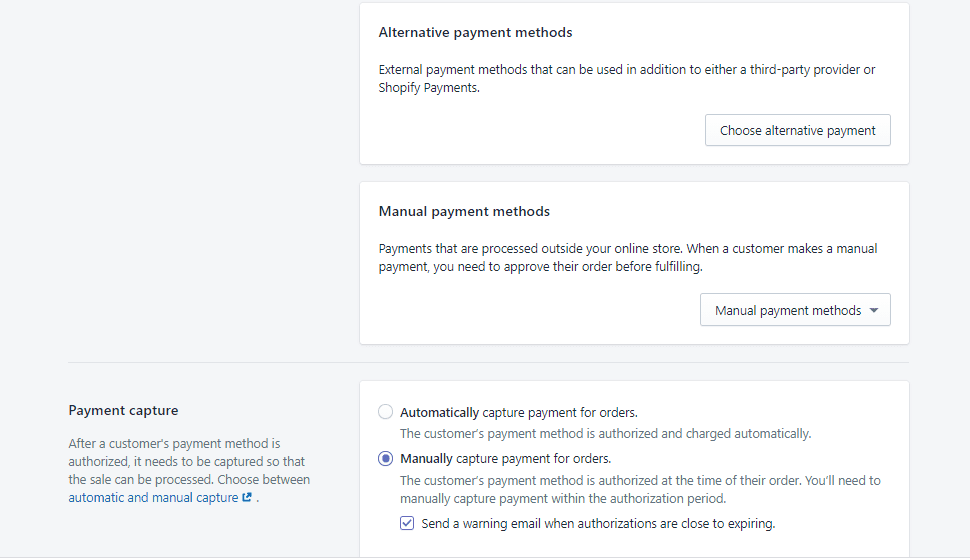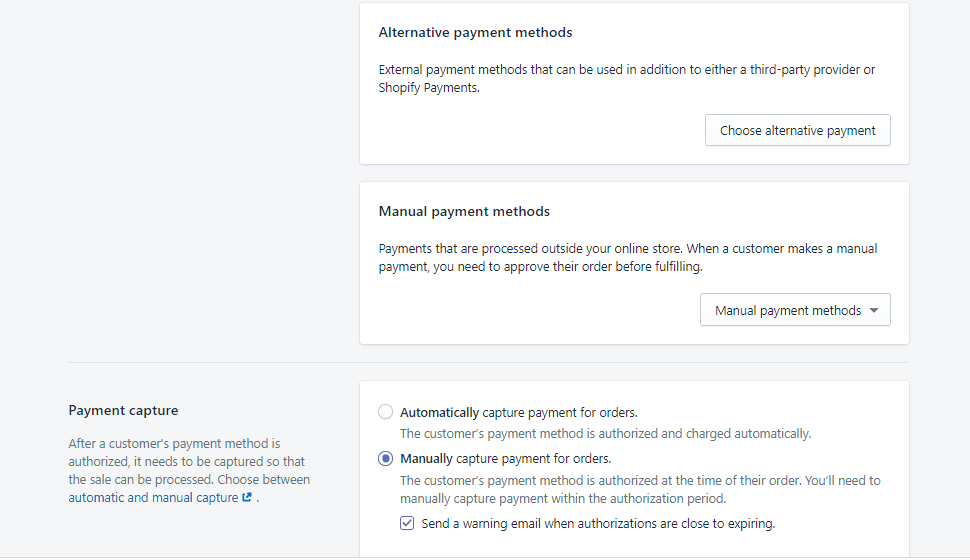 Then for your details, you'll put in your personal information hit next, and it's going to ask you for a bank account.
So you want to put in the bank account that you want to have the money deposited into your account. 
PayPal
Do the same thing with PayPal. First, just go to PayPal.com. You go through the PayPal prompts when installing PayPal.
Ensure that you set up a separate PayPal for your store. 
And then, when you're on the PayPal page, sign up, and you want to click on business.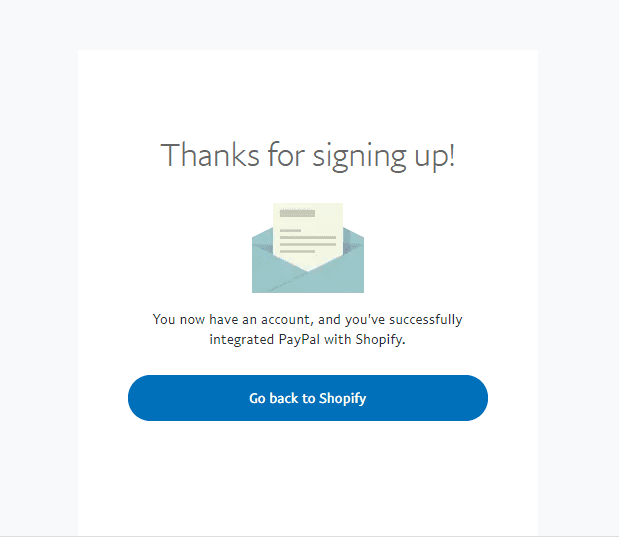 So, sign up for business because if you initially set up a personal account, later on, PayPal will ask that you transfer the personal account to a business account. 
For a corporation to do business, you can do personal if you don't have a corporation.
When you are installing Shopify payments or Stripe, you must scroll to the bottom of the page and ensure that your transit, institution, and account numbers are correct. 
For the Banking info, that's your bank account. So, for your bank country, put US, Norway, Canada, or whichever country you reside in, then for the billing statement, it's what shows up on your customers' credit card info or credit card bills.
So that's why you want to make sure it's apparent. For that put, we'd fill in Smooth Shave now. 
And then, for a phone number, fill in a customer service phone number. 
Either your phone number or if you dislike getting a bunch of calls, you can put like a fake phone number for, and later on, when you do have a support system in place, you can change the number.
Shopify Payment Providers: Checkout
Click on checkout, you'll find in settings, and you're going to customize the checkout options here.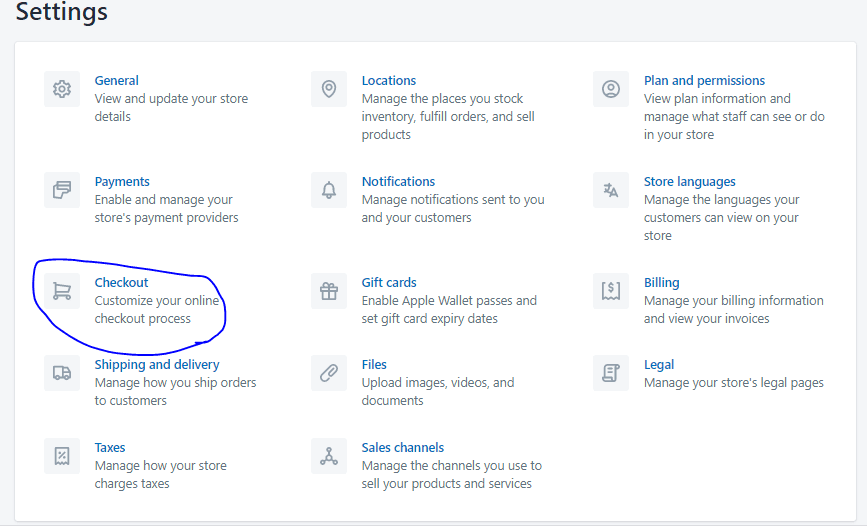 It says choose if you want to prompt your customer to create an account when they check out for customer accounts. If accounts are disabled, I hold that there's no need.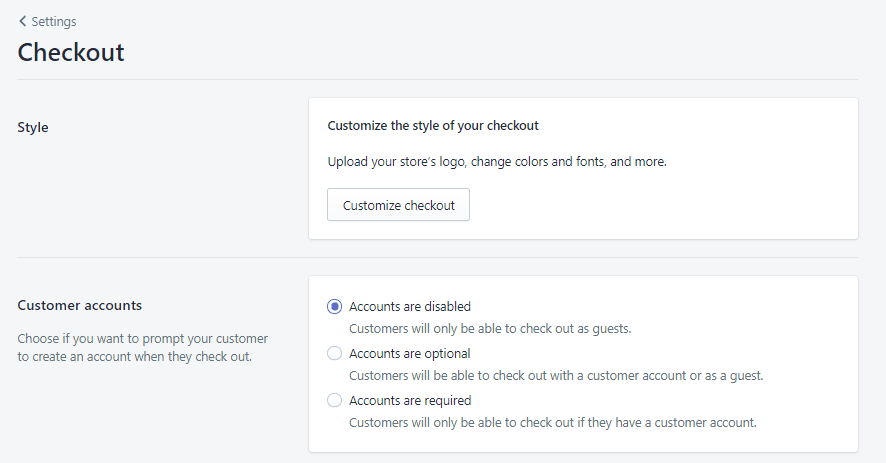 Customer contact, it says choose which contact methods your customers can use checkout & receive updates.
Click on customers can either use email or phone number you have to select this option if you want SMS bump to work-the app that you installed that follows up with them, the SMS Bump app. 
Scroll down, and it says under To receive shipping updates that customers can download the arrive app from the order status page. Leave that checked. It's fine.
Form options need first and me, company name leave hidden, address line 2 leave optional, and phone number leave hidden for the shipping address. 
Suppose you scroll down for the Order processing option. In that case, it reads while customers checkout use the shipping address as billing address by default check that and then for Enable address autocompletion enable that as well.
After an order has been paid, Do not automatically fulfill any of the order's line items.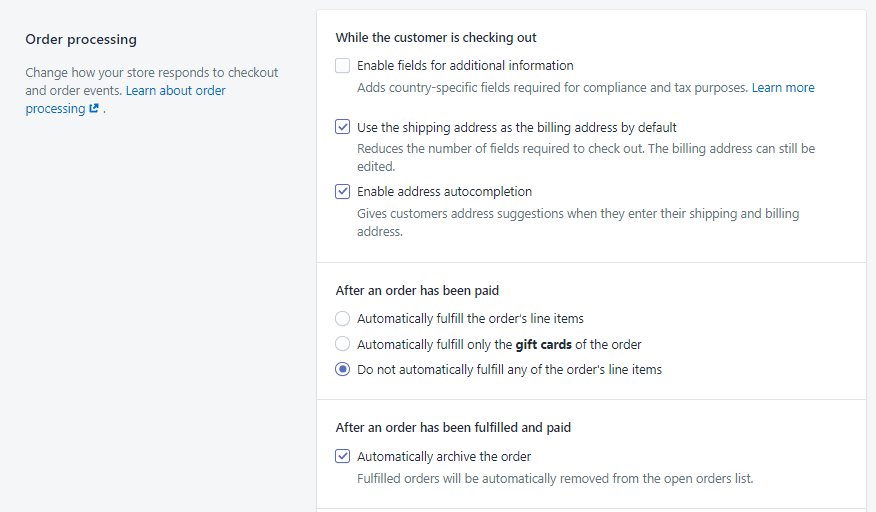 Check this option since you'll fulfill the orders yourself. After an order has been fulfilled and paid, mark automatically archive the order.
Scroll down, and for the Email marketing option, pre-select the signup option that way; you're going to automatically build your email list when people visit your store and signing up.
For abandoned carts, you shouldn't like to use the Shopify default checkout emails. So, turn it off. It's because you'll use Klaviyo instead, and I'll talk about how to use that later.
Billing
If you go back to settings, you want to click on billing, and it's here you want to choose your Shopify plan.
There're different Shopify plans available we'll talk about them about here. 
Go to google and type in Shopify pricing plans. You'll see the different pricings.
Right now, you're on trial; however, you easily convert to the $29 a month plan. You'll have to need to do that by the end of your trial if you want to keep your store and it's cheap. 
You don't have to pay hundreds of dollars per month. As such, $29 monthly would suffice, and then you only need to upgrade to a higher plant.
I suggest that once you're making a lot of sales, you must understand the transaction rates vary. 
That knowledge is essential, and not a lot of people talk about it. If you are, let's say, doing $ 5,000 orders a month, the Basic Shopify 2.9%+$0.30 would be more expensive than the Shopify 2.6%+$0.30 because of the rate per transaction. 
And in that case, you want to go and type in on Google Shopify transaction calculator fees something of that sort and if you proceed and type in your monthly revenue.
So, suppose your monthly income is $50,000. And you're using Shopify payments and on a monthly plan. 
The calculator will show you us that the Shopify plan is a couple of bucks cheaper than both the Basic plan & Advanced Shopify plan.
Now, let's say if you do $10,000 a month, it shows you that the Basic Shopify is cheaper. If you do $200,000 a month, then Advanced Shopify proves significantly less expensive. 
And so that's why you want to use the calculator, and it will help you, especially once you get to these phenomenal numbers like hundreds of thousands.
But again, these monthly turnovers aren't crazy in any way, although, for newbies, the numbers might seem astronomical.
But it's possible, and it's not something that qualifies as crazy in the eCommerce world today. 
Planning permissions is where you go and choose your plan. You can add staff accounts in case you're hiring coders, which we'll discuss here in a second. 
If you have any question about Shopify Payment Providers or the right Shopify payment gateway to activate for your shop let me know in the comment section below.