Give Me 30 Minutes And I'll Give You A Detailed Shopify Review.
This review covers all you need to know about using Shopify to build your store, as well as the pros and cons of this fantastic tool. 
In the world today, the advent of online stores has revolutionized the eCommerce system. You can now get all the products you want to sell in a particular platform and market from there without even owning the products. 
However, the invention of online store builders has also helped in this process as you need not hire programmers to get your store to step up. It would only need you to follow a few steps. 
One would ask, what does Shopify mean, and how do I use it to grow my online business? 
Below is a concise Shopify review to help you all there is to use this fantastic tool.
What is Shopify?
Shopify is an online service as a software tool (Saas) that helps business owners create an online store for their business. 
This tool has a wide range of predesigned templates to suit the taste of all their clients, depending on how you need your store to be. 
Building a store on Shopify is not just restricted to online business; physical business owners can still create stores for their offline products.
What makes Shopify distinct from many other online store builders is the fact that with little or no idea of graphics or web design. You can set up your online shop in a few minutes. 
Though the knowledge of CSS, PHP, and HTML is an added advantage. But without coding, you can still get a well designed Shopify store. 
Shopify is a hosted platform. So your stress of buying a web hosting is drastically reduced, and you don't need to install any software on your system or mobile phone.
Hence, all the information needed to run a fantastic store on Shopify is designed to be very distinct.
In this Shopify review, you will also understand how to customize your store to meet your Customers' needs. You can add apps and other relevant features to your store with unique codes.
As the terms of Shopify apply, you would have to pay some amount of money to maintain the ownership of your store. Shopify gives full access to your store from anywhere and at any time you need to do business.
Currently, Shopify is the host of over 800,000 stores and has at least more than 1,000,000 active users and generates annual revenue of about $100bn sales. With this simple analysis, you can understand that Shopify is out for real business.
You are so thinking of the best place to peach your tent online? Sure Shopify will do the most needful for you. And it wouldn't cost you so much to maintain.
Knowing the company to trust when it comes to online business is essential, especially when it comes to credibility and accountability. 
Not only do you need a company that wouldn't fail in resolving issues with your store, but also a trusted firm that wouldn't close down over time.
As sensitive as this can be, you don't need the stress of moving your store from one platform to another when the system collapses as Shopify is built on an idea that would surely stand the test of time. 
It has a large number of users as well as a well-structured market position, making it almost impossible to experience financial difficulties. So you need not worry about losing your store should Shopify disappear.
The different accessible theme is one of the essential things we would look at in this Shopify review. But before then, let us discuss the plan prices.
Plan Prices
As a client, you choose from any of the five available plan prices:
·  Shopify Lite: $9 per month
·  Basic Shopify: $29 per month
·  Shopify: $79 per month
·  Advanced Shopify: $299 per month
·  Shopify Plus: Pricing this category is very negotiable, but must the within $2000.
Shopify has a very flexible starter plan, with the Shopify Lite at $9 monthly; which is very affordable for new sellers. And the most fantastic part of this plan is that you can add any amount of products you like with total ease.
However, the only set back is that the Shopify Lite doesn't give you the ability to create a customized standalone store, but you can do the following.
You can manage your inventory and as well use Shopify services in a physical business place
You can use sell with Shopify on predesigned website or blog, with the help of the Buy Botton. 
You can market and sell your products on Facebook pages
You can easily track your orders and as well know when these products are delivered with the help of this amazing tool. It was just effectively like the popular global payment gateway PayPal's "Buy Now" button; you can use the button to display all the types of products you have on the store on other websites.
So if you have an already existing business website and want to add a feature Shopify features to spice up your store, you can easily integrate it into the Shopify platform and still keep track of your business. 
However, if you need a fully-functional standalone store, the Basic Shopify plan at $29 monthly, the Shopify plan at $79 monthly and as well as the Advanced Shopify plan at $299 monthly will give you all the needed access to host, customize and create your store to taste into a standalone online store.
Hence, if you have an already established mega business and want access all the advanced comfort and security features a significant business needs, then the Shopify plus plan is a choice you have to try out. You will be given access to advanced security and APIs, as well as a well-organized store. 
Major differences between Shopify plans
The following are the main differences between Shopify plans to aid in your decision of which plan to choose:
 

You can only access real-time carrier shipping services on the Advanced Shopify plan.

 

You can get a professional report on your store functionality from Shopify plan and above

 

In a business where you work with other members as a team, you are allowed two staff accounts on the Basic Shopify plan, five on the 'Shopify' plan and 15 on the 'Advanced Shopify' plan. So you can grant access to information to any staff as you deem fit.

 

Advanced and Shopify plus Plans gives you access to advanced reporting tools, which allows you to create custom reports.

 

You can get Gift cards if you purchase from the Shopify plan and above

 

Only users on the Shopify plan and above can be allowed to use the Shopify POS (Point of sale) Features.
For users who want to pay in bulk, i.e., for annual or biannual, Shopify gives a 10% discount on every yearly plan and a 20% discount on biennial plans. So you can save some money and pay for an annual or biannual plan today.
However, the pricing system of Shopify is consistent as compared to other competitions like Volusion and Bigcommerce, which do not offer relatively expensive plans like the Lite plan, though you don't get a wholly standalone online store; but you get access to all the features at a very affordable price.
The fact that you can only get benefits like professional reporting and gift cards for only plans above the entry-level plans is one con to note. You can only access these features if you pay for a more expensive plan.
Online Store building platforms like Bigcommeerce give a more flexible entry-level approach, with access to many features that can help set up your store well.
Let's take a look at how Shopify lets you accept payments for your products; you obviously would see the benefits of using this platform at this point of the review.
Shopify Payment Gateways and Transaction Fees
On Shopify, you can add your credit card details in two ways:
The first option is to use the Shopify payment system. It is the easiest to use, though not available in all the countries. Do transaction fees applies if you use this system of payment, though you might still have to deal with the credit card rate. 
For customers in the United States, you are expected to pay at least 2.4% to 2.9% on all credit card transaction, and an additional 30 cents on some plans. Countries like the United Kingdom have lower credit card rates of about 1.5% to 2.2%.
Your credit card rate depends on the plan you operate on, with the lowest transaction fees available for Advanced Plan users.
Secondly, you can choose to use a third-party payment platform to process your transactions. Shopify allows you the choice of over 100 payment gateways to choose from, which is the edge it has over its competitions.
To use this process, you need to open an "Account" with the Payment platform, and you might have to pay a particular percentage of maybe a transaction fee, monthly fee or both in some cases.
Using a third-party payment gateway will attract a transaction fee of between 0.5% and 2% depending on your plan. 
However, if you would take the choice of Shopify Payment or third-party payment gateway, with respect to cost, depends on which payment gateway you intend to work with and as well your plan on Shopify.
One thing worth noting about Shopify Payments is that it is available only for users based in certain countries. These are the United Kingdom, Australia, Japan, Canada, Germany, New Zealand, Singapore, China, Ireland, Spain, and the United States.
What options do you have while working with different variants of Products?
However, for sellers outside these countries, you would need to take the alternative of payment gateways which would incur transaction fees. But one fantastic thing is that you need not bother about the best payment gateway that best suits your location, as the platform has over 100 options to choose from.
So far, you can see the fantastic features this great piece holds, next on this Shopify review would be how to import and export data on the platform.
Importing Data into Shopify
Just like most other online store builder platforms, Shopify allows you to add information from Comma Separated Value (CSV) files. It is effortless to use, especially if you want to upload a lot of products into your store, or to transfer information into another e-commerce store or platform.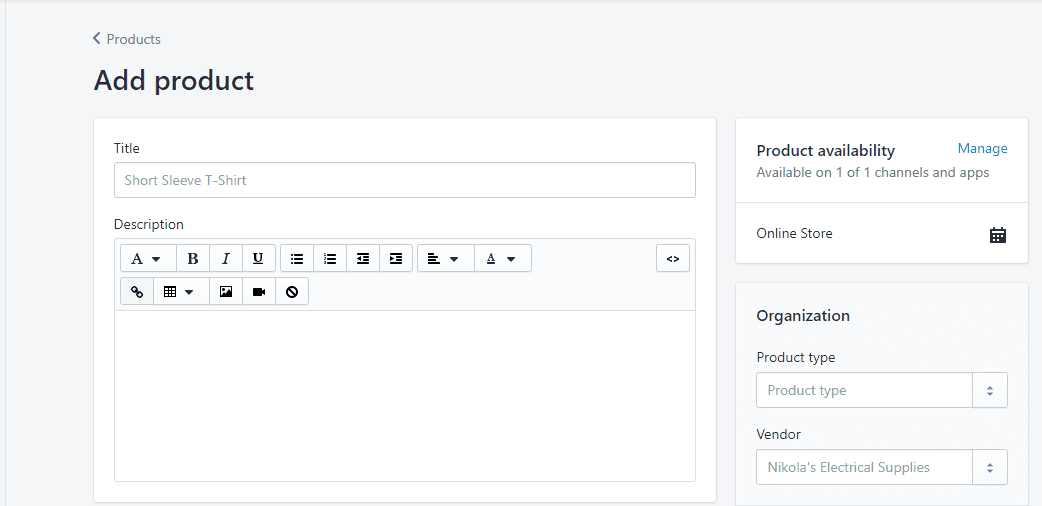 For Shopify Plus customers, you can import products into your store with the Transport app or the command-line tool.
If you want to import posts from WordPress or other blogging platforms like Tumblr, you can either: use Shopify API, use the copy and paste text method or third-party apps like Blogfeeder. 
Exporting Data from Shopify
Concerning exporting data, you can as well export your product data to CSV file; This is a straightforward method. But for more convenience in exporting blog pages and static pages, you can use Shopify's API transfer them from Shopify, or maybe try copy and paste though it is time-wasting.
As a dropshipper, you have up to 100 different variants of a particular product though you can only involve three product options as a choice.
Let's say, for instance. You sell bags, Shopify allows your store to hold up to a 100 different variant of a single suitcase, each would have three different options; these options include Size, color, and style. 
Shopify's strict rules of just three products options you would resort to workaround if you need to facilitate other client requirements, which most times result in extra payment to these third-party apps. 
Another option is to include 'line item property' code to your store to cover more product options, but you'll need to know to code and as well be comfortable with editing code to achieve the desired result.
So if you are dropshipping products that don't require a lot of variants and product options, then Shopify is an option you need to try. And I would recommend that Shopify allows more flexible product options feature like its competition Bigcommerce, so users can add as much product variants as they see fit for their online stores. 
How to use Product Category of Shopify
This Shopify review won't be complete if you do not understand how the platform's product category works; which is one of the most amazing functionalities. Shopify has a superb Collections than even most other online store builders. 
The Shopify platform allows you to add products to your store collections manually, so if you have a vast number of products. Or you can choose to automatically add these products to your right collection with "Automated collections."
This method would save you a lot of stress and time, especially when you adding a lot of products to your online store. You only need to consistently tag your products help the features redirect the products to the specific collection; the automation process only works for products with consistent name tag convention.
Shopify themes 
Shopify grants you access to ten free themes that can be applied to your online stores. Though each of the themes come in up to three variants, so you have a good number of designs to play around with. 
These templates are fantastic and will give a lovely user outlook on all devices. However, you also have a choice of premium themes, that is if you don't find the free ones fascinating enough.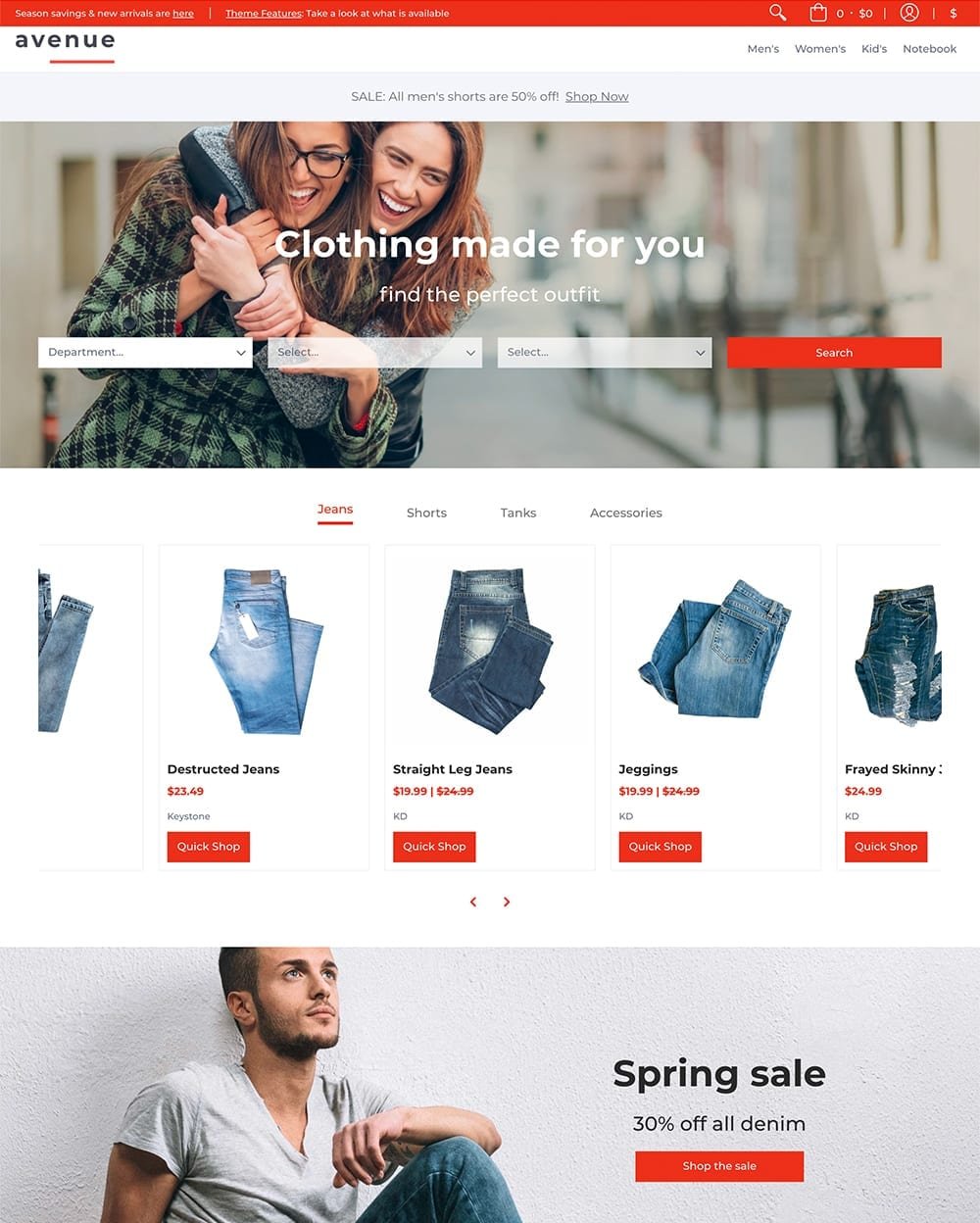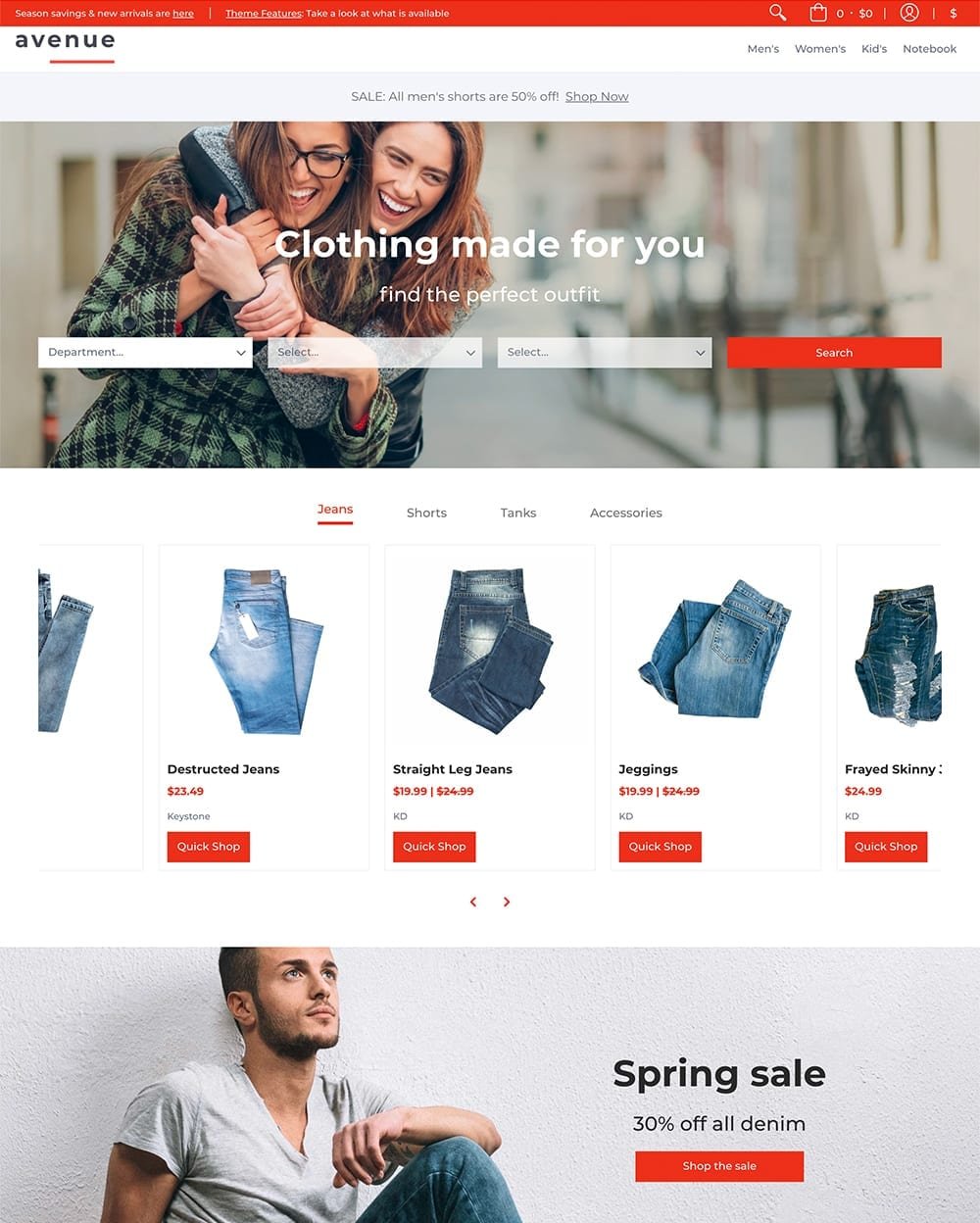 Premium theme prices, ranges from $140 to $180 and there all come in different variants like the free templates too.
All these themes are accessible in the Theme Store; free and paid templates via some amount of filters. You can search for your desired choice by layout style, your industry, and many more. So you can quickly locate the best theme for your store in seconds.
With regards to attractiveness, all the templates are professionally designed to appeal to the eyes, and you obviously would fit the best for your online store with no query.
In some Shopify Premium themes, you can use contemporary features like motion backgrounds, parallax scrolling, and so on, you can get the best e-commerce marketplace theme templates on Shopify.
Apart from offering you the best, there is to design templates, Shopify allows you to create your theme you might want a different thing from what you get. And you can quickly get all the theme codes, with so many support materials to develop a standard Shopify theme of your own, in just a few steps.
However, when deciding on the best theme for your store, it is essential to know if Shopify supports the template or not. Though Shopify supports all the free themes, it is vital to contact a developer to help in the customization and installation of your premium templates.
Basic features of Shopify
We would look into the various functions in Shopify according to the plans:
These features are available to users on the Basic Shopify plan ($29) and above
Wide range of themes (free and paid)

Ability to print labels for product shipping

Discounts on Courier Services (Shipping fees, Depends on the country)

Content Management (CMS) Feature

Search Engine Optimisation (SEO)Features

Discount or Coupon codes on some services

Credit card processing through Shopify Payments as well as other third-party payment gateways

Ability to sell digital and physical products, in categories of your choice and with minimal shipping rates 

Integration with Paypal

Blogging Features

Users can abandon Cart if they wish.

Ability to Import and export of customer/product data

You can create multiple staff accounts (the amount of account you can create depends on the plan you're on).

You can easily edit your store's HTML and CSS

And most importantly the 'buy now' button that helps you to sell goods on another blog or site

Access to a point-of-sale (POS) app

Ability to integrate your store with 100+ payment gateways

Shopify Plan gives you access to the following:

Gift cards

Professional reports

The complete point of sale Feature

Users on the 'Advanced Shopify' plan, on top of all the above you get the following additional functionalities like:

Real-time carrier shipping

Advanced report building
Furthermore, Shopify Plus feature is one thing that makes it very distinct: A mega-business plan that gives you access to the following amazing features.
Advanced security features.

Guaranteed server uptime

Users on this plan get a VVIP type of support via a dedicated 'Merchant Success Manager.'

API support

Special SSL / IP address
Let us take a good look at some Shopify delicate parts that you might want to try out.
GIVE THE CHOICE OF SHOPIFY A TRY…
Contact me to help you choose the right products for your store before adding them, as well as help you with Shopify free trial reach out to my agency oneproductstore.

Do you consider the choice of Shopify to build your online store? Then we can help you with you get the professional design outlook your Shopify store needs today and get you up and running with 100% ease.
Shopify Point-of-Sale (POS) Feature
It is one of the most compelling features offered by Shopify, and it deserves a special notation. The 'point of sale' (POS) options and hardware make Shopify stand out from its competitors.
This POS hardware lets you use Shopify to sell, both online and to customers in a specific location; so long as you have an Android or iOS phone. There are so many hardware is available to purchase ( receipt printers, barcode readers, tills, etc.) to help you do this.
There are several applications for Shopify's point-of-sale tools: For example, it allows you to sell in a pop-up shop from a market stall at an event or even in a permanently located retail outlet. And you are yet keeping your inventory and stock count automatically synchronized.
Note that however, you need to be on the 'Shopify' plan or higher to get the most out of the point of sale (POS) Services. Why do I say this? Even although the 'Lite' and 'Basic' plans also let you sell in person using a card reader, they do have to:
Facilitate staff PINs 

Register shifts
Shopify Interface compatibility
Shopify is straightforward to use, and it has a brilliant and professional outlook. The platform allows you to set up and manage a variety of what it calls "sales channels."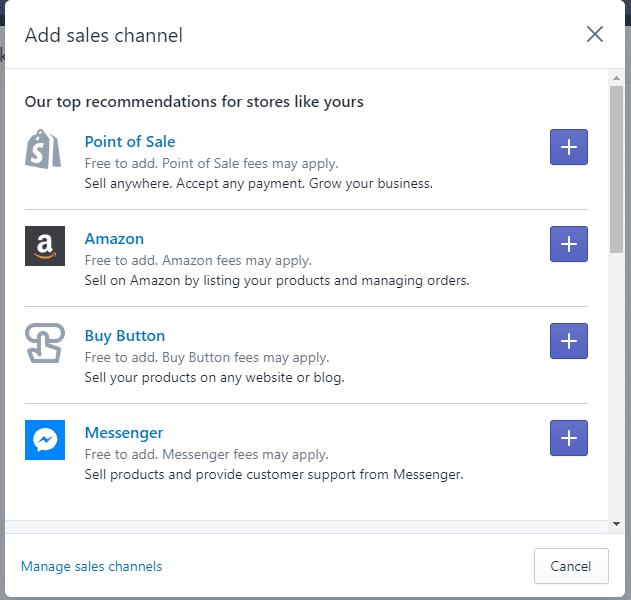 The major ones include the following:
An online store

: This is the platform itself.

Facebook   

: a section on your Facebook page where your clients can browse and buy your products

Messenger

: With this feature, you can communicate with your customers directly to know what they want.

Buy Button

: You can add difference eCommerce features on your store from any website or blog.

Amazon     

: It allows you to manage product listings from Amazon available in your location.

eBay             

: You can list your products on eBay through Shopify.
And many more channels available, including Buzzfeed and Instagram. Finally, it is very straightforward to use all of these sales channels and the Shopify interface. 
But there's are some other things worth mentioning like:
Uploading Product images (Online Store channel)
Let's say upload images on Shopify that doesn't have a consistent aspect ratio; Shopify does not crop them automatically. This means that your product catalogs will include a series of differently-shaped images; which is not suitable for online store design.
Alternatively, you can take the choice of using photo editing software to make sure you have a consistent image ratio for all your store product images. But except you do this before uploading your pictures, it might be difficult; especially if you have a large number of products to upload.
Selling on Facebook with Shopify
This part of the review is worth flagging up so that you would understand that the integration of Shopify on Facebook might not be what everyone wants.
However, it is relatively easy to use the; Facebook Channel feature to drive enough traffic to your Facebook page's shop section.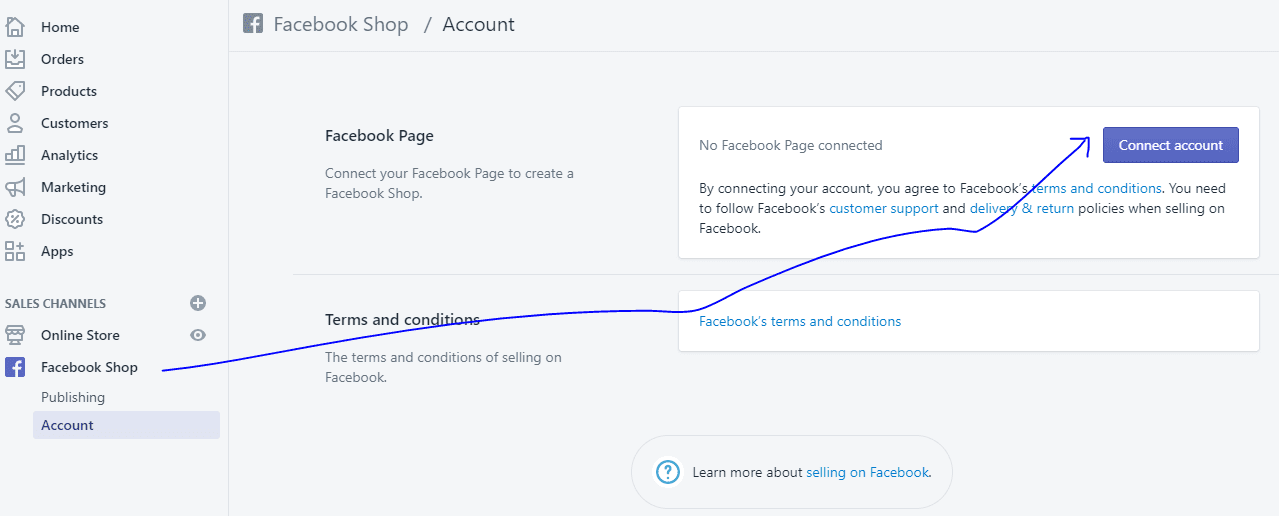 Though the only disadvantage is that your customers will only be able to buy only one product from your store at a given time, so you do not have an ADD TO CART'option.
It might be convenient for some merchants, but would be a severe issue to sellers with customers who buy in bulk, and might find it very hard to cope.
Also, you are not allowed to sell digital products through your Facebook feature too. It is only possible to sell products that can be shipped through your Facebook Channel.
It is just vital to note those points before intending to use Shopify as an option to sell on Facebook. And until Shopify fixes this problem, sellers would only be left with the choice of telling their Facebook followers to click a button that will redirect them to their store.
With this part of the review addressed, Shopify's user interface is superb, with well-designed template options.
And it is elementary to understand how to go around it. Below is an overview of the vlog-style video to help you through:
How to recover abandoned Cart Orders in Shopify
This feature is designed to help you sell products to people who might have gone far into the transaction process and finally change their mind.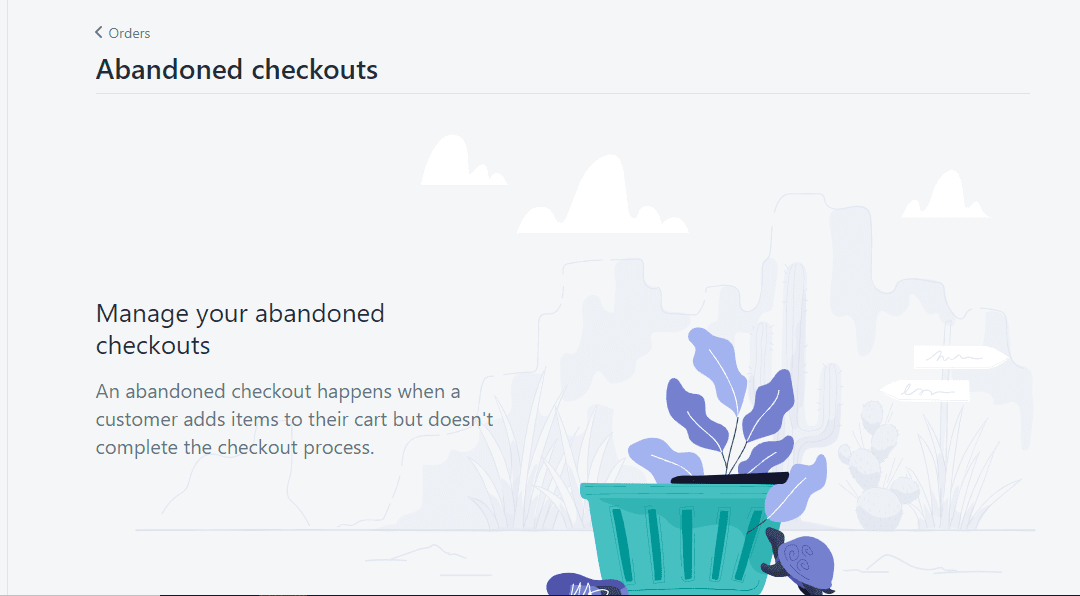 The Abandon cart feature is only available for users on the Shopify plan or higher, but Shopify has recently introduced it on all plans.
What this implies is that you can access the abandoned cart saver features at a lower price point than its key competitors Bigcommerce and Squarespace. 
Whereas with Shopify you can get the full functionality for just $9, the Bigcommerce and Squarespace only offer it on $79.95 and $46 monthly plans respectively.
The founder of Shopify's competition Bigcommerce, claims that using abandoned cart recovery tools can boost your revenue by up to 15%. Which if true, is undoubtedly very significant.
As regards how to perform an abandon cart recovery in Shopify, you can do either of the following:
You can view a list of people who've abandoned their carts and send them an email manually

You can tell Shopify to automatically send an email to your store visitors who abandoned their Cart together with alike to your store where they left the Cart. This last option is, however, the best as it helps sellers save time and the energy of randomly following them up.
You can tell Shopify to send your abandoned cart email at least10 hours after your site visitors abandons their Cart. This is because, according to Shopify, it is the time interval to generate the best conversion. And also you can send an email reminder to them from an hour to 24hrs after they have abandoned the Cart.
Custom fields and file uploads
Some merchants will want this feature to allow a user to provide some text at the point of purchase (For instance, jewelers would need dedication copy and so on).
Shopify will help you pick this information, but it is almost like a somewhat manual process: You would have to create a 'line item property' by manually adding HTML code to your design template. Another option is to use a paid app to do this job, which is not advisable. 
It's the same case with file uploads: if you want to give your customers the chance to upload a file (for instance, an image to be used on a Bag or t-shirt), you're going to have to get a programmer to code or, yes, pay for an app that will do upload it. 
Shopify SEO functionalities
Shopify's SEO functionality is generally fantastic, as compared to other hosted store-building platforms; especially Squarespace. The most important things to look out for when it comes to on-page SEO as regards Shopify is the ability to easily manage activities like page titles, meta descriptions, and adding heading very effectively.

You can easily add 301 redirects easily as well, without even fixing it; Shopify redirects you to it automatically if you can create your page's URL. It could do better with changing image file names for SEO reasons, which you would have to do it and upload again manually.
 Shopify App Store
 In addition to the basic features of Shopify, you also get and app store. It is a unit where you can get apps for your store. It could be paid apps, or free as the case may be.
There are a right amount of apps available on the app store, more than you can get in some other platforms that offer similar services.
These apps are designed to either talk to other apps or add some features or functionality to your online store. A good example is Zendesk or Xero.
This massive number of apps is both one of the most persuasive arguments for using Shopify over its rivals, but also possibly a case against.
Additionally, it means that you have a massive range of options, not only when it comes to adding functionality. But also to your store, when it comes to integrating it with other tools and platforms too.
On the downside, there are a lot of situations when getting the functionality you need. 
For Instance, AMP format, more product options or custom fields, usually needs you to install a paid app.
Bigcommerce and Squarespace, being the most glaring competitions, tend to include more features like this out of the box. This means that you don't end up paying so much on apps but equally can't integrate with as many third-party tools so easily. 
The following are some Shopify apps available on the App Store:
Data capture apps

Abandoned cart saver apps: It works more efficiently than the out-of-the-box cart saver.

Advanced reporting apps.

Accounting apps
Hence, if the 'out-of-the-box' functionality does not satisfy your taste of choice, you might still consider checking on the app store to see if any other add-on would be of use to you.
It is possible to integrate third-party apps too, these apps include, Zendesk, Freshbooks, Xero, as well as Campaign Monitor. It is essential to concentrate a bit on an app with official integration like MailChimp.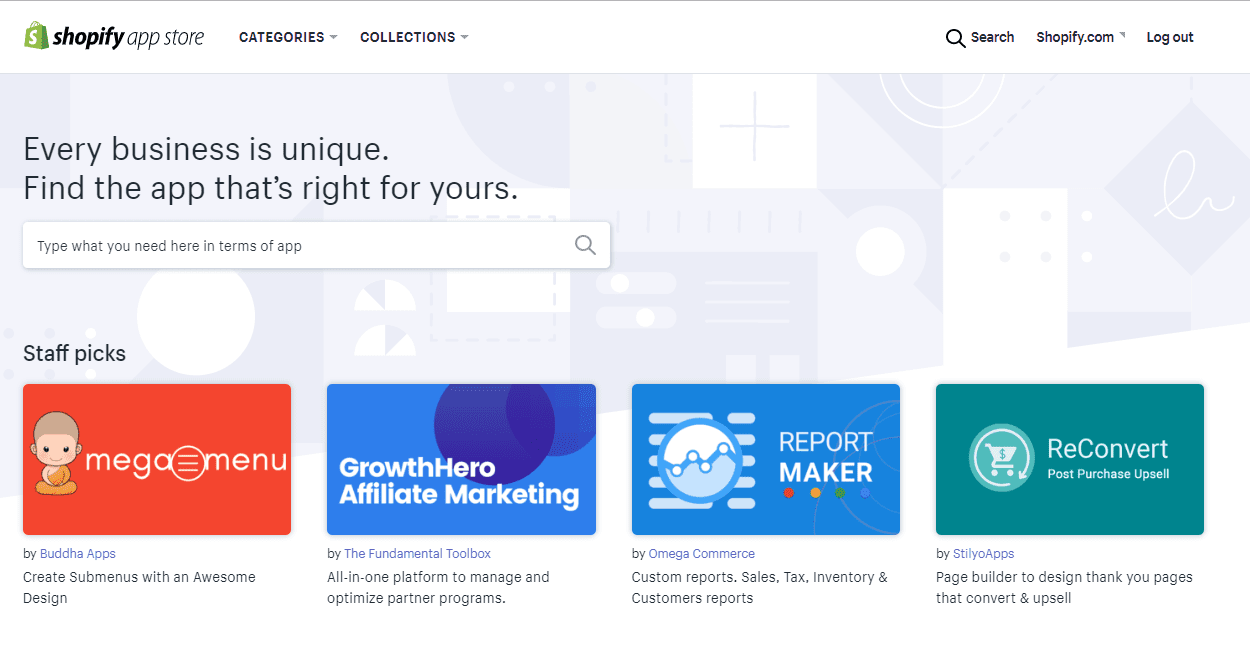 Unfortunately, Shopify-MailChimp integration was withdrawn on the App store, due to some Privacy and Data protection issues. But thanks to the platform, you can still manually use MailChimp with your Shopify.
You can choose to use another email marketing platform. You can still get unusual solutions like Campaign Monitor or Getresponse to help with your store e-commerce functions.
Dropshipping with Shopify
Many intending users of Shopify will be wondering how it facilitates drop shipping, a fulfillment method where you don't keep what you're selling in stock.
You need to place the order, then forward your order to a supplier, and they deliver the goods to your client. Your online store serves as an intermediate between the supplier and your customers.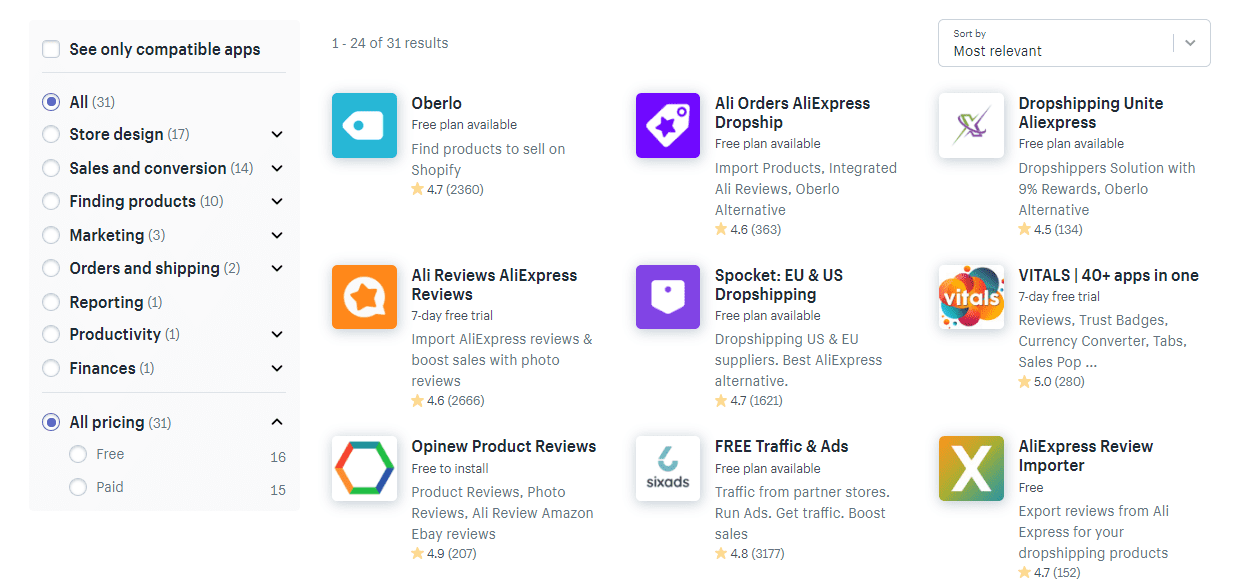 The good news is that Shopify gives an extensive range of dropshipping apps, that allows you to source and sell a variety of suppliers' goods online at a very efficient pace. 
Shopify is almost the most viable option when you talk of compatibility with dropshipping. 
How to use VAT MOSS in Shopify
One of the essential parts of Shopify which is not often picked up on in most Shopify reviews is the way it caters exceptionally well for VAT MOSS and uses its entire title, "VAT Mini One Stop Shop."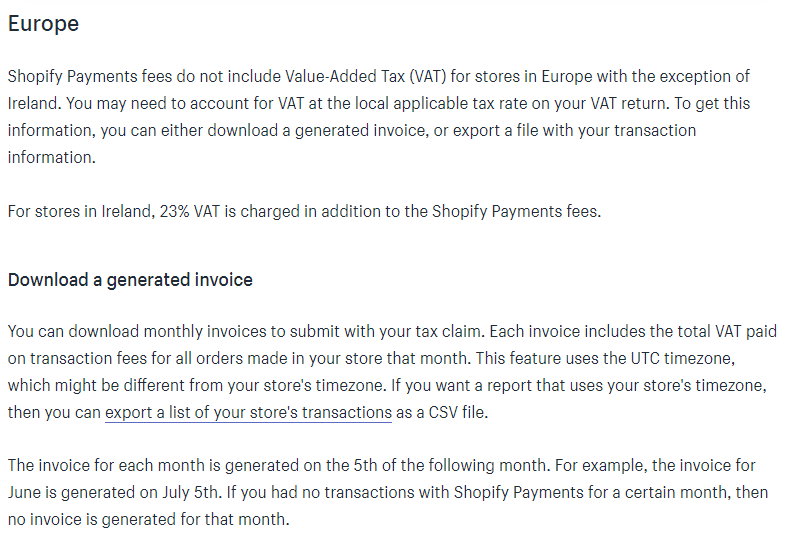 VAT MOSS is a requirement that sellers of digital products to consumers in the EU, add to value-added tax (VAT) on every digital product concerning their specific countries. This implies that a special VAT rate would apply for a country like Ireland, another for the UK and many more.



Bigcommerce and Squarespace are Shopify's most significant competitions, and they do not calculate the appropriate rate automatically as the platform does.
So you don't have to fix the tax rules manually. It is an essential feature in Shopify, and it is a Unique Selling Point (USP) on the platform; when you talk of digital products.
Selling digital products with Shopify.
Selling a digital product on Shopify is very easy and very achievable, but it takes a gradual process. Most importantly, because of how the platform is structured.
The good news is that this tool is free and very easy to use. And you can configure it to work automatically so that a download link is given to the Customer immediately after checkout. 
And they also get a link in the email when their order is fulfilled. There is also a choice to vet your sales manually.
 Though one present set back is that you can only sell all your digital products, but with a limit of 5GB file size. 
However, you can maneuver by using different third-party apps that can host your files or let you use file-sharing services like Dropbox to deliver your data. 
Shopify Reporting
With Shopify, you get a very detailed report; the options include the following:
Customer reports: This part of the story contains where your customers come from, the percentage of new vs. returning customers, detailed information on how much they spent and when they last placed an order.

 

Marketing reports: Includes how you got the customers.

 

Search data reports: Tells you what products customers looked for in your online store.

 

Finance reports: Includes your sales, tax reports, etc.

 

Abandoned cart reports.
However, you can get these features only if you are on the Shopify, Advanced Shopify or Shopify Plus plans respectively. Which makes it unfair for users on lower monthly plans.
Users on plans lower than the three plans mentioned above only get necessary statistic reports on their dashboard. 
And this is where Shopify falls short, unlike its competitions which grant complete report access to users on all Shopify plans.
Shopify also gives advanced report builder services; with this, you can customize your reports. But this is available for users on the $299 and above plan.
Blogging in Shopify
Blogging is one of the primary ways to increase traffic to your online store, and fortunately, the platform has a blogging feature built-in. You can create amazing features that will increase your store presence on Search Engine ranking.


Hence, it is not as sophisticated as what you'd find in a WordPress site. For instance, you will not find Yoast-style SEO plugins and content versioning on this blogging tool.
And you can only use tags if you need to categorize posts, as you can only use that method on the blog whereas other competing platforms allows you to categorize posts.
Hence, the built-in blogging functionality in Shopify is generally exceptional and will meet most merchants' requirements perfectly well. You can work as well with a little configuration 
connect to a handy comment tool, "Disqus."
It had been stated earlier in this review, that exporting Shopify blog posts is not straightforward. 
Shopify's recommendation on how to do this is to manually copy and paste your blog content into a new location.
It is more convenient to use the API option, as it proves to be more sophisticated. 
Though not all the sellers might like the choice, especially those with little or no blogging skills and want to move their content to another site.
Mobile Device store management of Shopify
You can manage your Shopify store on your phone through two apps, and those are: 'Shopify' and 'Shopify Point of Sale.' 
The 'Shopify' app allows you to view and fulfill orders, add / edit products, view reports, also communicate with your staffs or team through a tab the 'timeline.'
Also 'Shopify Point of Sale' app works better for sellers who want to use the Shopify point of sale services. It can be used to track inventory, make card payments, as well as sent receipts to your clients and many more.
The 'Shopify' iOS app
Additionally, the app store also has a new app called 'Ping,' It makes sharing product details on Messenger and answering queries more convenient. Ping will soon have advanced chatting services, as suggested by Shopify. It is only available to iOS user alone at the moment.
Here are other mobile supporting apps available in the management store as well: Entrepreneur articles app, business card designer, and logo maker. But only sellers using Android devices can access the first two apps.
Of all the apps discussed in this review, the Shopify app is used the most by the majority of the available merchants and might thoroughly saturate the market in no distant time.
How to use Accelerated Mobile Pages (AMP) in Shopify
The AMP is a Google-backed program that helps facilitate content delivery to mobile devices. It was done by merely stripping out individual bits of code from web pages.
It is becoming the most widely used recently because it helps increase your site speed and thus increasing visitors' engagement. AMP is also SEO friendly, as stated, Google's algorithm tends to prefer AMP post over other results.
And quite fortunately, Shopify is AMP enabled. And most importantly, not only for contents on a blog but also for product pages as well. 
And the good news Shopify is one of the platforms that have this rare integration.
So with AMP, you can fully engage your potential customers with your collection of winning products. And can still see them even if you are on a slow connection.
But 'out-of-the-box' you wouldn't be able to access this feature, except you choose to opt for a paid app to add it to your store.
Though the additional costs may apply, concerning the preferences Google is giving on AMP posts, it is imperative to get an AMP version of your store on Shopify.
Shopify Support
Shopify's support is very comprehensive and responsive. So you can reach the platform's helpdesk on the phone, by email or through live chat at any time of the day. 

There are a few facts worth highlighting anyway:
You would need help from developers if you need to code anything on your store, and sometimes you might not get the desired result from the Shopify support service. 
So it is better for you to post a query using a forum and pray one of Shopify's developers gets back to you.
It would be better for the platform to offer a more direct approach to contact their developers directly for technical advice. Secondly, it's unclear whether phone support is provided globally: Support phone numbers are only provided for North America, United Kingdom, Australia, and New Zealand exclusively.
Also, if you need to get maybe phone numbers or other relevant contact information from your customers, you would need to browse through the help page for solutions first.
This will annoy some, but it's increasingly standard practice for support desks for web applications, and it's not implemented as severely as some other applications.
Support Page GDPR compliance on Shopify
 As regards the latest EU's GDPR law, there are many legal methods that bloggers and site owners would need to apply. 
This is to make sure that the privacy of all EU customers' is covered. And defaulters would have to pay severe financial penalties, so it is very imperative to consult a lawyer about before starting one. 
 It is not only restricted to EU businesses, your site still needs to comply with these rules if you have EU visitors to your site.
 The following are the essential GDPR compliance requirement for any Shopify store:
The seller must give proper privacy and cookie notice to the visitors.

 

Visitors must be fully aware that they are signing to your email list before sending them any information about your business.

 

Give then room to accept or refuse consent on the use of some non-essential cookies on the website and also log the consent.
You can readily access these three options on Shopify though all it might take you is either time or money to get a very crated notice, as well as a useful data capture form and make them compliant.
However, the platform currently falls short a bit on the fourth requirement; which is cookie consent. 
 GDPR compliance is crucial, and at such, your cookie banner must allow your visitors to do the following:
Give them prior information on the available cookies so they can use which one to run.

Log their consent to run cookies

Allows users revoke consent at a later stage
For instance, unless there is a banner embedded on your store, that does all the listed features. You would be violating GDPR laws once you use a Google Analytics cookie or run Facebook Ads. So you can not deal with cookie consent issues outside the platform.
You can get some apps in the app store that promises to solve this problem and give the desired features, though some work better than others. 
However, you can alternatively choose to use scripts provided by services such as Cookie Pro to add a GDPR-compliant banner to your website. 
However, I prefer that this issue was dealt with by Shopify at source and that adequate cookie banner functionality was provided without the users having to resort to third-party software. 
Buying Vs. Building an Online Store
Presently, Shopify has integrated a feature that is unique from those in other competing platforms. You can buy a store with total ease. This is called the 'Exchange Marketplace,' and it contains a list of available stores for sale.
The benefit of buying a Shopify store rather than building one is that it removes the stress of starting a store from scratch. And if you buy a well structured online store, it reduces your chance of making an awful investment, concerning money or time.
Shopify carefully vets all the stores available on Exchange Marketplace. And it uses an escrow method to make sure everyone gets a fair share. Escrow is where a third party helps hold payment until the seller, and the buyer agrees at a given term.
It implies that you can buy a Shopify store from the Exchange Marketplace with full confidence. But it is advisable to get legal/financial advice to be for making this choice. 
Pros and Cons
So far, this Shopify review has been as comprehensive as possible. In summary, these are the major pros and cons that we think you would encounter if you choose Shopify as your online store builder:
Pros
The Shopify 'Lite' plan represents one of the cheapest ways to start selling online using a hosted solution.

The abandoned cart saver is available on the 'Lite' plan as well.

The point-of-sale (POS) options is an excellent feature that separates it from competitions.

Shopify is a platform to consider if you are a dropshipper.

When you use the Shopify Payment option, you do not pay for any transaction fees.

The user interface is superb and easy to use.

The platform carefully takes care if applications in the creation of your product categories.

The Buy Button is also available on the Lite plan, where you can quickly sell your products on a premade website.

Shopify provides a good number of fantastic and responsive design templates.

According to the platform, it has built over 600,000 stores. So you shouldn't be afraid should the system fail, and your store disappears with it.

Shopify automatically calculates and apply all VAT MOSS rates.

You can create AMP versions of product pages, With the help of third-party apps.

You get both Android and iOS apps to help you effectively manage your store.

Users are allowed to buy an existing Shopify store using Shopify's Exchange Marketplace.

You can get a 2-week free trial of the product.
Cons
While you can create 100 variants of a product, these can only be possible for up to 3 product options.

It is relatively hard to add fields like file upload option and text boxes, and in some cases would need you to buy it.

To access professional report features, you need to be on any of the expensive plans.

Absence of MailChimp-Shopify integration on the App store.

Only Users in some countries can use the Shopify Payment option. Sellers outside these territories would have to use a third-party payment gateway. 

You would need to pay transaction fees for using the third-party payment gateway option.

You can not get an automatic image display ration for all your product image uploads. So unless you crop these images before uploading them, you definitely would get a very shabby image presentation.

You can only send one automated follow-up email.

Before your store becomes GDPR compliant; you must employ the services of other cookie banner apps.

You do not get a fully functional store on the 'Lite' plan.

You would find it difficult to export blog posts from this platform.

Sellers outside some specific territories would find it difficult to get phone support.
Conclusions
Finally, Shopify is one of the best hosted solutions for those wishing to build an online store for their business. And arguably the best merchants would like who wants to use one product to sell online as well as apply the same in a physical location. For Dropshippers, Shopify is one of the most viable options to try out.
The service is priced competitively because the abandoned cart recovery feature is available on its $29 'Basic' plans. 
Shopify is very user-friendly, and you can easily integrate a large number of store apps, along with catchy design templates. It has an extensive user database of about 800,000 users, which is supposed to spark confidence in the system. 
While taking the choice of Shopify, carefully review the transaction fees if you want to use a third-party payment gateway.
Another disadvantage is the limit of three options per product. 
A more comprehensive summary of pros and cons is displayed above, but of course, the only way to find out if Shopify is for you is to test it out fully yourself with their two-week free trial is available here. 
Few alternatives 
Of all Online Store builder solutions like Bigcommerce, Shopify, Volusion, Squarespace and Magento Go; Bigcommerce is the most suitable, most effective, and most reliable alternative to Shopify.
It has almost the same price range. With a very user-friendly interface, and a wide range of features compared to Shopify. Aside from this functionalities, it also has a 14 days free trial
Finally, there is another alternative to Shopify only that it is not software as a service product, 'self-hosted WordPress" only that you would need to build your site and host all by yourself you can read Shopify vs Woocommerce comparison and then decide. 
But you can sell your products in so many ways.