10 Hidden Features About Shopify store You Should Know
If you want to start a dropshipping business or launch an eCommerce store, then probably you might wonder how to sell on Shopify store.
Selling on Shopify has made an otherwise loathsome journey of running an eCommerce store easy. Thus, anyone can do it.
Though the need to hire a developer to build your store is removed from the platform, selling on Shopify still has a learning curve.
Setting up a store on the platform needs zero coding experience; however, to make it happen, you still need a guide, either way, it's not a light switch.
And so herein, you'll find your complete guide to selling on Shopify.
How to Sell On Shopify-Table Of Contents
Intro to Shopify
Dropshipping with Shopify
Shopify Pricing
How to Sell On Shopify: Step-by-Step Guide
Summary
Introduction to Shopify
Shopify is the pinnacle platform for successful dropshippers, and top dropshippers know it. But newbies don't reckon that tools like Printful and Oberlo are the engines that generate those impressive results.
On Black Friday weekend 2019, Shopify sellers registered a whopping $2.9 billion in sales up from 2018 sales of $1.8 billion.
With more than a million businesses on its wings from 175 countries, companies use the Shopify platform to manage their online websites, sales, marketing & related functions.
On top of catering for businesses' eCommerce needs, Shopify offers solutions for Offline brick-and-mortar operations.
Here are snippets of Shopify platforms you need to familiarize yourself with:
Point On Sale (POS): Shopify POS allows businesses to process clients' payment in person or online. It's a convenient service for restaurants and other offline operations.
Payments: Shopify Payments makes it convenient for Shopify users to collect payments from clients by credit cards, other pay channels like Google Pay, Apple Pay; it integrates with POS apps from Shopify and other vendors.
Shipping: Shopify Shipping empowers merchants to compute shipping rates. Different shipping needs, such as tracking, labeling, and insurance, are covered as well.
Themes: With website themes from Shopify Themes Store, sellers have legroom to customize their shops. And here, for any number of products merchants vends, the service includes both paid and free themes.
Apps: The Shopify App Stores eliminated the need for sellers hiring developers to integrate more features into their stores. Sellers can select various from multiple categories from sales, reporting, social media, promotions, marketing, et cetera.
The basis of this guide is to help you learn the ropes of each of these Shopify features to craft profitable eCommerce-dropshipping businesses.
Let's roll.
Dropshipping With Shopify
The benefits of selling on Shopify is that starting your dropshipping business experiences little to zero hurdles. The platform is super optimized for dropshipping, and practically, you can sell any product on Shopify.
Though Shopify will simplify your dropshipping journey, it doesn't do away with hard work.
And so, there're two paths for you.
The first option: You learn the ropes and do everything by yourself.
Find a product,
Negotiate with suppliers,
Coordinate shipping,
Handle packaging,
And take of order fulfillment.
If you've got all the resources and a team behind to assist you with your business, this first option seems practical.
However, as predictable for the majority of people starting, the steps might prove monumental and tough to adhere-to.
Enters option two-leverage established dropshipping platforms like Printful and Oberlo Depending on Printful & Oberlo could be the difference between failure and success.
Oberlo can help with everything from:
Finding products to sell,
Warehousing and managing inventory,
Packaging,
And Delivery.
Oberlo is a perfect fit, particularly for those looking to sell products in one or multiple categories.
But if you run or intend to sell mugs, jackets, hoodies, t-shirts, throw pillows alongside other printed items, you want to use Printful. Using your brand, Printful customizes these items and help ship to your buyers ordering from you.
The dropshipping business model lends you the leeway to focus on business growth, marketing as the product side takes care of itself. Fantastic tight?
Fortunately, there are more than enough eCommerce marketing techniques to help generate sales.
Dropshipping on Shopify with platforms like Printful or Oberlo allows you to concentrate on the execution of marking ideas instead of doing too many things simultaneously. So lets start this guide of How To Sell On Shopify stores.
Shopify Pricing
If you'd wish to try out Shopify and you're yet to settle on a plan, start on the 14-day free trial. On the top bar of the Shopify website, there's a "Start free trial" button, click on it and leads you to a form. All that's required is filling the form to create your account.
However, pick from any of the five price plans if you're ready.
Shopify Lite-It starts at $9/month and allows you to sell on your existing social media or website.
Basic Shopify-Costs $29/month+ 2.9% and 30 cents/transaction.
Shopify– Starts from $79/month+2.6% and 30 cents/transaction.
Advanced Shopify­-Costs $299/month+2.4% and 30 cents/transaction.
Shopify Plus-Pricing available through a quote
Compared to Advanced Shopify and Shopify plans, Basic Shopify pricing doesn't provide professional reports features and gift cards.
Though amongst the three accounts, only Advanced Shopify offers thirty-party calculated shipping rates alongside advanced reports builder.
Although the pricing plans offer you varying credit rates, percentage discounts, and additional fees, you cannot get USPS priority mail cubic pricing with Basic Shopify.
Let's dissect apart these plans, shall we?
Shopify Lite
At the base price of $9/month, Shopify Lite is the cheapest plan with this plan. However, you can't have an online store. Meaning, you can only sell through a Facebook plugin on the website, a "Buy" button, or a Facebook page.
With a Shopify Lite account, you can integrate with a Facebook page or website when uploading your catalog on Shopify. If you sell via Facebook messenger, you can provide shipping dates and tracking numbers. Read Shopify lite review
Basic Shopify
You get all the essential features to start your eCommerce business at $29/month with the Basic Shopify plan.
You get to add two staff accounts, use Shopify shipping, the leeway to upload as many products as you wish, and apply discount codes as well.
As for Point-Of-Sale with this plan, you get access to third-party and Shopify POS.
With this plan, you'll get charged in-person credit card rates of 2.7% and a 2.9%+$0.30 on all online purchases done credit cards. Using a payment outside Shopify Payment attracts an additional 2% fee.
Shopify
At $79/month, this plan provides all required for a growing business. You get all the Basic plan benefits and more.
You get to add up to five staff accounts; you get professional business performance reports, and also receive gift cards.
With more POS offers than the Basic plan, you'll have POS hardware that includes:
Shipping label printers
Barcode scanners
Cash drawers
Receipt printers
Third-party POS app integration
Unlimited POS offers
With this plan, you'll get charged in-person credit card rates of 2.5% and a 2.6%+$0.30 on all online purchases done credit cards. Using a payment outside Shopify Payment attracts an additional 1% fee.
Advanced Shopify
This plan is for you if your business grows at a fast rate, and you need more hands to handle high transaction size. At $299, you get all the "Shopify" plan benefits and more.
On top of Basic & Shopify plans' benefits, this plan offers the following additional benefits:
Advanced report builder
The opportunity to employ 15 staff
Third-party shipping rates are shown at checkout
You get all these benefits at a reduced fee; you'll get charged in-person credit card rates of 2.4% and a 2.4%+$0.30 for all online purchases done credit cards. Using a payment outside, Shopify attracts an additional 0.5% fee.
Shopify Plus
All the above plans may not cater to your needs, that's if you're a high-volume merchant. With Shopify Plus, you have a customizable eCommerce plan that aligns with your business needs and personalized assistance.
To get a quote, fill the form correctly.
How to Sell on Shopify: The Step-by-Step Guide
To sell on Shopify, you don't need to be an expert as the platform is super convenient to work-on. Below are simple steps to follow to start selling on Shopify.
Step #1: Naming Your Store
It all starts with a simple registration, regardless of your business' vision. The first decision to make involves settling on a Shopify plan that best suits your business needs.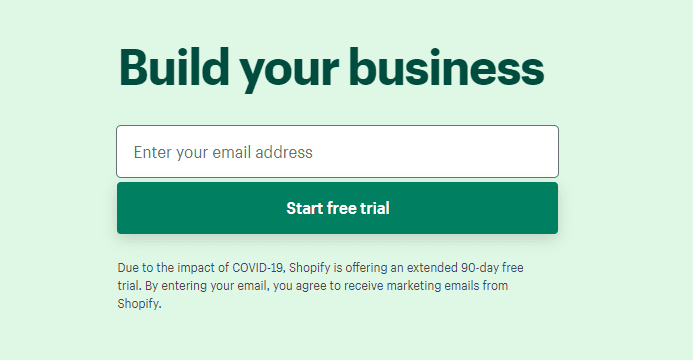 Although starting with a 90-days free trial, the decision at the end of it is an option. That way, you experience first-hand what you are going to pay for.
If you just want to test the depth, then a successful sign-up won't need a credit card. In minutes, you can have your account ready. Just head over to Shopify and hit on "start free trial."
You'll get led to a form that needs you to fill your email address, password, and store name.
Fill the form then hit "Create your store."
Since on Shopify, no two businesses can bore the same, so don't fuss when you receive an error message. Just pick another different name and save it later for something that appeals to you.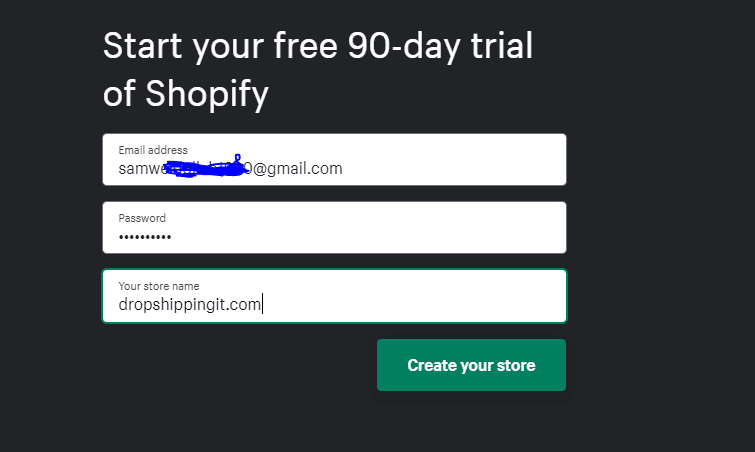 On the next page, you'd get asked if you sell on Shopify already, the current revenue, or you're doing it for someone else.
Answer the first two questions truthfully since they branch out to other items, and also truthful answers help Shopify to direct you to the right course. This step is optional; of course, you can skip it for any reason.
Whatever your pick is, you'd be asked in the following form to add your default business address for payments.
Upon successful completion of this process, you'll get the admin panel Congratulation! You're now an owner of a Shopify account.
Now you can add media, services, physical products, or anything that assist you in selling.
We'll thrash out in details on how to upload products in step#3. Also, in
step#2, we'll delve more in-depth on how to use this feature.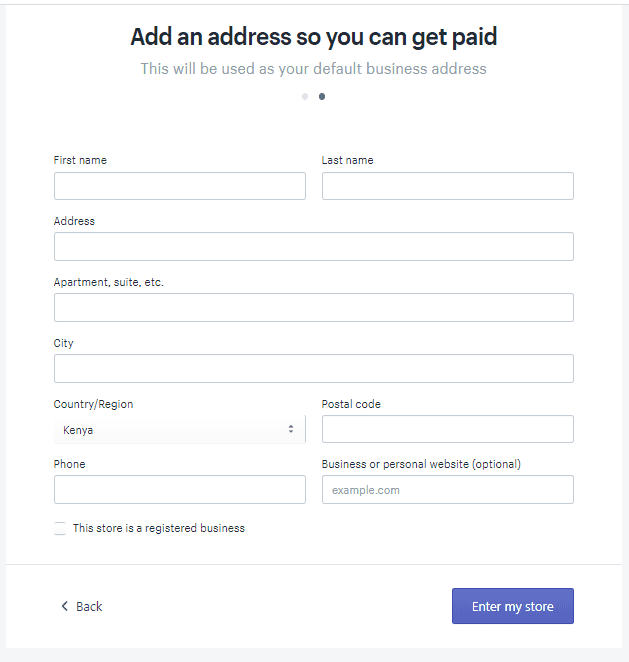 If you're at this juncture, it can only mean you already have a domain on Shopify.
However, you can use the "Add domain" option, thus strengthening your brand's domain, making it easy for clients to locate your store.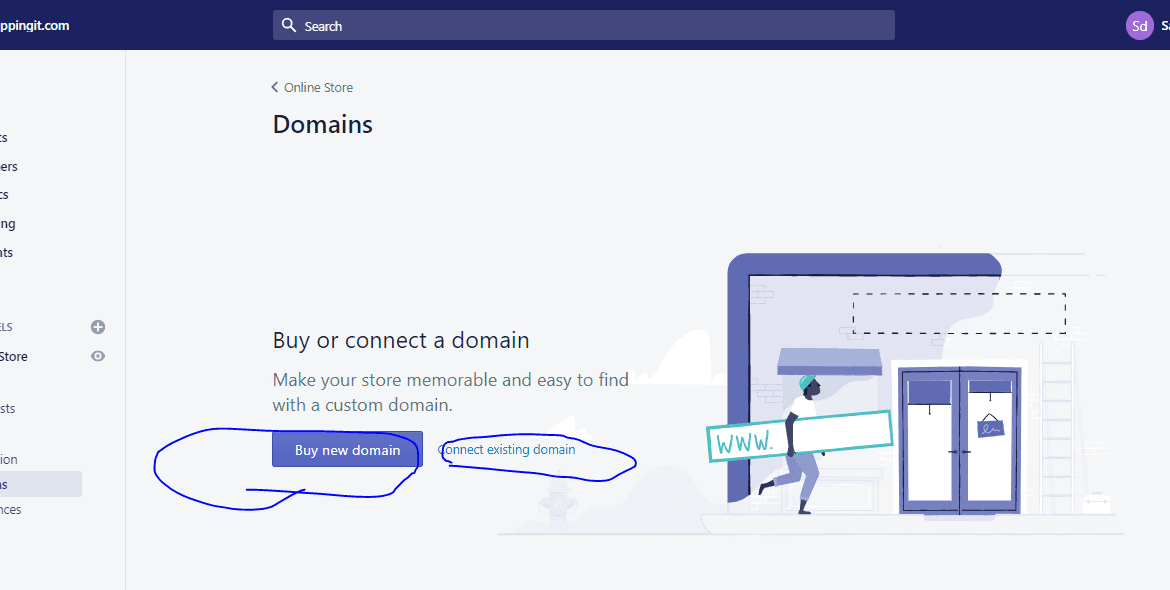 Past 14 days, Shopify cancels your account, and you'll have to reactivate your account with a paid plan at the expiry of the trial period.
Are you learning something about How To Sell On Shopify stores online in 2020? Okay, let's continue.
Step #2: Picking The Perfect Shopify Theme
Do you know that expression that goes like "Do not judge a book by its cover"? Toss that; it's easier said than done.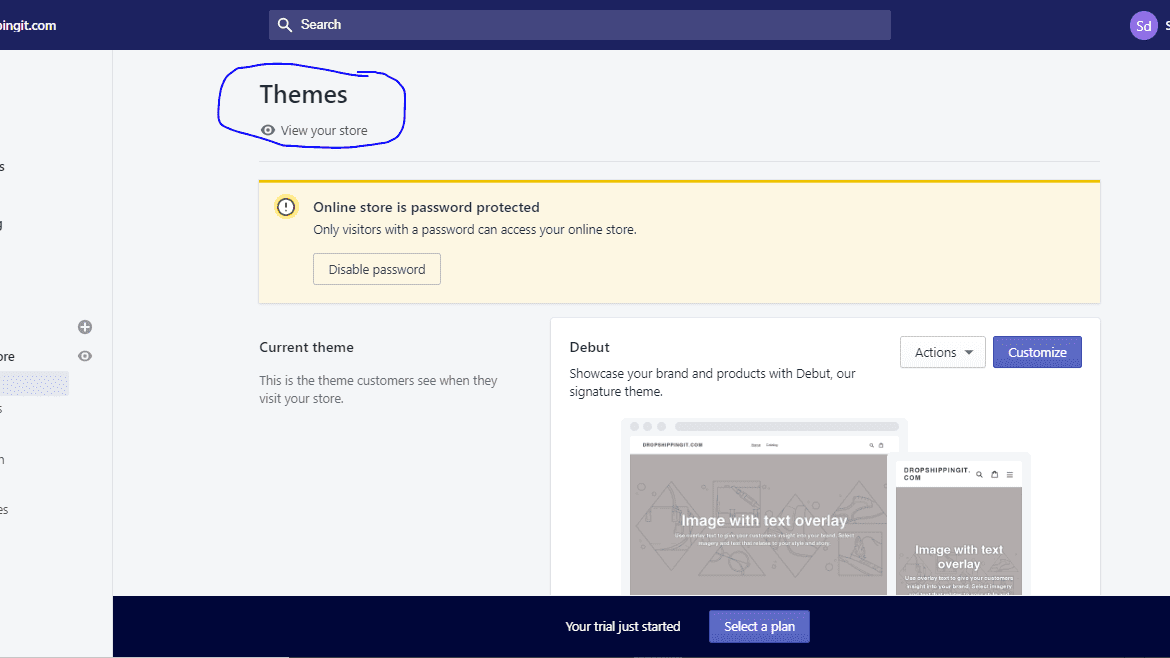 Shopify Themes have the power to put off or attract your potential prospects.
So, you want a professional theme that's hugely engaging and functional.
To work with Shopify themes, head over to your admin panel and hit Online Store. On the dropdown, choose themes. Scroll down a bit to find links that give you access to free and paid themes.
Shopify offer you an array of more than 70 themes,64 premium, and eight free themes, so you have more than sufficient alternatives.
Much as saving money goes a long way for business, Shopify premium (paid) themes lends you more access to functions and features, making your store unique.
All the Shopify theme templates have theme settings that let you customize without CSS and HTML.
The Shopify theme panel has a customization button. With the theme customization options, customize your Shopify theme.
With an interactive theme customizer as Shopify's, you've got the leg-room to edit theme sections such as Favicon, color, typography, and more.
The majority of themes have a couple of pages, so it's possible to edit each page, then preview how they'll look on desktop, tablets, and mobiles.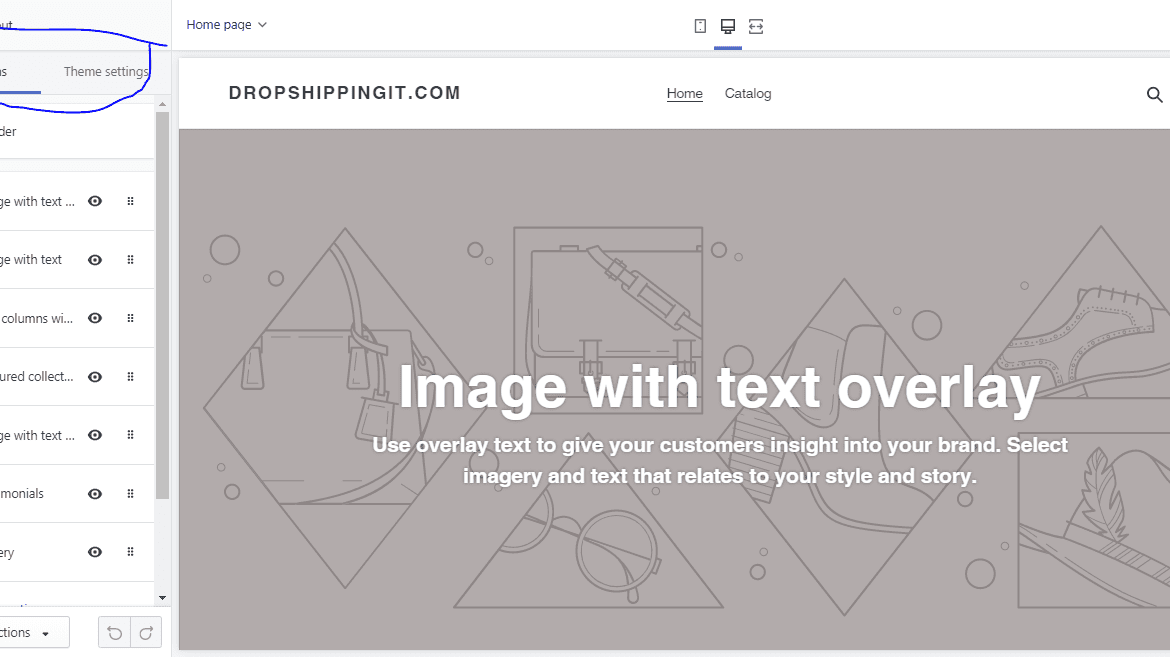 On the home pages, the themes often have sections such as video, sliders, testimonials, features, and more, which you can also edit.
The platform got you covered; that's if you're probably wondering how to sell on Shopify stores in a different language say Chinese, Thai, Dutch, or any of the 30 additional languages it offers, which you can edit.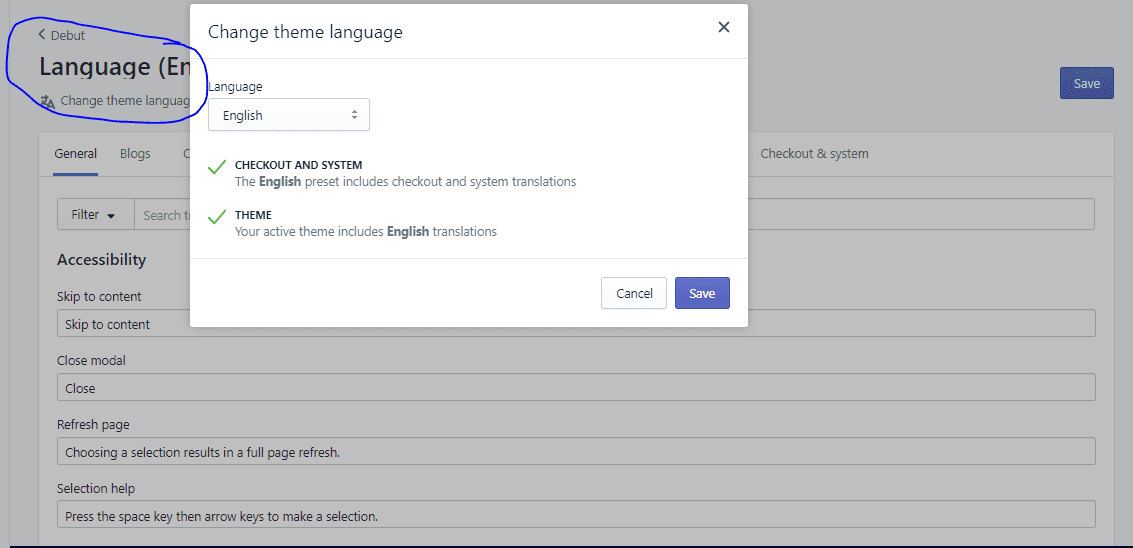 On the theme panel, hit Action and from the dropdown menu, select Edit language. Close to top of the page, you'll see Change Language, hit on it.
Choose a language of choice and click on save.
You can't find a theme that caters to your needs? Shopify offers the option of uploading a theme. Get back to the theme library and click upload theme.

A three-step summary to theme customization entails:
Choose a theme template from Shopify
Customize to preference
Launch
Preview your design on mobile and desktop to improve user experience. You've got a knowledge base to guide through the process courtesy of Shopify.
Step #3: Uploading Products On Shopify
Up to this point, you can upload products to your beautiful store. The process could take time, but the benefits well worth the wait. You've got to select products wisely since the goal here is optimizing for conversion.
To manage inventory, click "products" right on the Shopify admin panel. For a large inventory, click "import" to receive bulk products from CSV files. Hit "choose file" to import products from the CSV file.
You can follow the "sample template" link to download a template if you don't have a prepared file. The thing is to get all you want to get uploaded arranged for speed.
But if you have between one to five products, uploading products, images and details is not such a big deal. Just hit on Add product to get started.
You'll be taken to the next image to upload details.
Fill in the required fields, and that's it, done with uploading products.
Step #4: Adding & Customizing Shopify Apps to Your Store.
Through the apps' ease of use, flexibility, Shopify lets you improve the functionality of your store.
Currently, on the Shopify app store, you have access to nearly 4,000 apps. Similar to themes, you also get paid and free options.
As a consequence of categorizing apps, you get what you want faster on Shopify.
On the Shopify admin panel, click Apps.
You quickly see apps you can use in growing your business; however, should you need more, hit the blue button that leads you to the Shopify apps store.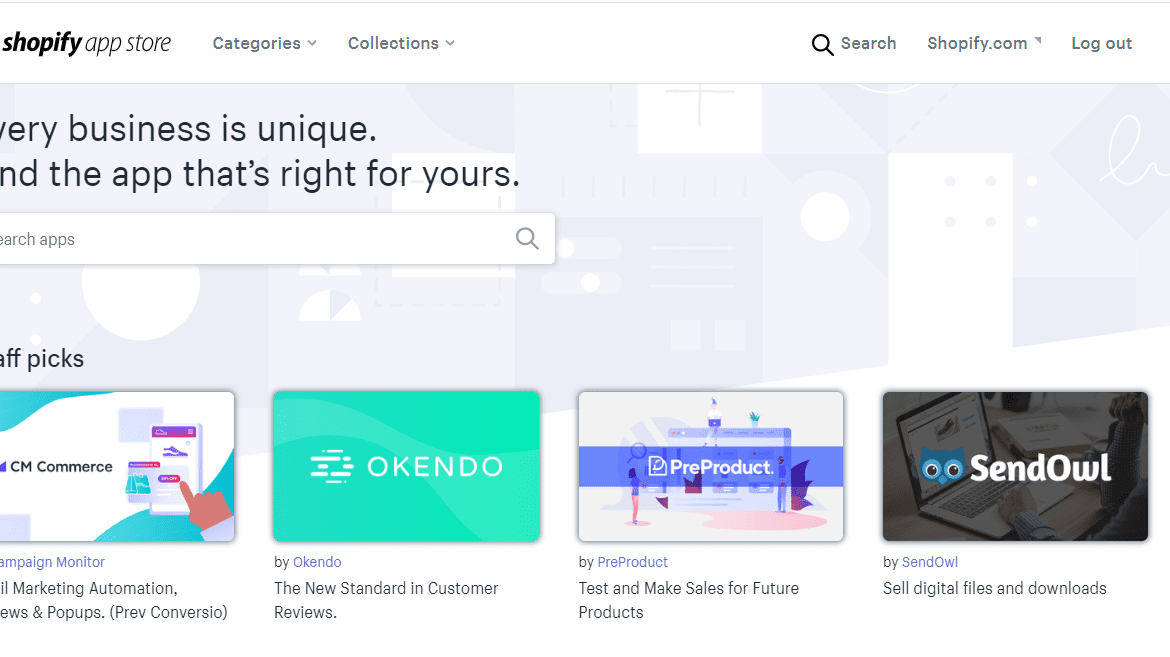 If you work with private developers, follow the "Manage private apps" link.
Step #5: Add Shipping Setting
This step is inevitable since clients buying from you expect to receive what they pay for.
Tons of thinking that goes into deciding how to manage dropshipping or shipping. First-off is deciding on profitable shipping methods and rates for your business.
Subject to your subscription plan, using Shopify shipping-a built-in suite, save you money. The suite grants you the right as a merchant to:
Calculate the rates with USPS, DHL, Canada Post, and UP.
Print Shipping labels
The following are steps you can follow.
Steps to Using Shopify Shipping
Consider the following steps for success:
Use Shopify shipping to pick shipping carriers you need to be enabled at checkout.
Let customers pick shipping service and preferred speed
Receive customers' orders and shipping payments
Use Shopify, print label, and package slips to fulfill an order
Shipping Rates
Add weight to all your products; you must do that to get started with Shopify.
On the product description page, scroll down to where you find "Shipping" and add products' weight. It's possible to add weight for bulk or individual products.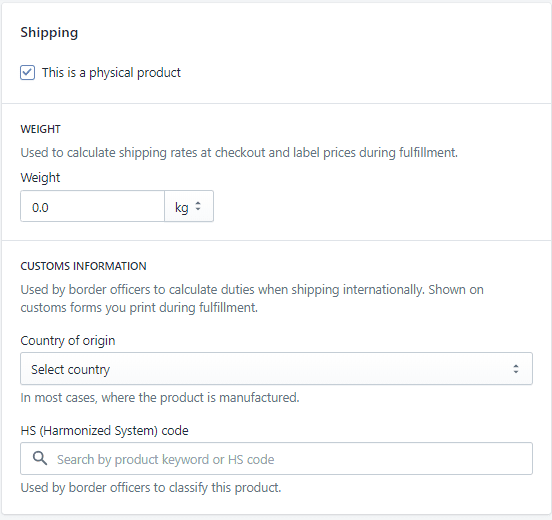 It's a useful dimension as well as the weight of packaging; you intend to use the items for more accurate shipping calculation.
On the admin panel, go to setting
Hit shipping,then scroll down to the package section
The distance travel by package is crucial in determining shipping rates.
Your shipping costs adjustments are directly proportional to customers' orders.
Step #6: Setting Up Payments On Shopify
Either use Shopify payments or third-party payment service providers such as Stripe for credit card payment.
Just be mindful of the additional fees mentioned herein in the pricing section.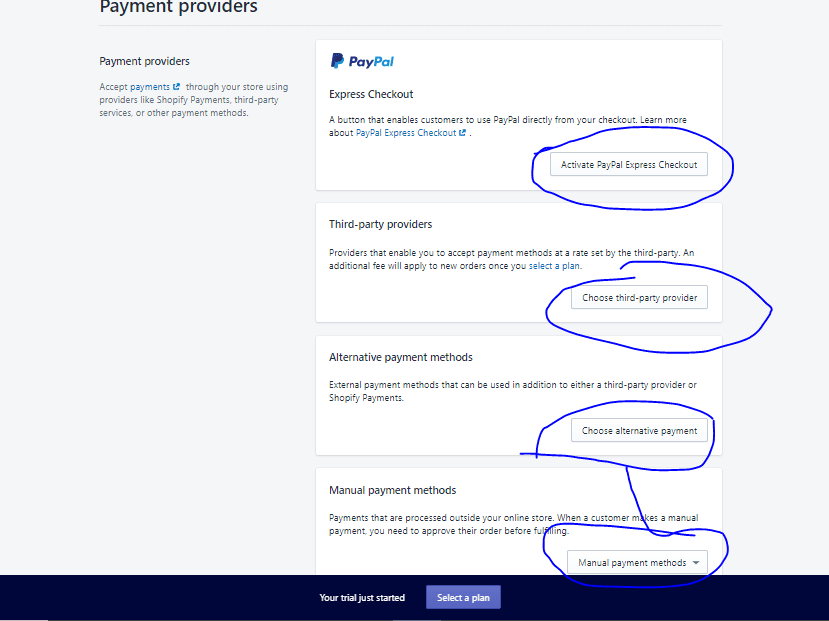 The alternative payment options allowed here include:
Amazon Pay
Apple Pay
Cryptocurrencies
Google wallet
On the admin panel, go to "Setting" and choose "Payment providers."
Heed to instructions to pick payment plans available in your locale (country).
Step #7: Selling On Shopify Using POS
Before you embark on using Shopify POS, first establish if the system is compliant with the country's laws.
In this section, you'll learn how to use Shopify POS; the process entails setting up a POS app and updating the POS settings on the admin panel.
Read Also:
Consider the following few things in setting up your Shopify POS before use.
Download and Install the Shopify POS App
You can sell on the go once you've got the Shopify POS app in your device. So, don't fuss whether you're in a market or a fair.
On the admin panel, go to "Apps" and hit on the "Visit the Shopify App Store" button to proceed.
Key-in "Shopify POS" in the search box to find the app, then choose the Point-On-Sale app.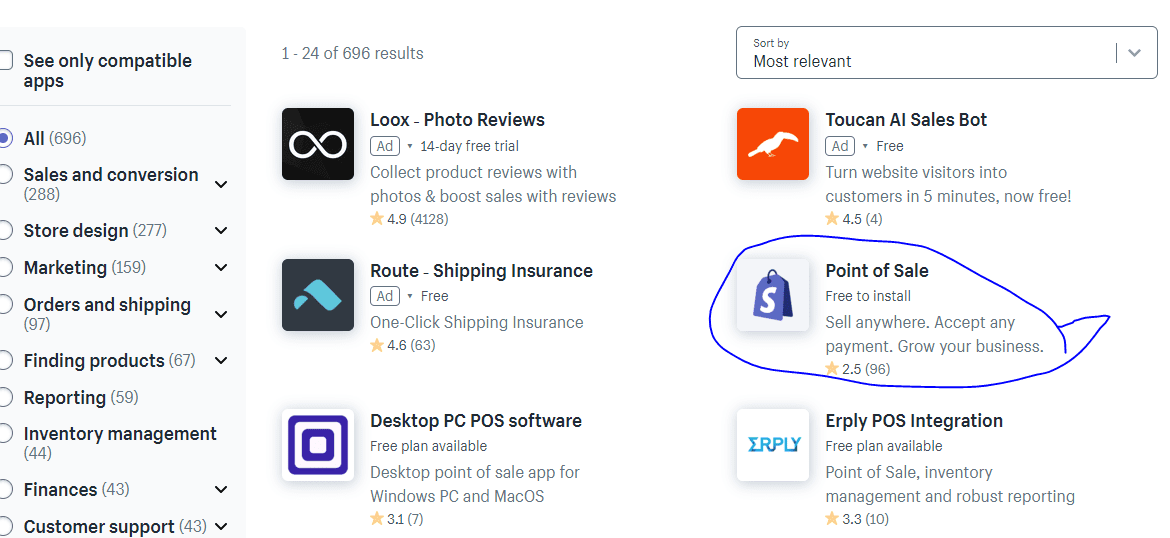 You'll land on a page, click on Add app.
You can either download it on Google Play or App Store.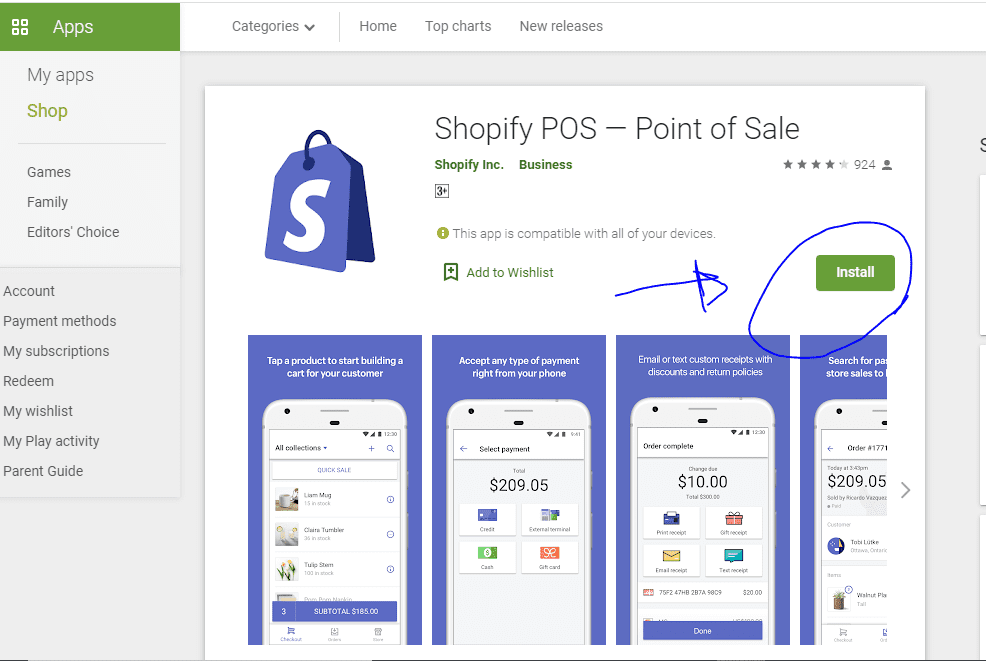 iOS 10 is no longer supported on Shopify POS. However, you can continue using iOS 10 if you had it before 2 February 2020 but no updating.
But if you like, update your device to iOS 11 to access new features and bug fixes. Alternatively, use your Shopify POS on a different machine that operates on iOS 11 or higher.
Follow step #3 above or use your Shopify app if you've not listed products in your store. It's useful to upload images; thus, browsing your products becomes easy.
Create a collection to organize products. Go to "Products" and from the dropdown, select Collection.
The rest is pretty straightforward.
Activate Automatic Order Fulfillment
On the admin panel, you can manually mark orders as fulfilled. But why waste time changing order status after every purchase when you can automate the process with Shopify POS app?-after every purchase, it marks orders as fulfilled.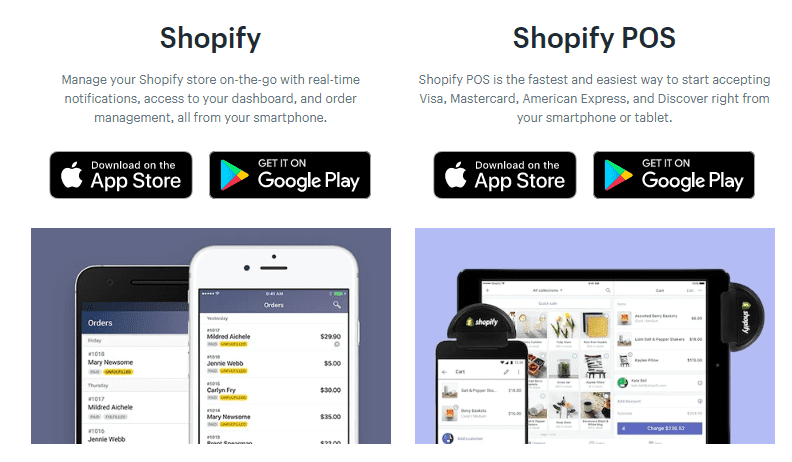 On iPad in the Shopify app, hit on "Store," then "settings," and enable "Mark orders as fulfilled."
The same is the process on the iPhone, except for what you see is different.
On Android, it looks like this:
Set Staff Permission
Whereas you've full access to the admin panel, staff members of staff-accounts you create in the admin log into the Shopify POS with their credentials subject your permission.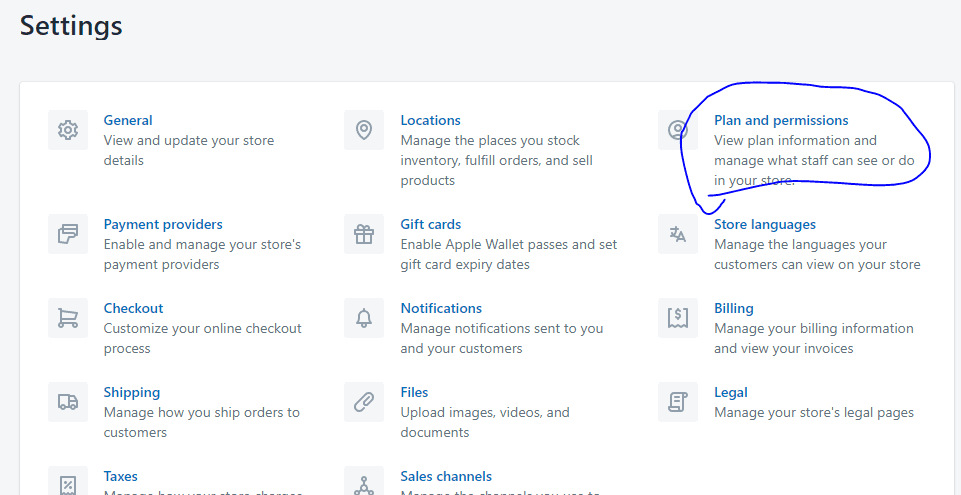 Each of your staff must have a personal login account. You want a restriction on sensitive customer info.
To change or view permission status of staff members, head to "Settings," then click on "plan & permissions."
Scroll down to Permissions. Grant permission by hitting the Add staff account.
Set Store Location
Setting the current location on the Shopify device is crucial, more so if used in more than one address.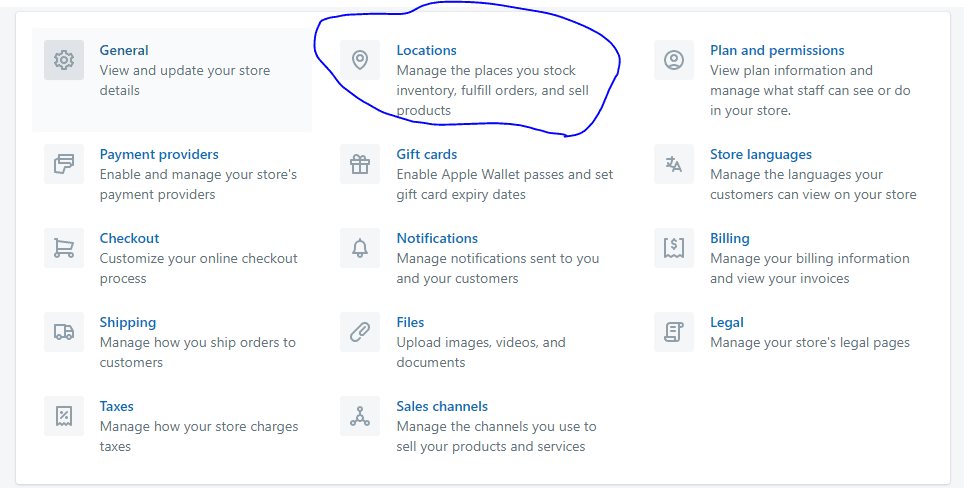 Because it ensures the accuracy of in-person taxes, further, you can track orders customers to place from all the physical locations.
Though a tax override supersedes a location's rates.
Adding Location
On the desktop, to add a store location go to "Settings" and then "Location" hit "Add location" (or+ Android or iPhone). Upon competition, save your entry.

Editing Location
You can use Shopify POS with another address by editing the name, phone number, present location, and current location.
To pull this on a desktop, tap Setting, then location. Click on the field to edit and update the info. Again, save the entry made.
Guarantee Payment
To ensure that customers pay for services and products, there's a need to set up payment providers.
Thankfully, Shopify guarantees payments through Shopify payments alongside third-party fees supported on Shopify POS.
Step #6 above shade more-light on this point.
But only accounts with plans above Basic Shopify have access to the third-party option.
POS Receipt
Upon taken payment of an order, a display pops, indicating that payment was successful. The screen provides you with a couple of options.
Installing a receipt printer, an account must be on the "Shopify plan" or higher. In that way, automatically print receipts.
POS Hardware
You don't want to fuss over what POS hardware to use before first establishing which Shopify plan supports it, hence buying what you need only.
On any Shopify monthly plan, you can accept credit card payments provided you've got a supported card reader on iPhone or iPad.
Although to add a cash register, receipt printer, and so on, your Shopify plan must be above Basic Shopify.
You want to find out which of your hardware works well on Shopify, that's if you're selling on another platform. If you're US resident, Shopify lets you rent POS hardware.
Step #8: Managing Sales Tax
For your sales, you may need to charge taxes. Fortunately, Shopify enables you to handle some of the tax calculations.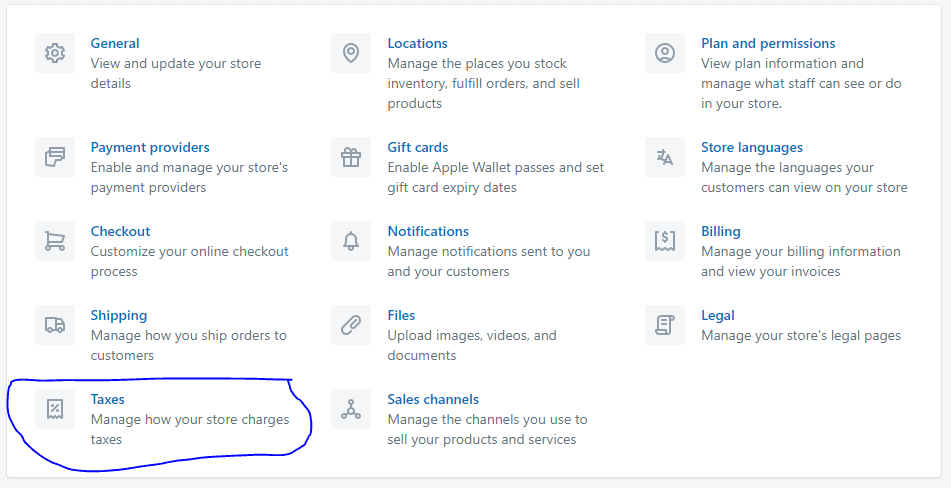 You can apply different tax rates, setting them region-specific for different countries. Equally, you can set tax override rules.
To set up the tax functions, log in to the admin panel, scroll down and click on the Setting button.
On display, select the Taxes option.
It's here you'll set store's tax rates by region and country. Merchants have robust knowledge-based management of taxes courtesy of Shopify.
Step #9: Defining Store Policies
Before launching, you must define your store's policies. It's crucial as the policies protect your brand against legal issues and outline how you'll engage and serve buyers.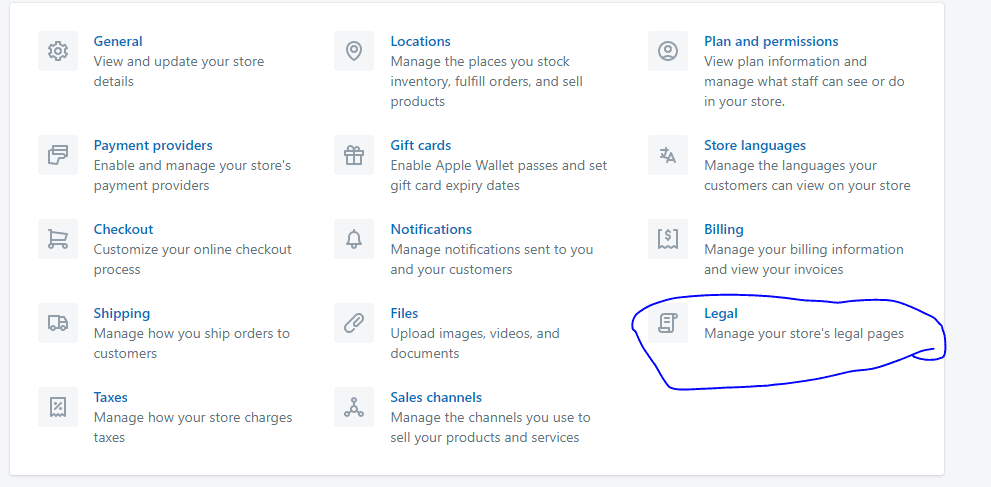 Your established policies will touch on:
Shipping
Refunds
Terms of service
Customer privacy
How To Sell On Shopify Legal Pages compliance
It's at the Shopify store footer where the policies appear automatically. To set your Shopify policies, consider the following.
At the Home area of the admin dashboard, you find the shipping policy button.
Tap "Add shipping policy" or tap "Learn more" link to learn how shipping policy work.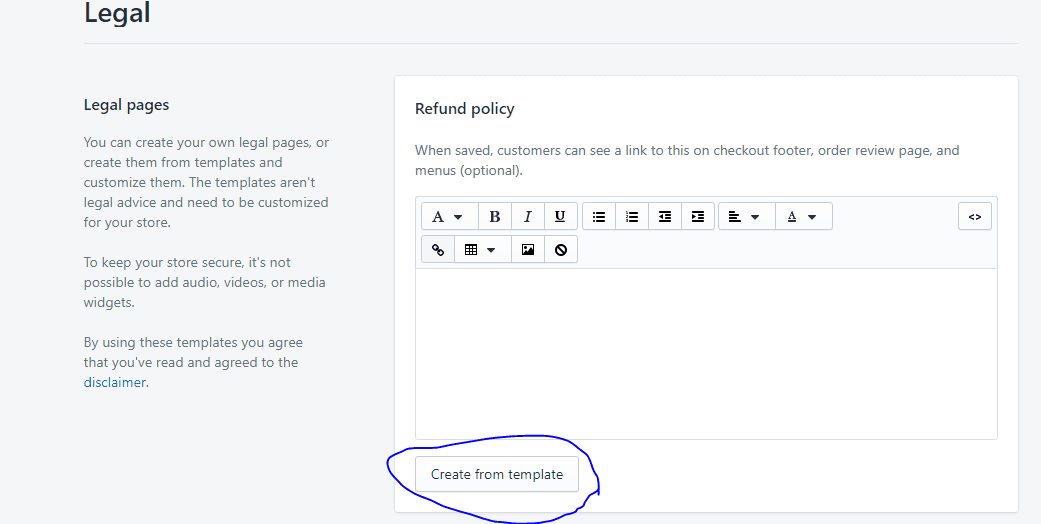 By tapping the "Add shipping policy" button, you set up all policies in one place.
Step #10: Testing the Shopify Store
We're at the tail-end, and before launching your store to your buyers, it's time to test it first. Everything ought to work as you'd intended.
Placing a test order for a product gives you a first-hand experience of how your store's:
Checkout works
Order page looks
Inventory reacts to the order
Tax reporting
Shipping offers and shipping appear.
To place a test order for a product on Shopify, head to Settings to access Shopify admin's payment provider section.
Tap on Manage
Next, scroll to test mode section, then check the box Enable test mode and tap Save.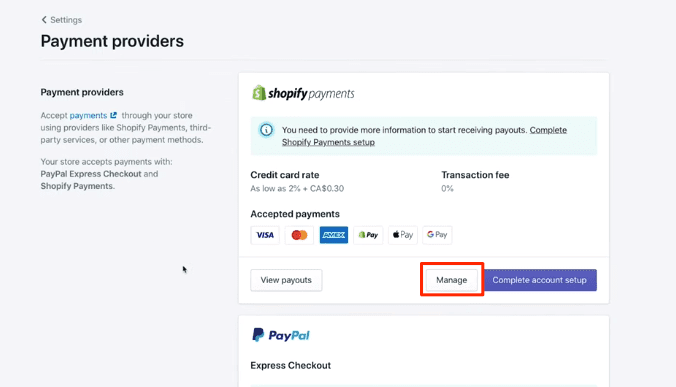 Proceed and buy your product. Next to your online store, you find an eye icon, tap on it to open your home page.
With your account set to test mode, you won't get charged when you buy products.
Step #11: Pick a Shopify Plan
If you're on still on a 14-day trial at this point, your account is passworded, and for anyone to access must enter a password.
Anytime you can remove free trial by taking up any of the Shopify plans. Upon making payment, you open up your Shopify to buyers. It's time to promote your business.
Step #12: Promoting Your Business
So, you've got all figured out, right?
You've got a beautiful store filled with products, and you're upbeat selling to buyers.
Promoting your Shopify store comes ta number twelve when it comes to How To Sell On Shopify guide.
You've made your life simpler with Printful and Oberlo, or you've got it all figured as regard shipping arrangements for your products
You've established all your refund, shipping alongside other policies
Tax calculation and rules are in place
Tested your store, ensuring all the cylinders firing in full gear.
With all that setup, it's time to lead your buyers to your store.
Finding Marketing Tools
Shopify provides loads of opportunities to market or promote your products. On a simple search, you find tools that help you lead traffic to your store. In the admin area, tap on Apps.
Hit on Visit the Shopify App Store button
Enter "Marketing" in the app store search box to search for marketing tools.
Tap on the search icon, and it avails options for all related apps. Pick the Marketing radio button; that way, narrow your alternatives to just marketing apps.
Further, narrow your search by picking any of the specific marketing app categories shown.
When starting, you want to concentrate on two things. Lead visitors to your store and build an email list. And so, apps that help you with getting visitors include:
Content marketing
Social network marketing
SEO
Ads and retargeting
Giveaways and contests
Email marketing apps would logically focus on assisting you to build a list and nurture them. You want to delve deep into sales and discounts only after having an audience. You can also read Fool-Proof Tactics To Drive Free Traffic To Your Dropshipping Store
Using Shopify's Academy & Marketing Dashboard
While right from the launch, you can execute sales and discount offers, your initial goal isn't so much about that. But selling happens only with an audience, right?
The Shopify platform makes selling in earnest. In the admin panel, you find the Marketing section.
It has a dashboard that has everything in one place, from automation to campaign monitoring, reporting to marketing tools.
On Shopify Academy, there is a marketing course you can take.
Final Word on How To Sell On Shopify
If you've been reading How To Sell On Shopify to this point then i salute you.
Shopify comes loaded with amazing benefits. The online platform comes:
Convenient to use and customize
SEO optimized and the site load faster
With fantastic customer support
Allowing integrations
Mobile friendly and visually appealing
With many useful marketing tools
The majority of merchants opine that Shopify's only downside is the cost associated with owning the store. Besides stocking your store, the regular monthly fees, sellers get charged for the credit card payment they receive.
Also, sellers might spend on apps, themes, and shipping. Should you need assistance with the management of your store, you'd get charged an expert fee.
But running a dropshipping business with Printful or Oberlo can save you from a ton of stress. These platforms lower the costs of stocking products since you'll never have to buy an inventory to sell on Shopify.
These dropshipping platforms handle order delivery and packaging, thus saving you more time.
Oberlo helps with sourcing and adding products to your Shopify store. And because it works with several suppliers across the globe, and so the burden of negotiating shipping and contracts with suppliers get lifted-off sellers' shoulders.
Printful designs, prints and ship jackets, mugs, throw pillows, t-shirts, et cetera. No need to have inventory; thus, you concentrate on building and marketing your business.
That's it on how to sell on Shopify works. Time to start trading hit it off with 90-days trial, then ease into your preferred Shopify plan to scale up in future.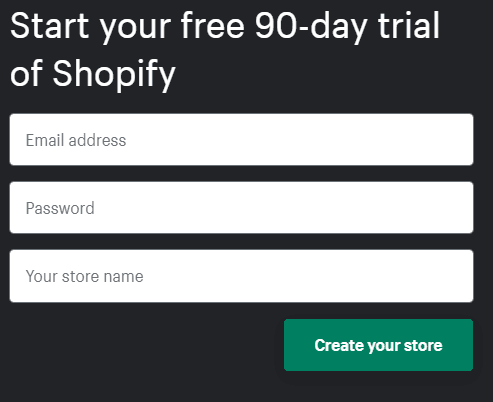 How To Sell On Shopify : Small Request
Did you enjoy this post? Kindly share it with your friends. Especially, the ones you believe really need this information.
Sharing this information with others can make a huge difference. You may ask why? Well, the truth is, my main aim is to provide the best information pertaining to drop shipping for both beginners and experienced dropshippers. And I plan to continue doing so for as long as I can.
I would also like to thank those who support the work I do through reading my content and sharing. Trust me, when you take your time and share it will help a lot not only for me, but also other people who may really be in need of this information.
Here are some great suggestions:
Pin it
Share it on another blog
Share on Facebook (Share it with friends and even on Facebook groups)
Tweet it
Stumble it
This will only take a few seconds of your time and I would really appreciate.
I appreciate you a lot. Thank you!
Join my Shopify dropshipping group mastermind and follow my blog to learn more about Shopify tips, dropshipping guides, dropshipping tricks and checklists, and e-commerce in general.
If you enjoyed and learned something from this post, you can get updates from me, free of charge!
I send out email newsletters about new posts published on the blog, tips, and tricks to help you grow your dropshipping business, as well as new YouTube videos to give you more insights about the e-commerce market, and much more.
Thank you for reading How To Sell On Shopify,leave a question below if you have any.