SPOCKET Review : Solution to Inventory
What is Dropshipping?
Before we delve into application Spocket review, let's understand the concept of dropshipping which is now a well-established method of business in the US, EU, and the rest of the world.
Basically, it is a type of retailing where retailers don't keep the products in stock however passes the customer's request and shipment details to the wholesale, which then dispatches the product the customer directly. The profit of the retailer lies in the difference in price between wholesale and retail.
Dropshipping is an attractive yet unique model with a number of benefits involved. The biggest advantage is less capital is required to launch an e-commerce store without having to invest thousands of dollars in inventory upfront.  It is easy to start a business where one doesn't have a deal with physical products.
There is a wide selection of products available to the customer because one doesn't have to pre-purchase to sell, one can offer an array of products to their potential customers.  Hence, dropshipping is the fastest, low cost, risk-free and easiest way to make money online.
 A Platform/Marketplace for the retailers:
Shopify which is a preferred platform of dropshipping allows many apps to find suppliers and dropship with ease. Out of those, one with the growth of 35000% after one year of launch and a rating of 4.7 stars is "Spocket" which is growing rapidly since it was developed in 2017.
Spocket is not only an application but an idea and mission by a tech entrepreneur named Saba Mohebpur who is an Iranian by descent and resident of Canada. According to him, "Retailers will be the served as a distribution center and not the inventory center".
The platform provides an opportunity for the retailers that they don't need to hold inventory instead can show and sell the product directly.
Unlike Oberlo, AliExpress, and Dropified, it is different in that most suppliers are from US, UK and Europe with high-quality products. So let us start spocket review and see what makes it stand out.
Starting up with Spocket /Sync with Shopify:
It directly synchronizes with the Shopify app or Woocommerce store. Here are the steps need to be followed in order startup:
Linking with Store:
Being a Shopify seller, head over to the Shopify App Store and search for the 'Spocket  Shopify App', select the 'Add App' button. This will lead you to enter your login info. Once it's done, you should have successfully linked your online store with new Spocket app.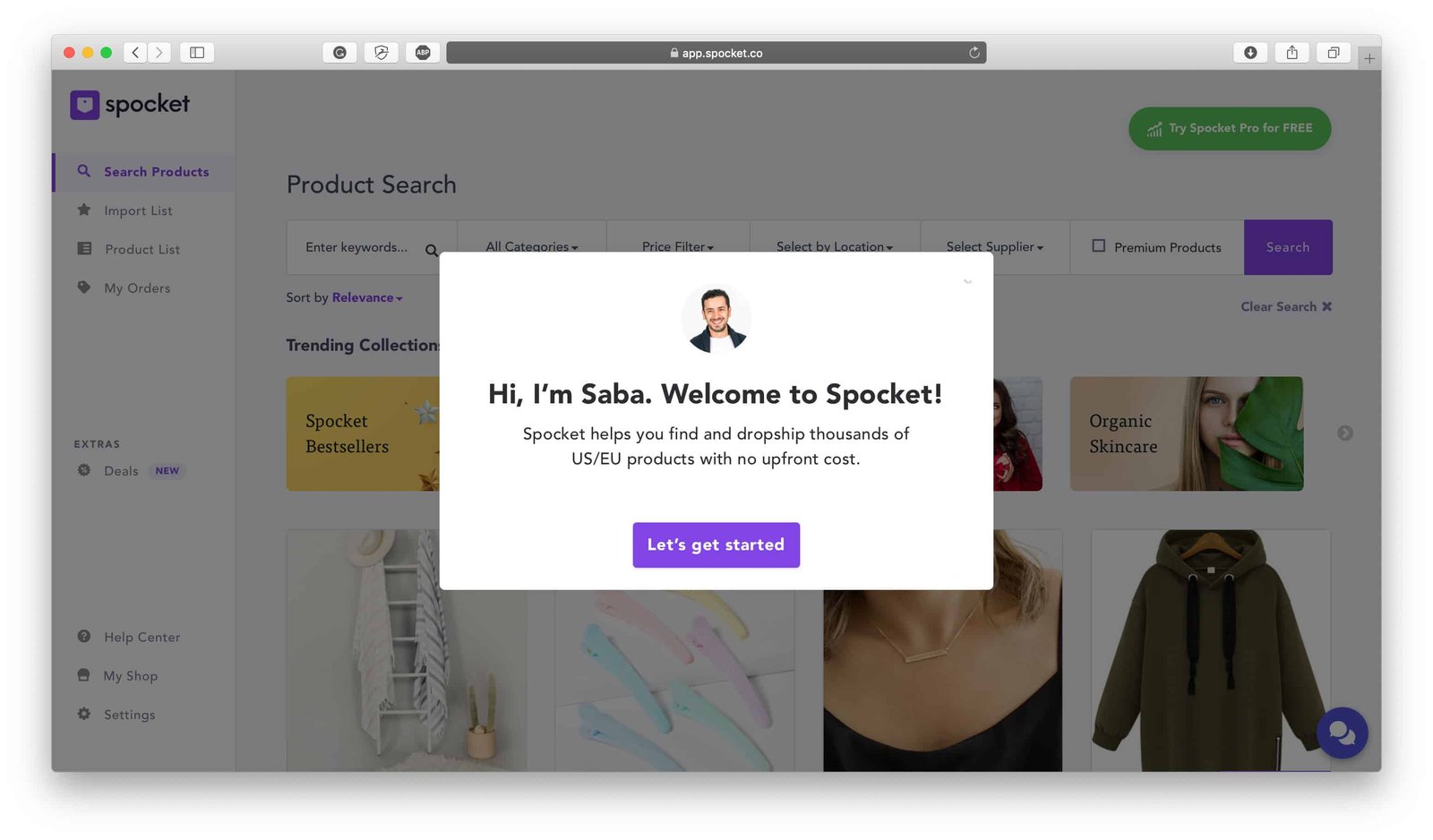 From there, you will be able to begin reading Spocket's catalogs and get a feel for the products you want to market and sell.
Touring Around Spocket
There is a short 4-step tour where the Spocket dashboard will start immediately so you can get to grips with where and how to start. By entering a keyword to search for specific products, search by product category, filter by price, search by location and select a supplier.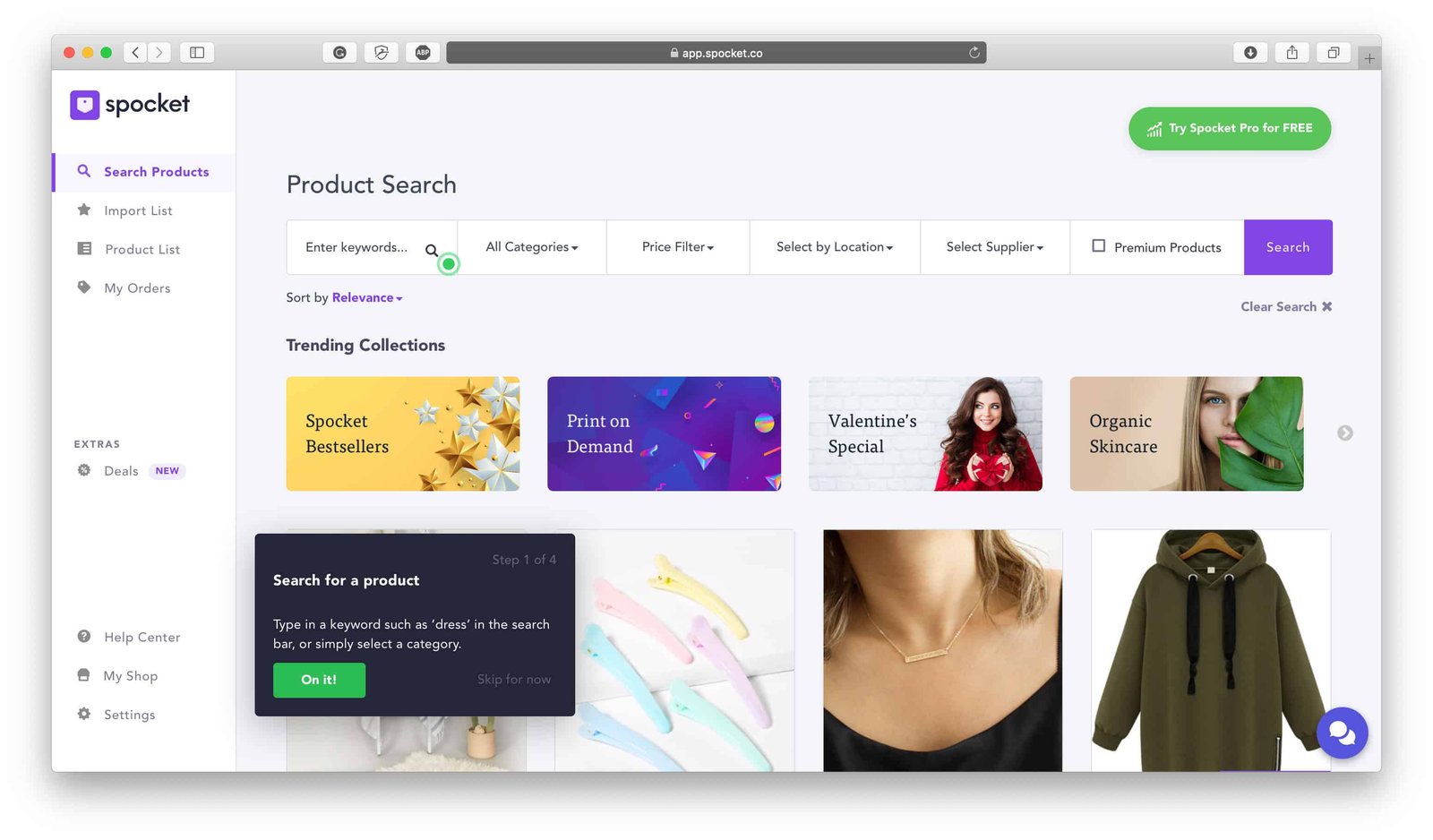 The products can be browsed through to find something you want to add to your store or search directly by keywords and preferences.
Importing Products to the Store:
There is a tab of Add to Import List button on either the main search page or the individual product popup. You can click and add the product directly to your store with the "Push to Store" button. Once you click on that button the product will be published to your store and your customers will be able to shop it.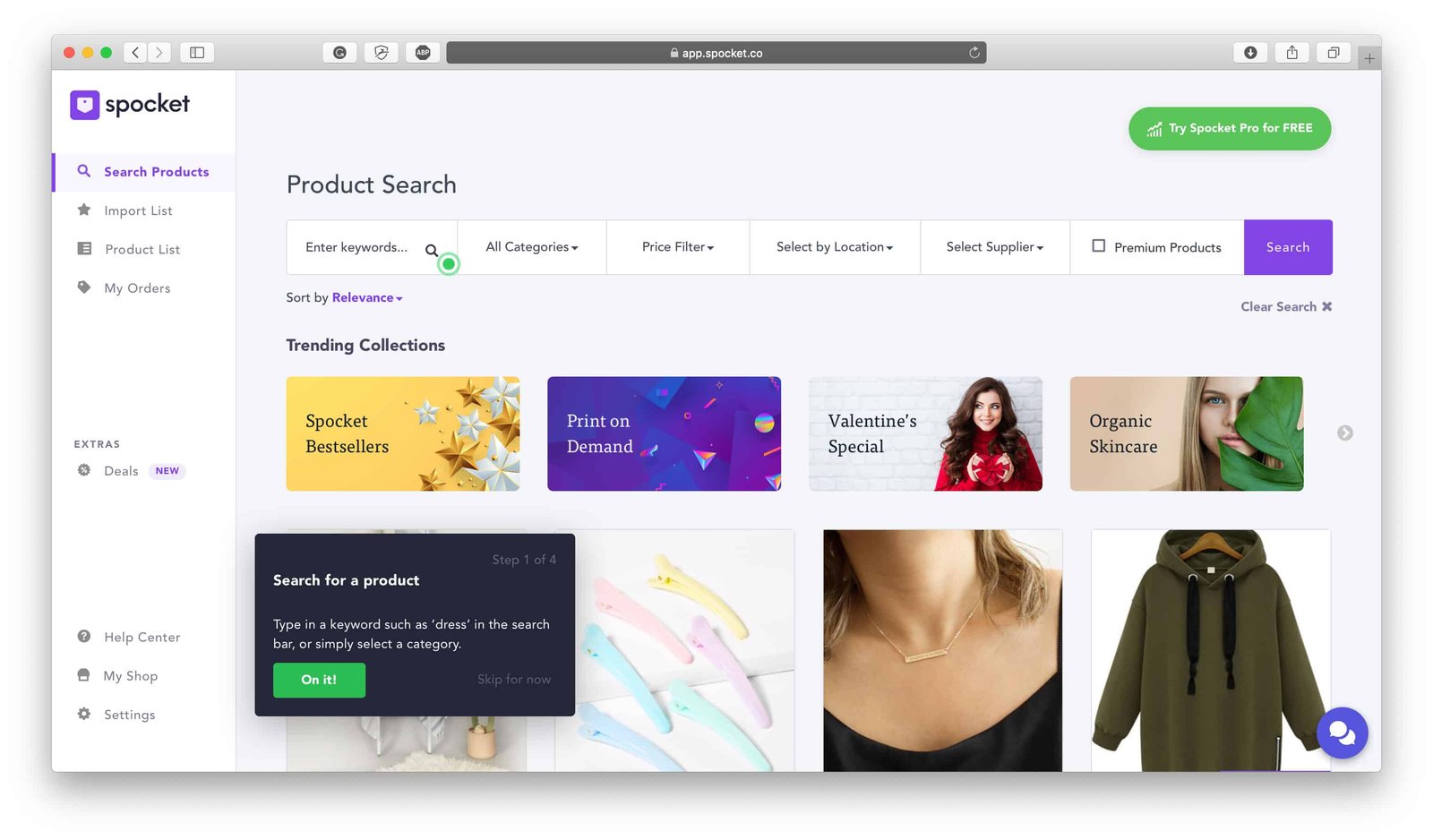 The products can be edited if needed by going to the Import List or by editing the product's details.  Spocket will automatically sync inventory therefore if a product goes out of stock from your supplier, it will make it out of stock at your store so that you don't sell an out of stock product.
Spocket is Linked and Running:
That's all with signing up, now Spocket products are on your Shopify store. It should be noted that one has to upgrade to one of Spocket's paid plans to access their premium products/packages, so until you do that you'll only be able to add non-premium products to your store.
Spocket Review : BEST FEATURES
High Quality/ Branded Products:
Dropshipping merchants are often frustrated by the low quality experienced in many of the products available in the marketplace, that's why Spocket diligently focus on cultivating a marketplace of high-end dropshipping products. It starts by vetting the suppliers substantially to ensure that they're creating great products so that merchants can trust. Working only with reliable suppliers, they've built a marketplace of high-quality products merchants can be proud to sell to their customers.
Quick Delivery:
It allows their customers to enjoy fast shipping of products and invariably makes a customer happy. However, the shipping days may vary on different products and supplier location. But one can always check this before importing the store to Shopify store.
Most of Spocket's suppliers are located in the US and EU say around 60%, therefore, delivery to their customers is faster, easier, and more reliable than if you were to source from other popular drop shipping supplier locations around the world. This is directly related to better purchasing experience for customers, earning you better reviews, and happier customers.
Lucrative Margin:
The typical margin of profit in other dropshipping is around 15% to 45% however Spocket aims for merchants to have a 30%-60% profit. This means that the merchant has the opportunity to earn more with every sale that you make, which can help to prosper the business and keep cash flow in the positive.
Automated Selling:
Automation process in the dropshipping business is usually the best part it can offer therefore Spocket is no exception. Their goal is to connect suppliers and merchants together and automate everything in between so one can run there without being bogged down by manually sending orders to your supplier.
Automation makes everything more efficient and means there are fewer possibilities for errors to be made, which leads to a better user experience overall.
Product Import with a Single Click:
The import button with a single click saves the stress of adding more products and their images, descriptions and other things. With the import tab, one can easily import as many products automatically. Also, from your import list option, there is an option to modify products to one's own desire before pushing it to your Shopify store. This will enable to re-write products description for SEO purposes and as well change products price to suit your own profit margin.
Wide Range of Products:
From the Spocket marketplace, one may have an opportunity to search an array of products from their tens of thousands of products catalogs that fit specific store niches. You could search with keyword option or able to price filter. At the same time, there is an option of sourcing products based on supplier location across various part of the world.
Automated Order:
Once a customer makes a purchase all their data's such address etc. will be generated on the checkout page which will be sent over to the supplier. Hence the orders are sent immediately thereby receiving an email confirmation.  The supplier will be all set with shipping of the products to your customer. The order is shipped instantly and one can track order on the dashboard with details of stats and location of the products.
Customized Product Information:
Product customization allows modifying products before you finally publish to your Shopify store. On the one hand your import list page, one can rewrite the product's title, add tags and edit the products description page in other for your products to get index faster by the search engine.
On the other hand, you can also go through the product variant and check out variants don't want to sell. Lastly, you can edit the product's image by adding "alt" text in order for it to get indexed quickly and rank higher on various search engine results. This feature was a must to be covered in this spocket review since it makes the best part of the app.
Advantages and Disadvantages of this App:
Below we shall review and enlist advantages and some of the disadvantages.
Advantages:
Location of Suppliers Based in the US & EU: Around 60% of Spocket's suppliers are located in the US & EU which is ideal in terms of product quality and shipping times
Global Availability: Spocket is available to use, ship, and sell to around the world
No Stock Issues: Spocket automatically updates inventory stock detail in real-time so one may ever be caught out selling sold-out or discontinued products.
Huge Product Marketplace: Choosing from a huge range of products to fill up the online store shelves with
Direct Integration: Import products are directly stored in the Shopify store with few clicks
Thorough Vetting Process: Spocket does hard work on suppliers to ensure reliable and high-quality products.
Branding Options: Use branded invoicing to make each order more on-brand
Free Plan: Get started with Spocket easily by signing up to their free plan and use 25 order
Ideal Profit Margins: Spocket works with suppliers to keep margins within 30%-60%
Order Samples: Testing out Spocket suppliers' product by ordering a sample right from your dashboard
Automated Order Processing: Orders from the store get sent automatically to the appropriate Spocket supplier
Disadvantages:
Products not sold on some Platforms: Spocket products can be sold on sales channels like Shopify stores, Facebook shops, Instagram, YouTube, blogs, personal websites, and Pinterest but cannot be sold on Amazon, eBay, Etsy, etc.
Customs Duty & Taxes Not Inclusive: Customs duty and taxes are not included in the tariff as it varies from place to place.
No Package Customization Available: At this time, customized tags, packaging or branding products is not available
Unable to Contact Spocket Suppliers: It's not possible to communicate directly with Spocket suppliers due to the fact that Spocket has thousands of merchants using their marketplace and it would be difficult for their suppliers to respond to all queries, but if you do ever have a question you can reach out to Spocket directly
Conclusion
In conclusion, Spocket team are dedicated to helping merchants build high-quality dropshipping businesses by only working with trustworthy dropshipping suppliers and creating an environment on their marketplace where merchants and suppliers can thrive together.
Regardless of whichever business model one may choose to sell their products whether it's dropshipping or otherwise, the customer experience comes first and with Spocket's marketplace of great products and high-quality suppliers, merchants are able to provide that amazing experience for their customers.
The end of Spocket review,it is your turn to try out and share your experience,click the link below.