AliExpress Standard Shipping: When Does An Order Arrive Its Location ?
AliExpress Standard Shipping according to most of the dropshippers,takes 2-3 weeks to reach the customers.This has made it tough to trust the shipping courier. But how long does it really take when it comes to shipping products?
This is one question that is not just asked by customers alone but has, over the years, been a general query even by drop shippers alike.
 "When does a customers' order arrive at the preferred location if it could take up to 3 weeks, shipping with AliExpress?"
Here is a concise review of how long it takes for the fulfillment of an order. 
However, this guide was organized to put you through everything needed to use AliExpress as a shipping provider.
It possible that the terms enumerated here are the same for other providers; hence, some tips are just peculiar to the company.
Where AliExpress Ships Products from?
Most of the product sellers and a good number of its manufacturers are residents in China. But even at that, it isn't specified where exactly it ships from, as it is not often included in the delivery invoice. 
Buyers only have access to the progression of their order and not necessarily what country or state it is coming from.
However, the shipping procedure makes it evident that the seller is shipping from China, though there is space for sellers that are not resident in China. So not all the sellers on AliExpress, have China as their shipping location.
How Long Do Orders Take to Reach their Destination?
There are a couple of AliExpress shipping processes that have been analyzed over time. These procedures involve both the free and premium AliExpress shipping services. Below are the methods:
An analysis of some ordered products across the shipping methods listed above
FedEx
Cost: $ 23.84 | Duration: 7 to 15 days
FedEx is a premium shipping option on AliExpress, and also even though the service is one of the best choices for speed, it is also the most expensive of all the premium services. Because of the efficiency and speedy delivery, FedEx is one of the best choices for product shipping, which will be fully analyzed in the article subsequently.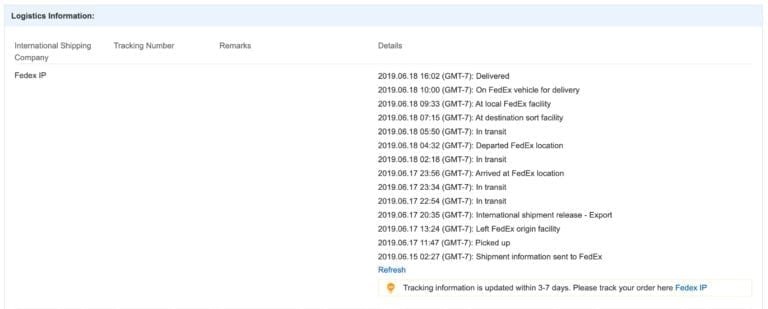 Some products shipped through FedEx arrived their locations in just three days only, making it a very viable option, though at a high cost.
ePacket Delivery
Cost: $2.94 | Duration: 16 – 26 days
ePacket is the option that most buyers take; this is because of the cost-effectiveness as a premium shipping method on AliExpress. 
As against the duration of delivery of other conventional shipping companies with the same pricing, it delivers the orders faster and more efficiently, though it depends on what product is being shipped.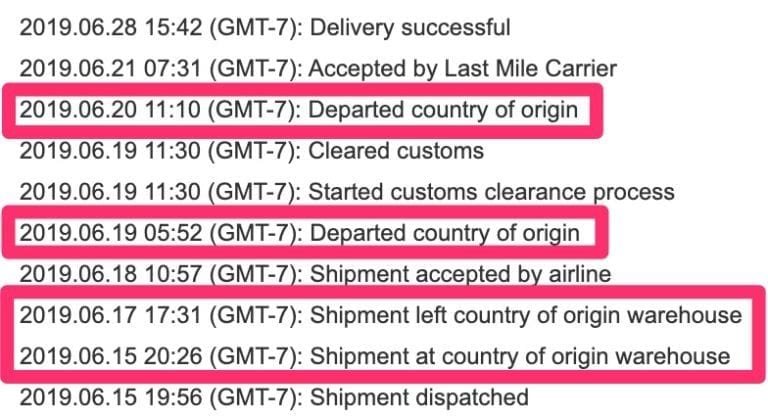 In some cases, ePacket ships to customers free of charge, which increases the revenue the seller makes from such products. An analysis of two products ( a wristwatch and a Bracelet); shows that the wristwatch arrived three days later than the bracelet, coming in 18 days.
SunYou Economic Air Mail
Cost: Free of Charge | Duration: 39 to 60 days
Sun You Economic Air Mail is a Free AliExpress shipping method, with an estimated delivery duration of 30-50 days. 
However, quite often, the orders arrive way before the said estimation time, like in the case of one of the products that came just ten days after placing the order, as against the 39 – 60 days estimated delivery time.
AliExpress Standard Shipping
Cost: $4.63 and Free times | Duration: 15 to 30 days
This one of the most cost-effective modes of shipping on AliExpress, though it can also be free sometimes. 
A product shipped through AliExpress Standard Shipping could arrive at its location in just four days, as against 26 days maximum delivery duration.
And it could be free or paid. Or arrive at the 16th day against 15 – 30 days maximum delivery time. Though the length varies with time, it cannot be resolved, the reason for these discrepancies.
Which Shipping Method is the Best for you?
The choice of the best method for receiving our product from ALiExpress is dependent on your reason for ordering. For easy and speedy delivery, for many product assessment and evaluation, you might want to use FedEx. 
However, to maximize profit while shipping to customers, you might want to use ePacket and AliExpress Standard Shipping, which also offers fast delivery services. Sun You Economic Air Mail might take a longer time to deliver, but is also a very viable option to choose should any of the others fail.
In What Packaging Does AliExpress Products Come?
Over the years, AliExpress shipping Companies have maintained just one package pattern, a plastic packaging method. FedEx and UPS deliver their shipment with their brand name attached to it, while other options like AliExpress Standard Shipping and ePacket, ship with no brand on the packaging.
Most of the products come in two layers, the main covering, as well as the second layer that protects the product from damage. And the main product could be packaged in a yellow plastic envelop or bag.
Should You Wait for AliExpress Standard Shipping?
The answer is yes, it is worth it. Below are some reasons why you should wait:
1. Best Pricing option as compared to other options
Looking for cost-effective products and yet get quality in the end, you will sort it on AliExpress. Hence, since most of the sellers are in China, and this product originates in China, it will very easy to sell at a cheaper rate. 
So you might take a rethink and wait as this product is readily accessible, and at a very affordable rate. As an e-commerce entrepreneur, you might have to include these shipping duration on your ads to help direct your clients.
2. Many stores only do not allow Express Shipping
For some e-commerce entrepreneurs, they take as Amazon is a competition. Bur is, you are not the only store that doesn't deliver in two days. 
It is very wrong to assume Amazon as a completion; because of the name, it has built over time and the length of years in the e-commerce industry.
3. What the Customers want
Customers can wait if they often get what they need exactly and as well as products that are in high demand. AliExpress offers products that are in high demand. 
However, the client doesn't necessarily buy from a seller because of the popularity, but because they have what the significant population needs. 
4. Customers prefer free shipping
It has been a norm for decades now; customers love free shipping even though there are a few persons that can still pay for shipping. And they know that free shipping services are always slow, so they can spare a few days more to get their products as AliExpress offers free shipping. 
However, the buttress point is that customers already know that most of these apply and can wait for their products to get to them.
Is AliExpress Standard Shipping Good for Business?
AliExpress standard shipping is one of the best, if not the best for business, because it is cost-effective and helps you as an entrepreneur save more money.  
In the bid to compete with popular platforms like Amazon and pay for AliExpress premium services, you end up losing money or using up your profit. The shipping cost added to the price of the product will increase the pricing and thus selling above the regular selling price.
 But with the standard free shipping method, you will help sell your products within the retail value. It helps to grow a business, especially for new companies, as well as efficient with print in-demand kind of dropshipping system.
Conclusion on Aliexpress Standard Shipping
The choice of what shipping method to use is up to you as an entrepreneur; ePacket or AliExpress Standard Shipping.
 However, being that AliExpress puts your profit margin into total consideration on their billing system, it is effortless for you to build a lucrative business with time.
 Suppliers give in to your specifications if you need a custom order, and it is best to check the product quality and delivery time of all the methods to know the actual result to expect.