The Best 20+ Photo Editing Apps For Android And iPhone
So you want to advertise your company by photography. However, you want to get the attention of your client, here is a list of the best photo editing apps that will help you achieve that and more.
It's challenging to do so, especially in the era of social media, where the attention span is shrinking to just eight seconds. Using a picture editing app will help you get a little closer to completion by using photo filters and fixing up photos.
Thirty-two percent of marketers claim that visual images are the most valuable type of content for their business. Could you afford not to try investing in a picture editing app that could improve your visual brand?
Also, we have developed a product photography course on how to take beautiful product pictures with your phone.
We've put together in this article a top list of the 21 best photo editing applications on the market, both free and charged, so you can pick which one suits your photo editor needs the most.
But First, What Exactly Is a Photo Editor App?
A photo editing apps are a software program designed to edit images on a mobile computer. This only means that you can build a fantastic graphic plan to view your goods professionally by only using your cell phone for a company.
This software type provides various features such as cropping, shutter speed modulation, and filtering. But you can also find photo editing applications that help you make collages or create automated settings for different scenes. If you are looking to enhance your enterprise's visual side, you can do so much with the picture editing apps mentioned below.
The Best Free Photo Editing Apps for Android and iPhones
1. Snapspeed
Available on Android and iPhones Free
Google's Snapseed packs a punch, competing desktop photo editors with a wide variety of features and an elegant interface.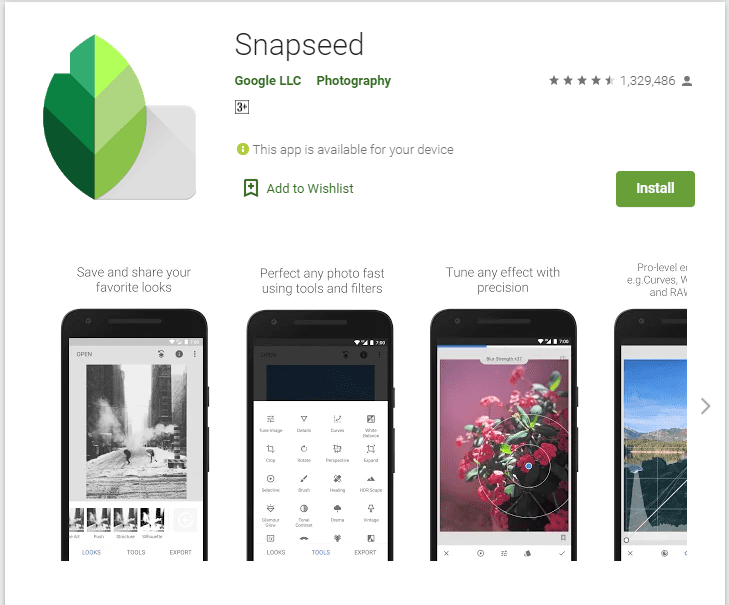 Much as you would imagine, this free picture editing software comes with a selection of preset filters. However, unlike most applications, you can change these filters and even create your own from scratch.
It also has all the classic methods, such as cropping, straightening, frames, text, vignettes, etc. And the sharpening function does the job without making the picture appear grainy.
Then, things get interesting.
Snapseed has precision masking that helps you adjust the field's depth – photographers frequently use this to distort the backdrop and put the foreground even further into view.
There is also a "Selective Adjust" method. This helps you to choose a particular region of your picture and adjust the intensity, contrast, and brightness of that single point.
What's more, your edit history is stored by the photo editing software, meaning you can change your past edits at any time.
2. VSCO
Available on iOS and Android | Free
Best for Classic-look filters.
VSCO Photo Filters App Free
Like Instagram, VSCO combines editing tools, a camera, and an online community.
But it's all about the filters.
This free photo software offers a collection of breathtaking filters that make your images look like they were shot with an analog film camera. These gentle and subtle filters bring a bit of class to your pictures compared to many aggressively filtered Instagram presets. You can change them with a simple slider, too.
The software also contains all regular editing resources, such as parameters, cropping, borders, and thumbnails. You may also use VSCO to change the exposure, contrast, temperature, or skin tones.
If you've finished editing your shot, you can share it with the VSCO group or with another social network—like Instagram! The application even lets you share on WhatsApp messenger and SMS using the already in-built sharing feature.
3. Prisma Photo Editor
Available on iOS and Android | Free
Best for: Turning your photos into artistic "drawings." and "paintings."
OK, sure – most amazing filters that turn photos into "paintings" or "drawings" are downright awful.
Prisma is the exception.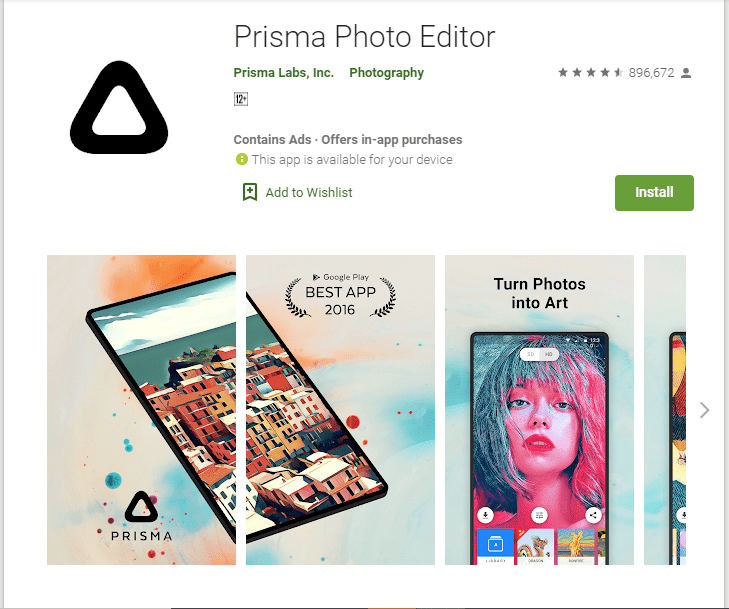 This free photo editing software uses artificial neural networks (whatever that means) that "allow users to make images look as though they were drawn by Picasso, Munch, or even Salvador Dali."
Give it a try – maybe you'll be shocked how much you like it. You can pay for accessing additional filters, but a great collection is given free of charge. In total, there are more than 500 innovative filters you can select from.
Prisma also has a close online community to Instagram. So, after you've finished editing, you can share your image with your Prisma feed, save it directly to your device, share it with any social media app, or send it via email or post.
4. Adobe Photoshop Express
Available on iOS and Android | Free
Best for All-around photo editing.
Adobe Photoshop Express uses all of Photoshop's best picture editing software and squeezes them into a smartphone app. Despite several advanced functionalities, this free photo editing software is simple to use on a small touchscreen.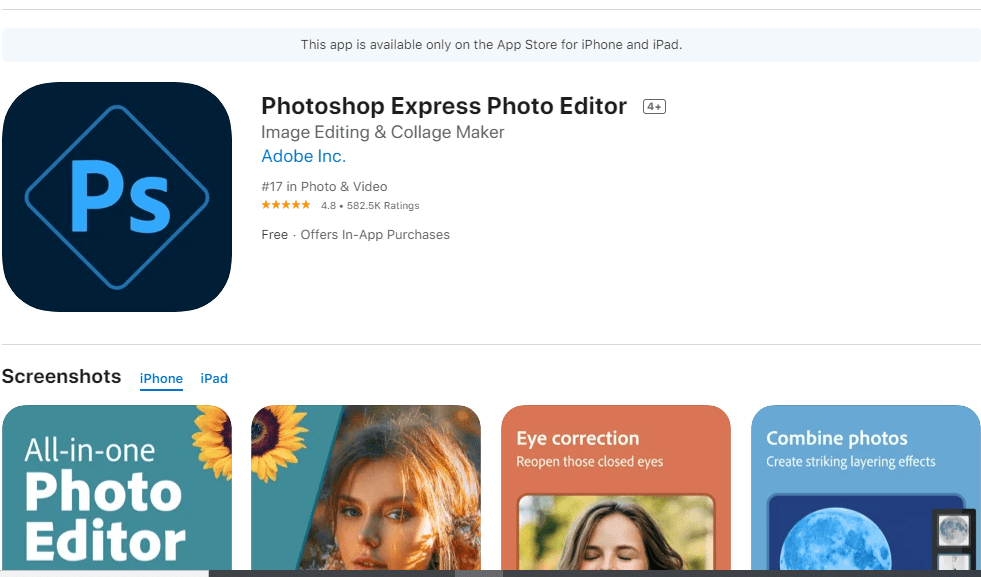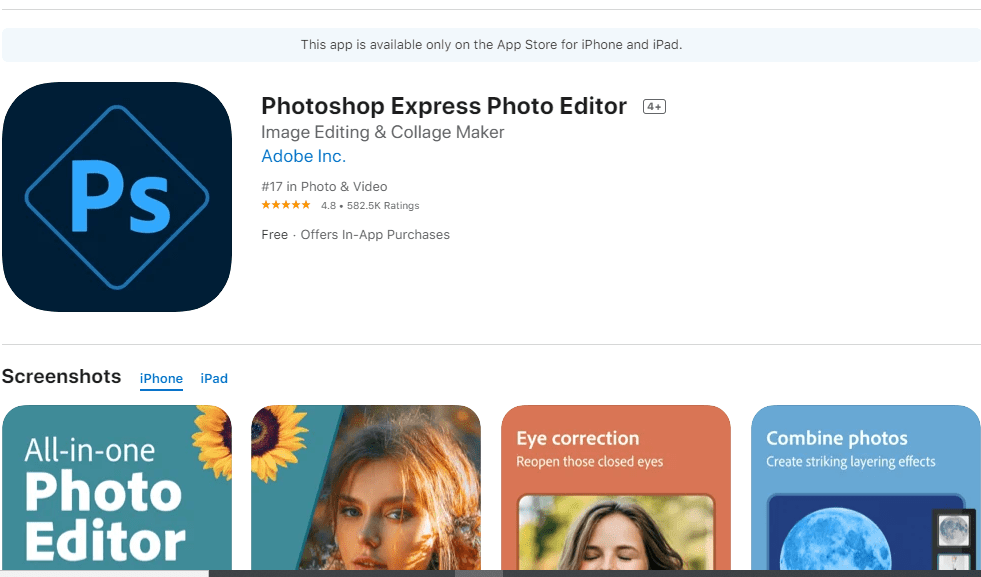 Just upload a picture from your device, take a new one with your camera, use an image from your already created Adobe Creative Cloud account, and then start editing.
It has all the equipment you'd expect—cropping, red-eye adjustment, transparency, contrast, distortion, filters, borders, etc. The best aspect, though, is the collection of smart filters. These filters automatically fix typical problems, such as color temperature and exposure problems. You will need to sign up for a free Adobe ID account before using Adobe Photoshop Express. When you've done editing your snap, save it directly to your smartphone or share it with other marketing and social media applications.
5. Foodie
Available on iOS and Android | Free
Best for: Taking photos of your food to the next level.
At any point, everybody was accused of taking pictures of their meals. Foodie welcomes this urge and lets you take photos of your food to a whole new degree.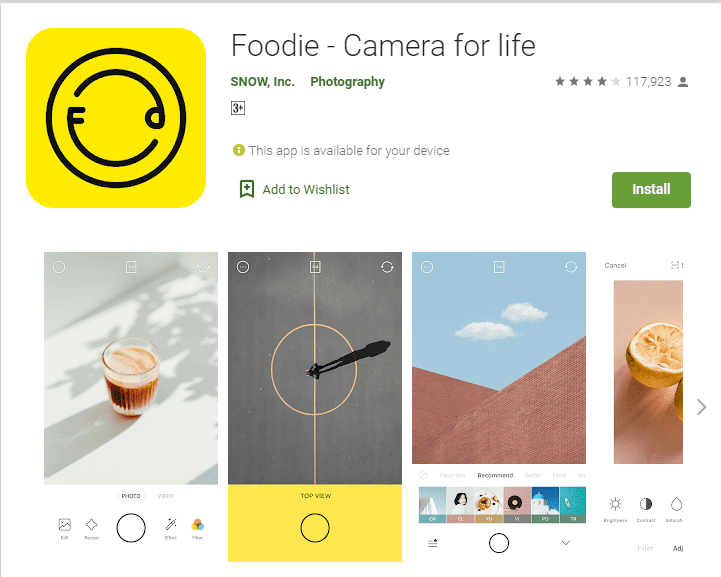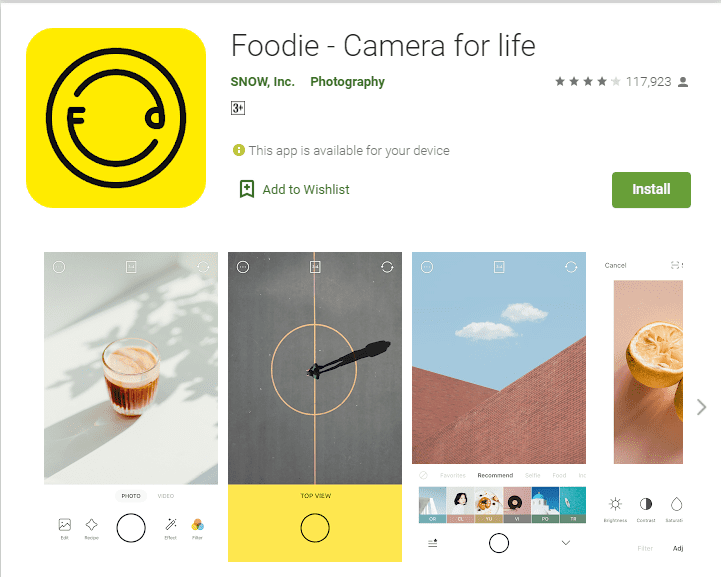 The editor is somewhat very similar to Instagram's – except that all 30 filters and editing tools are set up with food in mind.
Plus, it lets you set up the ideal bird's eyeshot and let the colors show.
Bottom line: If you're taking food shots, you need this free picture editing tool.
6. Adobe Photoshop Lightroom CC
Available on iOS and Android | Free
Best for: Professionals and those having the interest of making quick pro adjustments.
If you want to improve your game any more, try out Adobe Lightroom CC.
This smartphone edition of the famous desktop program allows you access to advanced editing capabilities on the go. Plus, it also deals with RAW images – a high-quality picture format standard with photographers.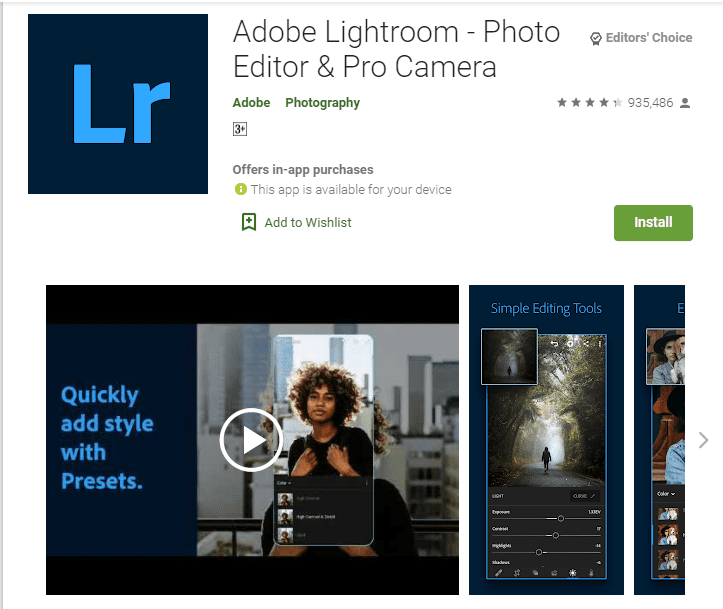 One of the best aspects or concepts of this free picture editing software is that it doesn't want to do anything for anyone.
Instead, it focuses on offering a collection of high-quality modification methods that are viewed as basic sliders. This helps you change the brightness, detail, color, distortion, and grain of your frame.
If you plan to apply to Adobe Creative Cloud, you will also have access to extra functionality.
These include selective Adobe Sensei and editing – an AI framework that auto-tags your photographs based on their quality, enabling you to locate the perfect image quickly.
7. LiveCollage
Available on iOS and Android | Free
Best for: Creating the ultimate photo collages.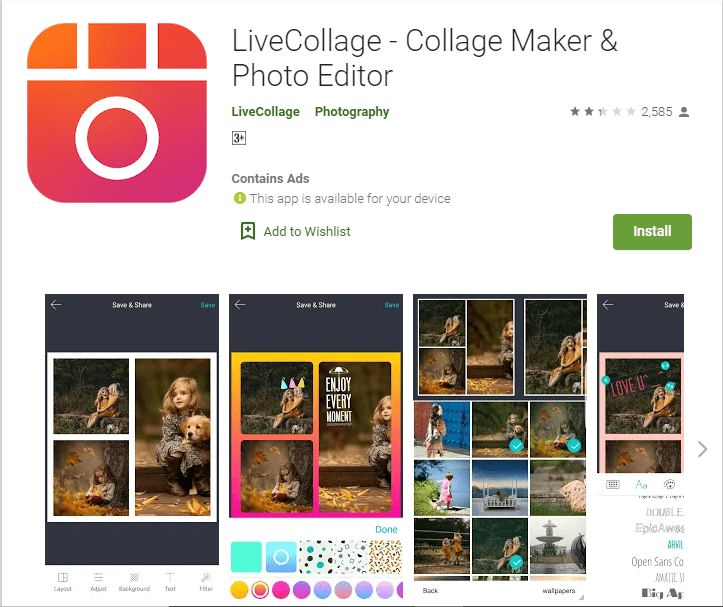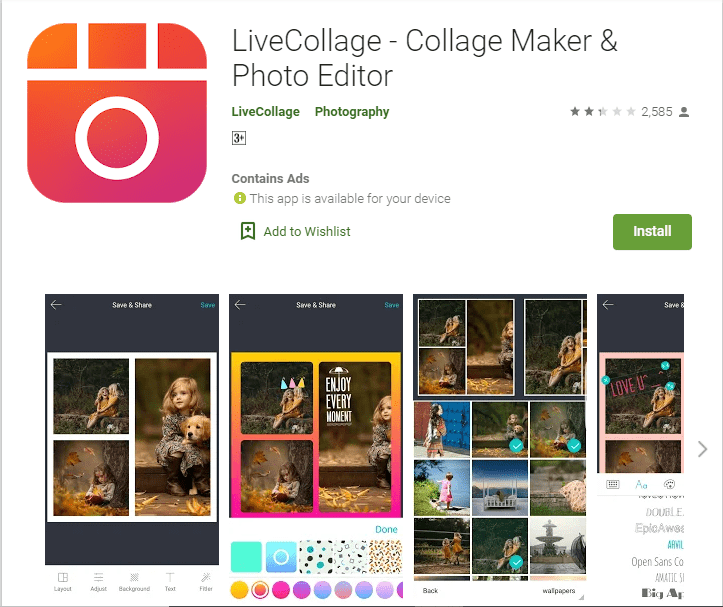 Many free photo editing applications help you make quick collages (like Photoshop Express). LiveCollage, however, kicks things up.
This photo collage builder has thousands of formats, so you will still choose the best one for your needs. There is a wide variety of unique designs and fascinating histories. Plus, you can add text, customize fonts, colors, and sizes.
The app also offers simple photo editing software, so you don't need to turn between applications to make the ultimate college.
8. Adobe Photoshop Fix
Available on iOS and Android | Free
Best for: Editing portraits.
Adobe Photoshop Patch is not meant to apply filters or effects to the images. Instead, it is designed to correct or delete inappropriate elements of your pictures.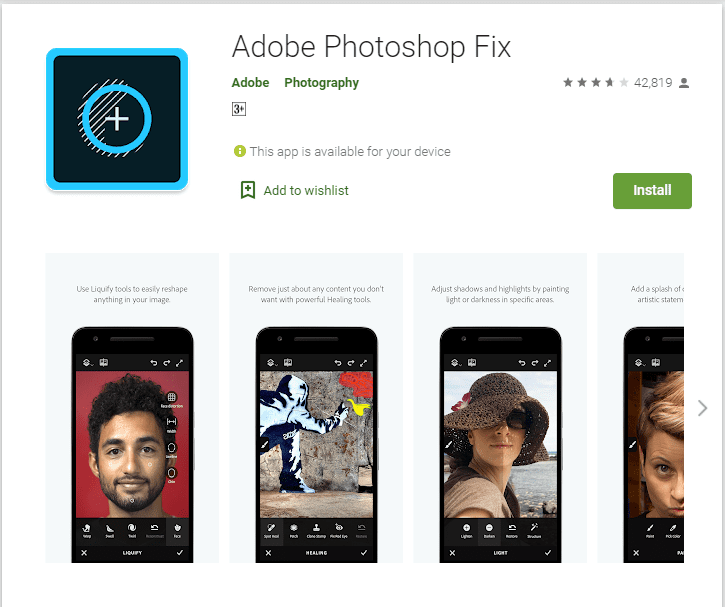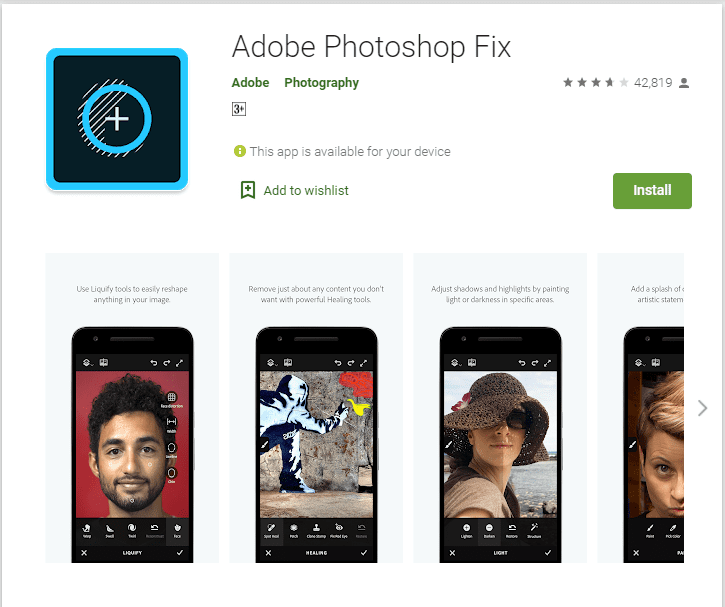 You can use this easy and quick photo editing software to render professional-level edits of your portraits. First, it covers all the basics – you can change highlights, shadows, shades, and more.
It's the Liquify part. However, that is truly amazing.
When you upload a portrait image, the app will automatically record each subject's facial features. Then you can change their scale, form, and location to produce a perfect picture.
If you are an Artistic Cloud user, you can upload your edits directly with Photoshop on your laptop for more editing.
9. Visage
Available on iOS and Android | Free
Best for: Retouching selfies.
First things first: there's nothing wrong with boobs, bags under your eyes, or teeth that aren't entirely white when you take a selfie.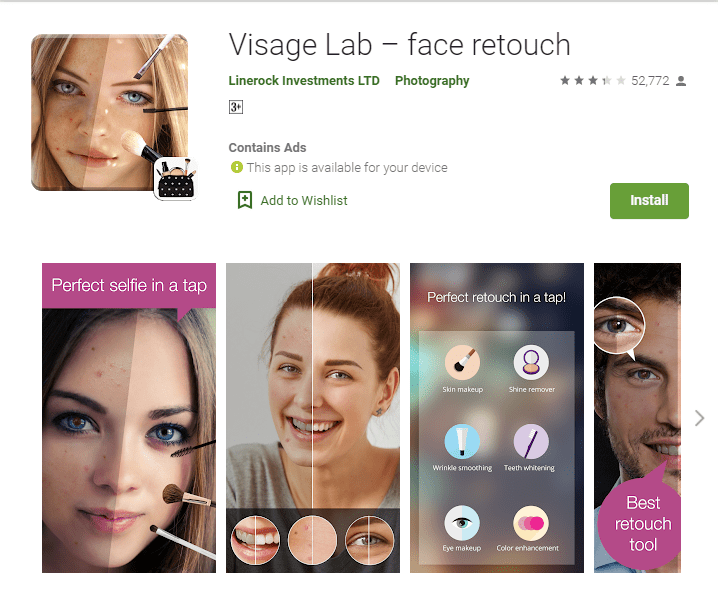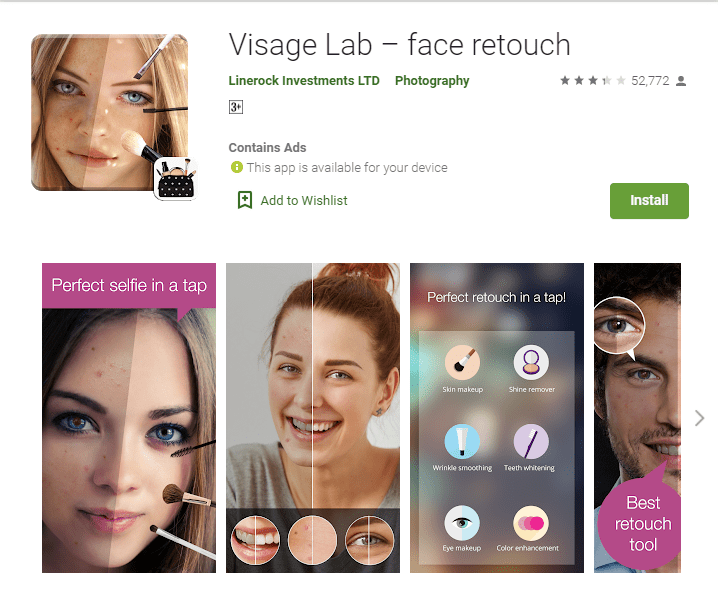 Still, whenever our pride is more vital than us, Visage is ready and waiting.
This free selfie picture editing software lets you edit your portrait images instantly and conveniently. Specifically, you should smooth your face, reduce your skin shine, whiten your teeth, add eye shadow, and more.
The software also provides a selection of exciting backgrounds and effects to improve your selfies.
The downside is that the free edition of the software displays many advertisements, and your completed photo editing will have a labeled hashtag added to the bottom. However, you can still switch to the premium edition ($4.99 a month or $9.99 a year) to prevent any of these pitfalls.
10. Enlight Photofox
Available on iOS only | Free
Best for Artistic photo editing.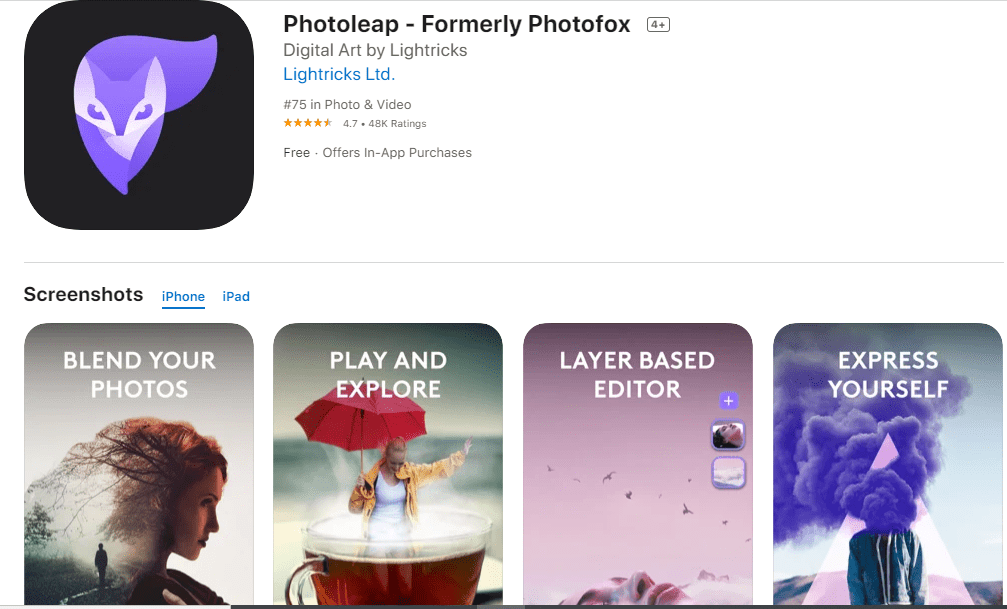 Enlight Photofox is the ultimate free art photo editing software – it also received an Apple Design Award in 2017.
One of the most common features is the ability to combine images to achieve spectacular effects. You should apply graphic elements to the pictures as well.
Although it has many categories of the same features as Photoshop, such as layers, the learning curve is not steep. That said, to get the best out of Enlight Photofox, you're going to have to watch a lot of his tutorial videos.
The downside is that the free edition only allows you to use two layers at a time. So, you're going to need to sign up for a pro edition ($2.74 per month or a one-time payment of $64.99) if you want to let your imagination run away.
11. Instagram
Available on iOS and Android | Free
Best for: Sharing your photos online to build an online following.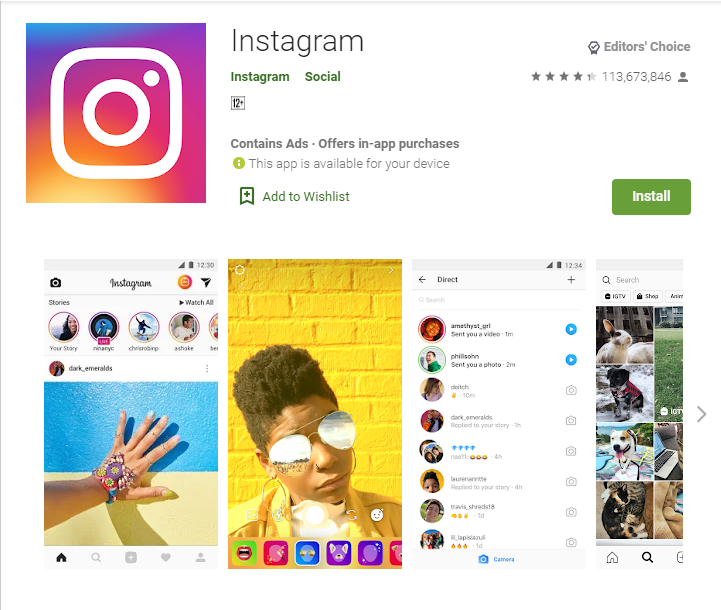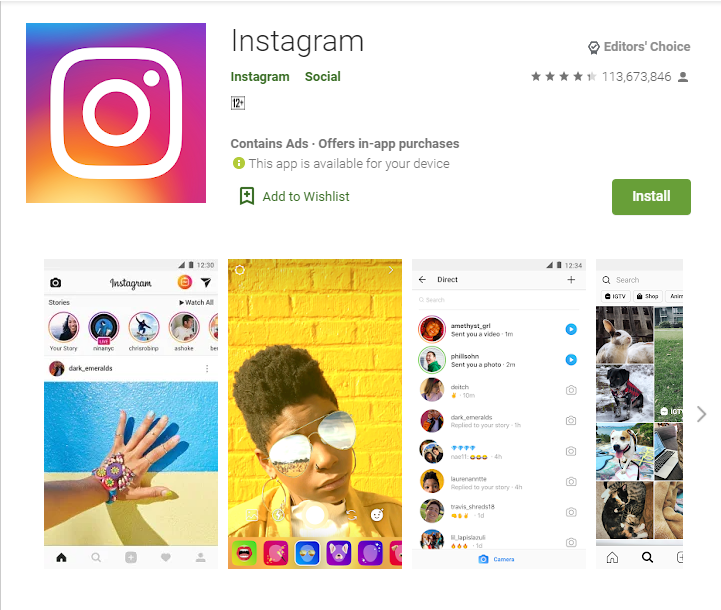 It's expected to go without saying: if you take pictures, Instagram is the place to post them.
The website is the third biggest social network globally after Facebook and YouTube, and as of June 2018, the app has more than 1 billion active users per month.
The platform has all the simple photo editing software you might need, including filters, effects, text, stickers, overlays, and more. However, the software also offers other opportunities to help you grow your follow-up.
For example, you can use Instagram Insights to learn how your audience interacts with your content or use Instagram app Stories or Instagram Live to link to your posts more engagingly.
12. Afterlight 2
Available on iOS and Android | Free
Best for All-around editing and artsy overlays.
Afterlight dubs itself the "all-in-one, feature-packed" picture editing software – a rational description.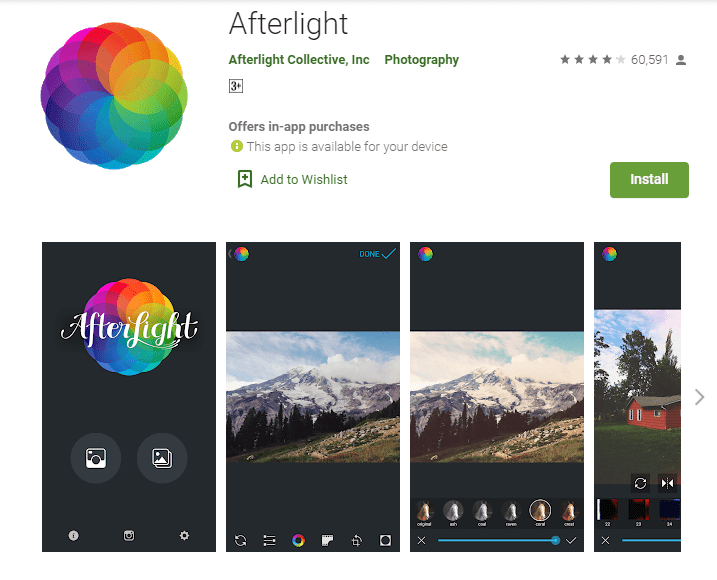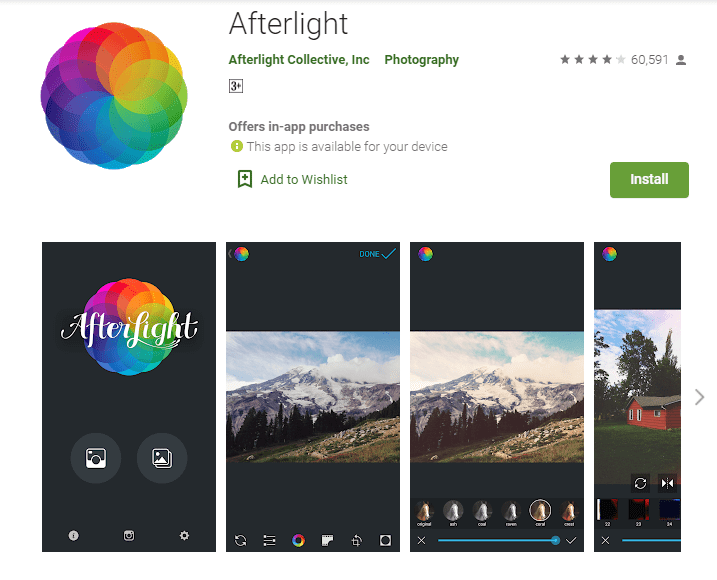 It has all the standard and fantastic features you'd expect, including exposure correction software, hue/saturation, contrast, and color. And the possibilities for inserting and customizing text are quite vast.
Plus, there are over 70 frames to pick from and many large filters that you can tailor to meet your needs.
Best of all, there are quite a set of textures, including prism effects, actual video spills, and dusty film overlays. This helps you to make memorable pictures that stand out and catch people's interest.
The app also works with RAW files both on iOS or Android.
13. Canva
Available on iOS and Android | Free
Best for Business-related branded images.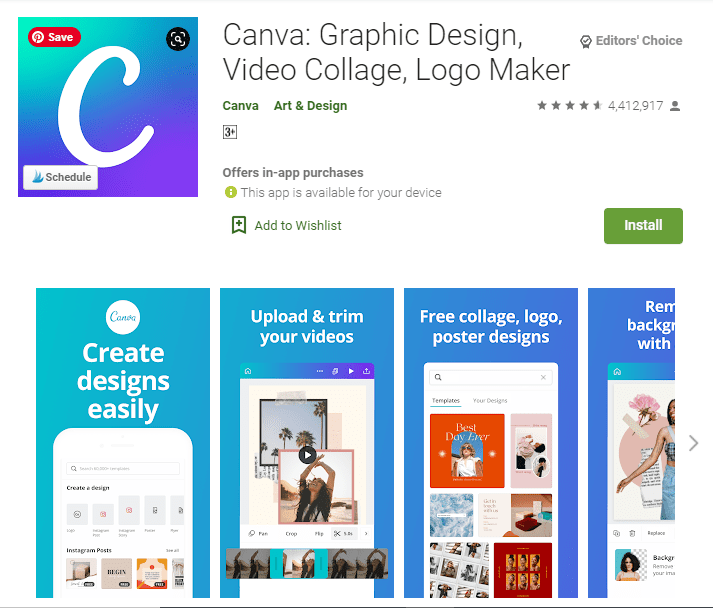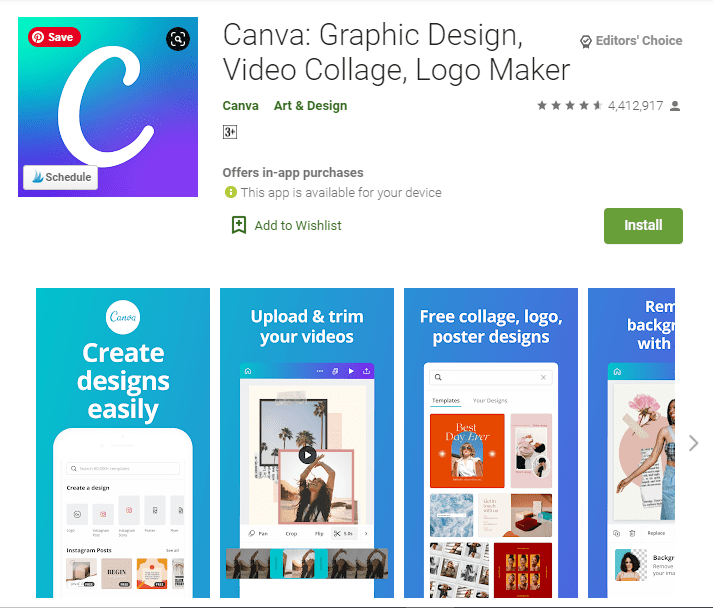 OK, but Canva isn't all about pictures. It's about making posters and other graphics through the website and marketing materials, so that's why we love this app!
Take a screenshot, upload it to Canva, edit it, and start making all your excellent graphics that are consistent irrespective of where your customers see them.
With filters, thumbnails, and more of your images, anything you share on social media and your website will look professional in minutes.
14. Over
Available on Android and iOS| Free
Best for: Adding beautiful text style to your images
Over has a little bit of all – blurring, tints, opacity – but the opportunity to apply text is where it shines.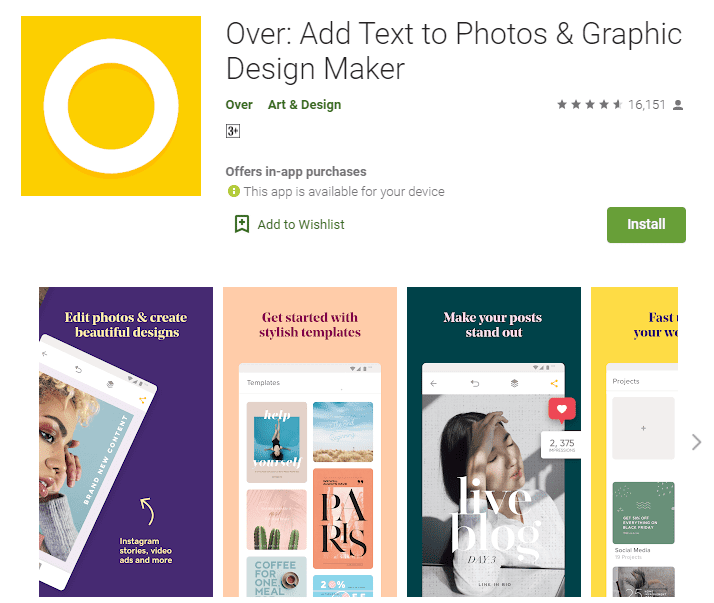 You can use the software to add several text overlays that you can style uniquely to your pictures. It has a great catalog of fonts and an easy GUI for fast editing.
Editing lets you change the color, scale, and text orientation of the file. Plus, you can press to resize the text. Also, several text entries may be added to a single image using the software's layer framework.
Customize as you want and post on Facebook, Twitter, and other social media networks. It's a neat, low-cost way to start creating brand recognition for your company.
The Best Paid Photo Editing Apps
15. SKRWT
Available on Android and iOS | $0.99
Best for: Adjusting the viewpoint of your photographs.
Have you at any point taken a phenomenal photograph that wasn't precisely arranged, correct? Maybe the viewpoint was somewhat shifted or awry?
SKRWT fixes these issues.
This photograph-altering application allows you to change your pictures' points of view so everything lines up effectively. It has mechanized trimming and point of view adjustment. Or then again, via the off chance that you'd like, you can utilize the "4 Points Correction" to physically alter your picture's viewpoint.
Likewise, you can utilize the mobile application to address focal point mutilation – a typical issue with cell phone cameras. No big surprise, SKRWT says it's the "missing connection in very good quality cell phone photography."
16. Facetune
Available on iPhone and Android | $3.99
Best for: Professionally editing selfies.
Will you love to take the selfies? Facetune is another portrait picture editing app intended to make you look the best.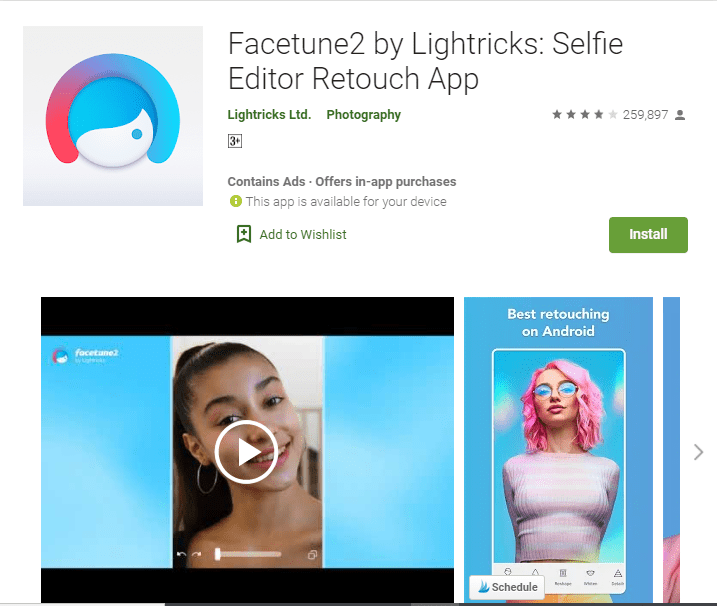 It helps you to make advanced photo editing changes to your photos easily. You can smooth your face, whiten your teeth, erase blemishes, and even change the facial features' location with just a few swipes and taps.
You can also adjust the backgrounds of your selfies with a cool collection of graphics.
Facetune is only used in moderation – if you get carried away, your selfie can quickly end up looking like a wax doll.
Luckily, you can press and hold the blue button at the bottom of the screen to swap between the original image and the edited version.
17. Touch Retouch
Available on iOS and Android | $1.99
TouchRetouch Paid Photo Editor App
Have you ever taken any snapshot of an object in it that you wish you could remove? OK, TouchRetouch is a picture editing software that lets you do that.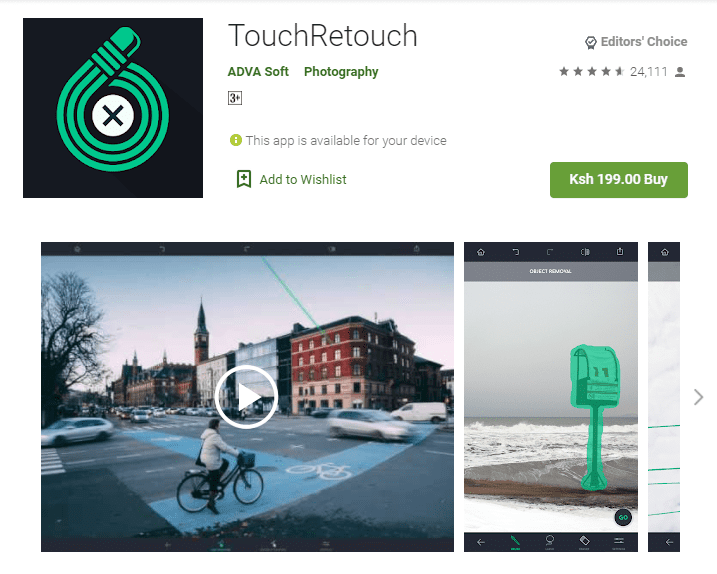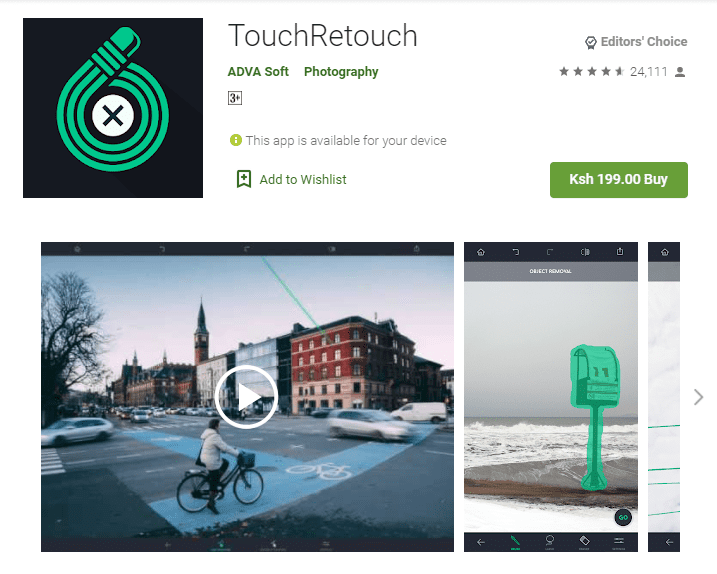 You may use this photo editing software to delete items like phone wires, trees, power lines, street signs, or garbage cans. You may also erase blemishes, valves, or even pesky photobombers.
Plus, the software is incredibly convenient to use. In truth, most items can be extracted with only one tap. However, if you need guidance, there are lessons in the app that show you how to use its full ability.
18. Pixelmator
Available on iOS only | $39.99
Best for: A vast range of photo editing features.
Pixelmator protects all of the bases. It combines the tools required by both photographers and graphic designers into a single smartphone app.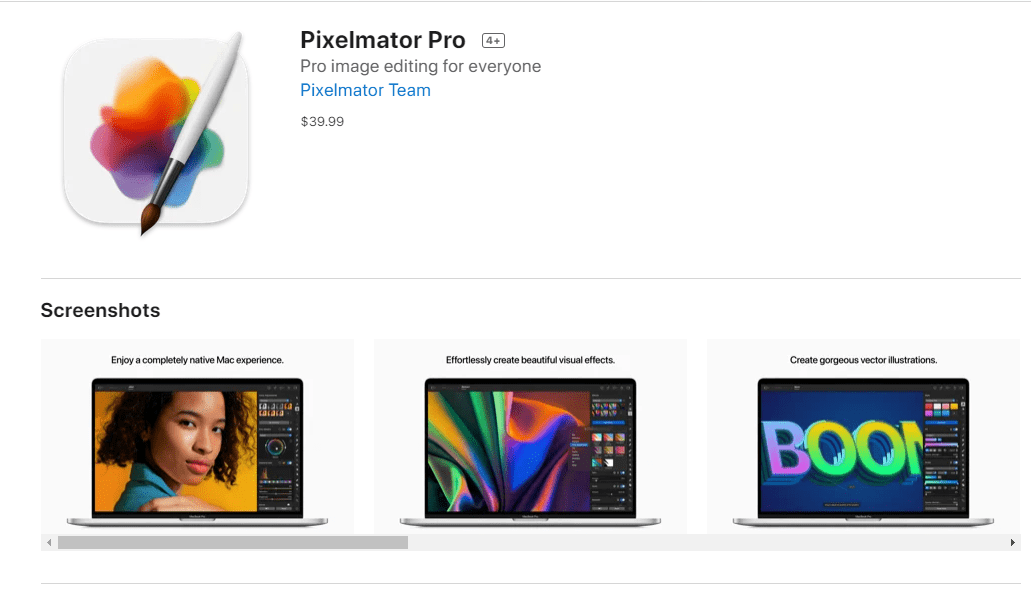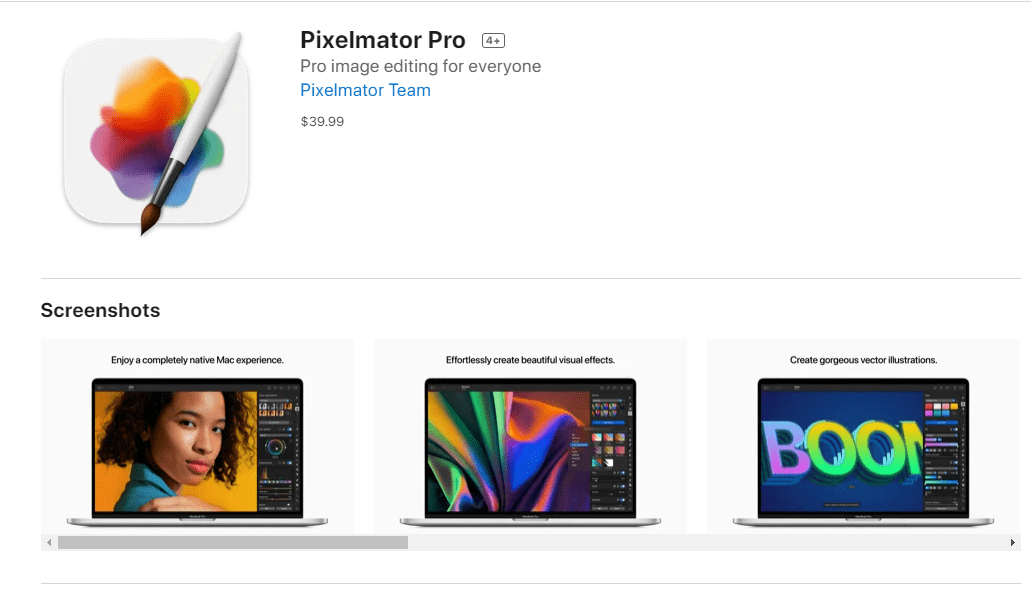 This is a layer-based, feature-packed picture editing software. You may use it to improve images, incorporate graphics and text, or create sophisticated creative compositions. The software comes with default models, collages, and effects.
The best part of it? The GUI is convenient to use.
The app also integrates perfectly with Pixelmator's desktop program (which costs $39.99), so you can edit it anywhere and wherever it's most comfortable for you.
19. Mextures
Available on iOS only | $1.99
Best for Quick and professional layer editing.
Mextures is a layer-based photo editing software that allows advanced photo editing quickly.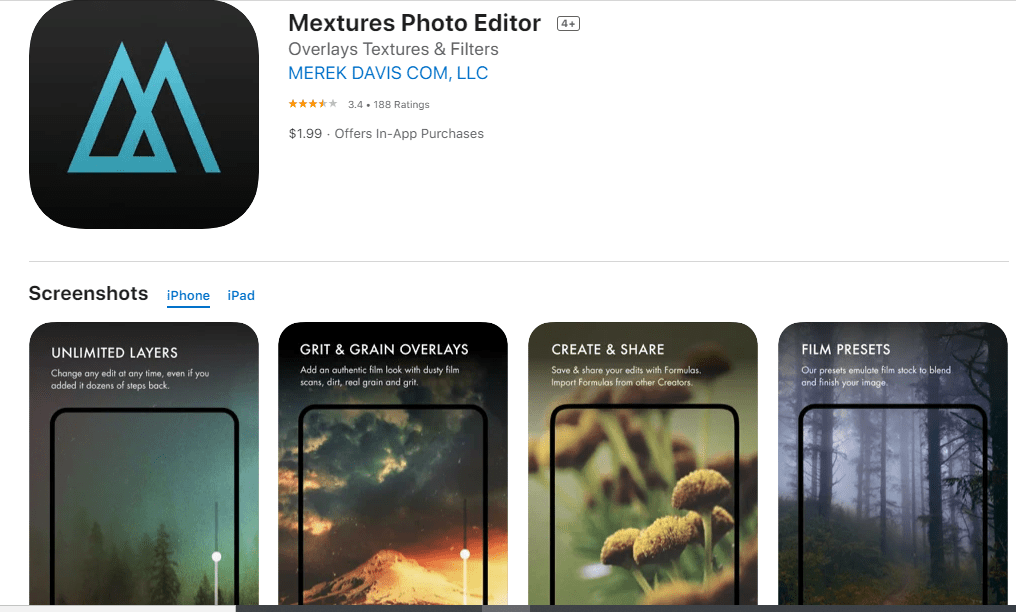 You will use the software to layer and edit various edits and changes on top of each other.
Plus, the software comes with a lot of friendly filters for fast editing. And in the future, you can save your editing formulas to add to other photos.
It's also useful for adding mud, film grain, layers, gradients, or light leaks.
20. Distressed FX
Available on iOS | $0.99
Best for: Unleashing your editing creativity.
Distressed FX Paid Photo Editor App
This is a twisted photo editor app. Distressed FX helps you apply a wide variety of textured images and overlays to the photos to make something wonderful.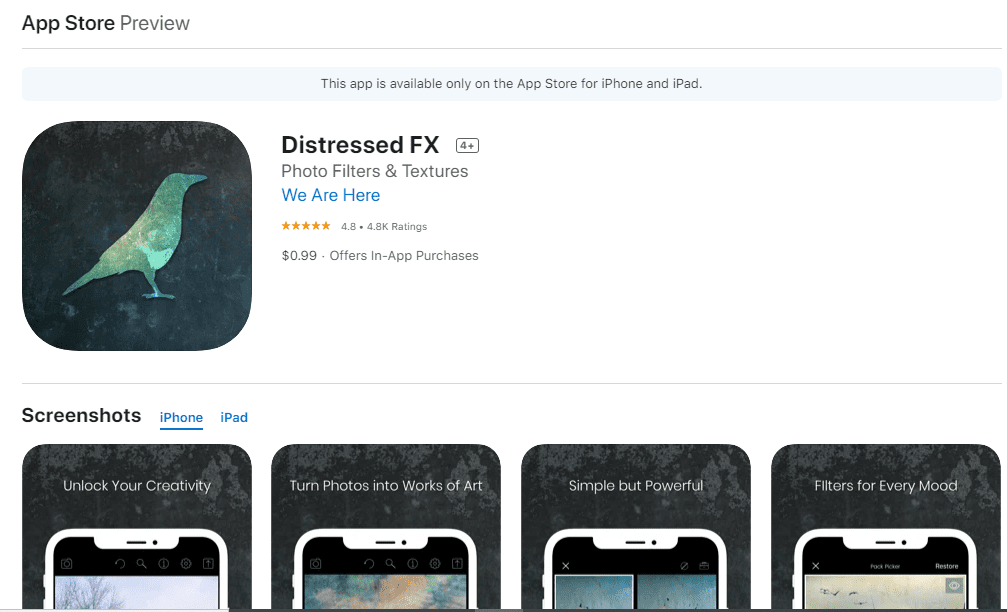 With this photo editing software, you can convert your pictures into portraits, add extra elements that you wouldn't have at your disposal otherwise, and more.
Users of the app applaud it for being "easy to use" and offering "so many opportunities to release and free your imagination."
If you're trying to create graphics that are 100% exclusive, you can do this with this fantastic app.
21. Superimpose X
Available on iOS | $4.99
Best for: Creating stunning double-exposure images
This is the perfect picture editing software to create Photoshop-like effects that will surprise your Instagram followers.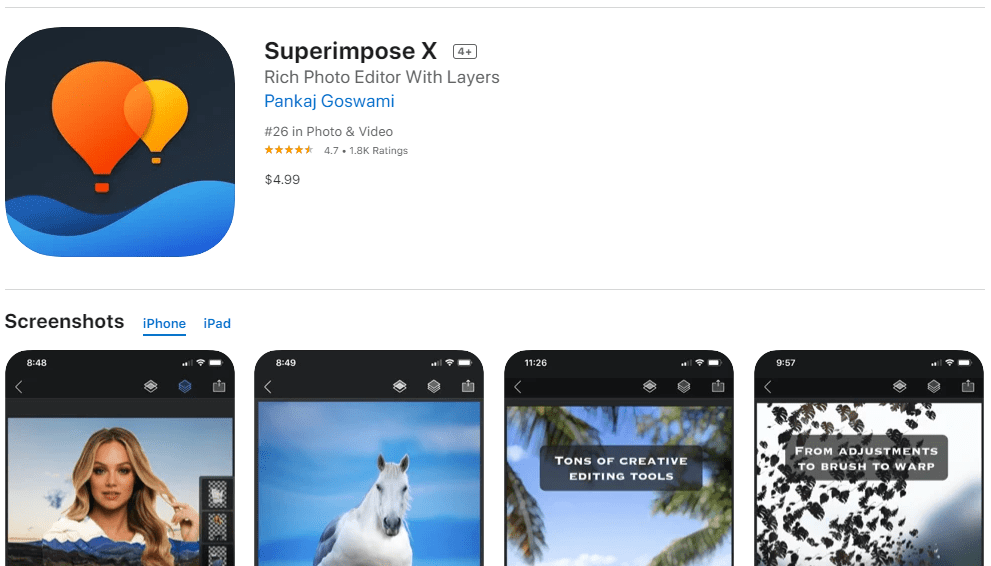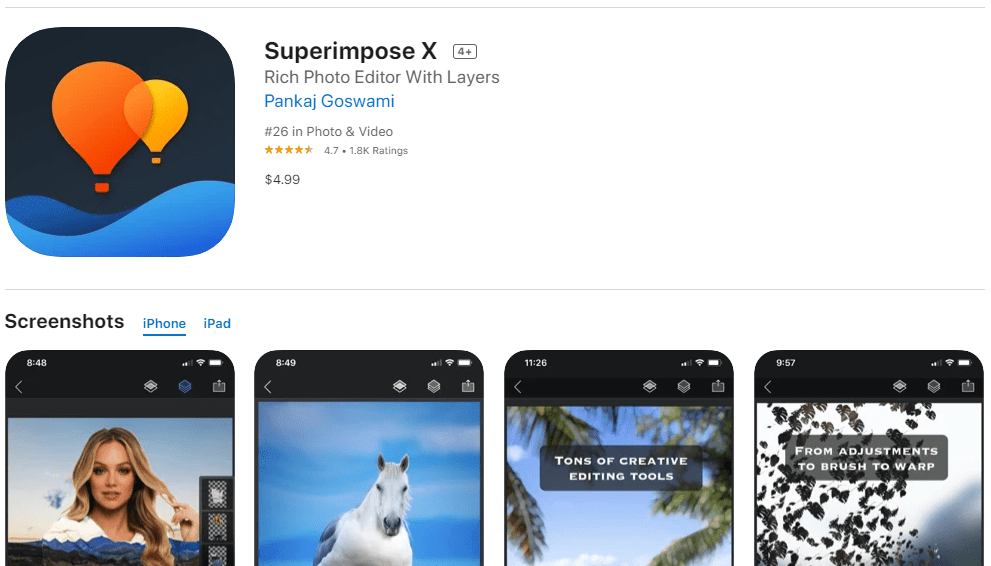 Using masks, filters, and blend modes in Superposition X, you can produce beautiful double-exposure photographs that bring a new dimension to your branding.
The software provides up to eight layers on iPhone 7 and above for layers. You should change the brush strength and size for masking to ensure you have the edges and other information. But you can also use other great masking features such as Magic Wand and Lasso to auto-mask your pictures. And of course, Superimposition X provides a masking library where you can store your masked images for later use.
Read Also: 300+ Short Instagram Captions To Use For Your Photos & Videos
.Plus, the software lets you change saturation with saturation, lightening, darkening, and other brushes. If you're interested in showcasing an exclusive brand on social media and other online properties, this is the app for you. That sums up our list of the 21 best photo editing apps to use in 2021.
Summary on Photo Editing Apps
There are so many great photo editing apps out there that sometimes they can be frustrating. To find the best free and top-notch photo editing apps for you and your brand, you first need to think extensively about what you want to do and then try some photo editing mobile apps to find the right one for you.
To get the best results, stick to only one or two – it's easier to be extremely qualified in one app than to have poor skills in many.
This is our roundup of the best photo editing apps released in 2021:
Snapspeed: Best for advanced photo editing on your mobile computer.
VSCO: Great for classic-looking filters.
Adobe Photoshop Express: the perfect option for all-around photo editing.
Adobe Photoshop Lightroom CC: the perfect option for pros and others who want to make fast pro improvements.
Prisma Photo Editor: the perfect way to turn the images into creative "paintings" and "drawings."
Foodie: Better to take pictures of your food to the next level.
LiveCollage: the easiest way to make the ultimate photo collages.
Adobe Photoshop Fix: Best for portrait editing.
Visage: the best selfie editing software ever.
Enlight Photofox: Best for creative photo editing
Instagram: the easiest way to post your images is to create an online follow-up.
Afterlight 2: Best for all-round editing and artsy overlays.
Canva: Best for advertised business-related images.
Over: Best to apply the stunning text to your pictures
SKRWT: the easiest way to change the viewpoint of your pictures.
Facetune: the best-advanced selfie editing software ever.
TouchRetouch: the easiest way to delete unnecessary items from your images.
Pixelmator: Ideally suited to a wide variety of photo editing features.
Mextures: Best for fast and skilled editing of layers.
Distressed FX: the perfect way to access your editing imagination.
Superimposition X: the easiest way to make beautiful double exposure pictures
Have we skipped some awesome photo editing apps? What picture editing software are you using? Please let us hear and know via the comments section below!
Thank you for reading my list of photo editing apps,comment below.