The Best Dropshipping Suppliers On Shopify
If you plan to start a dropshipping business on Shopify, choosing fitting suppliers is one of the most important decisions. The suppliers you work with will impact your store's reputation, customer satisfaction, and, ultimately, your profits. But with so many suppliers, deciding which ones are the best for your business can be overwhelming.
In this article, we'll look at the best dropshipping suppliers on Shopify based on product quality, pricing, shipping times, and customer support. We'll also provide tips on choosing the right suppliers for your needs.
Table of Contents
Overview
So you've decided to venture into the world of dropshipping, and why not? It's one of the most cost-effective ways to start a business and requires zero initial investment. But as you may already know, the hardest part of dropshipping is finding the right supplier to partner with.
Your drop shipping partner will handle all the logistics of your orders, from packaging to delivering them to your customers. Choosing the right partner is crucial because your reputation and business depend on them.
As a dropshipper, your focus is on marketing and selling the product. However, the success of your business largely depends on customer satisfaction, which includes on-time delivery, after-sales policies, and more. Therefore, it's imperative to partner with a reliable and reputable dropshipping supplier to avoid any potential damage to your reputation.
Choosing the wrong dropshipping supplier can result in delays in delivery, defective products, and, ultimately, customer complaints. This will negatively impact your business, leaving you no referrals and a bad reputation.
To help you navigate the world of dropshipping, we've compiled a list of the best Shopify dropshipping suppliers to partner with. So, let's get down to business!
Why Choosing the Right Dropshipping Suppliers Matters
Choosing the right dropshipping suppliers is critical for the success of your business. Here are some reasons why:
Product quality: The quality of your products will impact your customer satisfaction and reputation. If you work with low-quality suppliers, your customers may receive faulty or damaged products, leading to negative reviews and a damaged reputation.
Pricing: The pricing of your products is critical to your profitability. If your suppliers charge too much, you'll have to raise your prices to cover your costs, which could make your products less competitive in the market.
Shipping times: Fast and reliable shipping is crucial for customer satisfaction. If your suppliers take too long to ship products or their shipping times are unreliable, it could lead to unhappy customers and lost sales.
Customer support: Good customer support is critical for resolving any issues or concerns your customers may have. If your suppliers don't offer good customer support, you may be left to deal with customer complaints independently.
How to Choose the Best Dropshipping Suppliers on Shopify
When choosing dropshipping suppliers on Shopify, consider the following factors:
Product quality: Look for suppliers who offer high-quality products that meet your standards.
Pricing: Compare prices from different suppliers to ensure you get the best deal.
Shipping times: Check the supplier's shipping times to ensure they're fast and reliable.
Customer support: Look for suppliers who offer good customer support, such as live chat or email support.
Additionally, consider the following tips:
Research potential suppliers: Do your due diligence and potential research suppliers before committing to work with them. Check reviews from other dropshippers to ensure their reliability and quality.
Order samples: Before committing to a supplier, order samples of their products to test their quality and shipping times.
Communicate clearly: When working with a supplier, clearly communicate your expectations and requirements. This will help avoid misunderstandings and ensure you receive the products you need.
The Best Dropshipping Suppliers on Shopify
Here are some of the best dropshipping suppliers on Shopify :
Sunrise Wholesale Dropshipping Suppliers
Sunrise Wholesale is a platform that provides access to more than 15,000 dropshipped products. You can easily sell their products on Amazon, eBay, or your website. This platform has been optimized for easy import and export of products into your system.
Sunrise Wholesale is compatible with Shopify or Bigcommerce, and they have recently partnered with an import company to distribute products from their suppliers. They have a huge 600,000-square feet warehouse to store their products.
Sunrise Wholesale Pricing:
Although Sunrise Wholesale doesn't offer a free account, they offer a free trial with full functionality. After that, you can sign up for either of their plans based on your needs. In addition, you can check out their full pricing details on their website.
Sunrise Wholesale Wins:
Sunrise Wholesale is known for its speedy and effective handling of orders. The Better Business Bureau has also awarded it an A+ prize and provides every account with a free tool for eBay Listing and Research, which makes selling on eBay a piece of cake.
Sunrise Wholesale Downsides:
Their restocking fee is 20% for non-defective products that your customers return. However, their product offerings are not as rich as other dropshipping platforms.
Wholesale Central Dropshipping Suppliers
If you're looking for a B2B directory of wholesale products and suppliers, Wholesale Central might be your platform. Although it doesn't provide support services and tools like other dropship platforms, it offers thousands of suppliers for various products. In addition, it provides powerful sourcing tools to help you find wholesalers, importers, dropshippers, distributors, and manufacturers.
One of the best things about Wholesale Central is that it's completely free. You don't need to pay any registration or fees to search the site, and you can even join their Buyers Network for free to access premium features.
Sign up for a free trial and enjoy 3 months of Shopify for $1/month on Select Plans.
When you find a product you want to sell on Wholesale Central, click on the link, and you'll be redirected to the supplier's website, where you can work directly and place an order with them. Wholesale Central is not a middleman but a directory connecting you as a buyer with wholesale sources. This approach allows both parties to maximize profits.
Wholesale Central is a division of Summer Communications, Inc., the leading publisher of trade magazines and directories for the wholesale goods industry.
With that in mind, you can be assured that they screen and review every company listed on their website to ensure they are actual wholesalers. They even investigate every complaint from buyers, and any company committing fraud will be removed from the site.
Nonetheless, it's still important to proceed with caution when working with suppliers listed on Wholesale Central. But if you encounter any problems, you can always contact them for assistance.
Wholesale Central's supplier database is massive, which means you'll be able to find suppliers for any product you want to sell. Moreover, they verify their suppliers so you can be less worried about fraud.
In terms of downsides, there aren't any that come to mind. And the best part? It's all completely free. Wholesale Central is the perfect fit if you're in the market for a B2B directory of wholesale products and suppliers.
Inventory Source Dropshipping Suppliers
Inventory Source has been around since 2002 and is considered one of the pioneers in the dropshipping world. It was founded by Ecommerce experts who understand what dropship entrepreneurs need to succeed. The platform offers a plethora of features that make running a successful dropship business an effortless endeavor.
Inventory Source Pricing: You can start with a free account on Inventory Source, but you will only have access to their supplier directory and some basic website features. You won't be able to sell anything, but you can explore suppliers and the seller community before committing any money.
Inventory Source Wins: Inventory Source is known for its flexibility, offering a wide range of services, from inventory/order automation to personalized storefronts powered by Shopify and TurnKey. You can choose what works best for you based on your business needs. With over 1 million high-quality products from hundreds of suppliers, you'll have a vast range of offerings.
Inventory Source's support team is always ready to help you find what you need if you're looking for something that's not in their offerings base. Inventory and orders are automated, meaning Inventory Source updates inventory from their suppliers in real-time, and your customer's shipment details are automatically routed to your suppliers without your involvement. You can keep your free account for as long as you want, but you'll need to upgrade to a paid plan to start selling on multiple marketplaces and link with multiple suppliers.
Start a free trial today and enjoy 3 months of Shopify for $1/month Instead of $39/month on selected plans. Sign up now
Inventory Source Downsides: You'll need to pay extra fees if you have multiple suppliers and want to sell on various marketplaces, which can add up quickly. Unlike many competitors, inventory Source doesn't provide market research tools, making it challenging to check out your competition or measure your products' profitability.
Put differently; Inventory Source is a reliable and flexible platform that provides a vast range of high-quality products from numerous suppliers. However, you'll need to upgrade to a paid plan to sell on multiple marketplaces and pay extra fees for linking with multiple suppliers.
Wholesale 2B Dropshipping Suppliers
Wholesale 2B offers a straightforward process for dropshipping. You can browse their vast catalog and choose the products you want to sell on your website. Once a customer orders, Wholesale 2B will take care of the shipping directly to your customer.
Wholesale 2B Pricing: Their pricing structure can be complex, but they have a plan that suits everyone. They offer various plans, such as "Dropship on eBay" or "Dropship Amazon" for online marketplaces like eBay and Amazon. If you have an existing website, you can choose the "Dropship DataFeed" option, which provides you with a feed of products. The "Dropship Website" plan creates a functional website for you, while the DIY plan allows you to display Wholesale 2 B's products on your website.
Wholesale 2B Wins: With over 1.5 million products, you can find anything to sell. They have various plans to cater to your needs, regardless of your online selling experience. For example, you can sell on eBay or Amazon or integrate with Shopify, Magento, or BigCommerce in real-time.
Wholesale 2B Downsides: The platform does not offer phone or email support, which can be frustrating when you have urgent issues. You have to submit a ticket and wait for their reply. They do not provide practical tools to help you analyze the performance and sales of the products you choose to sell.
MegaGoods Dropshipping Suppliers
If you're looking for a dropshipping supplier specializing in consumer electronics, Megagoods is worth considering. They're a direct distributor of high-demand electronics, which means they keep stock of the products in their warehouse and offer fast processing times and private label shipping.
One of the biggest advantages of Megagoods is their low monthly subscription fee of only $14.99 per month. This is one of the most affordable rates on our list of top dropshipping suppliers.
However, it's worth noting that Megagoods only offers around 2,000 products on their website, as they stock all of their items. This means you won't have as many options as other dropshipping suppliers. Megagoods doesn't offer any research or analytics tools, so you'll need to research to find the best-selling products in your niche.
If you're looking for a simple and affordable dropshipping solution for consumer electronics, Megagoods could be a good fit for you. Remember that their offerings are limited, and you won't have access to research tools or integrations with other platforms.
Aliexpress Dropshipping Suppliers
Looking for a reliable dropshipping supplier? Look no further than Aliexpress! Owned by the Alibaba Group, one of the biggest e-commerce companies in the world, Aliexpress has become a popular choice for dropshippers worldwide since its launch in 2010. Available in English and 15 other languages, Aliexpress was designed with the international market in mind. Unlike its B2B counterpart Alibaba, Aliexpress allows suppliers to sell smaller quantities, perfect for dropshipping.
One of the biggest advantages of using Aliexpress is the low wholesale prices for products manufactured in China. You can skip shipping costs as the items are shipped directly from China to your customers, often for free. Plus, with the Alidropship plugin, you can import unlimited products and set your price markups without recurring or commission fees.
But there are downsides to using Aliexpress as well. False advertisement is a common problem, with some products needing to meet customer expectations. Check the supplier's ratings and product reviews before purchasing to avoid this. Another issue is longer shipping times, ranging from one week to two months. Be transparent with your customers about shipping times to avoid complaints.
Returns and exchanges can also be a headache. Establish a clear policy for handling unhappy customers, such as offering refunds and working with professional suppliers. If a dispute arises, you can file a claim with Aliexpress to settle the issue.
Overall, Aliexpress is a terrific choice for dropshippers looking to source products at low prices. So do your due diligence and be transparent with your customers to avoid potential issues. And if you're looking for other options, consider checking out the best dropshipping suppliers on Shopify.
SaleHoo Dropshipping Suppliers
When finding top-quality suppliers for your dropshipping business, SaleHoo should be on your radar. They boast an impressive network of over 8,000 carefully vetted suppliers, offering access to a staggering 1.6 million products.
SaleHoo's pricing is reasonable, with two options: $67 per year or $127 for lifetime access. While they don't offer a free trial, they provide a 60-day money-back guarantee so you can confidently try their service.
One of SaleHoo's biggest wins is its thriving community. You can connect with other entrepreneurs like yourself and learn the ins and outs of dropshipping from their informative blog. Additionally, SaleHoo's Market Research Lab is an excellent tool for identifying profitable products to sell.
Customer support is also a strong point for SaleHoo. Their team is responsive and knowledgeable, so you can rest assured that any questions or concerns will be addressed quickly.
On the downside, SaleHoo is incompatible with Shopify or any other e-commerce platform. Additionally, their service is not free, so you must pay upfront to try it out. However, with their 60-day money-back guarantee, you can experiment with Salehoo's service risk-free.
DSers Dropshipping Suppliers
DSers is a dropshipping app that is highly recommended for Shopify store owners. It is a powerful and efficient platform that can help you to manage your orders and product sourcing. With DSers, you can easily import products from AliExpress and fulfill your orders in just a few clicks. In addition, it has become increasingly popular among dropshippers because of its seamless integration with Shopify and user-friendly interface.
DSers Pricing: DSers has a free plan that allows you to process up to 20 orders per month. If you want to process more orders, you can upgrade to the Basic Plan for $19.90 per month, which allows you to process up to 1,000 orders. If you have a large volume of orders, you can upgrade to the Pro Plan for $99.90 per month, which allows you to process up to 60,000 orders.
DSers Advantages:
Seamless integration with Shopify.
Easy and quick product import.
User-friendly interface.
Automatic order tracking and fulfillment.
Multiple suppliers and warehouses.
Order tracking number synchronization.
Automated pricing rules.
DSers Disadvantages:
Only compatible with Shopify.
Only compatible with AliExpress.
DSers has become one of the best dropshipping suppliers on Shopify due to its advanced features, seamless integration with Shopify, and user-friendly interface. DSers lets you easily import products from AliExpress and automate your order fulfillment process, saving you time and effort. With DSers, you can efficiently manage your orders and focus on growing your business.
Doba Dropshipping Suppliers
If you're looking for a hassle-free drop shipping experience, Doba should be your go-to choice. Their platform offers comprehensive information on over 200 suppliers and manufacturers, giving you access to over 2 million products – the largest product offering on the market. The best part is that you don't have to partner with multiple suppliers. Doba allows you to select the products you want to sell, list them in your store, and start selling without any hassles.
As for pricing, the basic plan is a great option to get started. But as your business grows, you can upgrade to higher plans for more advanced features to scale up your business.
Doba's wins include frequent updates on discounts from suppliers, seasonal and trending products, and new suppliers in your operating segments. Plus, their platform is compatible with many different platforms.
There are no downsides to using Doba as your dropshipping supplier. So if you're looking for a hassle-free drop shipping experience with a vast selection of products, Doba is worth checking out. For more information on the best dropshipping suppliers on Shopify, check out our other article here.
Modalyst Dropshipping Suppliers
If you're searching for a dropshipping company with fast-shipping products and an extensive product range, Modalyst could be your answer. It connects your online dropship store with thousands of suppliers, including unique designer products and US-made brands. One unique feature of Modalyst is its guaranteed 3-day delivery to US customers.
Modalyst's pricing structure offers a free plan called Hobby, which allows up to 25 products from their curated marketplace to sell in your Ecommerce store. There's a 5% transaction fee, but you can process unlimited orders. The higher plans are also affordable, with the Start-up plan costing $35/month and allowing 250 products from the Modalyst marketplace. The Pro plan is for high-volume stores and costs $90/month, with unlimited products and access to premium suppliers.
So, Modalyst gives you many wins to make your dropship business run smoothly, and their Hobby plan lets you try out their services without any costs. However, it's important to remember the 5% transaction fee, which could add up quickly, especially if you're a high-volume store.
Modalyst Advantages Locations.
Modalyst is a popular dropshipping platform with many wins for e-commerce store owners. One of its major advantages is that its suppliers are located in the US and EU, which means faster shipping times for your customers. Another great feature is that Modalyst categorizes its entire marketplace into four groups, making it easier to find the right products for your store.
Another win for Modalyst is that all suppliers agree to list their products at 60% of their MSRP, so you won't have to negotiate with them. The platform also has a universal return policy, which makes handling returns much easier for you and your customers. And with a flat-rate shipping policy, you won't have to worry about surprise shipping costs eating into your profit margins.
Modalyst integrates seamlessly with Shopify and BigCommerce, two of the most popular e-commerce platforms. You can add products to your store with just one click and enjoy real-time data updates, like when products go out of stock. Plus, you can run your store more efficiently and conveniently with no upfront inventory costs and the ability to handle every step of the sales process on your Modalyst dashboard.
Of course, there are some downsides to using Modalyst as well. For example, placing orders isn't fully automated, and you'll need to log in to your dashboard to pay for orders before they're fulfilled. Additionally, you'll need to pay a 5% transaction fee on all pricing plans, and to access Modalyst's entire network of suppliers; you'll need to sign up for their Pro or Business plans. Finally, you won't have the option to customize the packaging for your branding, as suppliers will deliver orders to your customers on your behalf.
Overall, Modalyst is an excellent option for e-commerce store owners who want a fast, convenient, and efficient way to handle their dropshipping needs. With its many wins and downsides to remember, it's worth considering if you're looking for a reliable and easy-to-use platform. So, What are the best dropshipping suppliers on Shopify? Modalyst is one of them.
Final Thoughts
In conclusion, when it comes to dropshipping on Shopify, choosing the right supplier is crucial for the success of your business. You should look for a supplier with a wide selection of products, competitive pricing, and reliable shipping times. AliExpress, Dsers, and are some of the best dropshipping suppliers on Shopify that meet these criteria.
However, remember that choosing a supplier is just one part of the equation. To succeed in dropshipping, you must focus on providing excellent customer service, building a robust brand, and effectively marketing your products.
So, if you're looking to start a dropshipping business on Shopify, take the time to research and choose the right supplier for your needs. And remember, success in dropshipping depends on your dedication and hard work, so stay committed and persistent.
Don't let the fear of failure hold you back. Instead, use the information in this article to start your journey toward building a successful dropshipping business today. Good luck!
What are the best dropshipping suppliers on Shopify? The answer is All the dropshipping suppliers listed in this article.
FAQs on Dropshipping Suppliers and Shopify:
Which supplier is best for Shopify? There is no one-size-fits-all answer to this question since the best supplier for Shopify depends on your business needs and goals. However, some popular dropshipping suppliers for Shopify include AliExpress, Dsers, and Modalyst.
What is the best seller for dropshipping?
The best seller for dropshipping depends on your niche and target audience. However, some popular products that sell well in the dropshipping market include phone cases, pet supplies, beauty products, and home decor.
How do I find a good dropshipping supplier?
You can find a good dropshipping supplier by researching and comparing different options. Look for suppliers with high-quality products, fast shipping times, good customer reviews, and competitive prices. You can also check out directories like SaleHoo and Worldwide Brands or use Shopify apps like Dsers to find suppliers.
What are the most profitable dropshipping stores?
The most profitable dropshipping stores have identified a profitable niche and optimized their website and marketing strategies to reach their target audience. Some examples of profitable dropshipping stores include Gymshark, Fashion Nova, and Zara.
Which Shopify apps help you in dropshipping?
Some popular Shopify apps that can help with dropshipping include, Dsers , Modalyst, Printful, and Dropified. These apps can help you find products, automate order fulfillment, and manage inventory.
Small Request
Kindly share it with your friends. Especially the ones you believe need this information. Sign Up Now and Get your first 3 months for only $1 monthly.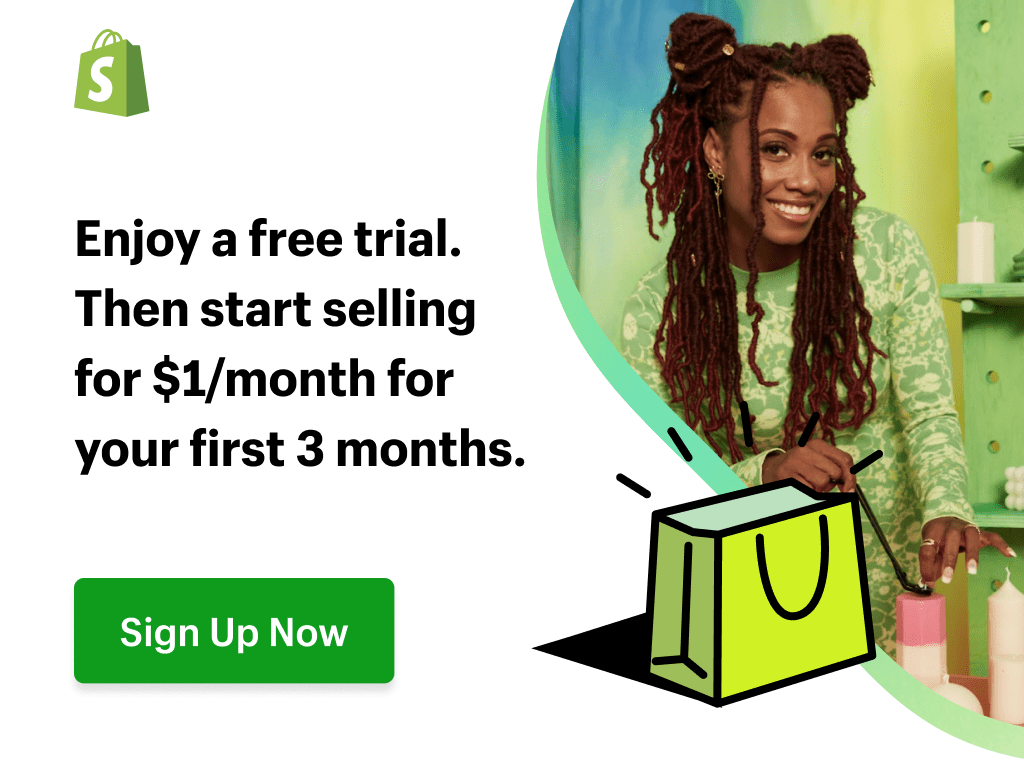 Sharing this information with others can make a huge difference. You may ask why.
Well, the truth is, my main aim is to provide the best information about drop shipping for both beginners and experienced dropshippers.
And I plan to continue doing so for as long as I can.
I would also like to thank those who support my work by reading and sharing my content.
Trust me, when you take your time to share, it will greatly help me and others who need this information.
Here are some great suggestions:
Pin it
Share it on another blog.
Share on Facebook (Share it with friends and even on Facebook groups)
Tweet it
Stumble it
This will only take a few seconds of your time, and I would appreciate it.
I appreciate you a lot. Thank you!
Join my Shopify dropshipping group mastermind and follow my blog to learn more about Shopify tips, dropshipping guides, tricks and checklists, and e-commerce in general.
If you enjoyed and learned something from this post, you can get me updates for free!
I send out email newsletters about new blog posts, tips, and tricks to help you grow your dropshipping business, new YouTube videos to give you more insights into the e-commerce market, and much more.
If you enjoyed reading this, you could also join my Facebook group. Thank you for reading how to make money dropshipping online from the comfort of your home.
Click here to Join My Facebook Mastermind Group