20 Best Oberlo Alternatives Picks For Dropshippers
On June 30, 2022, the Oberlo app curtains closed, leaving Shopify users in a bind. Oberlo was a vital tool for dropshippers, as it easily helped them import products from AliExpress. However, with its absence, finding the right Oberlo alternatives is crucial for continued success.
Fortunately, there are numerous alternatives available for Shopify users. This article will present 20 of the best Oberlo alternatives for dropshippers in 2023. These alternatives are perfect for finding and importing products into your Shopify store, ensuring your business thrives even without Oberlo.
Table of Contents
The Best Oberlo Alternatives: An Overview
We will introduce you to the best Oberlo alternatives available for Shopify users in 2023. So let's take a quick look at why Oberlo shut down.
Essentially, Oberlo shut down because Shopify decided to discontinue the app. Shopify acquired Oberlo in 2017, and it had quickly become one of the most popular dropshipping apps on the platform. While there has been speculation as to why Oberlo was shut down, it is possible that Shopify felt it was no longer necessary now that they had their fulfillment network.
Product deprecation is typical in the tech industry, as companies strive to provide the best solutions for their customers. Check out the in-depth article for more information on the speculation surrounding Oberlo's shutdown. But for now, let's focus on the top Oberlo alternatives that can help you with your dropshipping needs.
Picking the Right Oberlo Alternative
To make choosing the best Oberlo alternatives easier, it's important to ask yourself some questions before diving in. Here are some queries to consider:
Do you need a free trial or a free account to get started?
What's your budget for a dropshipping app?
Do you prefer to stick with Shopify, or are you open to other ecommerce platforms like WooCommerce?
Are you still interested in using AliExpress, or would you like to switch to local dropshipping suppliers or a different business model like print-on-demand?
Do you require an app that offers more than just order fulfillment, such as product research? Or are you willing to use multiple apps to accomplish your goals?
You can narrow your options and discover the best solution by answering these questions—Oberlo alternatives for your dropshipping business.
The Best Oberlo Alternatives for AliExpress Dropshipping
We've got you covered if you want to learn more about the Oberlo alternatives mentioned earlier. Below, we'll provide a comprehensive overview of each option to help you find the right one for your business. We'll begin with the Oberlo alternatives designed for AliExpress dropshipping and then move on to the apps that offer their suppliers, perfect for those looking to move away from AliExpress. Don't forget to ask yourself the questions we provided earlier to ensure you make the best choice for your needs. Let's dive in!
DSers
Let's start with DSers, the Oberlo alternative that Shopify and Oberlo themselves recommended! DSers is a top-rated AliExpress dropshipping app that offers a range of powerful features to streamline your business operations.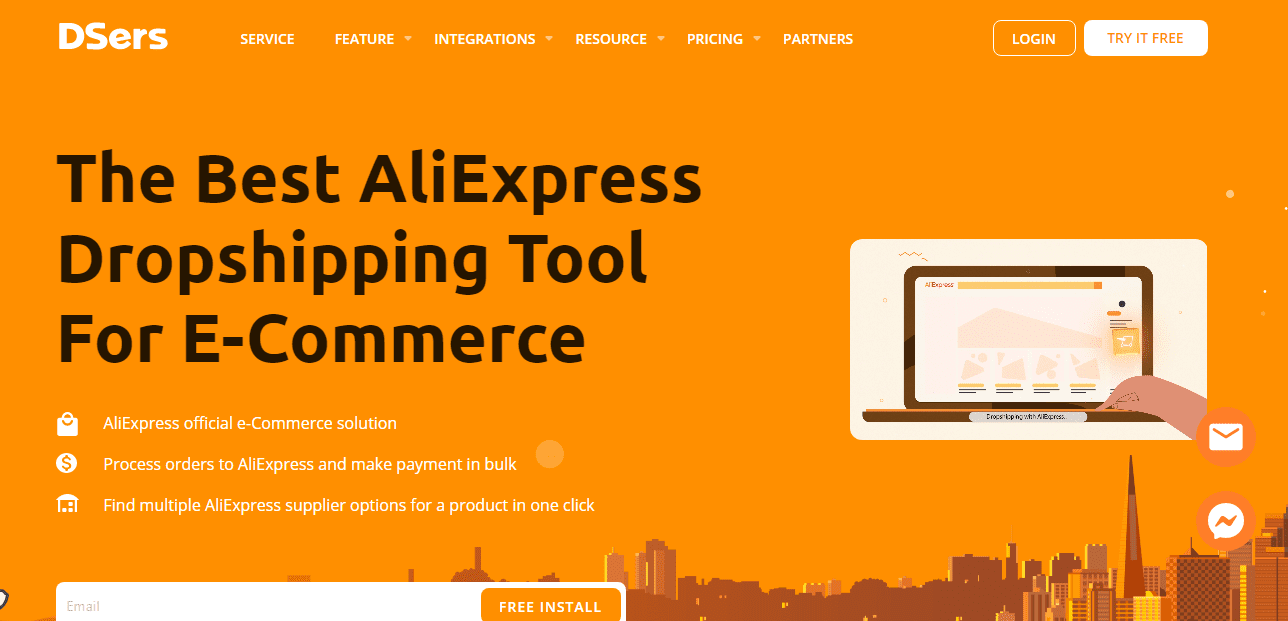 With DSers, you can automate your orders, track your shipments, and manage your products in one convenient location. If you want to learn more about the differences between DSers and Oberlo, check out this helpful article.
Key features of DSers include:
Official partnership with AliExpress means they work closely together and are promoted as AliExpress's preferred dropshipping solution.
Bulk orders, a unique selling proposition, developed early on thanks to their partnership with AliExpress.
Integration with multiple ecommerce platforms, including Shopify, WooCommerce, and Wix.
PayPal order tracking service, which syncs tracking numbers to your ecommerce store as well as your PayPal account.
DSers offers a free account option with limitations (such as a maximum of 3000 products) but has several paid plans starting at just $20 monthly.
AliDropship (for WooCommerce)
If you're running a dropshipping store on WordPress and WooCommerce, the next Oberlo alternative is for you. AliDropship is a plugin that makes it easy to import products from AliExpress to the WooCommerce store with just a few clicks!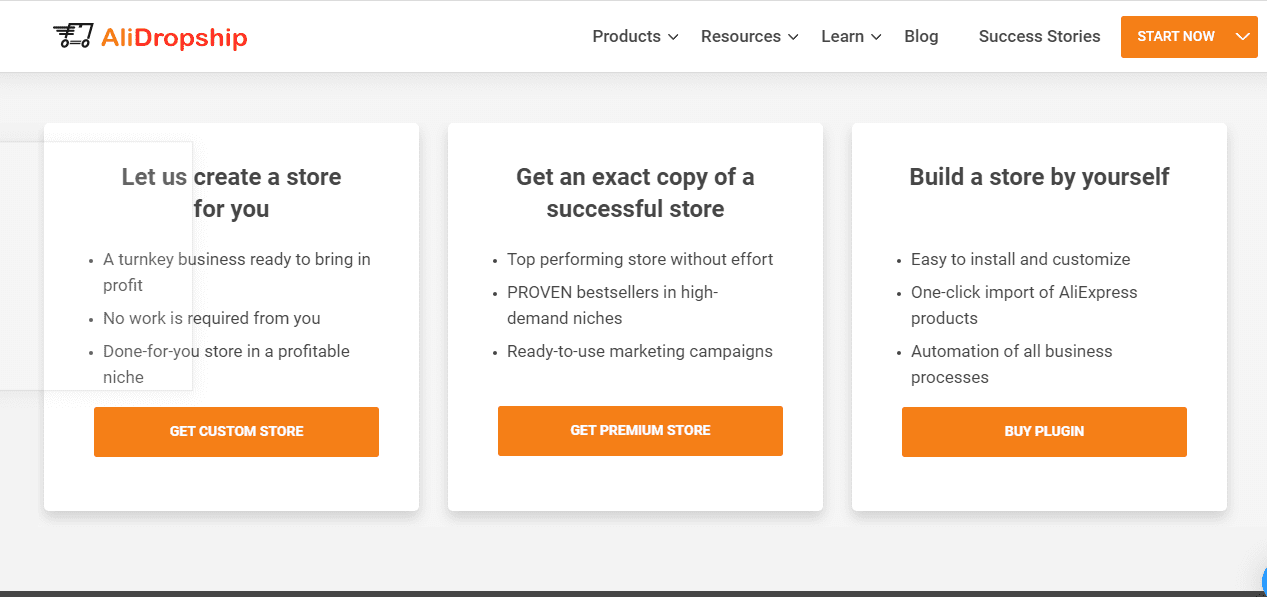 And if you're considering migrating from Shopify to WooCommerce, now might be the perfect time. To learn more about AliDropship, check out our detailed review.
Key Features:
No monthly fees, only a one-time payment of $89 for lifelong support and updates!
Enabling AliExpress Cashback is a breeze with AliDropship; check out this article for more information.
The plugin imports review directly from AliExpress, so you don't need an extra app.
Pricing: AliDropship has two options: the first is to buy the WooCommerce plugin for a one-time fee of $89. The second option is their AliDropship Custom Store solution, where they'll create a custom dropshipping store for you starting at $299. Learn more by clicking here.
SaleHoo Dropship
For an Oberlo alternative with over 1,000 pre-vetted suppliers, SaleHoo Dropship might be the perfect tool. Developed by the team behind the highly-rated SaleHoo Directory, their dropshipping app offers unique features that ensure high-quality products and fewer customer complaints.
With 1-click product imports from AliExpress and niche-based search filters, finding the right product for your store is easy. Their 24/7 support team is always on hand to help you get started. Pricing for SaleHoo Dropship starts at $27 per month, with options to add team members for an additional fee.
Keep in mind that they don't currently offer any free trial options. While SaleHoo Dropship and its supplier directory don't integrate yet, their excellent features and pre-vetted supplier network make it a top Oberlo alternative.
SellTheTrend 
Let's continue exploring Oberlo alternatives with SellTheTrend. This all-in-one platform automates your dropshipping business and offers a built-in product research tool to help you find and import high-demand products.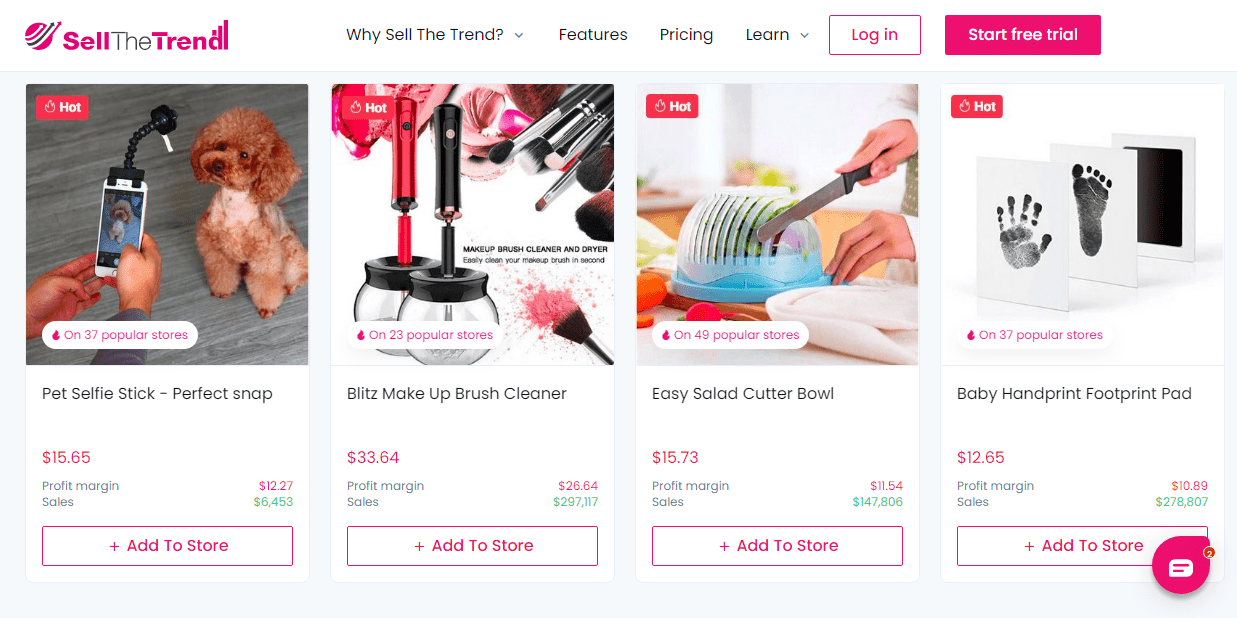 And if you're looking for a free Shopify alternative, Sell The Trend Shops is an excellent option to connect to AliExpress and CJdropshipping with their toolkit. Check out our detailed review for more information.
Key features:
Built-in product research tool to find high-demand products
Multiple supplier options with AliExpress and CJdropshipping connectivity
Free Shopify alternative option with Sell The Trend Shops Pricing: Sell The Trend is currently priced at $39 per month, but paying annually offers a cheaper rate.
Remember that with Sell The Trend, you're getting an Oberlo alternative and a great product research tool.
DSM Tool
Let's take a look at DSM Tool, another great Oberlo alternative! Founded in 2016, this app started with a focus on eBay dropshipping but now has a strong presence on Shopify. DSM Tool is an all-in-one solution that includes a wide range of features to automate business processes, from product research to order automation.
Key features
Source products from over 50 websites. With DSM Tool, you can source products from multiple websites other than AliExpress.
Simple and smart order processing. DSM Tool has features like automatic tracking info updates and stock synchronization to save you time.
Pricing DSM Tool offers a free trial so you can test the app before committing to a paid plan, which starts at $20 per month. They also have an annual plan with up to a 30% discount.
AliScraper
Let's talk about another Oberlo alternative: AliScraper. Spocket develops this AliExpress dropshipping app with impressive features, making it a great choice for dropshippers.
Key features
Integrates with Spocket. You can easily combine your US dropshipping and AliExpress suppliers under the same account.
Bulk orders. AliScraper allows you to process hundreds of orders in one go, just like DSers.
Integration with Loox. Import AliExpress product reviews and photos with ease.
Multiple ecommerce platforms. AliScraper is compatible with several popular platforms, including Shopify, BigCommerce, WooCommerce, and Wix.
Pricing The best part is that AliScraper is completely free to use! You can create an account and start dropshipping from AliExpress without paying anything.
Ali Orders
Introducing Ali Orders, a powerful Shopify app that is a fantastic alternative to Oberlo! If you're a Shopify user, you'll find this all-in-one solution incredibly helpful. Not only can it assist you in discovering and importing the most popular AliExpress products to your store, but it also enables you to establish pricing rules and easily automate order fulfillment!
Key features
Discover the top-selling AliExpress products. Elevate your product catalog by sourcing trendy items from AliExpress.
Automatically fulfill AliExpress orders. Save time and effort by automating the order placement and fulfillment process!
Import and push to store with a single click. Use the built-in product information editor to transfer AliExpress products to your store seamlessly.
Ali Orders' pricing ranges from $0 to $99.90 per month. The primary distinction between plans is the number of items that can be imported:
Dropified
Dropified is another alternative to Oberlo! This handy app automates your dropshipping business just like Oberlo. Check out this article to learn more about the differences between Dropified and Oberlo.
Key features of Dropified include bulk fulfillment, allowing you to import and publish product descriptions, images, and titles with just one click. Plus, you can add multiple suppliers per product and create unique product bundles to make your life easier. And unlike Oberlo, Dropified allows you to import products from other websites like eBay.
Pricing for Dropified is $47 per month, but you can save by paying annually. Plus, there's a 14-day free trial to try it out risk-free.
AutoDS
Let's look at AutoDS, another popular app in the world of dropshipping! Founded by a team of experienced dropshippers in 2016, AutoDS was created to provide an all-in-one solution for dropshippers to save time and automate their businesses.
Originally focused on eBay, AutoDS has since expanded to Shopify and even offers a tool for dropshipping on the Facebook marketplace.
Key features
Automatic tracking number updates. Say goodbye to tedious manual updates! AutoDS will automatically update your customers with tracking information from your supplier once it becomes available.
Product research tool. AutoDS includes a powerful product research tool to help you find winning products to sell.
Fulfilled By AutoDS option. With features like easy returns, setting a maximum order price, and Hipshipper support, AutoDS makes fulfilling orders a breeze.
As for pricing, AutoDS offers plans starting at $24 per month, depending on the number of products you want to import and the features you need.
They also offer a 30-day trial for just $1, giving you ample time to test the app's functionality. If you're on the hunt for Oberlo alternatives, AutoDS is worth considering!
The Best Oberlo Alternatives Not Using AliExpress
Looking to expand your dropshipping beyond AliExpress? Check out our article on dropshipping outside of China to explore more options. And if you're ready to try Oberlo alternatives that don't rely on AliExpress, here are our top recommendations:
CJdropshipping
One of the best Oberlo alternatives that don't use AliExpress is CJdropshipping! This all-in-one solution allows you to source and ship your dropshipping products from various warehouses worldwide, including their US warehouse, which currently offers over 7000 unique products.
If you are still looking for what you seek, you can always post a sourcing request, and CJdropshipping will look for and stock that specific product for you.
They offer a web app and a Shopify app that provide access to many super useful features, including importing products to your store in a few clicks! Plus, there are no hidden charges, setup fees, monthly fees, or minimum order amounts.
You only pay for the product and shipping charges, which are processed quickly, with most orders in the US warehouse processing in just one business day, and with the USPS+ shipping option, products will arrive at your customer in 2-5 days.
And the best part? CJdropshipping is entirely free to use! There are no monthly expenses; the product and shipping charges include the service fee.
WooDropship.
WooDropship is the perfect solution for managing, launching, and scaling your WooCommerce dropshipping store. With a simple click, import products from AliExpress, customize product descriptions, and start selling!
Key Features
Import and research products effortlessly
Auto-updates inventory and prices
Automated order fulfillment
Offers pricing and shipping automation
Track profit margins with sales reporting
Price Points WooDropship offers a 7-day free trial to choose from its three subscription packages:
$14/month – Import 3000 products, 100 orders/month
$29/month – Import 15,000 products, 500 orders/month
$49/month – Import 60,000 products, unlimited orders/month
WooDropship is an AliExpress dropshipping tool that provides an array of features for online retailers. Here are some pros and cons of using WooDropship:
With WooDropship, you can easily import over 120 million products from AliExpress. You can customize invoices and automate order fulfillment, inventory, and price updates. The tool allows you to remove watermarks from product images and edit them to fit your store's aesthetic.
Additionally, WooDropship provides free updates and customer support, which includes a one-on-one consultation call. For added convenience, the Google Chrome extension is also available.
Order fulfillment is limited to subscribed users, so you'll need to pay for a plan to benefit from this feature. While the user interface is functional, it could be improved to make it more user-friendly.
WooDropship is a reliable and efficient solution for your WooCommerce dropshipping needs.
UniteXpress
UniteXpress is a top-notch alternative to Oberlo, perfect for those searching for products from AliExpress. The dropshipping tool is incredibly user-friendly, with automated features and an exceptional app design.
Key Features
Easily import products from AliExpress and sell them directly to customers. Customize pricing and product details before publishing. Automate pricing and product management. Fulfill orders automatically and track shipment progress. Edit product images before publishing
Price Points UniteXpress offers two pricing plans:
Free Version No rewards, reviews, or multiple checkouts
Paid Version $9.95/month for all features
Pros: Provides migration support when switching from another app Auto-updates inventory and prices Connects with existing products Filters products with ePacket Offers 24/7 online support Integrates seamlessly with Oberlo and AliExpress Offers an attractive 9% affiliate commission
Cons: Low-profit margins Lacks detailed information on the website
UniteXpress provides an ideal solution for scaling your business effortlessly. With various features, including 24/7 online support, ePacket product filtering, and seamless integration with Oberlo and AliExpress, UniteXpress can help you take your online store to the next level.
AppScenic
Introducing AppScenic, a new and innovative platform that offers a complete dropshipping toolkit to help automate your online business and make your life easier. From product syncing to smart payments, AppScenic has got you covered.
Key features:
Worldwide dropshipping suppliers. You have various options with 385 unique suppliers and shipping from 40+ countries.
Price syncing. Enjoy almost instant synchronization between your product prices and AppScenic's suppliers, so you'll never miss a price change again.
Auto-ordering. Say goodbye to manual order placement. AppScenic's auto-order feature lets you set up automatic orders and never worry about missing an order again.
Pricing: AppScenic offers a free 7-day trial to try its features before committing to a paid plan. The Package plans start at $24/month and goes upwards to $78/month, with a free account option.
While the free account has limits, you can still import up to 500 products and connect to one store. Check out their pricing page here for more information.
If you're looking for an Oberlo alternative, AppScenic is worth checking out.
HyperSKU
Looking for a one-stop solution for all your dropshipping needs? Look no further than HyperSKU! As a dropshipping agent platform, HyperSKU takes care of everything from sourcing products directly from factories, performing quality control checks, and customizing your packaging. So what is a dropshipping agent? Check out our other article here to learn more!
With automated features like bulk order fulfillment and automatic syncing of tracking numbers and order statuses, HyperSKU is a great choice for busy store owners. And with quick global shipping options available within seven calendar days, you can rest easy knowing your customers will receive their products promptly.
Worried about defective products? Don't be! HyperSKU offers a 100% refund policy for any defective items. Best of all, signing up for HyperSKU is completely free! And while they used to charge a 2% handling fee, it is currently waived. Check out our other article here for 11 more great options!
Modalyst
Modalyst is a comprehensive ecommerce retail solution consisting of multiple apps, enabling you to import millions of products from independent and well-known suppliers in the UK and the US.
Key Features
Modalyst offers a variety of benefits for those looking for high-quality suppliers in Europe. With one-click product imports and direct communication with verified suppliers, you can trust that you're getting the best products available. In addition, Modalyst offers private labeling services and worldwide fast shipping, making it a top choice for ecommerce platforms like Shopify, Wix, and BigCommerce.
However, it's worth noting that products from verified suppliers can be more expensive than typical Asian suppliers. Additionally, the subscription plans for Modalyst can also be costly.
Price Points Modalyst has three plans:
Hobby: Free with a 25-product limit from non-premium suppliers
Start-up: $35/month with a 250-product limit from non-premium suppliers
Pro: $90/month with unlimited access to products and suppliers. Note: Both paid plans carry a 5% transaction fee.
Partner with Modalyst today to gain access to exceptional suppliers and take your ecommerce business to the next level.
Spocket
Did you know that the creators of AliScraper are the same team behind Spocket? This Oberlo alternative specializes in connecting you with dropshipping suppliers in the US and EU. With Spocket, you can build an inventory of high-quality pros for your ecommerce store with fast shipping, taking your delivery times from 2-4 weeks down to less than a week!
Check out our Spocket review to learn more about this powerful tool and compare it with Oberlo here.
Key features
Easy sample orders. Spocket allows you to order product samples with just a few clicks, making it simple to test products and suppliers before committing.
Integration with major ecommerce platforms. Spocket seamlessly integrates with popular ecommerce platforms like Shopify, Wix, BigCommerce, and WooCommerce.
Branded invoicing. As your business scales, upgrading to the Pro plan unlocks the ability to add branded invoicing for a more professional look.
Pricing Spocket offers several pricing plans to suit your needs. If you want to try Spocket without paying, create a free account to browse the product catalog.
To start selling with Spocket, you'll need to sign up for the starter plan, which costs $25 per month. The monthly subscription fee increases slightly if you want to sell more than 25 dropshipping products. However, you can save up to 8 months by paying annually!
Syncee
Let's talk about the next platform on our list – Syncee. Syncee is a business-to-business platform that links dropshippers, retailers, and suppliers. It's a place where you can easily find suppliers to work with. To learn more about Syncee, check out our Syncee review here.
Key features
Chat with suppliers feature. Using Syncee's in-built communication tool, you can communicate with suppliers and ask them questions before collaborating.
Location filter for suppliers. If you're looking for suppliers in a specific region, such as the UK, Syncee makes it easy to find them.
Auto-order: With Syncee's fantastic feature, you can effortlessly forward new orders to your supplier whenever a customer purchases your products from your online store.
It is made possible when you integrate Syncee with your Shopify app. You can enjoy the service for free if you have 25 or fewer products in your store. However, if you have more products, Syncee offers affordable monthly pricing plans ranging from $29 to $129.
Printful
If you seek a substitute for Oberlo, consider trying Printful's print-on-demand service! With Printful, you don't need to worry about printing, packaging, or shipping your products – they take care of everything for you. One of the best things about Printful is that everything is done in-house, meaning you won't have to outsource anything. This results in efficient communication and reliable, well-made products.
Key features
No outsourcing. Everything is done in-house for efficient communication and reliable products.
Quality. Printful offers some Printful offers the best value for money in terms of product quality compared to its competitors. It is free to use on all platforms. Offer two paid tiers with additional features you can learn more about on their website.
Eprolo
Eprolo is a comprehensive dropshipping platform offering more than one million high-quality products, automated order fulfillment, and tracking. It also provides inventory, bulk order management, and a convenient Chrome extension to streamline the process.
Price Points Free plan available
Pros: Eprolo's unique private label feature allows dropshippers to personalize their products and stand out from competitors. It integrates seamlessly with several platforms, such as WooCommerce, Amazon, Shopify, AliExpress, and eBay. Eprolo offers print-on-demand services, currency conversion, and various wholesale products without minimum order requirements. Additionally, the platform has a user-friendly interface that is easy to navigate. The best part? There's a forever-free plan.
Cons: Pricing information can sometimes be unclear, but the benefits of using Eprolo for your dropshipping needs outweigh any minor drawbacks.
Eprolo offers a one-stop shop for all your dropshipping needs, from sourcing products to warehousing, quality control, packing, and shipping. Let Eprolo take your business to the next level.
Importify
Importing an Oberlo alternative that allows you to import products from different websites! This Shopify dropshipping integration tool is fully automated and supports the single-click concept.
Key Features
Importify offers research capabilities before importing products, as well as the ability to customize product descriptions and easily change suppliers. In addition, the tool provides automated product import, pricing rules, and order fulfillment. Finally, importify integrates with Shopify, Wix, WooCommerce, and Jumpseller.
Price Points Importify offers a 1-day free trial for all three of its plans:
Basic plan: $14.95/month
Premium plan: $27.95/month
Gold Plan: $37.95/month
Pros: Importify is known for being one of the easiest Oberlo alternatives. It makes importing products from several platforms easy, and its Shopify spying feature helps identify hot-selling items. Additionally, Importify provides access to high-quality wholesalers and suppliers with fast support.
Cons: Importify doesn't offer a free plan to test the app, and only a 1-day trial is available.
Build your business with Importify and streamline your dropshipping process today!
RECAP
In conclusion, these six dropshipping tools are worth considering if you're looking for the best Oberlo alternatives in 2023. Each platform has distinct characteristics and pricing options. Fit your business needs.
Importify, WooDropship, Spocket, Modalyst, Dropified, and UniteXpress are all designed to simplify the dropshipping process, making it easier to import products, automate order fulfillment, and update inventory and prices.
Whether you import products from AliExpress, or hand-picked suppliers from Europe and the US, these platforms offer flexible options. It's vital to weigh each tool's pros and cons before deciding what matters most to your business.
Our insight is that it's always best to try before you buy, so take advantage of the free trials or demo versions available. With these alternatives, you'll find a platform to help you grow your dropshipping business. Don't wait any longer; choose the one that's right for you and take your business to the next level!
FAQs
What is replacing Oberlo?
It's difficult to fully replace Oberlo, as it was a unique and popular dropshipping solution. However, there are many alternatives to Oberlo available in the market that offer similar features and functionality.
What's better than Oberlo?
The answer to this question depends on individual needs and preferences. For example, some people may prefer Oberlo alternatives that offer more automation, while others may prefer those with a broader range of suppliers or lower pricing. So it is best to explore different options and find the one that works best for you.
What is more profitable than dropshipping?
Many business models can be more profitable than dropshipping, such as creating unique products or offering specialized services. However, dropshipping can still be profitable if done correctly and with the right tools and strategies.
Why is Oberlo gone from Shopify?
Oberlo is not gone from Shopify. It is still available on the Shopify platform and can be easily integrated with your online store. If you are having trouble locating it, try searching for it in the Shopify app store or contact Shopify support for assistance.
Small Request
Kindly share it with your friends. Especially the ones you believe need this information. Sign Up Now and Get your first 3 months for only $1 monthly.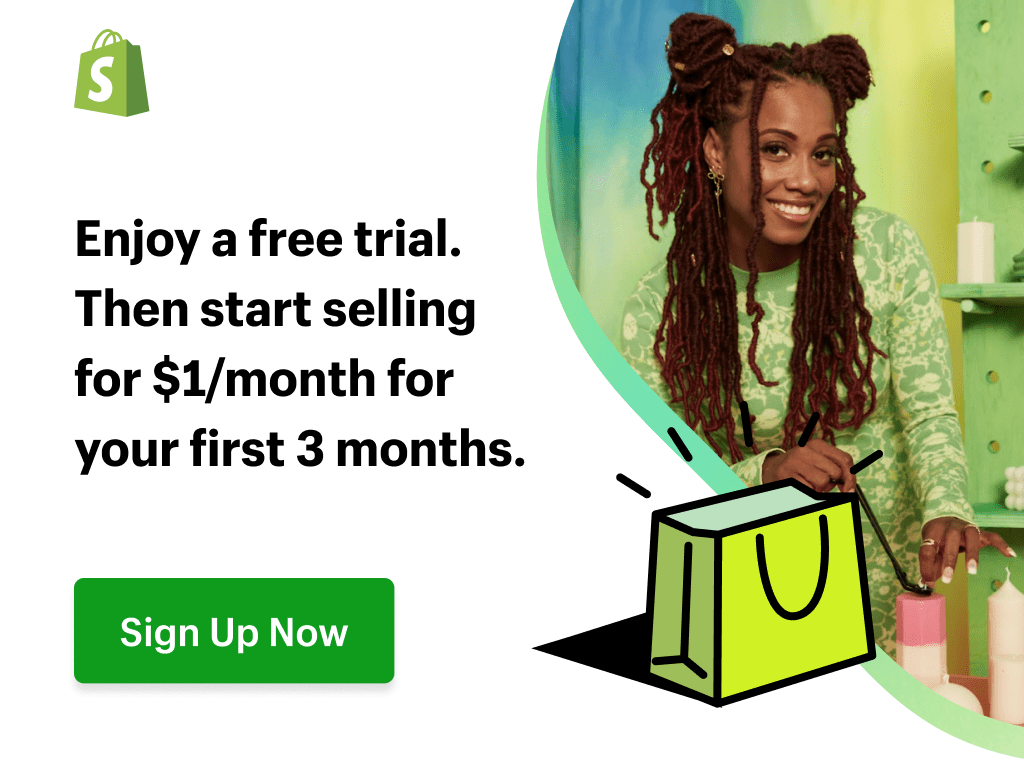 Sharing this information with others can make a huge difference. You may ask why.
Well, the truth is, my main aim is to provide the best information about drop shipping for both beginners and experienced dropshippers.
And I plan to continue doing so for as long as I can.
I would also like to thank those who support my work by reading and sharing my content.
Trust me, when you take your time to share, it will greatly help me and others who need this information.
Here are some great suggestions:
Pin it
Share it on another blog.
Share on Facebook (Share it with friends and even on Facebook groups)
Tweet it
Stumble it
This will only take a few seconds of your time, and I would appreciate it.
I appreciate you a lot. Thank you!
Join my Shopify dropshipping group mastermind and follow my blog to learn more about Shopify tips, dropshipping guides, tricks and checklists, and e-commerce in general.
If you enjoyed and learned something from this post, you can get me updates for free!
I send out email newsletters about new blog posts, tips, and tricks to help you grow your dropshipping business, new YouTube videos to give you more insights into the e-commerce market, and much more.
If you enjoyed reading this, you could also join my Facebook group. Thank you for reading how to make money dropshipping online from the comfort of your home.
Click here to Join My Facebook Mastermind Group