Business Name Generators For Ecommerce Store Owners
Business Name Generators; 25 Best Brand Names
You need perfect Business Name Generators in order to come up with an easy to remember domain name.
Starting a business is scary and can be equally hard. Finding the best brand name that resonates well with your audience has an available .com-domain, and a great backstory can prove challenging.
You want something with a nice ring to it, easy to spell. You have tried to come up with a brand name severally only to find that it has a high price tag or the title does not have an available domain.
Choosing a Busines Name
Before hitting up a business name generators, it is essential to be mindful of a few things about the name you end up settling on. Coming up with the right name on the first attempt is a big leap forward for an entrepreneur, so follow through the following guidelines.
1. Your business name should be memorable for a person to remember.
2. The name ought to portray a positive message
3.Easy to pronounce and spell in prominent client states/countries/region
4. Shorter names are more straightforward to remember-preferably seven letters or less
5. The name may need to have two syllables to be pleasant to remember for example Apple, Facebook
6. Inside jokes often do not cut as a basis for a business name
The good thing is, you do not have to come up with a name yourself. A business name generator can assist you in coming up with a catchy brand name that has an available domain. Herein, you will find 25=great online name generators that can help you find the best company name ideas.
1.Oberlo
Oberlo business name generators lets you have tons of name options with a click of just enter a keyword-relevant to the core concept of your business then click on " generate names" and voila! A display of pages worth of business names to select. Scroll through the options, then choose your preferred business name, and you are one-thing less to worry about in starting your business.
Enter a variation of words into the search bar till you are satisfied with displayed results. So, for example, you do not like the result showing up for a given term like " shoe" you can try making your search more specific to how you would like to present your company.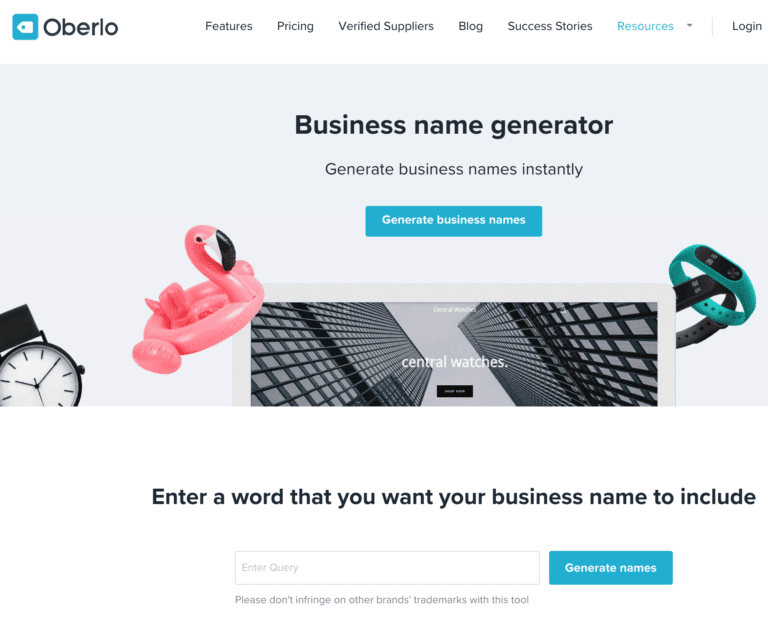 It could be something like " Vintage Shoe" or "Vintage-Inspired Shoe." Oberlo's business name business generator is elementary to use, plus it is free of charge once you have settled on the name, set up a domain to ensure that no one else takes it.
Looking for a great company name generator? Shopify has that takes care of that. You will find several, if not lots of business name options.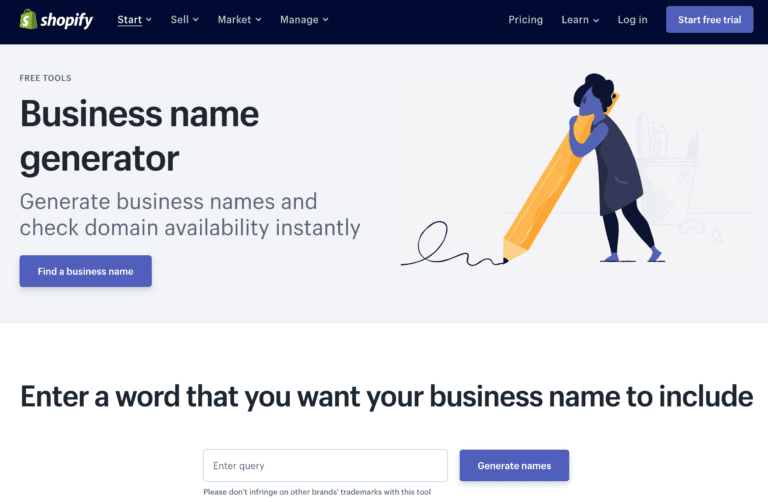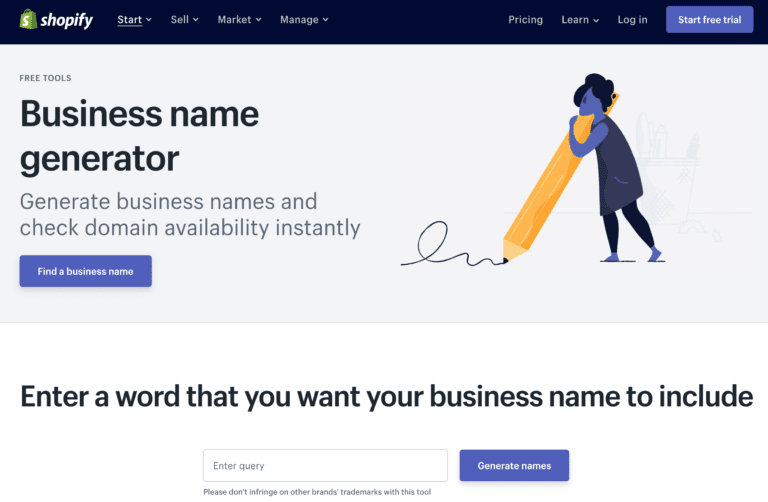 Thankfully, Shopify only displays names with available domains the best thing with Shopify's business name generator is that once you have selected a perfect name, you can sign up for a Shopify account and launch your store as soon as possible with ease. It is my hope you finding these Business Name Generators compilation useful.
The significant part about Shopify's online name generator is that, once you have your business name, you can launch your first online store immediately using its powerful eCommerce backend. You can also read  Booster Theme Review : Scaling Your Shopify Sales  
3.Cool Name Generator Ideas
Cool name ideas are a superb company name generator. It has a step-by-step set of questions that requires you to enter words describing your business.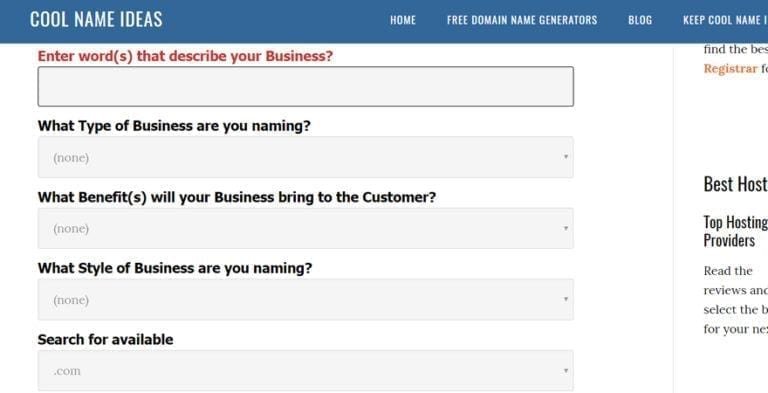 your business personality, what type of business you are naming, customer benefits your business will have, and what type of domain you are looking for-.com or .net.
You answer all these questions, and you have a more targeted list of business name ideas to select from and use. Simply click on the chosen name to ascertain domain availability. One of the best things about Cool Name Ideas is the step-by-step guideline on how to use it. It improves user experience.
It has a "Screenshot & Walkthrough" section, which provides guidelines and a bunch of handy tips on how to make the best out of Cool Name Ideas.
4.Name Mesh
Name Mesh is your to-go-to company name generator if you want specific keyword in your domain, it will try and find you the right domain.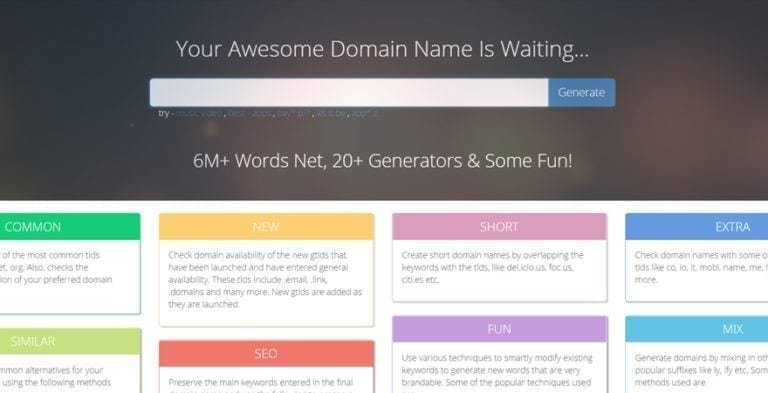 You will get a display of pages worth suggested relevant available domains based on keywords as well as a list of available domains for the specific keywords you typed in that are natural.
Upon entering keywords, the page splits into several categories, such as new,similar.common, and fun, thus letting you find the right domain that fits your needs. So you now have thousands of different names divided according to these categories.
In Name Mesh company name generator, the unavailable domains are highlighted in red text, whereas available domains will be green text. To make this a straightforward process of viewing available domain names, check the box named " Hide Registered" on the right side at the top.
The business name generator a lot you several alternatives such as length of character, that you can change in line with your personal preference, and that which you desire.
5.Wordlab
The Wordlab business name generator has as many as 7-million plus potential company names; however, they are not as targeted as some others herein in this post, the names are unlisted out, and you have to discover each individually.
If you are looking for a unique business name, keep clicking "Get Name" till you find a company name you like.
6.Freshbooks
Freshbook is a reasonably interactive business name generator site. A visit on its page, you have to click "Let's Get Started." Then you are prompted to select your industry; trade & home services, information technology, business consulting, creative and marketing, and legal services.
Upon choosing your industry, add your keywords, a few brand names ideas pops up, pick a brand you like, and the name you select will appear on a new page on a vibrant rectangle.
7.Getsocio
This business name generator lets you type in a keyword you desire as part of your domain, and a plethora of potential domain names floods the page. Instead of the standard .com domain, Getsocio's domain name ends in .getsocio.com; this is the not so fun part with Getsocio.
Once you have chosen a domain, you have to fill out info like your email address, name, and password, which leads you to create an eCommerce store with Getsocio.
8.Brandroot
Branddroot generates unique, unforgettable business names, and each name has a registered .com domain name. Each of the listed names is carefully picked, put up for sale with a professional logo design at affordable prices.
You can use category or keyword to search for a brand name for your niche.
Brandroot is a premium site, and therefore you will find some brand name ideas with higher price tags than others. To avoid being shown brand names outside your budget, you can select the price point when searching.
Once you have selected the company name of choice, you can request for logo design revision.
9.Namesmith
Namesmith lets to type-in up to 5-keyword that you would desire in your domain name. Namedmith constructs portmanteaus-combining a blend of 2-words say like iPod+broadcast =podcast and from your keyword, misspell them, add pre-suffixes and serves catchy brand names ideas.
Subject to keywords you use, displayed are domains with the exact keywords, pre-suffixes, rhymes, modifications, and blends. Once you have picked a domain name, Namesmith redirects you to GoDaddy to buy the domain. Keep in mind that purchasing domain this way, you have to pay an affiliate commission to Namesmith.
10.Hipster Business Name
And probably on this list, the most creative brand name generator title goes to Hipster. If you are looking for a unique name, this generator has some catchy, fun, and clever company names making it the best business name generator.
You can browse through to view a series of hipster brand names, your niche not listed in the domain, and this lets you expand your business in the vertical.
Hipster allows you even to buy a t-shirt with your brand's logo and name on it, though purchasing a domain on this online brand generator you have to pay an affiliate commission to Hipster Business Name.
11.Anadea
Anadea features a free brand name generator, and you can easily create company name ideas based on keywords you provide, and at your disposal is a selection of relevant and catchy names to select.
Andae allows you to generate brand name ideas by the industry and category, and this leads to many different options like tech, software, travel, and healthcare.
Once you have selected a domain, the interface prompts you to get a quote for domain and website building services. Andae allows you to have custom web design, can generate app name and website.
12.Fit Small Business
Through a series of questions, the name generator helps you find a perfect brand name. The generator asks for your last name, the location your business serves, and the type of you sell.
Fits Small provides a list of names which often tend to be 3-three or more words long, click a domain, and the site redirects you to Bluehost.
If you need guidance, Fits Small provides handy tips to help you get started and decide the kind of name you should choose for your brand.
13. Name Station
Name Station is a free company name generator. It provides a list of excellent company name ideas. The generator combines creative thinking with powerful research tools to help you find available brand names that fit your needs.
Add keyword you desire in your brand name, and a display of domain names appears, and you can sort the list to view available domains to simplify your search process. The pages of domains can help inspire the creation of a perfect business name.
14.Domain Puzzler
The name generator lets you create a domain in 3-ways. The first is the keyword the same. Secondly is advanced such that you can add other keywords you would like to see in your company name. Then there is the magic-you type in a keyword you want, and famous words matched with it.
Domain Puzzler allows you to view the page rank of popular websites. And to see the only available domain, you just need to check the .com box.
15.Wordoid
With Wordoid, you can generate available catchy brand names. You just add keyword under pattern, then click "Create wordoids" at the top. Several domain name ideas get displayed on the right side. The column on the left side has filter options that you can alter this way; you get more precise results.
You can orient your results based on any pattern, quality, length, language, and domain preferences that you may have. Wordoid redirects you to GoDaddy, where you purchase your domain, and the Wordoid affiliate link is attached.
16.Lean Domain Search.
Lean Domain Search allows you to find a great available name for your website in a couple of minutes. As soon as you type in the keyword, the interface directed you to a page where available domain displays.
Available domains appear in green texts and often tend to be at the top. By clicking on the domain name you like, Lean Domain indicates whether the Twitter handle is available so that you can create a handle with the business name.
Registering the account with one of the brands listed is clicking a Lean Domain Search affiliate link.
17.Brand Bucket
If you in search of a unique, one-word, and catchy brand name with a logo, Brand Bucket brand name generator is your one-stop-shop.
If you are choosing domains and brand names from this website, they come at a hefty price tag of over one grand US $. You are at liberty to request logo modification.
18.Naminum
If you are the one-word domain type, Naminum is sure to deliver. The online name generator function by adding suffixes to your keyword. Its drawback is the lack of automation in checking for domain availability. You need to click and click; you manually may click a few before you find available domains.
19.One-Click Name
The brand name generator is among the online brand name generator that offers logo with a domain. It also lets you know more about the name you settled on like you can learn what kind of businesses the name would be great for, the, and the feelings behind the name.
The brand name generator contains tons of premium domains for sale. Each domain is described with niche, keyword, categories and illustrated with logo.
You will have to part with a few hundred dollars at minimum to own one of One Click Name generated store names.
20. Name Find
Name Find is a sure bet if you are looking for a premium domain name, its online name generator will show you a selection of quality available store names.
On this website, most domain names come at a hefty price tag in the region of thousands of dollars, though if you desire an exact domain match, you are bound to find it here.
Name Find suits, successful entrepreneurs, with a substantial budget to invest in quality domain names. It provides a channel of communications that you can direct questions to their domain experts through email or call to seek assistance in acquiring a name meant for your brand.
21.Namerific
Premium brand names call Namerific name generator home. Domain names cost as muck $400 grand, whereas the average price tag is under $10 grand. Namerific generates catchy names wrapped in creativity that has a nice ring to them.
Once you key in your niche and keyword, relevant store name ideas that come logo get displayed to you.
22.Name.net
The Business name generator offers store name ideas by letting you make entries of specific criteria and get particular results. You can particularize a letter, a root word, syllable, and the number of syllables you choose. Naming.net also allows adding Greek/Latin roots or rhymes for variations.
Naming.net provides you with naming tips, for example, naming advice and things to examine when naming your business, product, or domain.
23.Dot-A-Mator
Dot-A-Mator is easy to use; it shows random on clicking the button. By keying-in, your own words or selecting an option from the name list results in some combinations of the 2-lists that you can pick.
Then add the brand name ideas you prefer the most to Scratchbox and manually check domain name availability.
24.Domainr
The online store name generator Domainr offers domains available based on a certain keyword. The real-time service helps to by-pass frustration that emerges from trying to find a domain.
Regardless of whether you look for a.oi, or .com or other domain, Domainr can help you find a perfect domain name.
25.BizNameWiz
Less effort on your side is enough on this name generator. Just make entries of a word(s) of your liking, and it generates you a list of business name ideas.
BizNameWiz features a tool that identifies domain name availability. Over and above, the name generator has branding and business naming guides that, if you go through them, offer more profound insight into the do's & don'ts of brand naming.
Business Name Generators: Tips for Selecting a Company Name
The following tips can help you finalize your company name:
Avoid vague names. Too simple may not be as memorable.
Using an alternate version of common words can go a long way. For example Domainr instead of domain,
Simplicity sells. Do not go overboard by selecting a company that is too long. Just keep it simple
Do not copy names of an existing company
Do not be restrictive by limiting yourself to a specific business name.
Ensure that your preferred domain name is available before settling on the name.
Get a second opinion before the final decision.
This is the last option in these Business Name Generators list.
History of Choosing Great Business Name.
Thank you for reading Business Name Generators, before you go read on more.
Great business names are not guaranteed, and a few have stood the test of time and are the examples of what cut for great names for companies.
Google: the search engine began as a joke and only got official after an investor wrote a check.
Coca-Cola: Coca-Cola is easy to remember and pronounce as well. It derives its name from the 2-ingredients in the drink.
Canon: The English spelled Canon comes from Kwanon, a Japanese word for mercy.
IKEA: IKEA is a famous and memorable brand across Europe. It came about through a random collection of letters
LEGO: Lego comes from the 1st two letters of two Danish words "Leg Godt" meaning play well, a perfect description of what they precisely created.
Be it you looking for an original brand name or an exact domain match that captures the emotions of your brand, the online name generators on this list will enable you to come up with a name you desire.
Conclusively, how you treat your customers, present your product, and standout in the market place is how you will be perceived.
Thank you for reading Business Name Generators f you have any suggestions or other Business Name Generators companies, we can add them to the list.