How To Use Content Analysis To Analyze Store Traffic
You've looked all over the Internet for ways to make alliances and network online and in person. You've laid the groundwork for creating great content demonstrating your brand's greatness. Now is the time to double-make your strategy and leverage the incredible power of content analytics.
Adopting a multi-channel strategy can be important to provide your visitors with a smooth and exciting experience.
According to research, when people buy something, they do so through various channels. For example, they may examine a product in a store, research online at lunch using search engines and social media, and then purchase a similar item from their iPhone while lying in bed a week later.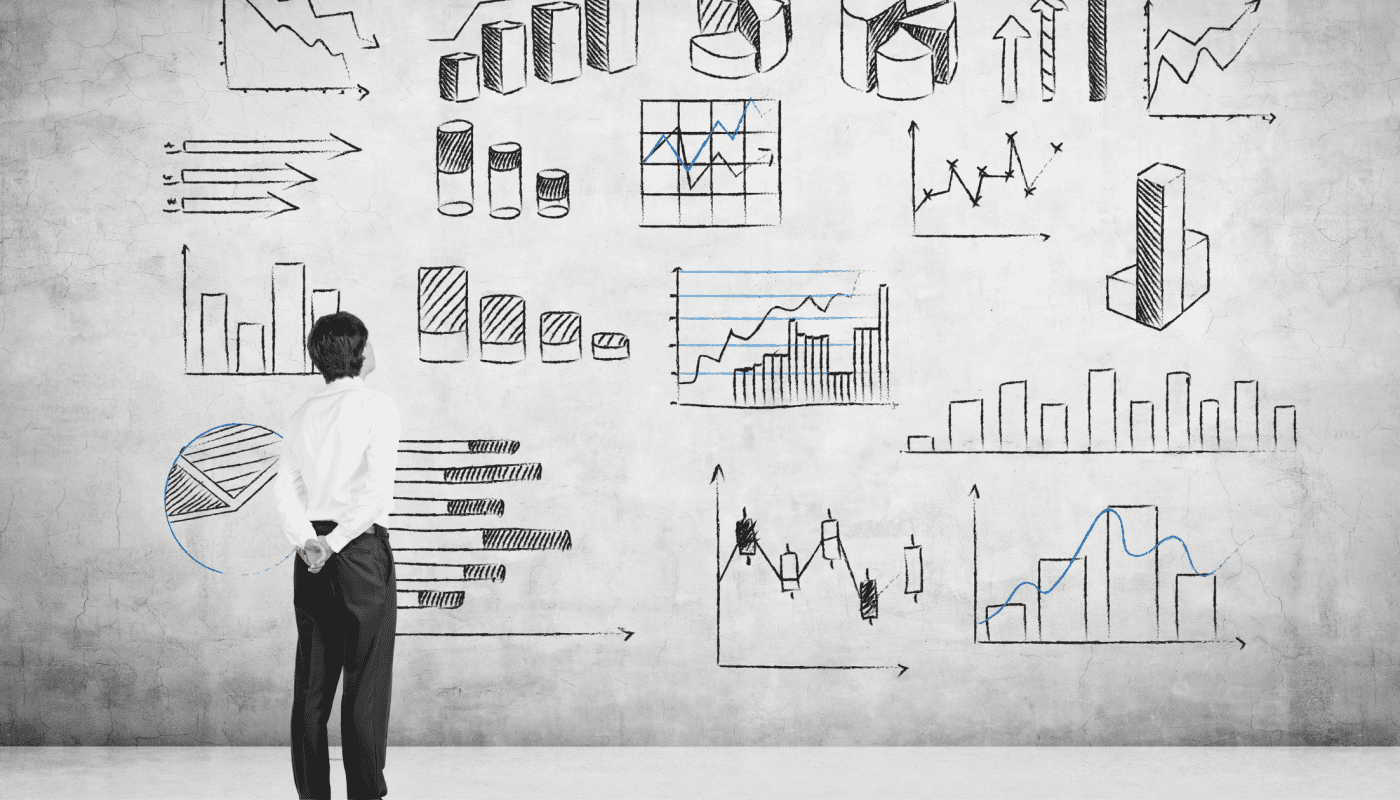 And if you want to get the most out of your multi-channel strategy and all of the other strategies we've discussed, you'll need to make about your performance data.
Content analysis is vital if you want people to come to your store because it can help you figure out what works and doesn't in your marketing.
Content analysis tools are built into social media sites such as Facebook, Twitter, and LinkedIn. Social media analytics tools can tell you how old your followers are and which of your posts received the most attention.
Some great third-party tools can help you put more data or crunch the numbers more helpfully.
Google Analytics is the best free tool for analyzing content. It allows you to obtain specific information, such as which browser or operating system your desktop and mobile visitors used.
This chapter will discuss the most critical parts of a multi-channel strategy and how to track and optimize your performance with content analysis tools, social media analytics, and Google Analytics.
6.1 Implement a Multi-Channel Strategy
Some people may find your content in a guest post, while others may read a description of your product on social media. People who are blind or have trouble seeing may be able to use your podcast to get to your content.
But if you make a lot of content and your audience isn't just on Facebook, you might run into issues that other store owners don't understand.
Even if it seems impossible, a multi-channel content strategy is an excellent way to solve the problem. For example, one master plan can cover all aspects of your store's online presence, including blog posts, guest posts on other websites, social media posts, and more.
Putting paid channels aside, you can create a smart, integrated content strategy for all the other channels. What you have to do is:
Create Audience Personas
Before you post content, you should know who your brand's customers are and how the key groups you want to reach act. For example, in the world of ecommerce, personas are made-up characters that represent the different types of people who might visit your website.
Most of the time, they are made from responses to surveys. A merchant, for example, could send out an email survey asking about people's browsing habits, how they use their devices, how they feel, and so on.
If you already have an online store, you probably have content analysis tools that can help you learn more about your current and potential customers.
With the help of content analysis tools, you can learn more about the people who might become your customers. For instance, let's say you've set up Google Analytics for your website. In this case, you can use tools like Google Analytics Audience Reports and Facebook Insights to learn about the demographics and psychographics of your target audience.
Check The Site's Content.
You should audit your content to see how well it works as part of your content analysis. All of the free channels to market are taken care of in this step. You now use all of the information from your persona to do a content audit of your current situation. A content audit could also help you determine where your content marketing will make the most difference.
The idea is to share a list of what assets need to be made from scratch and what you need to make your story work well on other channels. Think about these:
What can I do to move things along faster? (For example, do I need to hire freelance writers, social media people, etc.?)
How can I make the order of this story? Does a blog post have to be shortened before sharing it on Facebook?
What tools (blog, Facebook page, etc.) do I have to create and distribute our story?
This content audit will result in a list of priorities and other things that need to be done to create a multi-channel content strategy.
Set a Content Calendar.
Multi-channel content marketing works well, for better or worse, when it is custom-made, carefully planned to deliver real business results, and keeps your audience interested over time. But just because the content process isn't well-organized doesn't mean there aren't some tried-and-true ways to keep your content marketing engine running smoothly.
And a well-organized content calendar is the best place for an ecommerce business to build its structure around. When your content strategy is written on a single calendar, it's easier to keep track of deadlines, stay focused, and get more done. Planning can also help you make better content because you'll have more time to research and publish.
If you think making a content calendar is a good idea, the next step is to decide what you want to track.
For example, you might want to include, along with the date of publication:
The title or headline of the content
The name of the author
The current status of the content asset (i.e., in the draft, submitted, under review, etc.)
How is the content presented (is it a blog post? A social media update? or A video?)
Target audience
How channels are sold (email, social, etc.)
Measures of success and what's expected to happen
We suggest using only the most important categories and removing any fields that aren't needed. For example, you might not want to use the content calendar spreadsheet if it is too crowded or big.
There are also a lot of free calendar templates you can use, here are some of the best ones.
The Content Marketing Institute (CMI) has made a content calendar with four worksheets: a list of important dates, a description of a specific blog post, a type of content, and a list of other types of content. The layout is simple, but you can change it to include any other field that will help you reach your content marketing goals.
A Hootsuite social media content calendar is the second type of content calendar that can be useful. This should be a list of all the social media posts you'll make to promote your posts, with the time and date for each one.
Also, it will solve some of the biggest issues that ecommerce marketers have, like ignoring certain channels, missing important events, and taking breaks from publishing.
So even though social media engagement can't be planned, social media publishing can, which is why this calendar is a blessing in disguise.
This full calendar keeps track of content weekly and has spaces for ideas and assets that can be downloaded. So, it's meant to be the only result you can get accurate information about marketing and publishing.
So there's even a place where you can set your blogging schedule, which may change throughout the year, like when the holidays come around.
I would recommend Canva; it has great features for designs and themes and also enables you to schedule posts to different channels.
Hack:
Make sure your content is consistent in all ways.
Try to keep your look, feel, and voice consistent.
Use it when you are talking to a user one-on-one.
Changing how you spread your message based on your platforms is important, but keeping your brand identity the same is also essential.
Address Personas
When you look at your content calendar's list of channels, it's clear that not every channel will reach every persona. So, you need to figure out each channel's personas you think will serve.
After you've added your target channels to the calendar, look over everything. Do a content analysis, and if you need to, change your strategy. For example, you might find that the channels you've listed aren't reaching your most important personas.
You may also find that you are trying to reach too many personas through a single channel and that it would be better to split them up. Target, for example, has several Twitter accounts for general news, fashion news, and deals.
Use A Dashboard To Keep Track Of Everything.
With tools like Sendible and Hootsuite, users can keep an eye on multiple channels and talk to their audiences from one place. This saves time, keeps things organized, and makes it easy to keep track of conversions. Often, these tools include tools for analyzing social media.
More and more online stores want to add distribution channels to their customer relationship management (CRM) systems. This is very important for businesses that have to deal with customers. When the conversation history is available, you don't have to start from scratch every time a visitor uses a different channel. This makes the process go a lot faster.
Measure Your Results
After you've set your multi-channel content strategy, it's time to look at the content. Find your data to see which channels are doing well and which need more work. This will make it easier to decide how to spend time and money on the next campaign. Even though it can be hard to get a good campaign of how well your campaign is doing, analytics can measure a lot about how it is doing. Last, we'll discuss how content analysis can help you optimize your content strategy in the following sections.
6.2 Implement Social Media Analytics
Free traffic can be driven to your ecommerce store through social media, but it takes more than just posting regularly. Many new business owners spend all their time performing content and sending it to their target audience, but they don't take the time to see how well the content is doing.
One of the easiest things about using social media for marketing is how easy it is to keep track of different metrics that show how your audience uses your content.
Many tools for analyzing content and social media on many other platforms exist. By exploring these ideas, you can do three important things:
1. Figure out what content works and what doesn't. These social media tools can be very helpful in doing qualitative content analysis. People can interact with your content by liking or sharing it, but what does this mean? Is this engagement getting more people to visit your website? Do people prefer your videos to other kinds of content?
Does the time of day you post content affect how interested people are? Are you reaching the right people, or do all your likes come from people who aren't your customers? You can find out the answers to these questions using social media analytics tools.
2. Look at how well each social media site is doing. Each social media platform operates uniquely. Instagram is mostly about photos, while Twitter is best for short text-based posts. Most people who use Pinterest are women, while most of those who use LinkedIn are professionals over 35.
This means that different kinds of content will work better on other platforms. For example, you can use social media analytics to compare results from different platforms. This will help you find the best content and platform mix to keep your audience interested and determine their visit to your store.
3. Enable you to manage your social media time better. Social media analytics tools can help decide how to spend your time and energy. For example, if you spend four hours a week on Facebook and LinkedIn, but most of your referral traffic comes from Facebook, you'll need to change how you market on LinkedIn.
If you still think LinkedIn can help your business, you should work on your engagement with LinkedIn. On the other hand, you might decide that it is better to stop working on LinkedIn and spend all of your time on Facebook.
Hack: If your content analysis shows anything important or valuable, save it in a spreadsheet or document for social media. So, you'll always have it when deciding where to post.
How to Keep Track of Social Media Metrics
Each social media platform has a built-in content analysis system that lets you track metrics for free. Likes and visits are two metrics that are used by most platforms. Metrics are categorized into post-level metrics (data from individual posts) and page-level metrics (the overall data from your social media account).
Let's look at how to use Facebook, Twitter, and LinkedIn to track metrics.
Facebook Metrics
You can find metrics about your Facebook page with Facebook Insights. For example, go to your business page and click the Insights tab to use Insights.
You can see basic metrics like Page Views, Page Likes, and Reach on the Overview page. You can also export your data to Excel or.csv format to make it easier to read. You can also access more information by clicking the Overview tab in the menu.
Pay attention to the post-level metrics listed below:
Likes: Your audience can interact with your content most easily by clicking "Like." Likes mean that your content is good, but they aren't as important as comments.
Comments: Positive comments mean people like your content enough to write about it; even though negative comments can help you figure out where to avoid them, you should try to find a way from them.
Referral Traffic: Negative comments can help you find ways to avoid them, but you should try to stay away from them. Referral traffic is the most important metric for online store owners. You want people to come to your store from social media, so create content that makes people want to tell their friends about you.
Shares: Sharing is a great way to reach new people. Getting your audience to share your content with friends and family can be a great way to get free traffic.
Pay attention to the following metrics at the page level:
Page Views: More people will see your business if more people look at your page and want those people to stay on your page.
Engagement Rate: This is a better way to see how you're doing. This metric looks at how many people visit your content and how many like, share, or comment on it. People like what you're posting if the number means up.
Video Metrics: Videos are a popular form of content, but it's important to know if people watch your videos all the way through or just for a few seconds.
Growth of Page Fans: The more fans you have, the better your business looks to other people.
Twitter Metrics
To find out how your Twitter page is doing, you can use Twitter Analytics to do this, log in to your Twitter account and go to the Twitter Analytics page.
You can see a summary of everything you've done on Twitter in the last 28 days on the Analytics Home Page. When you click on the Tweets tab, you can see the engagement data for each tweet. Then, when you click on the Audience tab, you'll see useful information about your target audience, like what they like, how much money they make, and how they shop.
Pay attention to the post-level metrics listed below:
Tweet Engagement: The metric shows how many people see your content. This could be a bit deceiving. You want this number to be high, but you also want people to make it with your posts.
Retweets: This number tells you how well your tweets are doing. The more your tweets get shared, the more likely they will go viral.
Twitter likes: Likes mean that people like what you're posting; the better it is, the more likes you get.
Replies: Many people use Twitter because it's quick and easy to retweet. If people respond, your content is interesting enough to talk about.
Referral Traffic: Like Facebook, this is a key metric to track if you want to get people to visit your store.
Tweets that mention you: This is a good metric because it shows that people are talking about your business.
Pay attention to the following metrics at the page level:
Follower Growth: You want as many followers, but you also want to ensure they are good customers. People who don't care about your store's brand won't buy anything from it.
Profile Visits: This is a good metric because it shows that people are interested enough in your content to look for more information about your business.
LinkedIn Metrics
With LinkedIn Analytics, you can get metrics for your LinkedIn page. Click the "Me" button at the top of your LinkedIn homepage to access LinkedIn Analytics. Then, click the Analytics tab after choosing your company page from the Manage section. This page has crucial information about reach and engagement. For example, if you go to the Analytics tab and click on Visitors, Updates, or Followers, you can get more specific information.
Pay attention to the post-level metrics listed below:
• Impressions: This is a good way to see how many people see your content, but it's not as important as engagement metrics.
• Interactions: Facebook and Twitter are examples of interactions that show that people are interested in your brand and content. Even if they aren't ready to visit your store yet, interactions show that they are getting to know you better.
• Clicks: This is more important because more clicks equal more engagement (hopefully more people purchasing your products).
Pay attention to the following metrics at the page level:
•  Engagement Rate: This is a crucial metric because it shows how your audience reacts to your content. A good engagement rate indicates that people find your content valuable.
•  Reaches: You want your content to be seen and shared; this metric shows how many people see your posts in their feeds.
•  Page Views: A high number of page views shows that people are interested in your business. They've read what you've written and are interested enough to visit your website.
• Visitor Demographics: Most LinkedIn people are professionals, but ensuring the right people see your content is still important. For example, if your content is meant for women, you want most of your demographics to be women.
Metrics Monitoring Tools for Instagram and Snapchat
The analytics feature can only be used by people who have made a business account on Instagram. So, store owners who use their profiles to access their products and services or promote them should add at least one or two tools that let them access everything. Unfortunately, Snapchat doesn't have a built-in analytics feature, so it needs a third-party analytics tool. So, here are some tools you can use to keep track of analytics on Instagram and Snapchat.
Union Metrics
Union Metrics lets you check how well you're doing on Instagram for free. Even though the report isn't as detailed as others, it has information that Instagram account owners will find useful. It lets you determine which hashtags to use in your posts, what kind of content to post more or less of, and when the best time is to post. It also shows you an overview of your most active followers and reminds you to interact with them.
Snaplytics.io
When it comes to Snapchat analytics, Snaplytics is the market leader. It lets users track important metrics like views, open rates, completion rates, and the average number of screenshots per Snapchat story. The app also lets you know how your competitors are doing and how your followers found out about a company's Snapchat account.
Hack: make up your reports every month and compare them to the reports from the previous month, even if you don't think there's much to see. If you check social media often, you can catch exciting spikes or trends as they happen instead of after the fact.
How to Use Your Data
First, put all of your data for content analysis in one place. Then, the critical metrics can be put into an Excel spreadsheet.
You can also use a third-party app to pull information from all of your social media data. Buffer, Cyfe, & Quintly all have free plans that let you see how well all of your updates are performing in terms of engagement.
Once you have all your data, you need to set a performance baseline for each metric on each channel. To do this, find data from a long time (three months is usually enough) and figure out how each metric did on average.
As you add more content, you can compare it to your baseline using qualitative content analysis. For example, if your content always does worse than your baseline, you know you need to change something. So, for example, it works if your content does better than the baseline.
6.3 Install Google Analytics On Your Website.
We've spent the whole ebook talking about how to get people to your store, but it's also important to keep track of what you do to see what works and what doesn't.
For qualitative content analysis research, Google Analytics is a lifesaver. It gives you many options for reporting, so you can dig deep into your data and turn a bunch of numbers into conclusions you can act on.
In this section, we'll talk about how to use Google Analytics on your ecommerce store and how to use it to analyze and plan your content.
How Analytics Can Help Drive Traffic To A Website
The primary way to use content analysis data to drive traffic is to look at the results of specific strategies or channels you've used. For example, you know it's time to double down if the strategy brings in sales and gives you a good return on your investment. If it's not giving enough results to justify the time or money you're putting into it, you know it's time to change it or eliminate it.
The data you get from analytics can help you answer questions like:
• Where do my website's visitors come from?
• What sales strategies and channels work best?
• What strategies and channels bring the most money? Which things are the most important?
• Which of my landing pages do the best? My most-read pages?
• How many of these visitors turn into sales?
How to Install
1. Get Started with Google Analytics
Go to www.google.com/analytics, click "Start measuring" and "Analytics" from the dropdown menu in the top right corner. If you already have a Google Account, use it to sign in. Now is the time to create an account if you don't already have one. Click "More options," then hit *Create Account*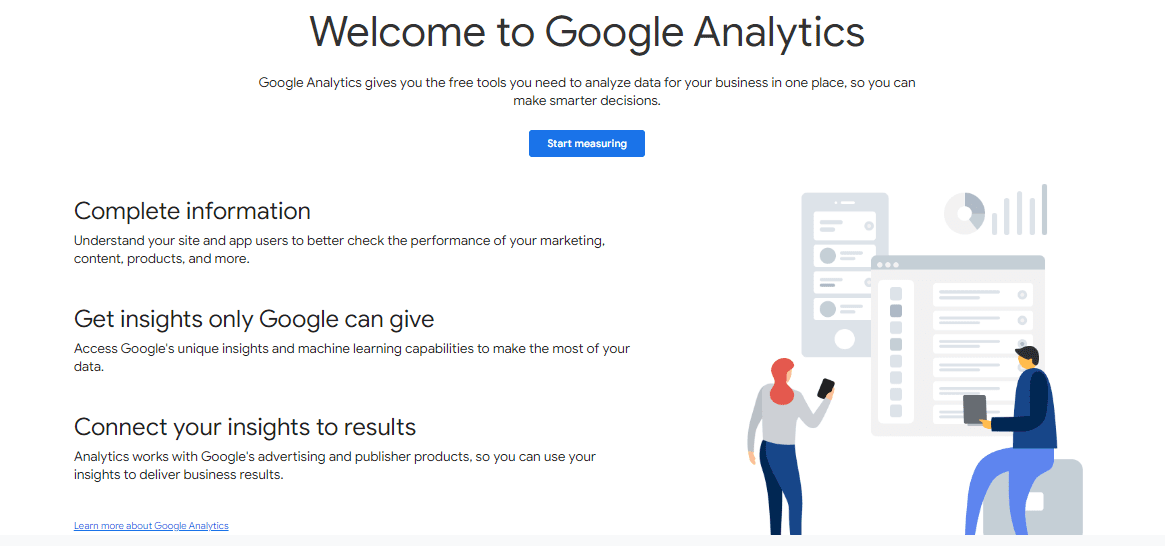 Select an email address, fill out the form, then click "Create Account." Then go back to the Analytics sign-in page and log in again.
Click "Sign up" on the next page, and then fill out the form:
Choose the option that lets you track your website. You can do this again if you have a mobile app.
Call your Account something. You'll use this main Account to connect and track up to 100 properties, including other sites and, if necessary, your mobile app.
Type in the website's name, URL, industry, and time zone.
Pick how you want to share your data and click "Get Tracking ID."
1. Retrieve Your Tracking Code
Now, you'll go to your Analytics dashboard. On this screen, you will see the Global Site Tag, which you will need to copy and paste into the backend of your website or ecommerce platform.
Hack: Look at the blue box that says, "To set up Google Analytics on your website, if you use a third-party web host like WordPress, GoDaddy, or Wix, you will need to follow their instructions." This is also true for specialized ecommerce platforms, as it is usually easy to set up Google Analytics on them.
2. Enable Ecommerce
To turn off ecommerce tracking, go to your Analytics account and click on "Admin"-the gear icon at the bottom of the navigation panel. In the third column, where it says "View," click on "Ecommerce Settings." Turn the switch that says "1: Enable Ecommerce." After that, click "Next step."
On the next screen, flip the switch next to "2: Enhanced Ecommerce Settings," then click "Submit."
Now that your Analytics account is set up to read incoming data, you must tell your website to send that data to Analytics. This takes behind the scenes on your site or platform.
3. Connect Your Shopify Store
It's easy to add Google Analytics to your Shopify site. Go to your Shopify Admin account and log in. Then, under "Sales Channels" in your navigation bar, click "Online Store" and then "Preferences."
Copy your Global Site Tag, paste it into the Google Analytics box, and click "Save."
If You Do Not Have A Shopify Store
If you're not using a specialized ecommerce platform and there isn't an extension or plugin for linking Analytics, talk to your developer (or hire one for the job). This is because each transaction has its ID, which should be updated automatically by the tracking code. Without help from a pro, manual coding can become a confusing maze, so hiring one is well worth the money.
Hack: If your platform isn't on the list, do a quick Google search for "set up google analytics eCommerce" or contact the platform's support team.
Navigating Your Analytics Account
Let's review the main tabs in the navigation panel, what each one does, and how you can use content analysis data to develop and analyze your business strategy.
Customization
The templates for your dashboard, reports, and alerts you've created or added.
These can save you a lot of time, and there are some great ones that you can easily add to your Account. For example, in the Google Analytics Solutions Gallery, there are a lot of choices. Once you've found the one you like, it only takes a few clicks to add it to your Analytics account.
Click "Import."
Click the Account and property to which you want to add it, and then press the "Create" button.
When you go to the Dashboards section and click on the All-in-One Ecommerce dashboard, it will look like this:
Other dashboards and reports that are useful for ecommerce are:
• Perfect Dashboard
• Referral Traffic Revenue Opportunities Report
• Performance by Time Report
• Mobile Ecommerce Dashboard
• Email Dashboard
• Customer Acquisition Report
Hack: There are more than dashboards and reports in the Solutions Gallery. It also includes goals, segments, audience definitions, channel grouping, and attribution models. Look through the gallery to add ways to improve your skills.
Real-time
Check out what's happening on your website right now.
You can use it to see how well a current promotion, sale, or piece of newly released content is doing or how well your site works at different times. This is a great feature, but it tends to feed every entrepreneur's little voice of worry. You know, the person who would instead not do anything and just watch the numbers change all day.
Audience
Who visits your site, including their age, gender, interests, lifetime value, and even the browser and operating system they used to get there?
When researching content analysis, it's important to consider who visits your website and how they interact with your content. For example, you can see how often a visitor came to your site, how many pages they looked at during each visit (called a "session"), and how long they spent on each page. You can also see if it was their first time there or if they had been there before.
Acquisition
Visitors find your site by looking at traffic sources like free & paid traffic, referral traffic, AdWords, social media, and special campaigns.
This tab is vital because it tells you how people found your website, which can help you with your content analysis research and marketing strategies.
Check out the "All Traffic" > "Referrals" section to see which guest posts, podcast visits, or social media groups or forums brought you traffic. You might also find unexpected ways to get traffic that you can use later.
Behavior
Information about your site and how people use it, like which pages they look at and how well they work.
This data gives similar information to "Audience," but it looks at how well the page works rather than what visitors do. For example, you see which pages have the highest bounce rate, which could mean they need some work.
It also tells you how long and how quickly each page loads, so you can fix pages that load too slowly or take too long.
Conversions
You don't just want to know who visits your site regarding the content analysis. You also want to know if sales come from their visits. This tab has a section called "Ecommerce," which you turned on when you created the site. The tab also shows ecommerce data and results for custom goals, like filling out a form and funnels, which are user processes that involve more than one step.
In the Ecommerce section, you can look at your products and see which ones sell, how many there are, and how much money they bring in. For example, you can find information about sales, shipping, taxes, and the number of data sold under "Transactions."
This information can help you figure out strategies like discounts for big orders and free shipping for orders over a certain amount. In the "Time to Purchase" section, you see how many days & sessions it takes to buy an item, starting with your most recent campaign and ending with the purchase.
Read Also:
Continual Learning Curve
If you look around in Analytics, you'll see that there are almost an infinite number of ways to set things up and ways to dig deep into your qualitative content analysis research. So, keep looking into Analytics to learn more about how to become a "wizard" at it and turn data into sales like magic.
Hack: Google Analytics Academy has free courses, and you can also use their list of free tutorials.
Takeaways
Think about and make plans for a new channel to promote your site. Even when you're still in the "theory" stage of putting the strategies we've talked about into action, you should have a good idea of which channel might help you the most based on the research you've done & what you can learn from your audience's preferences and actions.
Lastly, you'll want to master the multi-channel experience by giving your customers an easy-to-use, immersive shopping experience that fits perfectly with how they want to buy online.
Pay close attention to content analysis when you get to the "action" stage of making this experience. For instance, you can look at your social media analytics to determine whether your ideas are right or wrong.
Did your guest post bring in hundreds of new visits? Try to write another one on the same site or one that is similar. If you tried many different strategies and nothing worked, you shouldn't waste more time on that site. Instead, try something else that did work.
If you haven't already, I suggest you stop everything and install Google Analytics on your site right now! Every minute, you get valuable performance data that can help you bring in more customers and money.
Small Request
Kindly share it with your friends. Especially the ones you believe need this information. Sign Up Now and Get your first 3 months for only $1 monthly.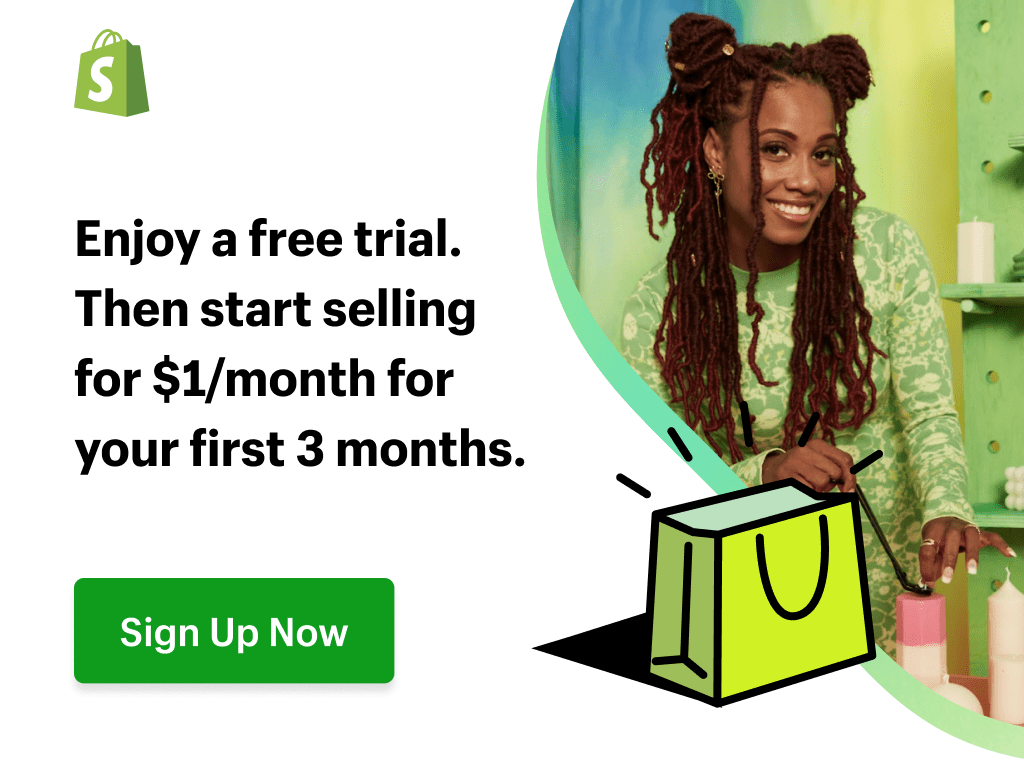 Sharing this information with others can make a huge difference. You may ask why.
Well, the truth is, my main aim is to provide the best information about drop shipping for both beginners and experienced dropshippers.
And I plan to continue doing so for as long as I can.
I would also like to thank those who support my work by reading and sharing my content.
Trust me, when you take your time to share, it will greatly help me and others who need this information.
Here are some great suggestions:
Pin it
Share it on another blog.
Share on Facebook (Share it with friends and even on Facebook groups)
Tweet it
Stumble it
This will only take a few seconds of your time, and I would appreciate it.
I appreciate you a lot. Thank you!
Join my Shopify dropshipping group mastermind and follow my blog to learn more about Shopify tips, dropshipping guides, tricks and checklists, and e-commerce in general.
If you enjoyed and learned something from this post, you can get me updates for free!
I send out email newsletters about new blog posts, tips, and tricks to help you grow your dropshipping business, new YouTube videos to give you more insights into the e-commerce market, and much more.
If you enjoyed reading this, you could also join my Facebook group. Thank you for reading how to make money dropshipping online from the comfort of your home.
Click here to Join My Facebook Mastermind Group