How To Create Product Pages That Convert Into Sales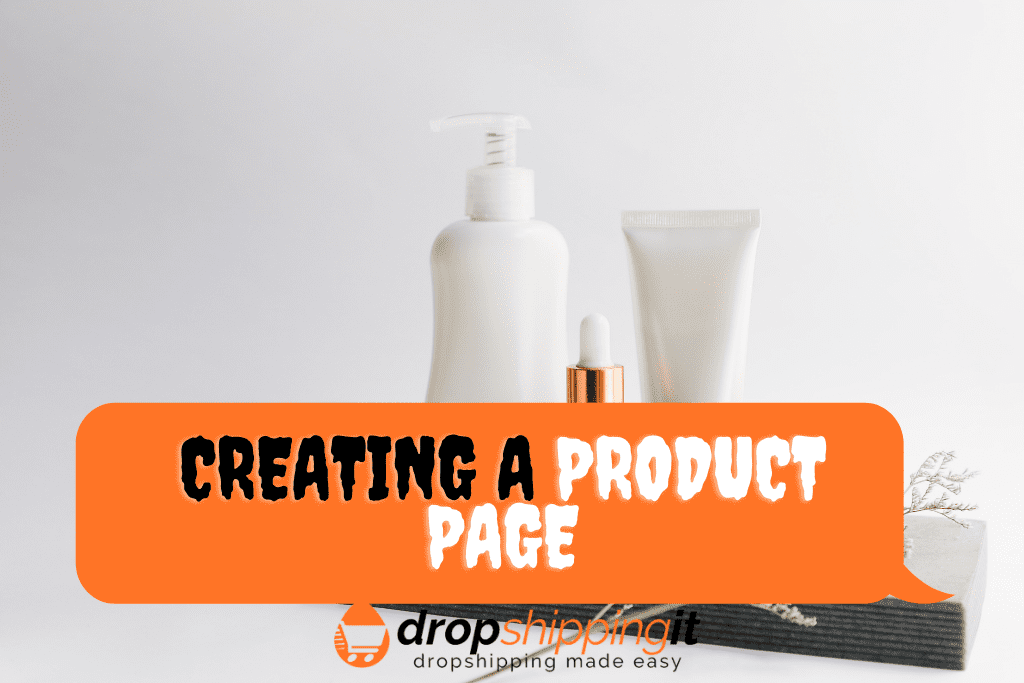 Are you wondering about how to create product pages that convert? Your product page is a critical aspect of your website. As a result, it makes sense that you'd want to create a superior product page.
A well-designed product page aids in the conversion of browsers to purchasers. Additionally, they help you provide your customers with the information necessary to make an informed purchase.
There are various options for designing ecommerce product pages. For example, we'll explore some best practices for product page design in this article and how you may apply them to your pages.
Further, you'll see examples of several product pages to help you learn what works well and what won't cut.
POST CONTENTS
Product Page Design: Tips for Ecommerce Entrepreneurs on Creating a Product Page
Using Shopify to Create a Product Page
Examples of the Best Product Pages
Make Highly Converting Product Pages, READY?
Summary: Product Page Design Best Practices in 2022
Product Pages Designs: Ecommerce Entrepreneurs' Tips
Product pages have the potential to make or break your online business. As a result, they must be carefully designed. The features listed below should be included in your product page design to make it more enticing to online buyers.
The Ideal Product Description
Nielsen Norman Group asserts that the most effective product descriptions are scannable, concise, and objective. This form of material has been demonstrated to increase usability by 124%.
To create scannable material, you should incorporate brief bullet points throughout your product descriptions. A concise description of the product should consist of 1-4 sentences. Objective material accurately describes the product's benefits without exaggerating them.
The following sample has an excessive amount of redundant information. Additionally, as colors and sizes run out of stock, you'd have to update all product descriptions manually.
The following sample contains three sentences. The first phrase provides a neutral description of the product by utilizing several of the bullet points offered by the dropshipper.
Following that, the below descriptions show another done sample, the sentences were created to define what the product does and the issues it solves. This enables the prospective consumer to visualize an ensemble featuring the blouse they're considering.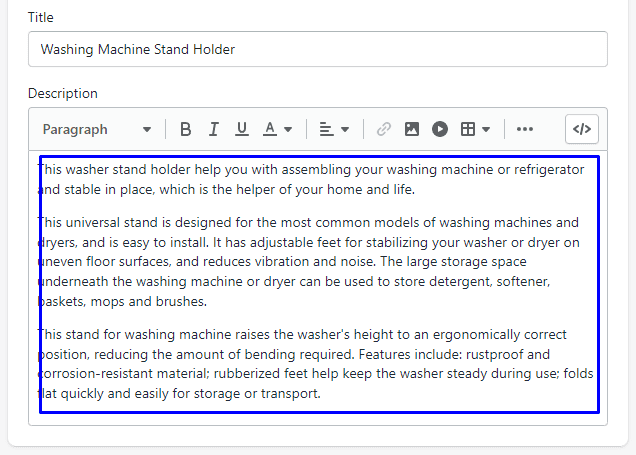 As with the second example, you can remove multiple bullet points if they appear redundant. Additionally, if you wish to create a consistent brand, you may similarly order all product page bullet points. In fashion, you may always begin with the cloth.
You can either hire a professional copywriter to do the work or simply use the Artitificail intelligent tool that am using to write killer product descriptions, called copy genius io
The Ideal Product Images
The finest product pages include high-resolution images that showcase the full beauty. Never compromise on image quality, as this might have a detrimental effect on your sales. People will abandon the transaction if a photograph is of poor quality or does not adequately reflect the product.
People want to get a sense of how the product will look in real life. For example, learning product photography can assist you in capturing images that reflect how buyers envision your product.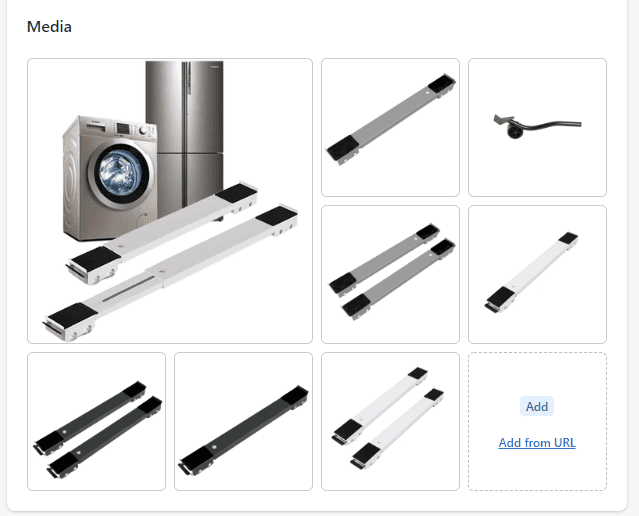 Additionally, several product sourcing platforms allow for the import of product images. For instance, you can import Spocket item images on your product pages.
Once imported, ensure that any logos on product images are removed in PhotoShop. For example, if your product was photographed against a grey background, crop the image to make it white. Consistently style the products on your website.
Following that, consider incorporating 360-degree images in the design of your product pages to improve the visitor experience.
Customers appreciate being able to view a product from every angle. For instance, understanding how a top looks from the front and back enables customers to visualize what they're purchasing.
Additionally, it is fantastic to allow customers to upload their product images to review. It enables everyone to see what they will receive without the flash and shine of professional photography.
Additionally, import a size chart image if you offer fashion items such as dresses or shirts. This enables customers to view measurements and sizes, assisting them in determining the most appropriate fit.
For example, if you are importing from Asia and selling in the United States, you can use our instructions to convert Asian sizes to US sizes.
Additionally, including a zoom capability for your product image lets customers better understand it. Finally, it enables your customers to examine the finer points.
Finally, including a product video on your website can help enhance conversion rates. For example, according to Kissmetrics, site visitors are 64-85% more likely to purchase following a video on a website.
A Sense of Urgency
According to Conversion XL, you may increase sales by up to 332 percent by instilling a sense of urgency and scarcity. Additionally, this will enhance your conversion rate.
Urgency enables you to convert a casual browser into a buyer quickly. When customers browse through your store, an outstanding product will entice them. However, including a countdown timer for sale can help persuade the browser to buy immediately.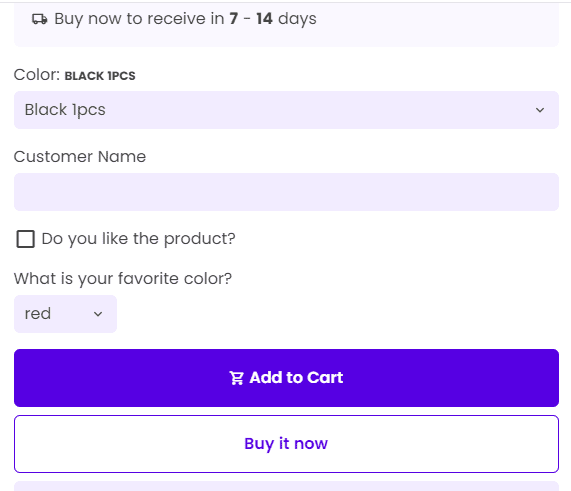 Utilizing countdown timer applications such as Hurrify might assist in instilling a sense of urgency. You can create your text or select from a choice of pre-written examples.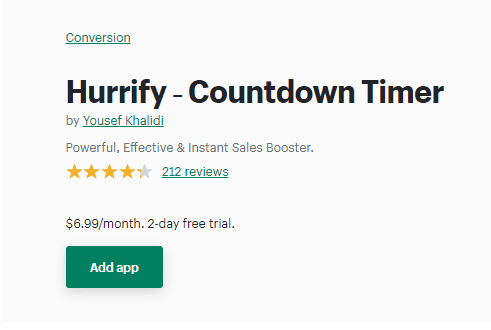 By including text indicating limited amounts, you may help create a sense of scarcity, which can help increase sales. However, you can choose to test a variety of alternative texts to determine which ones do the best in terms of conversions.
The Intuitive Layout
Even if your customer does not understand the language, they should navigate your website. Your online store should adopt a standard product page layout.
Avoid using unusual or unworkable layouts, as they may confuse or frustrate clients. Maintain an uncluttered appearance.
The product image is often located on the left. You'll see the product copy on the right, beside a large Add to Cart button. Make that the 'Add to Cart button is visible.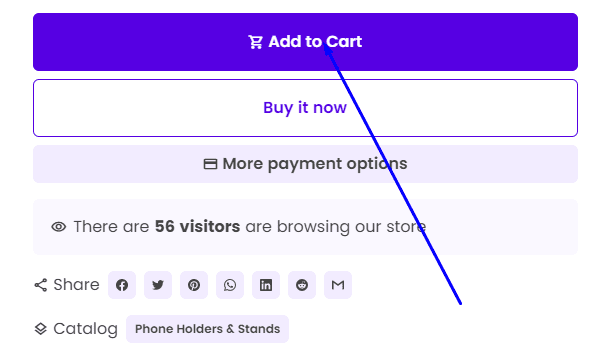 When selecting a theme for your store, you should make it resemble other well-known websites in your area.
While many would advise you to stand out from the competition,' this is often poor advice for product page design.
The free Minimal Theme available on the Shopify Theme Store is an excellent example of a product page layout familiar to most customers and incorporates other product page design basics.
Additionally, Shopify offers a plethora of free themes with intuitive layouts that can help you improve the appearance of your product pages.
If you want to go with a free professional themes that comes with almost 60+ Addons,then check out Debutify theme which is used by almost all the dropshippers I know.
Social Sharing Buttons
Social sharing buttons are an excellent product to promote your product page, particularly if it's a popular one. Regrettably, they may also have a detrimental influence on your conversion rates.
Conducting A/B testing on your store will assist you in determining whether social sharing is appropriate for your business.
According to VWO, when social sharing icons were removed, an ecommerce business saw an increase of 11.9 percent in call-to-action click-throughs.
They explained that the social sharing buttons are unlikely to convert properly without any shares.
As a result, if your store is brand new, it may be prudent to remove social sharing buttons. For example, consider reintroducing them to your store if you've established a following and drive significant traffic to product pages.
Additionally, you can test whether or not using icons without particular numbers works well for your store.
Shipping Information
Mentioning or displaying an indicator suggesting 'free shipping on orders above $75' or 'free shipping inside the United States' assists customers in obtaining an overview of shipping information.
By including this concise information on the product page, you save the customer leaving the page to read your shipping information, as the critical point is clarified on the page itself.
By emphasizing the prerequisites for free shipping, you enable your customer to add additional products to their cart.
Customer Reviews
Customer reviews are critical to the success of your product page. For example, if you're generating traffic to a product page, the reviews on your store can provide an additional push for browsers to complete the sale without you having to do much work.
Customer reviews are 12 times more credible than manufacturer descriptions, according to eMarketer. Thus, if customer reviews are typically positive, they can always help you increase sales and convert the customer.
You can use an app such as Product Reviews Addon to contact customers for reviews automatically following their purchase. This enables you to quickly and easily increase your review count.
Products Suggestions
While you should conduct an a/b test to help increase conversions, recommended products encourage customers to stay on your site for a little longer.
Frequently, your models will be dressed in more than just the top you're selling. For example, if you sell the skirt or earrings that match the model's outfit, including them in your recommended products will help shoppers complete their appearance.
Avoid having products that look too similar when it comes to recommended products. This can result in customer confusion and decreased sales. This is because a greater number of options necessitates further thought.
For instance, you can still cross-sell one item with another product of the same sort, such as a blouse. However, the blouses must be sufficiently distinct to help in the sale. For example, cross-selling a skirt that complements that exact shirt can also work quite well. Additionally, it streamlines the decision-making process when creating an outfit for a customer.
Using Shopify to Create a Product Page
To develop product pages for your website, you do not need to know how to code. Shopify enables you to create pages that strike a mix between beauty and usefulness. To customize Shopify product pages, follow these steps:
Navigate to your Shopify administration area.
Click 'Online Store' > 'Themes' from the drop-down menu.
Click 'Customize' and wait for Shopify to bring you to the Theme editing page.
From the drop-down option, click 'Product Pages.'
Proceed with customizing the layout of your product page.
Summary: Best Practices for Product Page Design in 2022
Have an epic description of the product
Post the finest product images
Incorporate a sense of urgency
Ascertain that the layout is intuitive.
Put social sharing buttons to the test
Add shipping details
Customer reviews
Include recommended products.
Read Also:
Small Request
Kindly share it with your friends. Especially, the ones you believe really need this information.
Sharing this information with others can make a huge difference. You may ask why?
Well, the truth is, my main aim is to provide the best information pertaining to drop shipping for both beginners and experienced dropshippers.
And I plan to continue doing so for as long as I can.
I would also like to thank those who support the work I do through reading my content and sharing.
Trust me, when you take your time and share it will help a lot not only for me but also for other people who may really be in need of this information.
Here are some great suggestions:
Pin it
Share it on another blog
Share on Facebook (Share it with friends and even on Facebook groups)
Tweet it
Stumble it
This will only take a few seconds of your time and I would really appreciate it.
I appreciate you a lot. Thank you!
Join my Shopify dropshipping group mastermind and follow my blog to learn more about Shopify tips, dropshipping guides, dropshipping tricks and checklists, and e-commerce in general.
If you enjoyed and learned something from this post, you can get updates from me, free of charge!
I send out email newsletters about new posts published on the blog, tips, and tricks to help you grow your dropshipping business, as well as new YouTube videos to give you more insights about the e-commerce market, and much more.
If you enjoyed reading this, you can as well join my Facebook group. Thank you for reading how to make money dropshipping online from the comfort of your home.
Click The Image To Join My Facebook Mastermind Group