The Top 10 Free Animation Software For Creating Marketing Videos
Animation is a great way to capture the attention of viewers. In this write-up, Free Animation Software, we'll look at the top ten tools that can help you create marketing videos for your business.
Free animation software is often a great way to save time and money to create marketing videos.
Creative video marketing is a hot trend for companies looking to stand out and have more engagement. Luckily, plenty of free animation software options make it easy for anyone with basic computer skills to create an engaging animated piece in just minutes!
The video makes for a highly effective marketing tool.
At least once a month, 86% of internet users consume video content. And the public desires more.
Indeed, 54% of respondents believe brands should increase their video content distribution.
Creating video content is not always straightforward. Perhaps your creative juices have run dry. Or maybe you're camera-shy. Or perhaps you even lack the requisite equipment – not to mention the financial resources to get it.
Fortunately, there are some useful free tools available.
Yes, it is possible to make animated videos for free (minus your time investment, of course).
Consider the following list of the finest free animation software for beginners, professionals, and everyone in between.
Compatibility: Web-browser-based platforms
Animaker cuts as a free animation software for beginners, with a simple drag-and-drop interface to match. There are six primary sorts of videos that Animaker allows you to make:
Infographics
Handcraft
Whiteboard
Typography
5D
2D
With full HD support, horizontal & vertical video layouts, and a library of pre-made visuals, you can quickly create exciting, animated videos.
Text-to-speech capabilities, the option to add background music and sound effects, and the voiceover in the audio features.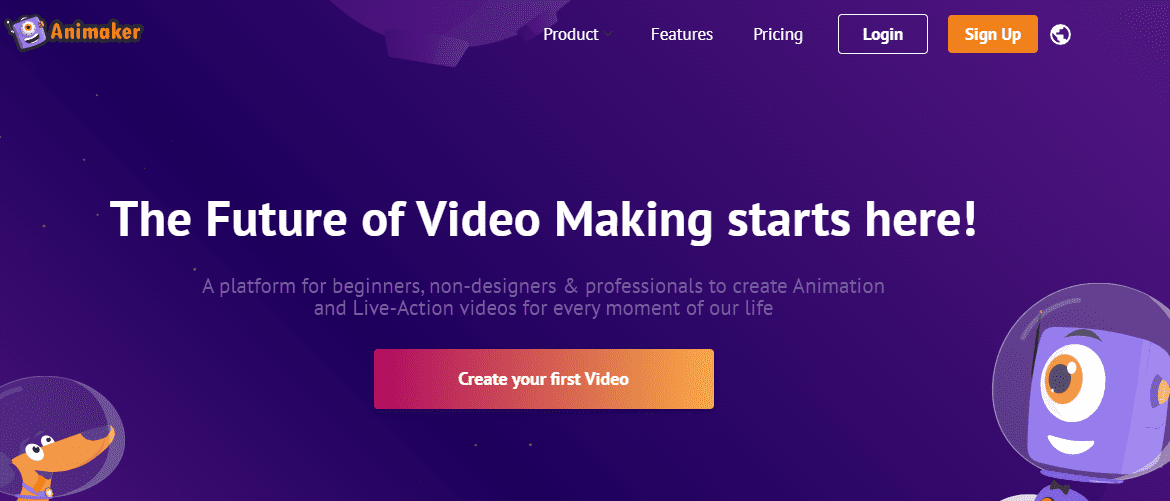 You can either use sounds from Animaker's collection or upload your own.
If you upgrade to the pro version, you'll gain access to additional features, like multimove, an in-app camera, curves, transition effects, and enter/exit effects. It's similar to PowerPoint animations but cooler and less tacky.
2.OpenShot Video Editor
OpenShot Video Editor is a free, open-source video editing software. It can be used to create and edit videos of various formats like MPEG-4, DVD, AVI, MKV, etc. OpenShot comes with lots of features that are found in expensive video editors.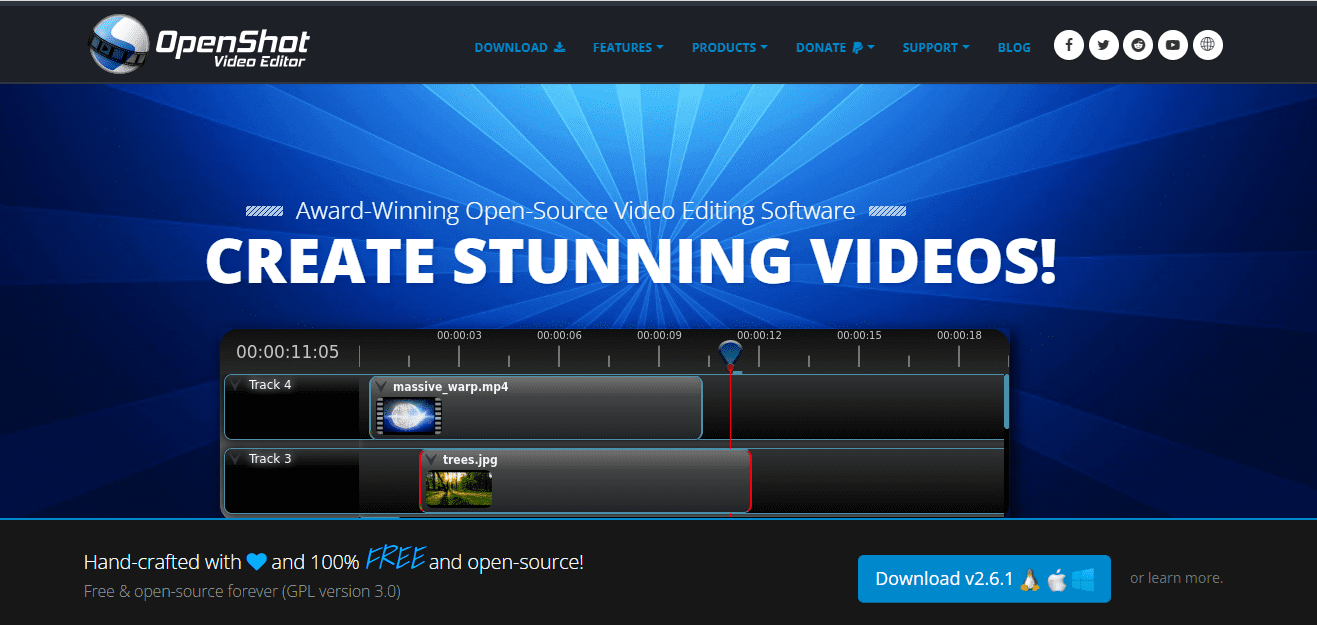 This program is mainly for beginners and advanced users who have a vision for creating HD videos.
It can also be used to create video presentations that are high in quality and have a professional touch. Currently, OpenShot Video Editor supports Ubuntu, Windows, CentOS, etc. Linux operating systems.
Features:
Enables users to create videos in various formats.
Comes with an easy-to-use interface.
Allows users to perform multiple tasks simultaneously.
It contains lots of themes that are available to edit videos.
Allows users to add subtitles to their video files.
Allows users to add multiple audio tracks.
It contains lots of transitions for editing videos easily.
It is easily customizable as it comes with a built-in video effects library that can be accessed using a point and click feature.
With the help of OpenShot, you can also create videos that contain animated weather maps, animated diagrams, etc.
Supported Platforms: Windows, Linux, macOS.
OpenShot Video Editor is a powerful and free video editing tool that you can create videos of different formats. It also supports collaborative working, making it possible for two or more users to work on the same project together from other locations.
3.Lightworks

Lightworks is also another video editing software that has been in existence for quite some time now. It has all the basic features you would expect for a non-linear editor, including copy and paste, multi-track timeline, color correction tools, among others.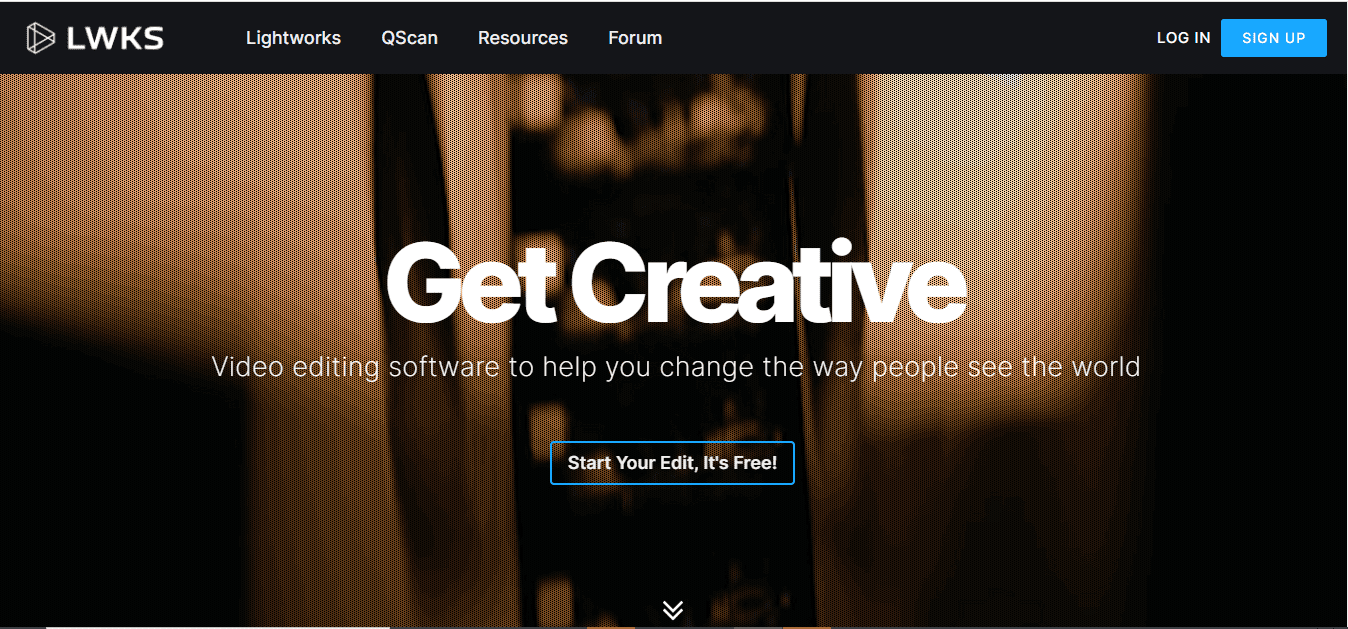 Lightworks was first released in 1994 and has evolved to become one of the most preferred video editing software for professionals.
It does not come free, though, but the good news is that it can be rented either on a monthly or annual subscription basis.
4. Avidemux
Avidemux is a free video editor that can be used for different purposes like cutting, editing, trimming, transcoding, and encoding, among other things.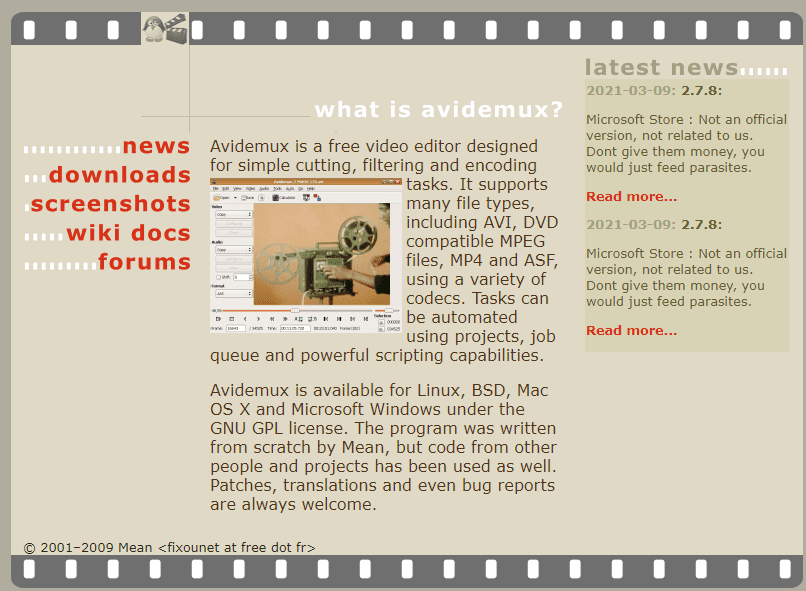 All the video formats are supported for editing; however, to streamline the process of editing and exporting files for different use cases, Avidemux can be integrated with other software like VirtualDub or MP4Box.
The interface is quite straightforward to use, making it ideal even for users with no experience in video editing.
The latest stable version of Avidemux 2.6.13 was released on January 28, 2016, and can be downloaded from the official website for Windows, Mac OS X, Linux, and FreeBSD platforms.
Avidemux is not free to use for commercial purposes. A license must be bought before the software can be used for any commercial activities.
5. Blender
Compatibility; Windows, Mac, and Linux
Blender is the most fantastic video animation software for professional editors and designers. The open-source 3D animation tool is free and offers "modeling, rigging, animation, simulation, rendering, compositing and motion tracking, video editing, and 2D animation pipelines." The platform is a collaborative effort between creatives from across the world.
Let us consider the features.
Rendering: Cycles is Blender's ray-traced production render engine; FreeStyle is a non-photorealistic (NPR) rendering engine based on edges and lines; real-time feedback accelerates the editing process.
Character animation and rigging: These tools include a pose editor for character animation, Non-Linear Animation (NLA) for autonomous movements, IK forward/inverse kinematics for quick poses, and sound synchronization.
Video editing: An integrated video editor enables basic operations such as video cuts and splicing and more complicated chores such as video masking and color grading.
VFX: From camera and object tracking to masking and compositing, there are numerous post-production adjustments available.
Grease pencil: Draw directly in three dimensions & merge two-dimensional and three-dimensional art.
Modeling: Blender's modeling tools involve sculpting, retopology, modeling, and curves.
Sculpting: Digital sculpting tools that are adaptable to any stage of the digital production workflow.
Simulation: Create simulations of smoke, fog, rain, fire, and liquids, among other things.
Pipeline: Select an import/export option from a lengthy list.
That is quite a sum. Blender is a tool-rich application. And it's all completely free.
(#3). K-3D
Compatibility; Windows and Linux are supported platforms.
K-3D is a free 3D animation software best suited for polygonal modeling, a method of digital graphics that uses polygons to represent approximate object surfaces.
The software, which was created for artists, combines plugins with a visualization pipeline design – it adjusts to the look and feel of the tools it is integrated with.
Begin with their Wiki tutorials, which demonstrate using features such as texturing, shadows, and symmetric modeling.
One of its most endearing features? The simple undo/redo feature allows you to correct a mistake swiftly. The majority of apps merely provide the option to undo an action.
With both procedural and parametric workflows, you may make changes and immediately see the effect. Editors can create linkages and combinations for various aspects of the video using a node-based visualization pipeline. You can work on one side of the model and then mirror it to see how it appears when welded together.
K-3D is a sophisticated tool designed for serious creatives.
(#4). OpenToonz
Compatibility: Windows, Mac OS X, and Linux
OpenToonz is a popular free animation software for creating 2D animated videos. Because the open-source software is freely available for commercial and non-commercial use, you can use it to create marketing videos for your business.
Further, it is loaded with features, including the following:
Effects and compositing: create animated special effects and composite scenes using blurring, lighting, keys, masks, and warps, among others.
Motion tweening: creates intricate movements by connecting items or by utilizing motion routes.
Scripting: automation through the use of an ECMA-compliant scripting engine
Particle systems: for the production of rain, dust, and other comparable effects.
Animation on a frame-by-frame basis: with a programmable onionskin
Combine your animation with video footage using motion tracking.
Bones character animation: with IK support & mesh deformations
Indexed color palettes facilitate painting and color selection.
Scan and tidy up: create paper drawings into vectors
Vector and bitmap drawing tools
This tool enables you to make some sophisticated animations.
If you have any difficulties using the free animation software, you can always contact the user community or development forum.
(#5). Animation in Pencil2D
Compatibility: Windows, Mac OS X, and Linux
Pencil2D is a straightforward animation software that allows you to create hand-drawn, two-dimensional videos. Because the open-source software is free for personal and commercial usage, you can use it for personal enjoyment or create promotional videos for your products.
The interface is simple to use. This, combined with the abundance of tutorials available on the internet and forums you can join, makes it an excellent option to start.
Notable features include the following:
Alternate between raster and vector-based workflows to sketch ink and paint.
Add the distorted and lighting effects
Increase or decrease the frame rate
Import of images and sounds
Toolbar customizations
Multiple export formats
Pressure sensitivity
Onion skinning
(#6). Plastic Animation Paper
Compatibility: Windows, Mac OS X, and Linux
Plastic Animation Paper (PAP) is a freely available animation software for Windows, Mac OS X, and Linux. While the software's interface is antiquated, it is entirely free to download and use. Beggars can not be picky, correct?
PAP enables you to create hand-drawn 2D animations while simultaneously viewing your edits in real-time. Although the editing experience can be cumbersome, it is simple for beginners to pick up and become familiar with. It's an adequate tool for creating simple animated videos.
Basic drawing tools, zoom, rotation, cuts, and layers are just a few of the features available.
Soon, the creator of PAP will offer Animation Paper, a more complex program for $79, as a follow-up to PAP.
Animation Paper, which is best suited for experienced animators, will assist animators in creating 2D images from hand-drawn illustrations and has a comprehensive range of features:
On a second monitor, a full-frame reference is displayed in real-time for quick editing.
Real-time, seamless rotation and zoom, as well as different flipping choices
Onion skinning is advanced and customizable.
Lines of superior quality and stabilization
Frames in both small and large formats
Coloration and painting
Layers and lasso
When you're finished producing your animated video, you may export it in various formats, including.mp4,.mov, and.png or. SVG frame stacks.
(#7). Powtoon
Compatibility: Web-browser-based platforms
The following free video animation software is Powtoon, which is designed for dynamic video presentations. While there are premium choices with additional features, Powtoon also offers a free tool for creating videos up to three minutes in length.
Along with the features described above, Powtoon's free software includes the following:
Exporting to YouTube, Facebook, Wistia, Vimeo, PowerPoint, and PDF
Full implementation of video, animation, GIF, and image files
Modify aspect ratios and dimensions
Customized styles
It's an excellent tool for beginners, as it includes a variety of professional-looking templates, including animated explainer and infographic-style videos, as well as themes designed expressly for product marketing. Additionally, you can start from scratch or import a PowerPoint theme.
Compatibility: Windows, Mac OS X, and Linux
Stykz is one of the most software-friendly animation programs available. It enables you to make simple 2D stick figure animated videos such as this one:
Furthermore, Stykz has:
Simple, yet entirely free.
Stykz is a frame-based application, which means that you work on a single frame at a time. It makes use of onionskin to show the preceding frame and how the two flow together.
All edits are performed within the "stage" — that is, you make your changes and then view them within the same window. There is no need to switch between perspectives.
Edit one or many stick figures, fill in shapes, and import your own. Everything will be saved automatically while you work, so you won't have to worry about losing your progress.
(#9). Synfig Studio
Compatibility: Platforms supported by Synfig Studio include Windows, Mac OS X, and Linux.
Synfig Studio, an open-source platform meant for creating 2D animated videos, is the other free video animation available online. You can create timeline-based animations using Synfig Studio by using vector graphics.
As with OpenToonz, Synfig Studio incorporates a bone system into its animation controls, allowing for the creation of lifelike movements. Create cutout animations using bitmap images or vector artwork, and apply complicated deformations to bitmap artwork with the extra Skeleton Distortion layer.
Complicated features include layer linking settings, which enable the creation of advanced dynamic structures such as character puppets. It is not designed for beginners, so begin with a simpler choice before upgrading to Synfig's sophisticated feature set. Numerous video tutorials are available to assist you in becoming acquainted with the application.
And Synfig Studio made a hilarious animated short, which you can view here.
(#10). Toontastic 3D
Compatibility: Android & iOS.
Toontastic 3D, Google's own free Android animation software, is meant for kids, but brands may also create animated 3D videos. Toontastic is ideal for storytelling because it allows you to create characters from scratch or an uploaded photo. After that, it's time to incorporate your characters into a narrative.
Toontastic is meant to create aspiring storytellers to experiment with their storytelling, and brands may do the same. Create a storyline, then animate it, add narration and music, then export it to share with the world.
Your storyline is based on Toontastic templates, each of which contains a unique number of scenes. Additionally, Toontastic includes pre-created scenes, so the only "drawing" required is for the characters.
If this sounds like many steps, Google claims that you can create a one-minute video with up to six scenes in less than a minute — but this does not include the time required to create your characters beforehand. Additionally, it works offline, allowing you to create videos during your daily commute or when there is no WiFi available.
If you're seeking greater creative freedom and control, Toontastic is not the best choice. It's ideal for individuals who are utterly unfamiliar with the world of animated videos. You will soon advance to one of the other positions on this list!
Honorable Mentions
DigiCel FlipBook (the free version includes a watermark)
Aurora 3D Animation Maker
Toon Boom Animate Pro 3
Bryce 3D
DAZ 3D
Clara.io
Moovly
Summary
The finest free animation software is highly subjective and is determined by your level of skill, hardware, and the types of videos you wish to create. Outlining,
Toontastic 3D: for those who are brand new to creating animated videos, geared toward children but capable of producing basic, narrative-driven, and character-driven videos for brands.
Pencil2D: hand-drawn, two-dimensional animated videos with a simple, beginner-friendly interface yet a plethora of features
Synfig Studio is a feature-rich software for creating vector-based animated videos with advanced character control.
Powtoon: excellent for quickly creating three-minute explainer or infographic videos in a presentation-style manner
Animaker: easy-to-use, browser-based animation software for beginners, with optional paid improvements.
Plastic Animation Paper: This type of paper is ideal for adding hand-drawn characters into 2D animated videos.
OpenToonz: 2D animation software with an extensive feature set aimed at proficient or expert video creators
Blender: an advanced open-source 3D animation software for those with prior knowledge of video
Stykz is a simple-to-use 2D animation software that is based on stick figures.
K-3D: polygonal modeling software for 3D animation
If you've been looking for free and easy-to-use animation software, this article has a list of the top 10. The best part is that they are all completely free! This means if you're on a tight budget or want to try something new without spending any money, these are perfect options for creating your next marketing video.
Let us know what you think in the comments below – we can't wait to hear from you!