15+ Insanely Powerful Kartra Features You Need To Try
If you've been thinking about launching an online business, it's obvious you might have heard of various marketing programs and software that can assist you to create an excellent website. One such software is Kartra.
Kartra is popular software that is fully integrated to allow you to create, launch, and also market your online business in just one platform.
What makes this idea excellent is that you won't have to consider investing in tools or hiring freelancers such as copywriters, web developers, system designers, and integrators to assist you with all the work.
Kartra is mostly ideal for small businesses and new marketers with little to no experience in technical stuff or lack the right budget to launch and manage their marketing campaigns.
This is mostly beneficial because selling your products or services online requires a lot of effort. You would expect a good website and great landing pages. You would also need sales to funnel that is efficient enough to help you gain leads, as well as checkout pages that are easy to use for your customers.
You can also start drop servicing using Karta Read : How To Start A Drop Servicing Business From Scratch in 2020
You will also need so much more, resulting in spending a lot of money on various tools. However, when you consider selecting an all-in-one platform to assist you in running your business's daily operations, the entire process becomes easier and affordable.
Although Kartra is one of the best business platforms, there are also other alternatives to consider, and its main competition is Shopify.
In this post, we are going to discuss Kartra in detail form to help you learn more about its features, integrations, and pricing. We'll also discuss other details to enable you to understand how the platform works and what makes it an excellent choice to consider.
Kartra – Definition
Kartra is a fully integrated platform, which means the software is created to work together to provide efficiency for users when it comes to running their businesses.
Genesis Digital founded Kartra in 2018. It features everything required for you to run an online business such as email marketing, hosting, split testing, webinars, cart checkouts, and other great tools. Each of the tools included in Kartra has been seamlessly integrated to offer your business smooth running.
For instance, if a user fills out a Kartra form, the Kartra Mail will subscribe the person to your mailing list automatically.
One massive advantage of Kartra is that it is easy to use, plus it also comes with premade templates and nifty drag and drop interfaces. This means that even people who lack tech knowledge can easily learn how to use the software in a short time.
However, you should note that it doesn't mean the platform is too basic for tech experts.
People with design and coding experience will enjoy experimenting on the various customized, complex, and advanced sales funnels, as well as marketing campaigns included in the platform, depending on their needs.
What's more, Kartra is cloud-based, which means you won't have to worry about losing your company's crucial data because it is safe on the clouds.
To access Kartra, you only need an internet connection, and if you download Kartra, you will be completely sorted.
Once you download the platform, it will always be updated, meaning you will always have the recent update and not lose out on anything. That is a considerable advantage compared to other platforms that usually charge extra fees for updated versions or any additional features.
Kartra comes with all features and programs without the need for any additional add-ons. What makes Kartra unique compared to other marketing platforms is that it comes with tested, ready-made campaigns and sales funnels.
Although it is efficient to make it easy to set up a website, having premade and sales funnels that highly convert visitors that are ready for you to use is an excellent feature that makes this platform stand out. It helps you save time, money, and effort.
Kartra's Target Market – Who Is Kartra for?
Although Kartra is an integrated platform that is easy to use, it doesn't mean that it's ideal for everyone.
If you have a business with an already-established setup put in place that is working well for your business, introducing Kartra to the sales process can be a bad idea. It can be a burden and prevent any improvements.
Therefore, this means that Kartra works best for brand new businesses in the online world, or for businesses that are using a lot of tools that are not compatible.
Kartra is also suitable for entrepreneurs who are on a tight budget or people who don't have the time and budget to hire freelancers to develop and manage their daily business operations.
Kartra is suitable for people that want to spend less time-solving software problems and focusing more on things that matter most, such as closing sales.
Kartra is also ideal for those looking for an excellent alternative from other popular all-inclusive marketing platforms like Leadpages and Clickfunnels. Other marketing platforms, such as Leadpages, are quite expensive, which can be a good advantage for people looking to avoid such high costs.
Kartra offers a lot of features to users, and covering them in this one review is difficult. However, we will review some of essential features that you need to learn about to understand the platform better.
Although Kartra doesn't offer everything required to run an online business, it does come very close. Check out some of the features below.
1.Kartra Pages
The website is an integral part of any online business, and as such, Kartra, the page builder comes into play.
Even for those with limited tech experience, Kartra offers more than a hundred pre-made templates for almost any kind of page. With Kartra, what you see is what you get.
Some of the pages that come with Kartra include classic home, sales, and thank you pages, all of which you can easily import on a click of a button.
The templates equally have an impressive look, whether old-school or modern layouts, you should be able to find your favorite under each type of page.
Using the builder via GIPHY
In editing your template, you can start from scratch by selecting your chosen option and load it into the page builder.
The direct changes you'd easily make to a template include editing text, changing styles, and the template images. Overall, the editor is speedy and in-built, providing the option of slotting in new elements using the provided blocks.
Despite the tool's ease of use, it's quite inflexible, and simple tasks wind up lasting longer than should. Take, for instance, adjusting the column size.
You'd first have to switch to column mode, click on the column widths, then manually edit. Essentially, it ought to be a matter of click & drag.
Also, whereas the editor addresses the basics and does a good job marketing newbies, it plays second fiddle to a more flexible and sophisticated page builder. Integrating the software comes with privileges.
External hosting isn't necessary, and if you wish to incorporate an image on your page, you can as well select from your current library of photos or upload a new.
Additionally, Kartra has a resourceful sample sales copy on all pages. Rather than offer icons and basic Ipsum Lorem text, the software comes with full sample sales pages written by Frank Kearn.
Besides the copy communicating what Frank did previously, it also highlights the reasons why Frank commits to helping newbies becoming better copywriters.
Should you wish to add a pop-up to your page, Kartra has a hosted pop-up functionality which you can opt for eliminating the hassle of searching for an addon pop-up tool,
The integrated feature gives the editor an edge; however, the inflexible design capabilities prove a setback.
Similarly, when you browse on a mobile device, Kartra pages sometimes appear a little off, and the alignment looks off.
Kartra is yet to create page builders with dividers between sections like other programs though it's about time it joins the bandwagon.
Compared to other all-in-one platforms, Kartra's page builder is an improvement, but truth be told, it will always be second fiddle to dedicated page builders.
Kartra makes for a unique page builder vis-à-vis the alternatives in the market as it gives the legroom to add features; thus, improving functionality simply.
With hundreds of templates at your disposal, no need for a designer. Just drag and drop them onto the canvas, modify each of the components as desired, and see your page come to life.
You'd just have to browse through and pick from Kartra's more than 500 professionally designed pages and templates.
Customize every page element
You can leverage Kartra as regards resizing the image, increasing the padding under your headline, or even swopping the location of two elements.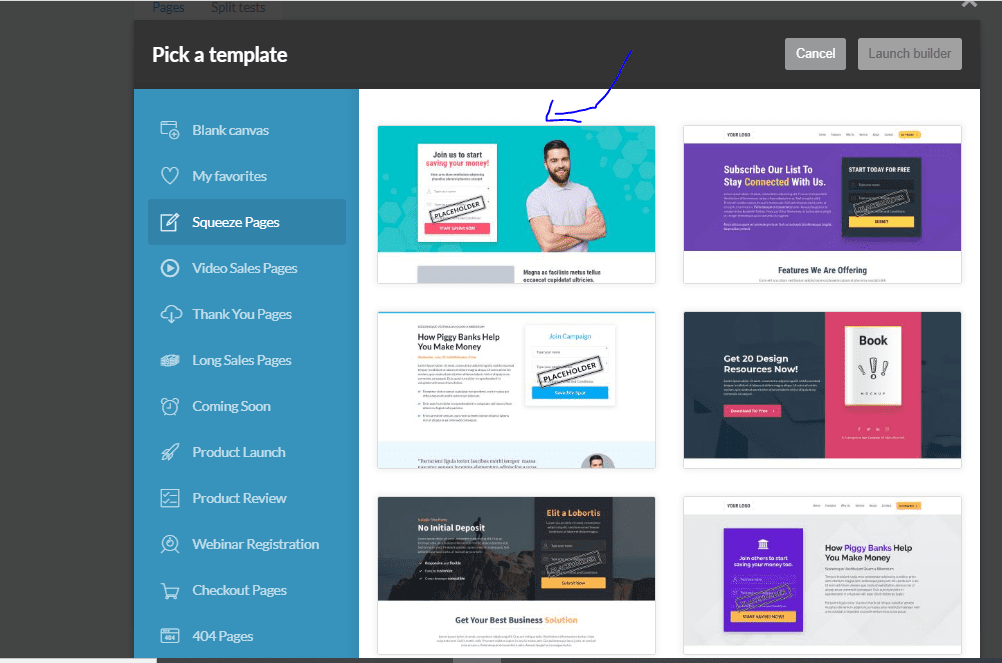 Seamless integration to Kartra ecosystem
Everything links together. Just a click on a button, and before you know it, a button gets connected to the Kartra Membership site.
Mobile Responsive
Kartra lets you preview your creation on a tablet, desktop, and mobile mode; you ensure that the look is mint in all modes.
Drag-drop-click!
With Kartra, you will neither write nor code nothing. Just relish the state-of-the-art visual interface.
Start from a template or blank canvas.
With a blank canvas, Kartra pages offer flexibility to those inclined to design their creation.
Colors, fonts, branding, and logos!
The editor lets you bring over your corporate branding, including your logo, favorite fonts, and colors.
Your domain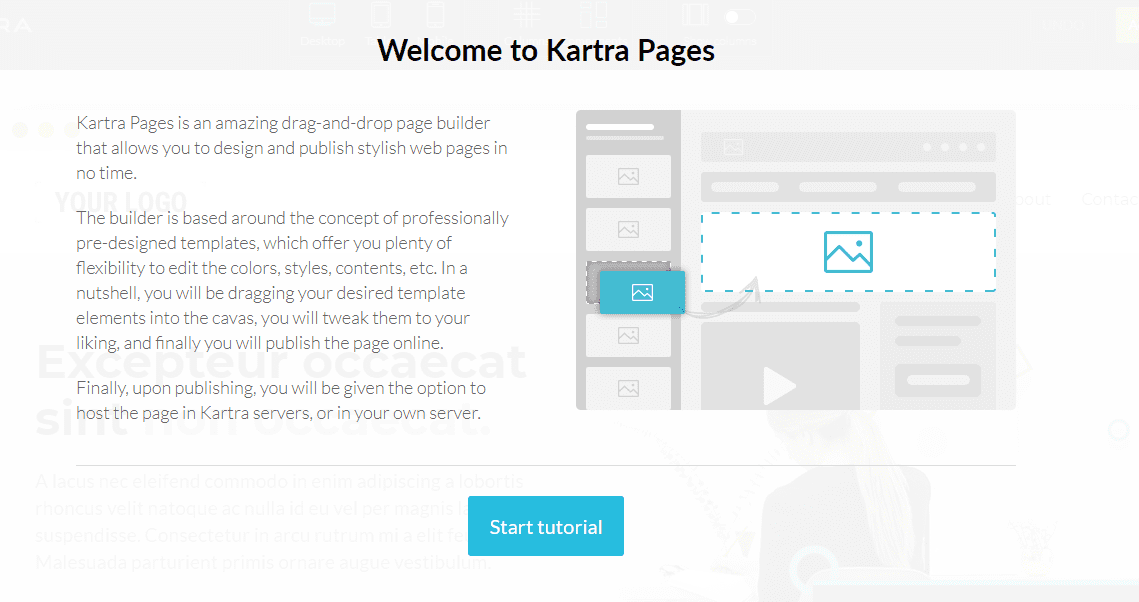 If you already have a domain, Kartra lets you link and take advantage of the instant, one-click publishing functionality.
Drag to perfection!
You can use the hundreds of templates from the library to build an impressive page with:
Navigation menus
Headlines & paragraphs
Carrousels
Accordions
Countdowns
Sticky alerts bars
Facebook & Disqus comments
Images & backgrounds
Google maps
Bullet points
Icons & buttons
Landing, exit & info pop-up windows
Social media share buttons
Videos & playlists
Templates
If you come short creative-wise, or perhaps you look to stack up a page asap,
Kartra has more than a hundred stunning easy-to-use full-page templates, including but limited to lead capture, checkout, sales, webinar, blogs, video, and coming soon pages.
Across all industries, you are bound to find whatever kind of page you need that fits the bill.
More importantly, all the templates get designed by Kartra's lead marketing team. The team is like an elite clique of marketers, programmers, & designers working on your behalf. You do want to leverage that,
Timing is everything they say, and conveying the right message at the right moment can be a pain in the neck, even when all you want is to launch an excellent page hassle-free. Fortunately, Kartra Pages pop-ups take all these to bed,
Landing pop-ups
Salute your prospects with either a discount coupon, a welcome message, or anything that compels transactions.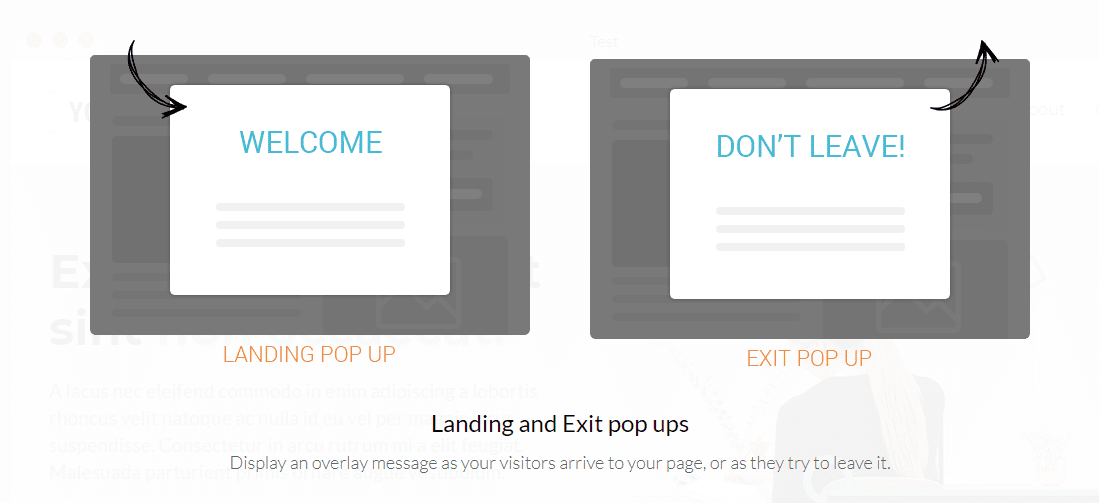 Info pop-ups
A cleverly placed "Show More" button works magic in maintaining your main page light on text narrative.
Lead capture pop-ups
No other form of lead capture tactics come close in arresting the attention, as would a persuasive message. Take advantage.
As you are first in the line of your business's assets, your leads denote your outlooks, affiliates, customers, et cetera; without them, the company becomes inoperable. It's this backdrop Kartra Leads swings into play.
Kartra leads give off the vibe of clairvoyance; you see everything clearly from transaction history, tags lead details, email received to helpdesk tickets, active subscriptions, and many more.
Kartra leads provide crystal clear insight touching on areas that address customers' newsletter or automated sequence subscription, membership, products they purchase from you and their value for money, customers' booked appointments, and the received & read emails.
The leads also point out any open support ticket for customers and whether they click on the link.
It's these aspects that bring to the fore Kartra full force. Everything interconnects within the ecosystem, thus, providing a complete panoramic view.
Kartra leads: The Journey.
Often, behind every lead is a tale, and as such, Kartra files away every step of the way, and put together an accurate timeline with their actions. Put merely, Kartra is just thorough.
On your part, you can follow leads journey to gain the following:
Acquire vital intel: Study the behavioral patterns of your typical customer that includes how they land site and at what stage they exit, the transition right from sign up to checkout, and which link users click.
Spot breaking points: Figure out whether users go off the rails at some point. Trail their steps, check out for a broken link in the flow to detect it asap, and help bring them back on track.
Confirm your design: It's essential to contemplate the way your prospects navigate your sales funnels. As such, follow their journey to supplement your sales funnel design.
Kartra leads to Advanced tagging & lead scoring.
Lead tagging: Applying custom labels to your leads help group into sub-groups- VIPs, paid customers, cold leads, free prospects, et cetera. You get to send an email to VIPs hassle-free solely. Equally, you can subscribe your cold leads to warm up email sequence. It's these detailed small parts you can leverage to align your marketing message to the specific demographics
Lead scoring: If lead tagging qualifies them, then lead scoring must quantify them. Suppose you award 5-point for every product purchased, and 2-points for every add-on to checkout order. You can opt to automate assigning of the tag VIPs to all leads with more than 15 points. The moment the points hit above 25, have the system automatically subscribe the users to a special event open only to your loyal customers.
Kartra leads: Importing leads
Perhaps you are on business already, and maybe you even run it on Kartra competition. But still, nothing stops you from trying your hand on Kartra and contrast the features
You have the leeway to import your contact database as well as migrate all your tags and lists. Upload a file, and you should hit the road running in Kartra.
Video pop-ups
Heavily reliant on videos? That be the case, then filling your page with multiple video players might count for the smartest of option. Instead, pop them up.
Checkout pop-ups
By design, you can choose to hide the checkout form until the customer orders. The checkout pop-up window solution comes in handy in this regard.
Exit pop-ups
Lure your prospects as soon as they attempt to leave the page; perhaps a complimentary download might inspire a change of mind.
Forms
Often, there is a reason behind driving traffic to your site. Perhaps you want people to order your products, contact you, or even join your newsletters. For whichever reason, a high-converting form is a key to your business growth, and as such, Kartra boasts of the art of form:
Lead Capture forms
Lead capture form makes for the starting point for all mailing list building mechanisms. Add as many fields as you'd wish, and have Kartra remember the details so that next time, the info automatically pre-fills.
Checkout forms
A plain, in-built, and user-friendly checkout form carries the potential of making a significant difference in your bottom line.
Kartra pages offer two checkout forms:
Traditional single-step form
Multi-step form
Kartra has made it easier than ever before, building an in-depth contact list, a crucial aspect for all eCommerce business.
Behavioral Adaptive Marketing
And because Kartra Checkout sells your products, Kartra Mails sends your emails, Kartra Lead holds your contacts; therefore, Kartra knows your traffic-their profile info, tags, your visitors' mailing list subscriptions, et cetera.
Well, it's possible while using this profile intelligence to incorporate the contents of the page for all visitors dynamically.
The following are some of the examples:
List-based Content
You likely have some kind of lead capture form on your site for the sole purpose of building the mailing lists.
Kartra pages possess the ability to decipher visitors already on your newsletters subscription; therefore, it can hide or show the form.
Tag-based Content
Suppose you offer a health service. You stand a high chance of spiking your conversion if you can target your visitors with Content that speaks explicitly to their gender.
Here's the way to it, set up two sections: one for women and the other for men, then have Kartra pages showcase them in line with their profile.
Publishing to your domain
Perhaps your pages hosted on the WordPress blog, and you also want to maintain your brand. As such, in seconds, Kartra single-click functionality help publish your pages to your domain.
You won't have to deal with editing files, uploading, not even the messy FTP. In short, one-click push, and voila! It's live, straight from a page builder right into the internet on a click of a button.
History-based Content
Suppose you market two products in the health and fitness niche: one for beginner and the other for advanced users.
At the checkout page, you can offer Advanced Perk to those who've already purchased Starter Perk. And to everyone else, offer Starter Perk.
Host page on Kartra
In case you lack a domain name, rest easy because it can host all your pages free of charge. Though Kartra offers you an exceptional subdomain, and it looks like http://YourUsername.Kartra.com/page_name.
Build Complete Sites
Global menus & footers: Share a globalized menu header and footer across all pages in your site so that should you add new sections in the future, it broadcasts everywhere.
Global styles: In maintaining your site's identity, apply the same color, custom styles, and logo.
Global SEO: By having all your pages, and not just a couple of segmented pages, Google recognized boosts your SEO rankings.
Global tracking codes: You won't have to copy-paste a tracking code on each page; instead, a single paste suffice to embed it elsewhere.
A/B Split Testing
In essence, the testing isn't an affair of complexity. Instead, it entails designing a few of your pages and hooking them up into an A/B split test campaign then have Kartra pages tracking system monitor which of the versions deliver high conversion rates.
Up to 4-version: Kartra pages can rotate up to four different versions of a page for every split test campaign.
Define a custom rotation percentage: You don't want to split traffic 50/50. For instance, suppose you have a campaign of 4-versions, you can set the page rotation to 10/50/20/20.
Track goals & revenue: Outline the campaign's main parameter: orders and sales, opt-ins sign-ups, revenue, et cetera. Kartra, determining the winning version, bases its calculation on these very parameters.
In-house Certainty Ratio: In a split test, stat relevance counts for much. And as such, Kartra has built its in-house Certainty Ratio-an advanced algorithm analyzing visitor spectrum, goal deltas, and a couple of other stuff that helps you in knowing when results of a campaign are definitive.
Customize Page Content for All Devices
Although every Kartra page conforms 100% with mobile, you want to customize your page contents for all devices.
A user's browsing experience is subject to the device they use, it's public knowledge, right? In other words, a mobile's relatively small screen cannot display the same amount of data as would a desktop display.
Any attempt to replicate the same layout and amount of on-screen elements the device notwithstanding is a disservice to your website and visitors.
For instance, whereas mobile users might prefer a reduced version, reduced images, shorter versions, et cetera, the desktop user might appreciate your website's experience in its full splendor.
You'd need to give all users the best suiting browsing experience; this way, engagements, conversions, and sales go through the roofs!
The solution in pulling it off lies in keenly crafting your page for Tablets, Desktop, and Mobile experience. Define the specific sections and contents you want to be displayed for each device, then have Kartra display the fitting version to each visitor.
Track Visitors, Improve your pages & Grow your Business.
Conversion by device: Kartra helps you find out whether your customers are mobile or otherwise.
Visitors, goals, & revenue: Your metrics charted style will address aspects such as the number of visitors, goals, and amount of money.
Scroll heatmaps: It worth pointing out that all visitors leave behind the digital print, and Kartra follows them on their online odyssey through your page. This way, you get to figure out whether your prospects scrolled past your top area, or whether they go to your Add-To-Cart button.
Time on page: Kartra helps you figure out how engaging is your marketing material. Find out whether your visitors stick through your sales presentation, or they just deflect out right away.
You need to hit us up in the comment section below, let's know if you are ready to join the Kartra revolution.
2. Split Testing
Kartra offers split testing landing pages, and this feature enables you to create two variations of a page which are both shown to browsers randomly.
The page that has the most success emerges as the winner and is shown after the test. The split testing feature provided by Kartra is compelling, and it provides users with a lot of testing flexibility. You can edit the copy of a page and even remove a video if you want.
You can also scrap the entire design of a page and test two separate pages. The flexibility provided by Kartra is excellent and invaluable compared to other landing page builders, which enable you to split test only small features.
3. Products and Carts
The reason why investing in Kartra is important is that it helps you sell products efficiently. Kartra comes with products and carts feature that helps you to sell products without much strain. Even if you have the best website in the world, if you don't have products or services to sell, it's all worthless.
A built-in shopping cart feature has been included in Kartra that provides you with two options when you add a product on the platform.
The first option is to create the main product, and the second option is to upsell or down selling the product. Therefore, the product will be shown depending on the option that you select.
Kartra takes you through the entire process when you're adding a product, and the good news is that the setup will be easy if you've already used a shopping cart feature before. The process also seems easier thanks to the interface that is easy to use compared to dedicated shopping carts.
Through the steps outlined, you will find it easier to set up everything that you need, including payment gateways such as PayPal, credit card, setting product prices, structuring trials, checkout, and designing the thank you page for your customers. You can also set up the rules for cart abandonment and other vital things.
You can also combine most of these features, and this will allow you to design offers that are complex if you want to. If you are selling an online course, you can integrate your product with the Membership feature by Kartra to make the process smooth for your clients.
4. Affiliate Portal
The good thing about Kartra is that its shopping cart feature is part of the larger system, and when you add into the mixture, an affiliate portal makes things even better. Kartra allows you to integrate an affiliate portal for every product you design to enable your customers to be your promoters.
It allows you to screen and choose potential affiliates through the various questionnaires and terms and conditions.
Kartra also provides members with custom URLs that include tracking codes that give you the chance to offer a specific percentage or even a fixed rate from every sale resulting from the affiliate code.
You can also analyze the affiliate's information, such as the number of referrals they have gained and their payment history. The information gives you an overview of everything you need to know, such as visits, refunds, sales, cancellations, customer value, and revenue.
Many shopping carts are difficult to use, but the version from Kartra is excellent and doesn't require any improvement, thanks to its easy-to-use interface and extra features. The Kartra shopping cart features offers users everything they need to sell their products and services.
5. Email Marketing
If you want to gain leads, you need to have a strong email marketing strategy. That is why Kartra is ideal because it comes with email broadcasts, tagging, sequences, and automation.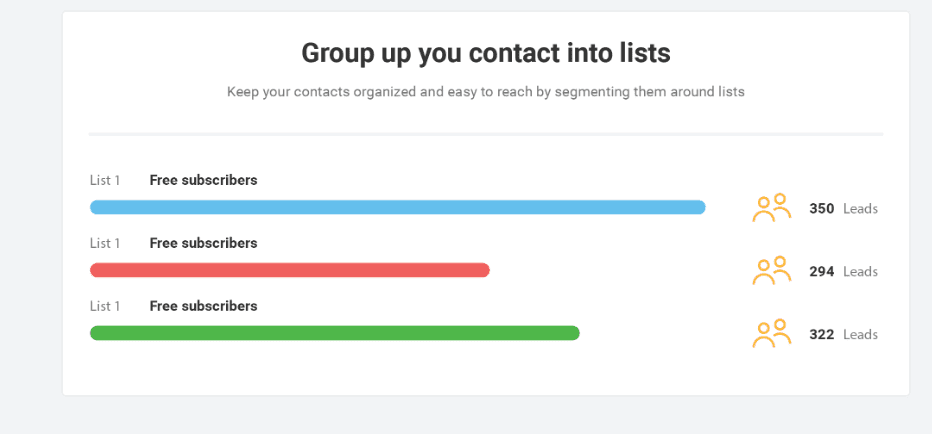 It is a module included in this platform that aims to replace big names in the email marketing service industry, such as ConvertKit, MailChimp, and ActiveCampaign.
Kartra's email marketing feature allows you to create your own email list by manually adding or importing leads via a CSV file. This comes in handy if you are moving from a different email marketing platform such as MailChimp.
6. Broadcasting
Kartra also comes with a broadcasting feature that enables you to send out emails, plus you can also send messages via SMS if you think it's appropriate for your customers.
Therefore, this helps to make it easy for you to run your business efficiently since you can reach out to customers faster.
7. Automation
Kartra also comes with an automation feature called the sequence builder. The automation builder is similar to the ones included in other platforms like ActiveCampaign and ConvertKit. However, Kartra's automation builder requires some improvement when you compare it with email marketing solution providers.
It is a tedious feature since it freezes up the editor when you add elements and shifting items around. Therefore, the freeze up on the editor becomes frustrating and tedious to use. But, if you are patient and can deal with the lagging behind of the editor, Kartra has an email marketing system that comes with plenty of features found in most email marketing products.
Although it still requires improvement and can't beat the most integrated marketing systems, it works perfectly and can be quite useful. If you use an email marketing tool and decide to shift to the one by Kartra, you can save a lot of money.
8. GDPR
Another benefit of the email marketing module provided by Kartra is that it provides users with assistance with the GDPR. May 2018 saw the enforcement of GDPR, which means if you have customers from the European Union region, you must adhere to the rules and regulations put in place. Luckily, Kartra makes this compliance easy and faster.
9. Marketing Campaigns
Kartra also comes with a feature for creating marketing campaigns. Through the software, you can create excellent marketing campaigns proven by popular marketers like Frank Kern.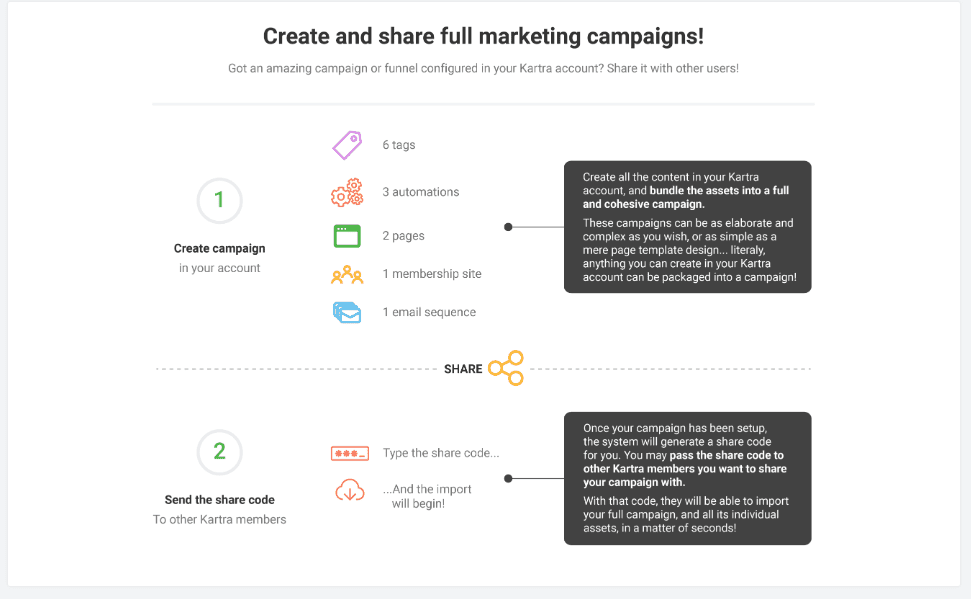 Kartra also provides you with the option of creating your campaigns from scratch if you have any technical skills. You can also select one of the premade campaign templates offered by Kartra.
However, you should note that if you opt to create a campaign from scratch, all the media that you have created within the platform will be required in the setup. But, Kartra will sort you out if you decide to use a premade campaign.
Currently, Kartra has provided users with 5 campaigns to choose from, and each of them focuses on the different marketing areas.
For instance, the main focus of the simple list builder campaign is to grow your email list and build leads. But, the 4-day cash machine campaign aims to assist you with an existing email list.
If you want to learn more about these campaigns offered by Kartra, all you have to do is to click on your desired campaign, and you'll be provided with enough information about the campaign and its targeted goals.
In case you decide to import a campaign, it will be included in your Kartra account together with product sales funnels, email sequences, as well as advanced automation, among other crucial components.
After deploying your campaigns, you can check through your account to see whether there are any relevant assets necessary edits that need to be done. The good news is that it is easy to spot them, and you should also ensure to check the name of your campaign.
10. Kartra Marketplace
What makes Kartra even more unique and efficient is that it allows you to share campaigns with other users in its marketplace. In the Kartra marketplace, you can discover campaigns that are ideal for your business, although you should expect to be charged a fee.
The marketplace provides you with a great way to discover different angles for your business, and if you are good at coming up with marketing campaigns, it can be a good place for you to make extra money.
However, you first need to design a campaign and then include all the required assets before you consider selling it in the Kartra marketplace.
Here's an example:
You can charge around $300 for sharing the assets of your campaign with others in the Kartra marketplace, and this includes the pages, automation, and list, for them to implement and save the time they would've used to create a campaign from scratch.
You can also offer additional services like re-adapting your campaign's style for other users or even managing their Kartra software in exchange for a monthly fee.
11. Opt-In Forms
Kartra also has a feature that enables you to design forms for collecting new leads directly through the platform. This is helpful if you are new to email marketing or don't have any leads in your business.
The form builder is very easy to navigate and use since it has the same interface found in the rest of the Kartra platform. Kartra also makes the work easy for new marketers by providing them with templates that are easy to customize for all their forms.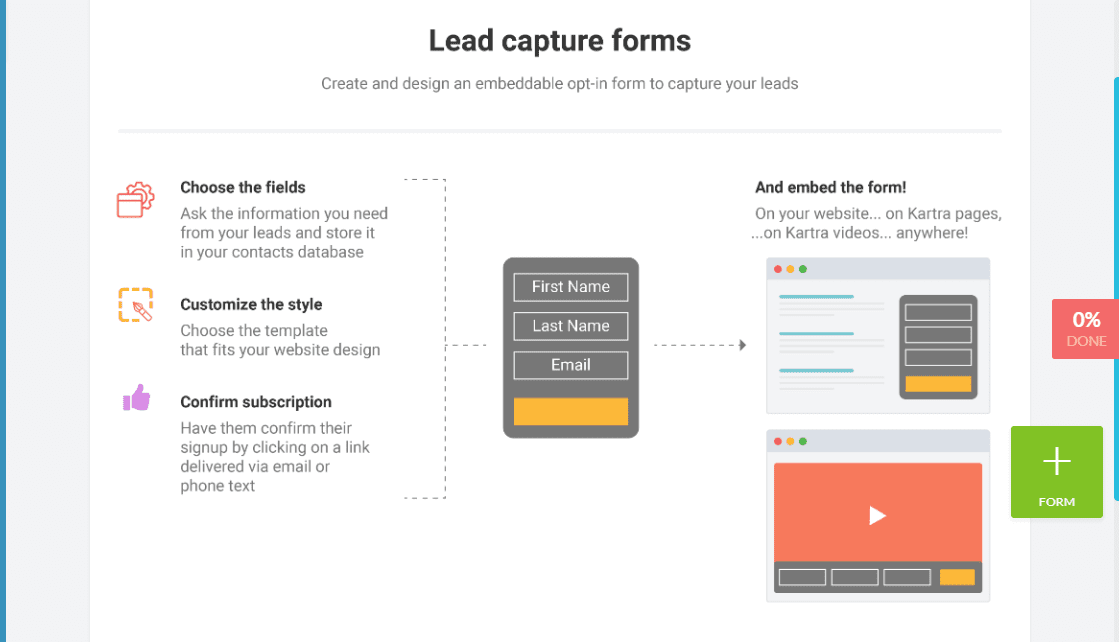 After choosing and editing the templates according to your preferences, you can start capturing the leads. You also have various options to customize the forms, and this includes single or double opt-in options. You can include a welcome message, automation, and tagging, as well as form behaviors and other different templates provided.
Here are some of the different types of opt-in forms that you can consider using. Their features and functionality tend to differ from one opt-in form to another.
Smart Opt-In FormsKartra users are everywhere, and due to that, the platform can semi-share cookie information for their opt-in email forms. This means that if a browser opts into a different form of a Kartra user, and happens to come across yours separately, it will load their information in.
Therefore, all that the user needs to do is just click on the signup button. The feature is quite useful because it significantly enables you to gain a lot of leads since it removes the signup process' action.
If you already have a WordPress blog, Kartra will provide you with a code that should be included in your blog or any other online platform. Therefore, when you use this form, it helps to display the form normally.
If you adjust anything in the Kartra platform, you won't have to change the code snippet on your WordPress site or page, since it automatically updates itself. The changes are kept in sync between your WordPress blog and the Kartra platform.
However, the only drawdown is that users cannot split test the form designs, which is unlikely with other email marketing products since they allow it. A good example is Thrive Leads.
However, the opt-in forms provided by Kartra do an excellent job of creating landing pages that are highly converting and help you get leads efficiently. It does a good job but doesn't have advanced features.
12. Video Hosting
When you think of video hosting, the only thing that comes to mind is YouTube, Wistia, and Vimeo.
However, there's good news because Kartra also provides users with video hosting. Excellent video content contributes to an increase in sales since it has the power to engage with visitors.
Most social media channels, like Facebook, Instagram, and Twitter, tend to favor video content compared to images and written text.
Kartra allows you to upload any marketing footage that you have, as well as content videos for your products, and even embed them on various pages, such as on your WordPress blog pages, landing pages, and membership portals.
The video hosting platform by Kartra provides unique features such as call-to-actions, which pops up when someone is playing the video.
You also have the option of sending messages to new email subscribers, assigning tags, and adding them to funnels.
The video hosting platform offered by Kartra is too impressive and will see how pointless it is to use other video hosting platforms.
The video hosting platform includes various boundaries in the different plans set for users. For instance, for the Silver Plan, you are given 125GB bandwidth for playing videos. That can be quite limiting for various businesses, but we highly recommend hosting only essential videos.
Important videos to consider hosting on the Kartra video hosting platform include sales page videos, opt-in videos, and also offer videos. If you have other videos, you can consider using another video hosting platform to host them there.
13. Kartra Membership
Kartra also provides a membership feature that is ideal for businesses selling courses, providing group coaching, and publishing premium content.
Through the membership feature, it makes the learning process for customers easy. However, the membership feature offered by Kartra doesn't have various products found in other products.
For instance, the Kartra membership feature doesn't allow you to show a student their progress in percentage, but only uses a handy eye icon to show a student if they've seen the lesson before.
The membership sites also include several schemes. Each of them follows a structure quite similar to the one we've mentioned above, which is limiting in terms of customizing the layout. Overall, Kartra provides you with everything you need to run a successful membership business.
14. Kartra Helpdesk
The more your business becomes popular and successful, the more difficult it is for you to answer all the questions from customers via email. Luckily, Kartra has a helpdesk feature that helps to make that work easier for your business.
With the Kartra helpdesk feature, you can create several contact options such as Skype, phone call, live chat, and ticket, plus you can track tickets depending on their statuses. Tracking of tickets helps create a fair system that makes it possible for you to keep things in order.
Customers also have the option of rating their customer support experience to help you and your customer support team know whether you're the right job. There is also the Kartra analytics that helps you to measure the average time it takes for your business to deal with a question or complaint from a customer.
The help desk ticket also allows you to add that person to your mailing list automatically. You also have the option of adding various tags.
There are also common questions included, which can help you discover new blog content topics or create an FAQ page to help reduce the amount of questions from your customers. You can also use the live chat feature to communicate with your customers and answer all their questions faster. Kartra doesn't have a mobile app, but they said they are working towards making that achievable.
However, you need to know that Kartra's helpdesk feature isn't as efficient as you may anticipate. Other helpdesk tools look way better compared to the one offered by Kartra.
Support Offered by Kartra
Using a new platform can be a daunting task, but the good news is that Kartra offers several types of support to help new users become familiar with the platform.
They include:
Kartra offers onboarding support that allows you to know your current progress in understanding how the software functions and what you're supposed to expect next. After signing up for an account on Kartra, you will receive an email informing you that you will get several emails that are part of the introduction.
The first email is a link to your login page, and after logging in, you will be told to watch the welcome video. The video explains features included in Kartra and the crucial steps you will take in the process of learning about Kartra.
The video mentions the sidebar checklist to assist you in becoming familiar with the platform. The onboarding process is excellent easy to understand.
Kartra also has a private Facebook group that you can join, even if you are on the $1 14-day trial. When you join the Facebook group, you will have the chance to connect with other Kartra users, as well as marketing professionals.
Many people in the group are happy to share their experiences with the Kartra platform and answer questions that others may ask. The group has a good monitoring system as well, which means you will not have to deal with any frustrating spam posts or other promotions.
If you are new to using Kartra, and it turns out to be too difficult for you, they offer a concierge service that any of their customers can use. The concierge service requires you to pay, and it is not included in any of their plans.
If you want Kartra's team to set up everything for you on the platform, you will only be required to pay $150. The setup includes squeeze pages, thank you pages, email sequences, automation, and tagging.
The concierge service is also ideal for people who lack the time needed to set up everything on the platform. It wouldn't be such a bad idea to consider because it will help you so much time.
How Much Does Kartra Cost?
Kartra offers several monthly subscription packages, and each of them differs in pricing.
The main differences between the provided packages are the number of contacts allowed and the monthly emails you're supposed to send to customers, as well as the monthly bandwidth offered.
All of the packages have a similar variety of tools, features, and benefits offered by Kartra. However, there aren't any additional add-ons usually charged by most platforms except for the concierge service.
No matter your package, everything you receive in the beginning is provided. However, selecting your package will depend on how big or small your company is, plus the number of leads, the bandwidth volume that you require, and your monthly emails.
Kartra has a subscription service that is paid monthly, which means you won't be trapped into any contract that you don't want. Therefore, you can test the platform through their 1$ 14-day trial period to see whether the software is ideal for your business before you decide to use it for all the operations officially.
Kartra Packages, Prices, and Features
Here are some of the packages offered by Kartra, their prices, and features.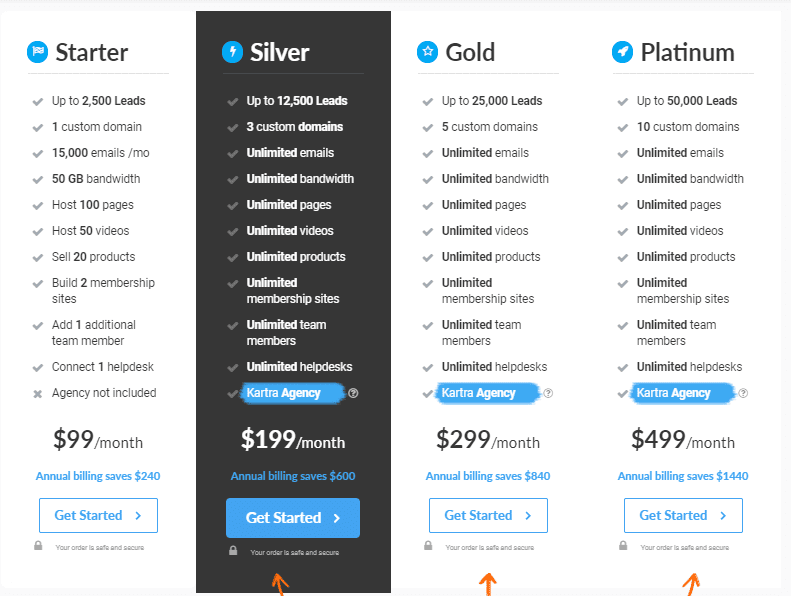 1. Starter Plan
The Kartra Starter Plan is suitable for people who are starting new online businesses. It is also an ideal plan for small businesses with an email list of under 2,500 people. The plan goes for $99 per month, and some of its perks include:
Maximum 2,500 contacts
1,500 monthly emails
100 pages created
20 total products created
Two helpdesk portals
one custom domain
20 follow up sequences
50 GB bandwidth monthly
Unlimited page visits
100 automation
2 membership sites
2. Silver Plan
The Silver Plan is the most popular package, and it costs $199 monthly.
Some of the perks of this plan are:
Maximum 12,500 contacts
125,000 monthly emails
Unlimited pages created
Unlimited helpdesk portals
Unlimited products created
Three custom domains
Unlimited follow-up sequences
125 GB monthly bandwidth
Unlimited page visits
Unlimited automation
Unlimited membership sites
3. Gold Plan
If your business has a large email list, then the Gold Plan is suitable for you. The fee for this package is $299 per month, and its perks are:
Maximum of 25,000 contacts
250,000 monthly emails
Unlimited pages created
Unlimited products created
Unlimited helpdesk portals
Five custom domains
Unlimited follow-up sequences
200 GB monthly bandwidth
Unlimited page visits
Unlimited automation
Unlimited membership sites
4. Platinum Plan
If you have an email list of more than 50,000 people, the Platinum Plan is ideal for you.
The perks of this plan include:
Maximum of 50,000 contacts
500,000 monthly emails
Unlimited pages created
Unlimited products created
Unlimited helpdesk portals
Ten custom domains
Unlimited follow-up sequences
500 GB monthly bandwidth
Unlimited page visits
Unlimited automation
Unlimited membership sites
5. Enterprise Plan
The Kartra Enterprise Plan is their largest package and the best one. The package is so big that you are required to speak to the support team at Kartra so that they can inform you about its perks. However, you can safely assume it is ideal for you to have more than 100,000 email subscribers.
Is Kartra Worth It?
This is a question that a lot of people are currently asking. Yes, Kartra is worth it if you're looking for a platform that will make it easy for you to build, launch, and grow an online business. Although there are other platforms to consider, Kartra is unique because it has been specifically designed to cater for all kinds of businesses.
Using a lot of tools consumes a considerable amount of time and requires so much effort. Luckily, Kartra helps to eliminate such issues and makes your business operation smooth to run and manage. With Kartra, you won't have to go through the problem of trying to connect things for them to work together efficiently.
Kartra is a massive marketing system that offers everything in one place. It can help you create sales funnels, email marketing tools, landing page builder, analytics tools, product creation software, and marketing automation.
Kartra provides you with everything that you need to operate a successful business. It is a well-integrated and easy-to-use platform. Although the monthly fees somehow seem expensive, this platform eliminates any struggle when it comes to setting your business operations, which helps to save time and money.
With Kartra, you can save money in the long term because you won't need to have a separate web hosting account, email marketing service, memberships, and helpdesk assistance portals on a different platform. All these features are provided in the Kartra platform.
The only drawdown is that the platform is not ideal for everyone, and a good example is if you happen to have an email list of more than 100,000 subscribers. That huge number could cost you so much per month using Kartra since this is only available in their Enterprise Plan, which might be very expensive.
Another disadvantage is that if you want to send mail daily, you will encounter the issue of limited emails in the various packages offered on Kartra. Kartra does not offer unlimited emails in any of their packages, and this can be a huge drawdown to businesses that send out hundreds of emails daily. To solve this issue, you would need to integrate Kartra with another email marketing service.
What Makes Kartra Unique?
The reason why Kartra is so different and unique is that it is an all-in-one account. That means you can run multiple business operations with Kartra. All the sections provided on Kartra and synced together to make your business operations seamless. Therefore, you're not required to configure or integrate anything, unlike in other platforms.
Here is an excellent example to explain this point:
If a customer lands on your page on Kartra, it will be tracked on Kartra analytics, and if the user fills in a form, they will automatically be subscribed to your email list. If someone pays through the Kartra checkout, all the login credentials will be automatically sent by the Kartra Memberships.
That is how powerful Kartra is in terms of synchronizing the various functionalities and features in your business.
Kartra also helps to minimize failure and stress. Running platforms connected to each other can cause a lot of frustration. Therefore, this increases your chances of failure. The worst thing is if they all don't want to cooperate with each other or some of your team members don't have any idea how other applications work. This can be a recipe for disaster in your business.
Kartra provides an entire ecosystem designed to provide solutions to these issues in one platform. On Kartra, you can have a one support team and one point of contact where clients can reach out to you for any questions or complaints.
Kartra is ideal for professionals and not just beginners. It has excellent features, it offers an intuitive experience from the provided templates, it comes with drag and drop interfaces, and it is easy to use.
When you have Kartra, you won't require any designers, marketing experts, or programmers to assist you. It is a flexible platform that will make it easy for you to set up your business operations and serve your customers perfectly.
Since Kartra is cloud-based, all your data will be stored safely on the clouds, and that means you can always access it as long as you have a computer and internet connection. What's more, not only does Kartra keep your data safe, it also helps you save time.