How To Sell On Facebook Marketplace (Ultimate Guide)
Online shopping has exploded in popularity over the last year, and that growth spilled over social media platforms like the Facebook-marketplace.
Whether you're selling products from your eCommerce store or simply wanting to get rid of some old clutter in your home, mastering how to sell on Facebook Marketplace can be a great strategy to move products and earn some extra income.
So, what is Facebook-Marketplace, and how do you get started? That is the subject we will dissect.
POST CONTENTS
1. What is Facebook Marketplace?
2. Why should you sell on Facebook Marketplace?
3. Facebook Marketplace categories
4. Facebook Marketplace terms of service
5. How to sell on the Facebook Marketplace
6. Boost your Facebook Marketplace sales with these hacks
6.1. Set a competitive price
6.2. Take stunning photos
6.3. Add search tags
6.4. Offer local delivery
6.5. Update your listings
7. Increase your sales via the Marketplace
8. FAQs About Facebook Marketplace
How does Facebook Marketplace work?
Facebook Marketplace is a service that connects sellers with local buyers. You may buy, sell, and trade items on Facebook Marketplace with people of your neighborhood.
If you are a merchant based in the United States, you can provide countrywide delivery on specific products. Merchants may now contact customers nationwide, not just in their immediate area.
Facebook Marketplace distinguishes itself from other marketplaces by providing buyer and vendor evaluations and public profiles.
Both parties benefit from the ratings since they instill confidence in their transactions. In addition, buyers can utilize location, category, and price criteria to limit sellers for specific products.
In contrast to other markets, Facebook allows you to sell locally for free. Merchants who ship to all 50 states pay only 5% of the transaction value, which Facebook refers to as selling fees.
Why should you sell on Facebook Marketplace?
There are numerous reasons to join the Facebook Marketplace craze.
Notably, you'll be able to reach a greater number of customers faster. For example, according to Facebook's Q1 2021 report, the Marketplace has over a billion visitors and nearly three billion total users.
With such a broad reach, you can ensure that your items are seen by a considerable number of people immediately. Obtaining this level of traffic on your website and social media channels might take months.
Since Facebook is a trusted platform, customers will trust you as well. They'll feel more secure making a purchase knowing that Facebook is backing it.
Additionally, because the sales procedure is so straightforward, there is a greater likelihood that customers will buy an immediate purchase.
Facebook Marketplace categories
Facebook Marketplace has a wide variety of product categories, enabling sellers of various types to post their products on the platform.
Facebook Marketplace's primary categories are as follows:
• Children's toys & games
• Apparel & accessories
• Household and garden
• Recreational products
• Pet-related supplies
• Unwanted items
• Entertainment
• Electronics
• Classifieds
• Vehicles
• Hobbies
• Housing
• Family
• Jobs
Whether you're a shop owner, toy wholesaler, or realtor, Facebook Marketplace has a category for you.
Endeavor to establish a reputation in a specific niche. Provide detailed product descriptions, post high-quality product photographs, and respond to any inquiries buyers may have about the condition of your items.
By following these steps, you may increase your chances of becoming a trusted seller and establishing a presence on the platform.
Facebook Marketplace categories
Your listings must adhere to Facebook Marketplace's terms of service.
According to the policies governing Facebook's commerce:
You should never include items that are forbidden (such as vouchers, adult products, events, animals, digital media)
Your product should be merely that: a product (not a meme, news, or service)
Your listing must not infringe upon a third party's intellectual property.
Throughout the pandemic, Facebook offered more guidance on conducting safe selling. This involves adhering to local health and safety regulations, cleaning products before sale, and organizing products for delivery.
As a Facebook Marketplace vendor, you are expected to ship items within three days of making a sale.
How to sell on the Facebook Marketplace
It's simple and quick to sell on Facebook Marketplace. Here is how to start.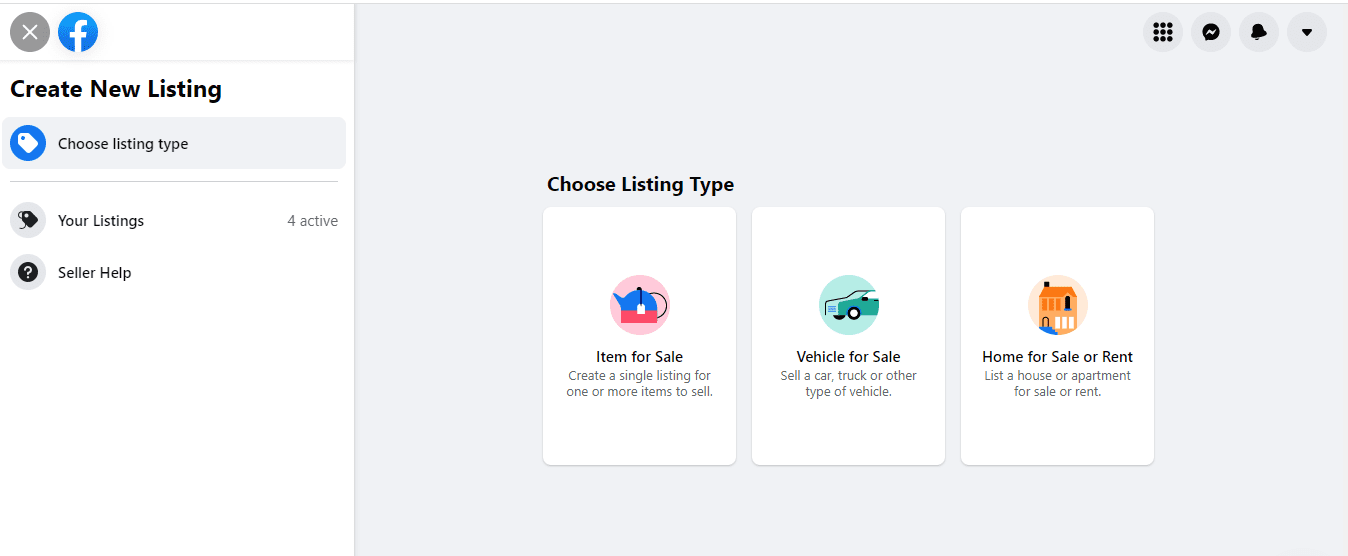 1. Log into your Facebook account, either personal or business (or create a new one).
2. Locate the Facebook Marketplace icon, which has a storefront style. It's found in the top right corner of your desktop screen on a desktop computer and is located at the bottom of the screen on mobile.
3. Depending on whether you're on desktop or mobile, click "+ Create new listing" or the Sell button.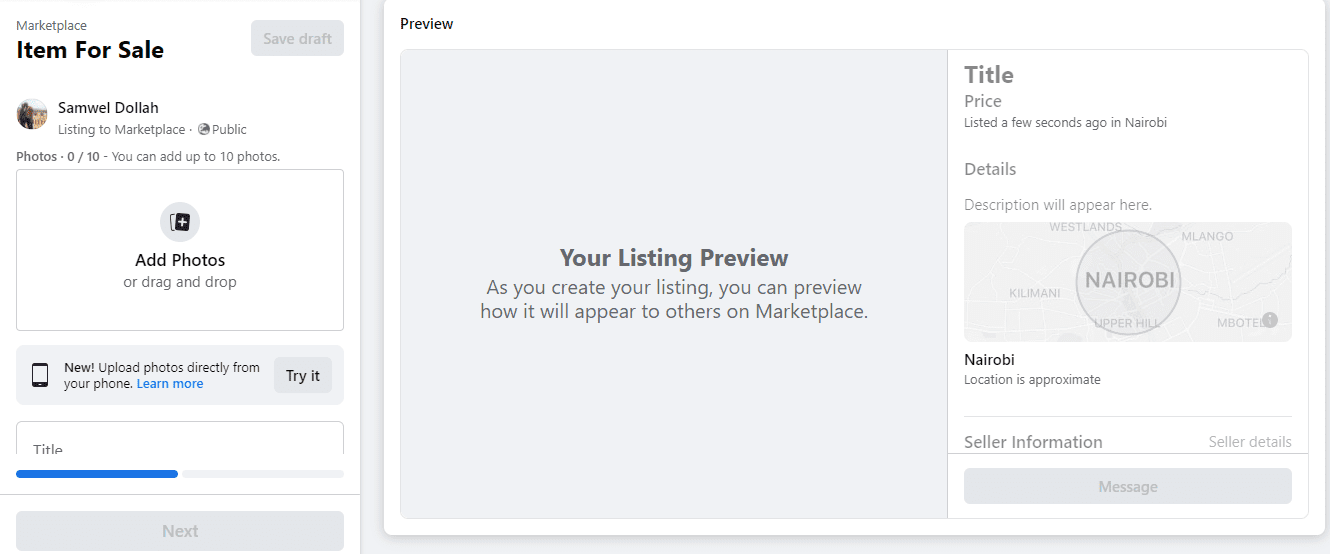 What you'll see on a desktop computer is as follows:
Also, on mobile devices:
4. Select the listing you want to create: Items, Vehicle, Home, or Job.
5. Complete your listing's details. A few pointers:
Provide a comprehensive description of the item. Include dimensions, materials, and any other factors you might consider while purchasing. Make a note of any signs of wear and tear or damage. Attempting to conceal flaws can only lead to difficulty down the road.
Upload up to ten photos of the item, maintain a high standard of quality—clear, not fuzzy images with adequate lighting and the capacity to discern minor details.
Provide a title for the item, be descriptive so that customers can understand what you're selling by reading the title.
Consider advertising your listing on Facebook with Facebook Ads, responsible for typical advertising expenses.
6. Confirm your address and, if desired, arrange for delivery.
7. Decide where to promote your listing, whether openly or through specific organizations.
8. Once you've clicked Publish, you're ready to go!
After your listing has been published, keep looking for messages from prospective buyers. We recommend downloading the Facebook Messenger app on your phone to receive message notifications.
Additionally, you'll be able to respond to queries fast via Messenger, enhancing your chances of making a sale.
Capturing payment from buyers
Because Facebook Marketplace lacks an integrated system for local payments, you'll need to negotiate the transaction directly with the buyer.
You may collect money in cash or electronically via a secure payment system like Venmo, PayPal, or Wise. Include payment and pick-up details in the item description to save buyers time and facilitate transactions for your business.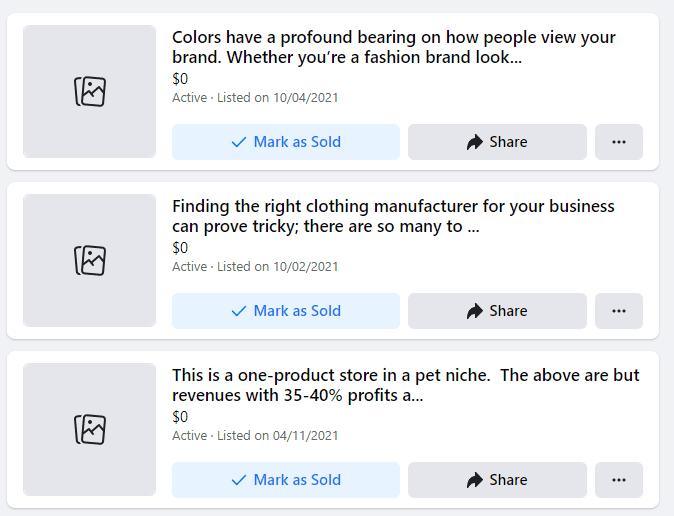 Nota bene: A common Facebook Marketplace scam involves the buyer sending you a forged payment receipt after you request payment. Always check your account before sending an item to avoid experiencing a loss.
Boost your Facebook Marketplace sales with these hacks
Apart from refining your listing, there are several additional methods for increasing your sales on Facebook Marketplace. First, let's go through some sophisticated selling techniques that will assist you in acquiring more customers.
6.1. Set a competitive price
Before setting a price for your items, peruse comparable listings to determine what others ask. You want to ensure that your pricing is not excessively high (or excessively low) in relation to the current market price. Compare your prices to those of other sellers and then set a fair price to guarantee your items sell quickly.
What is considered a reasonable price? It is condition-dependent. If the item is brand new or of superior quality than similar products currently listed, you can demand a premium price. If it's used or lacking a component, pricing it lower than comparable listings will help it stand out on the platform.
Pro tip: Buyers on marketplaces will always attempt to defraud you, so keep this in mind. A decent general rule of thumb is to take the very lowest price you're ready to accept and increase it by 20% to 30%. This way, you'll have greater negotiating leverage.
6.2. Take stunning photos
Marketplace listings are nothing without photos. High-quality photos inspire people to buy since they view the products naturally.
Create some time to ensure that your photos are clear, crisp, and sharp. Using natural light to capture photographs is a simple approach to providing accurate color representation.
Additionally, you'll want to shoot photos from various perspectives to present a complete picture to prospective buyers.
For example, consider capturing a few close-ups of any broken component or area to maintain transparency. The more closely your photographs match the genuine item, the more likely it will sell.
6.3. Add search tags
Each Facebook Marketplace listing form has a tag field. Fill it with keywords that a buyer would use to locate your listing in the search bar. For instance, if you're selling an antique necklace, use keywords such as "antique," "jewelry," and "vintage."
A listing may have up to twenty search tags. By utilizing them, you assist prospective buyers in locating precisely what they're looking for.
6.4. Offer local delivery
Because Facebook Marketplace does not provide fulfillment services, most product trades need in-person interactions. The issue is that most customers dislike turning up to pick up their items, much more so when they are larger items such as heavy furniture.
Consider offering local delivery within a manageable radius for you to increase the visibility of your listings.
6.5. Update your listings
If your item has remained unsold for seven days, you may renew its listing. This will restore your listing's position at the top of the results list. This can be done in the Marketplace dashboard by clicking "Your Account"> "Your Listings."
Find the item and click the three-dot icon on the thumbnail of the listing. Then, select the option to renew your listing from the drop-down menu. Then, replicate these steps for any outdated listings to increase the exposure of your stock.
Increase your sales via the Marketplace
Whether you want to expand your store's consumer base, sell some homemade goods, or get rid of old items, Facebook Marketplace can be an excellent alternative for selling swiftly and efficiently.
Make sure your listings are well-loved, with high-quality photos and honest, thorough descriptions. In this manner, you can reduce the back and forth of people asking questions while also decreasing the likelihood that a consumer will be dissatisfied with their purchase.
Facebook is a powerful platform, and thousands of people and merchants benefit from leveraging it to sell their items.
It's now your turn.
FAQs About Facebook Marketplace
What is the cost of selling on Facebook Marketplace?
Locally, there is no fee for selling items. However, you will be charged a 5% selling fee on all shipments or a flat price of $0.40 on shipments under $8.
Thus, if you sell an item for $5, you will pay at least $0.40, as it is the minimum fee for transactions under the $8 threshold.
How do I advertise on Facebook Marketplace for my product?
You may create a sponsored advertisement for Facebook Marketplace using the Ads Manager tool. Create the advertisement, set a daily budget, and select automatic placement.
Your ad will appear on Marketplace, Audience Network, Instagram, Messenger, and the News Feed of Facebook. In addition, a sponsored label appears on the advertisement to keep Marketplace users informed. We pray soon they launch the Facebook marketplace app for mobile users.
Small Request
Kindly share it with your friends. Especially, the ones you believe really need this information.
Sharing this information with others can make a huge difference. You may ask why?
Well, the truth is, my main aim is to provide the best information pertaining to drop shipping for both beginners and experienced dropshippers.
And I plan to continue doing so for as long as I can.
I would also like to thank those who support the work I do through reading my content and sharing.
Trust me, when you take your time and share it will help a lot not only for me but also for other people who may really be in need of this information.
Here are some great suggestions:
Pin it
Share it on another blog
Share on Facebook (Share it with friends and even on Facebook groups)
Tweet it
Stumble it
This will only take a few seconds of your time and I would really appreciate it.
I appreciate you a lot. Thank you!
Join my Shopify dropshipping group mastermind and follow my blog to learn more about Shopify tips, dropshipping guides, dropshipping tricks and checklists, and e-commerce in general.
If you enjoyed and learned something from this post, you can get updates from me, free of charge!
I send out email newsletters about new posts published on the blog, tips, and tricks to help you grow your dropshipping business, as well as new YouTube videos to give you more insights about the e-commerce market, and much more.
If you enjoyed reading this, you can as well join my Facebook group. Thank you for reading how to make money dropshipping online from the comfort of your home.
Click The Image To Join My Facebook Mastermind Group