How To Create A Shopify Dropshipping Store
Thus, in this article, I'll provide you a step by step guide, A to Z, to create, design, and build a profitable Shopify dropshipping store from scratch for complete beginners.
Now, in this article, you will learn everything you need to know to create a successful store.
If you just found out about dropshipping, that's brilliant because it's a fantastic business model, especially if you are just starting with the online business and with eCommerce and building your own profitable Shopify dropshipping store and earn a passive online income.
I'm giving you information that costs $4,000-$5,000 in courses, and I'm giving it to you all free of charge.
I'll show you how to create a profitable Shopify dropshipping store the right way-without using both Oberlo and AliExpress.
I'll also be walking you through the Branded Dropshipping method-a strategy that you can leverage to build Shopify stores that rake in 7 figures annually.
I curated this comprehensive tutorial because I seek to offer you every possible step you'd take and all the information you need as a newbie to launch a successful online business with Shopify store and build a worldwide brand.
I draw inspiration from the frustration I've had with all the useless courses that encourage copy-paste AliExpress using Oberlo.
I figured that's a path to failure, and it isn't the right way to build a global brand.
A-Z On Creating A profitable Shopify dropshipping store.
So, this article is cut out to be a complete A to Z, 0 to 100%, and a step-by-step walkthrough that also include:
How to design your store running Facebook/ Instagram ads
The best sources of traffic
It would be best that you follow along and take action along the way as we go through this walkthrough guide.
Now, to do this particular article, I've lately drawn a lot of inspiration from a lot of resources out there, and admittedly, some are incredible; however, the thing is that they're all obsolete.
All of them were created from around 2017 onwards. I've been in eCommerce for some time now; therefore, my word is bankable. Things have changed, and a lot continues to change daily.
It's the reason today I'm ecstatic to present you with this article. I endeavored to ensure it's current and offer an excellent strategy, the fastest possible path to success.
So, you can proceed to quit your 9 to 5 gig forever and replace it with a profitable Shopify dropshipping store online business.
And then even more tiring in the avalanches of contents out there that keep showing you how to build a profitable Shopify dropshipping store from scratch using Oberlo & AliExpress; basically copy-paste products from AliExpress to your Shopify store using Oberlo.
The method may have worked in say 2018 backward, but not anymore. The technique has weathered its luster, and at present, it's a short-term way of doing stuff.
The only proper way to realize success is borne through laser-focus on the long term.
This write-up seeks to flash out all the ways of building a long-term business with Shopify that will put money in your pocket monthly for years to come.
A company that qualifies as an asset you can perhaps, later on, pass to your kids or sell for a price millions of dollars range.
I will share a strategy I developed and used on stores that yearly cumulative of eight figures.
If you scale-up your business to that, leverage the strategy that I'm showing you. Raking in eight figures per year isn't crazy. It's entirely feasible via eCommerce, mostly when you deal with stuff that price at $50 or $100 per unit.
Essentially, the strategy is called branded Dropshipping, and Branded Dropshipping is the future. Entrepreneurs do millions of dollars in online sales.
I mean, you're creating a brand; you're taking a product, and then you build an authentic brand out of it with complementary products.
A look at any successful eCommerce store out there point to a branded store, right?
And they likely launched as Dropshipping. And so, the thing with dropshipping, however, your unfamiliarity with the business model, is that it's terrific for a newbie, someone whose starting-out.
Beginners incur zero risks at the starting phase. The only thing you have to pay:
The Shopify plan $29 a month after 14 days free trial
The domain name that's $20-$30
And that's all. I mean, with dropshipping, there isn't further expense to incur.
The impressive part about dropshipping is that you're insulated against risks that come with maintaining an inventory often linked with likes Amazon and stuff.
Right at the beginning with Dropshipping, in a nutshell, is that you can:
Test your products
Build a Branded Store
No Inventory needed
Test your products
Build a Branded Store
No Inventory needed
They'll execute it with good packaging, branding design that you'll create. I'll show you how to do that as well.
This way, you won't take any risk on inventory, and when you do get customers to your store to pay for your product, it's only then that you send the money to pay your supplier.
Assuming that a customer pays you $50 on your store and you pay your supplier $10 for the product, then you pocket the difference between you know ($50-$10=$40) – and then there's the ad, suppose you spent $10 to acquire the customer, so you make ($40-$10= $30) $30 is your profit.
Do you see the tactics used by most droshipping in creating a profitable Shopify dropshipping store from scratch ? Hang in there,there is more to it.
Isn't Dropshipping amazing? Especially when you're starting.
Right, in this article, it's going to be a complete tour. I've chosen a layout that enables you to skip to each part individually. I've tried to segment it into sections such that you can skip right into every single different part separately.
Follow the below highlighted section in order to start and run a profitable Shopify dropshipping store from scratch
And we'll go over:
Product: You'll learn how to choose the right product.
Store: We'll go over how to create & design your store implement the themes, apps, and all the technical stuff that range from installing your pixel, Google analytics to your payment method and shipping zones.
Emil Marketing: We'll also go over email marketing and as well also
Oberlo: Show you even how to use Oberlo if you want to sort of start simple, although I'm alive that not everyone is a fan of the app, not a fan of the app.
Facebook ads: We'll dissect Facebook ads. Tell you what, I've spent a significant amount on Facebook ads for years across online businesses.
As such, I know a thing or two regarding Facebook ads, and we'll delve deeper into Facebook ads. I'm super excited about that.
Instagram ads: We'll also all talk about Instagram ads and the influencers and some vital hacks for Shopify success.
Such that, by the end of this article, if you don't have a functional Shopify store with a right product, that is the stuff that solves problems for people in a target market, a real brand.
You might probably have missed a thing or two, and therefore, it would be best that you re-read because herein lies a great deal of information.
So, before we get into all that and the nitty-gritty of creating a profitable Shopify dropshipping store from scratch, I must answer some of the FQAs that you might have before starting Dropshipping.
Can I Dropship from anywhere in the world?
This is a ubiquitous question. And yes, you can. Regardless of your locale anywhere in the world, you can dropship, and that's why dropshipping is incredible. There are plenty of opportunities for people out there to transform their lives thru eCommerce via a Dropshipping business model.
We're experiencing the wildest transformation in history, and eCommerce has considerable potential. It has the potential to grow a hundred-fold more significant than today.
And that forms the basis of my excitement that you're here today reading this piece to acquire the right info, thus setting yourself up for success. Therefore, yes, that's the long & short answer to that question.
How much money do I need to start?
This is another frequently asked question; how much money do I need to start?
You can start with as little as 100 or 300 bucks. If you got like 50 to 100 bucks, you could also start, but well, realistically, that's on the low. $200 or $300 at least suffice you starting.
Read also: How To Start Shopify Dropshipping On A Budget (Zero Budget )
With the Dropshipping model, you won't need a lot of money, and that's great because you don't have to order a load of units upfront.
And that's why if you only have a few hundred bucks, you can get your store up and running, and that's the most critical part. Taking action, it's the most crucial step.
If you elect taking action today, you'll undoubtedly see that your circumstances align with the path that leads to success.
Often, people in numbers don't take any action, and that's precisely why startups hit a snag and die because folks don't even try.
If you can try and heed all the steps lined up in this piece, you have very high chances of success. So, at $200 or $300, you can comfortably start.
But if you have & 500 or more, let's say $1000, that's even better because, at such a budget, it's possible to start running Facebook ads.
At that budget, your store can take off real fast, and boy Facebook ads, Google ads alongside Instagram ads, which we'll cover compares to fuel.
The ads will make your store grow like wildfire, and that's key, making your store grow like grow. We'll get to that as well later.
Can't my customers go over to AliExpress and buy the product themselves?
Can't the customer just go on AliExpress and just buy it themselves? You might ask. I get that a lot, and the ensuing answer goes like yes, they can, but they won't. And the reason is simple.
Have you ever wondered why several successful brands, yet all the products are manufactured in China, and all the items can be found on AliExpress?
Regardless, people still want to buy the product in stores or online on their eCommerce stores, not from AliExpress.
Folks want quality and sure building a brand guarantees quality, and that's why branded Dropshipping is the ticket.
It is a sure ticket to win on Shopify. Big shot brands have effectively applied the strategy, starting as dropshipping stores, building a brand, then selling the brand sold for over ten figures worth of dollars.
As the owner, I mean picture this; by creating a Dropshipping Store today a few years later, you can sell, and you walk to away with a 10 million dollar check, right?
You sure want to acquire these vital skills, given the dynamics in today's booming world of eCommerce.
Do you still want to start and run a profitable Shopify dropshipping store from scratch? Continue reading.
How to Find the Perfect Product
All right, so now we'll talk about how to find the perfect product for you to start your a profitable Shopify dropshipping store from scratch.
And the following is a criterion I'd highly suggest that you heed in finding the best product:
Wow factor
Product Quality & design
Product be found on AliExpress & Alibaba
Niche/Target market
Problem solving product
Wow Factor
I'll show you the best product research techniques and cutting-edge techniques so much better than the rest.
I've used two of these techniques, and from these techniques that I'll show you, I found products that made me hundreds of thousands of dollars monthly in sales.
It's not complex stuff making money isn't hard; it isn't. It's a simple step-by-step process.
You just have to follow stuff that already works for someone, and in this instance, it worked for many other entrepreneurs out there and me. So, the product must ooze a Wow factor.
Product Quality & design
The product must meet the high-quality threshold. It must have excellent quality and a great new design or something because should you find the product on AliExpress or Alibaba, assuming we're going to talk about finding products on Alibaba?
That's like my hidden holy grail in figuring out how to build a profitable Shopify dropshipping store from scratch.
Suppose you can find the product on Alibaba, but the quality isn't excellent. In that case, you'll likely experience hindrance with your store.
It's always going to dismally perform as in not as good as possible because your product has compromised quality.
First, find and have a great product. The better your product, and the higher the quality, then you'd be setting yourself up for faster and more success from the get-go.
AliExpress & Alibaba
The product must be found on AliExpress or Alibaba. These are two different websites, and that should be clear right off the bat.
AliExpress is essentially the most common dropshipping website.
It's the website where all the out-of-depth resources encourage you to go and copy-paste products-from.
Because of that, AliExpress has become the most competitive website.
It brims with intermediaries, like not even manufacturers-folks in China who know ins & out of the system and play the system and exploit the fact that there are so many people who intend to launch Dropshipping.
The middlemen tend to follow outdated information. As such, they get high prices and too unreliable shipping. It doesn't work; basically, it's just a broken system.
You can check out our other resources on the same. In the articles, I featured on why you shouldn't use AliExpress.
However, your product must be found on AliExpress or Alibaba. Preferably, use Alibaba because, prior venturing into dropshipping, I successfully sold on Amazon and still do.
Dropshipping was sort of like an off-shoot of selling on Amazon. I wanted to master both; you want to do the same, like eCommerce Dropshipping and private labeling on Amazon.
And so, I discovered Alibaba. There are suppliers on AliExpress and Alibaba, and they aren't that different and possible they're probably the same suppliers, save for suppliers to charge more money on AliExpress.
Then I figured, what if I send out, like my supplier template on Alibaba to the suppliers, and then ask them a couple of dropshipping related questions like, "Do you Dropship?" And "Would you put a logo on items?" et cetera.
It worked, and today most, that's a half or more of my successful Dropshipping products come from Alibaba suppliers, and suppliers on this website are so much better because they handle huge numbers and are accustomed to professional relationships.
And the reason they'd be eager to make something work with you, and it matters less that you're starting.
Profitable Shopify dropshipping store: Target Market/Niche
Finally, in finding a great product, you need to find a fantastic passionate niche product or a target market.
It's always better if your product is in a target market because if not, like let's say you have broad products and they work incredibly.
However, if your product isn't a passionate niche, for example, hiking, fishing, or beauty or, let's say, sustainable beauty, veganism, something about food.
Ordinarily, people are very passionate about stuff, and you know, the more you can niche down, the better.
Still, you also don't want to excessively niche down because you'll miss out on having as many people interested in your product.
Frankly, I'd either go with something that's super broad, a product used by lots of people out there, I mean something in a more passionate niche, a target market that is more niched down and that way, and it's easier to target on Facebook.
Product research
Before we get into product research, you'll need a Shopify subscription as well; although there's a 14-day free trial, ensure that you sign up for that right away before we delve deeper into this article.
You must sign up now because to sail through the rest of this guide, you will need to have a subscription with Shopify, and the beauty with it, is that you can cancel it within 14 days in case your store fails to work, you don't like it or whatever the case.
Though it would be best that you push through, persist because success has persistence as an ingredient.
Ensure you pause reading and get the subscription right now and come back, and so, right before we get to the first product research technique that I'll throw open, let's take a look at the list of the best niches for dropshipping.
There are so many niches that there aren't any particular niches that are way better than others.
But consider this list right here:
Luxury Accessories: So, for example, luxury accessories, it's an incredible niche, and dropshippers are raking up a million dollars in sales worth of luxury accessories
Camping: Camping is terrific, although it's more seasonal. So, undoubtedly, like those products are more in the summer as opposed to the winter. But in the winter, you can find an alternative niche as well.
For example. The opposite of camping, survival & hiking would be like snowsports. It's also another great niche, and China has tons of products for snowSports to match.
Hiking: Hiking sport is fantastic; however, like survival & camping, it's a summer a sport.
Survival: Survival is another remarkable niche, but it's also seasonal.
Eco-friendly Products: Eco-friendly products are the other massive trend of late, and trends work well with Shopify and dropshipping.
Golf: Among the fantastic sports niches is golf, you won't be selling directly like golf balls; instead, you can focus on accessories, such as products that can make the golf swing better.
Tennis: Some other great ones are sports like tennis, you could deal with accessories, the right accessories for tennis stuff like revolutionary products that can be found in China that can make, for example, improve your performance in tennis better. There are several opportunities
Football/Soccer: Some other great ones are sports like soccer. It's not like you'll directly sell like soccer balls, but you could sell stuff like accessories fitting accessories things like revolutionary products that can be found in China
Cooking/Kitchen: Cooking/Kitchen is huge, and take my word on this, folks would a spend a fortune in this niche.
Outdoor Patio/Lawn/Garden: For the outdoor patio, lawn, and garden, people always want their houses to look fantastic and unique. Gardening is excellent too. And so, they're very passionate about gardens.
Beauty: Beauty is immense, like there are so many angles you can come at this. For example, sustainable Beauty-products that are eco-friendly or you know. Luxury Beauty I mean there're plenty of different ways you can go about with beauty.
Jewelry: Jewelry is equally a massive niche, and thus, you might perhaps and rightly so, be concerned about the high-end jewelry brands.
You can't compete with these super expensive Brands, but you definitely can get into the luxury jewelry niche trust.
Many of the watches that cost thousands of bucks, for instance, are all made in China, and you can all find them for 50 to 100 dollars.
It's how the world functions because a look at the global supply chain points to 99% of things come from China, and that's the reality of it, and following this guide, you can cash in on this opportunity.
Clothing: The clothing niche is also rewarding; however, it would be best that you shun having a general clothing store because clothing is an extremely competitive niche. You need to like to have a very strategic niche in clothing.
A good example would be focusing on clothing, plus-size people. Undoubtedly, that's a huge target market.
That alone is a fantastic niche for dropshipping. Or eco-friendly clothing, you know, perhaps that's clothing made using sustainable material.
Automotive: Automotive and car accessories also make for a brilliant niche to cash in on.
You could find products for any of these niches, and you don't have to find something you're passionate about. That's a huge misconception.
You'll need to find something that works.
Buy stuff where you can see that the product fits the criteria that we previously mentioned, you know, wow factor, excellent quality.
You can find the product on Alibaba, AliExpress, and also, it has a passion that it has people in the niche.
The customers are immensely passionate about their products and are willing to spend money on them.
Product Research Techniques
This section will throw open my favorite product research techniques that don't involve having different tools.
Most newbies start their online business on a limited budget because they still keep their 9-5 job bills.
As such, they're only left with meager cash, perhaps to invest in launching their online business, which is entirely within reason.
Alright, let's get the right into discussing the product research techniques, shall we, great!
Product Research Techniques: Social Media Feeds
The technique perhaps is the best one out there right now. There are plenty of resources out there YouTubers included, vouching for all manner of special kinds of tools amounting to like 20 different tools, and that sort of cost lots of cash.
For entrepreneurs starting and heed these YouTubers' calls, they'll sure hit a snag and find it very difficult due to their limited budgets.
Social media feeds might now strike as surprising, but it's one of the best ways to leverage in finding profitable Dropshipping products.
When on a social media platform like Facebook, scroll down on the feed.
You'll find a lot of unique products let's take a watch, for instance, you'll see it's some type of a watch store, and on first glance, the watch strikes you as a nice watch, and it looks high quality, and it doesn't look cheap because price point ranges between $350-$400 Canadian bucks perhaps.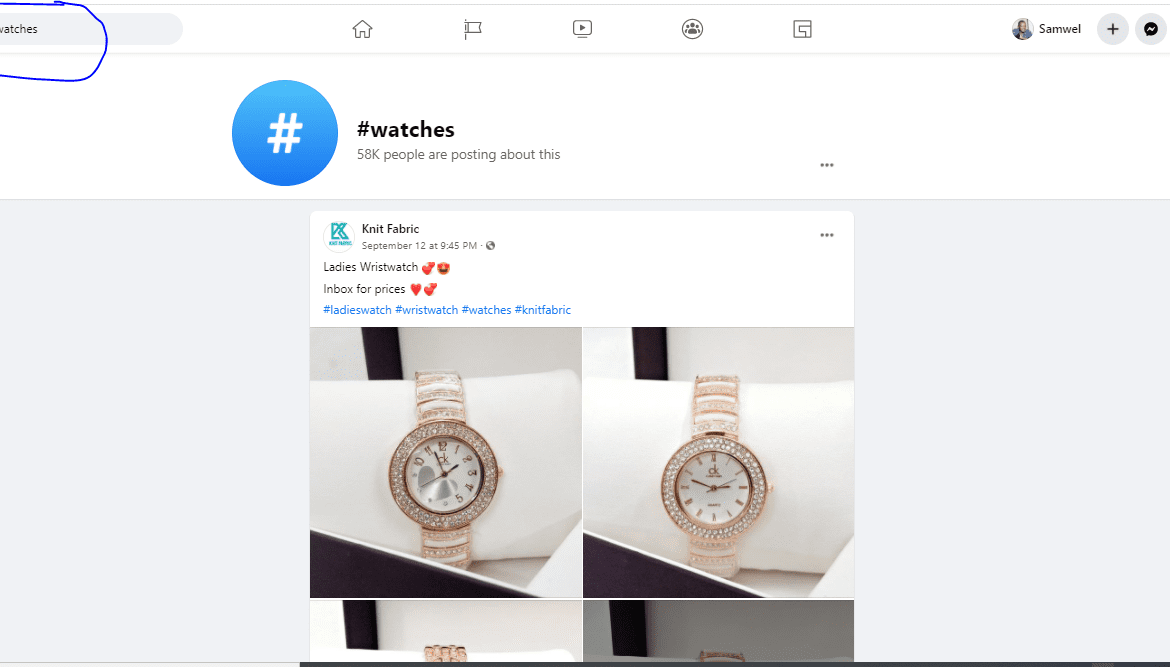 It's probably an ad of them showcasing the watch you might think, further scrutiny will attest whether it's a dropshipping shop.
A further scroll down, look about the very bottom, you get to see the shop, and you'll be able to tell if it's a Shopify.
If it's a Shopify store, you'll see that the store Dropshipping the watches.
You'll find stores that do not even follow my branded Dropshipping model, I mean like a store selling a brand that their store is.
If we proceed to the Alibaba and try finding the same watch, at the search bar, type in luxury leather wristband watch perhaps then hit search and try to find it, the Luxury watch leather wrist.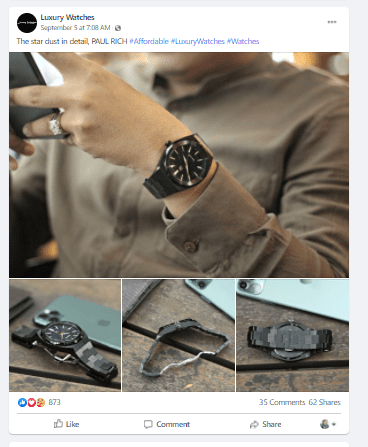 The search will return results, and you'll see watches $5, $15, and $27, similar to what we had found.
The search results sure will return so many watches on Alibaba, and even for those with an eye for style will relish this terrific opportunity.
Alexa traffic
The prevailing thinking out there is that watches aren't incredibly competitive; however, use an app called Alexa traffic rank on a store. It's a free app that you can install.
Go to Google and type in Alexa site rank on Google Chrome extension; it tells you how much money a Dropshipping Store is making but not in monetary value; instead, it tells you that in traffic rank.

Well, here is how to interpret that. Click to install chrome. Then go back on the store Alexa site rank. I bet you'll have so many of them. We can use a hypothetical figure of 250,000 traffic rank in the US and 470,000 worldwide.
Statistically, this means that Alexa (by Amazon compares to a robot you place in your house) a cloud tool in Amazon, which scans every website based on traffic.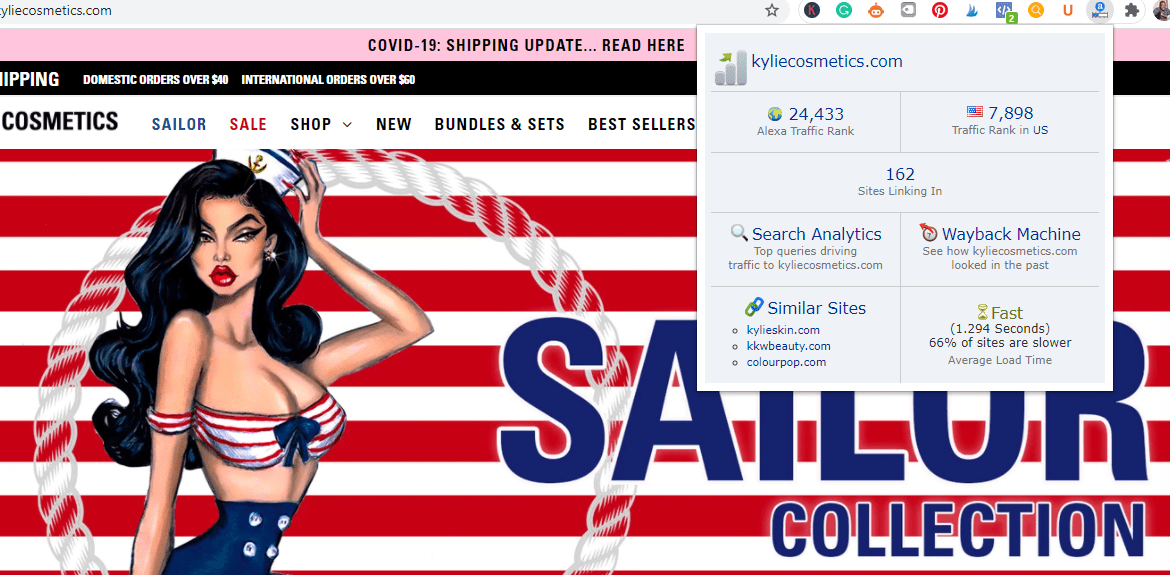 Traffic essentially is the number of people that visit the website each day. A rank of 250,000 is very high and significantly high in the US I mean considering the so many websites out there.
So, a website with 250,000 would be almost the website with the most amount of visits in the US and 435,000 worldwide.
We can right off the bat tell not exactly how much money a store makes, but we can know for sure that they are bringing the money
Facebook.com/ad/library
The other way of checking to see if the store is profitable brings in the money is by going to facebook.com/ad/library. You find a fantastic tool, and it can show you exactly all the ads that the store you're looking at runs.
This way, you get to see whether the store makes money or not. In case the store runs no ads, they're possibly not making money, and it's probable they shut down their operations.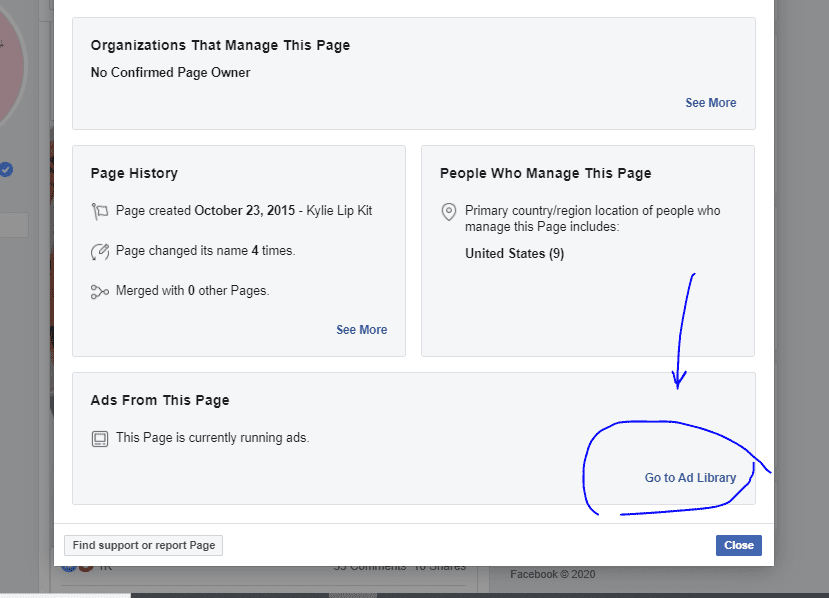 First, to check this up, go on the top right and click All, that way, you'll see all the ads the store runs. Else, the tool will display, for example, suppose you are in Norway, you'll only see the ads in Norway.
Therefore, ensure that you click on All, and then you kill key in the store name. So, as in our example, the store is a watch. Suppose the store threaded 54,000 likes. That's huge and check if they run ads, and you'll see the exact times of the ads.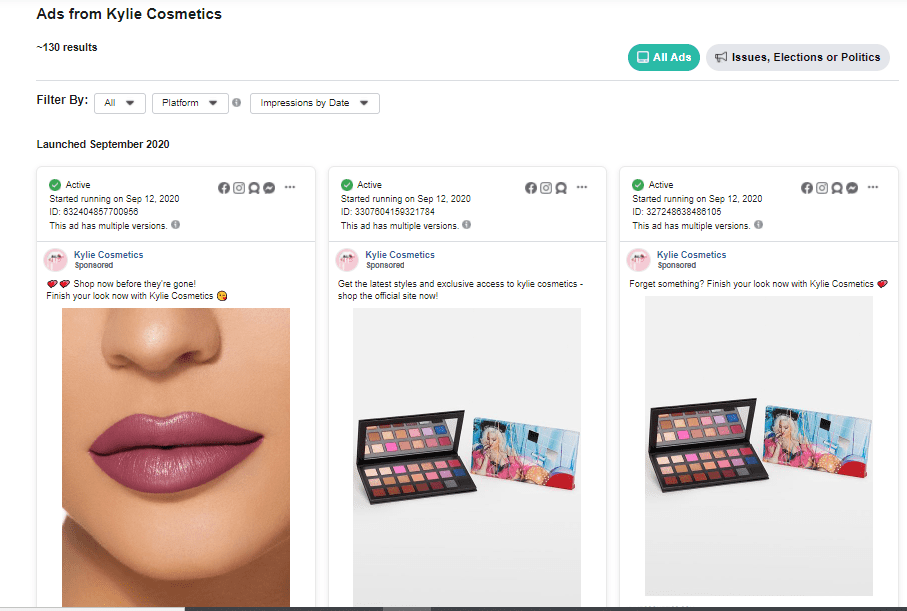 If you hit play, the ads may, for instance, indicate made in Switzerland since 1800.
These brands can put anything they wish on the ads, but then again, you don't want to promote that part of it, you must report on the facts.
Either way, yours don't need to come from Switzerland. Instead, you can indicate it's designed in Germany, California, or even made in China; it's your call. And since you've access to the exact ads the store runs, it can only mean the store makes money.
By scrolling through Facebook, you'll sure find a ton of fantastic product ideas.
If you go through the feed, you'll see ads, and at times, it might prove a bit difficult for example, you'll come across a Dropshipping Store, a branded drop shipping store at that, and no one is talking about that on YouTube, but this is the way to go, it's the future.
A further dig on the branded dropshipping store website, you might find them promoting some sort of smart air conditioning stuff.
Sometimes you'll land on some nice-looking website, possibly even from a non-Shopify store.
But the good thing is that you can recreate the same store setup in Shopify, and you can find the exact same item on Alibaba.
These days, everything exists on Alibaba, including smart air conditioning, controller, and stuff. Repeat the same process, check, and see if the branded dropshipping store makes money. If you use Alexa site rank and it shows the store ranking 236,000 in the US, for instance, now that's popular.
Turbo ad Finder
If you wish to accelerate this process, in enters turbo ad finder. The turbo ad finder is a Chrome extension.
You can install it although the tool is sort of yoyo, meaning, at times, it's available on chrome. For some reason, it kind of goes on and off.
And what turbo ad finder does, that's if you turn it on, it will only show you ads. As a Dropshipper, you'll find it resourceful because it just shows you all of the ads.
You can tell apart a brand is a Dropshipping Store and whether the store evolved to a Branded dropshipping approach and branded private labeling; the next phase of your dropshipping expedition after you've built a profitable store.
When you have an ad that promotes a branded dropshipping store, click on the store. It could be one of the biggest Shopify stores. If you want to ascertain whether the store runs on Shopify, scroll down and confirm.
Better still, click on the store, scroll down, then right-click view page source, and from there, you can go and command F or Ctrl F key in Shopify. If it even says Shopify, that suffices that the shop runs on Shopify.
There are so many beautiful store layouts, and you can create the same as there's not much difference between you, the next person, and the one who started the store. We all start on the same footing, essentially learning from the information that we have.
And right now, you have this tutorial, which I'm delighted you do. If you go to Turbo, you'd need to ensure that it works, ensure it's not blocking or only showing as sides here.
Try again and then perhaps restart chrome.
Alright, let's now use a selfie stick store as an example, turbo ad finder showing more ads, The Supreme selfie stick in the branded dropshipping store.
You'll be taken aback by the loud murmur about it online; no one talks about the branded dropshipping model. Incredibly, there are lots of opportunities.
The store could even happen to be very simple, like some sort of a branded selfie stick online shop, you know. It's incredible how people obsess about selfie sticks. As we said, while on the store, scroll down, and you'll tell if it's a Shopify store.
Product Research Techniques: eComhunt
Now, eComhunt is the other best product research technique, and in this section, I'll share with you how to use it.
It's an incredibly fantastic tool. Right from the onset, I alluded to not being a fan of promoting many tools, but this tool has come through for me with my own business.
Ecomhunt plays a major role in creating a profitable Shopify dropshipping store from scratch in 2020,leaving it out of this guide would have been a big mistake.
I've nailed down a multiple of products with the eComhunt, and it's fantastic, the best out of all of them out that I found. The tool goes for like $20-$30 a month. Essentially, how it works is by curating a list of products each day.
You can go on eComhunt and sort by product orders. When you sort by orders, the tool will show you the highest ordered products.
But again, sorting by orders might not be the best because these are like the items with the most amount of competition.
On the other hand, you ought not to be afraid of competition, assuming that you've opted for the Branded dropshipping route. I mean, you're building a brand that's unique from the rest.
And standing apart from everybody else is the key to winning against the competition.
Being different is key to staying ahead because while everybody else fixates on outperforming each other, copy-pasting from AliExpress, you ride in a whole other realm.
So, when using the eComhunt tool, you can go to the category and, for instance, choose like say cell phones and telecommunications. Then take a look, you know, the essence of this exercise is to afford you some ideas you wouldn't have otherwise gotten.
In this instance, your chosen category, cell phones, and telecommunications might return Blue Calm, for example, a fantastic tool a big trend. Anyone looking to build a blue-eyed blocking glasses store, Blue Calm, is also an excellent idea.
When looking through, you might see the Supreme selfie stick boom! And if you go on eComhunt, you can see the exact recommended selling price takes $24.99, for instance.
Although it's prudent to heed selling at $24.99, instead, I'd sell the selfie stick for like $20 99 or $30.99 at least.
eComhunt shows you the average product cost, and if you use my earlier Alibaba approach, you can reduce the average cost. You won't have to pay the entire average fee on the eComhunt tool, considerably, that's too much if you ask me.
The eComhunt tool equally shows you where you can find the product, like on AliExpress. It shows you the CPA from Facebook ads, and this is crucial info as it tells you the cost of advertisements for every sale.
Assuming the CPA costs you between $3 and $6 for each sale. Let's say $4. That means that the profit margin is about $16, subject to your Facebook ad cost. The tool even shows you exactly what's the target for the ads.
However, I wouldn't root for doing the ads this way. I have a wealth of lessons from my mentors who've spent over $20 million on Facebook ads.
Conclusion on creating profitable Shopify dropshipping store
All of their teachings are quite a departure from using the eComhunt ads targeting model, and I'll share with you that knowledge free of charge in this article.
Instagram influencers, a couple of examples from across different parts of the globe At $23 for the eComhunt tool, I feel there's value for money at that price.
If you're looking for a new product, you can go eComhunt stool and have a list instead of endlessly scrolling through Facebook.
Social media feed & eComhunt make the best product research methods. You don't need anything else.
By reading this,i guess you can now create a profitable Shopify dropshipping store from scratch from anywhere in the world.
Keep on watch for a second part of how to create a profitable Shopify dropshipping store from scratch covered in the next post.