Top 100 And More Ideas For Your Tiktok Bio (Copy And Paste)
While TikTok has only been around for a short time, it's inconceivable to imagine life without it. And with over 73 million users in the United States alone by 2020, there are plenty of others who feel the same way.
Whether you're on TikTok for business or personal reasons, people will follow and listen to several opportunities to build a platform.
And your TikTok bio will be one of the first stuff people see when deciding whether to continue engaging with you.
Therefore, how do you ensure that you draw the public's interest and turn them into followers, fans, and even customers?
In this post, we'll provide an array of TikTok bio ideas that are bound to garner you some notice. And yes, you are 100% free to steal or adapt them in any way you like.
POST CONTENTS
1. 100 plus TikTok bio ideas that will encapsulate everyone's attention
The most creative TikTok bio
Funny TikTok bios
Inspirational TikTok bios
Emoji-enhanced TikTok bios
Cute TikTok bios
Swag TikTok bios
Fitness TikTok bio
Travel TikTok's bio
Business TikTok's bio
A TikTok bio for gamers
2. Tiktok Bio Format
Introduce yourself.
Exploit emojis
Embed a link
Include a call-to-action (CTA)
3. Your Tiktok Bio Is Only The Tip Of The Iceberg.
100+Tiktok Bio Ideas That Will Encapsulate Everyone's Attention
Are you looking for TikTok bio-inspiration? Consider this exhaustive list, which has every style of bio conceivable-from funny to inspirational to swag.
The Most Creative Tiktok Bio
The question is not who's going to let me; it's who is going to stop me💥💣👊🏽
Not going to lie, I have a bit of a TikTok addiction 📷
The older you get, the better you get. Just saying 😉
Helping people level up since 2020. Let's be besties!
Imposter complex is just a byproduct of success
I'm awesome (don't worry, I think you are too)
Best served with coffee and a dash of sarcasm
Be young. Be dope. Run the show
I put the "do" in "weirdo."
I keep it real … always.
Good times and tan lines
God bless this hot mess
Emoji-enhanced TikTok bios
My relationship status? Netflix 🍿 Oreos ⚫⚪⚫ and sweatpants 🩳
Throwing kindness around like confetti 🎊
Treating every follower like family 👌❤️
I'm not savvy. I simply wear glasses 🤓
Having the time of my life ⏰🎉
Not your copycat TikToker 🙃
To the metaverse 🚀 👨🏼‍🚀 🦾
Eat 🍽️ Sleep 💤 Create 🤳🏼
Just going with the flow 🌊
Need 📹 ideas? DM me
Inspirational Tiktok Bios
Do it with passion or don't do it at all
Every day is a new opportunity 🌈
How will you be better today?
I dare you to try and knock me down
I'm a fighter 💪 👊
I'm amazing. You're amazing. We're nailing it
Striving for greatness. Every. Single. Day
The sky isn't the limit. Your imagination is
What if this was the last day of your life?
You are enough
Tiktok Bio For Gamers
Gamer zone, Be careful 🕹
Gamers don't die; they Respawn 🎮😎🎮
Gaming Video Creator 🎮 Working On The Weekends Like Usual
I don't play games. I win them
I'm not a player. I'm a gamer. Players get chicks. I get achievements
Just one more game 🎮☝
Just want to make people happy with gaming
Keep calm and blame it on the lag
Life is more fun with a controller 🎮
The most ruthless, athletic competitor in video game history
Business Tiktok Bio
Life isn't perfect, but your business can be!
We Find Ways. We Just Do
No excuses, only results
Putting customers first since (founding year)
Tag us @(brandname) to get featured
Underestimate us and be surprised later
Your Vision. Our Service
Official account of [brand name] on TikTok
Doing our best to make you look best
Driving growth beyond borders
Fitness Tiktok Bios
Eat. Gym. Repeat … 💪
I put the work in—and love the results
The gym is my playground … 🏋
Use the pain as fuel and keep going
Fit isn't a destination; it's my journey
Train insane or remain the same
In the gym, "I can do this all day."
Sweat + Sacrifice = Success
Never give up; this is my motto
Turn the pain into power and conquer your goals
Travel Tiktok Bio
Around the world every day
Enjoy at least one sunset per day! … 🌅
I am always ready for take-off!
I haven't been there yet, but I am getting the ticket
I was born to explore the world 🗺
I'll take you anywhere. Just stay with me
Travel far enough; you meet yourself … ✈
Travel heavy with a pack of happiness
Wonder less, Wander more
You can't live an EPIC life without travel … 🚄
Funny Tiktok Bios
Not your mama's TikTok
Testing testing- This thing on?
Hot. Spicy. Ready to roll
I'm hot AND funny 💁🏻‍♀️ 💁🏻‍♂️
You're welcome
A giggle a day keeps the doc away
Please love me? 🥺
I will never give up avocado toast
Insert clever bio here 👇
I don't know what I'm doing here
Viral or bust babayyy
Shoutout to the haters!
404 error: Bio does not exist
Swag Tiktok Bios
I don't lose. Either I win, or I learn
I don't make choices; I make moves
I make them stop and stare 👀
I play life like a pro
In the world of average. I'm savage
My vibe is not everyone's cup of tea
Nerd? I prefer the term Intellectual Badass 😎
Salty hair, don't care
The bearded trendsetter 🧔🏻‍♂️
Too busy slaying my goals to answer you
Cute Tiktok Bios
A TikTok a day keeps the boring away
At least my pizza still loves me
Don't give up on your dreams. Keep sleeping
I apologize for anything I post while hungry
On a mission to make your day better
Sending a virtual hug to all my followers
Sprinkling kindness everywhere I go
The only magic I still believe in is love
You bring out the best in me
You make me hap-pea
Tiktok Bio Format
The most challenging part of writing your TikTok bio is the character limit: you have only 80 characters, so it's critical to use them effectively. Consider the following four points when deciding what to include.
1. Introduce yourself
While this may seem self-evident, there is some strategy involved. Not only must you explain who you are and what you do, but you must also frame it in the context of your audience.
The genuine question is why they should care about your content. What makes you unique, interesting, or pertinent to their interests?
Due to the limited character limit of 80, many TikTok users choose just a few words to summarize this.
Alternatively, you can follow Alexia Dox's (@alexiadox) lead and keep things simple. For example, her bio only refers to her as "alien," with a Linktree URL for additional information. (We'll discuss links later.)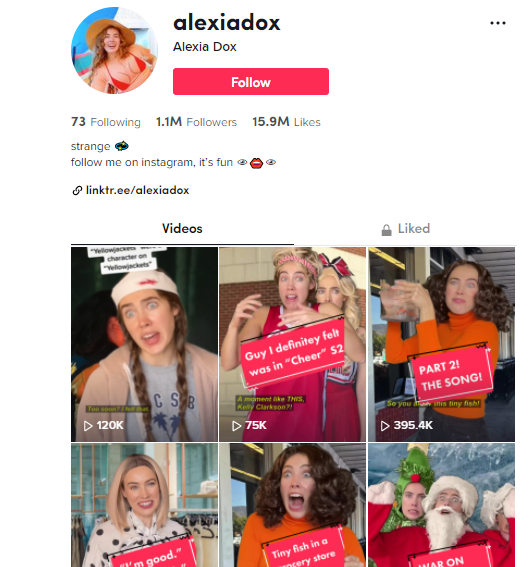 1. Exploit emojis
Emojis are universally popular. They can aid in conveying your message quickly and visually and directing users' attention to a specific location. For instance, if you want to lead them to your Instagram or Linktree links, you can use an arrow emoji pointing to the URL.
KLR Dubs (@klrdubs) makes clever use of just three emojis: the account is dedicated to comedy videos featuring voices dubbed over animal clips.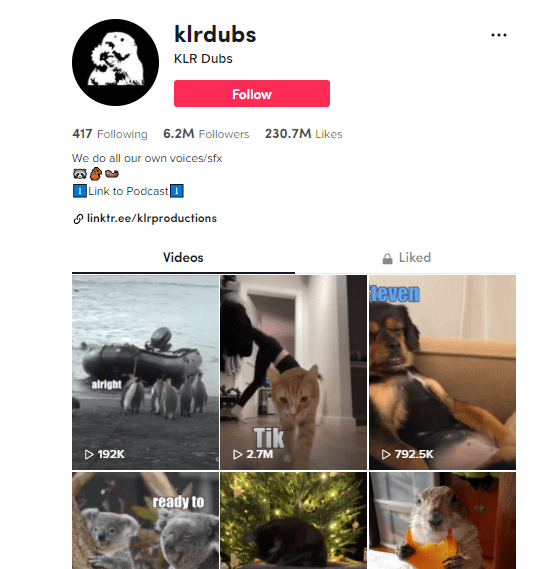 To demonstrate this, the account included a few animal emojis alongside a brief description stating that all audio content on the account is original.
1. Embed a link
If you can include a link in your TikTok bio, you've hit the jackpot in terms of showcasing your brand and mission and increasing engagement on TikTok and other platforms.
Users often use Linktree to link to their other social media accounts, such as Brandon Conner's @brandomspam_.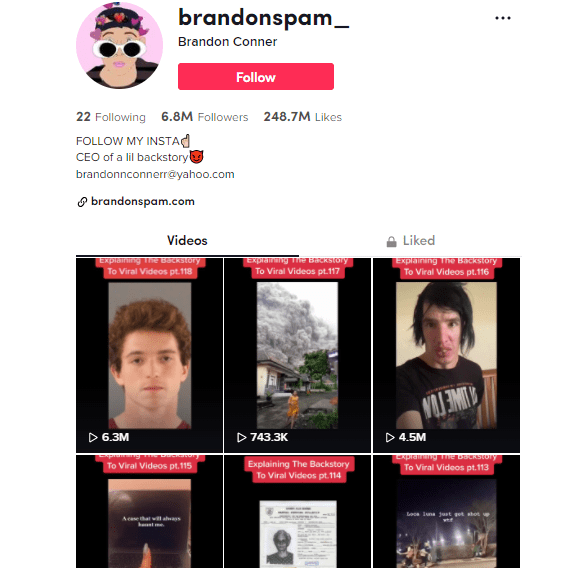 He incorporates links to his YouTube channel, Instagram, Snapchat, and Twitch accounts, allowing his fans to follow and engage with him wherever they please.
However, it's worth noting that not everyone will be able to include a link in their bio. This appears to be a feature TikTok is gradually introducing to its users.
However, if you upgrade to a business account, you should include a link.
1. Include a call to action (CTA)
A call to action (CTA) is anything that prompts your readers to take any action, such as following you on Instagram, contacting you for collaboration, or purchasing your merchandise.
As mentioned in the previous tip, including a Linktree URL in your other social media profiles counts as a perfectly acceptable CTA. However, if you own a business that you wish to monetize, you should strive to be more precise.
Consider Connor DeWolfe's (@connordewolfe) case in point. He's built a sizable following with his funny and educational videos about ADHD and raising awareness about the disorder.
Along with links to his other social media accounts, podcast, and ADHD educational materials, he also includes a link to the "Follow the Dopamine" brand he launched in response to his viral videos. Fans can buy various merchandise, including t-shirts, mugs, and backpacks.
Your Tiktok Bio Marks The Beginning.
Your TikTok bio marks the beginning.
When done correctly, you can create a simple yet enticing TikTok bio that conveys just enough information about yourself—all while piquing people's interest in learning more about you and becoming a devoted follower.
Additionally, suppose you're utilizing TikTok as part of your social media marketing strategy. In that case, you can use your bio to increase awareness for your products or services, drive traffic to your website or store, and ultimately increase sales.
Read Also:
The critical point is to not overthink it! You are not required to create the world's most perfect masterpiece—just get the basics covered first. As your TikTok personality and brand evolve, you can tweak and optimize your bio in real-time.
SUMMARY
TikTok is a globally popular social media platform. Your TikTok bio is a critical part of your profile, and you must show who you are—the TikTok bio ideas discussed in this piece range from funny to inspirational to swag.
If you're incorporating TikTok into your social media marketing, you can use your bio to increase your product or services awareness. You are not required to create the world's most perfect work of art; simply start simple and optimize as you go.
Summary
When used well, Instagram Stories are a highly effective tool and the features available provide an infinite canvas for creation! Regardless of how you use Stories, keep an eye on engagement and relationship building with your audience.
Most importantly, enjoy yourself! Which feature are you looking forward to utilizing next?
Tell us what you think in the comments section below!
Small Request
Kindly share it with your friends. Especially, the ones you believe really need this information.
Sharing this information with others can make a huge difference. You may ask why?
Well, the truth is, my main aim is to provide the best information pertaining to drop shipping for both beginners and experienced dropshippers.
And I plan to continue doing so for as long as I can.
I would also like to thank those who support the work I do through reading my content and sharing.
Trust me, when you take your time and share it will help a lot not only for me but also for other people who may really be in need of this information.
Here are some great suggestions:
Pin it
Share it on another blog
Share on Facebook (Share it with friends and even on Facebook groups)
Tweet it
Stumble it
This will only take a few seconds of your time and I would really appreciate it.
I appreciate you a lot. Thank you!
Join my Shopify dropshipping group mastermind and follow my blog to learn more about Shopify tips, dropshipping guides, dropshipping tricks and checklists, and e-commerce in general.
If you enjoyed and learned something from this post, you can get updates from me, free of charge!
I send out email newsletters about new posts published on the blog, tips, and tricks to help you grow your dropshipping business, as well as new YouTube videos to give you more insights about the e-commerce market, and much more.
If you enjoyed reading this, you can as well join my Facebook group. Thank you for reading how to make money dropshipping online from the comfort of your home.
Click The Image To Join My Facebook Mastermind GroupDOWNLOAD INSTAGRAM STORIESINSTAGRAM STORIES