How Affiliate Marketing Accelerates Shopify Sales By 659%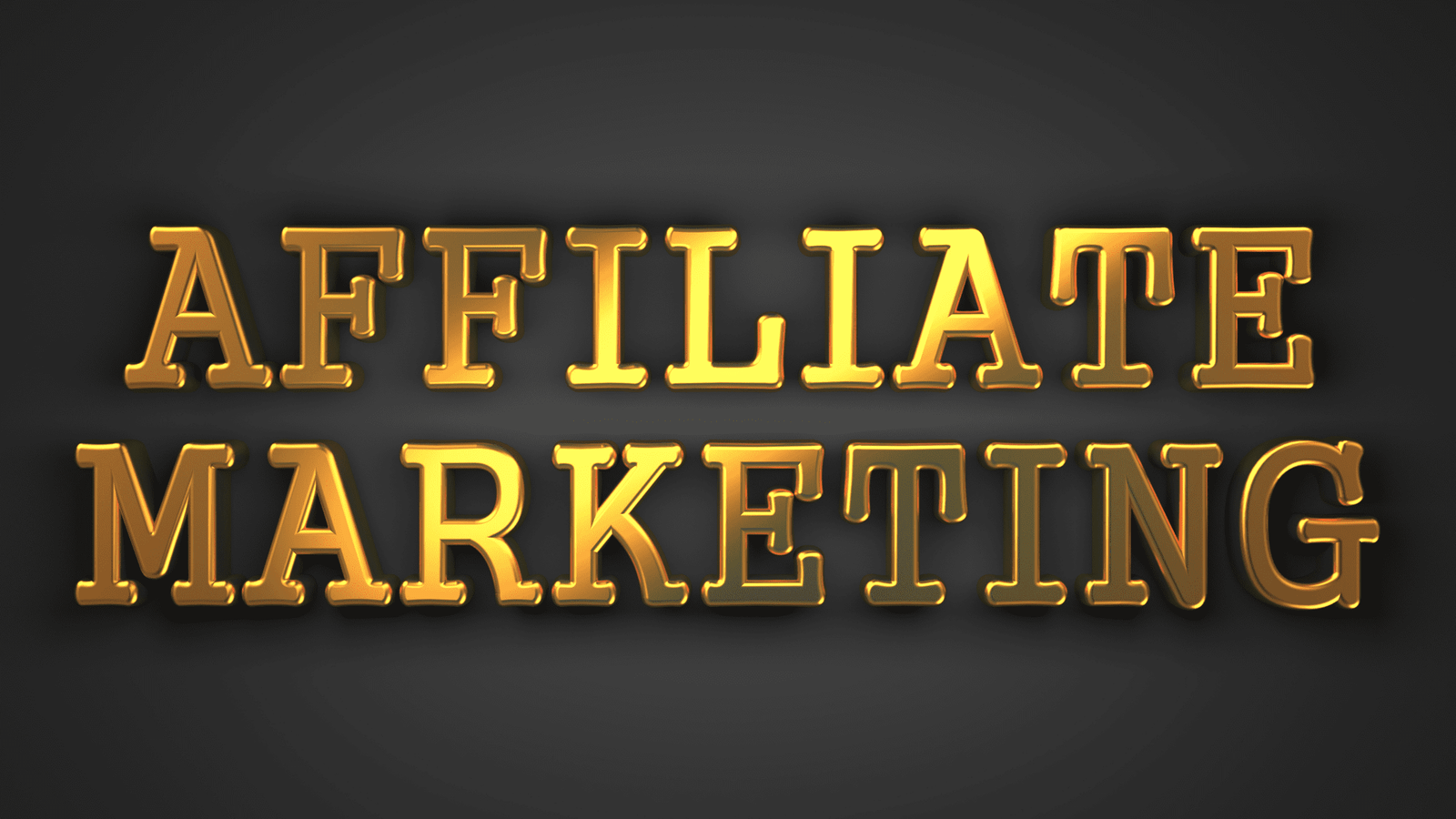 Many e-commerce stores have failed to progress to the next level because they do not know what steps to take. But some have found success in affiliate marketing hence the need to read this guide to the last bit.
It can be quite very much confusing and frustrating to see your colleagues growing in their online businesses, and you're just there, imagining your growth. Or, in worst cases, not even aware of your stagnancy. 
Suppose you're one of the people experiencing this block, or you're just about to start your own online Shopify store. In that case, affiliate marketing is a significant advantage that you should consider making utmost use of. 
The next numbered paragraphs will guide you on increasing sales in your Shopify store by using affiliate marketing and providing actionable steps that'll get you started on your online shopping store if you're just about to begin your journey.
Suppose you've worked or had related working experience in the eCommerce industry for a while. 
In that case, you're already familiar with the word "affiliate marketing," but many people aren't sure what it means or how it functions. 
Affiliate marketing is practically a performance-based marketing model in its most basic and most straightforward form in which affiliate partners are compensated for driving the desired action. 
Site visits, lead form completion, and/or converted purchases are examples of these acts. 
This form of promotion can be a highly effective and low-risk method of promoting the goods.
What is affiliate marketing?
Affiliate marketing is a business system that allows and encourages your customers and advocates to recommend your services to people while getting a reward for them.
The reward usually comes as a fixed dollar amount or getting a percent of the total sale, but sometimes it could be a discount when purchasing certain products.
Whether you are new to Shopify or a seasoned pro for reaching out to potential customers, the Affiliate Marketing strategy is a promising method that can help you earn more sales and increase revenue in no time. 
Secomap affiliate marketing app has been released to assist you in building your affiliate campaign for FREE while gaining more customers through a win-win relationship with your referral partners.
What are the benefits of affiliate Marketing To Shopify store owners?
If you're a Shopify store owner or you're about to be one, the following are the benefits that you will enjoy when using affiliate marketing. 
Affiliate marketing is a marketing strategy that benefits many businesses, including small and medium-sized enterprises. 
This type of marketing is based on a performance-based payment model, which appeals to small businesses because of its flexibility and low cost. 
eCommerce, subscription-based, and even local businesses are examples of business types that do well with affiliate programs.
Here are some specific benefit of implementing a full-scale affiliate marketing program:
Affiliate marketing is based on performance.
The primary benefit of having an affiliate marketing program In your Shopify store is that it is entirely based on performance. 
Affiliate marketing is more likely to accelerate the store growth you're looking for because they're just paying a fee after the desired action has occurred. 
It eliminates any traffic-generating activities of minor to no use to your Shopify store.
Affiliate marketing can rapidly scale your sales and Store traffic.
Attracting and retaining affiliates to your project will help you scale traffic faster in conjunction with your other marketing efforts. 
The more websites that link to your pages, the more chances you'll have of turning visitors into paying customers. 
The more mentioned by influencers on their social media pages, the bigger your brand grows.
Furthermore, while affiliate links will not directly impact your search engine rankings, they will have a 'halo effect,' meaning that more people will search for your products and navigate your pages, which is good for your rankings. 
You can almost always expect a boost in direct organic traffic in addition to a higher level of referral traffic.
Affiliate marketing can help boost your brand reputation.
You can improve the importance of your brand and its products by collaborating with reputable bloggers, influencers, and websites. 
These partners will promote your products and increase consumer trust in your product or service. 
Consumers are more likely to trust a third-opinion party than content produced directly from the site selling the product.
Consumers have a certain amount of faith in the websites or influencers they use for product recommendations.
Affiliate marketing helps broaden your audience.
Affiliate marketing can be found in almost any market or product category today. 
There will always be relevant websites or an influencer to align with, whether you're looking to break into the retail industry or something more niche like handcrafted vintage toys. 
The good news is that many of these affiliates will already have a large audience. 
These collaborations allow you to branch out into new markets that you might not have had the resources to explore otherwise or saturate your existing target markets further, giving your brand a much more robust online presence. 
Consider these companies as an extension of your current marketing or sales team.
Affiliate marketing is cost-effective.
Affiliate marketing can be extremely cost-effective for many of the reasons listed above. 
You're not wasting dollars on Advertisement placements with no proven value if you only pay commissions when the desired conversion occurs. 
Furthermore, recruiting affiliates in new markets is a simple way to enter that market without incurring the costs of launching a full-fledged marketing campaign, obviating the need to invest money in an unproven market for testing.
Is Affiliate Marketing Right for Shopify Ecommerce Business?
SEO takes a lot of effort, time, energy, and money, unlike the Secomapp affiliate marketing app. To get to top rankings in SEO, you'll need to get a website, renew your domain annually with money, constantly update your website with related and authentic contents, make utmost use of keywords, and take many more actions.
Read Also: Shopify SEO (2021): Increasing Your Store Ranking
Secomapp affiliate marketing, on the other hand, eases your burden by allowing the promotions to be done by primary affiliates. 
They'll create convincing contents that'll convince their networks for you to get whatever form of reward you've both agreed on. Yours is to make products available; theirs is to advertise the products for you.
Affiliate Marketing Vs. Paid Ads
Pay advertisements and affiliate marketing are two of the most frequently discussed forms of Internet advertising. They can be found almost anywhere online, from get-rich-quick websites to discussion forums and more.
Affiliate marketing is the process of earning money by promoting other companies products. 
You find a fantastic product you like or are probably interested in, enable it to others, and profit from each sale with a percentage of the profit.
Paid advertising is a type of marketing communication in which a product, service, or idea is promoted or sold using an openly sponsored, non-personal message. Advertisement sponsors are typically businesses that want to promote their products or services.
Like SEO, it requires a lot of time, effort, money, and adequate monitoring.
It takes a skillful person to set up an effective campaign.
Numbers of click-throughs don't usually lead to sales.
Because of the benefits mentioned above, affiliate marketing can assist businesses of all sizes to achieve specific business objectives, such as increasing leads and improving brand reputation.
The familiar proverb says that many were called, but few were chosen. 
Affiliate marketing isn't recommendable to all businesses, primarily if your store only generates a small number of profits. 
Remember you have to pay your affiliates when the referred buyers make purchases.    
Instead, it is highly suggested that you research companies dealing in the same industry as you and see if they've been able to attain progress ever since they started their affiliate programs on their specific stores. 
This way, you're sure that it'll work for your eCommerce business too.
How does the Affiliate Program work with A Shopify store?
Entrepreneurs, educators, influencers, content creators, and others who send referrals to your Shopify store are part of your Affiliate team. 
Usually, you will have an affiliate program sign-up page that is unrestricted. 
In some cases, the affiliate application goes through a verification channel, so vetting is a must for your affiliates.
It all depends on how you want your affiliates to work.
Your Shopify store will give each affiliate a personal unique referral link to share with their relevant audience once they've been approved. 
Each time someone clicks and eventually places an order through their link, they get paid based on your affiliate program's commission percentage or amount set. 
After a payment threshold has been reached, the affiliate is either paid monthly or biweekly or anyhow you wish, depending on your affiliate program payment policy set at sign up.
The commission is therefore sent to the payment method in file. You can have as many payment methods as you wish in your affiliate program for your Shopify store.
The affiliate will decide how to promote your products; in most cases, if the store owner reached out to them, they may determine what method to use to promote the product. 
But random sign-ups can decide on what where suits them most in promoting their links.
If you decide to use influencers, they may have your product link in their bios, swipe up links in stories, or permanent post on their social media feeds.
A blogger may insert the promo links in blog posts or create unique banners for sidebar or leaderboard promotion on their website homepage.
Which is the best Shopify affiliate Marketing App Store owner should install?
The best Shopify affiliate marketing app that provides the best services is the Secomapp Shopify Affiliate Marketing app.
Secomapp Shopify Affiliate Marketing app is a simple tool for Shopify merchants who want to expand their affiliate campaigns.

Many tools are included in the app to assist you in creating a professional campaign and quickly approaching potential affiliates. 

The most exciting part about using the Secomapp affiliate marketing app is that you can track your affiliates' referrals using various tracking methods and have complete control over the referral orders that your members bring in.
Why Secomapp Shopify affiliate marketing app?
Because of their extensive experience developing apps for Shopify, Secomapp's apps are proudly trusted by many merchants. The customer service team is available seven days a week, 24 hours a day.
You will be given a list of email templates based on affiliate triggers, and you will be able to control the active status of each email and edit your content.
Secomapp's affiliate tracking system is well-designed to ensure that your affiliate system runs smoothly and accurately. Any affiliate who registers will be given a referral link to use to promote your store. 
Any order placed through that link will be tracked automatically. If you discover any suspicious activity, you can control these orders by either approving or denying them.
Affiliate marketing is an excellent model for small and medium-sized businesses because it allows them to advertise without incurring any upfront costs. You can quickly build and practically manage your ambassador team with Affiliate by Secomapp to increase traffic, revenue, and customer retention.
With the help of a Quickstart guideline and a Setup checklist, the initial setup could be completed in minutes.
Users can create a variety of programs with various types of commissions. Once an affiliate has signed up, you can assign them to the appropriate commission type.
What makes Secomapp Affiliate Marketing app A must-have for Shopify store owners?
Secomapp affiliate marketing app Team has been around for more than five years. 
It has a solid reputation in building various Shopify apps that have gained high ranks and impressive ratings. 
They offer high-skilled technical support and are fast at handling requests with effective responses.
Secomapp affiliate marketing app was created in 2019, and so far, it has been able to gather impressive feedback. 
The app helps you to build a sustainable affiliate network, earn customer loyalty and increase sales.
 More characteristics of this app are:
1. Secomapp has a real-time and accurate tracking system
2. Secomapp provides automatic options to save time.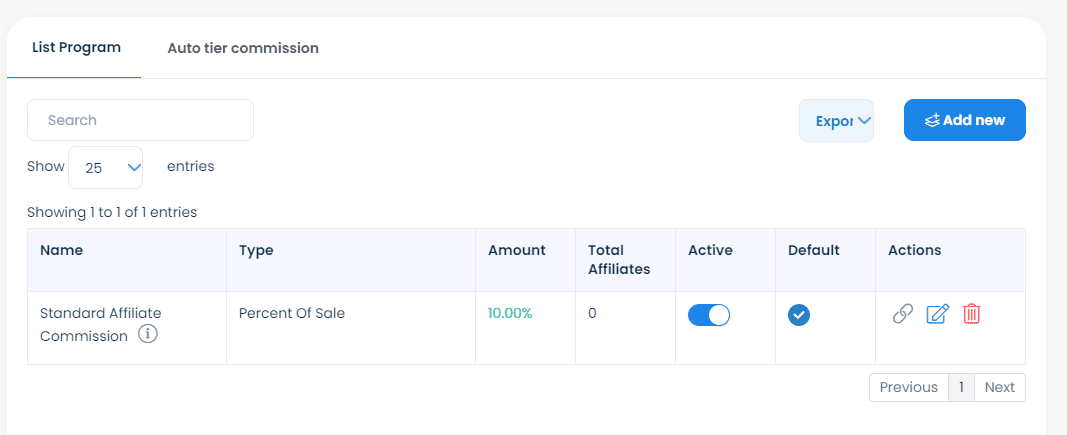 3. Secomapp enables easy migration from other affiliate platforms.
Pros and Cons of Secomappp
Pros:
Easy to set up
Multiple pricing options to suit your need
No coding required
Free plan available
Access to their affiliate marketplace to reach even more potential affiliates
Multiple programs and affiliate tiers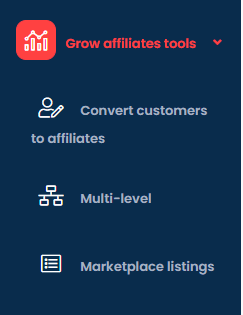 Cons:
The Secomapp tracks unlimited referrals, but the free plan only limits the merchant's number of times to review (approve/deny) the orders.
What does Secomapp affiliate marketing app offer
Communicate with affiliates:
In-app Chat with affiliates
Automated emails with customizable templates
Send bulk email
Build your ambassador/affiliate team
All plans include an unlimited number of affiliates.
Automate the conversion of customers into affiliates.
To approach more ambassadors, list your offer on Secomapp Marketplace.
Allow affiliates to invite others through multi-level marketing (MLM)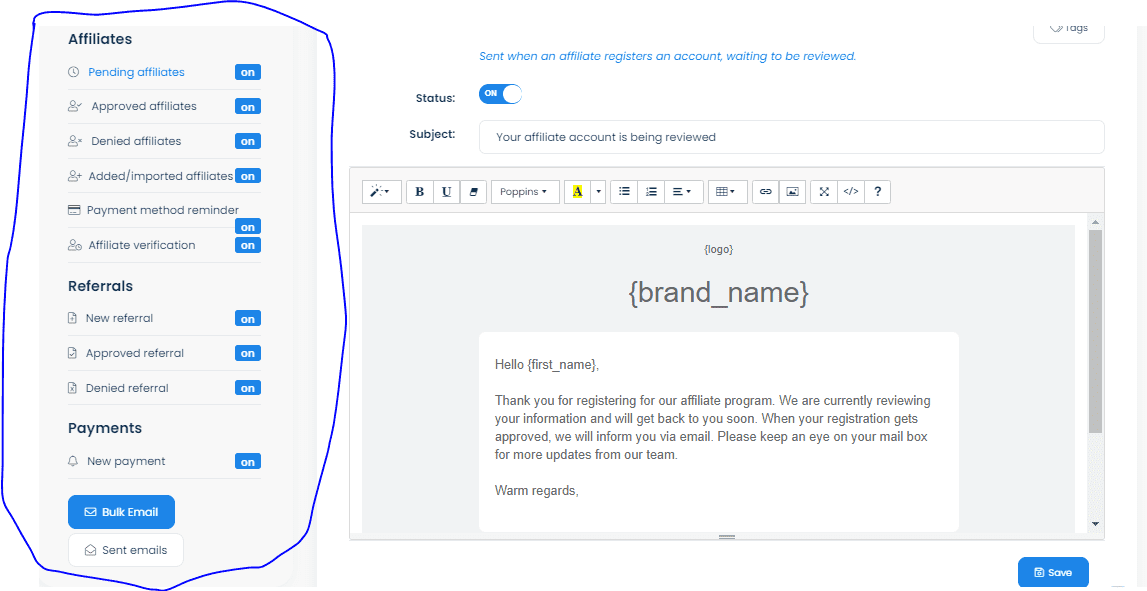 Build multiple commission offers
Affiliate/influencer will be grouped in the program(s) with a specific commission structure
Setup Auto-tier commission to incentivize your team
Product commission
Fully customize the affiliate registration form
Control referral order:
Referral orders can be reviewed (approved/denied) by the merchant.
Add a referral manually
Orders that have been refunded can also be tracked with great precision.
Avoid self-referrals.
Analytics and reporting
With in-app analytics, you can easily track referral traffic and sales.
A personal portal for affiliates to monitor their performances.
Easy payout
Pay your affiliates AUTOMATICALLY via PayPal integration
Pay store coupon using Store Credit
Or pay manually through other payment options
Allow exporting invoice for paid referrals
Creatives upload:
Provide media assets to assist brand ambassadors in effectively promoting your store.

Track affiliate performance through:
Affiliate hyperlink (an automatic discount for a visitor using an affiliate link is available)
A discount (manually or automatically create)
Emails from customers
SKU (stock keeping unit)
Commission for life

Other advanced options:
Accounts can be translated into English, Spanish, Chinese, German, French, Portuguese, Italian, and Arabic.
Create accounts for employees with full or limited access.
API, Facebook pixel, and postback URL
Sync affiliate contacts with your Shopify customer list.
How Secomapp Shopify affiliate app works?
Step 1: Set up and how to share
Secomapp affiliate marketing app provides a default Affiliate Program with an Affiliate registration form.

Shopify store owner would:
Edit (or not) the program, customize the affiliate registration form, and set up other details for the program (email templates, payment setup, other settings)
Share the Affiliate registration form to invite affiliates to join the affiliate program
Step 2: how to register affiliates
Affiliate registers to join an affiliate program.
The app notifies the merchant of a new affiliate and sends a notification email to the affiliate.
Merchant reviews (approves/deny) the affiliate application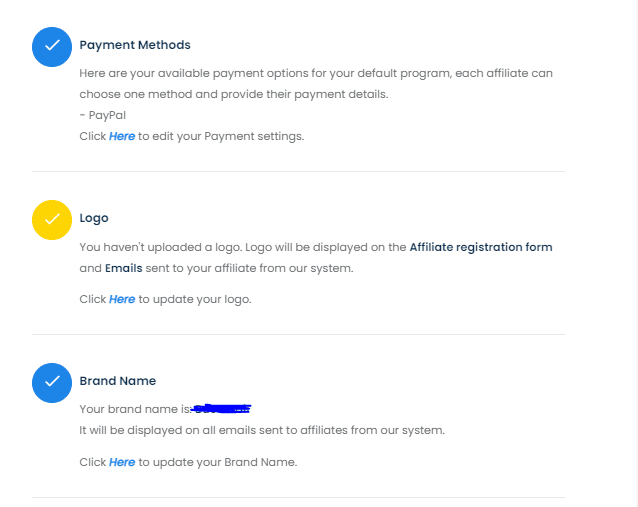 Step 3: Affiliate promote
Shopify store owner:
Shares shop's media assets on Creatives
Assigns affiliate a Coupon code
App:
Secomapp affiliate marketing app Creates an affiliate link for the affiliate automatically.
Ensures that the affiliate has easy access to the affiliate link, coupon code, and other shared media in the affiliate account.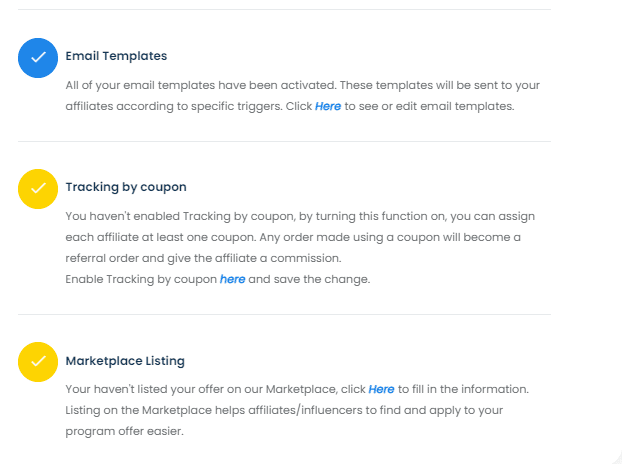 Affiliate:
Obtains and employs an affiliate link, a coupon code, and other promotional materials to promote the merchant's Shopify store.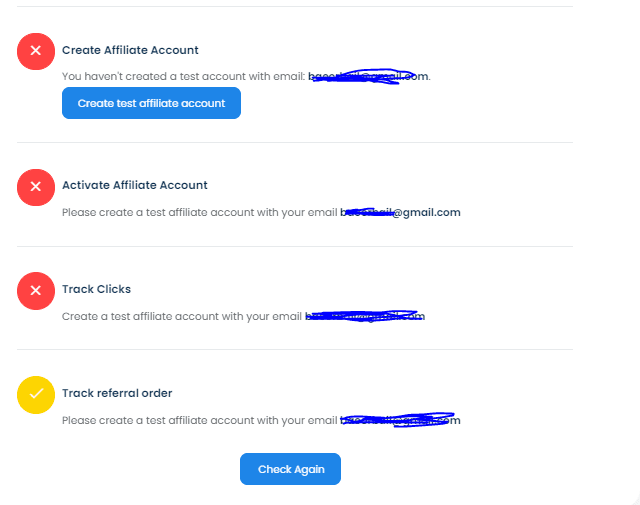 Step 4: how to affiliate earn
Customer places an order via an affiliate link or coupon code
The app records the referral order when the order is paid and notifies merchant + affiliate about the new referral order
Merchant reviews (approve/deny) referral order
Step 5: Payment
The app calculates commission, guides Shopify store owner to pay the affiliate.
Shopify store owner pays the affiliate manually.
The affiliate gets the commission.
How do Shopify Store owners Pay affiliates with Secomapp?
You will review affiliates who sign up to become active partners. When they are accepted, they will be asked to enter their PayPal email address, which will send their commissions. 
If you use a different payment method, contact your partner via email or request that they contact you for a discussion.
Payment will be sent manually by the merchant; once payment has been sent to affiliates, click Send Payment in the Payment section, and the payment status will be updated in your affiliates' dashboard.
The payment will be made in bulk. You can work out a payment schedule of your choice with your referral or notify in the Affiliate Guide under Settings.
How to Find Affiliates For Your Shopify Store?
So, you've set up your affiliate program, and now it's time to find affiliates to help you grow your business.
Industry-related communities
Go to forums or communities where people discuss the products or search for an answer to a product query (solution you may have). 
After asking them what your product can do for them, you can find affiliates there. 
Also, look at affiliate marketing forums and groups. You will advertise and support your affiliate program there and interact with current and future partners.
Run Paid Online ads 
Another strategy for attracting new affiliates is to publicize the program and its benefits. 
To promote the service, you can use Facebook, Twitter, or even Google Ads. 
It works well if you have a strong product funnel, pay high commissions, and have a diverse product offering for your niche.
Read Also: Discover 25 Alternatives To Running Paid Ads That Boost Traffic By 438%
Word-of-mouth
People like to chat, so if you take good care of your affiliates and have a quality product, super-affiliates will notice you and spread the word about you. 
Furthermore, as they begin promoting your Shopify products or store, other people in their circle will note and participate as well.
Bloggers/Influencers outreach
Invite influencers and niche bloggers to write product reviews for your store. 
Google your primary keywords and see whether any bloggers or influencers pages promote similar products that appear in Google Search results. 
Don't just pitch your affiliate program; instead, try to establish a long-term partnership. 
Allow them to try your products for free first, then add them to your affiliate program and allow them to write in-depth reviews.
Assume your niche has been survival. Some high-traffic keywords for you will be "camping tents reviews" and "best camping stoves." 
After you've searched for these keywords in Google, look for websites that appear on the first page of results but don't sell their survival gears.
These sites are more likely to participate in an affiliate program, and they most likely already do. 
Contact each of them individually and pitch your affiliate program to them. 
It should be noted that such niche websites may charge a higher commission.
Existing customers
People who have purchased from you can be your best affiliates, so don't overlook email marketing. 
Send out an email series to your customers, encouraging them to earn money by referring your products to their friends and family. 
Referral marketing is an excellent way to gain new customers.
Email signature
Include a brief description with a link in your signature and inform your email list that you have an affiliate program for your Shopify store that they can join and earn a commission.
Conferences
Participate in specialized exhibitions and affiliate conferences to meet potential affiliates. 
Throughout the year, affiliate conferences are held in various locations around the world. 
Affiliates attend these conferences to share their experiences and news in a specific industry, learn about new tools and promotion technologies, and find new partners. 
Don't pass up this opportunity. You can also meet people who can offer your products to their audience, whether you are a speaker or an attendee.
Publications in print
You can find affiliates by advertising your product in professional print media in your industry. 
This method is quite ideal for those whose business caters to a specific demographic. 
Consider the following scenario: you sell flat wall paint. You can easily reach construction workers by advertising in professional magazines. 
They can sell your products to your target audience and earn a commission on each sale.
Social media marketing
You can find potential affiliates by joining niche-related social media groups. 
Take the time and patience to get to know them and demonstrate your knowledge. 
Inform them about your affiliate program when it is appropriate.
The more enthusiastic you are about the affiliate marketing program, the more likely they will want to participate to earn money. 
If we're talking about Facebook groups, don't be afraid to reach out to page administrators.
Affiliate networks
Secomapp affiliate marketing app has a marketplace where potential affiliates can find their suitable offers and joined the Shopify store of their choice. 
You can check out Secomapp marketplace, which works towards helping affiliates connect with the right Shopify store.
Also, listing your Shopify products in affiliate networks like Shareasale, Clickbank, or JvZoo is another excellent way to find affiliates. 
Affiliate marketers who are searching for a product to promote will frequently go there to look for one. 
Make sure that you provide an excellent program as well as a lucrative affiliate commission. 
Include tools to help with promotion. These could be articles, graphics, banners, and so on.
Key Takeaway 
Secomapp affiliate marketing app enables you to start an affiliate program without incurring any additional costs at the outset. It is one of the few key options that offer a completely free service that allows for unlimited affiliates and 200 orders per month.
Secomapp is an app that offers merchants affiliate marketing solutions. 
With Secomapp's Affiliate marketing app solutions, you can create a professional affiliate campaign in minutes and easily join and expand an affiliate network.
The affiliate monitoring mechanism is well-designed, ensuring that your affiliate system runs efficiently and accurately. Secomapp is a great choice for store owners/merchants who want to increase their traffic quickly with affiliate programs, with a rating of 4.8 on the Shopify App Store and over 1000+ reviews.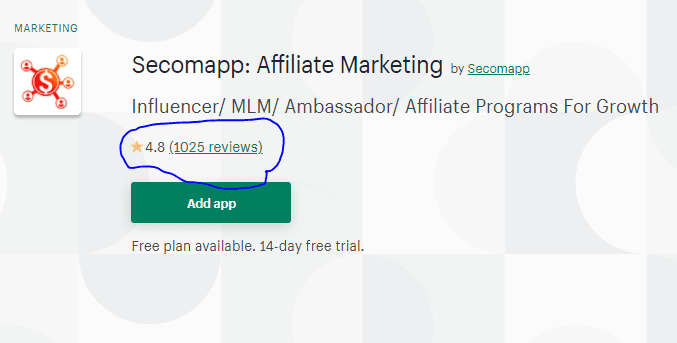 Paying for the app should be no problem once you've passed the point. One of the reasons many store owners consider this the best Shopify affiliate app for those who want to take advantage of affiliate marketing but may have a small marketing and advertisement budget in the beginning, is the free plan.
Secomapp affiliate marketing app offers various commission structures from which you can choose one that best suits your business.
Flat percentage rates, product-specific payouts, and multi-tier commissions are all options. It enables you to reward the affiliates who generate the most revenue.
Setting tiers motivates them to work harder, making more revenue for your Shopify store to be promoted to the next commission stage. In addition to conventional affiliate tracking links, you can assign coupon codes to affiliates and track commissions this way.
Secomapp also has a marketplace where affiliates and merchants can connect. With over 35,000 merchants tapping into their network of over 400,000 affiliates signed up, it's a perfect way to recruit affiliates to support your e-commerce shop.
Summary
While having a diverse Affiliate marketing mix is always a good idea, we believe Affiliate Marketing for Shopify store should play a significant role in that effort. 
Friends, professionals, family, or your clients can all be affiliates.
There are various ways to promote your referral campaign; this word-of-mouth marketing strategy could be a powerful tool for reaching a more comprehensive customer range through multiple connections.
While many apps claims perform similar functions, it's critical to make the most of your monthly fees.
 As a result, we suggest that you try out the Secomapp affiliate marketing app.
Comment below if you have any questions in regards to affiliate marketing for a Shopify store. I will be more than glad to answer your queries.