The Best 15+ PayPal Alternatives With No Holds
This write-up on The Best 17 PayPal Alternatives premises on the analysis of all top payment processors.
PayPal was once among the towering disruption in the technology front. At the time, PayPal alternatives drew little interest.
On top of letting you swiftly send and receive money from loved ones, compared with other payment options, PayPal prioritized safety.
PayPal was good riddance since both sellers and buyers on eBay platform were growing increasingly wary spurred by fraudulent cases.
PayPal also boasts of a sound interface, eCommerce, payment processing, invoicing, and reporting tools which allows you to pay for services and products quickly.
And because people are used to PayPal, the payment processor remains popular.
Here, we'll focus on the PayPal alternatives offering responsive customer service, lower rates, and robust interface and the PayPal alternatives this piece has trained its eyes on include;
WePay
Google Pay
Klarna
Authorize.Net
Amazon Pay
TransferWise
Shopify Payment
Skrill
Payoneer
Braintree
Dwolla
2Checkout
Stripe
Square
WorldPay
QuickBooks Payments
Payline
PayPal Alternatives: Wepay
Wepay is a card processing solution mainly supporting online payments though it's yet to master a complimentary in-store processing framework. The processor right from launch set to go head-to-head with PayPal.
Though Wepay is yet to develop a solid brick & mortar framework, that shot in the arm doesn't limit its online functionalities.
You can quickly set up Wepay and leverage its sound functionalities in facilitating typical eCommerce transactions.
PayPal just so happens to trail Wepay as regards online crowdfunding. Wepay has optimized its API & features specifically befitting online crowdfunding transactions.
The payment processor works just fine with several other third-party services except that it can't accept payments from PayPal.
Wepay won't bill you on anything else save for a 1%+$0.30 ACH payments processing, and a fee of 2.9%+$0.30 for every single card transaction.
Pros
No monthly charges in using Wepay
You get to set up your account quickly
Cut-out for crowdfunding
Offers flexible API
Provides affordable ACH payments processing
Wepay supports a wide array of online payment options
Cons
Doesn't accept payments from PayPal
Provides no in-store card processing
PayPal boasts of more robust eCommerce features than those of Wepay
Google Pay
If you're looking for a place to store and use credit and debit cards, I mean Google wallet is just perfect. Spending money online becomes comfortable with Google Pay.
And since you get to add cards on your phone, you can spend at physical locations.
Pros
Offers tight-lid security
Sending and receiving payments takes a moment
Google Business lets you accept Google Pay from clients both online as well as in-person
There are zero fees, and your clients won't get surcharged
Google Pay features smartphone payments possible both online and in-person
Cons
Security still feels a bit unaccommodating
Currently only available on iPhones and some Android phones
Klarna
Klarna is one payment processor involves at great depth with your eCommerce fulfilment order process.
Klarna bore the bulk of risks as Klarna AI system swiftly assess an individual's potential risk based on details, transaction history, and time of purchase.
Afterwards, Klarna approves or denies the purchase within seconds then fulfilment order ensues, allowing the client to shop conveniently. Finally, the customer gets 14-days to clear the payment.
Unlike PayPal's inconvenience of registration, load up your account before you can finally transact, with Klarna, no need to signup with service to directly link with banking. Instead, proceed with the usual online banking details, authentication and payment transfers to merchants asap.
Pros
Klarna pay merchants upon checkout
Customers can make instalment payments for their orders
Customers complete payment of purchased products upon delivery
Offers convenient checkout process.'
In case products get returned, clients don't have to pay
Cons
Customer refunds could take a bit of time
Klarna's customer support response is yet to hit the ace status
Without any valid reason, purchases can get rescinded
Authorize.Net
Authorize.Net is yet another popular system with eCommerce stores as it offers a user-friendly interface, quality customer service, and reasonable rates.
You don't get to send and receive payments from friends & family with Authorize.Net, but it's a quality PayPal alternative for those looking to accept payments and tap into the widely used gateway across the globe.
Pros
You can sync with QuickBooks
Your account comes with a free mobile app and swiper
Zero setup fees for gateway payments and merchant account
With more than a staggering 400,000 merchants, Authorize.Net must be ticking the right boxes
Authorize.Net punches way above the competition as regard security and reliability
Offers the best free 24/7 support in the industry
Cons
$25 apply on chargebacks
In contrast to PayPal, you don't get personal finance & sending functionalities
Global sales attract a 1.5% assessment for international transactions
$25 monthly gateway fees
PayPal Alternatives: Amazon Pay
Amazon Pay ranks high up the list as regard checkout from your online store, and just like PayPal, Amazon Payments speeds up the entire process.
The processor compares to a Facebook login, in which the user info gets stored; thus, a login or checkout-with Amazon Pay happens much faster than with a regular shopping cart and checkout.
Pros
Owing to Amazon's popularity, clients have it easy in making payments
Amazon accounts offer an easy signup process with a user-friendly interface
Transaction fees liken those of PayPal
Amazon boasts of very advanced security contrasting its competition
Cons
Integration with your online store could take a bit of programming know-how
You'd incur arbitrary fees such as cross-border & domestic processing fees
PayPal Alternatives: TransferWise
For international transfers, TransferWise is a bargain alternative to PayPal. TransferWise has introduced a multi-currency cross-border account lets online businesses, freelancers, and consumers send, receive and spend money across at reasonable fees.
TransferWise imposes a one-off upfront fee; no hidden charges. To move the money around, we'll assume, for instance, you reside in the UK and need to send money to a friend in Norway.
Once you make payment and the money deposit into the TransferWise's UK bank account, using a real-time exchange rate, TransferWise pays your friend from TransferWise Norwegian bank account.
As such, money never crosses the border, thus, making transfer swift and help keep prices low.
Pros
Transparent pricing
TransferWise business lets you invoice customers in their currency of choice
With 4 million customers worldwide, TransferWise counts among the most accepted and inexpensive tools for international transfers
And because money never crosses the border, you keep rates low, and the transfer is fast
The introduced cross border accounts let you hold and transfer between 40+ currencies
Cons
You won't get extra features like recurring billing
Unless it's a bank transfer, you can't send nor receive money
The borderless account only allows you to receive cash from GBP, AUD, EUR, and the US
PayPal Alternatives: Shopify Payments
Shopify Payments come as default inbuilt payment processing system on the Shopify platform, and as such, you won't have to worry about incorporating external payment option. Right from Shopify's central dashboard, you can conveniently manage your transaction processing system.
Read also : International Seller's Guide To Shopify Payments
Besides enabling online payment, Shopify Payments provides POS hardware to facilitate well-synched in-store payments.
Whereas using PayPal on Shopify costs anywhere between 0.5% to 2% transactions fees above the card processing charges, Shopify Payments features zero transaction rates.
The accompanying benefits let you only part with the card processing fees, whose rates are dependent on the specific Shopify plan. Currently, with the Shopify Payments alternative you'll pay between 2.4%+$0.30 on the lower side and 2.9%+$0.30 on the highest.
PayPal scheduled payouts take 5-7 business days while Shopify Payments schedule payouts for every three (3) business days.
Pros
It works to offer smooth payment processing management experience on
Shopify
Shopify Payments integrates with multiple platforms & solutions even third-party processors
It qualifies you for zero transaction fees on Shopify
It works just fine with several accounting apps thus enabling accounting & reporting
Cons
Shopify Payments deducts $15 for each chargeback
Shopify Payments operates in a handful of countries
Without notice, your account could be frozen and put under investigation
PayPal Alternatives: Skrill
On the surface, Skrill appears similar to PayPal at first given the matching rates and fees. However, the simple interface and the prepaid debit card sets Skrill apart.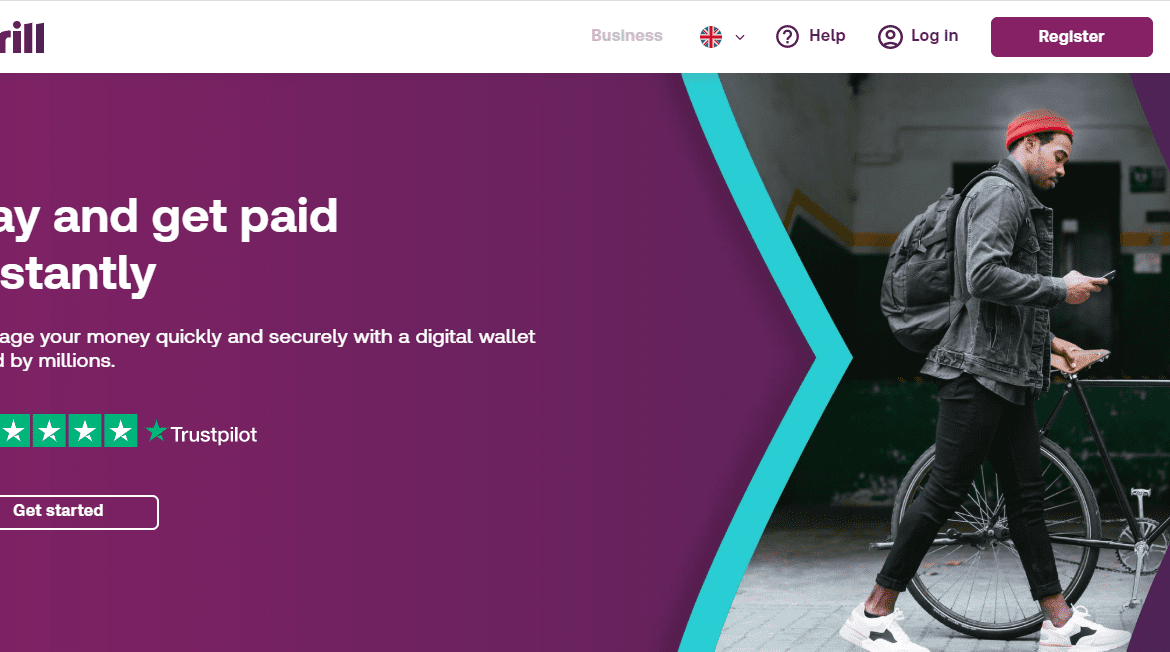 And because money gets sent and transferred asap to the debit card, Skrill makes international payments far easier. The debit card allows you to use your Skrill account from a brick & mortar store as well as use the ATM services.
Pros
You can use Skrill account from anywhere across the globe
Account setup counts among the easiest in the industry
You'll just need an email address to make & accept payments
Spending at Skrill merchants, uploading & receiving funds costs close to nothing
Skrill offers tight security
Skrill has put up a fully-fledged system catering for gambling and gaming options
Cons
Going by reports, Skrill customer service does not enjoy glowing tribute
A cost of 1% of the amounts sent applies to money sent to an email address, or another Skrill wallet; the charges cap at $10You might find your account frozen owing to the company's strict fraud prevention tools although the same happens with PayPal
PayPal Alternatives: Payoneer
As is the case with Skrill, Payoneer also offers you both an online account and a debit card. Sending and accepting takes just only one step, thus making shopping online a smooth experience.
Payoneer has tentacles reaching the global payments market with functionalities that lets you get paid & send payments from customers & marketplaces
The debit card allows you to use your Payoneer account from a brick & mortar store as well as utilize the ATM services.
Pros
It won't take long to set up an account
Payoneer is available worldwide
Through the ATM or your bank account, you quickly access funds
Transacting on the system requires no programming know-how, and you can soon get your money
Payoneer possesses tools & integrations freelancers finds useful for accepting money from customers, especially international payments
Payoneer has a simple monthly billing and payments between Payoneer accounts costs nothing
Cons
Expect to pay high fees on the ATM
With Payoneer, you won't find any gateway
Payoneer's customer service gets no such glowing acknowledgements from users
Accepting credit cards attract high fees
With Payoneer, you'll have to pay to transfer to a bank account contrary to PayPal's free bank transfer
PayPal Alternatives: Braintree
Disclaimer: PayPal owns Braintree; however, that has not deterred them from independently taking competition to PayPal.
Just like Google Pay, Braintree stores your credit cards, and along with offering recurring billing and a payment gateway Much as Braintree packs personal finance functionality, it works just fine for merchants.
Pros
Provides unique marketplace payments system
Simple, straightforward pricing
Offers more advanced features than PayPal
Allows both online and mobile payments
Has solid customer support
Braintree accepts all kinds of payment methods like Venmo, PayPal and cards
Store credit cards & collects recurring billing
Cons
You require a separate account for system to function
You'll need some programming know-how to have Braintree on your website
Besides the transaction fees, you have a listing of other expenses to consider
PayPal Alternatives: Dwallo
Although Dwallo flies under the radar, it compares to PayPal and therefore worth a look into. Other than letting you send and accept funds from individuals and companies, Dwallo is big on ACH bank transfers, as such, it's your best bet for both sending and receiving lots of bank transfers.
Dwallo isn't a card processing solution, quite a departure from what PayPal offers. Instead, it allows money transfer by directly linking with your bank account.
The thing with quashing the cards is that it helps keep the transaction costs low. In principle, Dwallo has set out to help everyone with internet-enabled device send money at the lowest possible price.
In executing the low-pricing objective, processing funds under $10 incurs zero, and each transaction above $10 incurs a fixed rate of $0.25.
Dwallo's pricing model makes PayPal's 2.9+$0.30 seem inflated more so when dealing in a large volume of transactions. For instance, an entrepreneur handling ten transactions worth $100 each with Dwolla, you incur $2.5 whereas for the same, deducts $32.
Pros
Transaction fees cost only $0.25
Offers instant cash transfer
Offers next day transfer at a flat fee
Provides easy to use robust branding tools
Senders pay transaction fees if needed
Makes bank transfer easy
If in a marketplace, automation of mass payouts is possible
Cons
Dwolla's monthly fee is quite inflated
Those outside the US can't have a Dwolla account
Both sender and receiver must have Dwolla account for payments to go through
PayPal Alternatives: 2Checkout
In this review, 2Checkut ranks up there primarily because it accepts payment from across the globe. As alluded to already, PayPal still limits to countries from which you can accept payments while 2Checkout set to change that.
2Checkout fees in the US corresponds to PayPal's price. However, there are countries with better rates when accepting payments from customers. For the payment pricing, calculate to determine the most affordable between the two, 2Checkout or PayPal?
2Checkout undeniably cuts as among the best alternative to PayPal more so in the international payment front. Regardless of where you base, fuss not.
Pros
You can accept significant payments from PayPal, debit, credit cards (Maestro, MasterCard, Visa)
You won't incur monthly or setup fees
Setup recurring billing for your clients
You get to choose from eight payment types, 15 languages, and 87 currencies
You can link merchant account with payment gateway
Lets you integrate with sandbox, API, & more than 100 online carts
You get the privilege of fraud protection that encompasses more than 300 security rules for every single transaction
Offers access to several branded, localized, and mobile-friendly checkout options
Cons
Currency conversion draws an average of 2-5% on top of the daily bank exchange rate
Payments from clients outside the US attracts a 1% fee
$20 applies to your account for all chargebacks
PayPal Alternatives: Stripe
You'd or may have noticed some eCommerce platforms indicate Stripe as the preferred payments processor possibly because it's the most prominent of all the PayPal alternatives.
For a long time now Squarespace, for instance, has worked with Stripe. And currently, Shopify administers its Shopify Payments system via Stripe.
Stripe cuts the image of an extremely streamlined alternative no wonder its popularity with so many eCommerce platforms. Stripe handles all aspects right from collecting to sending payments to the bank-including Bitcoin transactions & ACH payments.
More or less, Stripe's transaction fees alike those of PayPal
Pros
Pay is only for what you use
Stripe supports both Android & Apple Pay
Accepts money from people & companies from across the globe
Stripe automatically deposits transaction funds into a bank account
You won't incur setup, monthly, or hidden fees thanks to the transparent pricing model
Allows for mobile payments
Allows for real-time reporting
Cons
The interface may call for some programming know-how
It's only Australia, Canada, the UK the US, and several European countries that offer merchant accounts
To access your funds often you'll need to wait a couple of days after the transaction
An additional 1% transaction fee applies to international cards
PayPal Alternatives: Square
In comparing PayPal with other solutions, Square counts among the leading alternatives to pop up.
It's open secret PayPal dwarf Square popularity-wise because it's only merchants basing in Canada, Japan, the US, and the UK who accept credit card payments with Square.
Square isn't your ordinary payment processor as it freely provides an online store, domain, virtual terminal features, invoicing, card info storage vault plus shopping cart integration.
Both POS & mPOS integrations are some of the free supplementary provisions which help with card processing.
Over the years, Square has undoubtedly done well for itself. Offering extensive features that appeal to small businesses, Square has wound up expanding its user base.
Add-ons solutions like payroll, employee management and appointment booking allow you to extend the whole of Square platform,
For transaction fees, Square has retained the industry's standard rates also available with other payment processors. Online and invoiced payments, for instance, sets you back by 2.9%+$0.30 whereas an in-store card processing charge 2.75%.
As a payment processing option, Square offers a remarkable value.
Pros
Square is an extensive all-in-one payment processor
It offers a free domain and online store
No monthly fees
Best suiting low-volume merchants
The extra add-ons provide room for business growth
Cons
The solution is only available in Australia, UK, Canada, Japan and the US
The not best gateway to high-risk merchants
As a third-party payment aggregator, Square accounts pose unreliability
PayPal Alternatives: Worldpay
Formerly trading as RBS Worldpay, Worldpay is yet another payment processing platform that poses a significant competition to PayPal given its global network as well as supporting a horde of payment options that include debit & credit cards.
Like PayPal, Worldpay offers both offline & online card transactions; therefore, Worldpay can help both your in-store and eCommerce business.
Worldpay supports a wide array of channels for offline payments. Also, you can leverage its POS systems, ATM processing, mobile payment that work to accept cash, and credit card payments.
Worldpay has a diversified its pricing system modelling it to provide interchange-plus & tiered packages. Both your transactions history & average monthly processing volume are primary factors that determine the monthly amount you pay.
For instance, each offline transaction attracts a standard 2.9%+$0.30/
Pros
24/7 customer support
Flexible pricing model
Worldpay offers an extensive payment network
Interchange plus pricing enhances transparency
Supports a horde of offline processing options
Cons
The free terminal offer misleads
You'll be tied to your contract for three years
An early service termination fee is $295
PayPal Alternatives: QuickBooks Payments
This payments processor provides you with a whole set of tools, depending on your business requirement. The processor is well known, and it lets you get paid with the QuickBooks tool.
The intuit lets you integrate QuickBooks for the accounting functionality, as such, it's among the best solutions.
Pros
Like PayPal, you send invoices
Accept ACH transfer
Allows for mobile payments anywhere
Integrate with QuickBooks
Link your payments with timesheet & payroll
Allows access to TurboTax
It's possible to embed the Pay Now button your site
Cons
For personal sending and receiving funds this PayPal isn't the best solution
It's only without the QuickBooks that processor offers competitive prices
Payline
Payline facilitates the typical eCommerce checkout system through a wide array of solutions from in-store, mobile to online payments although the payment processor best suit in-store payments.
In the retail business front, Payline elbows PayPal because it's flexible and much cheaper. As opposed to a static standard pricing system, Payline offers a rather dynamic interchange-plus pricing model. It means, fees consistently differentiate subject to the types of cards you process.
The interchange-plus pricing system foster transparency in the payment processing with the only headache arising from the fact that you can't estimate future expenses with the model
Although PayPal offers you the headroom to forecast future costs by charging a reasonable static rate of 2.7% for offline transactions, you incur less with Payline guaranteed.
The package you opt in to dictate the features you get for card processing; for instance, Payline offers a bargain with its Spark & Surge packages, well-tailored for small businesses work just fine with a mobile reader.
Although Payline Shop package offers access to tabletop card readers alongside other reliable card processing resources and functionalities, enterprises pay top dollar for this premium package. It's the most expensive.
Payline Shop option pales PayPal's inflexible in-store card processing, which comes with two card readers and just one of the readers has EMV support. However, PayPal redeems itself by outshining Payline in the arena of commerce transactions.
Pros
Payline facilitates mobile payments
The interchange-plus pricing model provides transparency as well as flexibility
Payline offers cut-price offline transaction fees lower than PayPal's
Payline's API enables integration with third-party solutions and platforms
Payline offers a diverse array of credit card processing solutions, complete with sound supporting hardware framework
Cons
PayPal's eCommerce payment processing features are superior to Payline's
Interchange plus pricing system makes it hard to estimate future costs
Presently, Payline only serves the US
Final Word
In the past, people were reluctant to migrate from PayPal due to rampant compatibility issues but not anymore. Now you find more sound solutions to help facilitate business in different parts of the globe.
Competitively, PayPal rates lag some of the options out there and make no mistake; PayPal has had its fair share legal suits. That's not to say you ought to rule out PayPal in totality, no. Just get to savour the best alternative to PayPal's taste.
Probably you stand to save up big and end up liking your payment processor of choice, you never know.
Some of the payment processors in this write-up best-suit personal sending & accepting, others are just perfect for eCommerce payments. Alternatively, you may wish to collect & send ACH bank transfers.
If you are looking for by far the best international payments, go with TransferWise, Authorize.Net & Stripe ranks high for eCommerce transactions whereas Google gets it right with storing cards.
Consider 2Checkout to help with completing transactions in any country. But if you're looking for a close PayPal replica, opt for Skrill or Dwolla.
Hit us up in the comments below if you have questions or comments about the best PayPal alternative.
Small Request
Did you enjoy this post? Kindly share it with your friends. Especially, the ones you believe really need this information.
Sharing this information with others can make a huge difference. You may ask why?
Well, the truth is, my main aim is to provide the best information pertaining to drop shipping for both beginners and experienced dropshippers.
And I plan to continue doing so for as long as I can.
I would also like to thank those who support the work I do through reading my content and sharing.
Trust me, when you take your time and share it will help a lot not only for me, but also other people who may really be in need of this information.
Here are some great suggestions:
Pin it
Share it on another blog
Share on Facebook (Share it with friends and even on Facebook groups)
Tweet it
Stumble it
This will only take a few seconds of your time and I would really appreciate.
I appreciate you a lot. Thank you!
Join my Shopify dropshipping group mastermind and follow my blog to learn more about Shopify tips, dropshipping guides, dropshipping tricks and checklists, and e-commerce in general.
If you enjoyed and learned something from this post, you can get updates from me, free of charge!
I send out email newsletters about new posts published on the blog, tips, and tricks to help you grow your dropshipping business, as well as new YouTube videos to give you more insights about the e-commerce market, and much more.
If you enjoyed reading this Dropshipping Companies guide,you can as well join my facebook group.
Click The Image To Join My Facebook Mastermind Group