Alibaba Dropshipping App: Is It Good For Shopify
Is Alibaba dropshipping App good for starting Shopify dropshipping business? Well, read on.
Find and partner with reliable, effective dropshipping suppliers if you aspire to start a profitable e-commerce business. Moreover, given the ease of international product sourcing, many businesses are turning to countries like China for remarkable bargains.
Table of Contents
But sourcing products from around the world can be complicated. So you'll need to overcome obstacles, including different time zones, a language barrier, and unreliable suppliers.
What is Alibaba?
How does Alibaba's wholesale marketplace work?
How can I safely buy from Alibaba?
All these questions and more will be answered in this guide. We'll go through all you need to know to source a supplier for your product concept efficiently and securely.
In this dropshipping from Alibaba write-up, we'll address subjects including but not limited to:
Alibaba Dropshipping process
How to vet Alibaba dropshipping suppliers
How to find superb Alibaba dropshipping suppliers
For novice online business owners, sourcing their products abroad can be intimidating.
Nonetheless, let's cover the basics. Explore this guide on Alibaba dropshipping.
What is Alibaba?
Alibaba was launched in 1999 and is a Chinese-owned worldwide wholesale marketplace. The Alibaba Group, which operates major Chinese online markets like Alibaba.com, AliExpress, Taobao, and Tmall, is the largest e-commerce firm in the world.
Now, Alibaba.com (from now on referred to as "Alibaba") is a great site to find suppliers if you want to source products from outside the country.
Why? In a nutshell, the platform is enormous, allowing you to source almost any type of product.
Alibaba, by the figures, is the largest e-commerce corporation in the world, with projected earnings of over $135 billion in 2022. It's the best one-stop shop for linking suppliers (mainly in Asia) with customers worldwide.
Alibaba Dropshipping App
So, to sum up? Dropshipping is something you can start with Alibaba, yes!
On Alibaba, however, it is more difficult to find and partner with dropshipping suppliers than on AliExpress.

Most Alibaba suppliers are geared toward selling bulk to wholesalers and retailers. As a result, many need help to sell and ship individual items to consumers in other countries.
Because of these factors, dropshipping from Alibaba requires significantly more labor than using dropshipping tools to source and find products.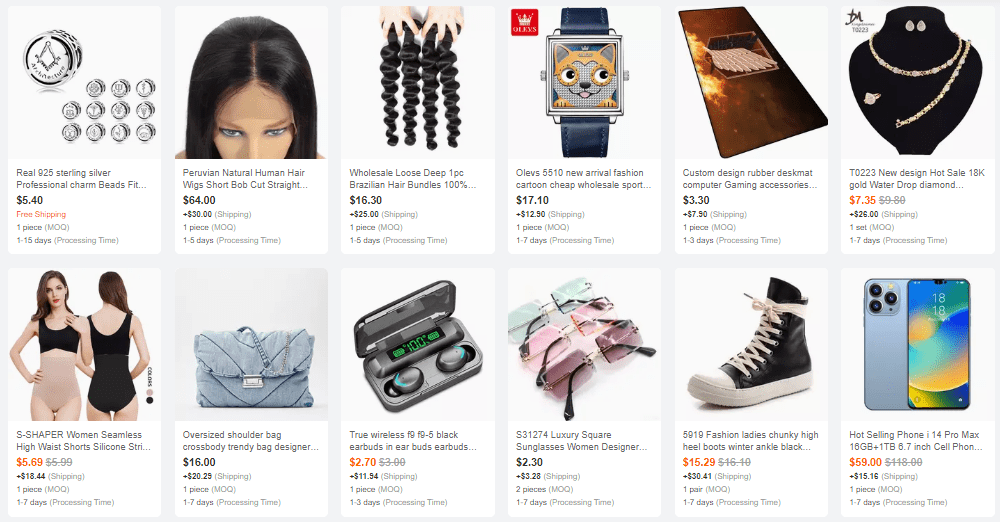 Nevertheless, you can find unique products and suppliers on Alibaba that are unavailable on AliExpress. However, Alibaba dropshipping can be a terrific option to set oneself apart from the competition.

Ways to Vet Alibaba Dropshipping Suppliers
Quality suppliers abound, but there are a few dishonest ones as well. So before parting with your cash, ensure you've done all the necessary research.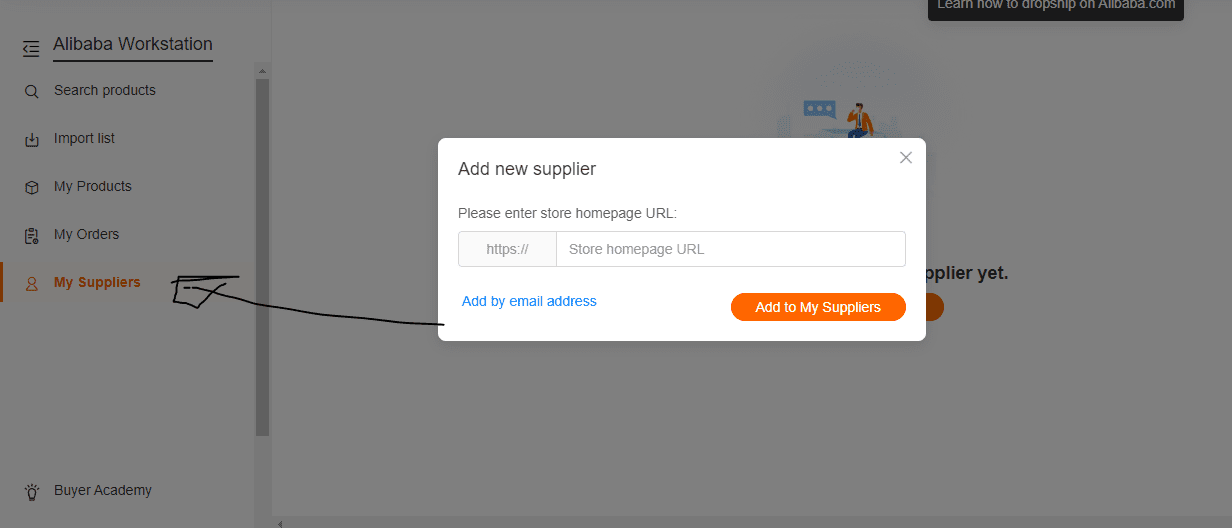 Before placing an order, check out these five dropshipping tips for suppliers:
Use Verified Sellers who provide Trade Assurance (Alibaba's in-built payment protection that covers your orders)
Request legitimate paperwork, such as a business license, certificates of conformity, and factory or warehouse images.
Ask for a business address and phone number, then use Google Earth to make sure it's an actual address, and call the number to make sure it's legitimate.
Check out the reviews of the suppliers you're considering, and get some recommendations from past clients.
If anything feels wrong, walk away from the bargain if it seems too good to be true.
Dropshipping from Alibaba, Step-by-Step
You're probably wondering how to get started if you want to start dropshipping on Alibaba.
For buying items from Alibaba safely, consider these dropshipping advice and recommendations.
Step #1: Search for Products
Like other online markets like eBay, buying from Alibaba and navigating the directory is relatively simple. Search for the specific product you're searching for or browse the product categories.
A search for buying products from Alibaba can be done in two different ways. For instance, "dog collars" will return thousands of results if you search for products based on product descriptions.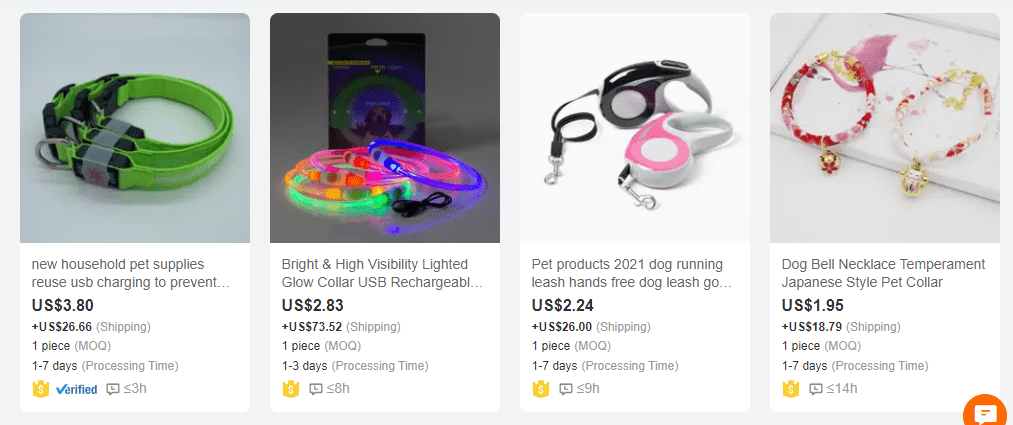 You may also search for manufacturers specializing in a specific type of item by choosing Suppliers instead of Products from the drop-down menu.
Step #2: Look for Potential Suppliers
Start by searching for the product you wish to sell on Alibaba; from there, you can narrow down your results using the left sidebar.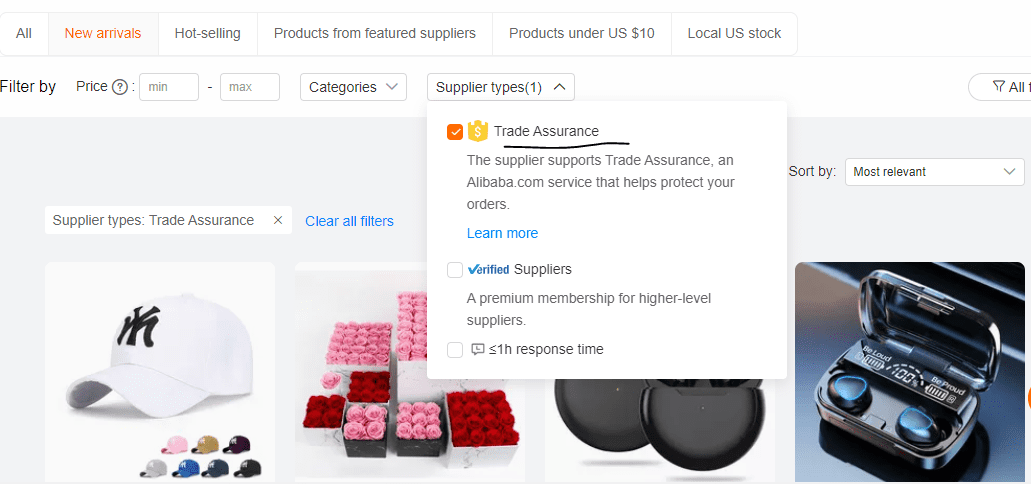 Even if you don't use the service, it's still a good idea to sort suppliers by Trade Assurance. As suppliers who fulfill these requirements are more likely to dropship products, "Ready to Ship" and "Fast Dispatch" are also useful options to check.
#3: Review the product listing pages
When starting your search for a supplier on Alibaba, you should consider a few things on the product listing page. First, look at an actual listing and sample product description for a dog collar on Alibaba.
Minimum order quantity (MOQ)
The smallest order a manufacturer will accept is the MOQ, but it's crucial to note that this is usually up for discussion.
Check out the product quantity and note the minimum order quantity, or MOQ, if you've found a potential order.
A product's minimum order quantity (MOQ) may be prominently displayed in some instances, while in others, it may be necessary to scroll down the page to find it.
Use your keyboard's "Control" and "F" keys to search the page's text for the words "MOQ," "minimum," or "order." to expedite the process.
The price per unit is also a major factor. The price for units in the listing is — note how the price reduces significantly as you order more products.
Shipping costs, however, are "To Be Negotiated." and are not included in this price.
Payment options
After finalizing the price and minimum order quantity, you should inquire about the supplier's accepted payment methods. There are several standard payment options, each with its benefits and drawbacks for both the buyer and the seller.
Let's examine some of the most popular methods of payment and the level of risk that each poses to you as a consumer:
Bank Transfer: Telegraphic Transfer, abbreviated as "T/T," is a common payment method for Chinese suppliers. A time-consuming and inconvenient method of transferring money is a bank transfer.
Alibaba Trade Assurance (ESCROW): Escrow services are a very safe way to transmit money, but they aren't the quickest option; thus, they aren't perfect for dropshipping.
They are services and third parties that keep a customer's money and only pay it to suppliers when the buyer acknowledges that the order has been delivered satisfactorily.
Credit and Debit Card Payment: Alibaba accepts payments from all major processors, including MasterCard, Visa, and American Express. The transaction costs may make this payment option expensive for buyers and affect your margins.
A few Alibaba suppliers also accept PayPal as a form of payment. It provides a good level of buyer protection and is easy to use for buyers. The platform's fees, the difficulty of withdrawing money, and the risk of chargebacks from dishonest buyers, however, cause suppliers to avoid it often.
When you're just starting out buying things from Alibaba, you should usually look for or negotiate with suppliers to accept PayPal or another form of escrow service.
In general, new buyers should use PayPal.
Step #4: Generate a List of Potential Suppliers
For one reason or another, the bulk of the suppliers you contact won't work out. For instance, they might:
Fail to satisfy your verification needs.
Being unable to accept additional work due to a lack of supplies or workforce
Insist on unfavorable terms of payment and refuse to negotiate.
Compile a list of prospective suppliers, then contact many of them at once. You can find a suitable supplier more quickly as a result.
A reliable supplier will now: A reliable supplier will now:
Have the product you're looking for in stock.
Propose a minimum order quantity of 1
List fair prices.
Offer Trade Assurance and be verified.
Possess favorable reviews
It's time to connect with your list of at least 5 to 10 suppliers.
Step #5: Contact Suppliers and Ask About Dropshipping
The unit prices and minimum order quantities may only be appropriately listed on the product page. However, you will need to contact multiple suppliers to find out if they are open to dropshipping products to your clients in the country you plan to sell in.
Using Alibaba's messaging service is the simplest way to contact suppliers on the platform. Some suppliers, however, would rather be contacted through phone, email, or WeChat, the most popular Chinese messaging app.
Remember that most of the Alibaba suppliers are located in China, meaning that you are most likely in a different time zone!
Plus, communication can sometimes be difficult if you don't speak Mandarin well.
Many suppliers will utilize a tool like Google Translate to translate your messages and their replies. Simple phrases, concise sentences, and careful proofreading can all go a long way toward preventing miscommunication. To make it easy for suppliers to respond to each question separately, it is also helpful to bullet point questions.
Step #6: Request a quote
A reasonably straightforward process for making purchases from Alibaba is requesting a quote, sometimes known as an RFQ or Request for a Quote. But investing a few extra minutes in planning your email might make a big difference in the quantity and quality of replies you get.
Step #7: Negotiate your terms
You can start negotiating with suppliers once you've had initial contact with them and understand their prices, MOQs, and payment terms. Minimum order amounts are almost always flexible, as we discussed in our buying advice on Alibaba; you only need to ask. Remember that good negotiation results in a win-win situation for all parties involved, so don't press too hard.
Step#8: Think over Your Options
The next stage in learning to buy from Alibaba is to consider all your options after you've cut your list of suppliers down to a manageable number. Price, minimum order quantity, and payment terms are just a few factors to consider. Consider how promptly and effectively each supplier responded to your inquiries.
You'll want to ensure you get off to the right start because communication with your supplier might be a crucial component of your business moving forward.
Is Alibaba safe?
Alibaba has grown to be one of the world's largest marketplaces since its launch in 1999. Alibaba is safe and legit since, like many contemporary ecommerce marketplaces, most of its merchants are reliable and trustworthy.
To protect your payments through the Alibaba.com payment platform, the business offers Trade Assurance, a verification program for selected suppliers.
Consider some of Trade Assurance's advantages:
A variety of payment options are both practical and easy to use. Credit cards, PayPal, and loans are just some payment options qualified US buyers can take advantage of on Alibaba.
Payment security. Protection of funds during transactions, knowing when your suppliers have made your payment, and keeping track of the funds.
Improved customer service: Refunds are possible if you're unhappy with the product's quality after working with Trade Assurance suppliers.
Thanks to Alibaba's Trade Assurance program, you may shop confidently, knowing that your purchases from participating suppliers are safe and high-quality. If you're buying something online from a third-party seller, you'll need to conduct additional research and be aware of your options.
Here are some steps you may take to protect your money when sourcing from Alibaba:
Verify suppliers: A widget will appear on the left side of any product page if a supplier has been verified. The verification procedure includes both independent on-site audits and comments from satisfied consumers. Environmental compliance, returning customers, and fast shipping times are possible tags to add.
Inquire more and make sure you have all the information you need. For example, ask for a copy of their business license and a phone number. Gather your contact's attention with a conference call: request factory tours and sample products. You wouldn't be crazy to ask your manufacturer contact to snap a photo of oneself holding up the most recent newspaper.
Third, obtain samples: You can contact them using a different (fictitious) name to obtain a second sample for comparison.
Always be prepared to avoid suppliers whose pricing or promises seem wrong. If something doesn't feel right, always be prepared to walk away from a deal. If something sounds too good to be true, it probably is; therefore, don't buy it.
You can have a more in-depth discussion about the nature of your business connection with prospective suppliers in real-time.
Alibaba dropshipping-Pros and Cons
Because of the region's historically low manufacturing costs, many businesses are looking to Asia and China, particularly for product suppliers.
Producing a good or service in Asia often yields far more cost-effective results than in the United States or Europe. For example, it would be hard to start a dropshipping business if it weren't for cheap labor and low overhead in developing countries.
Asia (China) is a desirable location to find a supplier for several reasons, including lower product costs.
Summary
A new experience, but one that might be beneficial, is dropshipping from a safe and dependable supplier on Alibaba. It can be a safe and lucrative business model for your online store with some basic information and common sense precautions. Do your research and be prepared to walk away from an offer if it seems too good to be true. You can quickly find a hundred other suppliers.
Small Request
Kindly share it with your friends. Especially the ones you believe need this information. Sign Up Now and Get your first 3 months for only $1 monthly.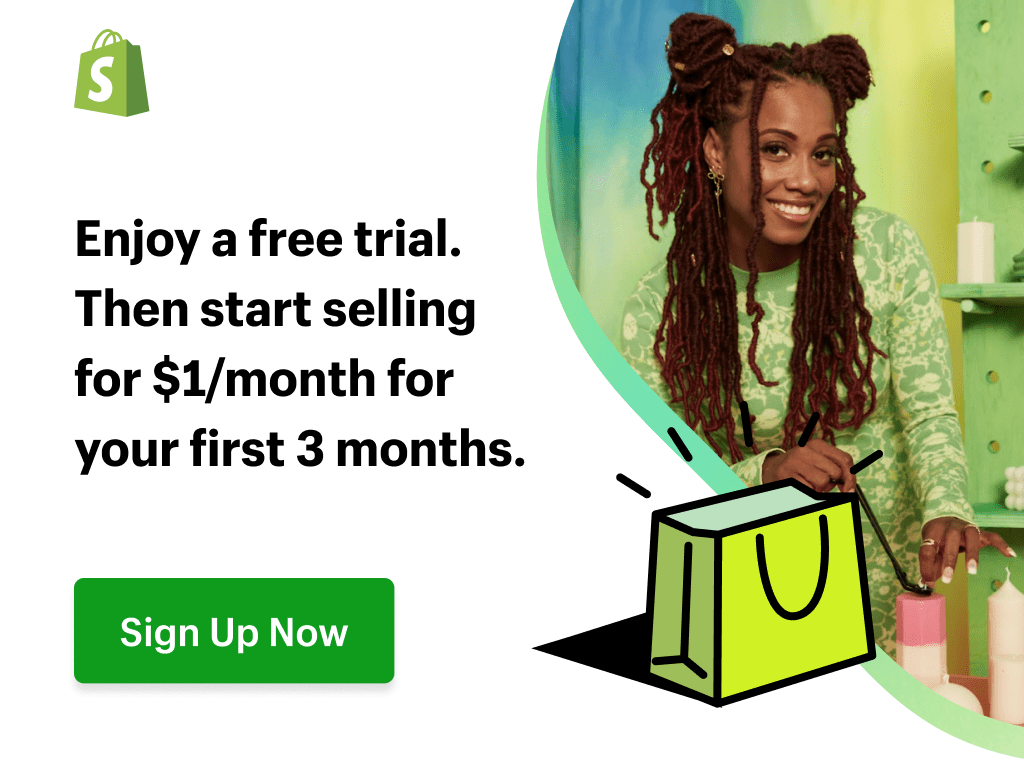 Sharing this information with others can make a huge difference. You may ask why.
Well, the truth is, my main aim is to provide the best information about drop shipping for both beginners and experienced dropshippers.
And I plan to continue doing so for as long as I can.
I would also like to thank those who support my work by reading and sharing my content.
Trust me, when you take your time and share, it will greatly help me and others needing this information.
Here are some great suggestions:
Pin it
Share it on another blog.
Share on Facebook (Share it with friends and even on Facebook groups)
Tweet it
Stumble it
This will only take a few seconds of your time, and I would appreciate it.
I appreciate you a lot. Thank you!
Join my Shopify dropshipping group mastermind and follow my blog to learn more about Shopify tips, dropshipping guides, tricks and checklists, and e-commerce in general.
If you enjoyed and learned something from this post, you can get me updates for free!
I send out email newsletters about new posts published on the blog, tips and tricks to help you grow your dropshipping business, new YouTube videos to give you more insights about the e-commerce market, and much more.
If you enjoyed reading this, you could as well join my Facebook group. Thank you for reading how to make money dropshipping online from the comfort of your home.
Click here to Join My Facebook Mastermind Group