How To Find Best Dropshipping Suppliers on AliExpress
In this write-up, I'll give tips & guide you through How to Find Best Dropshipping Suppliers on AliExpress.
If you dropship with AliExpress, you must work with fast and reliable dropshipping suppliers whom you'd source products from.
Question is how do you know which AliExpress suppliers are best?
Read this post to find out what to look for in a supplier and compare suppliers in the dropshipping product research phase.
When you launch an online dropshipping store, you'll import and sell products from suppliers on AliExpress.
So, how do you tell which products will be of high quality and reach your customers asap?
Well, all that hinges on the reliability of your supplier.
Herein, you'll find tried & tested methods used in finding reliable suppliers on AliExpress.
The essence of this article is to help you:
Know how to navigate AliExpress in finding the best suppliers for your product
What to look for when reading reviews to evaluate the supplier
What you need to ask your supplier before dropshipping their product
Are you set to get started? Read on.
But before we proceed with the list, I want to ensure that we understand each other regarding dropshipping.
Dropshipping counts among the easiest ways to start an online business. With this business model, you won't need to buy tons of inventory for your eCommerce store.
Instead, you'll only order products when your customers place orders. Your suppliers then ship your orders to your customers.
As such, you can sell all across the globe. But to succeed, you'll need constant learning.
Dropshipping is a low-risk business model since you won't need any inventory to launch. Through Oberlo, you can import any product from AliExpress into your Shopify store and start selling right away.
Often, you'll find several suppliers carrying similar products. And the question begs, "which suppliers should you work with?" Okay, although many of the suppliers have proved extremely reliable, some should be avoided at all costs.
It's upon you as a store owner to carry out due diligence concerning suppliers' trustworthiness. But not to worry, because we're about to lay bare strategies.
Best Dropshipping Suppliers On AliExpress using Oberlo Chrome Extension.
The few methods that I'll share with you today will help you pick dependable suppliers on AliExpress. But first thing first. Ensure that you install the free Oberlo Chrome Extension.
Installing the Oberlo Chrome extension will enable us to see the processing times and ePacket delivery options for each supplier. We'll delve into this later.
Now, let's get straight to AliExpress itself. In this instance, we'll simulate dropshipping Phone Cases to demonstrate how to find the best suppliers.
First, head over to AliExpress, in the search bar, key in the product you're searching for, in our case Phone Cases.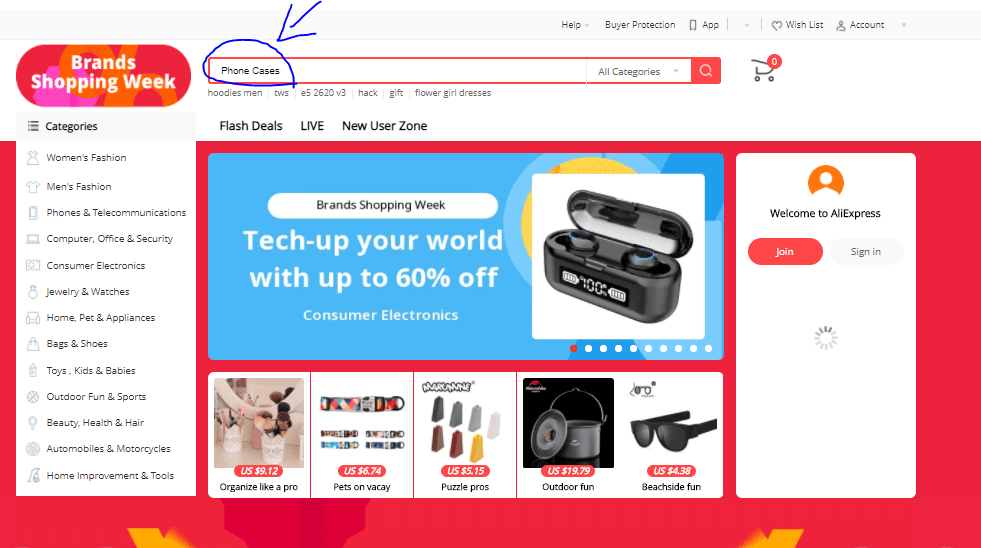 Once you've entered your search term, AliExpress displays all products related to your keywords.
First, click the grid icon on the right to show all the products in a grid format instead of a list.
It makes it easier for you to browse through your options. If you hover the cursor over a product, a hyperlinked name gets displayed at the bottom, and that's the supplier.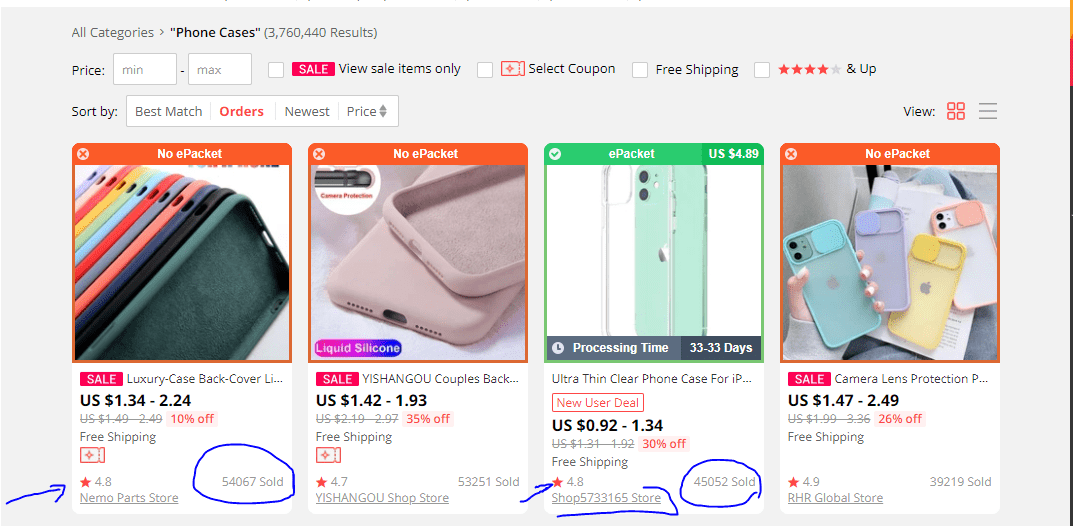 And because you'll find similar products available from multiple AliExpress suppliers, you benefit a lot as a merchant.
With many AliExpress suppliers carrying the same products, you've plenty of options regarding which supplier to liaise with.
Best Dropshipping Suppliers On AliExpress: Order Quantity
While searching for a trustworthy supplier on AliExpress, it's imperative that you first examine the order quantity. The number represents orders supplier has received for a particular product.
You'll find the order quantity figure in the parenthesis next to the word orders.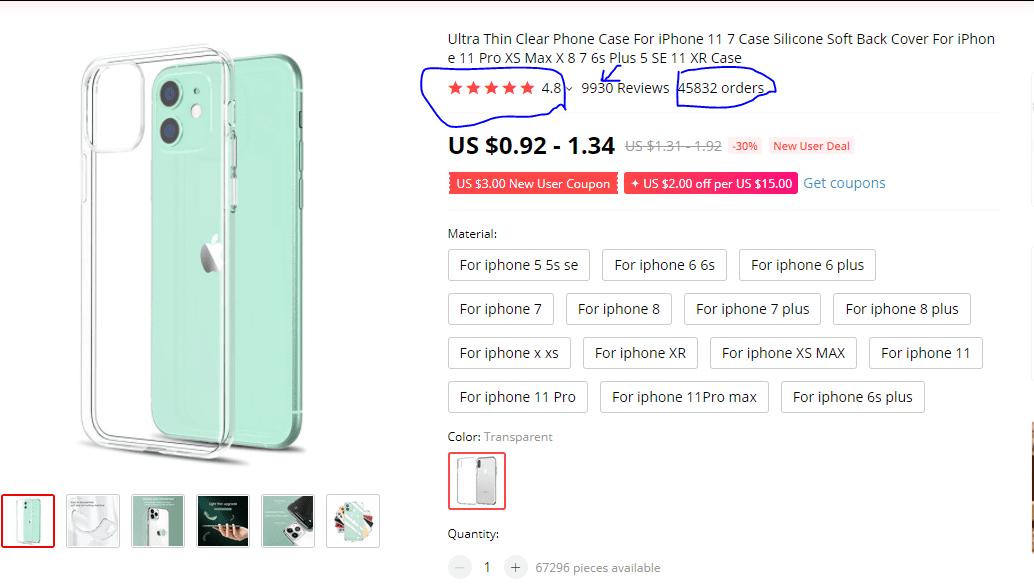 It's crucial that the supplier actively sells and ships the product. You don't need any specific order quantity as a basis.
Besides, you might miss out on a new trend if all you wait for is for the product to get to hundreds of orders.
Again, a supplier doesn't necessarily become unreliable because of a product lacking any orders or reviews. Perhaps it's a new product.
However, with lots of suppliers to choose from on AliExpress, feel at ease picking on suppliers who have demonstrated the capacity to sell and ship their products.
Even more important, I need to sound a warning about one stumbling block newbie dropshippers trips on often. They see a large order quantity, and they fast interpret that the product is too saturated to sell.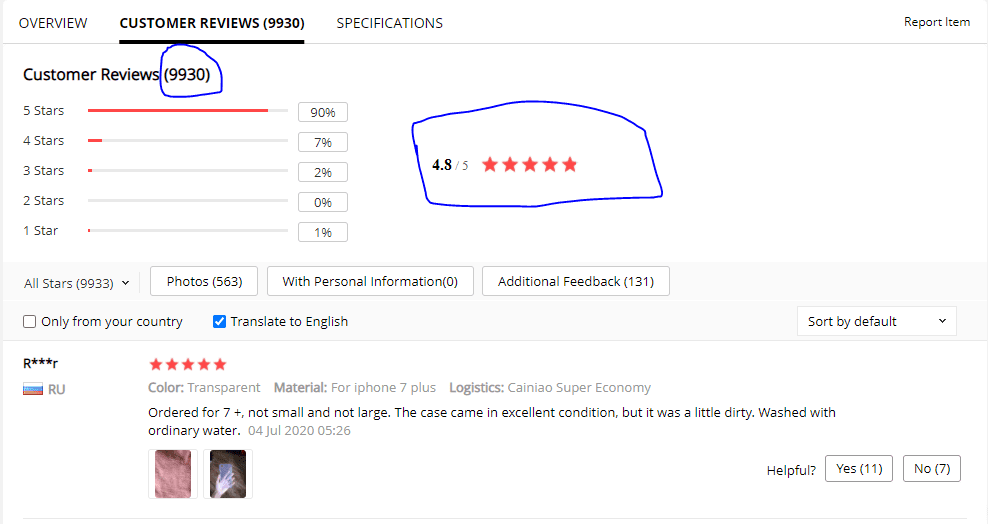 On the contrary, large order quantity indicates product demand, and there's a market for the product.
Competition makes for a good cue. In the following section, we'll look at the next thing to look for when you research AliExpress suppliers, read on.
Best Dropshipping Suppliers On AliExpress: ePacket shipping
ePacket delivery is an affordable and fast shipping option from China. ePacket qualifies as the most economical shipping option and a dropshipping requisite.
With the ePacket shipping option, suppliers can ship to customers in over 40 countries inside 12-25 days.
And all orders shipped through ePacket delivery come with free tracking.
To get to shipping options conveniently, Hit on the Oberlo icon in your Chrome extension bar.
Ensure you turn on show shipping info in the first drop-down menu, then select ePacket shipping.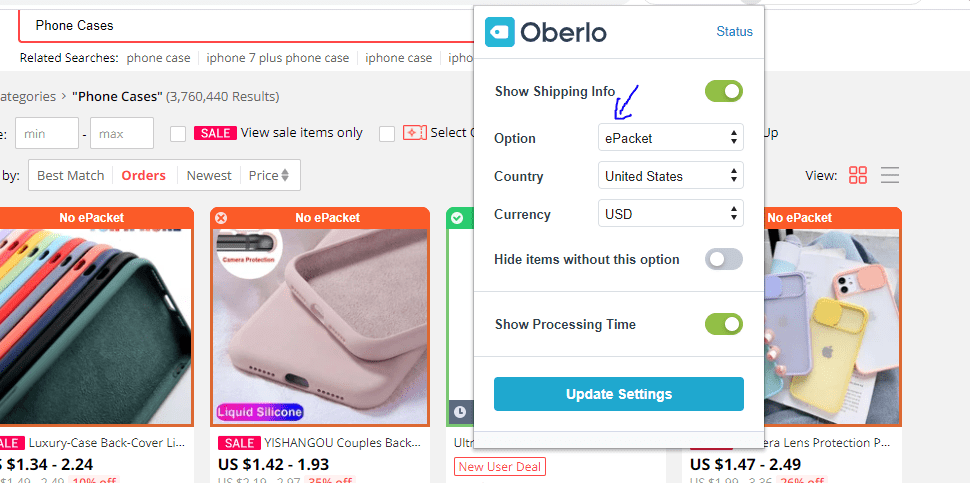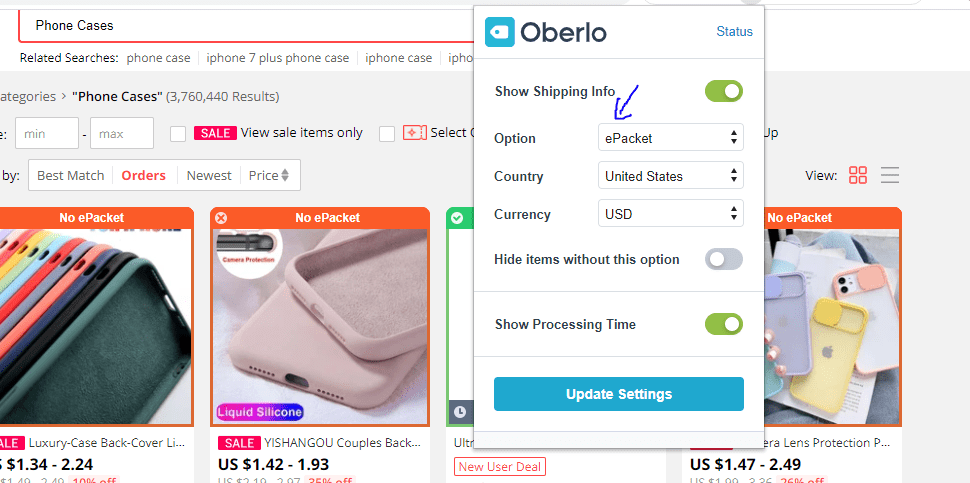 In the second menu, select the country you sell to, and in the third menu, choose the currency you want to have AliExpress search results displayed.
Also, turn on show processing times. In this instance, we'll turn off hide items without this option.
You can turn that option on once as soon as you start doing your product research.
Note that Oberlo chrome extension highlighted products with ePacket available in green color and the processing times at the bottom.
Let's put this info into perspective. The shipping fees might slightly vary based on the package's destination.
Nevertheless, it would be best to dropship products only if they have ePacket available and outlined in green.
Avoid other shipping options that tend to be expensive and perhaps even come without tracking.
Product Processing Time
At the bottom, you'll find the listed processing time from the supplier. Processing time is the time the supplier takes right from receiving the order, package, and then ship it.
Processing time is neither the shipping time, nor is it included in the average shipping time.
To determine how long it will take for clients to receive their order after placing the order, you'll need to add processing times to shipping times.
Often, processing times take anywhere between 2-7 days. It would be best that you don't dropship products with longer processing times.
Exemplar: A Template to Choosing a Supplier
Let's now give all the theories a sense of practicality. Say I want to dropship the chic Phone Cases that are being sold by two different suppliers. How do I compare them?
How do the 2 Phone Cases Compare?
The order quantity is the first consideration to make. I've already mentioned you must choose a supplier who actively sells and ships products.
Okay, there's no magic minimum order quantity to consider.
However, an order quantity of about 100 or so is a reasonable number in this instance. Both Phone Cases check out so far.
The first Phone Case has over 12715 orders, and the second Phone Case has 7404 orders.
The second factor to consider is whether the ePacket shipping option is available for both of these Phone Cases.
If I toggle at the shipping options and I click at the small drop-down icon, I can see that ePacket available as a separate option.
Also, the ePacket is available for the 1st Phone Case, and customers in the US get free delivery with the ePacket shipping option as well.
The next thing to look at is the processing times.
When you're on AliExpress supplier's product page, you'll see the estimated delivery time.
The estimated delivery time encompasses the shipping time and processing times.
In this model, we figure that for the first Phone Case, the estimated delivery time takes 33 days. Suppose you toggle the cursor over the question mark icon.
In that case, you'll see AliExpress clarifies that if you make the payment for the order today, your order will arrive inside the projected delivery time.
That is the 25 days factor in the processing and shipping times to the US. For the second Phone Case, we see that its probable delivery time is also 25 days.
Product Reviews
Now that everything checks out thus far for both the Phone Cases let's check out the product reviews.
On AliExpress, you'll find reviews, and the reviews come from real customers who make purchases on AliExpress.
The reviews project customers' concerns about quality shipping and communication.
The reviews the clients leave for a product serves as genuine feedback about their experience with the product and the supplier.
The reviews can help you compare suppliers. And now, let's use the reviews in our example.
Take our 1st Phone Case, for instance. When on the product page, scroll down and hit.
Feedback, in our case, the product has an average rating of 5 stars. And that's an important indicator.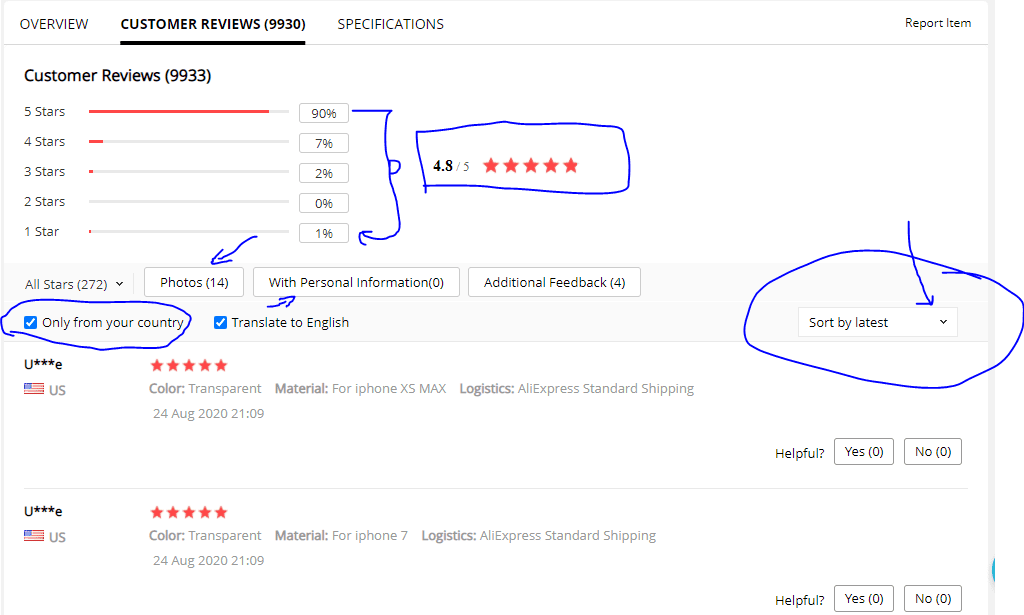 The next thing I want to examine is what customers said about this product. There are four random comments, both of which affirm that the Phone Case arrived within 33-days.
That's fantastic because it's proof that the supplier process and ship orders real fast.
The 2nd Phone Case reviews also look favorable as well given the positive feedback about the quality and the pictures that the customers took shows the product quality.
Now, let's turn to compare the 1st Phone Case vis-à-vis the 2nd Phone Case to determine which supplier to work with.
On the second Phone Cases product page, I'll also scroll down and then click feedback.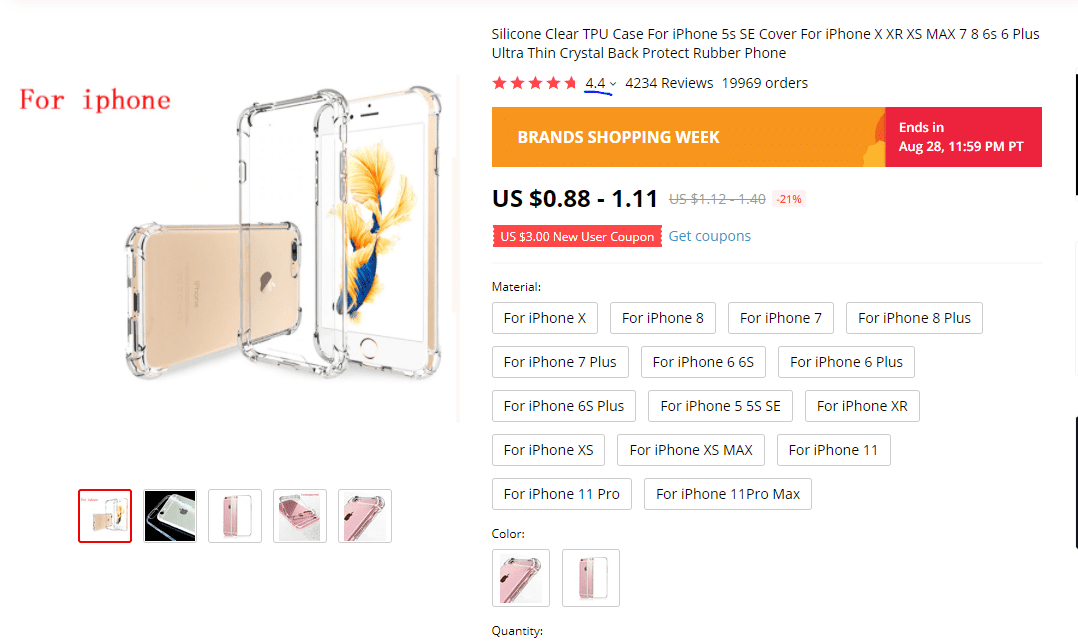 The 2nd Phone Case is shy of 6-stars average feedback. Let's look at the comments. I'm searching for comments that address the quality of the product or shipping times.
Here, we find both the Phone Cases get a comment about the high quality of the Phone Cases with the customer taking photos.
The other comment comes from customers based in the US talking of having received the Phone Case inside 2 weeks.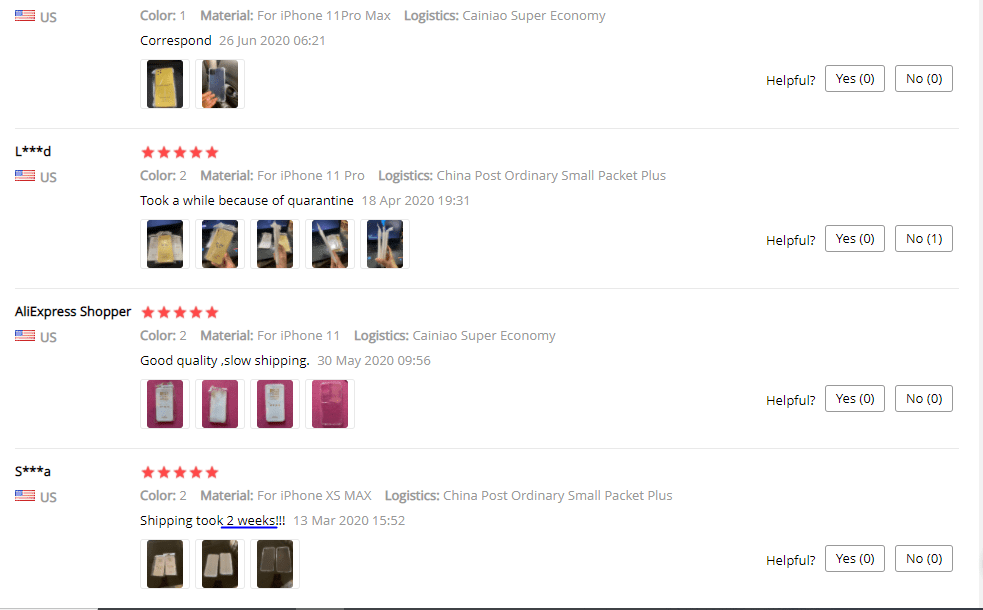 That is a terrific processing and shipping time, and it's an experience you'd want your customers in the US to get.
So far, the reviews for both of the Phone Cases indicate that the supplier sells high-quality products and ship them asap.
So how do I choose? In the next point, we will discuss the other strategy you can use to help you review suppliers—the AliExpress rating.
AliExpress Customer Ratings.
Much as you'll use AliExpress to dropship, there're folks on AliExpress who come to shop for themselves, and every time they purchase a product, AliExpress requests them to rate the supplier based on the item's timely arrival, whether it was easy to communicate with the supplier and whether the product matched the description.
AliExpress then averages the ratings and lists the rating for each supplier. The ratings encompass feedback from all the products the suppliers sold.
The ratings offer in-depth insights beyond reviews from the product you look to dropship.
Again, let's turn to make a comparison between the two suppliers' ratings and determine which of them stand out over the other.
Also read: 16 Dropshipping Tips for Beginners To Tripple Your Results
Scroll up and look for the suppliers' name, under the AliExpress logo, toggle your cursor over the name, and see a pop-up with the supplier review info.
The supplier of the 1st Phone Cases poses 97% positive feedback. That the supplier poses an average rating of 4.8 in all categories from customers is very refreshing.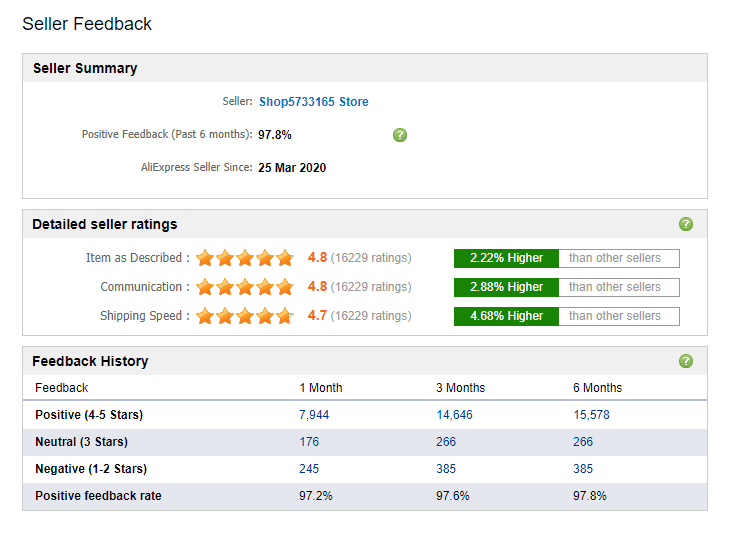 The supplier has listed on AliExpress for 5Months, give or take. Okay, that's not long, but a look at the reviews points to a supplier who've mastered their craft. Of noteworthy is the info to the right of the rating.
Here, AliExpress shows whether the rating scores above or below the average.
In our case, the 1st Phone Case supplier's score counts above-average ratings in all categories.
Armed with this stat, now we can compare the 2nd Phone Case supplier's ratings. I'll scroll up, then toggle the cursor over the supplier's name.
The supplier scores a 92% rating contrasting the 1st Phone Case supplier's 97% positive feedback.
Equally, the ratings for their description, shipping speed & communication all fall below the average with the shipping speed lagging the rest at 4.4 ratings.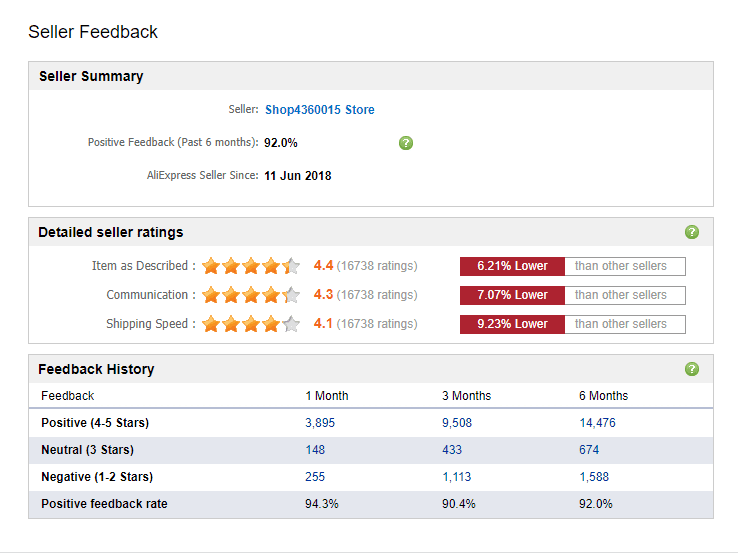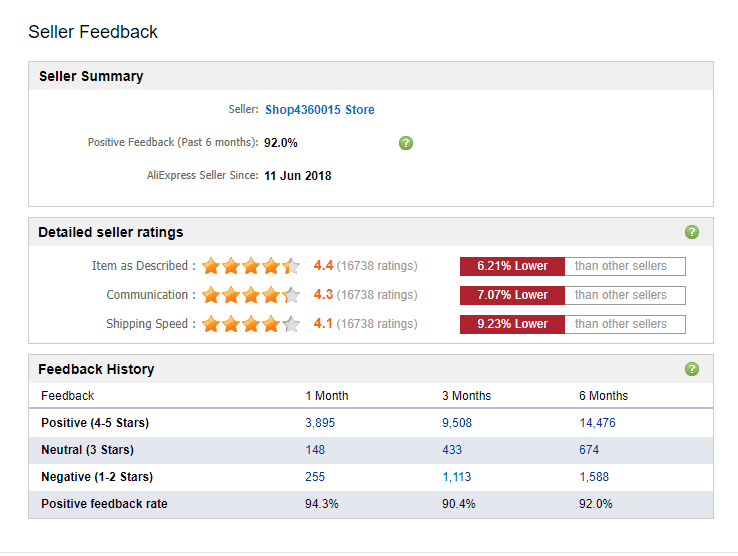 This is a problem because you want your customers to get their orders asap.
Although the reviews for both the Phone Cases suppliers are similarly positive, the reviews for both supplier contrast, as such, it's best opting to source products with the first supplier having a 100% rating, the supplier inspires confidence.
Suppliers' Communique Capacity
We're almost at the tail-end of your research. You can rest easy. Now, it's at this juncture that you put your suppliers' communication skills to test.
When you hover the cursor over the suppliers' name, you'll see a Contact Now button at the bottom left corner.

Click on the button to directly send a message to the supplier. It would help if you got a sense of how well the supplier responds to inquiries should you have questions or anything else goes amiss.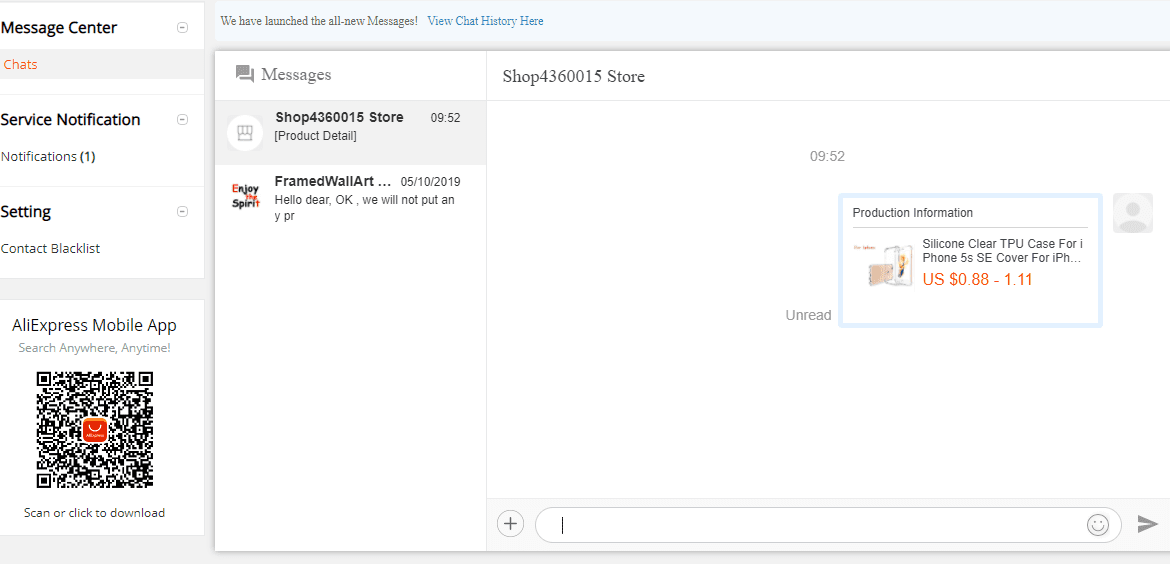 The last thing you want is a customer reaching out to you with an issue only to learn that your supplier won't respond to emails.
It might puzzle you what to ask them, although as the seller of the product they carry, expect the supplier to vouch for their product, I mean, it goes without saying, right?
And that's fine because you've already sifted through the reviews from other customers.
That be the case; it's only prudent that you ask them whether they allow dropshipping with their products.
Some suppliers address this question in the product descriptions, whereas others do not.
It would be best if you asked since some suppliers won't allow dropshipping with their products. How would they know?
You ask. Whenever you place an order with the supplier, they'll notice that you have the same billing address with an invariably changing shipping address to match your customers' shipping addresses.
Even seasoned dropshippers testify that it's better that you know before-hand whether the supplier allows dropshipping with their merchandise because you can decide to sell mainstream wear before asking the supplier if you can dropshipper products.
You even run Facebook ads, and then you start receiving orders from customers.
But when you place those orders with a supplier, they all get. Therefore, you must always ask if your suppliers allow dropshipping.
Contacting your supplier also allows you to test how swift the supplier responds to your inquiries.
It would help if you had the reassurance that an issue would arise in the future, and they'd react fast.
Order a Sample
Order a sample, yes you read that right. This strategy serves to make bolster confidence before you sell the suppliers' product.
Ordering a sample will require that you buy the product and then wait for it to get delivered.
But this tactic is among the best ways as it occasions an opportunity to verify your product and your supplier.
When you order a sample, you get to experience yourself first-hand how long shipping takes.
You can also see the product quality and weigh whether or not it's at par. You can also see the quality of the packaging and check whether your products arrive in good condition.
Here's an added benefit that comes with dropshipping; you can take photos of sample products, make videos and use those photos & videos for the website's content or Facebook ads.
Best Dropshipping Suppliers : Conclusion
I appreciate your ecstasy at this juncture to hit the ground running, but there's more to it. You're launching a business that poses constant learning.
If you're earnest about succeeding with starting a business, then ordering a sample is necessary.
Now, I'd like to know if there's anything I didn't mention. What are your tactics for finding the best suppliers to liaise with?
I'd love to hear from you, drop your strategies in the comments below, and I'll sure chip in with my thoughts. Hit the share and like buttons..
Thanks for your readership. I must let you know that your constant support is appreciated until next time. Meanwhile, always learn, market better, and sell more.
Small Request
Did you enjoy this post? Kindly share it with your friends. Especially, the ones you believe really need this information.
Sharing this information with others can make a huge difference. You may ask why?
Well, the truth is, my main aim is to provide the best information pertaining to drop shipping for both beginners and experienced dropshippers.
And I plan to continue doing so for as long as I can.
I would also like to thank those who support the work I do through reading my content and sharing.
Trust me, when you take your time and share it will help a lot not only for me, but also other people who may really be in need of this information.
Here are some great suggestions:
Pin it
Share it on another blog
Share on Facebook (Share it with friends and even on Facebook groups)
Tweet it
Stumble it
This will only take a few seconds of your time and I would really appreciate.
I appreciate you a lot. Thank you!
Join my Shopify dropshipping group mastermind and follow my blog to learn more about Shopify tips, dropshipping guides, dropshipping tricks and checklists, and e-commerce in general.
If you enjoyed and learned something from this post, you can get updates from me, free of charge!
I send out email newsletters about new posts published on the blog, tips, and tricks to help you grow your dropshipping business, as well as new YouTube videos to give you more insights about the e-commerce market, and much more.
If you enjoyed reading this Dropshipping Companies guide, you can as well join my Facebook group. Thank you for reading how to make money dropshipping online from the comfort of your home.
Thank you for reading how to make money online with oberlo doing dropshipping business in 2020.
Thank you for reading the Best Dropshipping Suppliers guide for your Aliexpress dropshipping business.
Click The Image To Join My Facebook Mastermind Group