How To Make Money With Printful Print On Demand APP
This review will also discuss how to make money with Printful print-on-demand app, its features that set this service apart, and why many POD customers prefer it over industry rivals.
At the end of this review, we can answer your question, 'Can I make money with Printful?'
If you've been in the printing industry for more than a month, you know how difficult it can be to find a printer that meets your needs in terms of print quality, turnaround time, and responsiveness to your customer's inquiries.
Printful is just one of many printing and shipping services available today.
You could think of Printful as a dropshipper or a supplier who keeps the inventory, stores the products, and ships them out on your behalf when customers make a purchase.
The only real work involved in getting your designs into the hands of potential buyers is submitting them online. In this Printful review, we'll review the features that set this service apart and explain why many customers prefer it over competitors.
Sign up for a free trial and enjoy 3 months of Shopify for $1/month on Select Plans.
Were you ready to discover the many benefits of the print-on-demand market?
If you haven't already, now is the time to start planning your trip to this breathtaking new world.
The bespoke t-shirt market alone is expected to be worth $10 billion online by 2025, thanks to print on demand, or POD.
With the right high-quality print-on-demand tool, you can take advantage of the POD environment with a wide range of products such as swimwear, purses, and jackets. The possibilities are limitless. So, where do you even begin?
To get started with POD dropshipping, you'll need a specialized tool. Printful and other similar services can be handy in these circumstances.
Printful Review: Overview
The bottom line is that Printful offers fewer products than its competitors. Unfortunately, I will have to look elsewhere if I want to print and dropship some designs on coasters.
The same is true for one-of-a-kind items such as yoga mats. While Printful is not the cheapest option, there is a flood of testimonials from satisfied customers claiming that Printful is their preferred printer due to the superior quality of their products. That is a huge deal.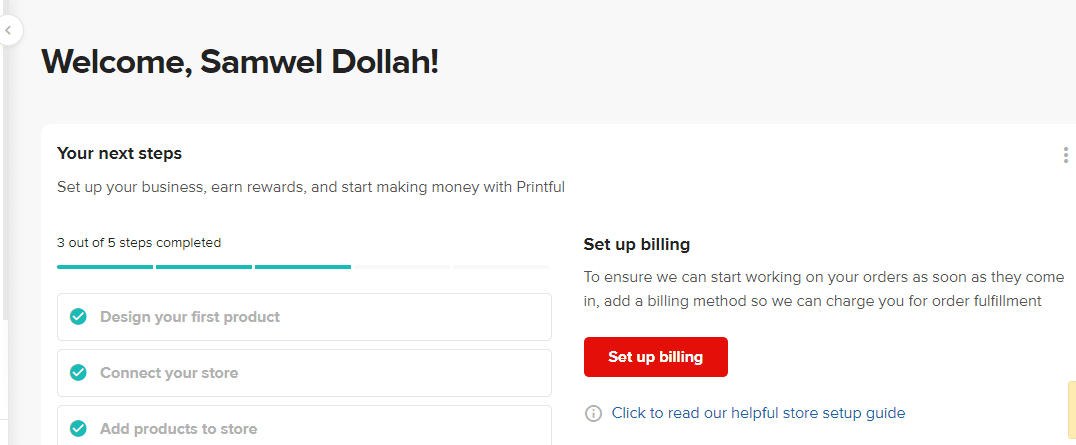 The number of items you sell on your website may have to be reduced, but at least you can be confident that the shirts are well-made, the printing will last, and your customers will not be irritated because of a shipping delay.
The truth is that only some printing and dropshipping services are of high quality. On Printful's review reviews, I've seen people complain about how unhelpful the customer service is or how the print quality could have been better.
Nonetheless, Printful has gained the consensus of most retailers as the best option available.
Remember that the quality of the printed product you receive depends on various factors, including the product itself, the printing company you choose, and the image quality you provide.
Even if one type of clothing looks great on Printful, the tote bags may need to be bigger. Upload some of your designs and order some samples to see if Printful is right for you.
Using this method, you can compare various printing services in terms of pricing, quality, and turnaround time.
This Printful review will focus on something other than product quality because that would necessitate the purchase of sample items. Instead, we'll focus on the products, such as pricing, usability, service selection, and customer support.
That way, you can see how Printful works in business and determine whether or not the platform's design and integration tools meet your requirements.
What is Printful?
Printful is a service that gives you immediate access to all the tools you need to launch an online store selling personalized items and accessories. You can use the mockup generator to see how your designs look on different items such as phone cases, hats, and t-shirts.
Furthermore, you won't have to worry about stocking any products because Printful allows you to start selling using the exciting dropshipping method. You can avoid this by forming partnerships with manufacturers who will ship your items directly to your customers.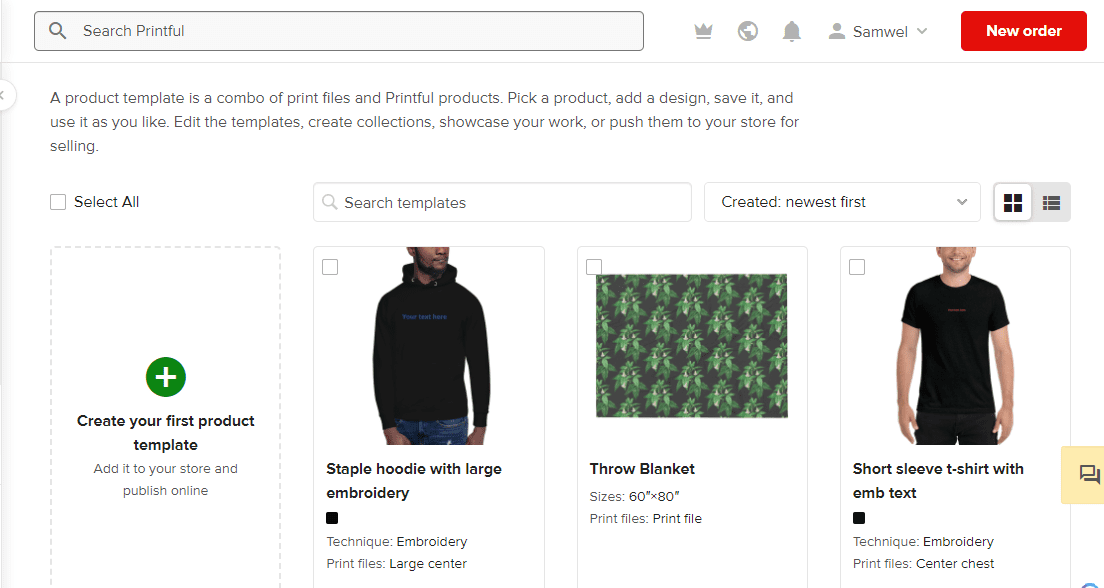 Printful has a wealth of valuable resources for those with an artistic bent who are curious about the potential savings of the dropshipping path for their business.
Printful can help you sell your products online without the hassle of storage and stock management, from personalized leggings to laptop covers.
Printful has basic tutorials that will walk you through everything you need to know to start. Dropshipping, on-demand printing, and creating a digital empire are covered topics.
Printful's Ease of Use
Printful provides a far simpler experience for growing your online store than most eCommerce tools because it is tailored to the needs of fashionistas, artists, and creative minds, as well as entrepreneurs who want the advantage of rapid and simple growth models.
By selecting from Printful's wide range of products and creating your unique designs, you can avoid the intermediary and have your clients' orders shipped directly to them.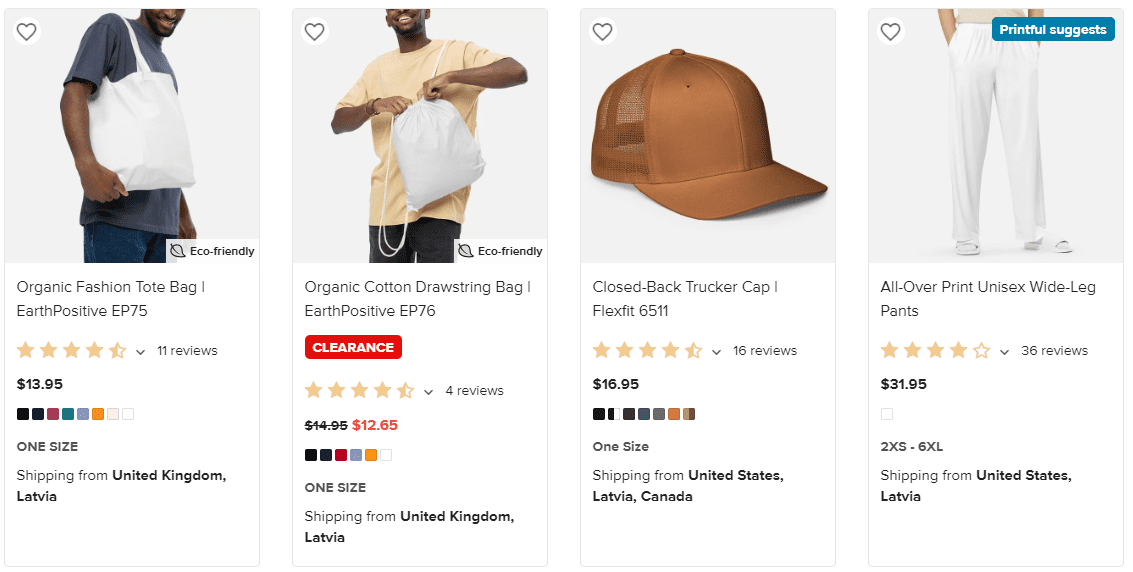 When you use a dropshipping tool like Printful, you can save time and money on tasks like completing customer orders. That means more time for you to focus on getting your online store up and running smoothly.
While your manufacturing partners handle product shipment, you can focus on expanding your Shopify store, writing your frequently asked questions section, or improving your site's overall performance.
Even the branding options provided by your dropshipping partner are available for purchase. Sublimation, screen printing, embroidery, and other methods are available.
You are in charge of the situation. That means you can put your spin on your business even as you experiment with the on-demand dropshipping model.
While Printful is a premier marketplace for apparel and accessories, you can still use the platform to source or sell various other products.
Printful is a growing marketplace where you can add your designs to various products.
Printful Review: The Pricing Structure
Printful is appealing in large part because it requires no initial investment. You can find similar services offered by other printing businesses, where you can post an item for free and then sell it online through a marketplace or your website.
Printify (often confused with Printful), Print Aura, and Gooten are among the easiest options for providing dropshipping services. Even though there are a few others, the number of dropshipper/printers is relatively small.
In other words, creating an account is free, as is designing a product and adding it to your online storefront.
Your sales are what make sales for Printful. Even the vendor you're buying from should be considered. After deciding on a product to sell, you can view its suggested retail price on Printful.
Suppose I had a design in mind for some t-shirts I wanted to market. When it comes to tees, Printful has a wide variety of options from which to choose. The pricing, available hues, shipping hubs, and product reviews are all listed for every item.
T-shirts are inexpensive; at $8.95, I may get a Gildan Unisex for my needs.
Your ability to set your prices and assess your potential profit will become available as you progress through the product production process. Most t-shirts cost between $10 and $15, so I set my price at $14.99, which is the going rate.
About $6 is what I take home every time I make a sale. All of Printful's products are amenable to this sort of customization.
Printful specializes in a few products that I find so appealing. T-shirts have a seemingly low barrier to entry because of their ubiquitous nature. Yet, some of them are of fantastic quality, allowing you to position your shop as a premium provider.
Printful's starting prices are about the middle of the pack compared to its main competitors. Lower prices like Printify and Gooten are on there, but my research shows they both have quality and shipping issues.
As long as you're not charging more than what consumers are willing to pay, I'm confident that most of your Printful sales will be profitable.
People often know that custom printing costs more and are prepared to pay that premium. And if the projected earnings aren't satisfactory, you can always find a cheaper alternative or increase the price before releasing the product to the public.
The Sample Order
The sample order is another cost to think about. As I indicated previously, ordering a sample from Printful is the only way to determine if the quality of their products is satisfactory.
Sample orders from Printful are cost-effective. We'll even throw in free shipping to some areas and knock 20% off the original price tag to sweeten the deal.
All sample orders will be shipped at no cost to you as follows:
There is no cost for shipping samples to any location in Canada or the United States. Samples are shipped from Printful's California and North Carolina facilities.
To all European destinations, shipping is free of charge on any products fulfilled by a Printful facility in Europe.
Two products are sent with each sample order, and just one sample order per month is allowed.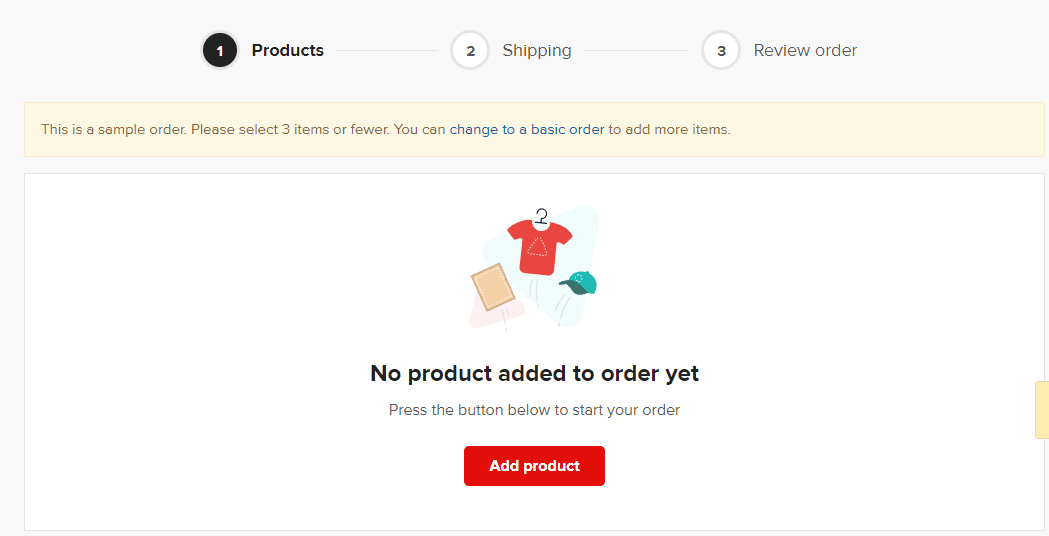 People who are always looking for new products to try could get into trouble because of this. However, there are opportunities to expand sample orders, such as linking with an e-commerce platform or reaching monthly revenue of $300 or more.
Printful Review: Designing and Selling
You might wonder how Printful would help you with the design and sales processes at this stage. When it comes to selling sales, accessories, and home products, Printful is the best dropshipping market available. So there must be some validity to the buzz surrounding them.
We'll get started with a primer on how to set up a Printful product design.
Starting a new order and adding your custom designs to Printful's products couldn't be easier.
I'll choose Printful, which has canvas prints starting at $29.95, as an example.
My preferences determine the canvas size and print file I want to sell.
Printful instructions for making necessary edits to your upload are easy to change. For example, you can't just upload any old JPG from your computer and expect it to print well on a canvas.
You'll need a sizable JPG or PNG that you exported from a RAW file in an application like Lightroom or Photoshop.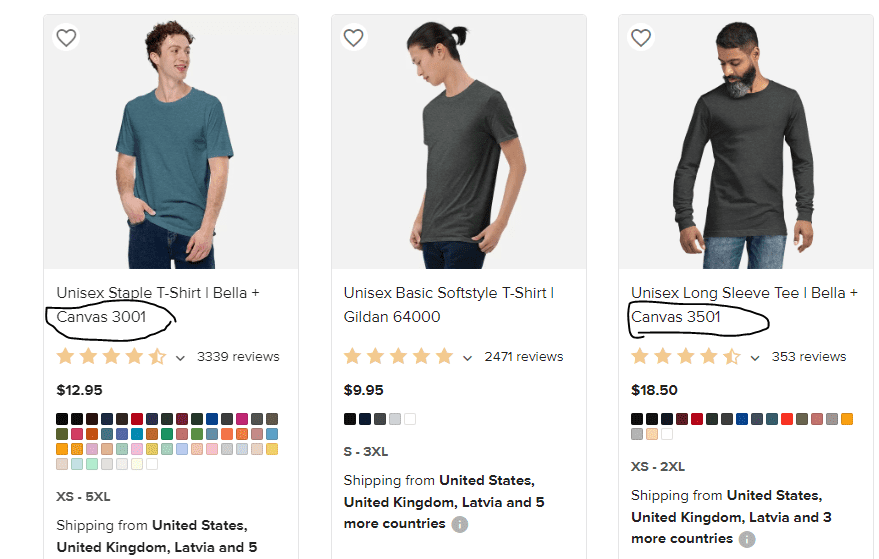 When you've settled on excellent print quality, you can trim it down to size and carry on.
Customers can see the products in action with the given mockups.
After that, you can submit your individualized order or save it in your integrated e-commerce platform. If you are using it in conjunction with a platform, the product will sync to your store without any further action on your part.
When you buy or sell on Printful, bulk purchases of the items you want to obtain the greatest prices. Ordering from Printful in advance is simple since you may buy what you need and keep it in the Printful warehouse until you need it.
The same-day order fulfillment feature allows you to quickly respond to customer requests by sending them their purchases.
Remember that you can always order a product sample to evaluate before deciding whether or not to add it to your lineup.
No minimum purchase is required, but the number of sample requests you can make in a given month is restricted. However, if you sign up with Printful, you can receive a sample order once a month, consisting of up to two items.
If you're using Printful with an online store, you'll get two sample orders monthly, with a maximum of three items per order. When your monthly sales reach $300, you'll be eligible for three sample orders per month, each of which can contain up to four products.
Printful Integrations
If you're looking for a robust online storefront, go beyond Printful. In just a few business days and for a low monthly price, you may use it to make unique products for your clients and ship them out to them.
This makes Printful one of the most cost-effective and time-saving dropshipping platforms for selling personalized items online.
Even though Printful offers many advantages, this doesn't imply you won't wish to enhance its current capabilities. For this reason, Printful integrates with various popular programs, online stores, and marketplace services.
Printful allows you to connect with major marketplaces like Amazon, eBay, and Etsy to expand your online sales channels. You can enhance customer relationships and learn more about their shopping habits by integrating Printful and Shopify. Additional choices for integrating:
• WooCommerce
• Wix
• Wish
• Weebly
• Storenvy
• SquareSpace
• PrestaShop
• Magento
• ECwid
• BigCommerce
• 3Dcart
Read Also:
Integrating Printful With Your Ecommerce Platform
That begs the question, how simple is integrating with your existing e-commerce software?
I am still looking for a printer/dropshipper that is compatible with any other e-commerce platforms as well as they are.
So I've had great success running Printful on WooCommerce.
Printful also offers extensions and apps for many other e-commerce platforms, including but not limited to Big Cartel, Squarespace, BigCommerce, Shipstation, Ecwid, Weebly, Etsy, Tictail, Amazon, and more.
In addition, the Printful service offers a bespoke integration tool for connecting to any website or app.
Printful-Shopify Store Integration
As a Printful user, the link between your dropshipping tool and ecommerce platform is likely the one you use most often.
It seems natural that you would use Shopify to build an e-commerce company, given the platform's reputation for providing numerous dropshipping options with a quick turnaround.
When compared to other e-commerce platforms, Shopify offers a more comprehensive suite of sales tools, making it one of the most popular choices among online store owners. So how do you connect Printful and Shopify so that you may begin selling your unique products immediately?
Incorporating Printful into your Shopify store is simpler than you would think.
To get started, go to Shopify's app store and install the Printful app at no cost. Just download the app from the app store and follow the on-screen steps to link it to your account. This follows:
Make everything from hoodies and stickers to sweatpants and leggings with the free mockup generator; more than two hundred products are available.
Put in place the essentials for your online store, including shipping prices, a fulfillment system, and other features; to ensure a seamless transaction, please complete all required fields.
Configure order alerts to receive push notifications whenever a new order is placed on Shopify; Printful will be contacted directly for order fulfillment.
Focus on growing your business while Printful takes care of getting your products to customers as quickly as possible so you can put your energy into things like SEO and advertising.
Printful is an excellent option if you already have a Shopify store and are ready to take it to the next level. We've put together a comprehensive guide on integrating Printful with Shopify for those interested in creating their print-on-demand store.
Printful Review: Customer Support
There is disagreement about how well Printful handles customer service, but most users feel it's miles ahead of the competition.
Printful's website features helpful tools like printing advice, fabric information, and embroidery designs in addition to the usual fare, like a frequently asked questions page and a blog.
It ships quickly and has a decent return policy that covers most cases where Printful is at fault.
You may reach the support team via phone during the weekdays, and they also offer live chat and email.
Alternatives to Printful
You can find other software that provides the same services as Printful, but it is important to note that Printful is among the best software for on-demand and creative dropshipping.
Companies like Printify, TeeLaunch, and Print Aura can help you with everything from creating mockups to storing inventory and fulfilling customer orders.
Printful-Print Aura Comparison
Finally, Print Aura is a white-label option for companies that wish to design their custom brand to create under their label. For example, you can pick from over a hundred t-brand designs to create the perfect no-hassle fashion line.
In addition to T-shirts and hoodies, you can also have hats and totes made to promote your business.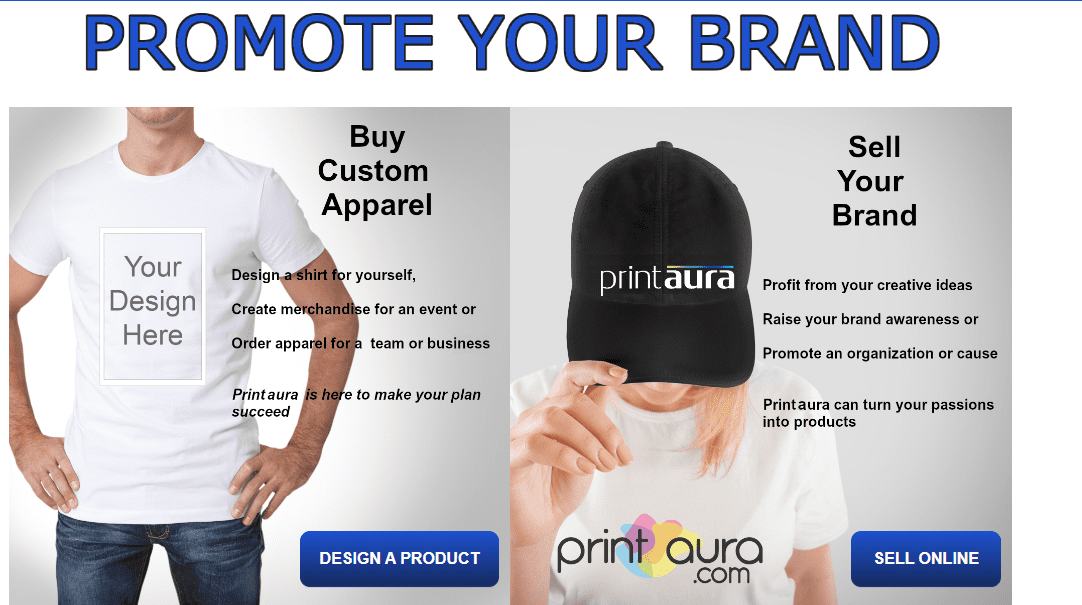 Print Aura, like Printful, provides the high-quality output and outstanding customer support. It's possible, though, that occasionally Print Aura will sell a low-quality item.
When using Print Aura, you have no say in which of our employees will be responsible for processing your order. In addition, there is no round-the-clock support service to keep you informed about developments related to issues with customer service.
In addition, the prices for several Print Aura products are significantly more than the corresponding Printful prices. Perhaps sticking with Printful is the best option if you're trying to save money.
Printful-Teelaunch Comparison
Compared to Printify and other on-demand drop shipping platforms, Teelaunch is a newcomer to the industry. In the same vein as the
Thanks to the Printful.com crew and Teelaunch, a product can be printed and shipped to a customer without lifting a finger. You'll have extra minutes to devote to promoting your brand.
Teelaunch offers a broader hodgepodge of one-of-a-kind products than its competitors for customizing your artwork. For example, Bluetooth speakers, headphones, dog bowls, and countless more items are just some of the many things that can be printed.
Suppose you still need to get a Shopify store. In that case, you can use Teelaunch because it was built specifically for that platform, unlike Printify, which works with a wide variety of ecommerce platforms and providers.
Additionally, there is a time for a 6-day shipping delay. Teelaunch's limited product catalog (now at roughly 65 items) is another drawback. Fortunately, shipping from Australia is an option that many competitors need to provide.
Teelaunch, like Printful, does not charge users a monthly fee. Instead, Teelaunch is a promising alternative to Printful, which is still the best choice if you want to set up a store that offers unique products and reshipping.
Printful-Printify Comparison
Business owners can offer their customers a more comprehensive selection of products with the help of either Printful or Printify. In addition, there are more than 250 different products available on Printify.
In contrast to Printful, where orders are fulfilled in order, Printify contracts with third-brand vendors to handle printing and shipping.
Printful is a good choice if you want a wide range of printing options, such as DTG and sublimation. However, Printify and Printful offer screen printing, and Printify can take up to 30 days to deliver internationally.
In addition, Printify can serve as something other than a product warehouse. For example, Etsy, WooCommerce, and Shopify are just a few e-commerce platforms you can seamlessly integrate with Printful.
In addition, there is no minimum order size and no cost to use the products' backend, which includes a mockup generator.
Printful and Printify provide upfront branding choices, worldwide shipping, and round-the-clock customer service.
Printful-Sellfy Comparison
If you're starting as a drop shipper, you'll love Sellfy's pricing model. You won't need to worry about paying a percentage of sales like you would on Printful. All the perks of outsourcing your shipping, storage, and distribution will still be available. Instead, Sellfy includes everything at one low monthly price.
Selling products through Sellfy is easy; however, unlike Printful, you only have many options. Hoodies and sweatshirts, among other garments, are still available. However, if you compare Printful to its competitors, you'll find that it offers far more product variety.
Furthermore, Sellfy mostly utilizes DTG (direct-to-garment), which is not recommended if you like to print semi-transparent designs. On the other hand, tees, sweatshirts, and totes may all be personalized with embroidery.
Be aware, however, that there will be a $6.50 surcharge for each item that requires embroidery—nonetheless, prices at Printful start at $6.50 or more, depending on the product. Screen printing, however, is an available option through Printful, which is a big plus.
Integration-wise, In this regard, Printful again trumps Sellfy. You can use Sellfy with other platforms like Google Analytics, Facebook, Twitter, Patreon, and Zapier.
For novice dropshippers, however, the fact that Sellfy provides a web store at no cost is its most appealing feature.
Last but not least, it's important to note how Printful's infrastructure is built to support rapid global shipping; Sellfy also has fulfillment centers outside of Europe (4 in the US and 1 in Canada), and shipping can take anywhere from 3 to 5 days.
Printful Review: Conclusion
Constructing the optimal print-on-demand plan for web-based sales is not a one-size-fits-all process. However, Printful may be the tool you need to quickly and easily begin selling personalized hoodies, sweatshirts, and leggings online.
With Printful, you can sell your products worldwide, including in Europe, Asia, and the United Kingdom, without worrying about high shipping costs or lengthy delivery delays.
As the POD solution is compatible with online markets like Amazon and eBay, you may sell your products in whichever way works best for you.
Create professional-looking items like phone cases and laptop hoodies with the mockup generator without investing in costly equipment like DTG printers. Moreover, consistently high print quality is guaranteed.
When comparing Printful to its competitors, you'll notice that it can't compete with how quickly they ship or how high the quality of its products is. Consequently, if you want to dabble in dropshipping and personalized printing, you should check out Printful.
You can make money with Printful by uploading your design to your Shopify store, and then you can launch ads on your favorite platforms like TikTok marketing or any other.
It provides rapid backlinks to your site, low-cost product testing, and market-leading quality. Leave your questions or comments about this Printful review below.
Small Request
Kindly share it with your friends. Especially the ones you believe need this information. Sign Up Now and Get your first 3 months for only $1 monthly.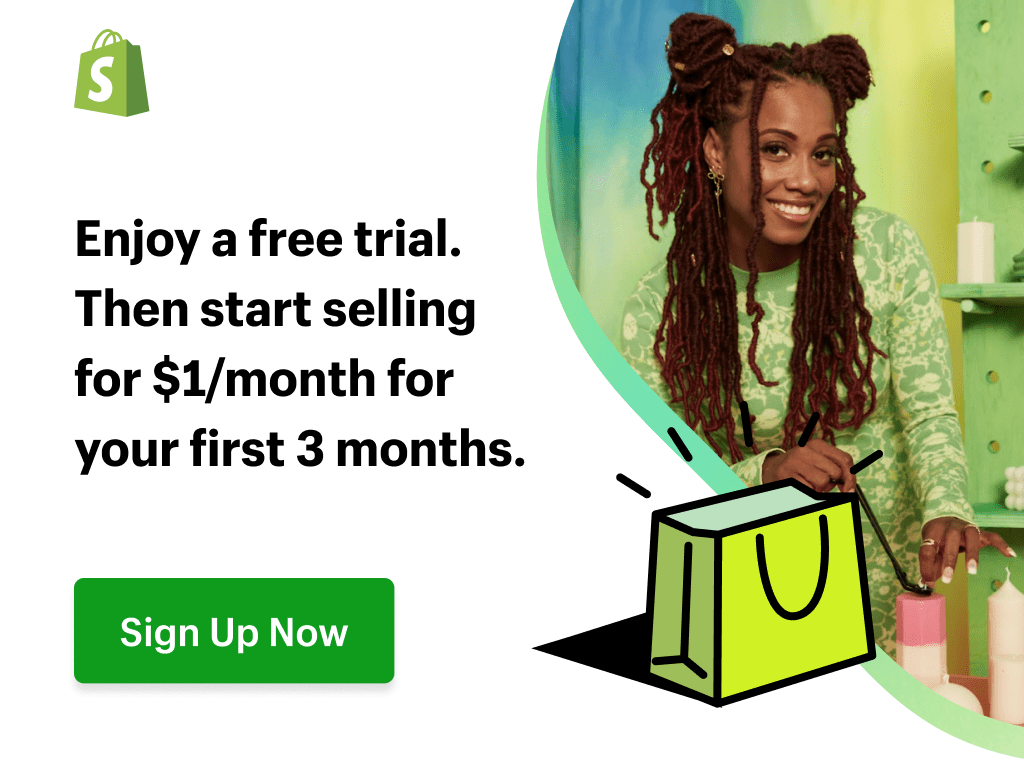 Sharing this information with others can make a huge difference. You may ask why.
Well, the truth is, my main aim is to provide the best information about drop shipping for both beginners and experienced dropshippers.
And I plan to continue doing so for as long as I can.
I would also like to thank those who support my work by reading and sharing my content.
Trust me, when you take your time to share, it will greatly help me and others who need this information.
Here are some great suggestions:
Pin it
Share it on another blog.
Share on Facebook (Share it with friends and even on Facebook groups)
Tweet it
Stumble it
This will only take a few seconds of your time, and I would appreciate it.
I appreciate you a lot. Thank you!
Join my Shopify dropshipping group mastermind and follow my blog to learn more about Shopify tips, dropshipping guides, tricks and checklists, and e-commerce in general.
If you enjoyed and learned something from this post, you can get me updates for free!
I send out email newsletters about new blog posts, tips, and tricks to help you grow your dropshipping business, new YouTube videos to give you more insights into the e-commerce market, and much more.
If you enjoyed reading this, you could also join my Facebook group. Thank you for reading how to make money dropshipping online from the comfort of your home.
Click here to Join My Facebook Mastermind Group