Booster Theme Review : Scaling Your Shopify Sales
In-depth  Booster Theme Review
Welcome to Booster theme review: If you have a Shopify Store or you intend to create one, or you want to know what Theme would be the best for your store, then this in-depth, step-by-step post will help you make the decision.
You may have come across the Booster Theme from one of the many various commercials prominently displayed on social networks-Facebook advertising.
It is one of the most popular Theme for dropshipping stores. If you are in any of those dropship groups on Facebook, probably you have seen Booster Theme's commercial campaigns-definitely they have spent significantly on ads over the last year.
If you are here, I want to imagine it is among the Themes you might have found in your search, and you have interest-in.
But you wonder if the Theme is the best to invest in and is it right for you and your store? For my case had the following concerns:
Does the Theme have the best functionality?
what do other Shopify store owners prefer?
Is the Theme the easiest to work with operating your Shopify store?
How Does Theme look the best?
Booster theme pricing
I was one of the lucky ones, I got my first booster theme at around $99 that was after I tried using the copied theme that my client gave me but later ran into activation issues and I wasn't able to update the theme since I lacked the actual key for validation. You know how one license works.
Shopify booster theme has evolved during the months and they now have a premium version of the theme which has a lot of updated versions, new features, and amazing speed, but unlike me, you are going to spend up to $197 to get your booster theme for one license.
My time using booster theme, I got an update notification that required me to buy the new theme (premium) that they said had different features, new designs and high performance as compared to the first version.
Booster theme works with any niche, if you thinking of going the fashion way, Gadgets, Pet, etc this is the theme for you.
It works best for either one or two product Shopify stores. If your intention is to go the one product way then I would recommend having on your store a mini-sales funnel to help with leads and conversions.
Don't worry despite it not having a one-click upsells functionality, it has highly defined Addon upsell, offers a detailed sales page. The booster theme has no direct integration to stripe hence sales happen in a new tab.
If you've used the addon before then you know they can double increase your conversion, they give you an option to offer a bundle of product to your customers. e.g Pet leash + Pet bed all in one page before checkout.
But Most importantly, does the Theme improve your conversion rate-increase sales? Is it worth the price?
Booster Theme three different pricing options that include:
Single License-$179
2 License-$297
5 License-$497
In this booster theme review, I will cover all the above questions, help you make the decision. This article will walk you through each of the Theme's aspects in much higher details, the specs, functionality, and outline my experience.
I can imagine how you feel and the position you are at now, I was once caught up in the same quagmire with my store-faced the same dilemma. I had struggled to make sales. Continue reading booster theme review for more.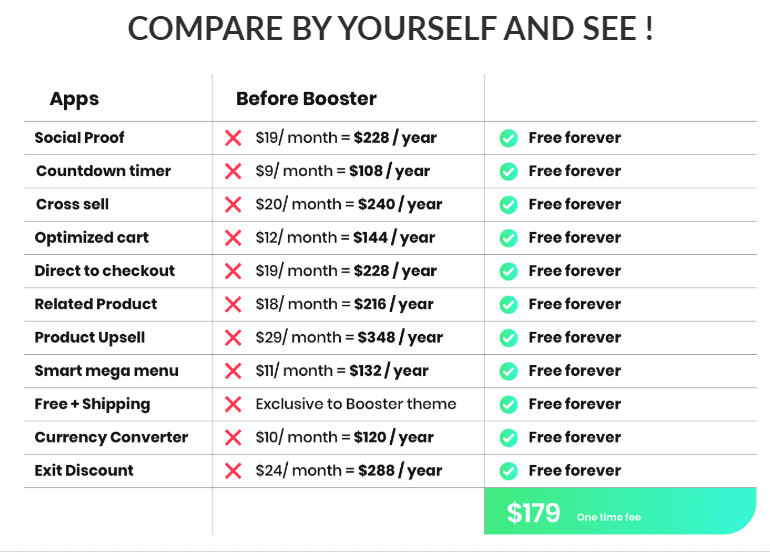 Turning my Shopify store into a persuasion machine was no mean feat-at least it seemed.
It was when I changed the Theme that sales took a new turn. Initially, I'd come to realize that my low conversion rates arose from relying on a free Theme that was not helping to convert visitors into customers.
The free Theme had no incentive to buy-customers who did not feel as though they were getting a great deal. It is at this juncture that it hit me that I had to invest in a premium Theme, one that compels the visitors to buy, eased the buying process, and inspired confidence in committing to a purchase.
Investing and not just investing but to invest in a premium- that called for one thing; conducting extensive market research, I had committed to objectivity while researching so that, in the end, my choice and decision would not base on Theme's websites alone.
Combing the market at bare minimum comprehensively and boy did I put in hours thoroughly reviewing and comparing specs, my parameters extended to scrutinizing a lot of Shopify Forums threads, reading discussions eCommerce community pages.
I factored in experiences and case studies of other Shopify Stores using booster theme Over and above, in my desire to craft a real profitable Shopify Store, I bought some premium themes by investing upfront and reinvesting profits.
Eventually, I landed on the Booster Theme and bought it for different reasons-I will further document on this below. Booster is a theme inspired by conversion optimization studies.
Installing Booster Theme
The most fantastic thing about the more recent version (2) of Booster Theme is that it is super easy to install. In 7 minutes, I was up and running with little to zero effort.
In the unlikely event, you get stuck, reach them through Zendesk, in which case they reply to emails in few hours times.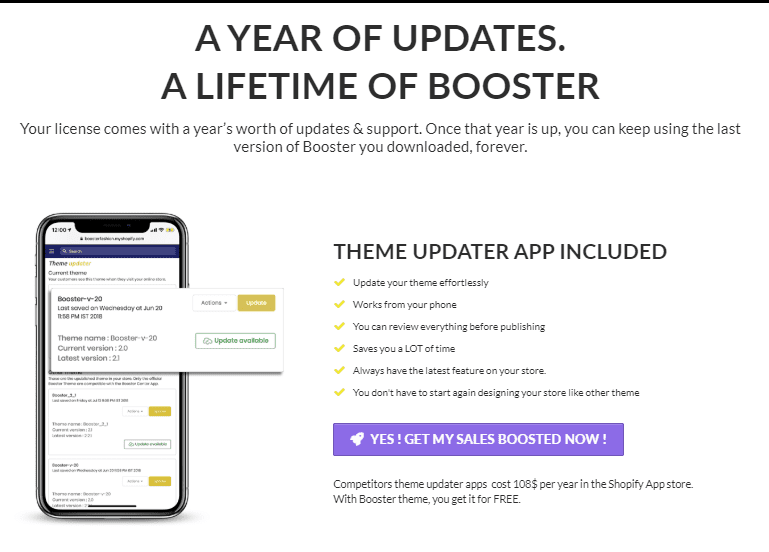 Once I had installed it, I ran it through the test. Studied every aspect, monitored the results from each, including comparing mail list sign-ups, page speeds, abandoned cart rates, bounce rates, load speeds, conversion rates.
Booster Theme Review.
If you intend to set up a Shopify store with just a few product-a one or two product stores, then Booster Theme is the Theme you need. It allows you to set mini sales funnel, which helps with conversions.
The Theme integrates an addon upsell for products you wish to buy-it to what you see on Amazon. Upsell is one of the best means to increase a client's order value.
Say you want to buy a flashlight, for instance, offers corresponding batteries as an upsell. It then leads you to check out for Shopify which is a great way to boost sales.
It is quick to setup theme, you do not need to be savvy, or any experience or coding knowledge to install it. Once you have downloaded, upload the Theme to your store then get started by activating the Theme in your Shopify dashboard.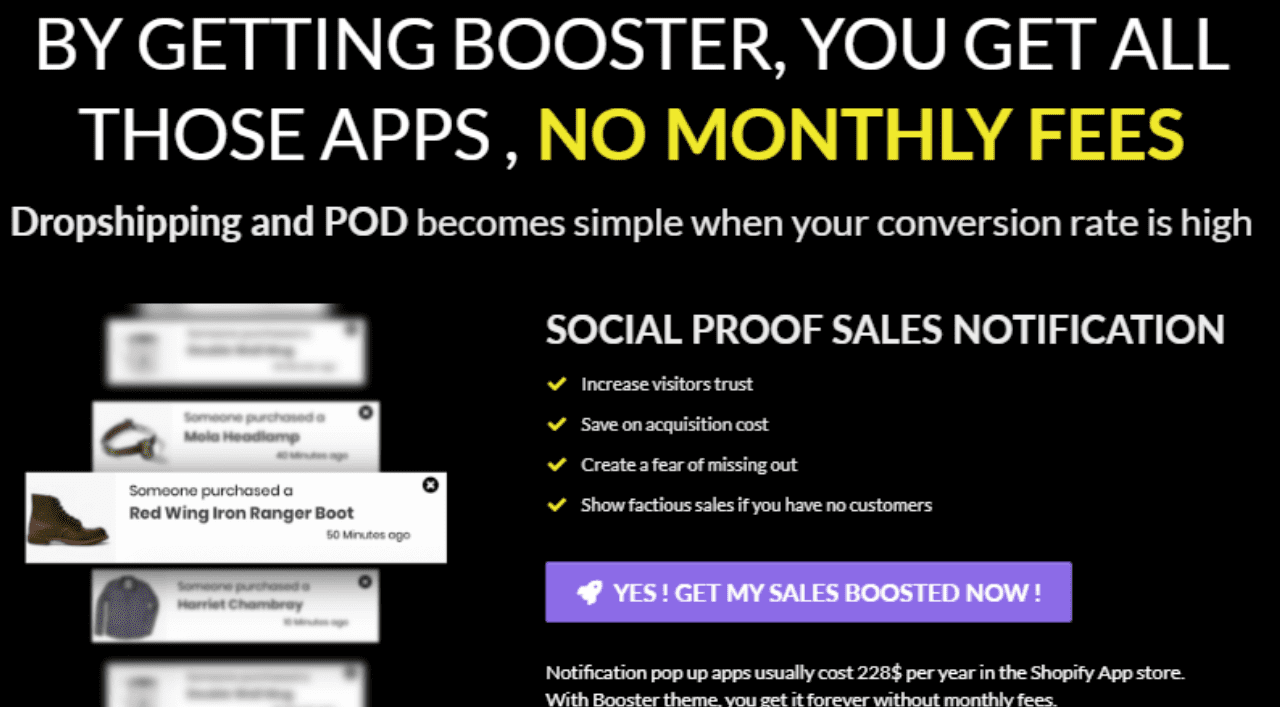 Once you have installed the Booster theme, all the functionality and features get uploaded along with the theme functionality.
Many in-built apps instantly become available automatically, and they include:
1.Estimated delivery time notification
2.Ability to show or hide product details with read-more button-heightens curiosity
3.Countdown timer
3.The visual promotion header bar
5.Product zoom functionality
6.Secure payment security features
7.Increase in search functionalities
8.Increased Menu National Functionalities
9.Scarcity Stock Countdown Notification
10.Scarcity Stock Countdown bar
11.Currency converter
12. Number of current visitors looking at the product-to increase scarcity
13. Buy it now button shakes to draw attention to it
14. Buy it now button leads customers directly to cart or checkout
My Experiences with booster  theme
As I have mentioned already in this article, I bought the Booster theme inadvertently for different reasons; it was not my intention from the outset.
And I can attest to the fact that I benefited from the Theme during the time I had it installed on my store, primarily because of the apps.
Let us get a few things straight first; I can affirm that the Booster theme is better than all the free themes available on Shopify. It is undoubtedly an upgrade as it factors in the science of human behavior and persuasion.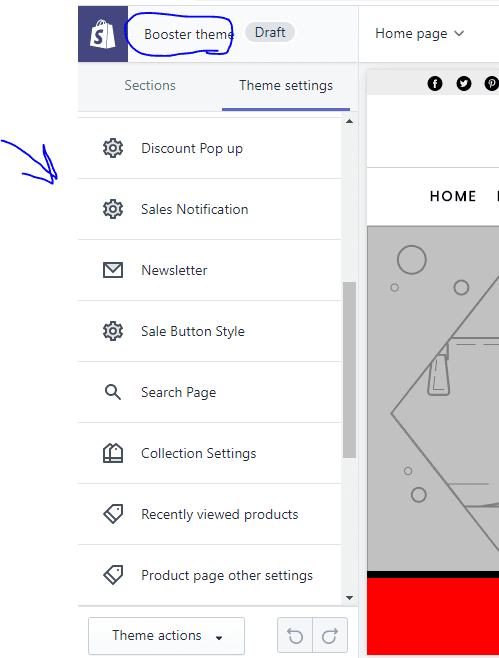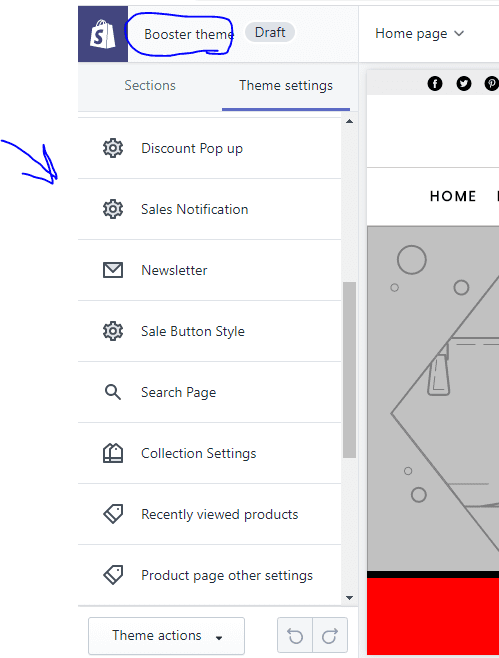 Much as the many apps Booster theme has to include overlap, they provide Scarcity, Social Proof, and Authority-three unique phenomena key to persuading your visitors to become customers.
Keep reading as there is more I am about to reveal.
Mobile Optimization
With mobile usage on the constant rise, the first and most crucial factor for Booster mobile optimization and displays the image and add to cart buttons on most smartphones.
Most sales come from smartphone users, dropshipping business owners tend to make a kill by targeting Facebook users who access the internet via mobile phones. The booster theme is mobile optimized and also shows the Add to cart button and the product images above the fold.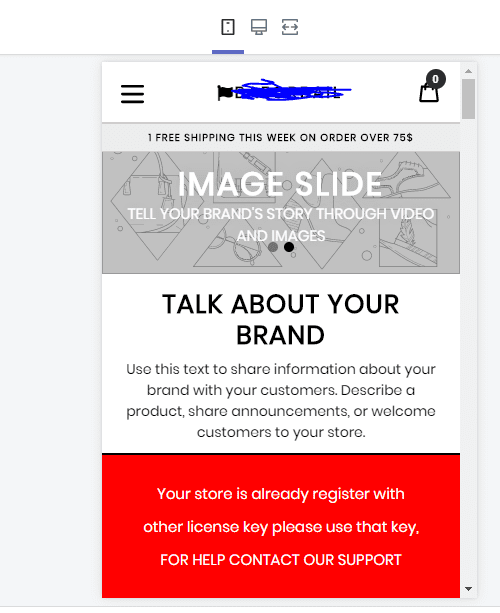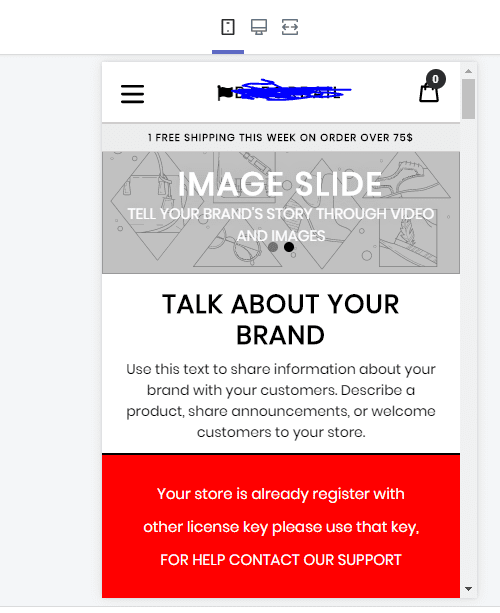 So if you tend to run mobile ads, either targeting Facebook users or Instagram users then you need not worry if you are using the Shopify booster theme. It fits all device screens perfectly. No overlapping.
In the first version I bought, some of the features have talked about in this booster theme review were not available for me unless I bought the premium version.
In this mobile-optimized version, it comes with;
RRP
Sale Price
Delivery notification feature
Countdown time
I found optimization crucial given that I targeted social networks like Instagram, Facebook, and Youtube's traffic which meant that most users were on their phones, I posit that is still the case currently-mobile traffic estimated to hit a 70% mark.
In the more recent version of the Theme, a new addon puts retail-sales price, countdown timer, and delivery notification above a fold no need for scrolling.
Countdown timer.
When you have the countdown timer on, it can increase sales by inciting customers of product scarcity while in real sense there is no scarcity but just one of your marketing strategies.
As stated earlier, the countdown timer can increase orders due to scarcity I am among persons who believe that countdown timer is bull poop, and I have never used it in my stores.
And I hold that a lot of people are blind to the strategy and have come to appreciate that it is just a scarcity tactic and savvy users will realize it is complete nonsense.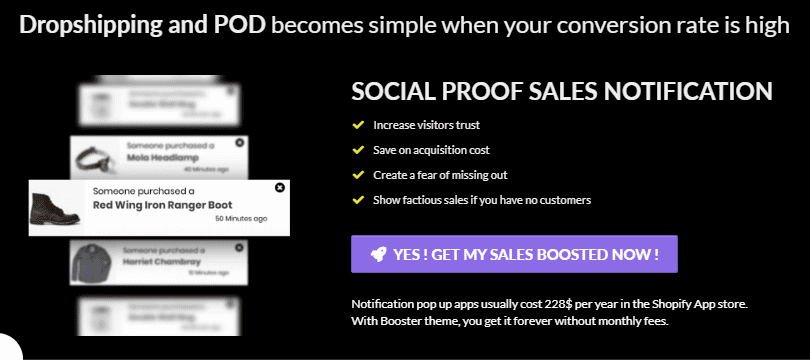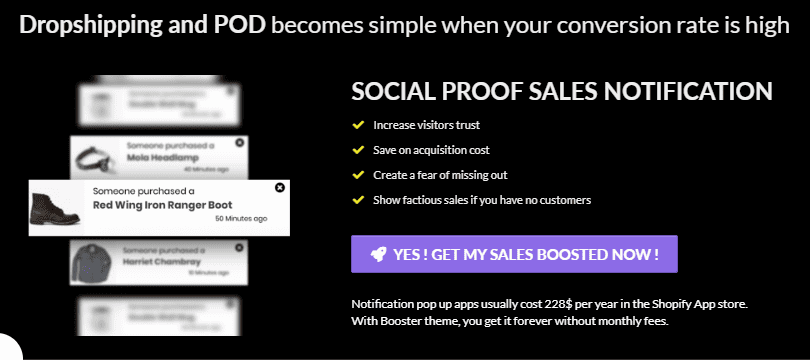 However, let's not throw the baby with birth water-it is worth trying it out as you can still attract clients that may think it is legit, thus increasing sales due to feelings of scarcity.
You can set the timer to any day you want can be hours, minutes, seconds and you can as well restart the timer. The countdown timer can redirect customers to the new page when they are on your product page.
It has been reported that returning customers may complain about the countdown timer if it keeps showing the same numbers.
Notification Popups
Choosing to use this feature is entirely up to you-you can disable it. The Theme comes with this plugin. It is a fake plugin that shows sales on your website that do not exist.
This plugin is responsible for converting doubting customers into actual buyers by showing fakes sales pop up. The app objective is to increase the urge of agency and offer social proof knowing the products has been bought before by other buyers.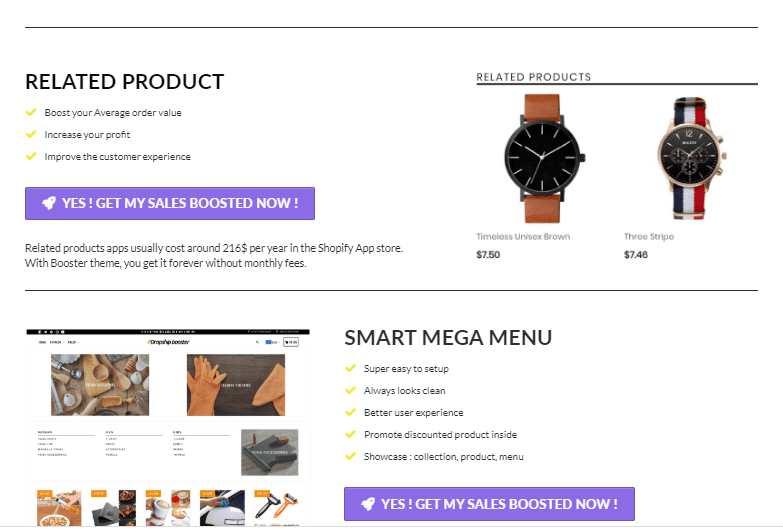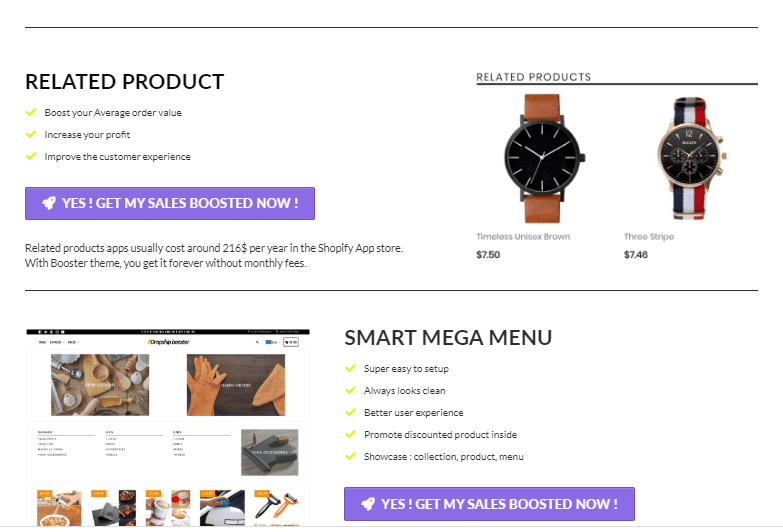 You may have seen sales notification on websites that reads "just bought product z" popping in the left corner of the screen.
Although fictitious, most people are not aware and the idea behind it to increase visitors' urgency and portray consumer confidence in your store, albeit fake.
Some customers may find any kind of pop p notification irritating, I would advise you use this feature keenly, if you intend to use it well and good but it can also be disabled if you like to.
Email Lists
This plugin is included in the Booster theme and therefore negating the need for using apps like Wheelio.
This feature is like the Wheelio app, it is designed to collect customers' emails in return for coupon code or an offer.
As I explained when it comes to pop up you really want to minimize that. This feature is not amusing to some store owners but others may find it quite useful like me.
Just like using Mailchimp, you can edit this plugin to fit your needs or the sales objective you want to achieve. You can edit the call to action, time to display it either when they are on a specific product or leaving the store. it's your choice.
If you are old fashioned and you are trying to build up your email list, this strategy might come through for you. A pop-up shows a discount code in exchange for an email address.
The plugin is entirely built-in; it is customizable top as you can choose when to display the pop-up-when users try to leave or after a few seconds, You can set any amount of discount you'd like.
Support
There is a team that works to provide support through Zendesk. In the event you have issues or problems installing the Theme, your concerns get addressed.
Direct Checkout
Sometimes customers end up not completing the checkout process because of the tedious process of adding products to cart, with booster theme, the add to cart is skipped and the customer is sent straight to the final check out where they will complete the checkout.
Front end conversion has been increased in most Shopify shops by either reducing the checkout process either using sales funnel or just installing a booster theme which comes with the feature inbuilt.
It is a great feature, and I have used it. It is an ideal tool for one or two products. Many marketers swore by this strategy to boost sales.
Research has pointed out that the fewer steps it takes in a funnel, the easier it is to buy, and it boosts front end conversions- I believe it what you want too.
Skipping the cart page and landing visitors straight on the last page to complete check out is the literal meaning of direct checkout.
Product Review
Although, by default, you can integrate the Booster theme with Shopify Product Review, the app is a third party, and that means support is not guaranteed; currently, it works on my store, if you choose to use it-it is at your own risk.
Even though this addon offers immense value, there are far better apps in the Shopify app store from $10 per month that remembers user's pre-settings and round up prices to specific prices.
Cross-Sell Pop up
You can enable this plugin; thus, it appears when customers attempt to checkout an item. Amazon employs a similar strategy, and the feature pops up to display related products.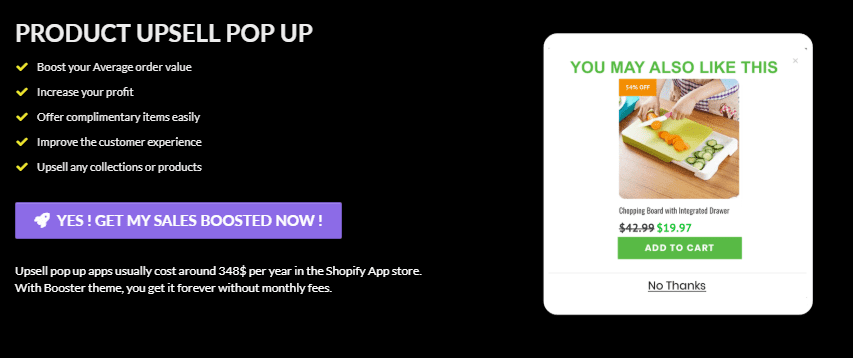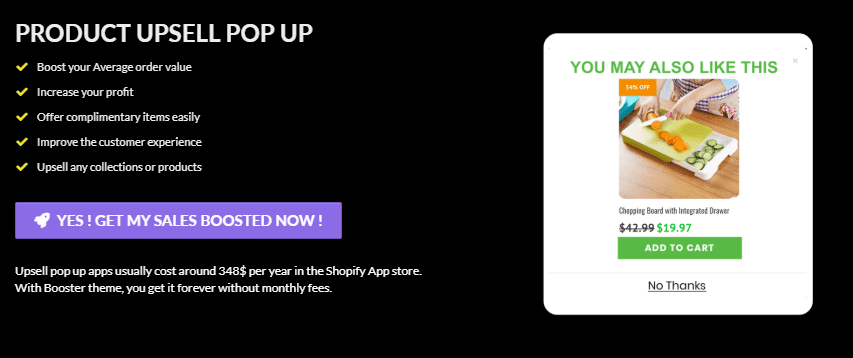 This feature shows customers most bought together items or similar products when they are about to check out. You can cross-sell car side mirrors and car window wipers. The feature allows you to add up to 6 relevant products.
Currently, it allows you to add up to six additional products. Given the diversity of tastes, the plugin can be useful, or some could find it annoying, so it is best to give a shot at it.
You can make pretty good sales from just enabling this great feature
Currency Converter
Among the drawbacks of Shopify is the inability to process orders in different currencies, the geo-IP converts currency depending on user location.
And this is why I like this plugin because it allows your customers to see the prices in their currencies-less confusing, thus boosting conversion rates.
This addon on the booster theme is very useful more so for store owners who are targeting the global audience. You want your USD default currency to show up in different countries in their own currency.
When using the normal Shopify theme, it's hard to automatically show currencies to customers by their 'Geo Ips' hence this plugin allows you to automatically convert your currency to multiples ones.
You can either choose to enable this feature in your booster theme or go for other currency converting apps that are premium on Shopify.
I love booster theme since it has many plugins that you may end up spending extra cash on suppose you were using Shopify themes.
Free++Shipping
If you want to say offer an item for free on the front end, this feature works best to do just that. It allows you to display a free offer then redirect them to an addon page.
With the introduction of the booster premium theme, you can now offer a free product to your customers. The plugin will display a free offer on the front end.
You can also edit the text to display on the tab and this can either redirect the customers to the product or to the sales page you want them to see.
So many drop shippers use the tactic. It is super easy to set up ant the feature lots the leeway to customize the button and message.
Visitors Counter
Again another fictitious tactic. It gives visitors the impression that your store is so popular than it is. I do not turn this plugin on in my store as being of the view that it portends a negative impact on sales.
It gives a fake number of people who have viewed say the product you are viewing.
The reason I believe that this feature can impact negatively is, for example, a client wants to purchase a pair of shoe, I trust they do not know that 470 others are contemplating to buy the same pair of footwear.
It is no longer unique. Is there anything worse than bumping into someone wearing the same shoes? Ok, there is, I digress. But you get the drift!
You can choose to enable or disable this feature, some say it is not wise to use this feature on your store, it is like shopping for  Gucci belt and right in front of your eyes you see other 1000 visitors on the same product.
The plugin works depending on your customers; it can work for some but not others. this is something you need to test.
Booster Theme Cons
By now, you are familiar with all the pros of buying Booster Theme, but how about highlighting the drawbacks and why you may need to weigh your options in committing to this Theme.
From experience, in case of any future update of the Theme, you have to install it over the old Theme, and then you reconfigure your site, which a real hassle.
Will Booster Theme Double Your Sales?
When using the Theme on one of my few product stores,  there was an increase in add to carts, I saw an increase in my conversions as well. This is the reason why I stuck using the theme, I owe my dropshipping success to it.
Results With Booster Theme
What led to even me signing up with Booster Theme was first having read overwhelmingly positive reviews, and of course, it's cheaper pricing. Also, it was the first premium theme I had come across, long before I would discover others.
The ability to quickly download and install impressed me the most and that is not the juicy part of this story, where I saw most benefits were on the apps embedded on the Theme.
Much as I liked the first looks and the feel of my store, I kept drifting to the realization that Booster was most optimal for stores with a few products, one or two.
It was cut out fore stores with the sole intent of displaying a couple of products at a time and want to drive sales for those items intensely.
During the period I had the Theme, based on my store's analytics at the time, I can affirm that I was able to increase my store's conversions by around 30%-40%.
And also, I can attribute the increased conversions my store had to the intro of the Theme on my store; it was the only variable that kept changing at the time. I maintained the same paid marketing strategies with the same campaign.
All the stats, functionalities, and variables led to the conclusion that conversion-boosting apps can work excellently well and help increase-boost sales when deployed on your store.
Generally, I was satisfied with the Booster Theme; however, with an ever-expanding product list, I had started figuring out an alternative that was fit to showcase my inventory.
Final Verdict
Regardless of where you are operating from Booster, Theme is now available in ten different languages and can get translated in any other.
Keeping factors consistent, having tried-tested the Theme on my Shopify store, I feel I am in a better position to offer guidance.
And in giving direction, it would only be fair to recommend a theme that proved as most valuable, useful, and profitable.
If I were in your position, and you are adamant about choosing, then I would have to suggest Booster Theme. I got improved results with it.
The Booster theme endowed with features at a considerable price for the Shopify theme market. A license is a package of 1 year of support and updates, installations take less than 10 minutes, and customization is super easy,
Have you used Booster Theme before? What was your experience? Any questions, suggestions, or comments about the Booster theme review, feel free to leave them below.