4 Steps To Branding Ecommerce Business Like A Pro
So you asked 'How do you brand an ecommerce business? It is inconceivable to overplay the value of branding, a strong brand differentiates you from the competition and enables repeat sales. Today we look into the steps to Branding Ecommerce Business and making your business stand out amidst the competition.
Nonetheless, how can you brand your business effectively? What exactly does that entail, and what does branding even mean?
Rather than using abstract concepts like "visual identity," we're going to walk through the process of building a brand in this article.
By the end of this post, you'll learn how to build an ecommerce brand:
Identify brand buzzwords on Instagram
Find a click-worthy business name
Design a memorable logo
how to create brand consistency
Engage customers about your brand.
POST CONTENTS
1. Why Is Branding Important?
2. What Exactly is a Brand?
• Step 1: Conduct Relevant Instagram Research
• Step 2: Create a Business Name
• Step 3: Creating a Logo
• Step 4: Keep the Momentum!
Are you ready to dive? Let's craft a branding strategy together then!
Why Branding Ecommerce Business Is Vital
Branding Ecommerce Business is critical, and this is especially essential if you're using Oberlo or Shopify to dropship.
This is because multiple dropshippers generally sell a given product. Effective branding differentiates those sellers from one another and big-box competitors such as Amazon.
By the way, if you're new to the eCommerce industry, dropshipping is one of the simplest methods to get started with an online business.
So rather than purchasing a large amount of inventory for your Shopify store, you order things only as sales occur. Your supplier will ship your orders for you, allowing you to sell worldwide! However, becoming a good dropshipper demands ongoing education.
And this brings us to today's topic: Let's take a look at the process of brand construction. As an illustration, consider men's jackets.
For example, assume you wish to sell your jacket.
The street style should appeal to customers, and Aliexpress order count data confirms its popularity. However, the jacket in question costs approximately $35-57 plus shipping. To make a profit, you want to sell it for at least $99.99-124.99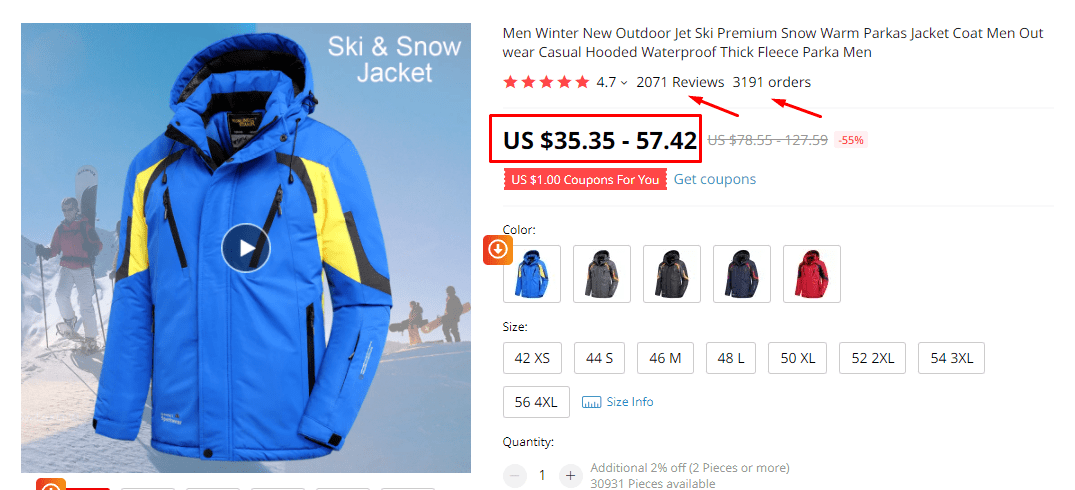 To generate sales at such a premium price point, we must build a brand. That brand should communicate that our products are of superior quality and are well worth the premium we charge for them.
However, allow me to pause for a moment. What is the definition of a brand?
What Exactly Is a Brand ( creating and maintaining brands on the web)
A brand is an image that a store creates in the minds of its customers. These impressions are created by a combination of store design, copywriting, color palettes, and imagery.
In other words, consider your store as a stranger you met on the street. What would the appearance of your establishment be? What would their gait be? What language would they use? What are they going to say?
There is, in fact, a correct response to this question.
Your store should look, walk, and speak exactly like… your customers.
We are drawn to what we are familiar with, which holds for online stores and people. Therefore, if you build a familiar brand with your customers, you will increase sales.
However, hold on. We've only recently decided on the items I wish to sell. We currently do not have any customers. So how are we to know what they look like, how they walk and speak?
This is the first step in establishing your business's brand. Take a look at some examples on Instagram.
Step 1: Conduct Relevant Instagram Research
To begin, you'll need to find who your customers are. Not in the sense of their full names, but terms of their personalities. You're curious about what they're wearing and the vibes they emit.
To do so, you'll need to find people already using your product or something similar. For example, you can search for hashtags associated with your niche – men's fashion – and with this specific product – denim jackets, shearling jackets, and men's jackets.
Then, scroll through the top posts searching for captions that truly convey a message. Here is what you might find.
The Instagrammer (pictured) is very likely a customer. He's already wearing a jacket!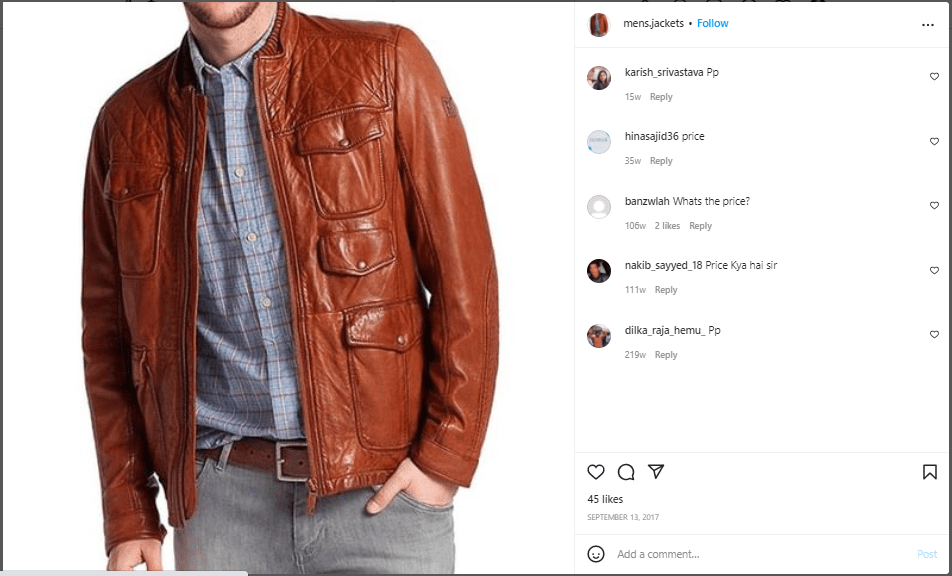 Combining these examples, the following is what I'd write down about my potential customers.
• Individualistic
• Loves to travel
• Confident
• Casual
• Athletic
• Cool
These will be referred to like our brand buzzwords. So now you're starting a brand image with our prospective customers in mind. So the next step is to create an all-important business name.
Step 2: Create a Business Name
Many entrepreneurs spend hours agonizing over the name of their business. However, this does not have to be the case. There are three factors for selecting a successful business name regarding branding.
To begin, the name of your business should make it fairly clear what you're selling. Numerous brands defy this rule and succeed admirably.
However, if you're starting, make leaving your customers in the dark about what you sell. In my case, I'd like to incorporate phrases relating to jackets, outerwear, or menswear into the name of my business.
The second rule for a good business name is that it should be tied in some name to my brand buzzwords.
Additionally, the business name must be available as a dot com. The name would also be available on social networking channels in an ideal world.
With these guidelines in mind, how about we come up with a business name for my jacket startup.
To begin, visit Oberlo's business name generator.
Now, type the word "jackets" in the box provided. This satisfies the first rule of choosing a good business name, as the term "jackets" refers to the product you're offering.
When you click Generate Names, a list of 100 potential business names is generated. There is an excellent lot of helpful information here. For example, assume you like Horizon Jackets but are concerned that they are a little too outdoorsy for your customers. After all, when I think of Horizon, I immediately think of deserts, the great outdoors, and so forth. My brand's buzzwords omit any reference to the outdoors.
However, you undoubtedly adore Valor Jackets. The term valor conjures up images of courage and masculinity, which complements your brand's confident and unique personality.
This satisfies rule two of developing an excellent brand name. Now, for rule three, you can use namecheck.com to determine whether the name you're considering is available.
Now that our brand has a face and a name, it has taken on a life of its own! So the next step is to make the arrangement. It is sometimes impossible to complete a full-scale store build in a single day, but please do so if you are prepared for that.
For the record, if you're interested in acquiring a new domain for your niche, ensure that it will be relevant for at least a couple of years.
After developing brand buzzwords, a memorable business name, and an online store, it's time to move on to the next step of eCommerce branding.
Step 3: Create a Logo
You'll need to create a logo. Go to Canva, the leading free logo creator tool for this step. Canva guides you through the process of selecting a niche.
Select fashion, and then click Next. Then Canva prompts you to choose a visual logo style and logo templates plus you have the freedom to play around with fonts and elements.
Canva now offers a plethora of logo alternatives and other social media templates you can use to build your start-up business.
You may end up selecting this logo here. It has the appearance of a pilot's wings, which corresponds to the customer's passion for travel.
If you're unsure of which hue will work best for your brand, read our article on color psychology.
You may join us on Instagram and Facebook with our logo in hand. Utilize your logo as your profile picture across all social media platforms.
Step 4: Keep the Momentum!
There are numerous additional pointers on how to brand an online store. The images on your website, as well as the font, should be consistent with your brand. As such, we're going for courage and masculinity in our hypothetical store.
As a result, you would want to avoid a playful font. Instead, you'd require something strong. The same concept should guide your image pick, product descriptions, and anything associated with your store.
Thus, we are not done – but we are on our way! Using a single product as a starting point, you can find a few brand buzzwords on Instagram.
Then, you'll use those buzzwords to come up with a brilliant business name and design an eye-catching logo. And with that logo, you can create a brand identity for your Shopify store by coordinating colors and fonts.
Finally, it's time for feedback! What are your views on the brand we built? Which aspects would you affect? Kindly tell us in the comments section below.
There are many e- commerce branding strategies pdf and ebboks publsihed online but none touches on the importance of working on your ecommerce brand identity as explained in this post.
There is more to learn about this topic,but my ephansize today was to create an e commerce brand awareness for both start up and established ecommerce store owners.
Read Also:
Small Request
Kindly share it with your friends. Especially, the ones you believe really need this information.
Sharing this information with others can make a huge difference. You may ask why?
Well, the truth is, my main aim is to provide the best information pertaining to drop shipping for both beginners and experienced dropshippers.
And I plan to continue doing so for as long as I can.
I would also like to thank those who support the work I do through reading my content and sharing.
Trust me, when you take your time and share it will help a lot not only for me but also for other people who may really be in need of this information.
Here are some great suggestions:
Pin it
Share it on another blog
Share on Facebook (Share it with friends and even on Facebook groups)
Tweet it
Stumble it
This will only take a few seconds of your time and I would really appreciate it.
I appreciate you a lot. Thank you!
Join my Shopify dropshipping group mastermind and follow my blog to learn more about Shopify tips, dropshipping guides, dropshipping tricks and checklists, and e-commerce in general.
If you enjoyed and learned something from this post, you can get updates from me, free of charge!
I send out email newsletters about new posts published on the blog, tips, and tricks to help you grow your dropshipping business, as well as new YouTube videos to give you more insights about the e-commerce market, and much more.
If you enjoyed reading this, you can as well join my Facebook group. Thank you for reading how to make money dropshipping online from the comfort of your home.
Click The Image To Join My Facebook Mastermind GroupDOWNLOAD INSTAGRAM STORIESINSTAGRAM STORIES