How To Write Product Description Using CopyGenius AI
You've probably heard of Copygenius AI unless you've been living in a cave over the last few years. Yet, how can we incorporate A.I. into eCommerce?
This post provides intriguing and practical insights into online store owners Users Copygenius ai to write killer product descriptions, blog outlines, and highly converting Facebook ad copies for their online advertisements.
How does tenfold the speed with which you write eCommerce content sound? Is this your pursuit?
You can get started with Copygenius for free, and Artificial Intelligence allows you to automatically generate ad copy, product descriptions, and other content!
Post Content
Introduction
What is Copygenius AI?
How to use Copygenius
For What's Copygenius AI Ideal?
Copygenius AI Pros & Cons
Copygenius features
Pricing plans
Summary
FAQs About Copygenius.AI
A.I. is beginning to permeate every aspect of our lives. Artificial intelligence is virtually omnipresent, from the growing number of self-checkout cash registers to enhanced airport security checks.
In the coming years, A.I. is widely expected to accelerate, with industry titans like Google and Microsoft investing substantially in new A.I. businesses.
Google's recent £400 million acquisition of DeepMind, an artificial intelligence startup focusing on algorithms and machine learning for social good, is one of several anticipated acquisitions. Such technology's potential becomes a reality.
Other significant technological companies, such as Facebook, IBM, and Yahoo, have already openly proclaimed their focus to develop artificial intelligence as a new revenue stream.
If you search for artificial intelligence online, you will find hundreds of publications predicting a market dominated by the use of artificial intelligence.
According to a recent Business Insider research, by 2020, up to 85 percent of consumer contacts will be handled without human participation.
Numerous eCommerce companies are already using artificial intelligence to understand their customers better, create new leads, and improve the customer experience.
However, how are they doing so? Continue reading for a comprehensive list.
What exactly is Copygenius.AI?
What is the Copygenius AI technology, and how does it work?
Copygenius AI is a lightweight, cloud-based eCommerce content writer solution for creative teams tasked with creating high-impact product content to promote ecommerce growth.
Copygenius.AI centralizes all of your data, graphics, and previously written product copy, making it easier for your entire team to work together. As a result, higher-performing PDP pages result in higher conversion, customer loyalty, and lifetime value.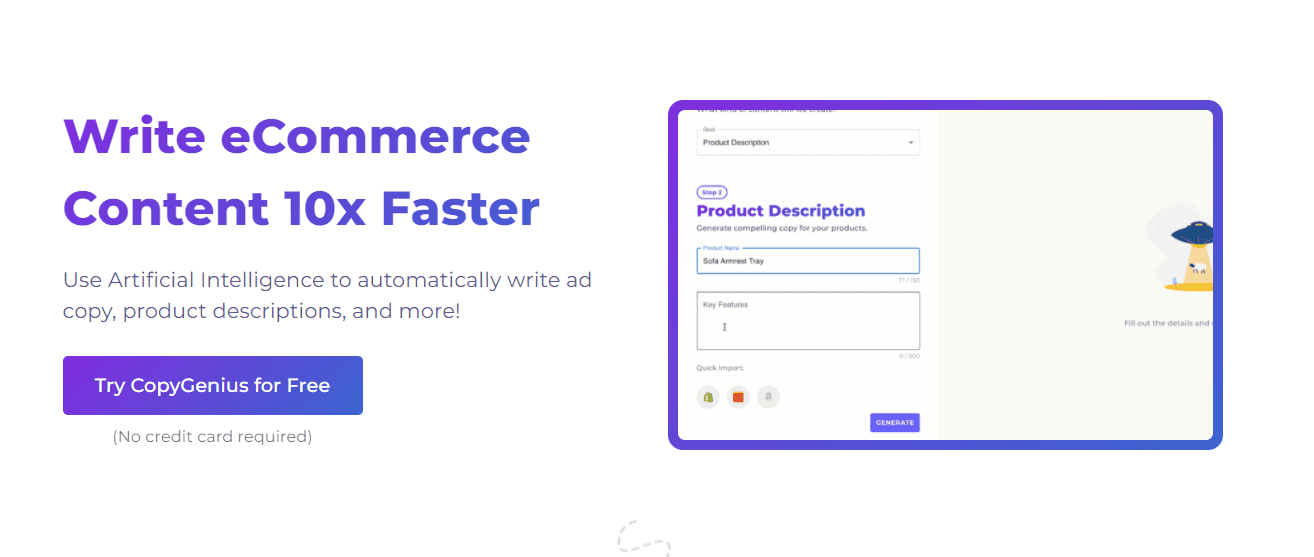 In a word, CopyGenius is a highly trained artificial intelligence computer capable of creating content for you. All content is one-of-a-kind and search engine optimized. This entire page was produced using artificial intelligence.
Are you tired of writing product descriptions? Provide CopyGenius with a few data about your product and watch it generate excellent, high-converting descriptions.
Do you find it tough to write Facebook or Google advertisement copy? We've got you covered.
Maximizing the Use of Copygenius AI
Before Copygenius.AI, there was no solution designed specifically for high-speed, high-volume, high-quality product content production for e-commerce business.
Copygenius AI empowers you to get the most out of your e-commerce business.
Copygenius AI can be used to work with previously collected product data.
Once our language models have been mapped to your data, you will need to input your data, in the same way each time to generate results.
Using Copygenius.AI
How long will it take for the system to go live? Copygenius. A.I. may be up and operating for your team in days. It only takes a few short sessions with our customer success team to map your current processes to Copygenius.AI, then a few minutes of training for each team or user.
You can easily become productive with Copygenius.AI if you keep up with friends on social media or edit an online document.
For What's Copygenius AI Ideal?
Is Copygenius.AI the best option for me? Consider briefly the following:
Content generation costs scaled back.
Customer experience
Almost 100 % copy delivery on time
Enhanced Copygenius.AI efficiency
Copygenius. A.I. pays for itself many times over.
Up to a 10X or greater increase in conversion rates
Significant reduction in the number of errors that result in returns
Most leading Ecommerce brands trust Copygenius.
A.I. can now significantly improve our ability to manage product information by providing high-quality content, product copy, and workflow.
The AI increases collaboration visibility and efficiency while needing much less time and effort to manage.
Copywriters couldn't be happier. As a result, many copywriters would be unable to achieve the volume, speed, and quality of product content demanded by brands if Copygenius AI did not exist.
Using Copygenius AI as a copywriter has been the most delightful experience for our customers. We set it up to work for multiple departments because it is versatile.
The A.I. would be ideal for the following scenarios:
1. PROFESSIONAL BRAND WRITER
Copygenius. A.I. writers can be programmed to convey your brand's unique voice. It can also be configured to talk to different client segments differently.
2. ADAPTIVE LEARNING
Copygenius has a feedback loop. With each edit, A.I.'s A.I. gains insight. The more you use it, the better it gets.
3. BUILT-IN WORKFLOW
AI writing is just one part of a larger system designed to manage the full content workflow. Create A.I. copy, then edit, approve, and publish everything in one place.
Copygenius AI Pros & Cons
Pros
High converting ad copy boost sales because:
Copygenius AI was created by a team of conversion experts and copywriters with years of combined experience—you can expect A.I. to write higher-quality content.
Increase the ROI of your ad by obtaining high-converting copy at a fraction of the cost.
Access a wealth of marketing content for emails, advertisements, and website copy with a single click.
Get a wide range of marketing content supplied to you in minutes.
The beginning package costs nothing per month and has a word limit of 750 characters.
Allow A.I. to write high-converting copy for improved conversion rates and time savings.
You can write more content in a few hours than you could in a month.
The Cons
Copygenius AI occasionally produces irrelevant content; this inaccuracy is, however, to be expected with artificial intelligence.
Top features of Copygenius.AI
The Elements tab in the Copygenius dashboard provides access to templates.
The software features are accessible in the dashboard's top left-hand corner. These allow you to browse several eCommerce product content and bill, edit, and bill.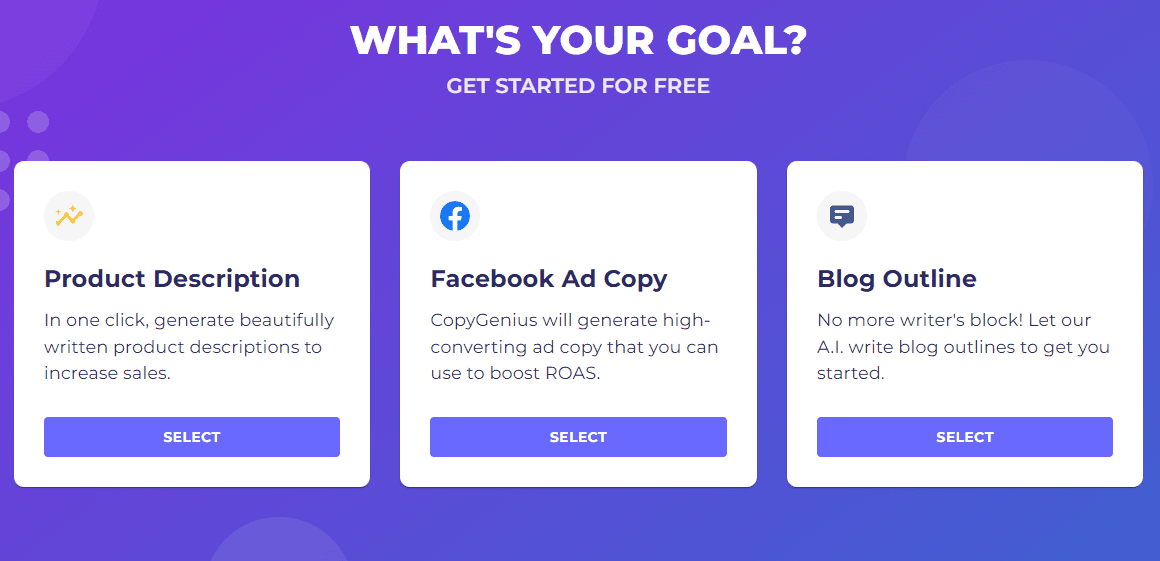 Again, the templates tab element gives you access to a vast library of features, such as a quick import link and an A.I. text editor, all at the click of a button, so you must be selective. Furthermore, after selecting the template tab, you can use either of A.I.'s features to generate content accessible via a drop-down menu.
While most of the features are free, a subscription is required for others.
The Copygenius.AI includes the following notable features:
Product Description
Produce beautifully written product descriptions with a single click to generate sales. A template is included in the app to help you quickly write product descriptions. If you have a large amount of product information that needs to be copywritten, use this feature.
Example: Using Product description
Except for the A.I. text editor and the Quick import link, the rest of the elements require the same steps to write content.
Log in before you can use Copygenius AI. Sign up if you haven't already. Go to the dashboard. To access the app's features, go to the Templates tab.
Step 1: The Content-Type guides us by asking what kind of content we will produce. Under the goal, you can select the content type you want to create, in this case, product description, using the adjacent drop-down menu on the adjacent.
Step 2: The name of the content type you selected in step 1 is displayed here, as is the product description. There is a Product name field below it where you can type in the name. The second field is Key Features, highlighting your product's material, size, and design.
Quick Import: In this section, you can then click on the logs to get a Product URL, which allows you to import a product from your existing Shopify, AliExpress, or Amazon store. You can select a content output limit between 1 and 5.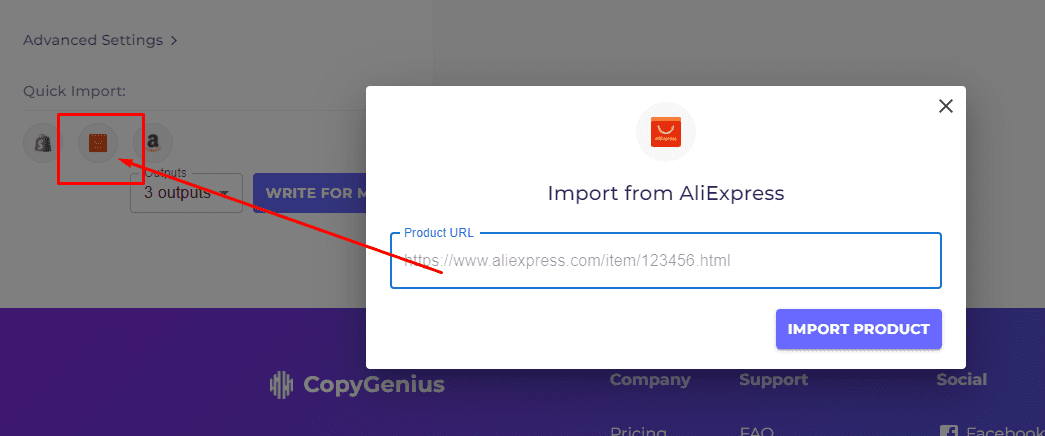 Editor: Use the A.I. text editor feature, accessible from the templates page corner, to edit your copy while leveraging the A.I.'s futuristic features when you highlight the text. You can use different fonts, italics, bold, and underline in the editor, among other things.
After you've defined the parameters for your content, click "Write for me" to generate compelling copy for your eCommerce store product.
Facebook Ad Copy
CopyGenius will generate high-converting ad copy for you to use to increase your ROAS.
Are you having trouble creating the ideal Facebook Ad Copy for your next social media campaign? Here's a free online tool that will help you come up with content ideas for your best Facebook ad copy. With our fantastic Copygenius AI copywriter, you can write Facebook Ad primary text in seconds.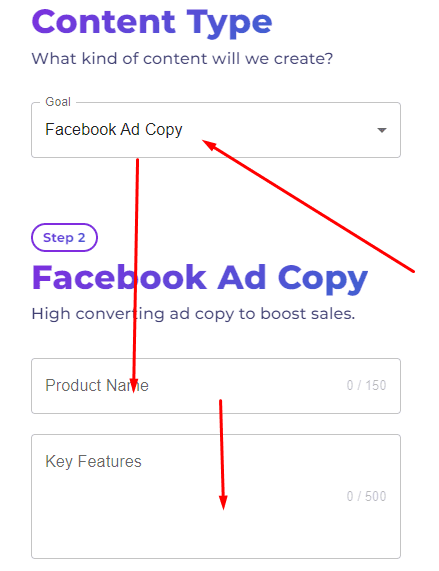 Blog Outline
Writer's block is a thing of the past! Allow artificial intelligence to write blog outlines to get you started. When it comes to coming up with marketing copy ideas, you will save a lot of time.
Allow Copygenius AI to create an idea for your new copy in seconds rather than hours or even days. While the human brain may take days to generate a brilliant copy idea, Copygenius AI can do so in seconds.
Make product and service lists and outlines. It would best suit "listicles" and "How to" blog posts and articles.
Quick import link
This element allows for a quick product import from your store via a product link. For example, when you click on the logos, a product link from a pre-existing Shopify, AliExpress, or Amazon store will be pasted.
A.I. Text Editor
The A.I. Text Editor in Copygenius is an entirely new feature. Open the editor from the template page's corner and use it to edit your copy with advanced A.I. features. Highlight some text, and a tooltip will appear, allowing the A.I. to auto write a new paragraph, rewrite the currently selected text, and more.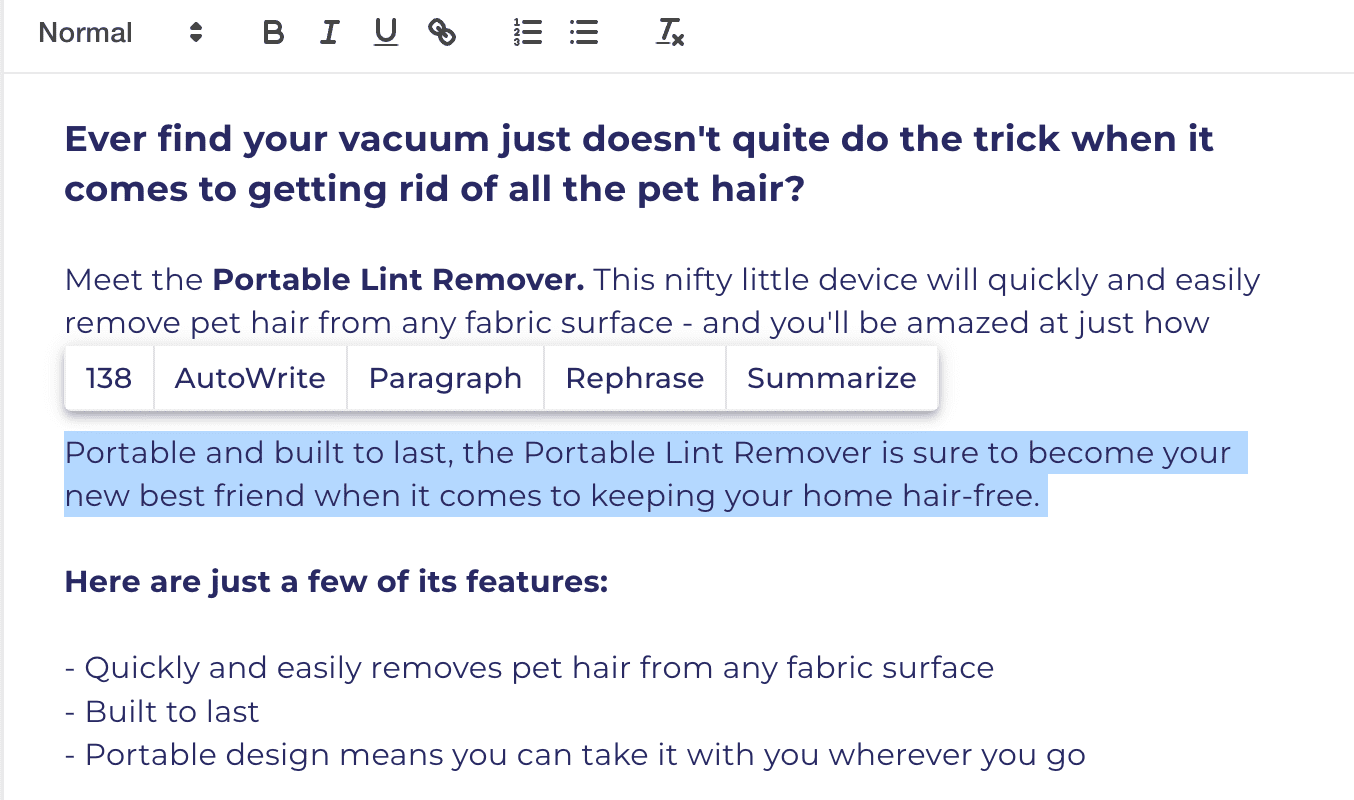 Product Reviews
Make one-of-a-kind product reviews. Copygenius works to create exceptional copy that describes your product's unique benefits.
It produced several statements emphasizing the benefits of the product. It also reflects how you respond to customer demands and what distinguishes you from the competition.
Product benefits
The template for developing unique value propositions is another noteworthy feature (UVP). Product benefits are simply statements that describe the advantage that your product provides.
The feature benefit template generates a list of your product's benefits.
It converted the paragraph details into bulleted benefits, as you can see. It's a good tool for breaking down your product's unique selling points to emphasize them more in your campaign.
Creative Product title
Do you need assistance in coming up with unique product names? Give it a shot with our artificial intelligence! Copygenius also has headline templates. A.I. is "taught using formulas developed by the world's top copywriters," they claim. It also ensures that companies receive "high-converting headlines."
At this point, the only way to know if it truly has a high conversion rate is to look at actual data. However, hearing from businesses that have had success with this software would be interesting.
This template can be used for email marketing in conjunction with creative writing tools by eCommerce stores. This tool is best suited for dropshipping businesses and those looking to promote products and services via email. The feature generates eye-catching subject lines that encourage recipients to open your email. As a result, one would generate Copygenius AI producing a long list of creative subject lines.
Pricing Plans
What is the cost of Copygenius AI? Copygenius.AI provides eCommerce brands with three price options:
Three plans are available: free, Plus ($9 per 10,000 words, billed monthly), and Premium ($29 every 35,000 words, invoiced monthly).
The free edition is appropriate for copywriters who want to develop content but are apprehensive; therefore, it's a trial. You get email assistance, over 750 words of content, free templates, and unlimited free access.
The Plus plan is better suited to your needs if you create a considerable volume of material for yourself or your clients. You can, for example, receive access to over seven templates, 10,000 words, and several other features. One notable feature is the brand new A.I. text editor, which allows you to edit your copy using advanced A.I. features.
The Premium plan is best suited for copywriters or brands with a large crew. You get access to multiple features, superb quality for dropshipping, and a monthly word count of 35,000.
Free Plan
The Free plan includes the following features.
• $0
• 750 word trial
• Unlimited Logins
• Email Support
The Plus plan
The Plus plan, which allows you to write up to 10,000 words per month, costs $9 per month (or $93.99 per year) and contains all of the features included in the Free plan and the following.
• $9/monthly
• 10,000 words per month
• Unlimited Logins
• Email Support
Premium plan
The premium plan starts at $29 a month for 35,000 words per month and includes all of the same features as the Plus plan, including the following.
• $29/monthly
• 35,000 words per month
• Unlimited Logins
• Email Support
Summary
AI-the Artificial Intelligence allows you to automatically write ad copy, product descriptions, and other content.
For example, A.I. is being used by eCommerce enterprises in online buying. Is it possible to use artificial intelligence to improve the customer experience?
Copygenius AI is an A.I. writer explicitly designed for eCommerce.
Increase your output for next season by adding category-specific authors to your squad. The A.I. writer at Copygenius.AI can be educated to channel your brand voice.
The more you utilize it, the better it will get. Increase the return on investment of your ad by acquiring high-converting copy at a fraction of the cost. It is very adaptable and can be used in a variety of disciplines.
Copygenius AI is a copywriting program that allows you to create and edit your digital material with the click of a button. Among other features, the app has a template for swiftly writing product descriptions, a simple import link, and an A.I. text editor.
Copygenius is a tool for creating content ideas for your finest Facebook ad copy. With this sophisticated A.I. copywriter, you can create Facebook Ad primary content in seconds. Edit your copy with advanced A.I. features like auto-writing and rephrasing in the A.I. Text Editor.
Copygenius AI can produce email subject lines that persuade users to open your email. This application is best suited for dropshipping firms and individuals interested in promoting items and services via email. The new A.I. text editor is a unique tool to edit your copy with advanced A.I. features.

FAQS About Copygenius.AI
What if I need more word credits than my plan offers?
You can upgrade your current plan or contact us for a one-time payment to add more word credits to your account.
Is CopyGenius able to generating SEO content?
CopyGenius is an artificial intelligence trained to automate tasks such as producing SEO-optimized product descriptions, high-converting ad copy, and more!
Can I exceed my monthly word limit?
No. Because the word limit is a hard cap, you won't be charged for more than the price of your plan.
How will the membership work?
Our A.I. system is limited to a certain quantity of words every month for each plan. Therefore, the word limit is reset when your plan renews each month (unused credits do not roll over).
Can I get my credits back?
Once credits have been added to your account, they cannot be refunded and will be available for use until the end of the month.
Is there a free trial run?
You can bet your top dollar that there is. Sign up for a free account, and credits will be added to your account for you to use. There is no credit card necessary.
Can you cancel?
People naturally resent services that make it deliberately harder to cancel. For example, you can cancel from the dashboard's billing page with a click.