Is Dropshipping Good For Beginners? (Truth)
When you are a beginner, time and money are both limited. Because most startups wait to make a profit and have thin finances to pay personnel, startup entrepreneurs are pressed for time.
Because of this, dropshipping is a terrific business model for new entrepreneurs. Beginners can save money and devote more time marketing their products by outsourcing manufacturing, warehousing, and shipping to a third-party seller.
Table of Contents
Many people still need clarification on the model. As a result, we developed this comprehensive, informative guide. Provides more information about how dropshipping works. Is dropshipping good for beginners?
Read on to learn more about the dropshipping industry.
What's dropshipping?
A dropshipping business model allows owners to sell products made, stored, and shipped by a third party from their online store. Because products are often only billed to the business owner after they have been sold, the risk of making too many sales is virtually nonexistent.
Dropshipping is a terrific way for new business entrepreneurs to get started. It frees up time that could be spent on marketing and provides small businesses with a low-risk opportunity to test new product concepts (and product lines) without having to buy and pay for the product up front.
Shopify makes it easy to start a dropshipping business:
Create your online store.
Identify a dropshipping niche
Identify a dropshipping niche
Locate and evaluate dropshipping suppliers
build your brand
Promote your dropshipping store
Benefits of Dropshipping
Dropshipping is a popular alternative for new business owners wishing to start making money online. Because the dropshipping business model provides the following:
Low entry barrier. New business owners do not require much money to invest in inventory. The supplier takes care of shipping and order fulfillment when you sell a product through dropshipping.
Flexibility. You have complete discretion over how many dropshipping products you choose to sell through your store. This e-commerce business model allows you to work whenever and wherever you choose.
Testing is straightforward. Because you no longer have to worry about order fulfillment and shipping, you can focus on performing market research to identify which products sell the best. As a result, many business entrepreneurs consider dropshipping a rapid crash course in e-commerce marketing.
You can draw more people to your website.
It is not essential to store the inventory.
Expected future expansion
Why is dropshipping good for beginners?
The dropshipping sector is predicted to cost $197 billion every year, marking a 53% growth over 2020, and according to experts, it might be worth $500 billion as early as 2027.
Is dropshipping worthwhile for beginners in 2023?
Dropshipping is still viable if you want to start a low-cost business. In just a few years, the number of people searching for "dropshipping" has increased tenfold.
The keys to success include choosing the right products, choosing your profit margins, and working with the right suppliers. If you follow these things, you can create a successful and profitable online business as a dropshipper.
You may be thinking about starting your own dropshipping business after hearing from social media influencers that one store may generate thousands of dollars in extra revenue.
It's easy to start a dropshipping business; you must build an e-commerce website, find a supplier, and choose your merchandise. The money, however, will start after some time. Launching your first dropshipping store may require significant time and focus. Before you launch your online store, you should be aware of a few things.
Is dropshipping a viable business model for beginners?
Dropshipping has a reputation for being a "get rich quick and easy" method because it is inexpensive to start and has a low overhead. Some people are skeptical of dropshipping.
Because dropshippers usually spend more to acquire inventory from suppliers and so many firms sell comparable products, there is frequently a cap on the maximum profit you can make on each item. Therefore, the cost of avoiding fulfillment, shipping, and returns is a consideration.
Dropshipping can be a profitable business, yes, if you choose the right products to sell and establish the right prices.
There are dropshipping stores that generate a net profit of 20% and a gross profit of 40% on average: It is mostly determined by the products you sell and the quantity of marketing you do. However, given the minimum parameters, almost every dropshipping store can be profitable.
Dropshipping is, in the end, a costly business. To run a successful dropshipping business, you must have the financial resources to invest in advertising and graphic design. However, getting your money back is highly profitable.
Is dropshipping competitiveness good for beginners?
Dropshipping is an appealing business model for those looking to sell goods online because it is simple to set up and requires no prior experience. That makes it competitive, especially if you sell in a well-known dropshipping niche.
With 500,000 clothing dropshippers competing for your target market's dollars, the dropshipping niches with the most money are clothing, home, and garden, and watches and jewelry.
According to estimates, 10% and 20% of dropshipping businesses thrive. You can increase your chances by differentiating yourself from other dropshippers.
Finding a less competitive niche: When choosing a new dropshipping market, consider the following factors: "the number of daily searches, the level of competition, whether or not the products can be obtained in a wide variety of local stores, and the retail price (on average, at least $500)."
Focusing on customer service: Dropshippers frequently fall into the trap of focusing solely on marketing and ignoring existing customers, even though existing customers are likelier to purchase the products you sell.
Create your brand. Today, having a brand identity and a legitimate business—even if it wasn't legitimate at first—is the only way to get started in dropshipping. If you still ship from AliExpress, you must be trustworthy. People must trust in you.
A merchant's quality still heavily relies on dropshipping, and improvements can always be made—better products, faster shipment, better search, user opportunity, and so on.
Dropshipping Investments for Beginners
Many dropshippers can earn up to seven figures per year with a profitable dropshipping store. So, if you want to make $100,000 a year dropshipping, you'll need to find the right suppliers and build a brand.
Even though dropshipping is a low-risk business model, making your first sale will take a long time.
Dropshipping requires at least 10 to 15 hours per week to earn up to $2,000 per month. However, just like any other small business, the more effort you put into it, the more likely you will succeed financially.
According to the evidence, it will take at least a year of full-time work on your dropshipping business to replace a $50,000 full-time income.
How hard is it for a beginner to start dropshipping?
It could be the beginning of a dropshipping business. However, starting a dropshipping business is free, so you may face competition from other businesses offering the same product at comparable prices.
Like any other type of business, dropshipping necessitates significant work and a long-term view. However, you will be very disappointed if you assume that six weeks of a part-time job will give you a six-figure salary.
However, you'll be much less likely to give up if you start your business with realistic expectations about how much it will cost and how much money you might make.
If you are a beginner, you will need to invest a lot of time or money to start a dropshipping business.
Investing time
Putting in the effort to grow your dropshipping business. Investing your own money and working hard are the best ways to start a dropshipping business, especially for beginners. We chose this method of investing large sums of money for several reasons.
As your business grows and expands, you'll understand how it works, which is essential for managing others.
You'll have a solid understanding of your market and customer base, which will help you make better decisions.
You are less likely to waste money on activities not critical to your success.
You'll make new skills that will help you run your business more efficiently.
The majority of people are unable to quit their jobs and devote six months to the operation of their new online store. So even if you work full-time, you can start dropshipping.
Setting realistic customer expectations regarding customer service and delivery timeframes will make it possible, though it may take some work. After your business grows and your cash flow and profits allow it, you can transition to working on it full-time.
Although every business and entrepreneur is different, if you work 10 to 15 hours per week on your business, you can expect to earn $1,000 to $2,000 per month over a year.
Working full-time on your business is the best way to increase your chances of success with dropshipping and make more money. Initially, when momentum is crucial, focusing all of your efforts on marketing is highly worthwhile.
According to our observations, starting a dropshipping business that replaces an average salary of $50,000 requires at least 12 months of full-time work and a strong marketing background.
It may appear that there is a lot of work for a small reward, but consider the following two factors:
When you start a business, you are creating more than just a source of income; you are also creating a product or service that you can sell in the future. When calculating your genuine return, you should make both the equity value and the cash flow.
Once your dropshipping business is up & running, maintaining it will require less time than a 40-hour workweek. The effectiveness and scalability of the dropshipping model far outweigh your initial investment.
In a hurry? Shopify Exchange allows new dropshippers to save time by buying an already profitable dropshipping business.
Capital investment
Investing in your dropshipping company. We do not recommend investing much money to create and grow a dropshipping business, but it is possible.
We've experimented with internal and external business work methods, and internal growth has proven to be the most successful.
It is critical to have someone deeply invested in the company's success and build it from the ground up in the early stages.
If you need to understand how every level of your business works, you'll rely on expensive programmers, developers, and marketers who will quickly eat away any profits you make.
So, though you can do some things yourself, you should be the project's driving force from the start.
You'll need a $1,000 cash reserve to get your business. This is required for small running expenses such as web hosting, drop-shipping suppliers, and incorporation fees.
Read Also:
Final Thoughts
Launch your dropshipping business right away. Regardless of how long you've been in business, a dropshipping business is an excellent way to begin selling online with little risk and expense.
With the rise of third-party apps and marketing automation solutions, running your business online has become much easier.
This dropshipping guide should devise a path to success and financial independence, allowing you to give the life you've always desired, just like many other ecommerce entrepreneurs.
Small Request
Kindly share it with your friends. Especially the ones you believe need this information. Sign Up Now and Get your first 3 months for only $1 monthly.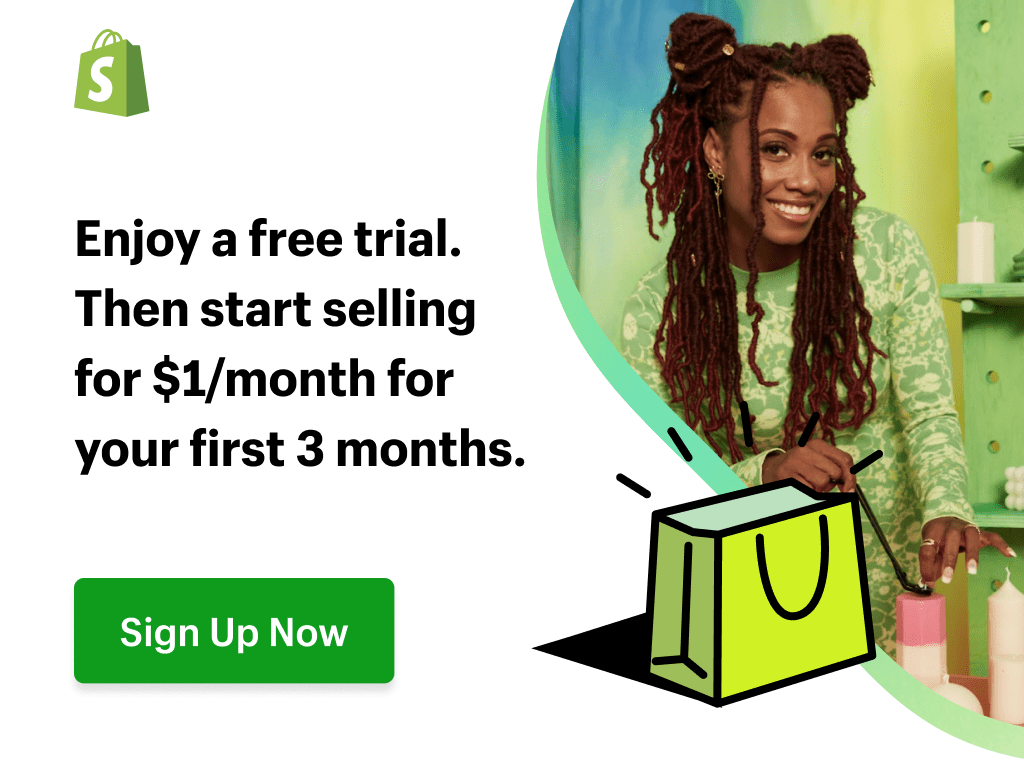 Sharing this information with others can make a huge difference. You may ask why.
Well, the truth is, my main aim is to provide the best information about drop shipping for both beginners and experienced dropshippers.
And I plan to continue doing so for as long as I can.
I would also like to thank those who support my work by reading and sharing my content.
Trust me, when you take your time and share, it will greatly help me and others needing this information.
Here are some great suggestions:
Pin it
Share it on another blog.
Share on Facebook (Share it with friends and even on Facebook groups)
Tweet it
Stumble it
This will only take a few seconds of your time, and I would appreciate it.
I appreciate you a lot. Thank you!
Join my Shopify dropshipping group mastermind and follow my blog to learn more about Shopify tips, dropshipping guides, tricks and checklists, and e-commerce in general.
If you enjoyed and learned something from this post, you can get me updates for free!
I send out email newsletters about new posts published on the blog, tips and tricks to help you grow your dropshipping business, new YouTube videos to give you more insights about the e-commerce market, and much more.
If you enjoyed reading this, you could as well join my Facebook group. Thank you for reading how to make money dropshipping online from the comfort of your home.
Click here to Join My Facebook Mastermind Group