Is It Profitable To Dropship? (10 Things You Must Know)
Dropshipping, as you may have heard, is the latest e-commerce hot trend. However, the promise of making money by selling goods without ever having to store, pack, or ship them begs the question, " Is it profitable to dropship?"
Can you truly profit from a dropshipping business?
The answer is unequivocal Yes!
The time and effort required to launch your first dropshipping business may be significant. To make dropshipping profitable, however, you must select the right products, promote your brand, and set reasonable prices.
In addition to everything you should know before opening your online store, this piece explores if dropshipping is profitable. The tips below will get you there.
What is Dropshipping?
Dropshipping is selling goods through an online store without placing orders, holding inventory, or shipping goods to buyers. The customer, the e-commerce site owner, and the supplier, participate in the dropshipping process.
These are the steps:
A customer orders a product from a dropshipping website.
The owner of the dropshipping business emails the supplier with the order details.
The supplier ships the item to the customer after fulfilling the order.
What is it about dropshipping that makes it so popular?
Dropshipping is presently valued at $197 billion, a 53% increase from 2020, with experts forecasting a $500 billion valuation as early as 2027.
The pandemic is primarily responsible for the growth in the popularity of dropshipping. Consumers shopped online more frequently than before the pandemic, with one-third making purchases they would have made in a typical store.
Is it profitable to dropship?
Prerequisites for launching a dropshipping business. Because of the upsides of low startup costs and overheads, dropshipping has carved out a reputation as a "get rich quick and easy" strategy. But, of course, some individuals are skeptical of dropshipping.
Before opening your dropshipping store, let's look into some skepticism.
Because dropshippers frequently pay a premium to obtain goods from suppliers and so many firms sell comparable products, there is often a ceiling on the amount of profit you can generate on each item. As a result, costs must be paid in price to enjoy the luxury of avoiding fulfillment, shipping, and returns.
But dropshipping can be a profitable business. So if you choose the right goods to sell at the right price, it can.
Sign up for a free trial and enjoy 3 months of Shopify for $1/month on Select Plans.
There are dropshipping stores that typically generate 40% gross profit and 20% net profit: The amount you invest in marketing activities will be determined primarily by the products you sell.
However, practically every dropshipping store can be profitable under the right conditions.
Dropshipping is a costly business model. To run a successful dropshipping business, you must have the financial means to invest in graphic design, advertising, and other expenses.
But, on the other hand, getting money back out might be highly profitable.
Benefits of Dropshipping
Dropshipping is popular for novice business owners who want to make money online. This is done so that anyone wishing to start selling online or add ecommerce features to an existing website can take time off the model's unique benefits. The following are some of the benefits:
Basic testing. Because other responsibilities, like order fulfillment and shipping, are no longer on your plate, testing which products sell the best becomes your major emphasis. Because of this, some business owners view dropshipping as an ecommerce marketing crash course.
 Flexibility. You can utilize your store to sell any dropshipping products (or none at all). It's a versatile ecommerce business model that allows you to work whenever and wherever you choose.
You can attract traffic to your website.
There is no requirement for inventory storage.
Low operating and startup costs. New business entrepreneurs can buy stock without investing a lot of money. The dropshipping supplier sorts out order fulfillment and shipping after you sell a product. 
Expected future growth
Despite its ease of use and efficacy, dropshipping has some drawbacks. Outsourcing your shipping and storage compels you to give up control over a critical customer service component.
Delayed deliveries, lost shipments, and damaged products will hurt customer satisfaction. Your online reviews will suffer as well, as will repeat business.
Another concern that dropshippers face is the product of the product. Because dropshippers aren't merchants, they frequently miss out on lower wholesale prices.
As a result, customers may discover that it is less expensive to order elsewhere, so your marketing savvy and customer service must fill in the blanks.
Profitable To Dropship: Ecommerce Platform
To begin with dropshipping, find an ecommerce platform that meets your needs and fits your budget. For example, consider the platform's cost, payment methods accepted, ease of use, and scalability.
WooCommerce: WooCommerce is a WordPress plugin that allows for online sales of products and services.
To get your WooCommerce dropshipping store up and running, you'll need to purchase a domain name, SSL certificate, and WordPress hosting account. These needs are included as part of the Managed WooCommerce Hosting package.
Amazon: Many dropshippers conduct business directly on e-commerce platforms such as Amazon. The company's fulfillment program simplifies your shipping and storage. The setup is easy, and Prime free two-day shipping is available for your products.
Dropshippers can purchase goods, store them in Amazon's fulfillment center, and then have Amazon ship their orders. You have access to millions of customers but rely on Amazon.
Some dropshippers prefer hosting their stores through the Amazon Seller program rather than constructing a dropshipping website.
Shopify: Shopify is another e-commerce platform that makes it easy to start an online store. The Basic Shopify ($29 monthly) plan includes a domain name, SSL certificate, and site hosting.
Because a dropshipping website necessitates additional functionality and storage, costs may skyrocket as your store grows. In addition, you can upgrade from Basic Shopify to Shopify or Advanced Shopify for $79 or $299 per month, respectively.
Pick a niche market.
The riches, as the phrase goes in retail, "are in the niches." The sales aphorism is only applicable in highly competitive businesses such as dropshipping.
So, dropshipping stores sell any product you can think of. So you must establish a niche market and high-quality products that customers need help with to succeed anywhere else.
Choose if you want to target a market that will be more consistent over time (such as people interested in pets, babies, or relationships) or one that will be more erratic (e.g., 3D printing, virtual reality, subscription boxes).
Use Google Trends to conduct rapid market research and measure interest in your niche. Additionally, you can utilize Google Trends to find the popularity of specific product categories (e.g., 3D printers). When interest grows, a product is a terrific fit for your store.
Find Reputable Suppliers
After deciding on a market, start browsing for products to add to your dropshipping store. A dropshipping agreement is required to sell the products of a supplier.
Thousands of merchants are compiled and rated by numerous online store platforms, such as AliExpress or Alibaba.
Dropshippers use systems such as Alidropship or plugins such as WooCommerce Dropshipping to quickly add thousands of products from numerous companies to their stores. 
Although the technique is quick and straightforward, it is also generally known, and you will have to compete strongly with other firms selling the same things.
Contacting specialized suppliers and wholesalers works effectively for a niche market. For example, dropshipping store owners previously only reached a few small to medium-sized companies.
However, if you take the time to develop dropshippers agreements, you may gain access to previously untapped markets.
How do you find reliable suppliers?
You can run the world's best marketing campaigns. But, on the other hand, your dropshipping business will only succeed if customers dislike the products they receive (or receive them at all).
Many dropshipping store owners can connect with thousands of suppliers via websites such as Alibaba and DSers. Check out any dropshipping suppliers you decide to work with carefully, paying close attention to the following:
Customer feedback and ratings. Read evaluations from other businesses that use the same dropshipping source for better quality control. Is the product's quality satisfactory? Are there any flaws when it arrives? Can they fill orders swiftly enough to fulfill their clients' delivery deadlines? Accept their refunds on your behalf?
Shipping estimates. Customers who shop online want free and fast shipping. Get shipping times and pricing from multiple suppliers to see if you can provide this.
Customer support. The most crucial dropshipping recommendation is to accept responsibility for your supplier's mistakes. That doesn't mean you can't hold suppliers responsible for the errors they make. Instead, look for suppliers who provide timely customer service and welcome feedback.
Decide on the Right Price
Your dropshipping store's profitability is determined by how much you charge for your products, but you must first pick the product to plan the right prices.
Profit Margin: If you're looking for a simple and quick price markup estimate, consider keystone pricing. It's a habit; however, it might sometimes be too low or too high. There are also extra markup choices for dropshipping. Choose the one that will enable you to meet your financial goals.
Sales tax and shipping costs: Remember to factor in sales tax and shipping costs. Your suppliers will charge shipping expenses. The fee may be fixed or fluctuate depending on the size, weight, or shipping rate.
Depending on where you live, you may also be obliged to collect sales tax. With the help of WooCommerce plugins, you can automate sales tax collection while also adhering to the law.
Product and Brand Marketing
To be lucrative with dropshipping, you must market your products and brand. Re-positioning yourself in the market. However, low-cost and effective marketing methods like social media and email can be used to find the right customers.
Email Marketing: Because they are affordable and automated, email campaigns can help you make a profit. Post-purchase emails are simple to set up with e-commerce platforms like WooCommerce. Other email providers, such as Klaviyo, can assist you in increasing product products by automated emails to customers who abandon their shopping carts.
Social media: You may target customers in their news feeds with Facebook remarketing ads, regardless of whether they are looking at your products on Facebook or in an app. You can spend any amount you want on Facebook Ads. Start slowly and progressively build your customer base.
Optimize Your store
If you want to add ecommerce options to your blog, consider your hosting carefully. In addition, many WordPress hosting providers must prepare for the high number of ecommerce customers.
Customers will abandon your product pages if they load for more than 2.7 seconds. Dropshipping is incredibly competitive, but if you combine the science and art of ecommerce, you may profit. But, of course, websites must be fast and dependable. 
Use research to identify niche markets, but rely on your gut feeling and general human knowledge to create effective marketing messages.
How competitive is the business model of dropshipping?
Dropshipping is a profitable business model for entrepreneurs who want to sell products online because anyone can start one with no business out of pocket. As a result, it is competitive—even more so if you sell in a well-known dropshipping niche.
With 500,000 clothes dropshippers vying for the money of your target market, the dropshipping niches of clothing, home and garden, jewelry, and watches are the most crowded.
According to estimates, 10% to 20% of dropshipping operations are profitable. Increase your chances by separating yourself from the dropshipping competition with strategies such as:
Pick a less competitive niche. Consider the following factors when evaluating a new dropshipping niche: level of competition (who's on page one), the number of daily searches (over 100), whether or not the products are found in local stores (not good if possible), and retail price (at least $500, on average).
Developing a brand. "The only way to start in dropshipping today is to have a true identity as a brand, and to have a real legal business, even if it isn't legitimate at first," says Cole Turner, who has made millions of dollars with his dropshipping business. If you continue to ship through AliExpress, you must keep your credibility. People must believe in you.
Putting customer service first. Even though existing customers are more likely to purchase the products you're selling, dropshippers frequently focus solely on marketing and ignore them.
Is it profitable to dropship without prioritizing customer service?
Even though working with dependable suppliers allows you to spend less time on customer service, operating your shop will still take up a considerable percentage of your time.
The item is automatically forwarded to your supplier when a customer orders from your online store. They are responsible for selecting, packaging, and shipping the product to your customer.
However, something will undoubtedly go wrong while that process is underway.
You can mitigate the impact of negative customer experiences by admitting responsibility for your error. It also entails:
Asking for a chance if a customer's order arrives incorrectly, such as by offering a coupon code on their next order; 
Proactively communicating delays, such as delivery times; and 
Making support easily accessible by including links to FAQs in your order confirmation emails and the on-site chatbot.
Do these things before a customer complains about your store on social media. This may dissuade up to 94% of online customers from purchasing one of your dropshipped products.
Read Also:
Time Investment
Despite being a low-risk business model, dropshipping requires significant time before you see any sales.
That involves:
Setting up an online store; sourcing the new products; evaluating suppliers; marketing your products, and creating a brand.
To earn up to $2,000 monthly from your dropshipping business, plan on working at least 10 to 15 hours weekly.
However, like any other small business, the time you invest enhances your chances of making a significant profit.
Based on our experience, your dropshipping business will take at least 12 months of full-time labor to replace an average full-time wage of $50,000.
Is dropshipping profitable?
Platforms like Flippa provide evidence.
In a hurry? Save time by purchasing a profitable dropshipping business with Empire flippers or Flippa.
Legal Protection
Does your company provide legal protection? Dropshipping is perfectly legal, but you should consider a few things before opening your doors.
Consider the following legal concerns when deciding whether dropshipping is worth it:
A business structure. Operating as a sole proprietorship, LLC, or C corporation each has advantages, but an LLC might provide additional security for dropshippers. You are not personally liable for any financial obligations incurred by the company, such as exorbitant marketing expenses.
Taxes. Dropshippers must pay sales tax if the state where they do business collects it and a resident of that state places an order. Income tax may be required if the business pays you.
Contracts. To protect yourself if something goes wrong, ask a lawyer to draw up a dropshipping partner agreement.
Policies. If customers are thinking about buying from your dropshipping store, they should be able to view your privacy, shipping, and returns policies. (The lack of the latter may deter 54% of buyers.)
Insurance. As your dropshipping business grows, so does the risk. Consider purchasing business insurance to protect yourself.
Even if you can start with just a laptop, keep in mind that selling phony things, engaging in misleading advertising, or violating consumer protection rules will land you in trouble sooner rather than later.
Final Thoughts
Is it profitable to dropship worth in 2023? Dropshipping is a viable business option if you're searching for a low-cost venture.
The number of people searching the keyword "dropshipping" has increased dramatically in recent years.
Maintaining profit margins, selecting the right suppliers, and selecting quality products are all prerequisites for success. Starting a profitable dropshipping online business is doable if you cover those bases.
It's worth investing in your dropshipping business because social media influencers claim that business owners can generate thousands of dollars more from a single store.
Making an e-commerce website, identifying a supplier, and choosing your products are the three simple steps in starting a drop-shipping business. For example, if you cover all of your bases, the money will start to flow in.
Dropshipping remains an integral part of a merchant's journey, and there is always an opportunity for improvement—more high-quality products, faster shipping, better search/UX, and so on.
Small Request
Kindly share it with your friends. Especially the ones you believe need this information. Sign Up Now and Get your first 3 months for only $1 monthly.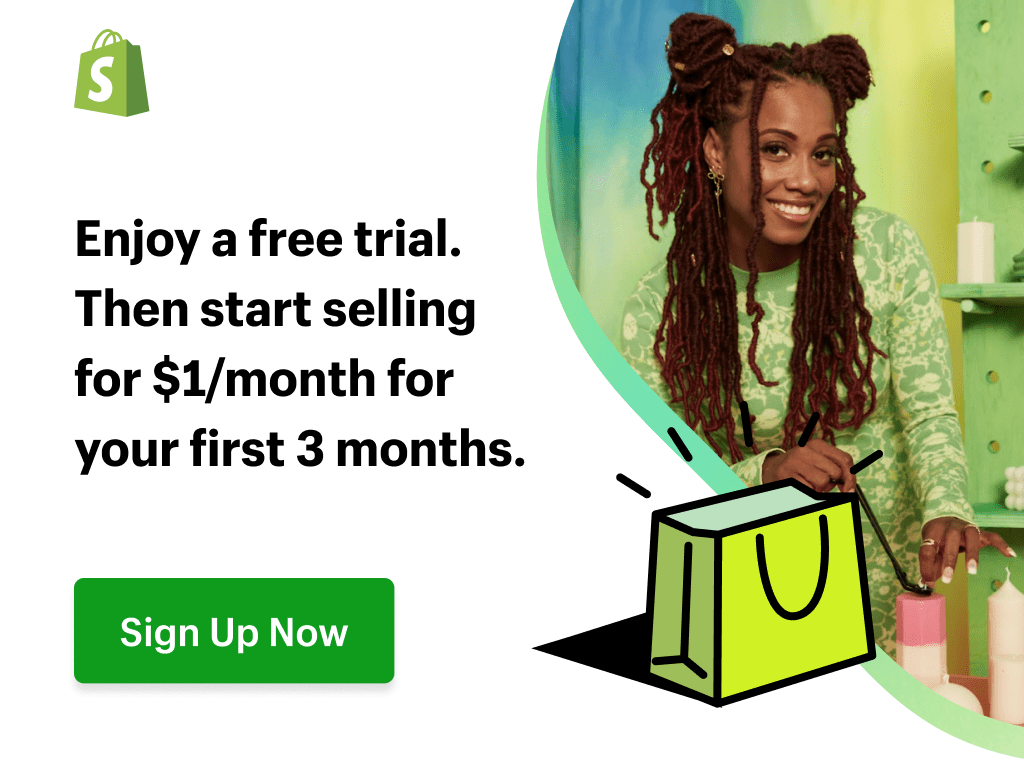 Sharing this information with others can make a huge difference. You may ask why.
Well, the truth is, my main aim is to provide the best information about drop shipping for both beginners and experienced dropshippers.
And I plan to continue doing so for as long as I can.
I would also like to thank those who support my work by reading and sharing my content.
Trust me, when you take your time and share, it will greatly help me and others needing this information.
Here are some great suggestions:
Pin it
Share it on another blog.
Share on Facebook (Share it with friends and even on Facebook groups)
Tweet it
Stumble it
This will only take a few seconds of your time, and I would appreciate it.
I appreciate you a lot. Thank you!
Join my Shopify dropshipping group mastermind and follow my blog to learn more about Shopify tips, dropshipping guides, tricks and checklists, and e-commerce in general.
If you enjoyed and learned something from this post, you can get me updates for free!
I send out email newsletters about new posts published on the blog, tips and tricks to help you grow your dropshipping business, new YouTube videos to give you more insights about the e-commerce market, and much more.
If you enjoyed reading this, you could as well join my Facebook group. Thank you for reading how to make money dropshipping online from the comfort of your home.
Click here to Join My Facebook Mastermind Group