How To Use Jasper Content Improver In 4 Easy Steps
Do you need help in creating engaging social media posts? You are not alone. It's daunting to come up with new topics to post about consistently.
Regardless of your degree of experience, you may always improve your writing expertise. Here are a few quick tips for improving your blog article today.
Using machine learning, Jasper.ai's "Content Improver Template" makes your website's content more engaging and effective.
Content Improver Template, for example, is a one-stop shop for creating a blog and social media content! The concept is straightforward: you have to complete the form with the information you want and then click generate. That is incredible! You sure want to learn how all that gets done! Keep it in here.
Why Use Jasper Content Improver?
Creating high-quality content that engages readers and converts takes a competent human with years of experience writing persuasive messages.
However, thanks to the Jasper Content Improver template, this is no longer an issue! Instead, they can crank out captivating content at previously inconceivable speeds because it's been qualified by the world's elite conversion gurus, many of whom were formerly copywriters. Nobody will ever find out what occurred behind the scenes — it's as if it were magic!

Ease Of Use For Beginners
Jasper Content Improver is sleek, simple, and intuitive to use. You'll see a navigation menu that allows you to switch between apps without closing the current one on the left. You may create different projects to avoid mixing everything; this is a valuable tool for agencies and freelancers.
There are various tutorials and examples accessible for educational purposes, and you can get help from them if you encounter problems.
Jasper now has over 50+ templates on its dashboard, so you're sure to find one that matches all of your demands! You can search for templates by type, such as "Content Improver"; you can also sort by popularity or date uploaded.
Take a look at some of Jarvis.ai's featured templates:
Content Improver
Sentence Expander
Jasper offers over 50+ templates; simply scroll down to view more apps, change templates without closing the current page.
Simply hover your cursor over the left side of the dashboard to view all available Jarvis.ai templates. Select the one you wish to use for your purpose by clicking on it.
How To Improve Your Blog Post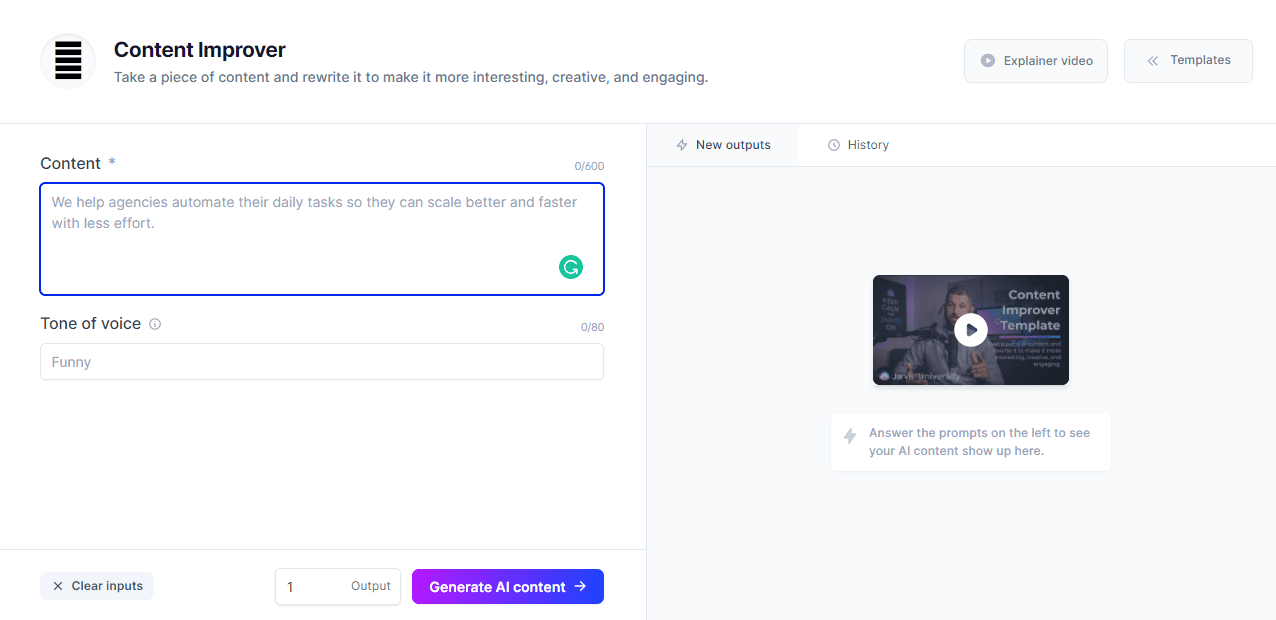 1. Input Your Article
Input Your Article Using Jasper Content Improver template.
There is a 600-character limit (for Pro & above users) and a 400-character limit (for Starter accounts), which means that you can paste your content 400 to 600 characters at a time, or as few as 50 characters, and you're set.
2. Set Tone
Determine Your Tone of Voice. You can select whether it should be funny, serious, sarcastic, or any combination thereof. The Tone should be consistent with the message you're seeking to portray to avoid confusion.
For instance, there are times when being funny is fitting, and incorporating the word "funny" may elicit some laughs from people reading, which may entice them to click through to another website.
Explore with the Tone of voice.
3. Determine Outputs or Options
Choose the Number of Outputs Or Options That You Want Jasper ai To Generate.
You might enter a query such as 'How do I make a nutritious vegetable juice?'
Tone of voice
You can put "Helpful."
4. Generate AI content
Generate The Al Content Learn how Jarvis.ai's content improver can help you improve and optimize your content in seconds!
Put your input & Watch AI write your input.
Once you've clicked the generate button, Jarvis will automatically generate unique, non-plagiarized content from the copy you provide.
On the right, you can read the updated versions. If you're dissatisfied with the created content, change the Tone and repeat.
And, the content improver creates the following versions:
(a). You can make a healthy vegetable juice by following these simple steps
The other ingredients are juice, carrots, celery, and cucumbers. All of them should be cut into small bits to fit through the chute's opening. Cover any exposed product to prevent it from coming out. Remove any remaining pulp or rinds before drinking to maximize the nutritional content.
(b). Juicing veggies is an excellent way to obtain your daily intake of vegetables. Vegetable juices are also a superb order for people who have difficulties digesting and swallowing their food due to a condition such as cancer, Parkinson's disease, or Alzheimer's disease, as they do not need any processing before consumption, as solid foods do.
(c). How can I make a nutritious vegetable juice?
All generated content will be uploaded to your account automatically. All that remains is for you to copy and paste your final selection. You can use this new and improved version on any website, email newsletter, Facebook Ads, social media platforms, and e-books, among other things!
Improving your article
The above was straightforward, right? Let's strive to improve an article I already have:
Original:
"If they engage you for image annotation jobs, your job will be to annotate or label images."
Content Improver:
One of the revised options can read as follows:
"The Image Annotation Job is an exciting and straightforward model to make more money. You get compensated for identifying or labeling what you see on an image, such as the nose of a cat.
Image annotation tasks are excellent because they are not overly demanding but can pay substantially if done correctly. It's as simple as labeling different parts of an image to describe what's happening."
Consider how it improved on a simple sentence. Isn't that awesome? The Jasper Content Improver is an excellent tool for improving the quality of your content. It incorporates additional keywords and phrases and rewrites sentences and other aspects – all of which contribute to the quality of your writing!
You may be surprised at how quickly Jarvis.ai's content improver generates high-converting material. Typically, it takes hours for the human brain to generate this output type, but not Jarvis.ai.
You may agree or disagree with me, but let's face it, most of us could use some assistance with our writing skill set these days.
Read More:
Unconventional Uses Of Content Improver
Whereas the Content Improver tool is intended to "rewrite" existing content, I also apply it in uncommon ways.
I interact with Jarvis using the Content Improver Tool, lmao.
When you type "What should we have for dinner?" – it may tell you based on your Tone of voice.
"How about you tell me what you're in the mood for?" or
"I'm not sure; what do you want to eat tonight?"
Awesome!
To apply this tool as a research assistant, simply state,
"How do you feel about (topic)?"
"What do you think of (topic) or
"What the heck (topic) HAHAHA!
Bizarre, but a FANTASTIC tool!
Now, did you know that the Content Improver Tool can lend a hand to you with social media content as well? Yes!
Example 1:
Input: Write a tweet on this topic.
"SEO is dead."
The Tone of voice: engaging
Content improver
Output for Twitter: "You may have heard that SEO is no longer useful, but this article will demonstrate how to reinvigorate it."
Example 2:
Input: Craft an engaging Facebook status update.
"Those willing to work will get the rewards."
The Tone of voice: Talk to a rookie blogger who feels uninspired.
Content improver
Sample outputs: For Facebook, here are some sample outputs:
"But, what if you were unwilling to work?" Does that imply that you will never receive the perks? I say ABSOLUTELY NOT! Continue to work toward your goals and disregard anything that goes wrong; simply try a bit harder the next time."
or
"This is the motto by which we live. When you have a goal, it is always worthwhile to go to great lengths to achieve it!"
or
"The rewards of work are well worth it!" -> Use this to create a picture quotation!
Content Improver Template for creative social media posts
This section offers ideas for content and more to help you create engaging social media postings!
Create "categories" before you begin to create social media content. Make that you have
Various variations include the following:
Before and after
Book you're reading
Engaging questions
Favorite tool
Fill in the blank
Fun Fact
If you could?
Industry articles
Interactive posts
New blog posts
Personal mantra
Picture quotes
Product or service
Promote your newsletter
Promote your social media channels
Share a gratitude
Share your story
Testimonials
This or that?
Time-saving tips
Would you rather?
There are social media schedulers available, and they offer some pretty cool functionality! Among
Them should include the capacity to create an infinite number of categories.
Your task is to fill social media content into these categories. Besides that, the social media scheduling software's primary role is to deploy these assets sequentially following the plan you define.
Depending on the social media scheduler you're running, "categories" may have a different name.
However, they are conceptually identical to "folders" that will contain your customized content.
This way, you'll be able to determine which category is running low on content quickly, and you'll save time.
Can fill them as necessary.
When you first begin, you can also do this manually. Then, create a spreadsheet detailing the content that will be included.
Find out when and on which social media platform you should post. However, but I would not pursue that path, Oh yea.
Now, let's have a peek at how the Content Improver Tool can assist in the creation of creative content ideas.
Content Improver template: A Writer's block-buster?
I will demonstrate how I use this tool in my work, but you can also refer to Jasper's official video training and guides.
Thus, after months of applying the Jarvis.ai tool, I've discovered a few templates that assist me in overcoming writer's block. That is:
Content Improver template
Blog post inro paragraph
Blog Post Outline
PAS & AIDA Framework
Product Description Template
Sentence Expander template
YouTube video description template
Let's consider Content Improver as an example.
Step 1: Type a short paragraph in the "Content improver" template.
My input: I'm at a loss about overcoming writer's block.
When you click the generate button, it will enhance your paragraph with new information and make it more meaningful.
As shown above, you may also use this template to get the answers to your inquiries. For example, I ran an experiment with one question.
"How am I able to use this template?" Nothing unusual. Simply enter 1-3 paragraphs of text, and bam! It instantly completes the process for you. However, some human editing is needed to place a few phrases or sentences to add meaning to your communication.
Similarly, you can apply the same approach to other templates. For example, you only need to experiment for 5-7 days to see how everything works to your advantage!
Personal Experience Using a Content Improver
It's difficult to stay up to date with the continually evolving blogging world. Blogs are no more limited to sharing your opinions; they can be incorporated to help create and grow your brand or business.
A Jasper Content Improver is a critical tool for this since it allows me to stimulate creativity at any point during the day – whether I'm producing blog articles, copywriting for social media, or creating email sequences.
Its AI technology that continuously learns from my input and adapts to my previous actions has quickly become one of my favorite tools!
It's also pretty addictive.
Jasper is a critical tool for bloggers because it eliminates the need for long work hours.
Who Can use The Content Improver Tool?
This template can be used by anyone who wishes to improve their content.
Whether you're a blogger, copywriter, or simply want to increase the engagement of your social media postings and emails!
Bloggers, in particular, would benefit from it, as they routinely seek new ideas while creating new content.
Further, it is suitable if English is not your first language, as there may be grammatical issues that cause readers to lose interest rapidly.
I Am An Already-Successful Writer; how Can Content Improver Be More Useful to Me?
The template can make your writing more engaging content, which will enhance reader engagement. Even seasoned writers occasionally run out of ideas and want to generate new ones.
The Content Improver can help you make some of those unique and original ideas that will set your content apart from the competition!
The content improver deliverables
Are you hunting for a template that can automatically generate very convincing, unique content? Take a look at Jasper Content Improver.
The template assists you in ensuring that your copy and content are as engaging and compelling as practicable, enabling you to generate high-quality, unique content in record time.
The template has been a game tool for me. It enables me to generate engaging, persuasive content fast and efficiently, far above what I could write independently. The AI template is well worth the money and is reliable.
The team behind this business is continuously updating its platform to make this copywriting software the best it can be.
Will the content improver perform all of the work for you? Certainly not. While you will still need to lead the process and reorganize the content as necessary, this will save you 60% of your content writing time and make it easier to write high-quality content.
It carries enormous potential. Even when you only use a fraction of the templates' capacity, you'll still get a considerable amount of value. And well worth the money.
Can I Get a Free Trial of The Content Improver?
Yes, you can sample the content improver for free for a limited period.
You may terminate your subscription without charge if it does not work out. Because it is risk-free, why are you chomping at the bit still?
Conclusion
If you're a blogger who struggles to develop new article ideas, this template can power you by delivering fresh, unique content that will pique your readers' interest.
You can use the Content Improver as much or as little as necessary! However, the more times they are applied in a given article (or even a line), the more likely it is that something better will be discovered than what was initially stated.
Besides that, it saves time. We are all aware of how valuable our limited free time becomes while juggling work and family commitments.
And for those writers who are reading this and saying, "Well, I already have my style," consider the following: Again, because other people may see things differently than you do at times. So the tool may provide a new perspective on your content.
It's also ideal for people looking for new ideas or inspiration when they need assistance in finding other viewpoints without devoting more time to our already hectic schedules!
Take note, though, that this template requires some contact with the English language. The Content Improver is an excellent tool for enhancing your writing skills. It enables writers and bloggers who are not native English speakers to write without worrying about making mistakes, knowing that they will be corrected before they go live!
Every one of these features significantly raises the value of Jasper Content Improver tool!
FAQs
Is content improver capable of generating plagiarized content?
Jasper AI is a sophisticated tool that generates content in response to user input. It does not choose content at random from anywhere on the web.
As a result, you will not encounter concerns with plagiarized content by using this tool. However, it is recommended to put the document via a plagiarism checker.
Is the content improver also available in other languages?
Jasper ai is available in over 25 languages, including English, French, German, Spanish, Italian, Portuguese, Dutch, Polish, Russian, and Japanese; however, Boss Mode must access all of these languages.
Is it worthwhile to invest in a content improver?
Yes, Jasper AI is unquestionably worth your money. Before Jarvis AI, writing 5,000-word blog entries took days and weeks. Even after completion, the blog post fails to persuade readers.
How does content improver work?
Jasper AI is a system that operates based on user input. You must enter some data and click on the Generate AI content option. It will generate a crisp, concise document with additional information to breathe new life into your copy.
Where is the Content Improver login?
If you haven't already, register an account by clicking here. If you already have an account, then proceed to the next step.
The following steps will guide you through the process of logging into your Jarvis.ai account:
Visit Jasper
Enter your data, such as your email address and password.
Once you click the enter button, you'll be taken to the dashboard, where you'll get 40+ short-skill copywriting templates, including one for content improver.
Sign up on Jasper and get 10,000 words to test and see if it's something you can use before commitment.