What It Is Like To Compare Modalyst vs Oberlo App
Welcome to Modalyst vs Oberlo blog post review. We are going to find out which one among these two plugins Modalyst and Oberlo, is better! You probably wonder.
In this Modalyst vs Oberlo concise comparison, you'll find out which plugin to opt; if you have an existing or intend to set up an eCommerce store, you have likely come across dropshipping. It's disputably the easiest route to eCommerce landscape.
Also read: Modalyst vs Dropified: Which App Is Best For Dropshipping?
As a business model, dropshipping has lots of compelling reasons for considerations. For one, you won't keep an inventory or invest in items yet to sell.
In that way, fledgling eCommerce businesses have the simplest way to setup brands dropshipping with minimal to zero risks on their financial outlays.
Dropshipping accounts for a third of online retail. Case in point, 2011, a massive 34% of products sold by Amazon were dropshipped.

Plugins inherently make locating genuine suppliers easier. Fortunately, out there, you'll find loads of dropshipping plugins to add to your store. Two such plugins are Modalyst & Oberlo.
But which one best suit your needs and that of your store? Well, to answer that, read on.
Modalyst vs Oberlo: A Peek On the Workings of the Plugins

First off, let's take a comprehensive look at the workings of the two plugins before delving into the fundamental differences between them.
With an online store on platforms say Shopify or BigCommerce, you'd simply install the plugins as an extension inside the chrome browser.
One steep angle of dropshipping, as we've alluded, has to do with finding genuine suppliers and then establishing a relationship with them.
The model's vital inadequacy leads to loss of control over aspects like shipping and stock quality.
Newsflash! Modalyst & Oberlo restore some of that autonomy.
Subsequently, Modalyst & Oberlo allow you to surf their dropshipping providers and their products.
Upon finding products of your liking, proceed to add the merchandise on to your eCommerce store.
Sales of any of the added products have to go through Modalyst or Oberlo. They inform the concerned supplier, who then proceed to ship the items straight to your customers' address.
The plugins are worthwhile, and you sure want to try out. Both provide free access to their basic-plans, and their main features rest assured will ramp up your store's performance.
Modalyst vs Oberlo: Stats Comparisons

Even as you evaluate both Modalyst and Oberlo, do so, bearing the following stats in mind.

Modalyst
Started in the US in 2013 by two MIT graduate students
They have attained a 4.3 star-rating on Shopify
More than 150,000 online stores sell Modalyst products
Oberlo
Oberlo started in 2015, Lithuania
Accessible globally
They have achieved a 4.3 & 4.1star rating on Shopify and Trust Pilot respectively
Over 85 million products have sold via Oberlo

Modalyst vs Oberlo: Pricing Comparison
Oberlo

With Oberlo, regardless of the pricing plan you opt for, you get automated product pricing, unlimited monthly orders, inventory updates, and sales reports.

Here, the pricing plan's variance comes in the area of additional features on higher-tier plans as well as limitations on products in-store.

The Free Starter Plan

This free plan lets you gain access to Oberlo's basic functionality and up to 500 products.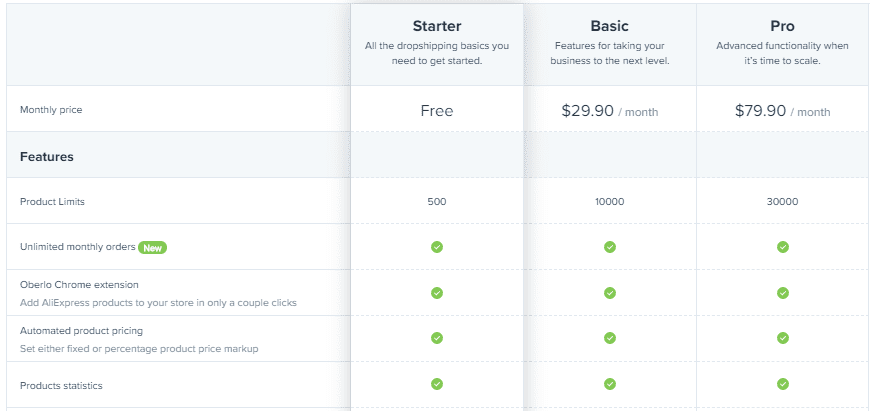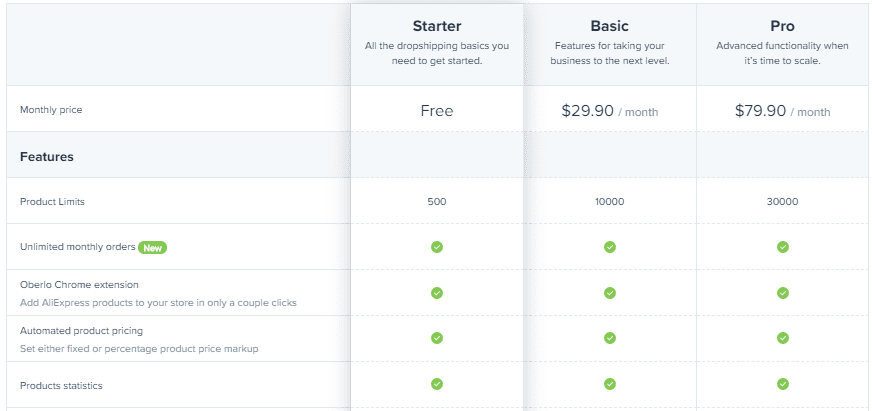 The Basic Plan: $29.99/Month

The plan upscale the product limit to 10,000; What's more, you get to access an affiliate program, bulk orders, real-time order tracking, and order fulfillment.
The Pro Plan: $79.90/Month

This plan just hikes your store's limit to 30,000 products. Besides, you can add multiple staff account vital in running a colossal eCommerce brand managed by several employees.
Modalyst

With Modalyst, all pricing plans attract a 5% transaction fee. Although the plugin has an annual billing, the following prices capture the cost per month.
The Free Hobby Plan:

This Modalyst's free plan is meant for hobbyists or beginners. You get to browse through unlimited products, but you only have a 25-product limit to add to your store.
Also, you only get to access Modalyst's non-premium items.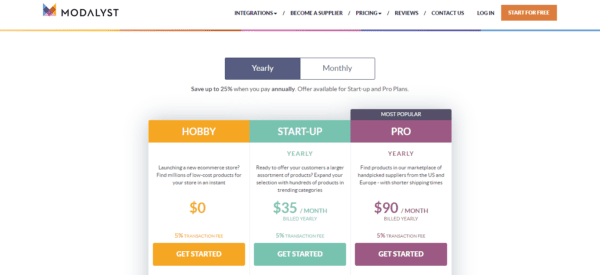 The Startup Plan: $35/month

The plan is at your disposal as soon as you set to broaden the product array. The program pushes the product limit to 250, which means you get lots of freedom with product selection.
The Pro Plan: $90//month

Are you looking for unlimited potential? Or do you want to liaise with curated stores with suppliers from the EU & the US? If so, then Pro Plan might just cut for you.

As Modalyst's flagship plan, you gain access to premium products, and then you can add unlimited products to your store.
Snap rundown

A quick recap indicates that listing over 250 products on your online store, Modalyst forces your hand updating to a higher tier. In contrast, Oberlo offers bargain options and grants you tons of product freedom, even on the free plan, before you even contemplate upgrading to Pro.
Features Comparisons
Oberlo Features

Oberlo comes with loads of impressive features, and here we'll list them as follows just so, you follow through.

• Adding products to store from AliExpress takes a couple of minutes
• You get to customize the product details
• You can create multiple staff accounts
• Oberlo grants access to ePacket deliveries
• Track your sales
• Automatically fulfill and track orders
• Oberlo automatically updates the product inventory. And so, you won't get caught flat-foot in case your supplier runs out of a product listed on your site
• Setting your price rules automate your merchandise prices
When it comes to customer support, Oberlo has the edge over Modalyst since it provides a 24/7 service contrasting Modalyst's 9 am-5 pm PST- including weekends.
Modalyst Features

Besides Spocket, Modalyst grants access to a curated marketplace bursting with the US and the EU sellers; practically, this is overlooked in the world of dropshipping.
But Modalyst fundamentally differentiates itself by linking you with top-notch suppliers providing fast shipping to the US.
Again, you can directly contact Modalyst's suppliers; this way, you check your pending shipment without fussing. What's more, Modalyst update products in real-time as regards supplier's prices, imagery, stock levels, and descriptions.
With products from more than 40 niches & categories, regardless of the target audience, there is something for everyone—all in all, Modalyst circles around four types of dropshipping inventory.
Name Brand
Modalyst lists more than 100 big-named brands for your selection. Selling luxury items has never gotten more straightforward, thanks to the wholesale pricing. Modalyst ships famous labels to over 120 countries across the globe. And so, regarding the international audience, worry not.
Furthermore, you get the assurance that your customers receive the products in under 5-business days.
Private Label Suppliers
Modalyst devotes a section for liaising with private label suppliers. With this arrangement, you get to have your branding & hangtags on products manufactured by the suppliers.
In this way, entrepreneurs gain autonomy over the branding, thus opening up a remarkable opportunity for repeat sales and loyal customers.
Trendy Suppliers
Modalyst has heavily invested (time & effort) in getting a hold of most stylish clothing and jewelry lines for teens, women, and plus-size niches. Thus, with an eCommerce boutique, Modalyst is worth a shot.
Indie Brands
Having curated more than 650 Indie brands, your online store can leverage Modalyst to stand tall.
On the whole, both plugins go neck-and-neck as regards functionality. With both, you gain access to info on current product trends, thus, making a data-driven decision.
Also, you get to peruse a plethora of products and automate your order fulfillment tasks.
Which Dropshipping app is the best Alternative

It's where the rubber meets the road. You have to try out the two platforms. Both plugins offer parallel services alongside the basic free plans essential to get you started.
For features & price consideration, Oberlo's website gives a little clear-cut about the value you get for your money. Further, its bargain plans let you upload lots of products onto your shop.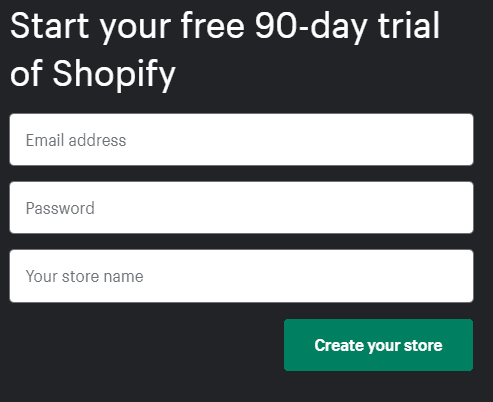 In case your utmost objective is building a massive product catalog and draw the most value for money in terms of freedom and functionalities. Oberlo is undeniably cut-price and won't force your hand on a more expensive plan-at least not as swift as Modalyst.
Alternatively, if you are willing to fork out a little more, and intend to sell specific types of items, say from the US or EU, or you seek to work with independent and ethical suppliers, then Modalyst makes for your best bet.

Modalyst has an unwavering commitment in fast shipments, with the majority of dropshipping suppliers in the US delivering merchandise inside 7-business days.

A search for a more established platform with a responsive 24/7 customer support, a global outlook leads to Oberlo as it eclipses Modalyst in these aspects.

With shared high ratings on Shopify and the fact that several users rely on both of these apps, there is no way things will go south with either of the plugins.

So, which app comes on top? Let's know in the comments section below your thoughts on Modalyst vs Oberlo, which one you prefer and why?
Small Request
Did you enjoy this post? Kindly share it with your friends. Especially, the ones you believe really need this information.
Sharing this information with others can make a huge difference. You may ask why?
Well, the truth is, my main aim is to provide the best information pertaining to drop shipping for both beginners and experienced dropshippers.
And I plan to continue doing so for as long as I can.
I would also like to thank those who support the work I do through reading my content and sharing.
Read Also: Detailed Shopify vs WooCommerce 2021 Comparison
Trust me, when you take your time and share it will help a lot not only for me, but also other people who may really be in need of this information.
Here are some great suggestions:
Pin it
Share it on another blog
Share on Facebook (Share it with friends and even on Facebook groups)
Tweet it
Stumble it
This will only take a few seconds of your time and I would really appreciate.
I appreciate you a lot. Thank you!
Join my Shopify dropshipping group mastermind and follow my blog to learn more about Shopify tips, dropshipping guides, dropshipping tricks and checklists, and e-commerce in general.
If you enjoyed and learned something from this post, you can get updates from me, free of charge!
I send out email newsletters about new posts published on the blog, tips, and tricks to help you grow your dropshipping business, as well as new YouTube videos to give you more insights about the e-commerce market, and much more.
Click The Image To Join My Facebook Mastermind Group