Shopify Lite Review : The Inexpensive Shopify Plan
If you were looking for an extensive Shopify lite review, then you are in the right place.
Shopify Lite is an inexpensive plan that lets you create a simple online store in minutes. It seems like a bargain, right? Well, that's subject to the situation.
For the majority of eCommerce stores, regular Shopify pricing plans appeals given you get a full online store, shopping cart, and the features leave a room for scaling up.
To understand more about Shopify pricing plans you can read Shopify Pricing- Basic Shopify Vs Shopify Vs Advanced
But at $9/month, Shopify Lite allures, and you may moot implementing it on your store. It's a perfect solution for some business setup selling online.
In this Shopify Lite review, we'll look into the cheapest Shopify plan and when to use it.
Also, we'll delve deeper into Shopify Lite plan's benefits for your business and perhaps if you consider using regular Shopify pricing alongside the Shopify Lite plan.
In the murky eCommerce platforms, often, you'll have to sift through the inundation of mess features thrown your way—fortunately, Shopify endeavor to keep details straight to ensure value for money.
Folks in their numbers get mixed up about Shopify Lite, walk with me to find out why it might or might not be apt for you.
Also, you may be interested in taking a look at our Shopify pricing guide and Shopify Reviews/
Shopify Lite In Brief
As mentioned already, the Shopify Lite plan costs $9/month. It's the base solution at Shopify and it edges-out some of the many eCommerce platforms in the market.
Next, up in Shopify pricing hierarchy is the Basic Shopify plan going for $29/month.
Compared to other plans, with Shopify Lite, you won't have a full online store with a shopping cart/ Technically, you cannot build a home for your brand in Shopify.
Instead, Shopify Lite seamlessly integrate with existing social media page or website. For example, you can start selling custom made items on a WordPress blog site.
Shopify Lite lets you keep the blog and integrate some products to vend on the site.
Whereas regular Shopify store says, the Basic Shopify plan would force your hand to create a separate site in addition to the blog.
Shopify's Response to COVID-19 Pandemic
Right now, all businesses are going through a puzzle of uncertainties. But you don't have to wait until the pandemic is defeated to establish your online presence.
As among the leading providers of eCommerce technology, Shopify has executed a range of strategies intended to support small businesses for months to come.
For Instance, Shopify has extended the free trial from 14 to 90 days.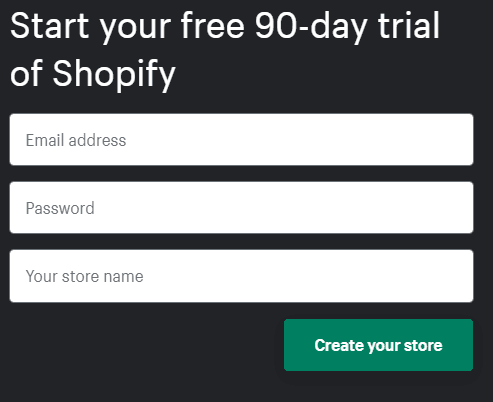 Over and above that:
All Shopify plans have physical and digital gift cards, meaning your clients continue supporting even without buying physical products.
Small business funding: If your locale is in the US, there's a $200 million Shopify capital availed to finance the small businesses.
Live webinars and community support: It's now possible to access a pool of virtual meetups with other Shopify community members to help with growth.
Social Media Selling
If you're already trying to sell exclusively on Facebook and nowhere else, that's one reason to consider the Shopify Lite plan. The same goes for those with pre-existing blogs and intend to sell on both Facebook and the blog.
Shopify Lite offers a fully integrated Facebook store. You run ads on Facebook and drive traffic to that store. People don't have to leave Facebook to make purchases; thus, cutting down on steps to complete a sale.
The store marries with your Facebook business page as it adds a Shop tab on the page, allows for product galleries, and your shopping cart inside Facebook.
The feature allows for syncing all products on Shopify Lite to Facebook, isn't that cool? You can work from your Shopify dashboard without worrying about going to Facebook, and that means no need for uploading products multiple times.
Should you make changes to a product image, descriptions, or prices, the same reflects on the Facebook store since each product syncs with your Shopify account.
Furthermore, right inside Facebook Shopify-Facebook integration has a beautiful checkout module. Safe purchasing as there's no jumping to your site, which often causes customers not to make a purchase.
Also, there's the option inside Facebook for the customers to save payment and contact info. This way, for repeat purchases in the future, there's no need to punch in the same info all over again.
Broadly, it's a robust, customizable Facebook store with a syncing store. Some businesses start by selling exclusively on Facebook, and so Shopify Lite is a perfect fit if you're in the same boat.
The same applies to those with pre-existing blogs and Facebook pages. Not unless you plan on selling hundreds of products, you've no ground to pay for a full Shopify website.
Better Customer Support Via Facebook
Much of Shopify Lite plan selling is on Facebook, and therefore customer supported through the same channel makes perfect sense. You'll receive a live chatting module facilitated by the Facebook messenger app on top of a Facebook integrated store.
You have a robust chatting tool in Facebook messenger without leaving Facebook. For businesses, the app offers excellent functionality as customers can reach you and quickly receive relevant responses with the help of automated product info.
For instance, a customer on seeing a bicycle for sale on your Facebook page may ask how it compares with your other bikes.
Facebook messenger sends a notification of that message.
And since you can take the app with you anywhere, it's possible to smoothly run the support side of the business without engaging the services of too many people.
You can reply with info on hand, send product info from your online store. The beauty with these little info modules lies in their CTA-buttons for viewing online, reading the description, purchasing, and more.
The client has the option to make a purchase right from the Facebook messenger chat box once the conversation is over.
And saving the best for the last:
So that shopping is comfortable from a place like Facebook, the app sends out tracking codes, shipping updates, and View Order button showing customers exactly when they'll receive the product, all within the Facebook messenger app.
Shopify Lite Review: Is It For Previously Built Websites?
Apart from Facebook selling, the Shopify Buy button is a crucial feature from Shopify Lite.
This aspect of the plan offers embeddable modules for products and collections.
You can infix the shopping cart and customize each module for your brand.
The Buy button virtually functions well with already successful branded websites. It augers well more so for businesses that want to generate a side revenue from the eCommerce store.
Let's put it this way, it's like saying you don't want to build a completely new website, yet you'd like to sell products on the site you currently have.
Isn't that awesome! Shopify allows you to infix the Buy button, upload products alongside product info on your website. This way, a travel blogger can sell canvas art, custom printed shirts, and hiking boots.
A hardware store through its website could test out the eCommerce world by vending products from the existing site.
Shopify Lite Review: Accepts Credit Card On-go
Shopify Lite makes for a quick solution, especially if you'd like to sell products in-person. There're plenty of options to sell in the real world like Pay Pal, Square, and Stripe. However, Shopify Lite opens up a world of opportunities to sell online and offline.
In other words, you get access to the functionality required for online and also a card swiper free of charge.
This functionality works flawlessly for businesses that trade or craft shows since the companies are probably selling online at some point and try making some bucks on the go as well.
Your inventory gets tracked across all channels; you can sync items from your Shopify store, isn't that fantastic! With Shopify Lite, you can process any form of payment, refunds, apply discounts, and customize taxes.
Shopify Lite Review: Sending Invoices
If you run a business that principally processes, Custom orders, phone, or Wholesale. It's an affordable plan when it comes to accepting payment from customers and sending out invoices.
The process has little to no variance from other invoicing tools, as it involves drafting custom invoices, sent to the customer who subsequently makes payment via the Shopify shopping cart.
However, the Shopify Lite plan affords you extra tools for selling on Facebook, offline, and online. Thus, more options get available for making money online.
Why Shopify Lite Plan? Who Is It-For?
There're a couple of solid reasons why Shopify Lite is a perfect fit for your business brand. Consider the following:
If you already have a pre-existing website and intend to start selling on-there without creating an entirely new site.
Secondly, the Shopify Lite plan works well for those who seek to sell via Facebook with the assistance of a live chat module.
Third, the Shopify Lite plan caters to those selling offline.
Fourth, the plan offers an affordable option available in the market for sending invoices.
On the whole, the Shopify Lite plan suits specific situations. If you've any questions, suggestions about Shopify Lite, let's know in the comments.
Thank you for reading this shopify lite review.
Small Request
Did you enjoy this post? Kindly share it with your friends. Especially, the ones you believe really need this information.
Sharing this information with others can make a huge difference. You may ask why? Well, the truth is, my main aim is to provide the best information pertaining to drop shipping for both beginners and experienced dropshippers. And I plan to continue doing so for as long as I can.
I would also like to thank those who support the work I do through reading my content and sharing. Trust me, when you take your time and share it will help a lot not only for me, but also other people who may really be in need of this information.
Here are some great suggestions:
Pin it
Share it on another blog
Share on Facebook (Share it with friends and even on Facebook groups)
Tweet it
Stumble it
This will only take a few seconds of your time and I would really appreciate.
I appreciate you a lot. Thank you!
Join my Shopify dropshipping group mastermind and follow my blog to learn more about Shopify tips, dropshipping guides, dropshipping tricks and checklists, and e-commerce in general.
If you enjoyed and learned something from this post, you can get updates from me, free of charge!
I send out email newsletters about new posts published on the blog, tips, and tricks to help you grow your dropshipping business, as well as new YouTube videos to give you more insights about the e-commerce market, and much more.