How To Start Selling Digital Products with Shopify – (Best Way 100%)
There are many compelling arguments in favor of learning how to open a Shopify store selling digital products. 
For three reasons, selling digital products on an ecommerce platform like Shopify is every entrepreneur's dream: You can sell unlimited copies without incurring production or distribution costs.
Sign up for a free trial and enjoy 3 months of Shopify for $1/month on Select Plans.
Because creating a digital product is relatively easy, digital products have better margins than physical products.
Adding digital products to Shopify is considerably more straightforward than you would imagine. I will make things as easy as possible because it might be overwhelming if You've never done this.
Shopify's system has no built-in process for selling digital products. From their app store, you must install a free app. There are a few solutions, but most are not easy to use and have numerous restrictions; however, we have a solution that works for everyone.
Table of Contents
Where to Start
What do I require? Well, to begin:
• A Shopify store
• Downloadable Digital Assets Shopify app
Navigate to Shopify's store, install the free Digital download app, and start adding your digital products.
You may begin selling by attaching those digital files to the appropriate Shopify products.
Why Downloadable Digital Assets app?
Experts in Shopify who understand how digital assets should be distributed designed the Digital Download app. They have first-hand knowledge of how to create the ideal app.
Compared to other digital download apps for Shopify, it offers the best file protection features. It also has the most user-friendly features.
Adding Digital Products to Shopify
Including digital products is a breeze; scroll to the bottom of the page to view video instructions.
We'll discuss a particular Shopify-recommended app. With the free plan, you get up to 2GB, providing plenty of room to expand as your store does.
Step #1 – Install the digital products app
Go to the Shopify app store once logged in, then proceed with the following steps.
Click the "App" button to install Digital Download app in your Shopify app store. Then, scroll down to the price page, click the "free" option, or choose a free trial (on a paid plan).
Step #2 – Upload your digital files
Go to the "Assets" page
Click the "Upload new assets" button
Upload your digital files to the app
Step #3 – Attach your digital files to your products
Click on an uploaded asset (blue link on the asset name)
Go to the search box and select products to attach them to
Do the same for all of the assets.
You can do this bulk by linking assets to products using a CSV file if you have many assets and products.
A second way to attach assets to products
From the "Product" page, you can also attach files to your products.
Navigate to "Products"
Click on a product
To attach assets to this product, use the search box
Step #4 – Customize your settings to align your brand
There are countless ways to customize your shop. Verify that everything is configured as you prefer by looking through the settings. Some examples of what you could look into:
Using your email for digital product delivery using SendGrid or SMTP
Updating files & notifying customers
Stats page
Set release dates on digital products
Sell personalized digital products
Restrict customers' downloads to several IP addresses
PDF Stamping
More storage & bandwidth allowance
Fraud protection – stop downloads if they're high-risk fraudulent
Expire orders at a specified time (or instantly)
Display download links in the customers' accounts and checkout summary page
Data reports
Customise email templates to improve branding
Connect an S3-compatible server
API Access
Add & sell external URLs as assets, such as Dropbox links.
Adding digital products to Shopify is as easy as 1-2-3. The app will automatically send download emails to your customers once they purchase your digital files that have been added to the appropriate products.
Also, the app will automatically fulfill all digital products in order while leaving all physical products unfilled.
This means that while you can still manage and manually fulfill your physical products, your digital products are automated (if you sell both physical and digital).
Large digital files for sale? Check out our tutorial on how to sell huge digital files on Shopify.
The Best Digital Products to Sell
What digital products can I sell, then?
With a tonne of data, the Shopify app for digital downloads is among the most popular. So we've selected the best digital files to help you find inspiration for what to sell.
In a nutshell, some sell better than others. Check the list of the best-selling digital files:
Zip files
Video
PDF files (best-seller)
Images
Documents
Audio files
Impressed? The most well-liked file types for selling on Shopify are cool to explore. Check out our guide on the subject if you need more inspiration for what to sell.
Best-selling digital products
We've got you covered if you're wondering what to sell. Finding a useful digital product might be challenging at times. That's why we've compiled a list of profitable niches to guide you.
This list includes niches like online courses, ebooks, and software programs with high demand and profit potential. Take advantage of this resource to save time and increase your chances of success in the digital market.
Bring your business ideas to life for $1/month On the Shopify Platform. Click the Image Below.
Since no overhead costs (production and shipping) are associated with selling a digital product, the profit margins are high. The list of the best digital products to sell on Shopify, based on first-hand knowledge of the platform's offerings, includes
Video content
Templates
Software
Photography
Online courses
Music
Graphics and Arts
Fonts
Ebooks and audiobooks
Alternatively, you can conduct market research to determine your customers' pain points and develop products that cater to those needs.
Market the Digital Products
One of the most potent abilities in the world is marketing. Even if you have the best product, you must learn how to sell it to make money.
To try and sell your digital files, you must ensure you have a reliable list of platforms. Make sure you have a strategy in place as well.
The following is a list of the best marketing tools, in our opinion:
Twitter ads
Snapchat ads
Reddit ads
LinkedIn ads
Google ads (YouTube and Google)
To create video or photographic content, you will also need some assistance. However, getting the necessary materials takes so long, making this a time-consuming and challenging task.
Finding Content Creators
There is a large selection of venues where you may get fantastic content creators to help with marketing:
Upwork or People Per Hour
Upwork or PeoplePerHour can be excellent for discovering content creators, but don't expect the quality to be outstanding. There, there are a lot of inexperienced people. But, there is the occasional diamond to be discovered.
Word of mouth
Nothing beats a recommendation from someone who has already had a positive experience or word of mouth.
Social media
Browse social media and visit their accounts. There are a lot of talented creators today that are eager to create. Send them a direct message, and they will undoubtedly respond if you have something to contribute.
Final Thoughts On Selling Digital Products on Shopify
This post covered a lot of ground for someone starting their first digital product store on shopify ecommerce platfrom.
So let's put together a TL; DR summary to help you get back on track if you're overwhelmed by everything you learned today.
Create a Shopify store, purchase a name, and install a theme. Choose the best kind of digital product to sell to showcase your knowledge.
With the help of social media and SEO, you can grow your email list. To maintain their interest in your product, communicate with them frequently. Add it to your store and advertise it to your audience. Use social media, search engine optimization, and content marketing to expand your industry knowledge.
FAQ
To sell digital products on Shopify, do I require a license?
As long as you are the product owner or have been given permission to sell them, you do not need a license to sell digital products. Digital products are easily sellable and widely compatible. Of course, this depends on the type of digital product you are selling. Legal issues will arise if you sell unauthorized or potentially harmful digital products.
Can Shopify be used to sell digital products?
Indeed, digital products are sellable on Shopify. Setting it up is a breeze. So create your product in Shopify, install the "Downloadable Digital Assets" app from the Shopify app store, and submit your assets.
Can selling digital products be profitable?
Selling digital products on Shopify can be lucrative. Shopify does not charge steep commissions; you keep most of your earnings. However, digital products enjoy significant profit margins due to the absence of physical labor and delivery.
Small Request
Kindly share it with your friends. Especially the ones you believe need this information. Sign Up Now and Get your first 3 months for only $1 monthly.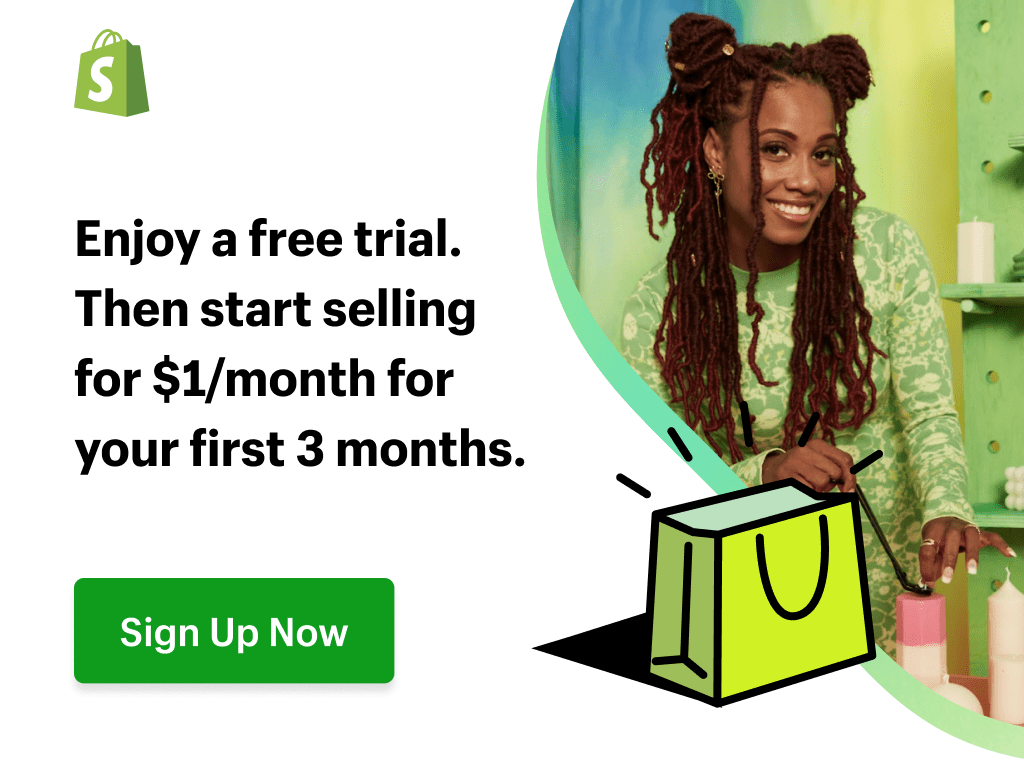 Sharing this information with others can make a huge difference. You may ask why.
Well, the truth is, my main aim is to provide the best information about drop shipping for both beginners and experienced dropshippers.
And I plan to continue doing so for as long as I can.
I would also like to thank those who support my work by reading and sharing my content.
Trust me, when you take your time and share, it will greatly help me and others needing this information.
Here are some great suggestions:
Pin it
Share it on another blog.
Share on Facebook (Share it with friends and even on Facebook groups)
Tweet it
Stumble it
This will only take a few seconds of your time, and I would appreciate it.
I appreciate you a lot. Thank you!
Join my Shopify dropshipping group mastermind and follow my blog to learn more about Shopify tips, dropshipping guides, tricks and checklists, and e-commerce in general.
If you enjoyed and learned something from this post, you can get me updates for free!
I send out email newsletters about new posts published on the blog, tips and tricks to help you grow your dropshipping business, new YouTube videos to give you more insights about the e-commerce market, and much more.
If you enjoyed reading this, you could as well join my Facebook group. Thank you for reading how to make money dropshipping online from the comfort of your home.
Click here to Join My Facebook Mastermind Group