How To Create TikTok Video Ads For Dropshipping Business
TikTok Video Ads for dropshipping Alright, so what's all the hype about TikTok, Tik Tok Ads, and dropshipping? TikTok is a social video application that has gained tens of millions of users in the US alone since 2016, making it a promising venue for running ads for your dropshipping business. 
TikTok Video Ads for dropshipping offer a powerful blend of targeted marketing, low overhead, and high-profit margins, allowing companies to reach a wide range of audiences and test out new product ideas quickly and easily without investing in inventory.
As a dropshipper, you can launch campaigns for a fraction of the cost compared to traditional marketing strategies used by brick-and-mortar businesses.
Table of Contents
Understanding Your Target Audience on TikTok
When using TikTok for dropshipping purposes or running your ads, it is essential to understand the platform and your target audience to create a successful campaign meant to convert into actual sales. 
TikTok's global audience is largely female, with 21.5% aged 18-24, 17% aged 25-34, and 15% aged 15-34 as male users. Gen Z is the most users, with 70% aged 16-24. 
Understanding the platform and target audience is essential to create a successful campaign.
Knowing your target audience is critical to creating an effective campaign on TikTok, as you need to understand the interests, values, and behavior of the age group to create content that resonates with them.
TikTok audience insights are an invaluable tool for understanding your target audience, which can help you to optimize content and devise strategies that speak to the values of Generation Z.
TikTok introduced an insight tool allowing brands to customize their campaigns and tailor their messaging according to the audience they are trying to reach.
Using the TikTok audience insights, marketers can also target their ads to specific groups, including users interested in a particular topic or #hashtag. 
TikTok marketers need to understand the importance of the user data and insights provided by TikTok to ensure that their campaigns are effectively tailored to the right target audience.
With the user data and insights Tik Tok provides, marketers can craft targeted campaigns that are both effective and engaging.
Creating a Compelling Ad Story
Know your target audience and take it from me; this is key to creating an effective campaign on TikTok. Crafting a compelling ad story will make it stand out from the noise and capture users' attention. 

By leveraging user data, marketers can gain insights into the preferences of their target audience and use these to create a compelling story for their ad.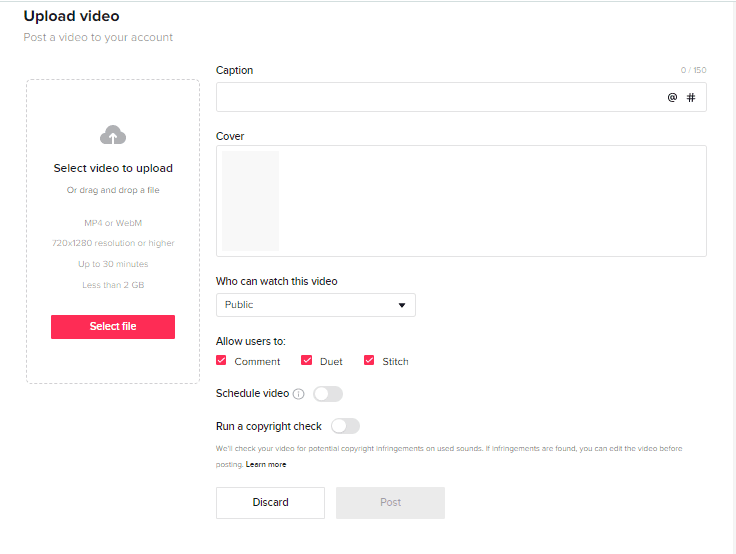 By understanding what kind of stories and visuals your target audience will likely engage with, you can create a narrative that resonates with them and drives engagement.
You can add both video and still images to your Story. The "Quick" function lets you take pictures or record a 15-second video.
Because it is preselected (default), you must press the big red button at the bottom of the screen.
TikTok Stories allows users to add effects before creating a video or photo, upload a picture or video from their phone's gallery, and select either the "60s" or "3m" camera options. It also offers custom templates to make your Story stand out.
How to Make TikTok Story for Your Dropshipping?
To create a new TikTok Story:
Tap +at the bottom of the screen.
Use the TikTok camera.
Add Sounds, Effects, Filters, or other camera tools.
You can start recording a video by clicking the Record button, snap a photo by tapping the Photo button, and upload it by clicking the Upload button.
Record your content.
Tap Post to Story.
Make additional edits on the posting page.
Post your first StoryStory today!
The Importance of Eye-catching Visuals
Time and again, visuals play a crucial role in catching viewers' attention, so creating eye-catching visuals for your Stories is essential. Visual content (graphics, videos, gifs) is essential for any Dropshipping marketing strategy.
It can show your product in action, foster engagement, drive sales, and close the gap between a physical product and an online representation.
Through visuals, businesses can help bring their Story to life and create a more immersive and engaging experience for their customers. 
Not only do visuals help to communicate the message more effectively and efficiently, but they can also encourage brand recognition and establish trust with potential customers by allowing them to see the product up close and personal before they purchase it.
Visuals can also act as a helpful tool to promote brand loyalty and create an emotional connection with potential customers.
By leveraging visuals in their marketing strategy, businesses can create a more meaningful connection by offering insight into the company's value and mission. 
How To Use Invideo to Enhance Your Video Ads
Invideo is a powerful tool that dropshipping store owners can use to elevate the visual elements of their marketing campaigns.
With Invideo, businesses can add text overlays, animation, and interactive elements to video ads to create a more engaging and impactful experience for viewers.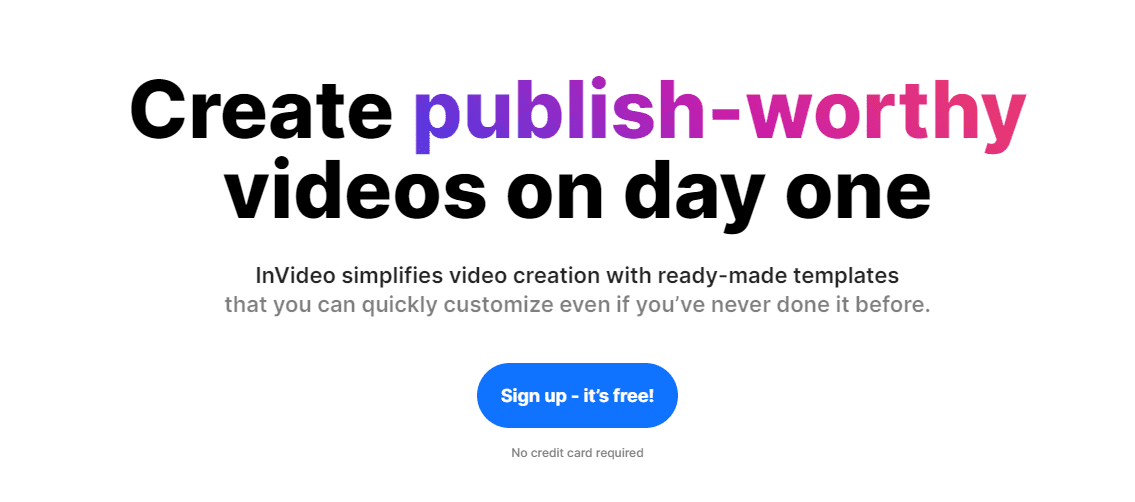 InVideo is an easy-to-use AI video generator that makes creating high-quality videos more accessible than ever.
With its powerful tools and features, InVideo is becoming a go-to option for content creators-Tik Tok videos and marketers looking to create engaging video content.
It also has various AI-powered tools, such as text, facial, and voice recognition, to help you create more personalized videos.
Video editing is often left to creatives, whether you're generating videos for a company or personal use. Video is increasingly more effective than text in marketing and brand building, yet video editing is often left to professionals.
Online services like InVideo can help newbies create excellent video content from their clips, making them 10x more productive.
InVideo's TikTok video editor is a great way to create viral videos on the platform quickly. 
It offers a library of 5,000+ professionally designed templates, an array of effects and transitions, and millions of stock photos, videos, and audio clips.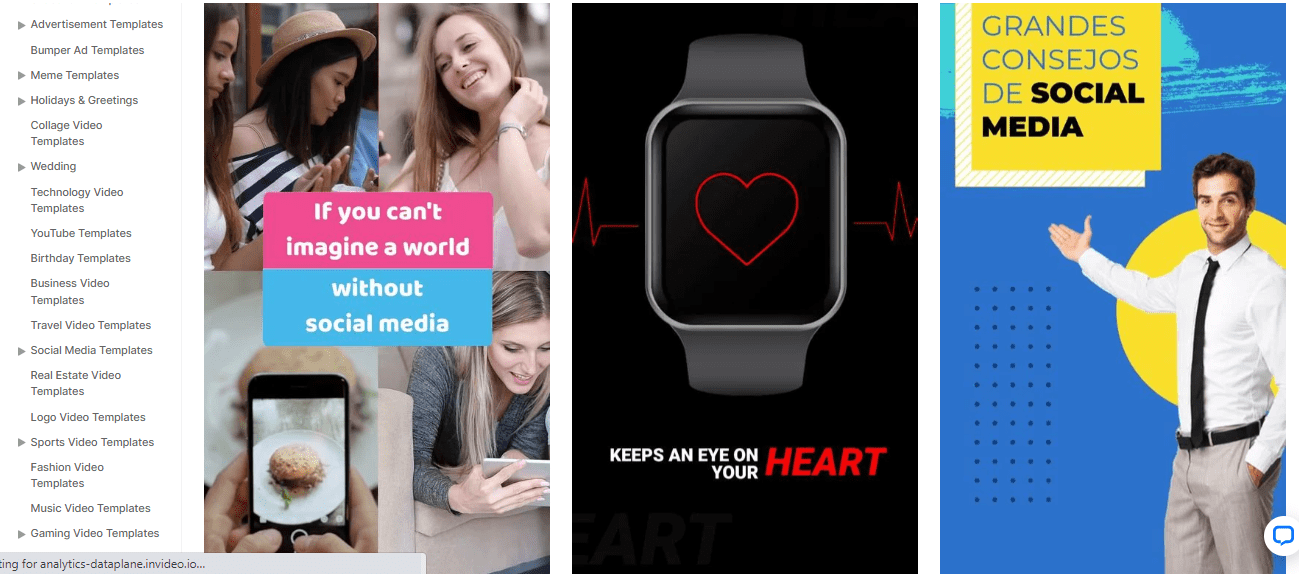 It also allows users to publish their videos directly to their social media accounts, making it easier for content creators to reach a wider audience.
Additionally, it offers a high ratio of creative control, powerful editing tools, and an intuitive interface that is user-friendly and easy to navigate.
Video editing may be super tricky, but that's not the case. You can produce impressive results with little effort while making videos for social media (TikTok videos).
Anyone can make stunning videos using InVideo, an online video editor. Unfortunately, a wealth of resources are available at no cost, and the design is super intuitive, allowing anyone to understand how everything works quickly.
InVideo to the Rescue-The Process
To create a video, pick a template from the library of over 6,000 available on the site and edit the text and media to suit your needs.
You could also use InVideo's advanced yet simple AI-powered text-to-video capability to adapt your script into a video. The tool's AI will take it from there; you only have to select a topic and provide a title or some text.
Moreover, the enormous iStock media collection includes over 8 million objects and over 1 million media pieces.
Understanding Invideo's User-Friendly Interface
InVideo allows you to create incredible videos easily. It includes an easy-to-use interface and over 5,000 customizable templates that may be tailored to your video script's specifications. 
For example, you can add emojis and animations to your video before exporting it. With its intuitive drag-and-drop system and many features, InVideo has made creating videos easy.
Using the video generator, content creators can customize their videos with various features, such as adding text and images, creating transitions, and adjusting audio and visual effects InVideo is a powerful video editing platform designed to help content creators create high-quality videos with ease.
Creating Engaging Video Content with Invideo Templates
InVideo transforms blog content, lists, and Google reviews into videos like Canva. You can create videos from scratch or use pre-made templates.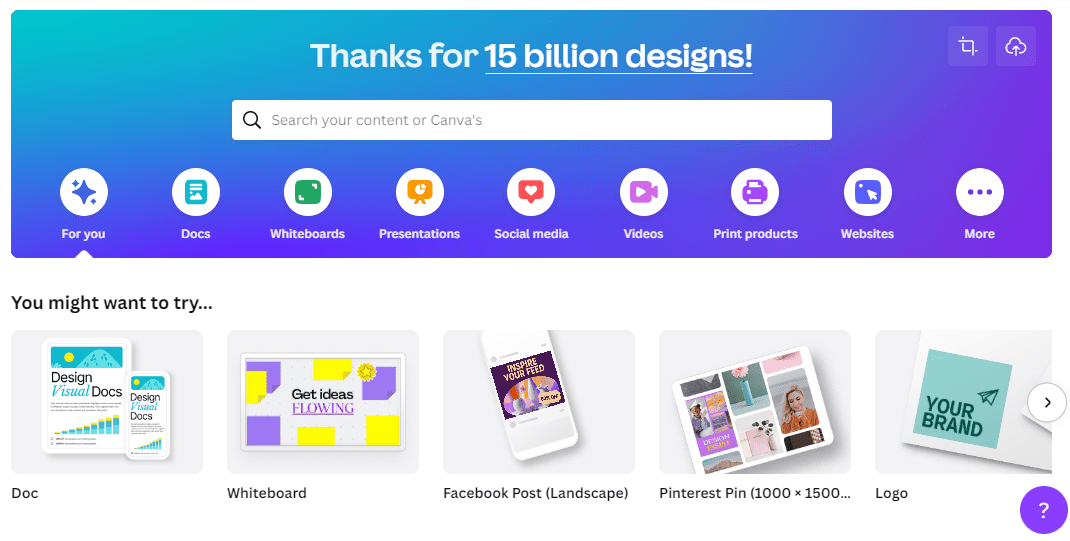 Start by setting up your account and signing in.
Select an option. Options include: converting a script to video, using a ready-made template, or building your video from scratch.
Pick your template. You'll also want to select your video format.
Replace the content and media. Add and replace media, text, and elements in the InVideo editor.
Add your finishing touches. The layers panel is similar to "Layers" in Photoshop, allowing users to drag and drop or delete layers.
Export your video. Preview and export the video by clicking the "Preview & Export" button.Preview and export the video by clicking the "Preview & Export" button.
Customizing Your Videos with Invideo's Advanced Editing Tools
With InVideo's advanced editing tools, users can quickly customize their videos to reflect their styles and preferences and create beautiful, professional-looking projects.
Thousands of templates are available to use as a starting point for your editing project in the InVideo software, which is a truly remarkable feature. The array of templates falls into three broad categories: Pre-made templates, text-to-video templates & Blank templates.
Adding Music, Text, and Effects to Enhance Your Videos
All three categories of templates offer a wide variety of options that provide the user with a great deal of creative freedom.
Whether starting with a pre-made template, using text-to-video technology, or creating something from scratch with a blank canvas, adding music, text, and effects can help bring the video project to life.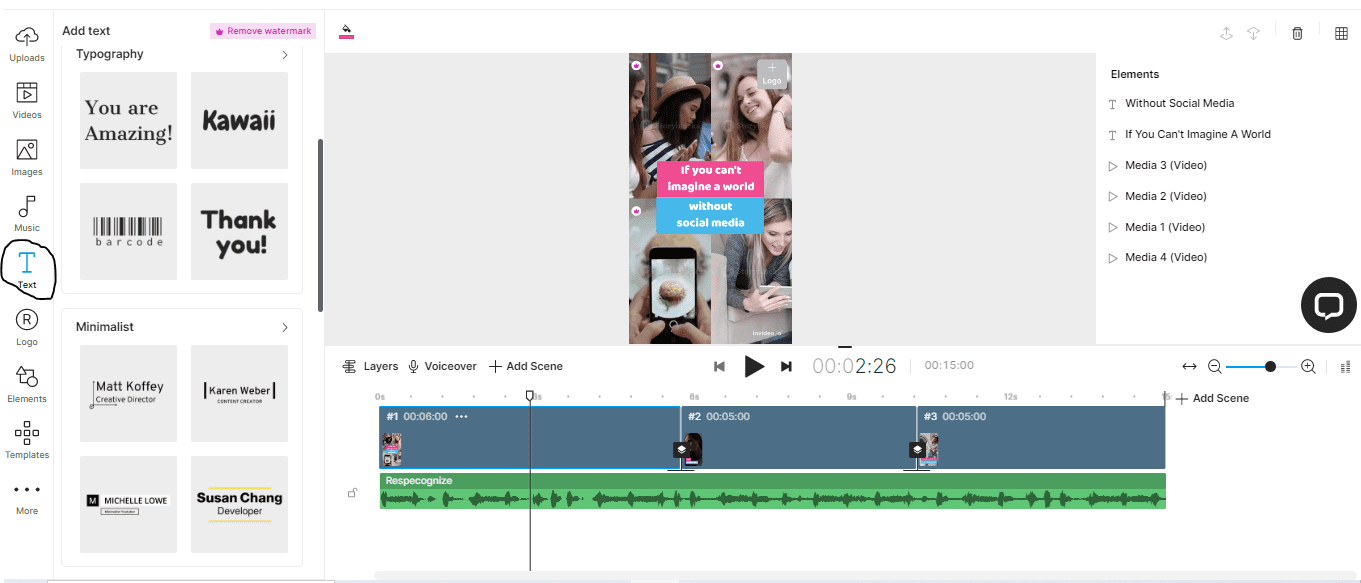 Add text to your video by clicking on the text box provided by the template, deleting existing text, and typing the text you want.
You can also add your own by going to the Text option on the left side of the screen and adding the text box you want.
For example, add Headings, Subheadings, and Body text in the InVideo standardized text box.
Adding music is an integral part of video editing, which sets the piece apart from other visual media that rely solely on still images.
The InVideo software makes adding music to your project easy by letting you select the Music option in your asset library, select a track from our extensive library, or import your track. Then, click on the bar for the music in your timeline.
Videos on Instagram or YouTube can also have music added to them. Finally, explore the steps involved in creating a music video with the help of our video editing software if you're interested in a more serious project.
Invideo's Animation and Motion Graphics Power
InVideo's animation and motion graphics capabilities make creating a visually appealing music video easy.
For example, you can add effects to create visual transitions, layer multiple images, and use custom fonts for extra personalization.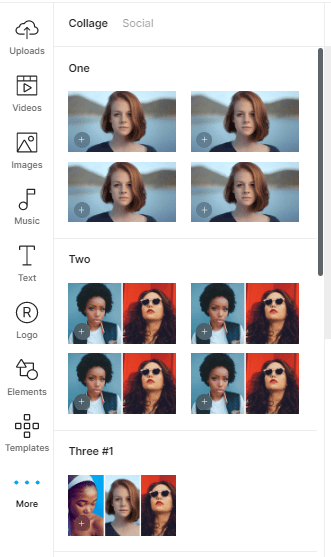 With an expansive library of motion graphics templates, it is easy to find something that fits the theme and aesthetic of your music video.
In addition, the tool offers a variety of motion graphics templates to create professional-quality videos, making it easy to create an innovative and visually-stunning music video without prior experience.
Using Invideo's Stock Footage and Images to Elevate Your Videos
Are you looking to create a professional-looking video? InVideos has an expansive library of stock footage and images that can be used to create a more visually appealing music video.
With access to over a million royalty-free images and footage, InVideos allows users to customize their music videos in ways they may not have otherwise been able to.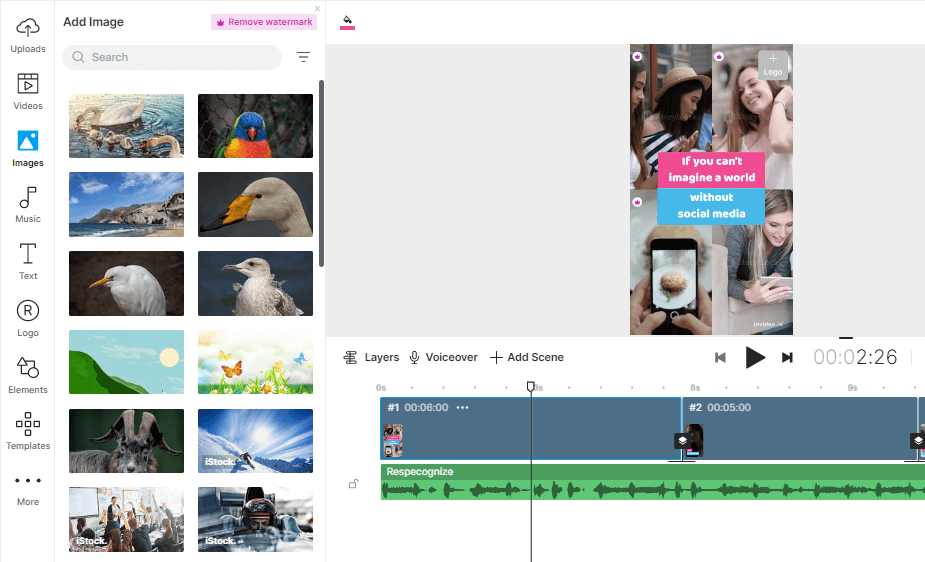 Thanks to Stock Media's extensive stock footage library, you can easily make a video that looks like it was shot by a professional.
To make a high-quality video, users can use the editor's search bar to find clips and images from the library's collection of over a million stock media, which they can modify to their liking.
Optimize Videos for Different Social Media Platforms
Brands allocate a sizeable chunk of their ad spend towards social media advertising as it is an efficient and effective means of reaching a targeted audience at a low cost.
Nonetheless, learning the ropes and figuring out how to use it to expand a business's brand can be challenging.
After customizing their video with clips and images, users can optimize them for social media platforms like Facebook, Twitter, Instagram, or YouTube.
Each platform has unique guidelines for video specifications, such as size, aspect ratio, and length, so ensuring that your video is optimized for all of these platforms will help you maximize the reach of your content. 
This is a critical step to ensure that the video has the best chance of success and reaches its intended audience.
As with any marketing campaign, knowing your audience and understanding the platform you're advertising on is key to success in social media advertising.
With Stock Media's extensive library of stock footage and images and the ability to modify these materials to meet different social media platforms' guidelines, users can create high-quality videos that will have the best chance of success in reaching their target audiences.
Sharing and Exporting Your Videos with Invideo
Once users have created their video, they can easily export it to various social media platforms, like YouTube, Facebook, and Twitter.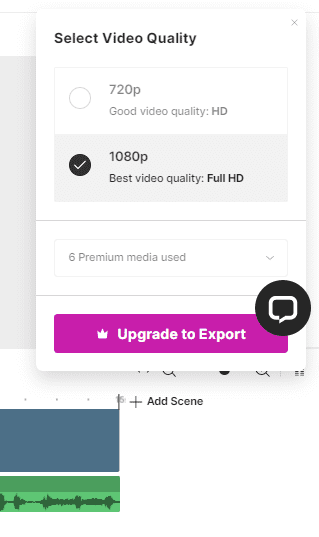 But how exactly do you connect InVideo with your various social media profiles to share your videos? Your social media profiles can be linked in the Profile section of your account.
Then, when you export a video and click the share button, you'll see the option to share it on the various social media platforms you've connected.
Best Practices for Writing TikTok Video Ad Scripts
Writing an effective TikTok video ad script is key to creating engaging, high-performing dropshipping content that resonates with your target audience. 
Businesses can use AI to write high-quality scripts for videos. Artificial intelligence (AI) is increasingly used to help marketers craft compelling video ad scripts. AI-powered writing tools like Jasper ai can generate powerful scripts for videos quickly and efficiently.
Jasper ai uses advanced AI algorithms to generate powerful video scripts in minutes, enabling marketers to create high-quality videos faster and more efficiently. 
By leveraging AI technologies, jasper allows marketers to streamline their video creation process while producing exceptional quality content, including captivating ads and email marketing newsletters.
Jasper.ai enables ecommerce businesses to generate compelling marketing videos, stories, and ads that captivate customers and engage them with their brand.
This is especially important as the competition among ecommerce businesses continues to grow, and a strong video presence is necessary to stay ahead.
By providing 10,000 credits to its customers, Jasper.ai allows ecommerce businesses to have a greater ability to create compelling marketing videos, stories, and ads at scale.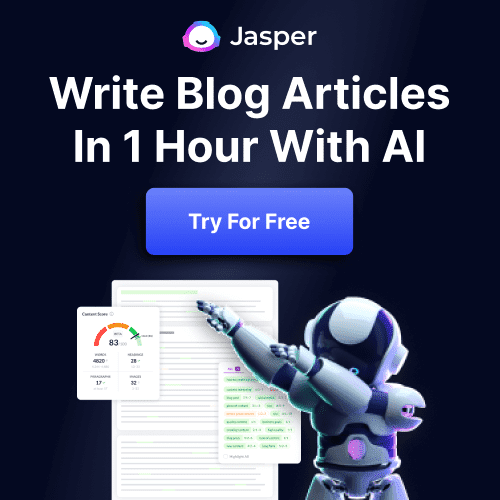 While testing the Jasper.ai app, ecommerce businesses can access the 10,000 credits and leverage their video presence to gain a competitive advantage in the increasingly crowded ecommerce space. This alone is good enough to sign up.
Tips for Making Your TikTok Video Ads Stand Out
Seeking to improve your traction on TikTok? As TikTok's motto is "Don't make ads, make TikToks," brands must approach their TikTok strategy uniquely by identifying the right niche and mastering how to engage with their audience.
With TikTok's distinct, relaxed atmosphere, brands should work to make their content as creative and captivating as possible. Discover tricks and resources to help you deliver compelling TikTok ads.
Use Trending Hashtags and Music: Use popular music that people will likely recognize and associate with the content, along with relevant and trending hashtags that relate to your advertisement's message. Use popular music and trending hashtags to reach a larger audience, as TikTok users enjoy dancing and lip-syncing to well-known songs.
Optimize for the TikTok Algorithm: Rendering content that appeals to and engages your audience is essential for optimizing the TikTok algorithm. Ensure your videos are optimized for TikTok, as an algorithm decides which videos users see. To increase the likelihood that people will watch your videos, use eye-catching graphics, engaging content, and compelling CTAs.
Use Influencer Endorsements: By having an established fan base and featuring their products in their content, TikTok influencers can help increase the legitimacy and reach of video ads. TikTok is a useful platform for advertising, and user-generated content can enhance its authenticity and make it more interesting. To guarantee that your product or service is represented accurately and captivatingly to its followers, look for influencers whose followings correspond with your target audience.
Know Your Target Audience: Understanding your target audience's demographics and interests will help you create effective TikTok video ads. Look at other businesses' strategies, and consider their age range, gender identity, and other demographic data and trending research topics. Last but not least, consider the length of your ads to ensure they are concise and informative while still grabbing attention.
Engage with Your Audience: TikTok users love being part of the conversation and seeing their content featured in video ads. Engaging with users through comments and replies shows that you care about their opinion. Encourage TikTok users to engage with your videos by adding calls-to-action (CTA) and asking for comments, likes, and shares.
Showcase Your Products: Present your merch uniquely and imaginatively to draw potential customers. By engagingly presenting your product, you can easily grab viewers' attention and help promote your good or service. For instance, you could make a video of someone using the product while dancing or lip-syncing or use entertaining animations and effects to grab people's attention. Use the video format to showcase your products and highlight their advantages and distinctive qualities.
Keep it Short and Sweet: Keep your video ads brief and to the point while still communicating a clear message because people today have short attention spans, and TikTok users are no exception. Make your message clear and pithy, and aim for 15 to 30 seconds.
Measure Your Success: To know if your content is getting to the right audience and to keep track of your content's overall success, measuring your Success on TikTok is essential. Measure your Success on TikTok to make data-driven decisions about how to make video ads more effective. By making videos TikTok-optimized and using the platform's analytics tools to track progress, you can reach the right audience and produce successful and engaging content.
Make it Visual: TikTok ads must be visually appealing to attract viewers. Use vivid colors, lively graphics, and captivating animations to do this. Additionally, maintain a unifying theme or StoryStory throughout the advertisement and keep your visuals consistent.
Utilizing TikTok's Unique Features to Drive Engagement
You may have heard terms for many features but have yet to learn how to use them, such as duetting or stitching. And then others might be an unexpected or novel way for you to publish content on the app.
Duet videos have a split screen, with the original video on the right and the new video from the person who made the duet on the left.
Duet-like stitch videos differ from duet videos in that the first video plays briefly before the second one appears.
TikTok users can make "Stories" that disappear in 24 hours, a custom TikTok sound, and use the same effect as another TikTok creator.
Video replies are a fantastic way to interact with your audience and produce content they will enjoy.
TikTok provides features such as filters, hashtags, and sound effects to help create unique and engaging content. Additionally, TikTok's analytics tools provide an in-depth look into how users interact with content and which posts resonate the most.
Taking advantage of these features effectively drives engagement and creates outstanding content. Creators should consider the user experience when creating content for TikTok and use filters and effects to create unique and engaging content.
Use TikTok's various features to increase engagement. Many of the features offered are designed to encourage interaction between app users.
For example, you can Duet someone else's video by uploading your custom audio or start a trend. Whatever content you produce, consider how the viewer can interact with you or your brand on the app.
Measuring the Success of Your TikTok Video Ads
According to research, video consistently ranks among the best-performing assets on the internet.
TikTok provides advertisers the ideal opportunity to engage audiences with content they love and advanced models for tracking each campaign's success as a mobile video platform for online users.
TikTok shares insights into the typical user journey on the platform in this edition, Measuring success, and, even better, provides tips on how to track the real impact of your campaign's video views.
In addition, advertisers can use TikTok's data-driven insights and reporting tools to measure the success of their video campaigns, such as impressions, shares, likes, and views, as well as key demographic information.
Read Also:
What are the KPIs for Tik Tok video content, and why is it crucial to track them? Key performance indicators, or KPIs, are quantitative performance measures essential for tracking and modifying marketing strategies.
The type of video and its position in the marketing funnel will determine the KPIs in video marketing.
As soon as your video begins playing in someone's feed, it counts as a view on TikTok. View count is a vanity metric, but making the first 3 to 30 seconds of a video extremely engaging is vital to capture a viewer's attention.
Other KPIs include watch time, social shares, play rate, and conversions.
Video engagement is measured by the comments and likes generated; play rate is increased by designing an attention-grabbing thumbnail; watch time is measured by dividing the total watch time by the number of video plays; social shares are increased by creating cheeky, entertaining, or educational video content, and clicks and click-through rates are measured by tracking and UTM tags.
Conclusion: The Power of TikTok Video Ads for Dropshipping Success
Final thoughts on dropshipping TikTok Video Ads. You'd be insane not to try TikTok ads if you run a dropshipping business. Instead, they work well if you market to younger audiences and sell physical products.
Never before has there been such a surge in video content consumption and engagement, instead creating a TikTok Business account to get started.
After providing some basic information, you will be up and running.
Instead, create your first campaign after that and carefully review the reporting dashboard. Split-testing creatives and targeting will help you steadily boost conversion rates.
Following the launch of your campaigns, you'll be able to monitor and assess performance metrics to help you spot strengths and weaknesses and make the necessary corrections. Pay close attention to the information displayed on the reporting dashboard as you develop and improve your campaigns.
Small Request
Kindly share it with your friends. Especially the ones you believe need this information. Sign Up Now and Get your first 3 months for only $1 monthly.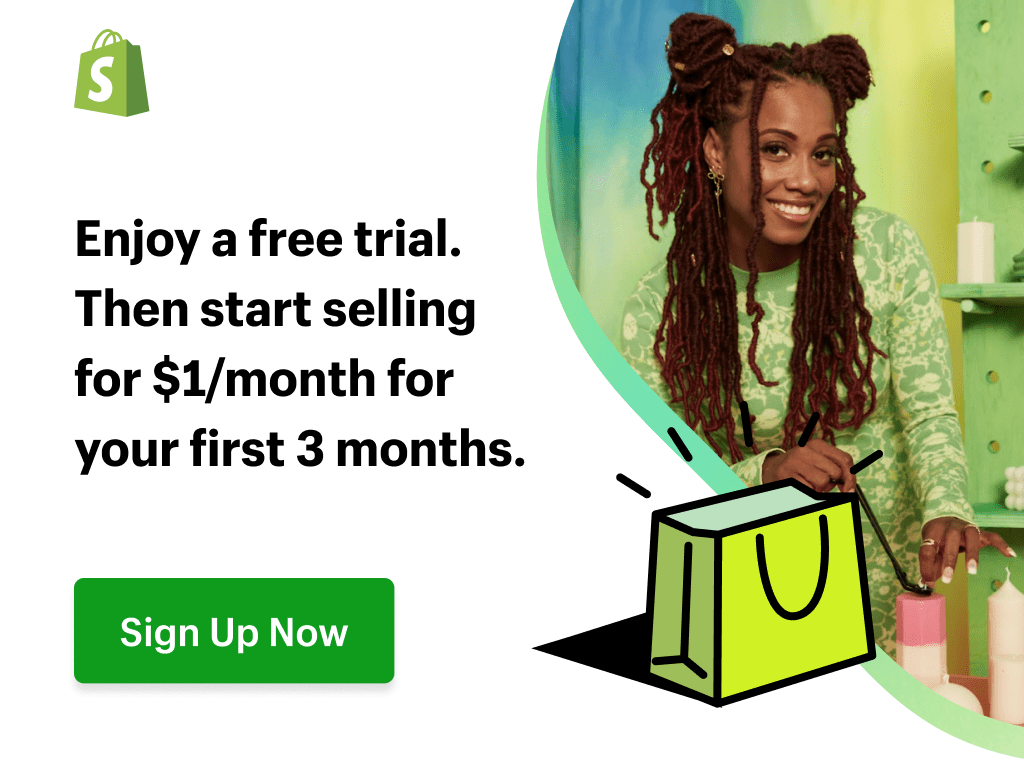 Sharing this information with others can make a huge difference. You may ask why.
Well, the truth is, my main aim is to provide the best information about drop shipping for both beginners and experienced dropshippers.
And I plan to continue doing so for as long as I can.
I would also like to thank those who support my work by reading and sharing my content.
Trust me, when you take your time and share, it will greatly help me and others needing this information.
Here are some great suggestions:
Pin it
Share it on another blog.
Share on Facebook (Share it with friends and even on Facebook groups)
Tweet it
Stumble it
This will only take a few seconds of your time, and I would appreciate it.
I appreciate you a lot. Thank you!
Join my Shopify dropshipping group mastermind and follow my blog to learn more about Shopify tips, dropshipping guides, tricks and checklists, and e-commerce in general.
If you enjoyed and learned something from this post, you can get me updates for free!
I send out email newsletters about new posts published on the blog, tips and tricks to help you grow your dropshipping business, new YouTube videos to give you more insights about the e-commerce market, and much more.
If you enjoyed reading this, you could as well join my Facebook group. Thank you for reading how to make money dropshipping online from the comfort of your home.
Click here to Join My Facebook Mastermind Group