Shopify Vs Weebly: What's the #1 For Ecommerce Business
Are you ready to learn about Shopify vs Weebly?
The most important things any entrepreneur can invest in to build a fantastic store are the right tools.
In today's digital space, making a name for oneself counts for more in a crowded marketplace than just producing the correct goods or services; you want a store that arrests the audience's attention and drives sales.
Today, would-be entrepreneurs have everything going for them, given an array of options to start with, ranging from BigCommerce to WordPress.
This post will show two renowned eCommerce platforms, Shopify & WordPress.
Shopify and Weebly are fashioned to simplify building an online store from scratch.
These platforms are user-friendly for beginners, who can transcend issues of lacking coding knowledge to drag-and-drop an ideal website into existence.
With that out of the way, it's vital to note that Shopify and Weebly have significant differences.
You can also check out Shopify vs WooCommerce (September 2019) Who's The Best?
Table of Contents
An Overview: Shopify and Weebly
Shopify and Weebly are good choices if you're looking for a user-friendly website builder for an online store.
Over the years, Weebly has earned a reputation as an affordable, user-friendly, and feature-rich eCommerce platform. Furthermore, Weebly's pricing policy suggests it's accessible to even smaller businesses.
Weebly offers everything from product filter searching and SEO support to free site design templates and a free plan.
Compared with Shopify, Weebly is a tool that prioritizes user-friendliness.
On the other hand, Shopify is most famous for being the ultimate online website builder. It helps businesses stand apart with everything from dropshipping solutions and social media integration to certificates and free SSL.
Read Also:
Vis-à-vis tools like Wix and Weebly, Shopify is one of the most prominent eCommerce platform options in town.
It has many fantastic add-ons and customization tools to catapult your store to the next level.
Shopify offers dozens of payment methods you can tap into, supports multiple languages, and grants access to email lists for marketing.
Ultimately, the decision between Shopify and Weebly comes down to what you want from your eCommerce store.
Both tools offer checkout tools, options for accepting payments, and shopping carts.
However, both differ significantly regarding ease of use and customer support.
At the end of this comparison, Shopify vs. Weebly, you should be empowered to choose a winning tool for your e-commerce store after thoroughly scrutinizing everything from payment gateways to transaction fees.
Let's roll.
Shopify vs. Weebly: Merits and Demerits
Sometimes, the easiest thing to do when comparing Shopify to Weebly is to draft a list of merits and demerits.
For this article, the following are the pros and cons of digging out from Shopify vs. Weebly reviews.
Shopify Merits
Countless themes: For customization, Shopify has no competition; it offers a host of articles, both free and paid.
Incredible eCommerce: Modern store owners have everything from Shopify to creating a valuable store.
Extensibility: Shopify delivers countless app extensions alongside various in-built tools.
Support: Shopify invariably lends a helping hand via live chat, phone, and email whenever you need- it.
Excellent community: Online has plenty of information on using Shopify to its full potential.
Shopify Demerits
Transaction fees: In the head-to-head between Shopify and Weebly, you'd incur charges with Shopify, while Weebly doesn't charge transaction fees. However, with Shopify Payments, you can opt out of transaction fees.
Expenses: On the whole, Shopify is more expensive to use Shopify than Weebly.
Shopify is a stable online and sales platform devoted to assisting folks in building eCommerce stores from scratch.
It has all concerns running a business, including tons of add-ons and extensions.
On the other hand, a comparison of Shopify vs Weebly reveals that feature-set wise, Weebly gets more limited, easy to set up, and a little less advanced.'
Weebly Merits
Great for newbies: You've never built a store before? No-fuss. Weebly avails all tools required to get you started in minutes.
Excellent pricing: You can get created with Weebly at a reduced cost.
Various templates: Though limited in number compared to Shopify, Weebly's themes and templates are modern and easy to use.
Weebly Demerits
Weebly has a limited number of advanced eCommerce tools. In the battle of Shopify vs. Weebly regarding advanced tools, Weebly must catch up.
Little customization: With Weebly's editor, changing your online store can be a hell of a time.
Pricing: Shopify vs. Weebly
When shopping for the right tools, it's nice to have the option that concentrates exclusively on features of an eCommerce builder.
Because everything from HTML customization to the number of products to hosting access, a widget can tilt the scale of a company's success.
But, like it or not, pricing is critical in your decision.
Weebly Pricing
Weebly offers four different pricing options. Each of these paid plans incorporates various tools that help sell items online. Also, you can sell unlimited products and digital elements.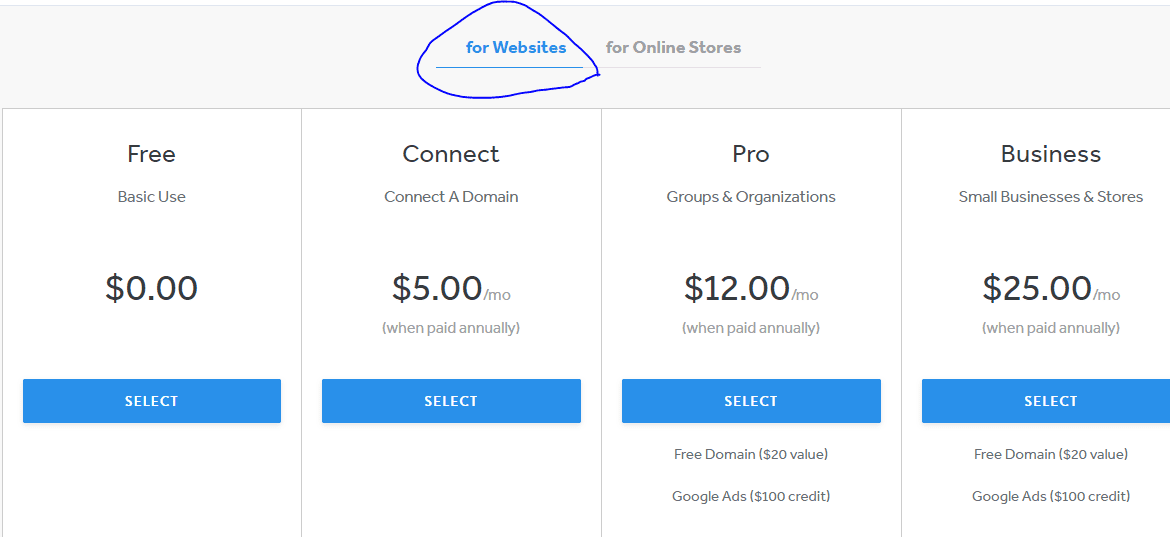 Upon upgrading to one of the higher tier plans, you can create coupons for your eCommerce store.
The alternatives include a "free" basic-use solution; however, you only access it if you intend to launch a website and add store functionality later.
If that doesn't cut it for you, you can try:
Pro: $9/month
Business: $18/month
Business Plus: $28/month
Undoubtedly, it's pretty cheap to run an online store with Weebly.
What's cool is that choosing among the online store packages gets you a free domain name, worth about $20, and $100 in credit for Google ads to kick off your marketing.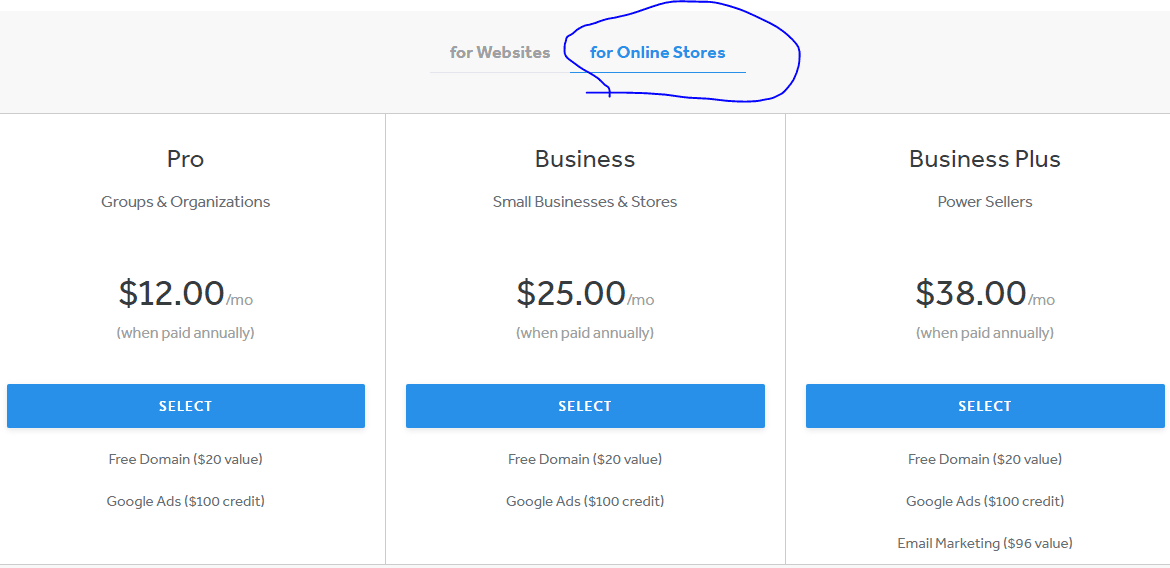 Picking the Business Plus package provides access to email marketing, a cool extra feature for those who want to keep tabs on their leads.
Shopify Pricing
If you go for Shopify for your eCommerce platform, you'll have three Shopify pricing options, and they include:
Basic Shopify: $29/month
Shopify: $79/month
Advanced Shopify: $299/month
Obviously, with each Shopify package herein, there's a lot of expense to factor in. But the beauty is that all the perks incorporate comprehensive functionalities to explore.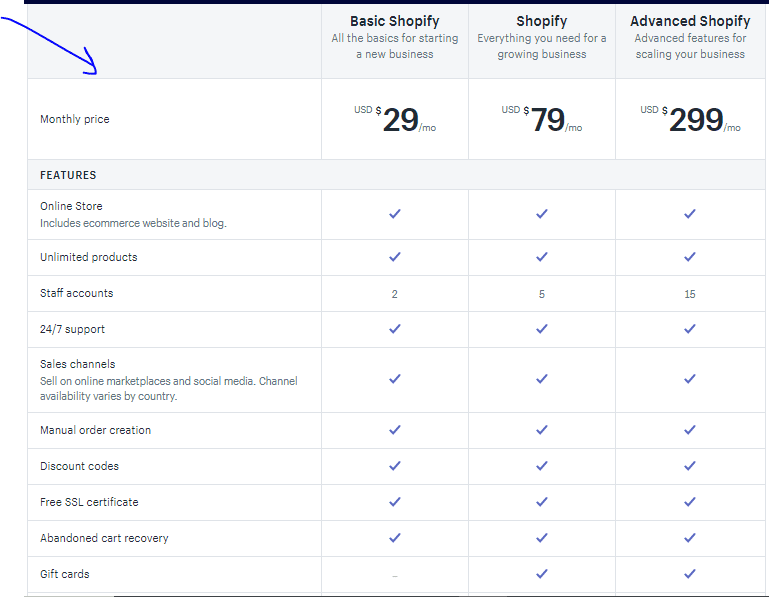 For instance, Shopify or Advanced Shopify offers gift cards as a sales strategy. You can tinker with the app center and tweak CSS when building the website.
Start a free trial today and enjoy 3 months of Shopify for $1/month Instead of $39/month on selected plans. Sign up now
Both Weebly and Shopify have a lot of great benefits to offer regarding reliable web hosting. Although with Shopify, you'll pay a lot more, equally, you'll get a lot more functionalities.
Weebly is indeed a lot cheaper. Also, it offers fewer tools. The right option for you in this Shopify vs. Weebly spins on whether you'd want to look elsewhere for add-on functionality with Weebly or get everything in one place with Shopify.
Before it escapes my mind, Shopify offers a 90-day free trial to try out the software before you invest real money.
Sales Features: Shopify vs Weebly
As mentioned above, running a successful eCommerce takes more than just finding the cheapest eCommerce platform.
You want to ensure that your eCommerce site has everything needed to succeed in your business plan, from fantastic checkout experiences to Google Analytics.
You ought to have an easy time setting everything up. That's the beauty of Shopify and Weebly: their ease of use.
Of course, going head-to-head, Weebly will come out tops on ease of use, and probably it's your go-to of choice.
Weebly Features
With Weebly, you'll find everything you need in one place to enhance and maintain your store.
Since Weebly's acquisition by Square in 2018, its tools have dramatically improved. Weebly now provides fantastic niche-specific features, from inventory tracking to integrated shopping carts.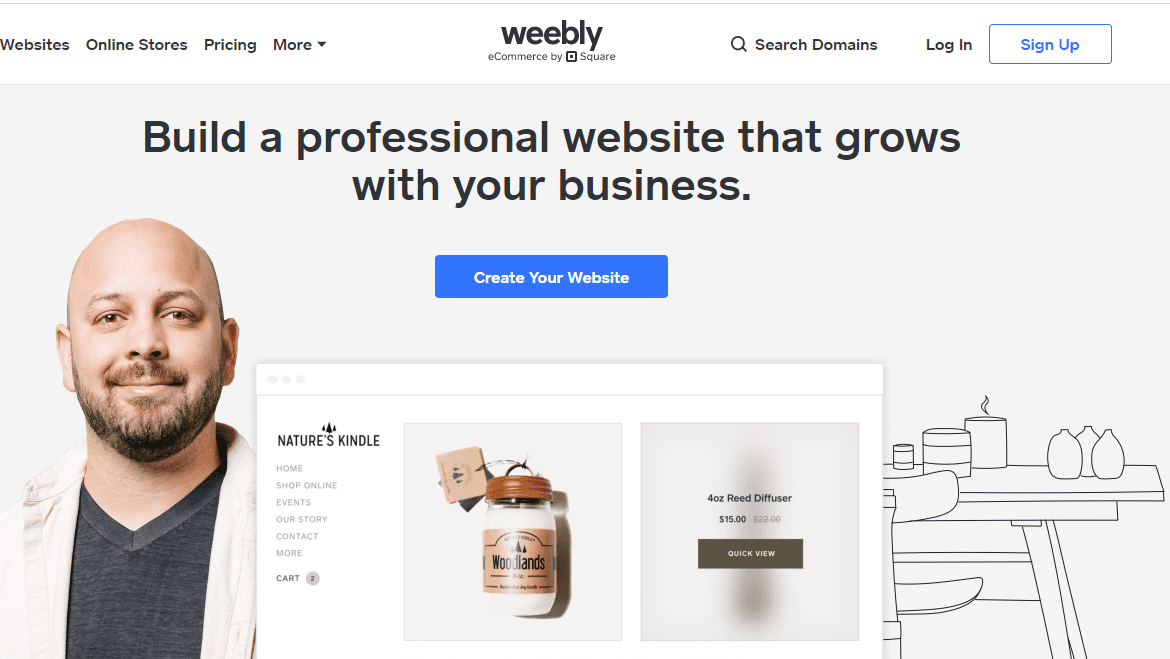 With Weebly, you can build your mobile website and gain access to flexible shipping alternatives, filtered product search, support for physical and digital goods, coupon codes, inventory management tools, and much more.
The built-in functionality tool lets website owners send products domestically and internationally, with real-time rates calculated dynamically using an address, quantity, and weight.
Besides, using features like bulk import and export helps manage inventory and keep track of the items you sell.
With a host of means to make website navigation more relaxed are Weebly's most compelling features. Visitors find what exactly they need with product badges and search. Further, other features include:
Customizable checkout pages with payments accepted via Square, Stripe, and PayPal.
Integrated Shopping carts and Automatic tax calculation
Featured customer reviews for social proof
Product search support and product badges
Gift card and coupon customization
End-to-end customer support
Inventory tracking
Real-time shipping tools
Weebly's technology also features proper email marketing, which is crucial in notifying customers about the happenings in your website store, from special offers and updates to events and news.
Thanks to the ever-dynamic-evolving Weebly app store, you can add dimensions like live chat and call-out boxes to your website.
Shopify Features
Shopify, conversely, has plenty to offer.
The Shopify e-commerce platform was molded to provide teams with everything needed to operate an e-commerce store hassle-free. With a robust storefront featuring over 70 professional themes, Shopify is a breeze.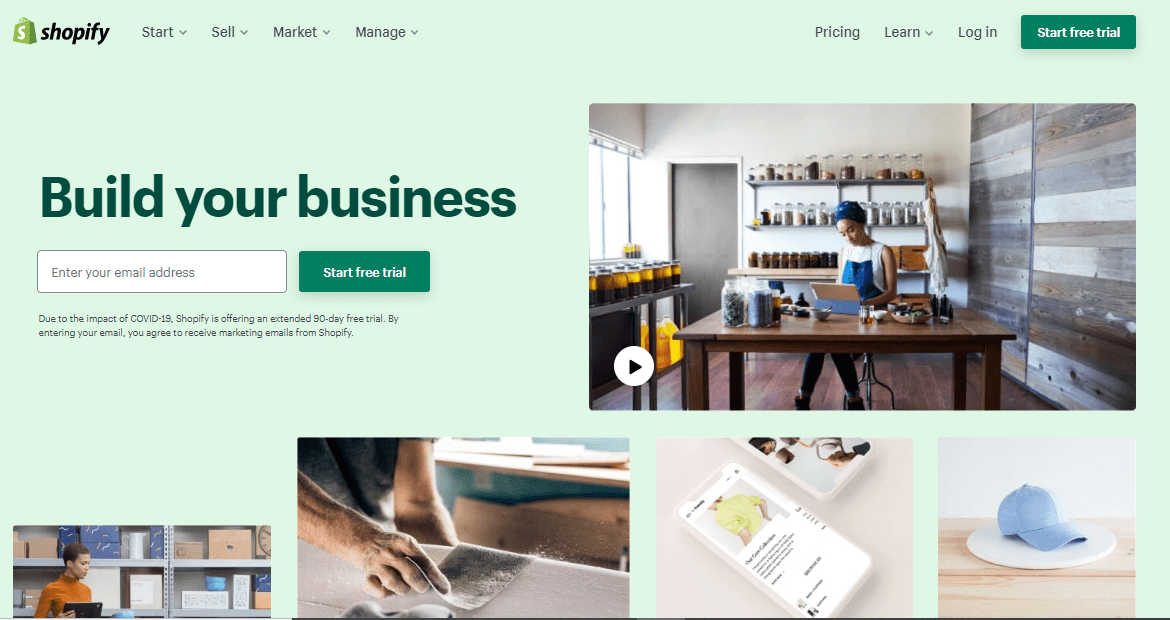 With Shopify, you'll browse through countless tools that include solutions making customization and branding of online store easy, to HTML and CSS solutions.
Shopify orients your site to mobile commerce ready, incorporating in-built shopping carts; thus, folks can browse through your online store and purchase what they need on the mobile.
Also, you access your domain name or acquire (buy) one with Shopify and tap into the blogging platform, something you don't get with Weebly.
Designing and running your online store is much simpler thanks to Shopify's complete web-based website builder, which includes a drag-and-drop feature.
Shopify stands out from the crowd due to its multiple integration alternatives and updates.
Consequently, you can enhance the online store's functionality and performance.
There's even the option to synchronize a Shopify account with Amazon, link with Google Analytics, and browse through various other integration options.
Shopify's newly introduced Augmented reality tool helps businesses stay ahead of the shopping process by letting customers view products from various angles.
Additional features include:
Tons of professional free and premium themes
Access to your domain name
Liaise with experts to build your website
Web-based site builder
Free SSL certificate for encryption
Automatic shipping carrier rates
Accept Mastercard, Visa, and a range of other credit cards
Flexible shipping rates
More than 100 payment gateways
Abandoned cart checkout recovery
Automated tax calculations
Dropshipping & fulfillment centers
Customer account and profile
Email marketing and templates
Google AdWords credits
SEO optimization
Gift-cards & discounts
Testimonials and product reviews
Inventory management
Social network integration
Unlimited products
Export/import
And the list goes on. Also, you'll get access to everything from reports you can export to share with shareholders and team members to Google Analytics, dashboard analytics, and unlimited bandwidth for web hosting.
Overall, Weebly might become much more impressive with its sales features.
However, it can't compete with Shopify's massive array of functionalities.
Both Weebly and Shopify provide POS solutions for offline stores.
Whereas Weebly's offline solutions come via Square, you'll buy Shopify's POS hardware from the Shopify website.
Customization And Ease of Use: Shopify vs. Weebly
People must enjoy using a product for it to register success in the digital space.
The incredible thing is that most folks have little to no problem with Weebly or Shopify.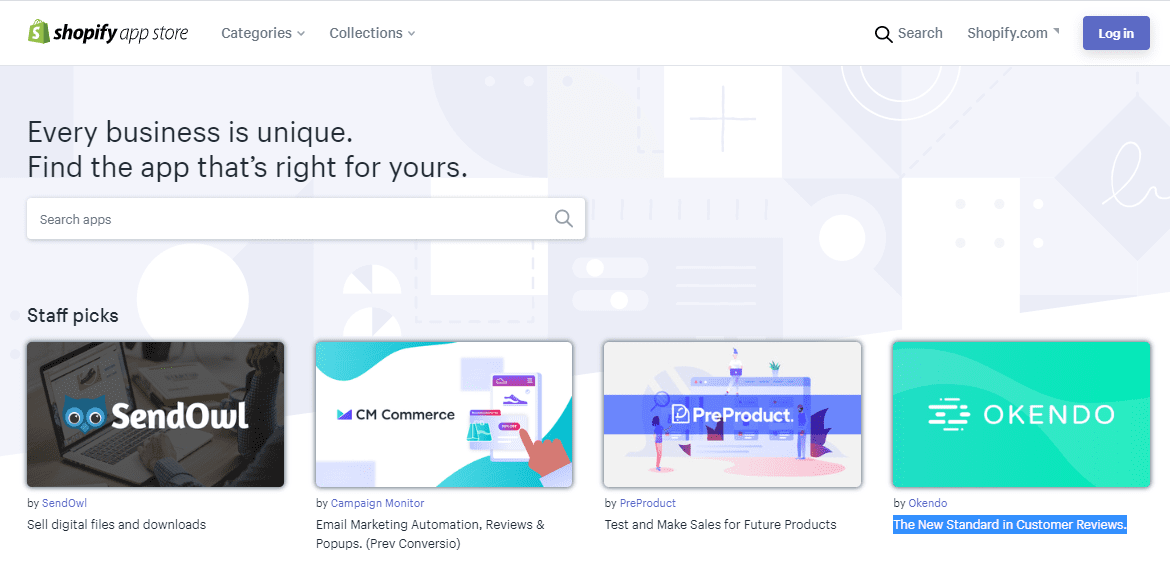 But as mentioned in this comparison, Weebly has devoted itself to providing a tremendously clear-cut experience.
Weebly Customization and Design
If you're a newbie with zero coding knowledge, Weebly's drag-and-drop functionality is for you.
Weebly lets you customize your entire web store and freely place elements wherever you choose.
There are plenty of options regarding customizing color and typography, which means it's in your hands to ensure your website is unique.
Weebly is awash with professional-looking themes, with professional fashioning the designs to fit your specific niche. Moreover, Weebly has a consistent and clear-cut interface; thus, starting from scratch is manageable.
Granted, Weebly isn't flawless; you'll find some hitches with customization and ease-of-use options.
Though we have more themes today than previously, you'll still get fewer choices than you would from a competitor like Shopify.
Furthermore, with basic themes come issues ranging from limited intuition for shoppers and difficulty tracking down shipping info to locating the shopping cart on Weebly themes.
Despite Weebly's website builder tools' relative ease of use, the agencies lack keyboard shortcuts and the "undo" button (which would allow users to jump back through content), elements that may make life a little easier.
Shopify Customization and Design
For convenience, Shopify is akin to Weebly. On this platform, you won't get a drag-and-drop builder functionality;
However, you'll get clear-cut instructions throughout. You should have little to zero trouble building your website.
Even without the drag-and-drop feature, people love the experience derived from Shopify. You'll have it easy to set up and customize your store.
Also, Shopify comes with several keyboard shortcuts and undo buttons that facilitate jumping backward through design changes.
Rest assured- your website will look different from the countless competition online since Shopify offers dozens of great themes. Just be aware that some are pretty expensive.
However, if you do pick a premium service, it's usually cheaper than hiring a professional to design your website.
Shopify isn't so much a devoted website builder; it's more inclined as an eCommerce tool, so it comes with superior design options to Weebly.
You'll have modern Shopify themes to explore and a host of clearly laid-out action buttons and industry-defined features.
eCommerce Support: Shopify vs. Weebly
We've examined the basic features of Weebly and Shopify and scrutinized how simple each tool makes it for businesses to launch their web store.
So, in this section, we'll address the eCommerce functionality you'll get.
Weebly eCommerce Features
Prima facie, Weebly is an upfront platform assisting sole entrepreneurs and small companies in getting their websites up and running ASAP.
Though nowhere as comprehensive as Shopify's selling features, Weebly still punches above its weight for its worth.
Integrated shopping carts get hold of your customers from the moment they view the product of choice to the completion of the purchase.
Weebly provides access to vital tools that make sales more accessible, including coupon access and inventory tracking. Sadly, there is no abandoned carts recovery functionality.
Weebly's central selling point is that you can migrate a store you've already built on its platform by uploading CSV tools. However, in terms of functionality, Weebly lags behind Shopify.
Much as Weebly integrates with Google Analytics, its reporting is as advanced as what you get with Shopify.
Overall, there are significant limits to what you can do with Weebly. It suits small businesses- not brands amid growth.
Shopify eCommerce Features
Conversely, Shopify always stands out as the most fully-featured eCommerce platform in the market, brimming with tools to assist you in selling items daily.
Shopify caters to both large and small businesses, with countless solutions for functionality ranging from automated tax calculation to abandoned cart recovery.
With Shopify, you can accept payment methods from over 70 different environments, including PayPal and credit cards.
You can also receive money in foreign currencies; in other words, you get more than you would from Weebly.
Shopify pales Weebly in analytics.
To sell to your customers, you've got to have a grasp of them. Through your reporting, Shopify offers details you won't get with tools like Weebly. This way, you get what it takes for bigger stores to thrive and grow.
Shopify lets you sell on social networks like Facebook and Pinterest and integrates with your Instagram store. Moreover, you've you can invest in dropshipping with Shopify.
Other tools let you create multiple staff accounts, create your blog, send discount codes, and generate more traffic.
The only drawback with Shopify, which arises from selling features portending risks, is that you might need more time to become overwhelmed by the number of tools available.
Shopify vs. Weebly: Customer Support
With excellent customer support, you can keep your business running smoothly. Regardless of how easy the platform might be, you might need extra assistance occasionally.
In specific comparison to Shopify, Weebly has limited customer support. Speaking to an assistant on the phone needs one of the higher tier accounts with Weebly. Additionally, getting responses to your questions takes work.
Sign up for a free trial and enjoy 3 months of Shopify for $1/month on Select Plans.
Although Weebly isn't as terrible, it's equally not as comprehensive as what you'd expect from most significant providers in the market.
Weebly may have limited customer support because it's easy enough to use with little hindrance.
But either way, it's a significant drawback.
Shopify's customer support alternatively offers an entirely different experience.
This platform provides live chat, email, over-the-phone support, and Twitter access. Assistance is available for all the plans, including Basic Shopify.
Having a high-tier customer support level is crucial, especially when starting with vending products online. 
However, having plenty of customer support is helpful regardless of your business's growth stage.
Apps: Shopify vs. Weebly
Apps and integrations are another area in which Shopify excels over Weebly.
Though Shopify is ahead of the competition in this area, Weebly offers a lot for a competitor of its size.
Weebly's app center is more intuitive and immersive than Shopify's, so finding your desired service is much faster.
You can expand your website by tapping a button. And because all the apps are integrated, you'll not need coding knowledge to embed them on your site.
Some apps on Weebly are premium, meaning you pay for them, but often, you'll find trial periods to get started.
Despite Weebly's enhancements in the app world, Shopify's app store still stands tall among the best in the business.
Thousands of apps, encompassing everything from accounting to taxes and social media integration, are available to expand your store's functionality.
Shopify's apps do not allow you to add new features to your store. You also get help with automation, such as a follow-up with clients after abandoning a cart.
Shopify has paid and free apps, and this post recommends you research to ensure investing in the tools that best fit you.
FQA: Shopify vs. Weebly
You may have some remaining questions about Weebly and Shopify. Don't worry; this segment on FQA will help clarify that all-important choice.
Is Weebly better than Shopify?
Whereas Weebly isn't as powerful as Shopify as an eCommerce platform, it's much more newbie-friendly. Ultimately, the kind of experience you seek determines the choice between Shopify and Weebly.
Weebly is big on simplicity, whereas Shopify has a more significant focus as a robust eCommerce platform.
Shopify vs Weebly vs. Squarespace: How Do They Compare?
In contrast to Shopify and Weebly, Squarespace is inclined towards being an eCommerce builder, fashioned notably to support folks in the creative industry—. Squarespace gels well if you seek an attractive and design-based website.
However, Weebly and Shopify have superior selections of apps and eCommerce tools. Moreover, Squarespace provides zero free plans.
Shopify vs Weebly vs. Wix: How Do They Compare?
Wix, Weebly &Shopify build websites and eCommerce tools molded to help newbies launch adequate eCommerce stores.
Wix has a broader range of templates and designs than Weebly; however, it comes short of Shopify.
Weebly suits smaller sites, whereas Shopify and Wix work well for larger businesses.
Do Professionals Use Weebly?
Weebly is ideal for beginners who've never built a website and a terrific pick for professionals.
It packs many extra features, such as image galleries, eCommerce, and blogs, and you can use your domain name.
However, in the battle of Shopify vs. Weebly, Weebly lags behind Shopify as a better pick for professionals.
Does Weebly Own Your Content?
The content you publish online Weebly does not maintain its ownership. But upon signing up with Weebly, you grant the company permission to host content you need online.
Also, Weebly carries out all the acts vital in hosting your content on the service, such as making copies, reformatting, and distributing content.
Shopify vs. Weebly: Which Is Better?
With terrific third-party apps and built-in tools to explore, beating Shopify becomes inconceivable in finding a solution to grow your store.
From the tremendous scope of Shopify themes to the incredible customization options for your website, Shopify makes it a cakewalk to design a store perfect for you.
Also, you can go the extra mile with your store, crafting a custom domain name with value for money on your products.
Shopify won't force you to opt for a pro plan to access customer support and guidance; instead, you can get the help you need regardless of your subscription plan.
However, the pricing plans aren't as cheap as with Weebly. You get fair value vis-à-vis the amount of functionality you get back.
Shopify makes for an eCommerce website builder for any company that envisions scaling and evolving exponentially. But Weebly could be the alternate for small businesses.
Say you're a one-person band type of business, then Weebly should cut it for you in terms of functionality without breaking your budget.
Also, given Weebly's ease of use, you must seek professional assistance.
Overall, Shopify might be a heavyweight in the eCommerce ring; Weebly equally packs better punches with its pricing plan options, thus suiting smaller businesses that do not wish to break their budgets starting a store.
Shopify vs Weebly, which is it going to be? Let us know in the comments.
Small Request
Kindly share it with your friends. Especially the ones you believe need this information. Sign Up Now and Get your first 3 months for only $1 monthly.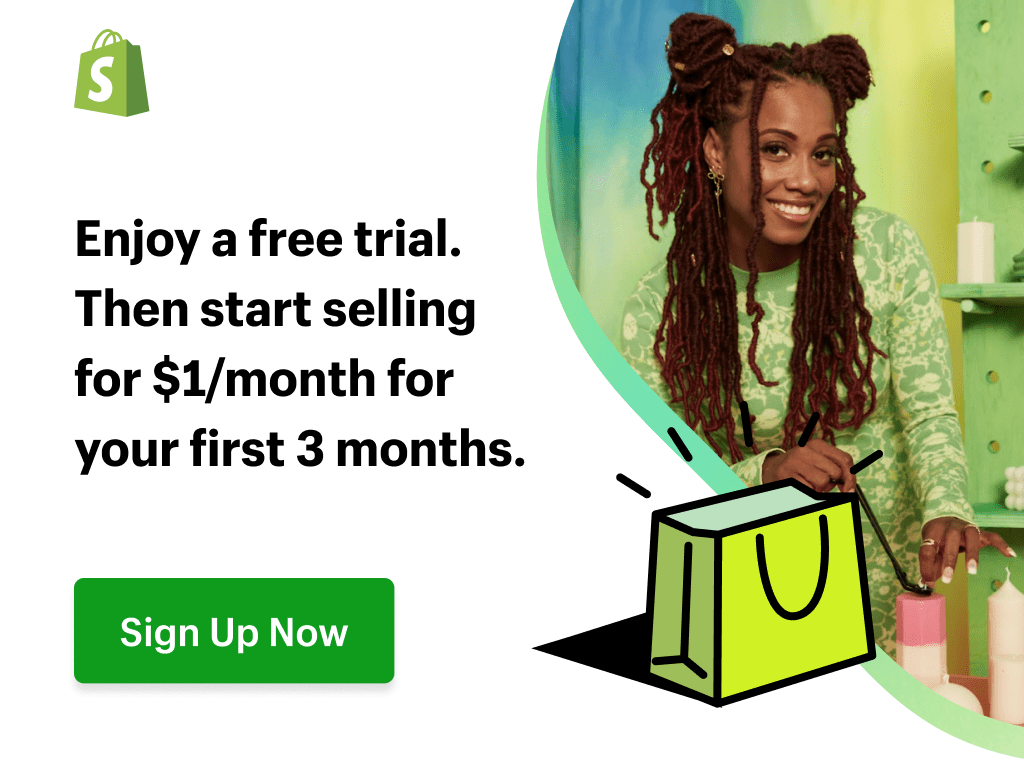 Sharing this information with others can make a huge difference. You may ask why.
Well, the truth is, my main aim is to provide the best information about drop shipping for both beginners and experienced dropshippers.
And I plan to continue doing so for as long as I can.
I would also like to thank those who support my work by reading and sharing my content.
Trust me, when you take your time to share, it will greatly help me and others who need this information.
Here are some great suggestions:
Pin it
Share it on another blog.
Share on Facebook (Share it with friends and even on Facebook groups)
Tweet it
Stumble it
This will only take a few seconds of your time, and I would appreciate it.
I appreciate you a lot. Thank you!
Join my Shopify dropshipping group mastermind and follow my blog to learn more about Shopify tips, dropshipping guides, tricks and checklists, and e-commerce in general.
If you enjoyed and learned something from this post, you can get me updates for free!
I send out email newsletters about new blog posts, tips, and tricks to help you grow your dropshipping business, new YouTube videos to give you more insights into the e-commerce market, and much more.
If you enjoyed reading this, you could also join my Facebook group. Thank you for reading how to make money dropshipping online from the comfort of your home.
Click here to Join My Facebook Mastermind Group