BigCommerce Platform Review: Features, Pros & Cons
Can BigCommerce compete effectively with Shopify? Does it suit your objectives? In this Bigcommerce review, we'll answer that question head-on.
BigCommerce will provide a practical and powerful interface for your ecommerce needs, considering that over 95,000 live sites currently use the BigCommerce system to sell products and accept payments online. Our complete BigCommerce Review explores everything from features to security to support.
Furthermore, BigCommerce had a significant rebranding change at the beginning of 2016, including a new brand structure, numerous connectors, and other user-friendly features.
Company reps noted the upward trending chart logo as proof that the new logo more accurately depicts the platform's intended function. In addition, the design of the firm's website has been modified to make the information offered more user-friendly.
What about you, the user, if the branding is outstanding?
One of the most difficult aspects of starting a business is determining which of the many popular e-commerce platforms, such as Shopify or Squarespace, is best for you.
BigCommerce is right in the heart of this dispute, so you'll have to choose between payment processing and product management. The same consideration should be given to website security and design.
Why BigCommerce?
BigCommerce is the best e-commerce platform available, allowing you to expand your business beyond markets such as eBay and Amazon.
To make money, you can open an online store, stock it with merchandise, and start selling it. But there's more.
BigCommerce is another alternative for people wishing to launch an online store.
Ecommerce solutions like BigCommerce are designed for businesses who want a simple way to create a website to sell products and services online. In contrast, Ecommerce website builders like Squarespace allow you to create practically any website you desire.

BigCommerce customers such as Toyota, Ben & Jerry's, and Kodak have an average year-over-year growth rate of more than 28%, making it the market leader. However, keep in mind that every construction business has advantages and downsides.
Where does BigCommerce rank compared to market leaders Shopify, Square Online, and (relatively) newcomer Squarespace?
You'll find out as you read on.
According to a deluge of emails and comments from BigCommerce consumers, the firm is drastically raising prices for its most lucrative customers (those with annual prices of more than $125,000), making it significantly more expensive than its fixed-price competition Shopify.
We attempt to present the most up-to-date and accurate reviews and comparisons and routinely update our chart.
Keep that in mind if you need clarification on which e-commerce platform is best for your needs.
BigCommerce Reviews – Features
The website builder is the core of BigCommerce's features since it allows users to create unique, responsive designs with minimal coding design. In addition to receiving payments via various methods, you can effortlessly add and manage products.
Most sellers demand a system that allows for personalized shipping options, which BigCommerce delivers. However, because of the flexible tax system and dropshipping features, you won't have to make significant adjustments to your business due to your e-commerce model.
It's important to remember that BigCommerce, as it's now evolving, has been generally unresponsive to feature requests, making it harder for many customers to justify the cost.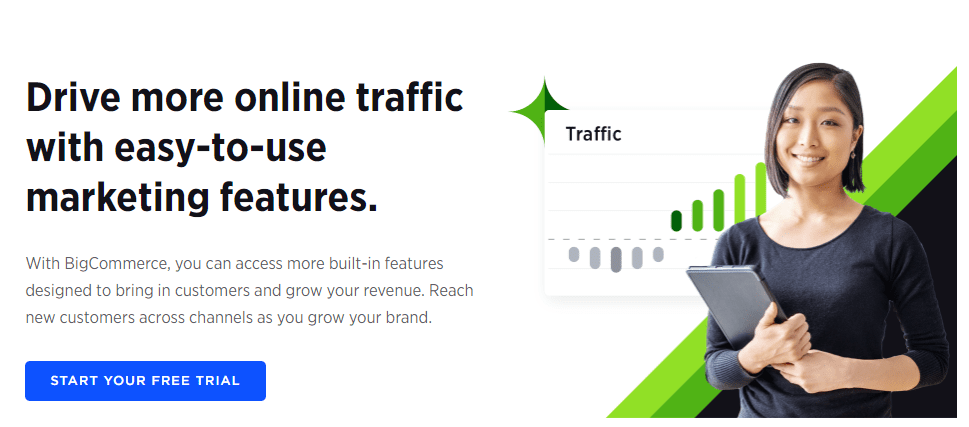 Many of the features, for example, are designed specifically for US customers, leaving the rest of the world with features that could be more useful.
Customers have also stated that frequently requested but never implemented features have been a cause of irritation in the forums (like the ability to customize order statuses).
After we've resolved the update issue, let's talk about the pros. First, BigCommerce does provide some great features, such as smart product rules, downloadable sales, email marketing tools, and effective SEO. These features are great in practice and come at a reasonable price.
A Customizable Checkout
When we initially started using BigCommerce, we thought their checkout module needed to be updated and easier for merchants to adjust.
So BigCommerce, on the other hand, has recently released its Checkout SDK, a library of JavaScript components for your checkout.
From the background picture to the number of required clicks, merchants may customize the checkout process for the customer from beginning to end.
The BigCommerce App Store
Another excellent method to enhance your shopping cart experience is to use the extra features offered by the BigCommerce app store.
The Ecommerce Apps Marketplace offers a wide range of useful add-ons and extensions to help you make the most of the potential of your store. For example, apps such as customer relationship management systems, shipping calculators, marketing tools, and others can be integrated into an e-commerce platform.
MailChimp, Zendesk, Salesforce, and Xero are just a few of the many SaaS apps that can be integrated.
For example, BigCommerce allows you to add up to 650 different apps to your store, which we do not recommend.
BigCommerce's integration possibilities are less comprehensive than Shopify's, but it does provide a few unique features. Unlike BigCommerce, which has a direct connection to MailChimp, Shopify does not.
Building an Online Store with BigCommerce
With BigCommerce, creating a web store is far less hassle than you may imagine.
To get started, you'll need to complete the standard sign-up process; we recommend testing out the BigCommerce demo first. A few standard pieces of information must be entered, like the kind of your products, your physical location, and your business's name.
This concludes the sign-up process.
By clicking "Create my Store Now," you'll be directed to your admin dashboard, where you can take a guided tour and explore the many tools available.
Step 1: Explore the Control Panel
The dashboard, where you may check out basic data such as recent orders, revenue, and products, will find most of your control panel's views.
A search bar for swiftly searching orders, products, and customer information is just one of the many useful tools that BigCommerce has on your dashboard. When you click the shop icon, you can see what you're selling or select to get notified when people buy stuff.
You can create your virtual store as soon as you're comfortable with the control panel.
Step 2: Designing your BigCommerce online store
BigCommerce allows you to tailor the layout of your store to practically any requirement. For example, you should discover a solution that works for your product or service.
Once you click the "Edit Settings" button in your dashboard, you may work on your store theme by adjusting the theme's colors to match your brand or adding a premium theme.
Keep in mind that premium store themes will raise your costs. If you're on a tight budget, you can customize a free design using the site's CSS and HTML editing tools. Remember that even the free templates are responsive.
Step 3: Set your currency and payment options.
Now that you've established the theme for your store, you can concentrate on the products themselves, which are undoubtedly the most significant aspect of any online shop.
Examine the basics of your store's setup by navigating to your left navigation bar's "Settings" area. The following items should be on your to-do list:
Adding images to the store
Adding product descriptions
Price adjustments
Choosing the currency, you'll accept for your store is one of the most crucial first actions you can take. To ensure that the monetary values are right, go to "Settings" and "Currencies."
Additionally, you can choose how payments will be handled (through PayPal, bank transfer, etc.). In addition, BigCommerce offers numerous choices, which is excellent if you want to give your customers flexibility in making their purchases.
Step 4: Stocking your BigCommerce store
Once you've figured out the payment details, add products to the main store module. Clicking the "Products" button will show you sample products.
Replace them with your offerings.
Each item in your online shop will have multiple configurable options. Prices, names, categories, weights, and tax classes can all be entered for each item. In addition, your customers have access to all the tools they need to learn more about the products they want to buy.
If you believe your customers may benefit from more knowledge, provide it in addition to the "basics." Here are several examples:
Allow customers to customize their purchases by adjusting the product's size, color, and shape or adding text or photos.
Smart product standards include rewarding customers with advantages such as free shipping if they spend more than $200.
Keeping track of inventory necessitates integrating Google Shopping and using unique parameters for each item, ensuring you understand everything about your web store.
Step 5: Highlight products on your home page.
After you've compiled a comprehensive catalog of your offerings, it's time to put them on display on your company's website. So BigCommerce facilitates this in a variety of ways.
Alternatively, you can designate some products (such as your best-sellers) featured items. Click the star icon next to your product's name on the main product page to designate it as featured.
You can also go to the homepage's personalization settings and add a "Carousel" to highlight your favorite items. Then, select "Design" from the Settings menu to enable the Carousel function.
You can include images of your products, a brief description, and a link to the item you want to sell here.
You now have an excellent platform from which to promote your newest offerings.
Step 6: Market your products to the world.
When you're ready to launch your website, look into BigCommerce's promotional options. There are various options, including Google AdWords, discount codes, and banner ads.
Banners are an excellent way to promote or use graphic content for purposes other than advertising. Discounts and promotional codes may help you attract your target market's attention and generate more sales.
The ability to contact customers and remind them of what they left in their shopping carts is a fantastic feature, and "Abandoned Cart Notifications" makes this feasible. Please bear in mind that there are some restrictions on the BigCommerce Standard package.
BigCommerce POS
One of the cool things about BigCommerce is that it doesn't just exist to help you run your digital store. But, with the help of this excellent tool, you can also access a point-of-sale system.
With the help of integrations with Springboard Retail, Shopkeep, and Square POS, you can receive customer payments and keep track of stock when conducting business in a physical location, such as a market booth or store. Other integrations are possible.
Research the various providers to make the most of your new point-of-sale system. But having some decisions to make is always a plus. Unfortunately, most alternative eCommerce techniques still need to provide POS regarding hardware.
Selling Digital Products on BigCommerce
There is also the option to sell digital files, streamlining the process of selling physical products with drop shipping through BigCommerce. "Downloadable Products" are what BigCommerce refers to as digital products.
Your customers can purchase digital content in these quick and simple ways. For example, the shipping charge is removed from a customer's total when they add a digital product to their shopping cart.
Before you begin selling digital products with BigCommerce, keep the following in mind:
You can attach an unlimited amount of files to a digital product.
In BigCommerce, the process of attaching the file is entirely discretionary.
512 MB is the maximum file size.
The WebDAV protocol and a corresponding control panel allow for file uploads.
Pre-ordering is not an option for digital products, although CSV import can be used to build them.
If you plan to offer digital products, you should be familiar with "VAT MOSS" in the European Union. For example, if you earn more than 10,000 euros per year from the sale of digital products, you must charge the relevant value-added tax (VAT) based on your location.
One of the most significant issues for BigCommerce users selling digital products is that the process is both time-consuming and tedious. In the near future, BigCommerce should follow Shopify's lead and implement a policy that permits VAT MOSS to be applied automatically to digital products.
Dropshipping with BigCommerce
Many businesses considering BigCommerce will want to know how it handles Dropshipping.
For those unfamiliar with the concept, dropshipping sells products without holding them in stock or storing them in a warehouse. Instead, you accept customer orders, transmit the relevant information to a supplier, and let someone else handle the packaging and delivery.
One of the best things about drop shipping is that it requires a small upfront investment. You only need an inventory before you begin selling.
The most efficient way to handle dropshipping with BigCommerce is to install a third-party app. BigCommerce provides several primary options, including:
Most of these programs provide free demo versions that you can try before you buy. For example, you can find some of these products under the "Drop Ship" category of the BigCommerce app store, but not all of them. This is one of the things you should be aware of.
If you want to find them, you should probably use the word "Dropship" in your search.
BigCommerce Reporting and Analytics
Users of BigCommerce should expect to see success even after completing the first stage, which is developing a terrific online store. After creating a fantastic design, you must verify if your store operates as intended.
BigCommerce's reporting and analytics functions are appropriate for this purpose. As a standard, the tool provides several reporting options, including:
Information on your customers' origins, the number of new and returning customers, and their buying habits.
Search-related reports The words and phrases your customers use to find your products or store.
Marketing reports: Information on how you found customers using Biocommerce's marketing services.
Financial reports provide insights into tax returns, sales, and earnings.
How many customers abandon your products in the shopping cart without purchasing?
BigCommerce now offers an additional "Insights" report for companies willing to pay a premium. This offers a variety of detailed information about your products, customers, and abandoned shopping carts.
If you have the "Standard" or "Plus" plan, this will cost you $49 extra each month. In addition, enterprise customers would pay around $299 per month, while Pro customers would pay $99 per month (for additional data).
The analytics and reporting mechanism for BigCommerce is solid and impressive in general. The best thing with BigCommerce reporting is that you get most of the capabilities you need regardless of your chosen plan.
Competitors such as Shopify may discover that this is only sometimes the case.
To access any customer or sales reports in Shopify, you must have a $79 plan. BigCommerce also allows you to integrate Google services to increase your analytics. The reporting features offered by BigCommerce include:
Extensive measurements for business owners aiming to increase revenue, restrict their focus and conquer their market.
AOV, conversion rates, sales channel information, and more can be displayed on your dashboard at a glance.
Integrated Comprehensive Reports: You may access detailed reports at any time from your dashboard. E-commerce Analytics reports focus mainly on the performance of your store.
BigCommerce Multi-Currency Features
Among the most exciting recent additions to the BigCommerce portfolio are the company's new multi-currency features, which are available to all customers. Due to its multi-currency features, BigCommerce is firmly established as a leading open-source SaaS platform.
You can customize your pricing at the SKU level by using these tools to create pricing lists. However, that is not possible with competing platforms such as Shopify.
Furthermore, merchants have the freedom to choose their preferred payment processors. This tool allows for a more flexible approach to accepting multiple currencies, unlike other tools that frequently encourage business owners to use in-built payment solutions for multi-currency tools.
BigCommerce currently offers five different gateways, each supporting multiple currencies, and additional options are in the works or development. Because of the multi-currency features, merchants can strengthen and improve their cross-border operations.
Customers from other countries can benefit from a customized purchasing experience based on their native language and currency.
With all of BigCommerce's plan options, the Multi-Currency features are included at no additional cost, helping to make the experience even more spectacular.
This means merchants can present data and conduct business in over a hundred different currencies through integrations with some of the most well-known payment processors, including PayPal and Stripe.
A list of some of BigCommerce's international multi-currency features is provided below:
Customers can check out using their choice's currency without additional fees. Thanks to this, customers won't have to worry about additional bank fees, such as conversion costs.
Accurate prices at checkout: Customers can ensure they know exactly how much they're paying by using currency exchange rates that users can update with a single click.
With BigCommerce's multi-currency functionality, you can accept payments in a variety of currencies through a number of the industry's top payment processors. You have a lot of flexibility and freedom of choice as a result. This allows merchants to select the best vendor for their needs across all regions.
Enterprise merchants have complete flexibility because BigCommerce's sophisticated SKUs allow them to establish prices for specific currencies quickly.
Due to the variety of multi-currency features that BigCommerce provides, it is now regarded as one of the top platforms for truly global enterprises.
BigCommerce Review Ease Of Use
In terms of e-commerce platforms, pricing is the first question startups ask. Second, and always crucial, is the ease of use.
This makes sense because most businesspeople need more knowledge and patience to learn the ins and outs of web design and development to build a website from the ground up.
So, how user-friendly is BigCommerce?
To help you get started when you launch your website, BigCommerce provides several valuable lessons and steps. However, our testing and reader feedback indicates that BigCommerce's new Stencil architecture is better suited for experienced programmers.
That's fantastic news for businesses that can afford to hire a competent programmer. Non-technical users find it difficult to make minor adjustments, but the average innovator or entrepreneur must be able to.
BigCommerce is the next best option for developers after Shopify, but it still needs to be quite there for the average non-techie. So when you first log in, you'll be taken to a website with a list of the steps you need to take to complete setting up your shop in a matter of seconds.
It is possible to add new items, configure delivery options, and handle tax adjustments, for example. After that, the plot becomes more complicated.
Website themes are pre-built to make it look like you hired a pro to build your website, and apps and integrations help with customization. Pixel Union, on the other hand, primarily provides BigCommerce themes.
Although they have a clean, contemporary appearance, some users have complained that the influence of just one designer isn't enough to make them truly stand out. Furthermore, many of our readers have pointed out that it is simple to find sporadic flaws that are rarely fixed.
Product management is streamlined and unique because you can customize almost everything for your products.
Getting API access is much easier than other options, such as Volusion. For example, big commerce should generally function normally for advanced users, but we worry about newcomers.
BigCommerce Review – Pricing Structure
At one time, BigCommerce offered pricing on par with Shopify, but they have significantly raised prices for their more prosperous customers (those earning more than $125,000 per year).
Customers of BigCommerce, as well as our overall impression of the business, will be devastated. Sure, you still get some of the fixed prices we'll detail below, but you'll be hit with insanely high fees once your monthly sales volume reaches a certain level.
BigCommerce is trying to exploit its users to make more money.
Now let's look at the various plans you can select from. For example, BigCommerce provides a free 15-day trial before you have to make a decision.
Even though all of those prices may appear very appealing at first glance, there is one thing to keep in mind. If your store grows to a specific size, you'll get an upgrade (whether you like it or not). So we'll come back to this in a second.
While we wait, let us look into BigCommerce's pricing structure.
You save 10% on any plan when you pay for an entire year at once (rather than just month by month).
The Standard plan has an upfront cost of $359. Remember that the Enterprise model is priced separately and must be requested if you require features not available in the "Pro" version. With modern products, that is parred for the course.
There are four options to choose from, each with its price:
•        Standard Plan: Unlimited Products, Unlimited Storage, Unlimited Bandwidth, Credit/Debit Card/PayPal Acceptance, and No Transaction Fees for Only $29.95 Per Month! The Standard package is only suitable for small e-commerce companies because you must generate less than $50,000 per year to use it. Advanced features like segmentation and abandoned cart recovery are also absent from the BigCommerce Standard plan.
•        Plus Plan: For $79.95 per month, you receive all Standard Plan features, real-time carrier shipment, fantastic payment providers, an abandoned cart saver, powerful customer segmentation, and a checkout hosted on your domain. For medium-sized online stores with annual sales of up to $150k, the BigCommerce Plus plan is suitable. You can access a few more sophisticated features by going with this plan. You can also contact users who didn't finish their purchase using the "Abandoned Cart Saver" feature, which is available here.
•        Pro Plan: For $299.95 a month, you can receive all of the Plus Plan's features plus no transaction costs, Google customer reviews, product filtering, and a dedicated SSL. For less than $400k in online sales, this plan begins at $299.95/month. Then, for every additional $200,000 in sales, they demand at least $150 each month. If you make more than $400,000, you're in danger. Faceted search, which enables online buyers to sort and filter products, is included with the BigCommerce Pro plan. With this strategy, business owners can use SSL certificates issued by a trusted third party.
•        Enterprise Plan: All the features of the Plus Plan, plus a dedicated SSL and IP address, setup and data migration, priority support, product filtering, advanced reporting tools, Google trusted stores, and more, are included in the Enterprise Plan, for which you'll need to get in touch with BigCommerce for a quote. It appears that BigCommerce is pressuring many more prosperous clients to choose this plan, as many of our users have noted. So, if your annual sales are more than $125,000 (or you receive more than 3,000 orders annually), you may be taxed between $900 and $1,500 per month.
BigCommerce's Pricing Plans In Practice
Let's look at who should think about each plan in detail.
The BigCommerce Standard Plan
The annual sales of your online store determine all of BigCommerce's pricing levels. This one has a unique structure compared to many other eCommerce systems.
But it's also a fairly open method, which helps some businesses better identify their requirements.
If you use more resources than your current BigCommerce plan allows, they will ask if you want to upgrade. In light of this, you may always begin with the Standard plan and work your way up if your business is tiny and you don't want a sophisticated support crew or many SKUs.
With a monthly price of $29.95 and coverage for annual sales of up to $50,000, the Standard plan is perfect for startups.
With this package, you may connect your store to various payment and marketing platforms, including Apple Pay, Facebook, eBay, and Amazon.
Further, you benefit from the following:
Real-time shipping rates
Promo codes, freebies, and deep discounts
A wide variety of sales channels
An Infinite Selection of Products
Unlimited staff accounts
24/7 support
Feedback on products in the form of ratings and reviews
The BigCommerce Plus Plan:
If you anticipate needing more guidance, more sophisticated features, and larger store support, the BigCommerce Plus plan is for you. For example, consider BigCommerce.com's Plus package if you anticipate selling more than $150,000 of products annually.
The BigCommerce Plus plan costs $79.95 per month and includes all of the basic plan's features and some additional tools. For instance, this BigCommerce plan is the first to have access to the abandoned cart saver, which can help you recover lost leads.
Furthermore, resources like:
Credit card information can be saved for speedier checkout.
Constantly updated shopping cart
Customer groups and segmentation
The Plus features will assist you in maintaining your company's growth. Reminder emails automatically are a great feature to employ to win back former consumers.
The BigCommerce Pro Plan:
Before upgrading to Enterprise, the BigCommerce Pro plan is your last resort. It's more costly than alternatives like Wix or the more basic BigCommerce options. About $299.95 each month will be deducted from your account.
The good news is that this plan should already have everything you require, so there's no need to purchase any extras to make it more useful. 
Instead, we provide volume discounts and other perks for more significant quantities purchased regularly, such as faceted searching and an exclusive SSL certificate.
At the same time, the Pro plan includes everything you loved from the preceding plans, such as Amazon Pay choices, customer groups, and abandoned cart recovery, and features like Google customer reviews to improve your sales power.
The custom SSL and product filtering choices are the most useful additions to BigCommerce Pro. You may improve the user experience on your site by incorporating these.
You may simplify the shopping process with the help of product search filters and a well-known brand like Google.
Consider Pro if your business is expanding but needs more time to upgrade to Enterprise.
Read Also:
BigCommerce Enterprise On the Spotlight
BigCommerce's Enterprise plan, like most ecommerce enterprise suites, comes at a hefty premium. As a result, you should seriously consider whether or not the cost is justified.
The Enterprise option includes all of the standard BigCommerce features, such as unlimited API calls, custom facets, and other tools tailored to the needs of individual retailers.
Customers may pay with Stripe, PayPal Express, and single-page checkouts and then brag about their purchases on social media with the help of built-in connectors.
The Enterprise plan provides more value to web-based business owners through dependable hosting and security features. With a guaranteed 99.99% uptime, your online store should always be available to customers. Bank-level security and distributed denial of service defense are included. In addition, there are also:
BigCommerce users benefit greatly from the platform's cutting-edge conversion tools, whether they're sole proprietors or multinational conglomerates. Abandoned Cart Saver is one of the features included with the Enterprise plan that may be used to win back customers who abandoned their shopping cart before completing their purchase. As a rule, BigCommerce can retrieve about 15% of abandoned carts. Customers can also use a filtered search to locate the information they require quickly.
BigCommerce's Enterprise edition includes the ShipperHQ plugin, which provides additional shipping support. This business app determines the cost of delivering packages and provides customers with a quick estimate.
You can create your filters based on any product associated with a product.
You can make as many API calls as possible, allowing you to share real-time information between your integrations seamlessly.
Excellent customer service: Enterprise plan clients have their queries and concerns prioritized. Your calls will always be answered and attended to immediately, regardless of the nature of your inquiry or the issue's priority. Possibilities are that you'll be assigned your very own account manager.
Those looking for the celebrity experience should upgrade to BigCommerce's Enterprise plan. In addition, you will be assigned a dedicated account manager, get access to a staging development environment, and receive expedited support and specialized filtering options.
It may not be the best fit for your business if you need more advanced features than BigCommerce offers in its Plus and Pro tiers. BigCommerce's features and themes are great, but it's an odd business model to charge so much more to BigCommerce's most lucrative customers.
With these price hikes in 2016, BigCommerce is now significantly more expensive than Shopify, which maintains stable rates throughout the year.
Transaction fees
When evaluating eCommerce store builders, one of the primary options for companies is whether or not there will be any additional, unexpected fees. So it's comforting to believe you have a firm grasp on how your new tool's cost will be monetarily covered.
It's terrible to find out that you have to pay more for mundane but necessary things like onboarding and transactions.
One of BigCommerce's best features is that it doesn't cost you anything to make a sale. Instead, all the plans come standard with various cool features, and we couldn't find any hidden fees.
Even though there are no transaction fees associated with BigCommerce, the platform is expensive when you factor in the annual sales caps that come with each plan.
Hidden Costs
BigCommerce appears reasonably priced at first, but its prices rise with more advanced features, as with most e-commerce tools. This may sound great if you anticipate using less than the supplemental tools. For example, even the most standard plans include things like:
Capacity, bandwidth, and storage options with no limits: You can sell without worrying about exceeding bandwidth restrictions.
Ensure you're closing sales by providing your potential customers with the most affordable shipping quotations in real time.
Sites that automatically adjust to the viewing site's width and resolution will impress visitors on any device.
If you can streamline the purchasing process into a single page, you can reduce customers' likelihood of abandoning their carts.
Receive prompt, personal assistance from a real person any time of day or night with our free, always-available live customer service.
Plus, BigCommerce has zero transaction fees. There are zero fees, regardless of how much money is made from the site or customer purchases.
There is, however, a drawback. BigCommerce's pricing differs from the norm because they cap off each plan at a certain usage level. As a result, if your annual income is over $50,000, you will be automatically promoted from the Standard to the Pro plan, and you will no longer be eligible to use the Standard plan. So in a single month, your bills went up by $50.
There is no choice but to remain on the basic plan. BigCommerce handles the adjustments automatically, so as your revenue grows, so will your costs.
It's necessary to make this before diving into BigCommerce.        
BigCommerce Reviews – Templates and Design
If you're interested in getting a feel for what you'd be working with if you chose BigCommerce, check out the BigCommerce Theme Store. It's a decent store that offers free and paid services to accommodate many customers.
A wide selection of responsive themes available on BigCommerce can help you maximize the potential of your online store's appearance. It's a wonderful place to begin, with 12 free themes that all have a contemporary design and are easy on the eyes.
More than a hundred premium themes are available, ranging from $145 to $235. Typically, you can adjust multiple themes to suit your needs better.
The free themes are among the best I've seen in a while and are hard to make to fit your needs. The paid themes are usually mobile-friendly, trendy, and user-friendly.
BigCommerce includes a different degree of originality than some of its competitors. Our best guess is that this is due to the dominance of Pixel Union, a single theme developer. They are not terrible designers, but fresh perspectives from different developers would be welcome.
Even so, customization is open to the user at any time. Enter your online shop's theme by clicking and playing about it. Adjusting the details, you may utilize any theme to market almost any service or good.
To customize the look of your site to match your brand's colors and typography, use the "Style Editor" feature. The mobile theme, the main carousel, and the logo can all be customized to your liking. It is also possible to modify the theme's CSS and raw HTML if you have some experience with programming.
To sum up, a good theme will set you back about $150-$200. So, that's about where the market sits.
On March 23, 2016, customers can choose from one of 67 brand-new, mobile-friendly themes designed to improve your store's merchandising, advertising, and transactional flow.
We have yet to have an opportunity to put the themes through their paces, but you can get one for around $145 to $235, and it will come with cutting-edge merchandising tools to help you spread your brand. These fresh themes are now available for purchase in the theme store.
BigCommerce Business On the Go
Integrations, Extensions, and Mobile Apps
Finding a tool that fits your budget is sometimes enough when setting up your store online. This may involve analyzing the tool's features, usability, and compatibility with other systems and services.
For instance, if you're constantly on the go but still need to keep an eye on your online business, BigCommerce has you covered. BigCommerce supports iOS and Android with dedicated mobile apps, allowing you to manage your online store anywhere.
The mobile app lets you view your company's most important KPIs, make changes to orders, and look up past clients.
To add to that, you may customize the BigCommerce software to add new features to your online store. For example, you can find integrations within the tool that connect your website builder and eCommerce solution to other programs.
Some of the most popular enterprise resource planning (ERP) platforms, including NetSuite, are already integrated with BigCommerce and work with the sales tax software Avalara. Additionally, we have integrated the following:
• Accounting and collecting sales taxes, such as Sage, Xero, and QuickBooks
• Apps for marketing and customer conversion include Google AdWords and MailChimp.
• Cutting-edge POS software, such as Shopkeep.
• Feeds from retail platforms like Google Shopping
If the app you need still needs to be made available on BigCommerce's Apps and Integrations page, your developers can use BigCommerce's API solutions to create a new app for you.
Since there is no limit to the number of API requests made to the service, developers have no trouble syncing several apps with your store. Instead, BigCommerce's RESTful API is written in an open-source language called Go and offers extensive public documentation.
BigCommerce Review – Shipping and Inventory
Inventory
The inventory is a highlight, allowing you to add products quickly, set up tracking, and adjust stock levels.
Refrain from bogging down by a plethora of rules that only apply to one or two industries; instead, use flexible product rules and inventory tools. I've seen systems where even a basic feature like adding new sizes is complex for retailers to implement, and it's happened before.
Not to fear, as customization is a focal point of their inventory.
You can start selling products, downloads, events, and services. As for keeping track of which items are out of stock, that's a breeze too.
Amazon's Importing and Connecting Inventory Systems (An Inventory Plus)
Syncing your store's inventory with Amazon is a breeze thanks to the many e-commerce systems that offer interfaces with the retail giant. Nice to know, but if you'd like to keep your customers on your website, BigCommerce includes a tool that would reverse the sync.
Doing so will help you attract more repeat customers and divert traffic away from Amazon's site and towards your own.
All your products from your Amazon store may be imported into your BigCommerce store with the help of the Amazon Import and Link tool. However, for businesses that currently solely offer their wares on Amazon, this means a smooth transfer.
Other fantastic features include:
Repeating the sync numerous times.
Filtering out duplicates.
Including links to your existing Amazon listings.
In essence, it's a step in the right direction if you want to build your brand and divert Amazon customers to your email list.
Shipping
Admit it: there's more to selecting a reliable e-commerce site builder than comparing prices and features like available domain names and storefront templates. It would be best if you also planned for getting your wares out to your clientele.
There are many shipping options with BigCommerce, and those on more expensive plans can even get instant quotations. With the help of BigCommerce's third-party integrations, you can provide your customers with free shipping and print shipping labels.
In addition to these individual components, BigCommerce provides a unified shipping solution. BigCommerce Shipping is a free app that will offer you the best shipping rates from top carriers like DHL, USPS, FedEx, and more, no matter where in the globe your customers are.
Additional customer service options include in-store pickup, next-day delivery, shipment tracking, and more.
BigCommerce's various plans provide various degrees of automation for shipping processes; your mileage may vary.
Those interested in deeper savings and more straightforward configuration may now take advantage of BigCommerce's new and improved shipping process. This shipping plan will begin in March 2019 and include the following benefits:
Shipping with FedEx Express is faster, and you can get some of the finest deals around because of their ability to negotiate with carriers.
The rates for shipping items on your website and the prices printed on the shipping labels are the same.
Conversion rates have increased thanks to BigCommerce's more accurate real-time pricing.
Discounted shipping rates from companies like UPS, USPS, DHL, and FedEx will become more commonplace.
A fully automated shipping configuration section will be available from the BigCommerce dashboard. You save yourself the trouble of visiting a separate website by using this method.
Incredibly low shipping rates have been agreed upon in advance, and the savings for retailers will be substantial. As a whole, BigCommerce hopes to reduce shipping rates by 50-60%.
BigCommerce Reviews – SEO & Marketing
BigCommerce's unique content delivery network helps your website's pages load significantly faster than the competition, which is excellent for search engine optimization.
In addition to making people happier, this also attracts the attention of search engines. So you'll have to dig around in the product area to locate the settings that will allow you to tweak your SEO.
Considering that there have many complaints that BigCommerce's marketing and SEO tools have fallen short of expectations; so you want more people to visit your store so you can finally switch from Volusion or 3dCart.
BigCommerce is content with playing the role of a payment processing platform exclusively. For example, you can count on doing the lion's share of the heavy lifting regarding marketing on your own.
But if you connect with Google Shopping, you can capture all the customers from there. Not to add, search engines have access to the microdata and reviews on your site, sure to please both the search engines and your customers.
In addition to the marketing tools, what more do you get? We'll discuss multi-channel marketing strategies like promotions and coupons, email marketing, search engine optimization, social media marketing, and more.
The effectiveness of this method is debatable. For example, BigCommerce offers an app for email marketing, though you could use MailChimp or a similar service.
Instagram Story Shopping
Promoting a web store on Instagram has shown to be a successful strategy time and time again. It has taken some time, but more practical sales aids are now available. Now, all BigCommerce merchants can take advantage of Instagram's e-commerce capabilities.
This paves the way for vendors to create Instagram stories showcasing and tagging their products. After the customer clicks, they will be taken to the specified product page.
BigCommerce Review – Payments
BigCommerce's flexibility in accepting various payment types is a major plus. Instead, you can integrate your store with virtually any form of payment processing you'd want.
Rather than sending customers out to use a service like PayPal, you may accept payments directly through your store thanks to the platform's support for more than 60 payment gateways.
In addition to convenient options like different currency support, shipping rate customization, secure checkouts, and label printing, you can also make offline payments.
BigCommerce Review – Security
Customers can shop worry-free, knowing that all BigCommerce-hosted sites are PCI-compliant at the highest level. Enterprise-level network architecture also ensures the safety of your company's infrastructure.
You can either share an SSL certificate with other users or purchase your certificate. Options like those are needed more often in life. When you use a shared SSL, your shopping cart is hosted by a third party rather than on your website. It appears that way; however, the customer's path is different. It's a similar parallel to Shopify.
I recommend using a dedicated SSL certificate with BigCommerce.
BigCommerce has several strengths, and one of them is its security.
BigCommerce Review – Customer Support
When it comes to online customer service, BigCommerce is unrivaled. Visit the help desk if you're curious about what I'm referring to. This online support includes communities, courses, videos, and a database of previously-solved problems. Those who like to conduct their research will appreciate that.
Help is available by phone, chat, email, and a community forum once a BigCommerce account is created. Readers have noted that reader support via phone and chat needs to be improved. 
However, there are times when you have to wait on hold for an extended period, and other times when you get the impression that the customer service agents need to be better.
BigCommerce University, a collection of entertaining and enlightening videos on making your site earn more money, is a fan favorite since the community is stronger than most other ecommerce platforms.
BigCommerce Product Updates
Maintaining a running log of all the new product and feature announcements made on a single platform is helpful. Be sure to bookmark or follow the Product News page if you're waiting for a specific feature before making a purchase or if you're currently a BigCommerce user and enjoy being abreast of all the latest updates.
BigCommerce Pros and Cons
Should you choose BigCommerce for your online store?
It depends; there are benefits and cons to using this tool, just like any other.
Pros
• Top-notch administration features, covering every conceivable administrative need, from managing orders and products to generating reports and conducting in-depth analyses. When it comes to running a store on a daily level, BigCommerce is unparalleled.
• Features integrated AdWords, coupons, and more in its marketing section. Additionally, integrations with email marketing systems like MailChimp allow you to nurture your audience.
• With no limits on the number of consumers you can service or the number of products you can offer, BigCommerce is surprisingly cheap, considering all its fantastic features.
• BigCommerce provides decent customer service around the clock, 24/7. Even the most fundamental marketing, like search engine optimization, can be clarified with expert help.
• Numerous available app types: Integrate integrations for popular services like QuickBooks and MailChimp to your online store's functionality.
• You should use the currency(ies) that work best for you, even if that means using several at once.
• Even if you use a different payment processor, BigCommerce will not add costs to your transaction total.
• The feature that saves what customers have in their carts when they leave is a lifesaver for luring them back to complete their purchases.
• Any plan allows for an unlimited number of staff accounts.
• Integrated marketing tools are accessible, such as a blog, can be accessed without installing a separate platform like WordPress.
• You can try the product risk-free for 14 days.
Cons
• Themes might get pricey if you're looking to extensively modify your store, especially if you're after something from the premium category.
• The text on your homepage is one of several elements that can be tough to modify.
• If you want a fantastic-looking carousel on your site, you'll have to experiment a bit.
• It's not always easy to get the desired results when adjusting the design settings.
• Features like the "abandoned cart" option require a hefty fee to access.
• An organization can make so many online sales in a given year. You'll have to pay for a more costly plan if you exceed your limit.
• In the unpaid portion, you may find a lot of content with a design similar to other pieces.
• The VAT MOSS rates might be difficult to manage for online vendors.
• It may take some time to search the App Store for the specific dropshipping apps you require.
BigCommerce Reviews – Fastest Ecommerce Platform on the Block
Different factors affect how quickly and smoothly your website performs. To begin, you should know that search engines like Google place a premium on how speedily your site loads. The search engines know that users' patience wears thin while waiting for sites to load, negatively impacting their overall experience.
As a result, search engine rankings can be improved by having a fast site. Additionally, they are much more likely to remain in your store and make a purchase.
Given the importance of speed in the modern ecommerce market, it's fantastic to know that BigCommerce is now, hands down, the finest-performing ecommerce platform available.
For several reasons, this is the case. For one, BigCommerce supports Google Accelerated Mobile Pages (AMP). The acronym "AMP" refers to Google's open-source Accelerated Mobile Pages platform.
It improves your mobile product's search engine rankings and page load speeds.
Akamai Image Manager is an integrated part of BigCommerce as well. The BigCommerce image manager is built right in, so your site's photos will be optimized without you having to lift a finger.
BigCommerce Reviews: FAQ
Is BigCommerce superior to Shopify?
You can only answer this question by first learning about your business's specific circumstances. For example, the most notable rival of BigCommerce is Shopify.
Both tools are comparable in terms of cost and availability of basic features. BigCommerce, however, provides a little more extensive collection of free features.
Are there any BigCommerce-compatible apps?
Unfortunately, there currently needs to be more mobile apps for BigCommerce users to use to administer their stores from remote locations. 
However, this service has since been withdrawn once allowed to download apps. However, it's still possible to be notified of sales from your shop, but only via email.
Is BigCommerce Free?
BigCommerce is not without cost, despite the lack of transaction fees. After your free trial expires, you'll need to pay at least $29.95 monthly to use the plan at the standard level. In addition, you may need to pay for a higher service tier to access more advanced features.
BigCommerce blogging feature?
BigCommerce has you covered if a blog is necessary for developing your business. Blog management is integral to any inbound marketing strategy, and this tool has that capability built right in.
While it may have fewer terms than WordPress, it should still help you increase your site's traffic.
With BigCommerce, what products can I sell?
With BigCommerce, you can design your online store in any way you choose. For example, you can sell digital, physical, and even offline products, regardless of the sector in which you've invested.
BigCommerce works with point-of-selling systems, allowing you to sell in-store and online. It also supports drop shipping.
In Conclusion
If you don't need enterprise-level features, BigCommerce is the way to go. The BigCommerce enterprise plan is alright, but there are better options.
Since Shopify and Magento offer all the tools that a larger business would want, I'm hesitant to suggest BigCommerce. As a new business, Volusion is hard to pass up.
If you're a small business, BigCommerce will serve you well, but whether or not to use it depends on how quickly you plan to grow. Simply missing out on some sales could cost you a lot in transaction costs.
Try out the premium plan for free for 15 days if you want access to more features immediately.
Do you have any thoughts on BigCommerce? Drop your thoughts down below.