10 Creative Snapchat Emojis Ideas to Spice Up Story
My first encounter with a Snapchat emoji was on a friend's phone. At the time, it left me baffled and perplexed; what were they?
He explained to me the following day at lunchtime that you swipe up for an all-knowing eye emoji (aka ghost) or down for the red devil face emoji.
Since then, I've incorporated emojis into my Text messages!
Snapchat Emojis Outline
What Are Snapchat Emojis?
What Do the Snapchat Emojis Mean?
How to Set Your Birthday in Snapchat
How to Customize Your Snapchat Friend Emoji
Snapchat Emojis for Verified Accounts
Snapchat Icon Meanings
Snapchat for Entrepreneurs
Snapchat is one of the most popular social media platforms, particularly among young adults, and the platform contains a plethora of unique features that you'll discover as you use it.
One of those features is the Snapchat friend emoji, and you're undoubtedly wondering what those emojis signify.
As a frequent Snapchat user, you've already come across these emojis. They display under your friends' names in the "Friends" tab, and they can provide some fascinating insights about how you and your friends use Snapchat.
We're going to explain everything you need to know about Snapchat's emojis in 2021, and we're going to highlight what each Snapchat emoji represents — this is a must-read if you're an active user like me.
We'll also discuss the most often used Snapchat icons and their meanings after this essay.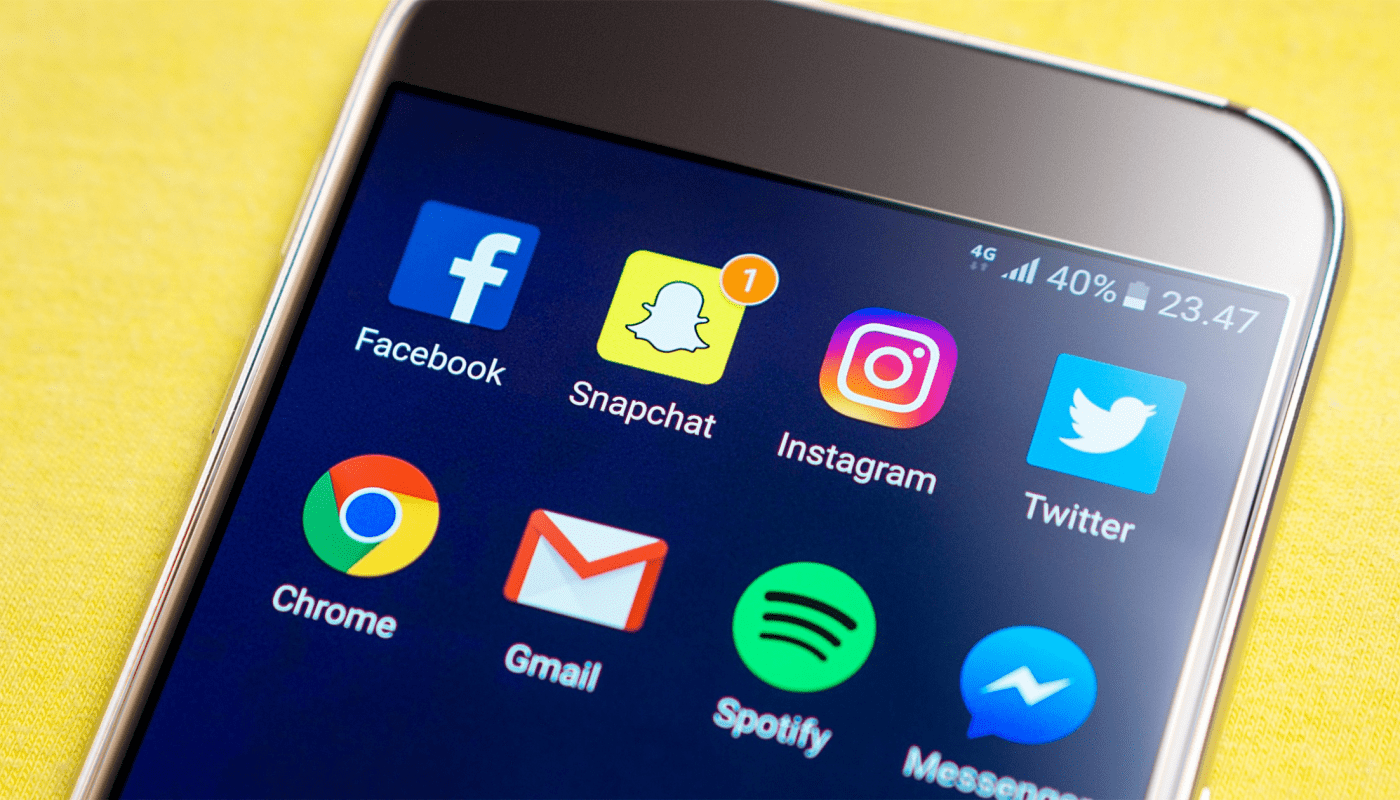 The world of Snapchat emojis is a place where everything goes. You need not be concerned with how someone will react since they will not! Expressing oneself has never been so enjoyable and straightforward with these spontaneous faces in this app.
Let us enter the fast-paced lifestyle defined by quick bursts on Instagram Stories or snaps on Snapchat Stories; it's time for another wild adventure through an emoji realm as we go on our expedition into all things emoticon-related: What are the Snapchat icons?
Let's roll!
What Are Snapchat Emojis?
Snapchat emojis are a one-of-a-kind feature that tracks your and your Snapchat friends' interactions on the platform. The emoji that displays next to a user on Snapchat's "Friends" tab is determined by several factors, including the length of time you've been friends, the frequency with which you send each other snaps, and the other Snapchat users with whom you often interact.
When Snapchat began, they employed a feature called "Best Friends" to display who you frequently connected with (and who frequently interacted with you) – but this information was made publicly available. It was simply a simpler version of the current emoji system, but you could tap on someone's profile to see their top three friends.
Therefore, why did Snapchat choose to discontinue its "Best Friends" system?
Indeed, this is one of the primary reasons Snapchat discontinued the "Best Friends" system. Several prominent Snapchat users expressed concern about possible privacy breaches due to their Snapchat best friends being publicly displayed.
I believe that the current Snapchat emoji function is far more user-friendly than the "Best Friends" system — you can now utilize the platform without fear of your usage patterns being discovered by the rest of your friends.
What Do the Snapchat Emojis Mean?
The meaning of the Snapchat emoji
There are a total of thirteen Snapchat emojis, and the real emoji may differ somewhat from the graphics used in this article, depending on the operating system that your mobile device is running.
Can you recall when we communicated solely through words? Today, people are overwhelmed by the sheer number of emojis and memes that have inundated our screens. You've come to the right place if you're seeking a comprehensive collection of all your favorite Snapchat Emojis!
Let's begin with a list of Snapchat Emojis.
Baby Face Emoji 👶
This Snapchat emoji will appear on your friends' list if you've recently added someone; if you're new to Snapchat, you're likely to see this emoji frequently.
Smile Emoji 😊
This Snapchat emoji signifies that you're friends with this user. This indicates you interact with them frequently on the platform — you send them many snaps, and they send you plenty as well – but they aren't your #1 best friend. If you're a Snapchat user, you may anticipate seeing countless grin emojis in your friend list.
Grimace Emoji 😬
If you see the grimace emoji, you and this friend share one of your best friends. They have a high level of interaction with someone with whom you have a high level of interaction.
Sunglasses Emoji 😎
The sunglasses emoji signifies that you and this person are "close friends." A close friend is a Snapchatter with whom you exchange snaps regularly but not frequently enough to be considered one of your best friends.
Smirk Emoji 😏
If you see this emoji, you are that person's best friend, but they are not yours. This Snapchat emoji indicates that this person interacts with you the most, but they are not someone you interact with the most.
Gold Heart Emoji 💛
Congratulations! If this emoji appears on Snapchat, it indicates that you and your friend are best friends! You send the most snaps to this person, and they send by sending you the most snaps!
Red Heart Emoji ❤️
Likewise, this Snapchat emoji shows that you have been best friends with this person for at least two weeks — impressive effort, it's not easy to maintain that streak.
Pink Hearts Emoji 💕
Wow – you deserve a pat on the back if you see this emoji in your Snapchat friend list. This Snapchat emoji indicates that you and that person have been best friends for at least two months!
Fire Emoji 🔥
If the fire emoji appears in your friends' list, it indicates that you are now on a Snapstreak with that person.
When you and a friend have snapped each other for at least three days in a row, this is referred to as a Snapstreak Additionally; a number will appear next to the flame emoji, indicating the number of your Snapstreak.
Remember that sending a chat message will not allow you to prolong your Snapstreak — you must send a snap to keep the fires burning!
100 Emoji 💯
This is one of our favorite Snapchat emojis — the highly sought-after 100. If you notice a 100 emoji on your Snapchat friends list, prepare to screenshot since you've been on a Snapstreak with that person for 100 consecutive days. Outstanding.
Hourglass Emoji ⌛
If this Snapchat emoji appears, it's time to start snapping! The hourglass Snapchat emoji signifies that your Snapstreak with this person is about to come to an end. However, do not despair; send them a snap, and your streak will continue.
As previously said, chats will not assist you in maintaining a Snapstreak, so make the most of that selfie camera!
Sparkle Emoji ✨
Snapchat just introduced Snapchat groups, which let you send snaps and chat with several users, and the glitter Snapchat emoji signifies that you're a member of that user's group.
Birthday Cake Emoji 🎂
Should you notice this emoji when scrolling through your friends' list, it's someone's birthday! This Snapchat emoji will appear on the day they entered as their birthday upon signing up for Snapchat, so feel free to send them a lovely message on that day.
Purple Zodiac Emojis
Anyone who has logged their birthday on Snapchat will receive a little purple zodiac emoji corresponding to their respective zodiac sign.
This Snapchat emoji is a little different than the others we've described previously in that you can only access the purple zodiac emojis by tapping on someone's Snapchat profile. Consider the meanings of these purple zodiac Snapchat emojis.
Aries, March 21 – 20 April
Taurus, April 21 – 21 May
Gemini, May 22 – 21 June
Cancer, June 22 – 22 July
Leo, July 23 – 22 August
Virgo, August 23 – 23 September
Libra, September 24 – 23 October
Scorpius, October 24 – 22 November
Sagittarius, November 23 – 21 December
Capricorn, December 22 – 20 January
Aquarius, January 21 – 19 February
Pisces, February 20 – 20 March
How to set Your Snapchat Birthday
Are you looking to change your Snapchat profile? Maybe it's just time for a new design, or perhaps you want something fresh. Whatever the case may be, one thing is sure: You must have an accurate date of birth if and when you make any changes!
In this segment are some simple steps on setting your birthday so that others can wish you a happy birthday with their snaps.
If you want to use Snapchat's birthday features, you must first enter your birthday in settings so that your friends may see your birthday cake emoji and zodiac symbol.
How to set your birthday on Snapchat:
1). Login to your account.
2). Tap the Settings tab, which is located in the upper-right corner of your screen, and then tap "Date."
3). You can either enter a birth date or select one from within this calendar feature.
4). Once you have selected today's date and what time it will be when you are born, hit Save at the bottom right-hand side of that page!
How to Customize Your Snapchat Friend Emoji
Snapchat has a feature where you can change the emoji next to your friends on Snapchat.
I switched my friend's regular blue ghost into an orange pumpkin for Halloween using this new update!
Thus, the Snapchat emojis listed previously are the default alternatives. If you'd rather use a different emoji, you may do so at any time – the choice is entirely yours.
Follow these five steps to customize your Snapchat friend emojis and Snapchat streaks:
1). On your mobile device, open Snapchat.
2). Your profile icon is located in the top-left corner of your screen. Tap that to bring up your profile menu.
3). From the profile menu, tap the button in the top-right corner to open the 'Settings tab.
4). Once on the 'Settings' tab, scroll down to see 'Additional Services.' Under 'Additional Services,' the first choice will be 'Manage' — tap it.
5). From here, tap "Friend Emojis" to customize your Snapchat emojis.
6). A list of "Friend Emojis" will appear, which you can tap to change.
7). Take a look at the variety of Snapchat emojis available: 😍
Snapchat Emojis for Verified Accounts
Snapchat recently updated its app to make it more engaging and immersive. They just added a verified account emoji, which lends an extra layer of credibility to well-known accounts, such as those with prominent public profiles or those affiliated with major corporations like Disney.
Further, the new version lets you add your face to any emoji in the library, making selfies even more accessible than they were previously! This is yet another way Snapchat improves itself daily by offering users unique content not available anywhere else!
While the above-mentioned Snapchat emojis indicate your relationship with your Snapchat friends, Snapchat emojis are reserved for verified accounts.
That is why some official Snapchat stories include a distinctive Snapchat emoji, which also serves as a visual indicator that the account has been confirmed. These emojis are exclusive to public personalities and celebrities on Snapchat.
Snapchat Story Emojis
Did you know that there are over one hundred and fifty emojis to choose from on your Snapchat app? You can use them for everything, such as telling a story, sending an artful photo, or a makeup tutorial!
Emojis have been around since the 1990s, but they're not going anywhere anytime soon. No matter what mood I'm in, whether it be romantic feelings of love with my significant other or feeling rage towards someone close by – these little symbols give me the power to express myself more than words ever could.
In the words of one person, "Snapchat story emojis are your best friend." No matter how you look at it, they're a great way to spruce up any post and make it more personal. The different icons offer an endless number of possibilities for what might be included in the caption or photo. Have fun with them!
While the number of verified Snapchat accounts fluctuates, here are a few of the most popular Snapchat story emojis:
1. 🍕Pizza Emoji: Bella Hadid, Chrissy Teigen, Martin Garrix (usernames: babybels777, chrissyteigen, martingarrix)
2. 💪 Bicep Emoji: Arnold Schwarzenegger (username: arnoldschnitzel)
3. 🌙 Crescent Moon Emoji: Ariana Grande (username: moonlightbae)
4. 🙏 Praying Hands Emoji: Justin Bieber (username: rickthesizzler)
5. 🐨 Koala Emoji: 5 Seconds of Summer (username: wearefivesos)
7. 💟 Pink Heart Emoji: Selena Gomez (username: selenagomez)
8. 💫 Circling Star Emoji: Emily Ratajkowski (username: emrata)
9. 🌹 Rose Emoji: Rosie Huntington Whitley (username: rosiehw)
10. ⬆️ Up Arrow Emoji: One Direction (username: onedirection)
11. 🎬 Clapboard Emoji: Ryan Seacrest (username: ryanseacrest)
12. 👑Crown Emoji: Kylie Jenner (username: kylizzlemynizzl)
13. 🚣 Rowboat Emoji: The Lonley Island (username: tliboys)
14. 💩 Poo Emoji: Victoria Justice (username: victoriajustice)
15. 👾 Alien Monster Emoji: Joe Jonas (username: joseadam)
16. 📀 Disc Emoji: David Guetta (username: davidguettaoff)
17. 🍒 Cherry Emoji: Demi Lovato (username: theddlovato)
18. 🐅Tiger Emoji: Calvin Harris (username: calvinharris)
19. 🌷Tulip Emoji: Jessica Alba (username: jessicaalba)
20. 🔑 Key Emoji: DJ Khaled (username: djkhaled305)
21. 🍐 Pear Emoji: Rick Ross (username: ferrarifatboy)
22. 🌵 Cactus Emoji: Jared Leto (username: jaredleto)
23. 👏 Clapping Hands Emoji: Zedd (username: zedd)
24. 🐀 Rat Emoji: Ruby Rose (username: rubyrose)
25. 🎈Balloon Emoji: Rihanna (username: rihanna)
26. 👊 Fist Emoji: Alesso (username: alesso)
23. 🚨Siren Emoji: Tiesto (username: tiesto)
Snapchat Icon Meanings
Now, let's take a look at the Snapchat icons and their associated meanings. Snapchat icons provide context for the snaps you send and receive.
Meanings of sent Snapchat icons
You sent an audio-free Snap.\
You sent an audio Snap.
You sent a Chat
You sent a snap to an individual who has yet to accept your friend request.
Meanings of opened Snapchat icons
Without audio, a friend opened a Snap.
A friend opened a Snap that had audio.
A friend opened a chat.
Cash was viewed and received by a friend.
The meanings of the Snapchat icons that have been received
You have an unopened Snap (or Snaps) that is free of audio.
You have an unopened Snap (or Snaps) that includes audio.
You have an unread message in your Chat window.
Meanings of viewed Snapchat icon
Your Snap, which was not accompanied by audio, has been viewed.
Your audio-enabled Snap has been viewed.
Your Chat was viewed.
A Snap or Chat is pending and may have already expired.
Screenshots Icons
A screenshot of your Snap without audio has been taken.
A screenshot of your Snap with audio has been taken.
A screenshot of your Chat has been taken.
Replay icons
Your Snap, which was not accompanied by audio, has been replayed.
Your Snap, which included audio, has been replayed.
Snapchat for Entrepreneurs
Using Snapchat for Marketing Snapchat makes this app a unique platform, both in functionality and the type of material that users expect to find there, which might be intimidating if you want to use Snapchat for marketing.
If you're just getting started with Snapchat marketing, check out our Ultimate Guide to Snapchat Marketing – in this resource, we delve deep and cover everything Snapchat.
Emojis are an integral part of Snapchat. You can use them to spice up your snap story, communicate with friends, and even share your mood!
But Snapchat doesn't offer many emojis. Luckily, there is a way for you to change Snapchat emojis on android or iPhone so that you can get more creative with how you express yourself on Snapchat.
Snapchat emojis ideas
Use them as a countdown before your Story begins!
Draw an emoji at the start of each snap in your Story and see if friends can guess what it is.
Use Snapchat emojis as a way to show you are thinking of someone special at any time during your snap story.
Show off your creativity and make snap stories more interesting by drawing different Snapchat emoji designs on each frame of the video or picture! You may want to use an app like Snapchat draw like this snap story
Turn each snap into an emoji adventure! For example, take a snap of you jumping in the air and turn it into an airplane with wings. Then snap your friends what they think will happen next in the Story (drawing them different emojis for their guesses). In the end, snap a snap of your landing and turn it back into the original Snapchat emoji.
Use snap chat emojis to show your mood throughout the day! For example, take snaps of yourself at different times (while doing homework or hanging out with friends) and use different Snapchat symbols for each emotion. In the end, put them all together in a snap story and see if friends can guess the snap stories you've taken pictures of!
Turn a snap into a gif with Snapchat emojis. For example, please take a picture of your friend walking across the room and turn it into an animated emoji sequence by putting different Snapchat symbols on each frame. You could even add a Snapchat filter to the snap!
Use snap chat emojis as a way to communicate something special with your partner. For example, send them an emoji of one finger kissing, and they can guess what it means (hint: this is different than just sending a kiss on snap). You could also use snap symbols such as hearts or Snapchat musical notes to send them a snap that means something special!
Save snap chat emoji pictures you find online or create your own snap story by taking photos of snap symbols, drawings, and writing on pieces of paper. For example, have different emotions written out for each frame in the picture, so even if friends don't know exactly what is going on in the snap, they can see your emotions.
Use Snapchat emojis to give friends a glimpse into what you're doing! 
For example, take snaps throughout the day of different parts of what you are doing (walking through town or eating breakfast) and then at the end put them all together in the snap story using snap symbols like an arrow or Snapchat musical notes to show what you've been doing!
Use snap chat emojis as part of your snap code (the sequence friends need to follow to add each other on Snapchat). For example, if your snap code is a circle with an arrow pointing up, maybe take snaps using different symbols, and at the end, Snapchat friends your snap code so they can add you!
Take snap chat emojis of different landmarks or objects around town and put them together in a snap story. You could even snap a picture of yourself next to each symbol as well if you want! For example, take snaps at the beach using an octopus emoji for water, sunglasses emoji for the sun, and Snapchat musical notes to show you're at a music festival.
Use snap chat symbols as part of your snap name so friends can recognize it! For example, use Snapchat emojis in your first or last name (or both!) so that people know when they see 'emoji' on their friend list that it's you!
Use Snapchat emojis in your snapcode or snap name to make them more attractive. For example, turn symbols like hearts into a pattern (for example, take snaps of heart shapes and put five together in order) so that when people view your snap code, they can follow along with the pattern – Snapchat snap stories can also be snap codes!
Use Snapchat symbols to make your snap story more fun and creative. For example, please take a picture of you holding something (like a cup or water bottle) and turn it into an object emoji by putting the snap code right over where that object is in the photo. In the end, put all these Snapchat snap stories together in a snap story so friends can guess what you're holding!
Use Snapchat symbols as part of your snapcode to make it unique and fun. For example, take a picture of yourself outside using an arrow emoji to point upwards or even use Snapchat emojis at the top and bottom of your snap code.
How are you able to change Snapchat emojis?
How to change Snapchat emojis is by simply tapping on the emoji on your chat screen. It will then take you through a short process of selecting another one. After this, it's done! Your new emoji should appear within seconds and before sending any snaps or messages.
You can also tap on the name at the top of the chat screen to bring up a list of your contacts. Here you can select which friend or friends you want to send this snap with the new emoji to by tapping on their name. At the bottom of this list will be an option for "My Story." This allows you to change any Snapchat emojis before sending them out as part of your Story.
To add a filter, tap on the T icon at the top of your screen and then "My Story." From here, you can select what time frame this snap will be visible for by tapping on an hour or date in the bottom left corner of your phone's screen. Then swipe through all available filters until you find one you want to use.
To add a new snap from the camera screen, tap and hold on to your face before letting go when you're finished taking or editing a photo or video. This will then take you through all available options for adding text, drawings, and emojis and filters, and time frame selections (if wanted). Once complete, swipe left to send it as a regular snap or right to add it to your Story.
How do you know which emoji to use to provide your Story with interest?
The easiest way to know what emoji to use is to see if the two emojis you're trying to decide between have any similarities.
You can also use your preferences to decide which one you like more, or if they both have the same meaning, try using the less-used emoji for more personal purposes.
How to add emoji stickers on Snapchat
You can find emoji stickers on Snapchat by tapping on the "Add Filter" icon. Type in words you want to enhance, such as "birthday," and tap on the emoji icon to search for a sticker. 
Read Also:
Choose an emoji and then tap and hold on your face to apply it. All of this can be done while you're taking a selfie or video.
Conclusion
The Snapchat emoji meanings on the app are not always as straightforward as they seem. If you've ever wondered what your favorite emojis mean, or if anyone else has asked for clarification on how to use them, we can help.
Above is a list of some of our favorites and their meanings; make sure to leave us feedback in the comments below!
This post has been a guide to understanding the different emojis on Snapchat. We hope you've found it informative and that this post has given you a better understanding of the different Snapchat emojis and what they mean.
This way, you'll ably use social media in general.
That concludes our discussion. If you have any queries concerning Snapchat emojis or Snapchat icons or want to tell us which emoji you believe should be added in a future Snapchat update, leave a comment below — we read every one!
Small Request
Kindly share it with your friends. Especially, the ones you believe really need this information.
Sharing this information with others can make a huge difference. You may ask why?
Well, the truth is, my main aim is to provide the best information pertaining to drop shipping for both beginners and experienced dropshippers.
And I plan to continue doing so for as long as I can.
I would also like to thank those who support the work I do through reading my content and sharing.
Trust me, when you take your time and share it will help a lot not only for me but also for other people who may really be in need of this information.
Here are some great suggestions:
Pin it
Share it on another blog
Share on Facebook (Share it with friends and even on Facebook groups)
Tweet it
Stumble it
This will only take a few seconds of your time and I would really appreciate it.
I appreciate you a lot. Thank you!
Join my Shopify dropshipping group mastermind and follow my blog to learn more about Shopify tips, dropshipping guides, dropshipping tricks and checklists, and e-commerce in general.
If you enjoyed and learned something from this post, you can get updates from me, free of charge!
I send out email newsletters about new posts published on the blog, tips, and tricks to help you grow your dropshipping business, as well as new YouTube videos to give you more insights about the e-commerce market, and much more.
If you enjoyed reading this, you can as well join my Facebook group. Thank you for reading how to make money dropshipping online from the comfort of your home.
Click The Image To Join My Facebook Mastermind Group