How To Start A Shopify Store Like A Pro (Zero BS)
Have you always dreamed of starting a Shopify store? If so, his post is perfect for you as you embark on a journey to discover how to launch a successful Shopify store.
Starting a Shopify store can be an exhilarating experience for most people, but it can also feel overwhelming, especially if you're new to eCommerce. You probably have grand plans for what products to sell, how they will positively impact your customers' lives, and the joy of receiving glowing reviews while running your business for years.
As a beginner, there may be many aspects of eCommerce that you're unfamiliar with, and that can be frustrating. However, with platforms like Shopify, building an online store that looks fantastic and functions seamlessly requires minimal design or coding skills.
If you're ready to set up your Shopify store but have no idea where to start, fear not! This guide is tailor-made for you and will provide all the details you need to kickstart your Shopify store, from the benefits of selling on this platform to the essential steps required for setup, associated costs, and a step-by-step approach to launch your Shopify store successfully.
Are you excited to learn how to create your Shopify store and unleash your entrepreneurial spirit? Let's dive right in!
Table of Contents
Why You Should Start a Shopify Store
The reason Shopify Reigns Supreme for Your New Online Store is that When it comes to starting an online store, the costs of designing and developing your own eCommerce website are often quite steep, subject to various factors, say your niche and the number of products you plan to list.
Although it might prove a worthwhile investment in the long term for some businesses with bigger budgets, this cost may be too high for small businesses.
Enter Shopify, the lead platform for running an online store and a favored option for many online entrepreneurs. Despite several available alternatives, Shopify stands out for various reasons, making it the go-to option for aspiring eCommerce business owners.
And the following make the reasons why Shopify is considered the best choice for starting a new online store:
Rapid Growth: With a staggering 20% market share, Shopify has positioned itself as one of the fastest-growing platforms for running online stores. Its continuous growth is a clear indicator of its success and ability to cater to the needs of modern businesses.
Giant in the eCommerce World: Currently, Shopify ranks among the largest eCommerce platforms. Its widespread popularity is a testament to its reliability and effectiveness.
Efficient Order Fulfillment: Shopify boasts a robust and efficient order fulfillment solution, streamlining, managing, and delivering customer orders.
Diverse Payment Solutions: Shopify offers many payment solutions and gateways, including Shopify Payments and Point of Sale (POS). Additionally, it provides a highly efficient Shopify Shipping service at little or no extra cost. Furthermore, Shopify allows users to integrate various third-party apps into their store, expanding their functionality and catering to specific needs.
Extensive Range of Tools: Shopify offers an array of eCommerce tools, including top-notch design and customization options. This enables entrepreneurs to create visually stunning and personalized online stores that resonate with their brand.
Exceptional Point-of-Sale App: Shopify's point-of-sale app is widely regarded as one of the best in the market. It enables businesses to easily handle in-person transactions, making it an ideal choice for brick-and-mortar establishments transitioning to the online world.
Effortless Cross-Channel Selling: Shopify simplifies integrating your store with other channels to increase conversion and sales. By seamlessly integrating with social media platforms like Instagram, Facebook, and TikTok, Shopify users can reach a broader audience and turn followers into loyal customers.
Mobile-Friendly Websites: In today's mobile-driven world, having a mobile-friendly website is crucial for success. Shopify ensures its websites are highly optimized for mobile devices, enhancing user experience and driving more sales.
Accelerated Mobile Pages (AMP): With Shopify, users can set up accelerated mobile pages (AMP), ensuring their websites load quickly on mobile devices. This enhances user experience and positively impacts search engine rankings.
For these reasons, it's no magic many entrepreneurs prefer Shopify as the platform of choice for launching their online stores. Its user-friendly interface, vast array of features, and continuous innovation make it a reliable and efficient partner for businesses of all sizes. Thus, to set sail on your eCommerce journey, consider Shopify your ticket to success!
Setting Up Your Shopify Store—The Timeframe
You ask how long it takes to set up a Shopify store; I want to say setting up a Shopify store is a multi-faceted process that encompasses both technical implementation and thorough planning, but with this guide in hand, you can have your Shopify store up and running in less than 30 minutes.
However, note this timeframe solely covers setting up the technical aspects of your store, like choosing a theme, customizing the layout, and adding products.
Beyond this streamlined setup process, other crucial steps to consider before getting to the technical setup include conducting thorough business ideation and planning. That takes the shape of brainstorming and validating your business idea, drafting a detailed business plan, and conducting market surveys and research to ensure you're set for the competitive eCommerce landscape.
Bring your business ideas to life for $1/month On the Shopify Platform. Click the Image Below.
On top of the above, you'll have to address the legal aspects of your business—registering your business, getting necessary permits or licenses, and ensuring compliance with regulations in your region. It's vital to have a solid legal framework in place to safeguard your business's future.
Picking trustworthy suppliers is another crucial step to ensure the smooth operation of your store. Researching and vetting potential suppliers can take time, but it's worth the effort to ensure the quality and reliability of your products.
Choosing the perfect Shopify theme that aligns with your brand identity and appeals to your target audience requires thoughtful consideration. The layout and design of your store play a significant role in creating a positive user experience and driving conversions.
While the technical setup can be accomplished in under 30 minutes, factoring in all pre and post-setup tasks, starting a Shopify store may span several days or weeks.
Taking the time to fine-tune your business plans, strategize your marketing approach, and optimize your store for success will contribute to your eCommerce venture's long-term viability and growth.
Setting Up Your Shopify Store—The Cost Breakdown
How Much Does It Cost To Set Up a Shopify Store? The cost of starting your Shopify store is flexible, tailored to fit your unique needs and budget. To accommodate various business owners, Shopify offers a range of pricing plans with different features and functionalities. Before committing to a plan, you can use Shopify's 14-day free trial period to test-run the platform and determine if it suits your business requirements.
Here's an overview of the different pricing plans offered by Shopify:
– Shopify Lite
The most affordable option is $9 per month, but it doesn't include a standalone Shopify store. Instead, it provides a few Shopify features for those with an existing website.
– Basic Shopify Plan
At $29 per month, this plan is the entry-level choice, including a standalone Shopify store. It's ideal for beginners just starting with Shopify. Additionally, it incurs a 2.9% charge and a $0.30 fee per transaction.
– Shopify Plan
Priced at $79 per month, this standard plan offers more features than the Basic Shopify Plan. It has a lower transaction fee of 2.6% and $0.30 per transaction.
– Advanced Shopify Plan
This premium plan is available at $299 per month for more comprehensive features. It includes certain functionalities not available in the previous plans, and the transaction fee is reduced to 2.4% with an additional $0.30 per transaction.
– Shopify Plus
Designed for large-scale enterprises, Shopify Plus provides a tailor-made solution to meet the specific needs of such businesses. The cost of this plan varies based on individual business requirements and starts at $2000 per month.
Aside from the plan cost, you'll also need to consider additional expenses, such as purchasing a ".com" domain, which typically costs around $14 per year. While Shopify offers free themes, investing in a premium theme can enhance your store's visual appeal and functionality.
Additionally, integrating third-party services and apps may incur additional costs, but these can significantly enhance your store's performance and customer experience.
In other words, Shopify's flexible pricing plans cater to businesses of all sizes, allowing you to opt for a plan that aligns with your budget and needs. Given the various options and factoring in potential additional expenses, you can easily set up your Shopify store. So, let's get your Shopify store up and running asap!
Simple Steps on How to Start a Shopify Store
Starting a successful Shopify store has never been easier, thanks to the user-friendly nature of the platform. Gone are the days of complex technical setups; with Shopify, you can have your online store up and running within minutes. So, let's delve into the 11 crucial steps to set up your Shopify store and pave the way for eCommerce success:
Get Ready: Before diving into the technical setup, lay the foundation for your store's success. Have your business idea, name, products, logo, and images ready. Thorough research and optimized product images make your store stand out.
Step #1. Create Your Shopify Account: Sign up for your Shopify account using your email address and password. Provide essential details about your store and products to configure taxes and currencies.
Step #2. Add Products: Start adding your products by navigating to the Products tab and clicking Add Products. Include vital information such as product images, titles, prices, and descriptions to entice customers.
Step #3. Add Pages to Your Site: Enhance your store's credibility by adding crucial pages like Contact, About Us, FAQs, Privacy Policy, and Terms of Service. The Contact page lets customers reach out to you, while the About Us page builds a personal connection.
Step #4. Select a Theme and Customize Your Store: Choose a theme that resonates with your brand and customize your store's appearance. Experiment with features, rearrange elements and modify colors and fonts to suit your unique identity.
Step #5. Customize Your Checkout Page: Tailor your checkout page to ensure a smooth and seamless customer purchasing experience. Make simple adjustments like imagery, layout, and background color.
Step #6. Set up Shipping: Attention to shipping details, including product weight, shipping destinations, packaging costs, and carrier rates. You can configure your shipping options under the Settings tab.
Step #7. Configure Your Taxes: Shopify automatically handles tax calculations, but it's essential to do thorough research or seek professional advice to ensure compliance with tax regulations.
Step #8. Set up Payment Gateways: Enable payment gateways to accept payments on your store. Shopify offers a range of payment methods, including Shopify Payments, which incurs no extra cost.
Step #9. Prepare for Launch: Increase your chances of success by adding a custom domain. Purchase a ".com" domain through Shopify or link your existing one to your store. Set up analytics using Shopify's tool and integrate Google Analytics and Facebook Pixel for deeper insights.
Step #10. Launch Your Store: Remove the password page and make your store visible to the public under the Settings tab. Congratulations, your Shopify store is now ready for the world!
Tax ID Requirements for Your Shopify Store
Do You Need a Tax ID to Set Up Your Shopify Store?
Before setting up a successful Shopify store, you must understand e-commerce taxes nuances. Understanding the tax requirements will ensure smooth operations and compliance with legal obligations.
If you already have a business or plan to register one, you must provide your business's tax ID when setting up your Shopify store. However, it's important to note that having a registered business is not a mandatory prerequisite for running a Shopify store.
You can operate your store as a sole proprietor so you won't need a registered business or a tax ID. Instead, you can use your Social Security Number (SSN) or Social Insurance Number (SIN) to set up your Shopify store seamlessly.
Read how to get SSN and Stripe account.
Whether you run your Shopify store as a registered business or as a sole proprietor, being aware of the tax implications will help you confidently navigate the world of e-commerce. So, let's ensure your Shopify store is tax-ready and set for success!
Final Word
Create a successful online store by preparing your business idea, product images, store appearance, and payment gateways. Shopify offers a seamless setup process for registered businesses and sole proprietors. Focus on shipping options, tax configuration, and adding essential pages to establish credibility. Start your eCommerce journey with Shopify and embrace its simplicity, power, and possibilities to thrive in the competitive digital landscape.
In conclusion, starting a Shopify store is now more accessible than ever, thanks to the user-friendly platform that takes the hassle out of eCommerce setup. Following the essential steps outlined in this guide, your online business can be up and running quickly.
Read Also:
FAQs – How to Start a Shopify Store
How much does it cost to start a store on Shopify?
Shopify offers various pricing plans to cater to businesses of all sizes. The Shopify Lite plan is the most affordable option, which costs $9 monthly. Basic Shopify is ideal for beginners and includes a standalone store. Advanced Shopify plans are available at $79 and $299 per month. Shopify Plus provides a comprehensive solution for large-scale enterprises starting at $2000 monthly.
How do I start Shopify for beginners?
Start Shopify for beginners by creating an account with your email address and password. Fill in-store details, add products, create essential pages, and select a theme. Customize store appearance, shipping options, taxes, and payment gateways. Prepare for launch by adding a custom domain and analytics. Finally, remove the password page to make your store public.
How to choose a theme for a Shopify store?
Choose a Shopify store theme based on your brand identity, target audience, and business goals. Shopify offers both free and paid themes with unique designs and features. Explore templates, customize options, responsive design, and user-friendly navigation to create a positive user experience for your products.
What are some popular apps to add to a Shopify store?
Shopify's app store offers various apps to improve store functionality and performance. Popular options include DSers for dropshipping, Mailchimp for email marketing, Privy for pop-ups, and Yotpo for product reviews. Social media integration options include Instagram Shop and Facebook Channel. Other notable apps include Order Printer, SEO Manager, and Currency Converter.
How to set up payment and shipping options on a Shopify store?
To configure payment options:
Go to Settings >> Payments and provide details like name, address, and banking information.
Choose from Shopify Payments, PayPal, or Stripe—Configure shipping options by considering product weight, destinations, and packaging costs.
Offer free or customized rates based on business needs.
How much does it cost to have Shopify?
Shopify's cost depends on the chosen pricing plan. The cheapest plan, Shopify Lite, costs $9 monthly, while Shopify Plus starts at $2000 for large enterprises. These plans offer different features to suit businesses' needs and budgets.
How profitable is a Shopify store?
Shopify store profitability depends on product selection, marketing strategies, customer engagement, and market demand. A well-designed store with quality products can be highly profitable. Success requires dedication, continuous improvement, and updating customer preferences and trends.
Small Request
Kindly share it with your friends. Especially the ones you believe need this information. Sign Up Now and Get your first 3 months for only $1 monthly.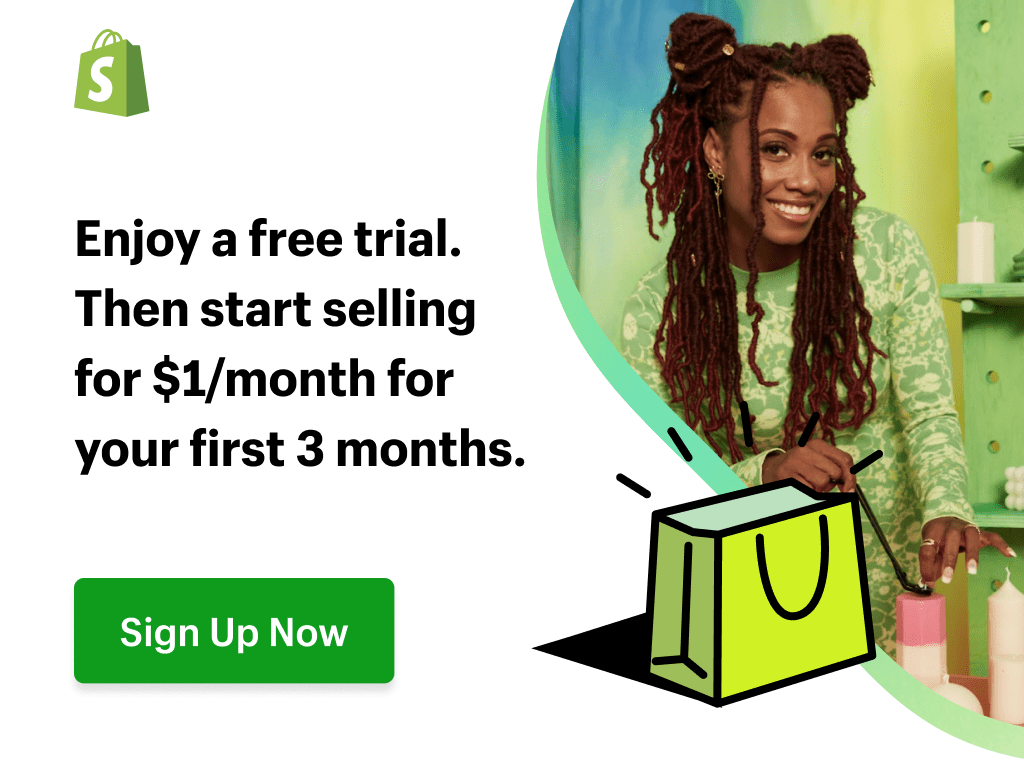 Sharing this information with others can make a huge difference. You may ask why.
Well, the truth is, my main aim is to provide the best information about drop shipping for both beginners and experienced dropshippers.
And I plan to continue doing so for as long as I can.
I would also like to thank those who support my work by reading and sharing my content.
Trust me, when you take your time and share, it will greatly help me and others needing this information.
Here are some great suggestions:
Pin it
Share it on another blog.
Share on Facebook (Share it with friends and even on Facebook groups)
Tweet it
Stumble it
This will only take a few seconds of your time, and I would appreciate it.
I appreciate you a lot. Thank you!
Join my Shopify dropshipping group mastermind and follow my blog to learn more about Shopify tips, dropshipping guides, tricks and checklists, and e-commerce in general.
If you enjoyed and learned something from this post, you can get me updates for free!
I send out email newsletters about new posts published on the blog, tips and tricks to help you grow your dropshipping business, new YouTube videos to give you more insights about the e-commerce market, and much more.
If you enjoyed reading this, you could as well join my Facebook group. Thank you for reading how to make money dropshipping online from the comfort of your home.
Click here to Join My Facebook Mastermind Group