Free Terms And Conditions Generator For Shopify Store
Before we discuss this free Terms and Conditions Generator, we first need to define what Terms and conditions mean, also called "terms and conditions agreements," which are very helpful if you run an e-ecommerce business.
Terms and conditions help protect your eCommerce site by outlining rules of use and establishing your property rights. This can help you avoid legal problems and solve them if they strike.
In this article, we'll talk about the terms and conditions agreement and why it's crucial. We'll also look at some examples of terms and conditions for ecommerce sites.
Generate a quick and Simple free TOS template. Get your terms of service policy and other legal page templates for your store, plus a free 14-day trial of Shopify.
For example, you can get started by downloading the free ecommerce terms and conditions template.
Terms and conditions, also called terms of use or service, are legal agreements that spell out the rules and restrictions that customers must follow when using your website.
Create Your Ecommerce Terms and Conditions Using Shopify
Want terms of service fits your website or eCommerce?
To protect your website, company, and customers, you must write your terms of service in clear, simple, and easy-to-understand language. With our simple terms and conditions template, you can make custom terms of service for your business right away.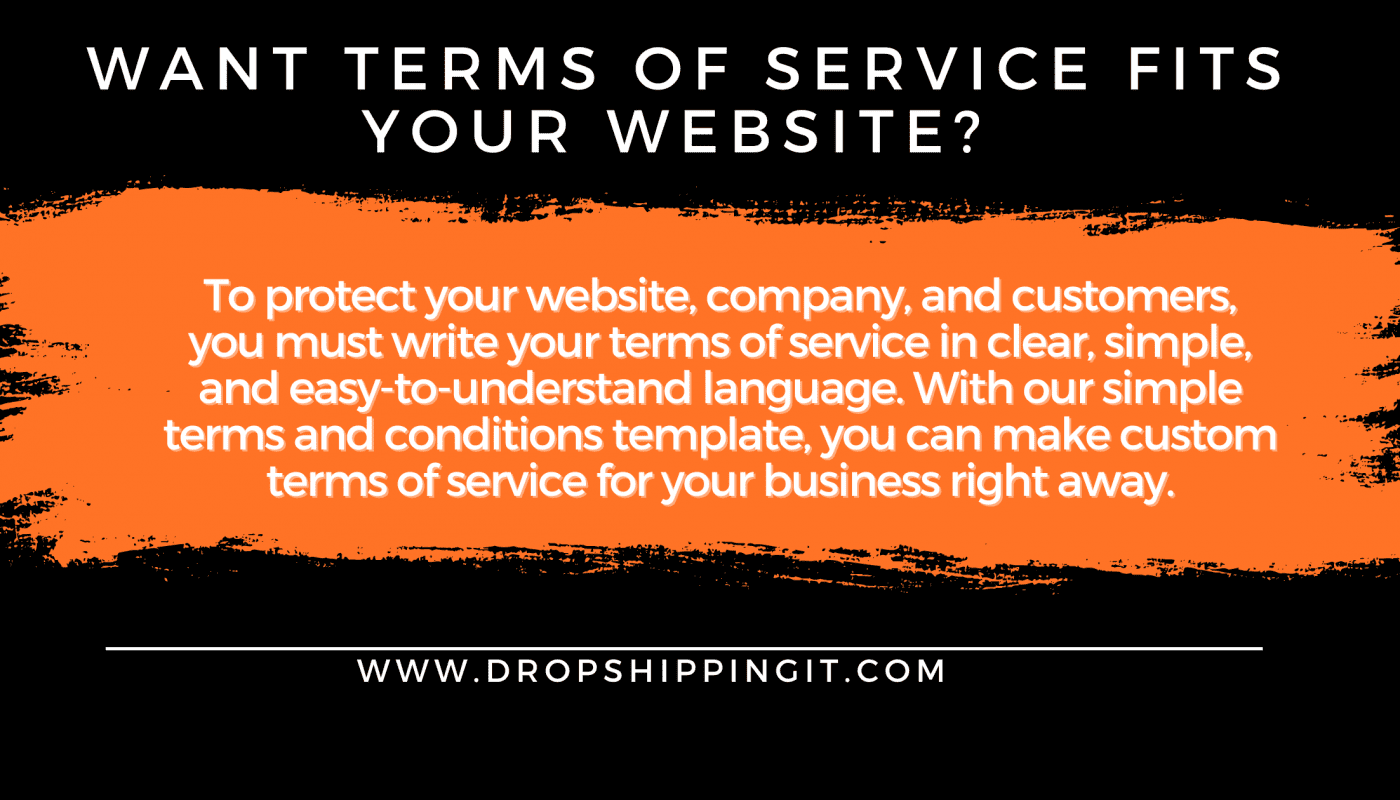 Once you've made your free terms of service policy, you can keep changing it until it's perfect. Here's how to use Shopify's terms and conditions generator to create complete terms and conditions for your online store that fit your needs. Then, fill out the simple form below to get started.
Step 1: Navigate to Shopify's terms and conditions generator.
Step 2: Follow the prompts and questions until you reach "Final Details."
Step 3: Click "Publish" when you're done with all the fields and happy with the preview. You may be asked to create an account on Shopify so you can save and change your terms and conditions.
Generate a quick and Simple free TOS template. Get your terms of service policy and other legal page templates for your store, plus a free 14-day trial of Shopify.
Terms of service are often listed at the bottom of a website, and a checkbox is given to customers at checkout to make sure they are aware of and agree to those terms.
Do I Need Terms and Conditions for My Online Shopify Store?
Even though it's not required by law for eCommerce websites to have a terms and conditions agreement, having one will help protect your online business.
Terms and conditions are rules that the law can enforce. They let you set expectations for how users should use your site. Here are some of the most important reasons why your ecommerce site should have terms and conditions:
a) Prevent Site Abuse
Terms explain how to act on the site and what will happen if you don't follow the rules.
Spamming, using bots, and posting defamatory content are all examples of behavior that is not acceptable. For instance, if people break the rules on your site, you can ban them or close their accounts if you have terms and conditions.
b) Limit Liabilities
Terms and conditions can protect your e-ecommerce business from liability issues like:
Product misrepresentation
Personal injury
Loss of profits
A computer malfunction
Warranty issues
Limiting your business's liabilities could spare you tens of thousands of dollars in legal fees in the long run.
c) Protect Your Property
As an online store owner, you also own the content, logo, page designs, and other materials you produce for your brand.
Use your terms and conditions to tell users that copyright and trademark laws protect your property and to set rules for how others can legally use your materials.
d) Limiting Disputes
If you have a well-written terms and conditions agreement, customers will be more likely to follow the rules because they can see them.
If there is a disagreement, your terms and conditions (specifically, a "dispute resolution clause") will outline how to settle it as easily as possible.
e) Build Trust
Terms and conditions help your ecommerce business build Trust and transparency with customers by making it clear how to use your site. Customers are less likely to misunderstand your online store or have expectations that don't match up with it if you explain the legal basis on which it runs.
What Should Online Store Terms and Conditions Include?
Even though terms and conditions will be different from one business to the next, standard terms and conditions for ecommerce sites will include the following clauses:
Limitation of Liability
A liability disclaimer is a statement for your business that says you are not responsible for any harm your customers might get from using your service.
For example, Etsy's terms of service explain in clear language the problems and possible damages that are out of the company's control:
Warranty disclaimers are often a limitation of the clause that limits the company's liability.
Pricing and Payment Terms
In your pricing and payment clause, talk about how transactions process, how shipping works, what the terms of delivery are, and how returns and refunds work.
If your company offers a money-back guarantee, your terms and conditions should include a detailed return of how returns and refunds work.
Your terms and conditions should also include a link to your return & refund policy, so users can easily find information about how to return something. For example, if you opt not to offer refunds, link to your policy that says there are no refunds or that all sales are final.
Third-Party Links
A third-party links clause says what the external links on your site are for and that you're not responsible for what's on the other sites.
Privacy Policy
Terms and conditions usually include a brief description of your privacy policy or a statement that using the site means you agree to how you handle and process personal data.
You should include a link to your comprehensive ecommerce privacy policy in your terms and conditions.
Intellectual Property
Intellectual property is your company's trademarks and copyrighted content, such as images, names, logos, patents, videos, and designs.
This clause lists the things that belong to your business and explains how and when third parties can use those things.
Dispute Resolution
Your dispute resolution clause tells people how you will handle disagreements and disagreements that come up because of your terms and conditions.
Disputes can be handled in one of three ways, & how your ecommerce site handles disputes will determine what you include in your dispute resolution clause.
In court: Your terms must include information about which courts will handle the case, where the court is, and what laws apply.
Binding arbitration: If you choose binding arbitration, a mediator or arbitrator will settle any disputes. In this case, your dispute resolution clause should describe where the arbitration will take place, what laws apply, how fees are handled, and how the process works.
Informal negotiations: Before going to arbitration, you may choose to settle disputes with customers by talking to them directly. Include details about how long the negotiations will last and how the information will work.
User-Generated Content
If your ecommerce content lets users post reviews, ratings, or comments, you must include a clause that tells them what they can and can't do.
You should also explain who gets to control & see the user-generated content on your site.
Examples: Ecommerce Terms and Conditions
Let's look at some examples of ecommerce terms and conditions drawn from well-known online stores to see how these clauses can be used on your website.
Clothing Shopify store Terms and Conditions
In terms of service, clothing companies often have a section about their products and how to buy them.
In your clothing store's terms of service, for example, a section called "Product and Pricing Information" could explain how to buy something, what to do if there is a mistake with the price or availability, and how to pay online.
It's a good idea to spell out your company's rights in the following areas:
Price changes
Updating product information
Suspending promotions
Order cancellation
Established clothing stores are another excellent example of a clause that is unique to ecommerce stores and deals with intellectual property.
Because they produce their designs and content for their brand, your brand should have a clause about intellectual property to stop people from using your original materials badly.
If your company makes original materials you want to protect, you can use this example to list the conditions you own and then describe how other parties can and can't use them.
Standard Terms and Conditions for Online Stores
An example of standard terms for online stores would include covering a wide range of topics, such as user accounts and transactions, terms for your services, and what other legal policies you have.
Like most standard ecommerce terms and conditions, yours should have a clause that limits your liability and a clause that says you're not responsible for anything.
Both are important to ensure that you and your employees don't get sued if someone gets hurt or loses money because of your website.
For the most legal protection, your business should have both a liability disclaimer and a warranty disclaimer. In this case, they are presented as separate clauses but could also be combined into one clause.
Terms for User Submissions
If your online store lets users give feedback, you need to have a user submission clause that explains how to do it and what will happen if someone does.
Your store's terms of service should explain that when users submit content, they give the business permission to edit, display, and distribute it.
Online businesses can benefit from user feedback, so include a user submission clause to ensure people know the rules and who owns their content.
Dispute Resolution for Online Stores
Terms and conditions are a way to prevent legal problems before they happen. But if a legal dispute happens, it's crucial to have an explicit clause on settling it so that problems can be solved quickly.
For example, your Shopify online store's terms and conditions should explain that disputes will be settled through arbitration by default. They then present the arbitration terms, the applicable laws, and any fees involved.
Include a dispute resolution clause to ensure your business is ready to handle potential disagreements quickly and cheaply.
Ecommerce Terms and Conditions Template [Free]
To have a successful ecommerce site, you need to have terms and conditions. For example, you can create ecommerce terms and conditions document by customizing the free terms and conditions template from Shopify, which you can download as a PDF or Word document.
Use the template to create terms and conditions for the following:
Online store
Ecommerce website
Marketplace shop
Online clothing store
Dropshipping business
Create your Ecommerce Terms and Conditions
Terms and conditions are critical for your online store to limit your liability, protect your intellectual property, and protect your business from legal disputes.
To create ecommerce terms and conditions, download a template from Shopify and change the sections to customize your business. You can also use the free online terms and conditions generator to generate custom terms for your online store in just a few minutes.
Generate a quick and Simple free TOS template. Get your terms of service policy and other legal page templates for your store, plus a free 14-day trial of Shopify.
Your business could be at risk if you don't have detailed terms and conditions. Download or generate the terms and conditions now to save yourself time later.
Check out Shopify's policy generators if you need a different kinds of terms and conditions:
• – Privacy policy
• – Refund policy
• – Terms and conditions
Read Also:
Final Thoughts
The Shopify platform has a simple terms and conditions template that can be used immediately to generate custom terms of service policy for your business. For example, generate your information on the form to get a free template that you can use to create professional terms and conditions that fit your needs in minutes.
FAQs
Where should your website link to the terms and conditions policy?
A website's privacy policy and terms and conditions are usually linked from the footer. The footer is a design element that is the same on all website pages.
How much will it cost to use the terms and conditions generator?
Shopify gives businesses a free tool called the policy generator. That means there is no cost to using it. At the moment, they offer these policy generators:
• – Privacy policy
• – Refund policy
• – Terms and conditions
What's a terms and conditions policy for an online store?
A terms and conditions policy, also called terms of service or terms of use, is a legal document developed to protect the company. It tells your clients what the law says they must do if they use your service.
How does the terms and conditions generator work?
Legal experts made and checked Shopify's free policy generator tool. The tool is easy to use. Here's how to get started:
Visit shopify.com/tools/policy-generator/terms-and-conditions.
Type in your email address and company details
Wait for your custom policy to hit your inbox.
Customize changes to your policy based on the tips given
Why do online stores need terms and conditions?
A policy about terms and conditions is not required by law like a policy about privacy. But a company's terms and conditions policy could help them in court if there is a legal dispute.
Small Request
Kindly share it with your friends. Especially the ones you believe need this information. Sign Up Now and Get your first 3 months for only $1 monthly.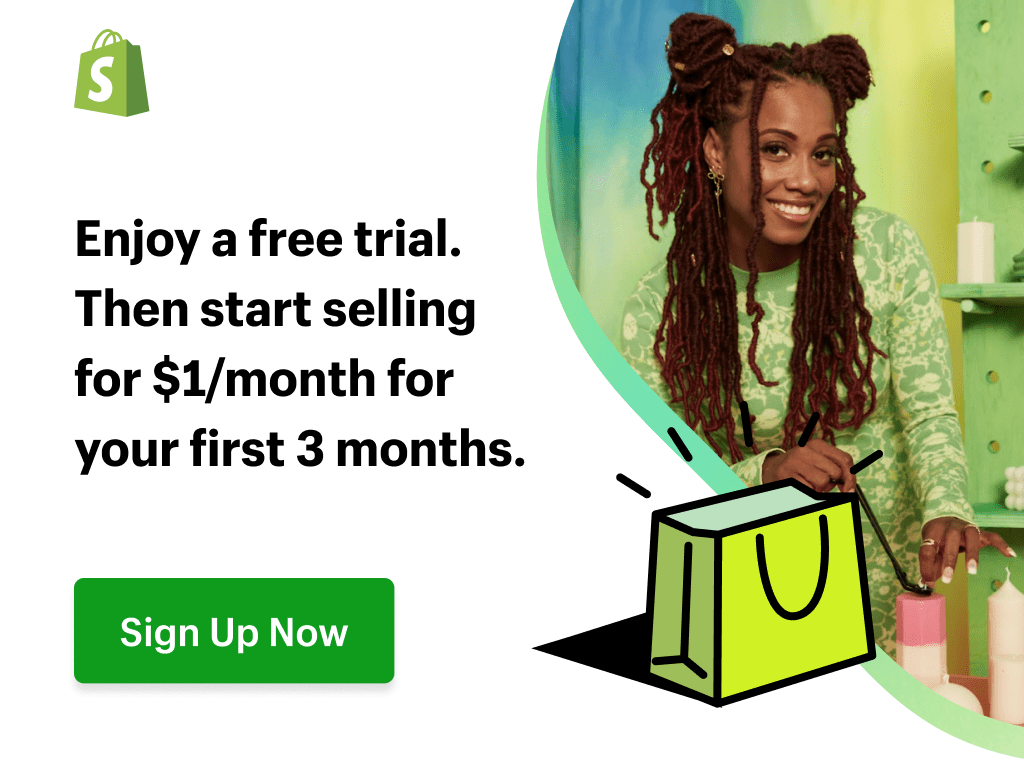 Sharing this information with others can make a huge difference. You may ask why.
Well, the truth is, my main aim is to provide the best information about drop shipping for both beginners and experienced dropshippers.
And I plan to continue doing so for as long as I can.
I would also like to thank those who support my work by reading and sharing my content.
Trust me, when you take your time to share, it will greatly help me and others who need this information.
Here are some great suggestions:
Pin it
Share it on another blog.
Share on Facebook (Share it with friends and even on Facebook groups)
Tweet it
Stumble it
This will only take a few seconds of your time, and I would appreciate it.
I appreciate you a lot. Thank you!
Join my Shopify dropshipping group mastermind and follow my blog to learn more about Shopify tips, dropshipping guides, tricks and checklists, and e-commerce in general.
If you enjoyed and learned something from this post, you can get me updates for free!
I send out email newsletters about new blog posts, tips, and tricks to help you grow your dropshipping business, new YouTube videos to give you more insights into the e-commerce market, and much more.
If you enjoyed reading this, you could also join my Facebook group. Thank you for reading how to make money dropshipping online from the comfort of your home.
Click here to Join My Facebook Mastermind Group