WordPress vs Wix Which One Takes Home The Crown?
WordPress vs Wix Which One Gets Your Vote?
Undoubtedly, you have been surfing the web for a while, and on your expedition through the digital universe, you must have come across the names of two website builders: Wix vs WordPress, let us settle this debate once and for all.
If you thought about debuting a website, these two were likely the first providers to come up into your head. In light of that, the posits of this article seek to outline WordPress vs.Wix to help you see accurately what these two giants can do for you.
Read on some for an extensive review of both services. WordPress vs. Wix! Which one will cut?
What is a Website Builder?
If you are a newbie to all things web design, you would be forgiven for thinking the process of building a website is somewhat complex and elusive. Nothing could be further from the truth.
With the aid of a website builder, you will need next-to-zero design or programming skills. And so, goes the begging the question; what is a website builder, and what can it do? but first, read A Detailed Guide To Selling Print-On-Demand Products
Back in the good old days, using a website to perform and look as you intended it too was no easy task. You needed to be savvy on matters writing HTML and CSS code-perhaps even some JavaScript.
Each box, the image, and each line of text would need to get placed numerically, indicating padding and margins between each element. Sounds like some complicated stuff, right? I know.
Thankfully these days, there are numerous website builders and content management structures available to help.
The service offers user-friendly and visual interfaces to help in creating the website. Every so often, you start with an existing 'theme.' It assures a cohesive design across the entirety of your website.
You can then add your content to the template by altering the text, adding pictures, et cetera.
A couple of website builders still let you edit CSS code and HTML through their backend program. You will have to edit manually. Businesspersons who desire control over the design and functionality of their website will find the editing option superb.
Although other website builders entirely based on a drag and drop system, this kind of web page editor allows you to seize an element you like and place it somewhere on the page.
With the majority of website builders, within an hour, you can be up and running. Free plans are accompanied by banner-ad on your website promoting software of your choice, limited storage space, and fewer features.
It is the reason most entrepreneurs ultimately upgrade from the free plan to one of the website builder's premium packages.
That is what a website builder can do for you, now let's delve into the niceties of this review: WordPress vs.Wix.
WordPress
WordPress is the most popular, and without a doubt, the most powerful blogging and content management system on the internet.
WordPress powers a third (1/3) that is 33% to be precise of the sites on the web, but also, you will reckon its users are ranging from Canada.com, The City University, The Obama Foundation naming but a few.
Released 16 years ago in 2003, over the time WordPress has gained experience and traction. So if you earnestly intend to creating and building a professional brand, then WordPress is undoubtedly is an excellent choice-so long you use it correctly.
There is virtually no end to features and options on WordPress.
For several years, WordPress has been primarily a tool for creating blogs. But it has since evolved to go-to for eCommerce, businesses, portfolios, and much, much more.
Let's get a few things straight: there are two variant WordPress services;
1.WordPress.org
WordPress.org is an open-source content management system, so it is free to use, and code accessible to anyone to work-on.
The service allows for full customization as you can get right in and alter the PHP code. However, WordPress' total supremacy reveals to those with some programming know-how.
With a bit of experience in the coding and web design, without limitations, you can use WordPress.org service, a version of WordPress.
2.WordPress.com
With WordPress.com, you do not need to be savvy or have any programming knowledge to create a website using it.
As a website builder, WordPress.com more easily compares with Wix. However, on lower-tier plans, you do not get to enjoy the same level of customizability offered on open-source software.
On paid plans, the service offers web hosting and a whole array of features, and so as a newbie, you will not need to waste time and energy learning how to code.
The similarity between what Wix provides and WordPress services is the basis of this article.
Pricing
WordPress has many different plans. Paid premium plans grant you access to a higher number of features.
Besides the paid plan, WordPress has a free program that you can start with, the open layout is just but enough, especially if you floppy your toe in the water-testing your content.
If for all intent and purpose, you seek to create a more professional appearance, it is worthwhile at the bare minimum to get WordPress' discounted paid-for plan.
The paid plan takes away WordPress' ads from your site, in effect boosting the credibility of your brand.
Each of WordPress' programs gets more reasonably priced if you opt for yearly billing and to demonstrate it, take a look at the following list of the monthly prices for the annual payment plans:
The Free Plan ($0)
WordPress' free program offers an excellent beginning for testing and personal blogging. This open plan will get you:
Essential website building functionality
Three GB of free storage space
Oodles of free themes
WordPress ads on your website
The Personal Plan:
A personal plan suits either an own website or a simple blog. With this plan, you get access to a free domain for a whole year, themes on the open plan, and access to email & live chat support.
The package gets rid of WordPress ads, and it doubles down your storage allowance to six 6 GB.
The Premium Plan:
This pack adds to the mix tools of marketing and monetization. Anyone who takes monetization of their site severely is bound to find these tools handy. With this plan, you get:
Advanced design customization
13-GB storage
Site monetization
Unlimited access to premium themes
Advanced social media tools
A Google Analytics integration
The Business Plan:
This package comes packed with everything in Free, Personal, Premium, and Business plans, but you will also get:
The option of installing plugins
Personalized help
SEO tools
You can upload themes
WordPress branding get completely removed
2,000 GB storage
The eCommerce Plan
At the pinnacle is WordPress' Ecommerce plan-their the most exclusive bundle. The package allows you to:
Ecommerce marketing tools
Accept payment from more than 60 different nation-state
Integration with top shipping carriers
Vend unlimited products or services.
Advantages of Using WordPress
Practically anything is possible with WordPress, it is a highly customizable powerful website builder, more so, if you have got programming know-how, the sky is the limit.
WordPress offers a plethora of themes to choose from and a massive pool of various plugins to upsurge the overall functionality.
The premium and personal plans are very reasonably priced with stable hosting and excellent optimization, more so for blogs.
The Downsides of Using WordPress
If you are out of depth as regards a bit of code or you do not wish to follow instructions or tutorials, you may sporadically run into glitches severe for you to fix.
To use WordPress's supreme system wholly, a bit of programming knowledge is a prerequisite, and therefore as such, it becomes cumbersome to use it compared to Wix-we will discuss this later on in this post.
WordPress' options for SEO are limited, and as a user, you may want to install a plugin that handles SEO needs better. A Majority of WordPress users report Yoast as an excellent alternative.
If more storage is the butter to your work, then you will quickly find WordPress as an exclusive option-pricier than some of its competition.
WordPress-When is it the Right Choice?
WordPress is a first-rate choice for you if you have some coding know-how, or you are not afraid to learn and follow tutorials.
You are sure to bring your dream website owing to WordPress's high degree of customizability and its immense collection of plugins.
To say the least, if you are a business with an in-house web designer, WordPress.com is a dazzling option. Simply put, you will not find another CMS more famous backend programmers. Full stop.
If you are laser-focused on blogging and desire more functionality on your blog, then WordPress makes for the right choice. Again, it requires a bit of knowledge.
WordPress still, in comparison to its matchup, usually grants you more customization and layout options in every blog post. And the features range from categorization, RSS to tags.
So you just simply want an easy-to-use program to throw a right looking page, you do not want to spend too much on your online presence, or you are entirely new to building websites.
In light of these needs, WordPress can prove to be too advanced, costing more time and effort than necessary.
Wix
Circa 2006, as one of the primordial and most efficacious follow-ups to WordPress, Wix was created.
Over time Wix has become famous through its ad campaigns, and its name is often dropped by big-time content makers using the platform to fuel their site.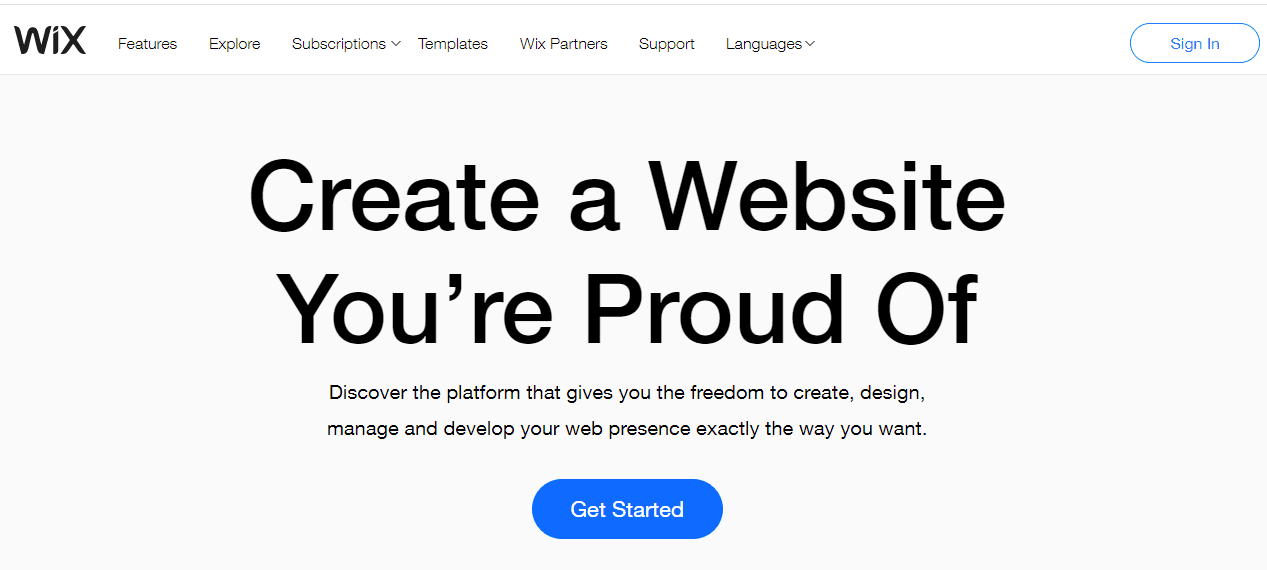 Wix pride itself on its easy to use drag and drop interface The interface gives you tons of freedom to customize the design and supplement your arty tastes.
With more than 150 million users globally, Wix is a market-leader and well-reckoned kit for building websites.
Read on buddy, because you are just about to find out the different premium plans and what you can expect from Wix.
Pricing

The Free Plan($0)
if you choose Wix's free package, you will get:
Your website URL displayed on a Wix subdomain
500 MB storage
Wix website ads and favicon mortared all over your site
Full design functionality
A selection of 400+ templates
The Combo Plan sic ($13 a month)
The perk caters for personal use.
3-GB worth of storage space
a 2-GB value of bandwidth
30 video minutes
None of Wix ads
You can link and use your web domain
A free web domain
The Unlimited Plan sic ($17 a month)
The package suits entrepreneurs and freelancers.
$300 ad voucher
One hour video
10 GB worth of storage
Unlimited bandwidth
Access to site booster and Visitor Analytics Apps
The Pro Plan sic ($22 a month)
The perks include everything from Free, Combo, and Unlimited plus:
An event calendar
20 GB worth of storage
Two video hours
A professional logo
Social media logo files
The VIP Plan sic ($39 a month)
The VIP plan is Wix's most exclusive package-pricier. You get access to all the features in the plans, as mentioned above.
Also, you receive priority response and VIP support from Wix's customer assistance team.
Furthermore, Wix provides lots of premium plans that are made explicitly with business and eCommerce in mind.
That the plans are commission-free, users are allowed to accept online payments.
As higher-tier plans, all of them pack unlimited bandwidth, the option of linking your web domain: Zero Wix ads and access to Google Analytics and ad vouchers.
Take note of the critical differences in these premium plans:
Business Basics sic ($23 a month)
Five video hours
20 GB storage
Business Unlimited sic ($27 a month)
Ten video hours
A professional logo
35 GB storage
Social media logo files
Business VIP sic ($49 a month)
VIP support
Priority response
50 GB worth of storage
Unlimited video hours
Enterprise sic ($500 a month)
Wix refers to this plan as 'end-to-end business solution,' and it offers you the following:
The paybacks of planning, developing and launching on the Pros advice.
It is laid-back to optimize, track, and scale your business since your venture continually gets scrutinized.
There is a direct open channel of communication with the dedicated expert.
The Wix annual security audits and sophisticated web protection features help you safeguard your site.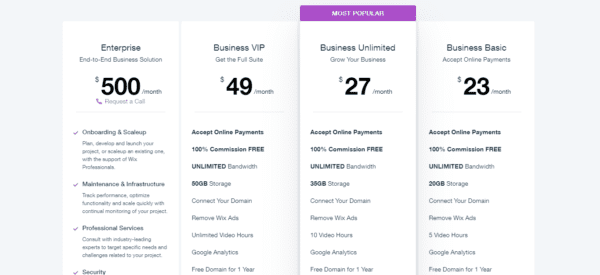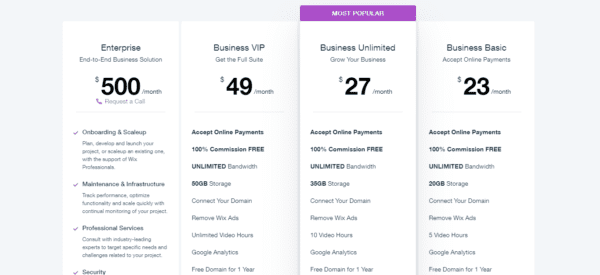 The Advantages of Wix
Even on the reasonably priced plans, Wix affords you access to several themes that are easily customized and altered.
The themes get categorized into a personal website, blogs, Portfolio, et cetera; thus, you can swiftly find the right professional appearance.
Wix's app store allows you to integrate plugins into your site easily.
The full drag and drop editor makes the interface user-friendly. Creating a website is snappy, and using any of Wix's features needs zero coding skills.
Wix's blog features an easy-to-use editor
Wix takes you through tactics to improve your SEO, and lets name all your files and images to boost your ranking.
Business and Ecommerce premium plans have already built-in Ecommerce functionality.
The Downsides of Wix
Outside drag and drop design features, sophisticated features are missing, and thus customization is limited.
Basic templates are challenging to design.
There are no blogging features beyond categories and posts. The blog post editor is less sophisticated, with fewer options for altering the layout.
Wix lets you modify the mobile view of your website separately, although the success of editing is dependent on the theme you have chosen.
That is, because, without access to code or full customizability options, it gets problematic, striking a picture-perfect on mobile.
Who Ought to Use Wix
If you care for plenty of options of easy-to-tailor and professional template designs. Wix is user-friendly, thereby making it swift and intuitive.
It is an excellent call to newbie and those keen to duck the programming side of things.
Its intuitive eCommerce features on the higher-tier packages are also first-rate for small businesses seeking to sell online.
The Summarised Core Differences: Wix vs.WordPress
in this section, let's dive a little deeper into the Wix vs.WordPress, shall we?
Wix vs.WordPress: Pricing and Scalability
WordPress has bargains on more storage at a lower rate but leaps straight into their exclusive-pricier option if you require more space.
WordPress' premium package scales up to as much as 200 GB storage spaces, Whereas, Wix, caps it at 50 GB worth of storage.
Wix's premium perks are a lot discounted than WordPress; however, depending on business and site's size, the extra charge of an unlimited WordPress can prove worthwhile.
Although storage is not an issue, Wix is more liberal with their offers on the lower price plans. You get to access the full design functionality and a host of themes to select.
Wix vs. WordPress: Customizability.
WordPress gives more of the customizable, allowing you to make alterations under the hood that Wix does not provide access to.
Eventually, If you have the appropriate know-how, you can accomplish pretty much you want with WordPress.
In spite of that, Wix is in no way limiting. With 400 plus various and stylish themes available, you have tons of options to choose from.
Moreover, the drag and drop system-not without its limits; make customization a lot easier
It is unlikely you will opt for the cutting-edge and more technical options offered by WordPress. The interface on Wix eases the customization process. You have plenty of prospects to change the designs.
Wix vs.WordPress: Ease of Use
Wix beat WordPress to a punch wheb=n it comes down to ease of use. Wix's drag and drop functionality needs little to nill explanation.
While WordPress requires a bit of knowledge to fix glitches.
An inexpert designer may get stuck when they run into a hitch. It compelled the novice to tutorials and walked through the broader toolset to address the problem.
While rewarding, WordPress's steeper learning may not worth the while if your sole objective is to create a simple, elegant, and functional website.
Plugins, Blogs, and Ecommerce
WordPress' open-source software base gives access to thousands of plugins fashioned by users across the globe.
Accordingly, folks are spoiled for choice and destined to find what is needed to range the functionality of their site.
The downside to open-source software is that WordPress is not directly involved in quality control, and thus there some plugins that may not work as intended.
So in light of this, if you are not tech-savvy. It might be a daunting task to make some of these app work.
Wix has few choices concerning plugins. However, they are all tried and tested
The trade-off is basic but sure functionality vs.variant and possibly infinite functionality.
Wix vs WordPress: Which is the Best Ecommerce Website Builder?
For smaller trades, Wix's features usually suffice to vend
WordPress conforms to necessity with the propensity to scale. Thanks to open-source software offering thousands of plugins hence more options.
When it comes to blogging, WordPress takes the limelight specifically, because it is explicitly cut-out for the bloggers.
Albeit full-time bloggers can customize the content and categorize it proficiently, it is not easy to use WordPress.
Wix intuitive blog is short of some functionality that notwithstanding, it suffice hobby-blogging, as it only requires adding a bit of content.
Summary
WordPress' steeper learning curve makes it harder to use than Wix.
While a complete beginner may run into some glitches with WordPress.Wix prides itself on an easy-to-use drag and drop system and requires zero coding know-how.
Technical know-know there are no limits to WordPress limitation.
There is a massive number of designs and themes to start-off.
WordPress heavily depends on plugins for added functionality such as eCommerce or SEO, whereas for these same functionalities, Wix provides more basic easy-to-use intuitive options.
WordPress is exclusive for higher-tier plans, however, more scalable for larger enterprises. It allows for more storage and stability for high bandwidth sites.
Wix vs WordPress: Are You Set For Your Pick?
Both Wix and WordPress are colossal in the website building industry, and there is a justification for that. You will are bound to strike the right notes with either.
Click Below To start your dropshipping store on shopify
All things considered in the above evaluation, conceivably, you will now have it easy sorting out which one better fits your needs.
We would like to hear from you between WordPress and Wix, which is your choice?- hit us up in the comment section.