Automizely Email Marketing App: 30-in-1 Marketing App For Shopify
Have you heard of Automizely email marketing App ?
If your eCommerce business is yet to adopt email marketing, you're likely leaving money on the table. A 2018 Emarsys study found that about 80% of companies rely on email as the primary channel for acquisition and retention. Shopify data indicates that email as a channel had the highest average order conversion rate during Black Friday Cyber Monday.
Email marketing can affect the three main growth multipliers:
Increase the total number of customers.
Increase the purchase frequency.
Increase the average order value.
The hard-ball with website traffic and that applies to highly targeted traffic is that most new visitors to your shop will never return. As such, you have to figure out a way to keep the prospects coming back.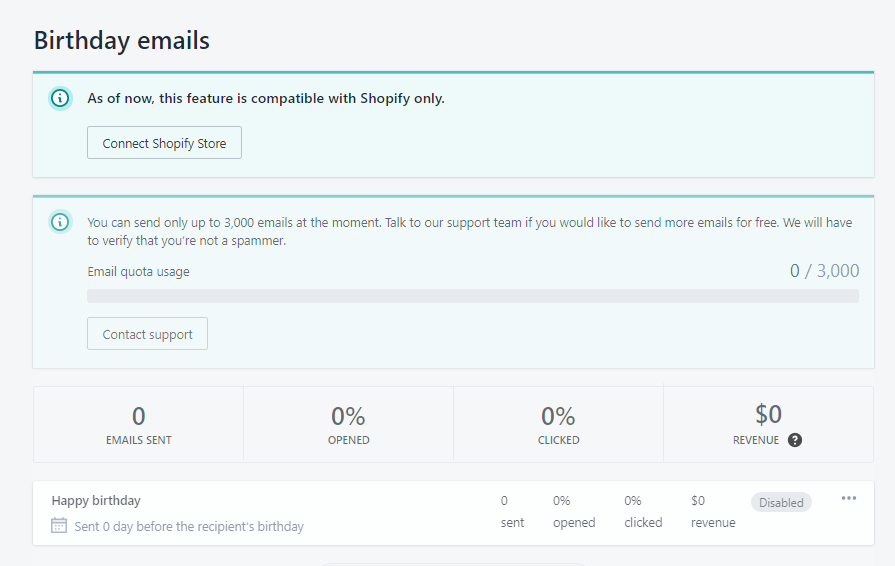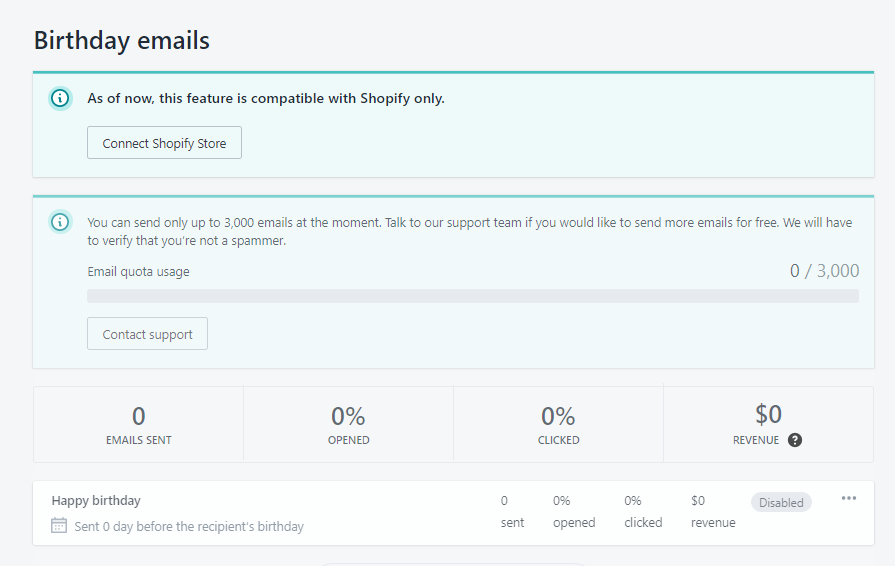 Building a list of emails and sending compelling broadcasts helps you maintain the traffic you have worked hard to acquire. By offering subscribers incentives, you're likely to remain in contact.
Consider the following four reasons for employing email in your marketing efforts:
1. Email helps you to establish an ongoing relationship with customers
Search engines and social media sites are excellent for potential clients, but email is also the best way to retain existing ties and improve them over time. Email is one of the easiest ways to preserve and reinforce consumer ties over time.
Email marketing strategy is one of the best channels for maintaining and strengthening customer relationships over time.
Having customers return is essential for many businesses because it keeps down the average cost of acquiring a customer.
1. In terms of driving sales, email is exceptionally productive
Of course, in particular, some firms & products will pair well with email marketing, and returns are never guaranteed. But the same story has been painted time & again; that email is a strong and sometimes superior channel.
Furthermore, in email marketing, the ability to drive first sales and activate new sales is relatively unique; thus, the highest average conversion rate of emails.
1. Email may affect the three key growth propagators
Amongst marketers, there is a popular concept (Jay Abraham) that growing revenue only involves three ways: raising the total number of customers, increasing the total number of transactions per customer or increasing the average order value (AOV).
If you're like most entrepreneurs stuck in a rut; in pursuit of an acquisition "silver bullet" then often, you'll wind up disappointed. While disappointed, you'll quickly discover as most do that that acquiring customers can prove expensive. Email marketing presents a feasible alternative for the acquisition rat race as it can simultaneously affect all three growth propagators:
Email marketing presents a feasible alternative out of the acquisition rat race. It can simultaneously affect all three growth multipliers as follows:
Automated emails of welcome and abandoned cart will boost conversion rates (C)
Bounce or win-back campaigns will increase the number of transactions of a consumer (F)
Lifecycle campaigns and broadcasts are capable of automating high-value goods for the right customers (AOV)
Systematic emphasis on all three areas will compound your results, and it's one of the key reasons why a deliberate email marketing strategy is necessary to build an eCommerce company.
1. Email is not affected by third-party custodians
One essential aspect of email marketing is the lack of the whims of centralized networks like Google or Facebook, in which unplanned algorithm tweaks can entirely derail a delivery strategy.
In comparison, the organic scope for Facebook pages has decreased since 2013, with its news feed continuing to concentrate on promoting content from friends and families. Likewise, it's increasingly difficult to ascend the search rankings in Google with ads & answer boxes, leading to a noticeable increase in no-click searches, especially on cell phones. If you want to meet your customers on this platform more than ever, you may be obliged to pay, and the costs are increasing.
Enters Automizely
What's Automizely Email Marketing
Automizely email marketing App is a full email marketing and conversion optimization app suite with over 30 quality sales apps that improve sales and reduce page users' load times. It does not need a code to set up and takes minutes.
The best Shopify marketing app with 30+ inbuilt paid apps at no extra cost, it also has Email marketing, popups sales, web push, cart recovery as well as all-must-have Shopify apps.
Automizely is what you need to improve your Shopify's revenue. All at no fee. No credit card required.
Email marketing is an integral part of the eCommerce business model. It enables you to directly access your customers without dependence on social media algorithms or search engines' rankings. Email marketing involves a variety of different ways of introducing the business as such, Automizely is a critical tool to realize that feat.
Broadly, Automizely encompasses the following facets of eCommerce:
Email marketing: To drive additional sales, send engaging newsletters and custom automated emails.
Website popups & banners: The ability to Launch beautiful call-to-action popups and bars in minutes to boost sales. It does not require any code.
Web push notifications: Send out customized offers to draw back customers through Web push notifications. It is free! It is free!
Coupon management: Easily create unique and master discount codes to improve your Shopify sales.
Many more free tools: Free shipping bar, countdown timer, stickers, announcement bar, trust badges and many more
Automizely email marketing App Features
The Automizely app comes loaded with features, consider the following:
Automated email marketing
Website popups
Social proof popups
Contact management (CRM)
Coupon management
Web push notifications
Free shipping bar
Announcement bar
Trust badges
Sales stickers
Countdown timer
Stock countdown bar
Instant product search
Mobile app builder
Blinking browser tabs
Facebook live chat widget.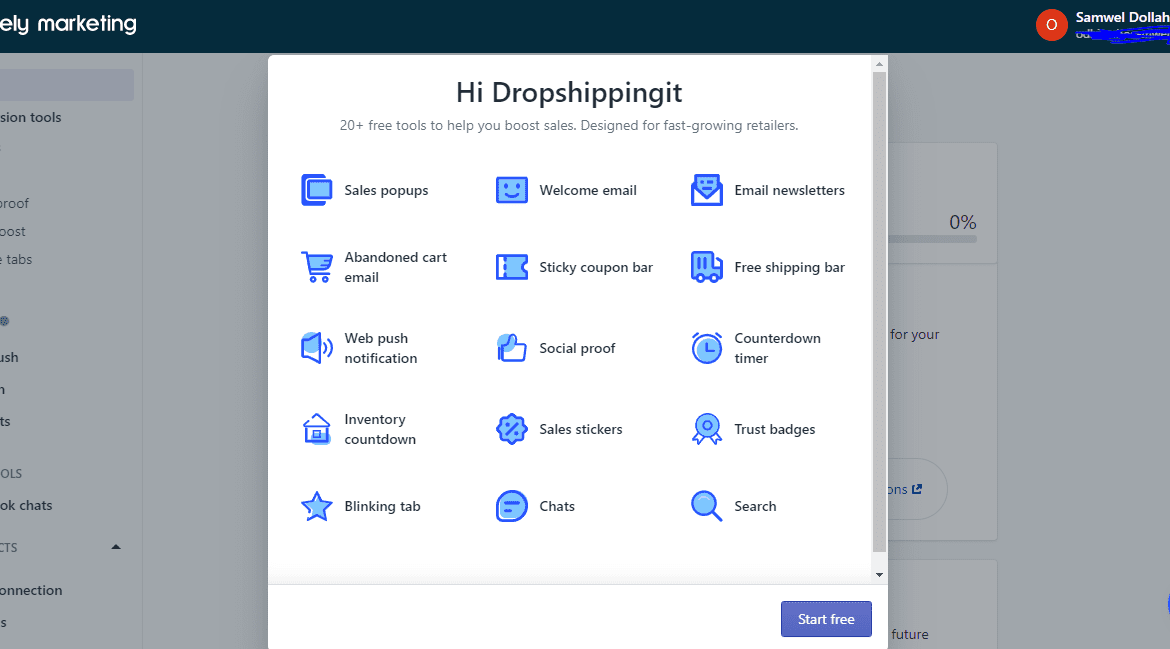 Automated email marketing
To get sales and recover abandoned carts for your store, send event-triggered emails automatically powered by Automizely email marketing App.
Generate sales automatically by sending customers automated emails, encouraging them to visit and repurchase from your store.
Build brand awareness by creating a linked customer experience through all points of contact to engage consumers.
Boost open & click rate using customized emails to push your success with email performance at the right time.
Turn subscribers into customers by way of discounts, make offers to new subscribers with to boost revenue.
Recover abandoned carts through encouraging clients to complete their checkout and recoup the lost sales by one, setting minimum cart value and two, scheduling a delivery time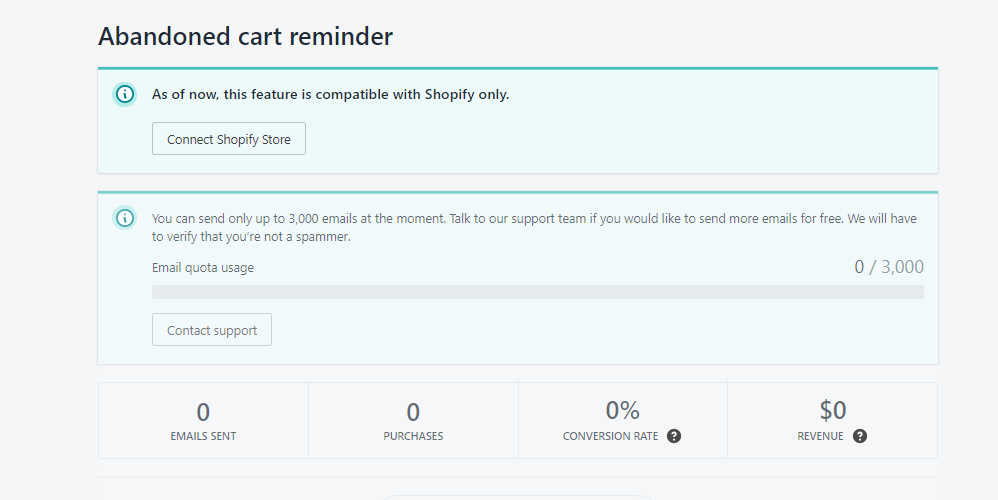 PS: Personalized cart abandonment emails recover 79% of visitors' sales
Thank customers emails. Win clients back using automated follow-up emails to re-engage new, inactive customers and repeat. You can use the Thank you emails for first, second-order & Win-back emails.
All automated. Easy setup. Automizely has impressive & mobile-friendly email templates designed to achieve higher open & click rates.
Website Popups
Launch fantastic call-to-action popups in minutes to boost your store's sales. It needs no code.
Gain more email signups by displaying popups at the right time with enticing email signup rewards.
Recover lost revenue back by offering exclusive deals when visitors opt to leave, Have them stay and pay for it.
Superior mobile experience. Popups instantly work well and look great for web and mobile devices, thus bringing in more deals.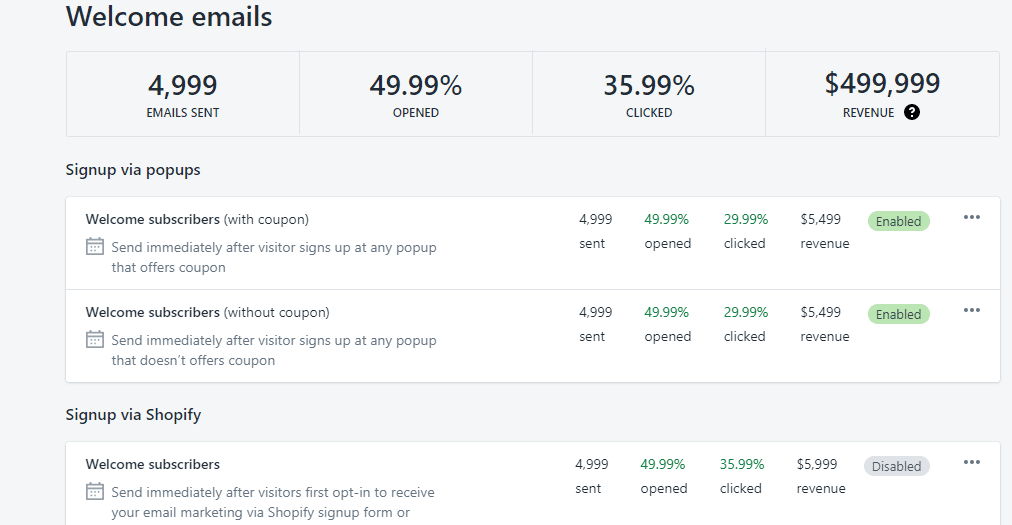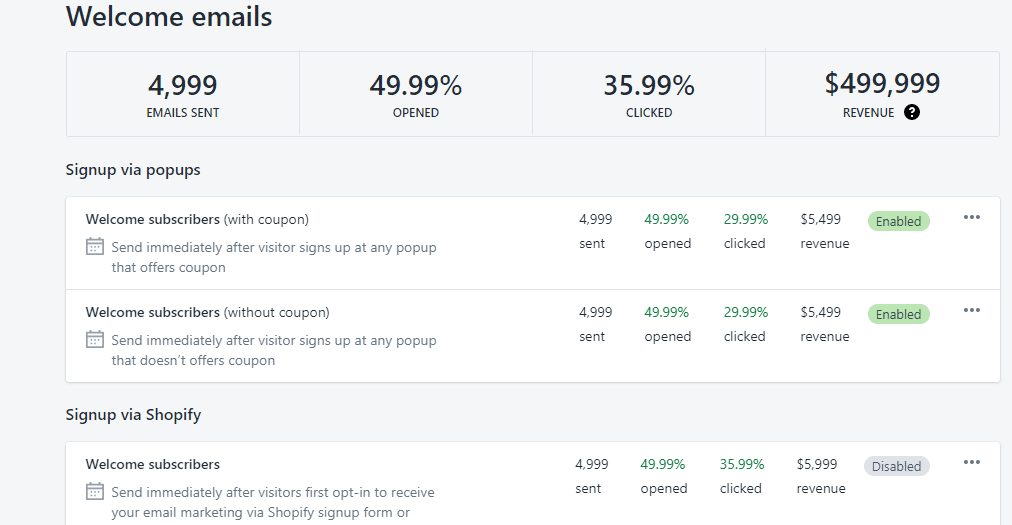 More signups. More sales.Using popups that incorporate coupons & offer them immediately upon signup results in higher conversions. Remember that 60% of users sign up for an email newsletter to receive deals and sales. With coupons, you can:
Copy coupon in 1-click
Reward coupon upon signup
Enable countdown timer
Show sticky coupon bar
Display popups at the right time. Automizely powers you to display the popups and the popups can take the form of:
Display frequency settings
Active period settings
Time delay trigger
Exit-intent popups
In minutes, create Popups by quickly setting up popups with the Automizely popup builder. And you can use this email marketing tool to:
Create mobile-responsive templates
Easy font and colour settings
Success message editor
Drag-and-drop editor
Form fields editor
Easily, Automizely mobile popup templates capture customers information. Use the templates to start holidays and campaign promotions quicker. This email marketing tool helps you to collect customer information during quickly
Black Friday popups
Covid-19 popups
Coupon popups
Christmas popups
Email popups
Social proof popups
Display recent sales popups to build your product trust and urgency. It does not need coding. 66% of consumers search for social evidence before they shop online.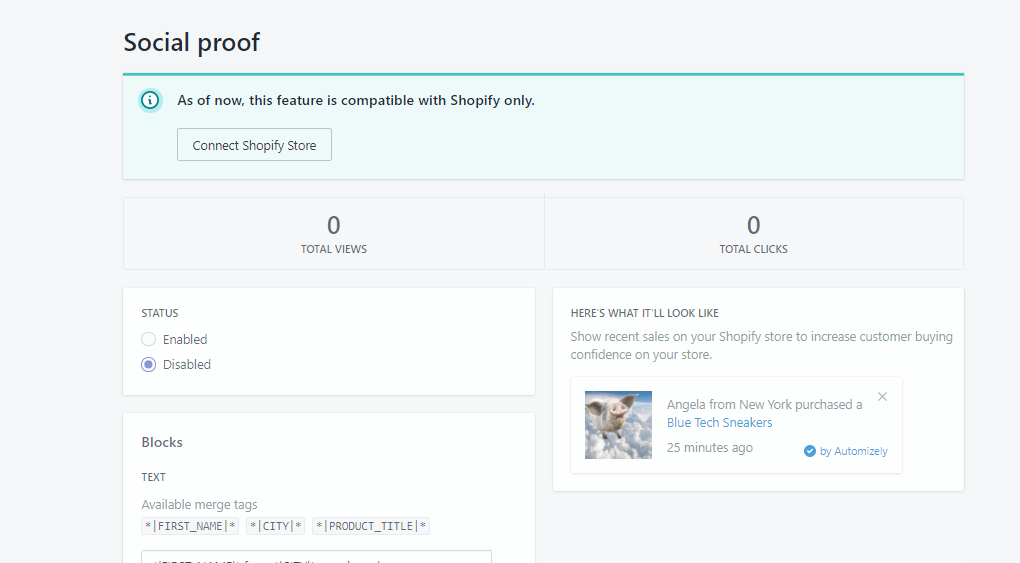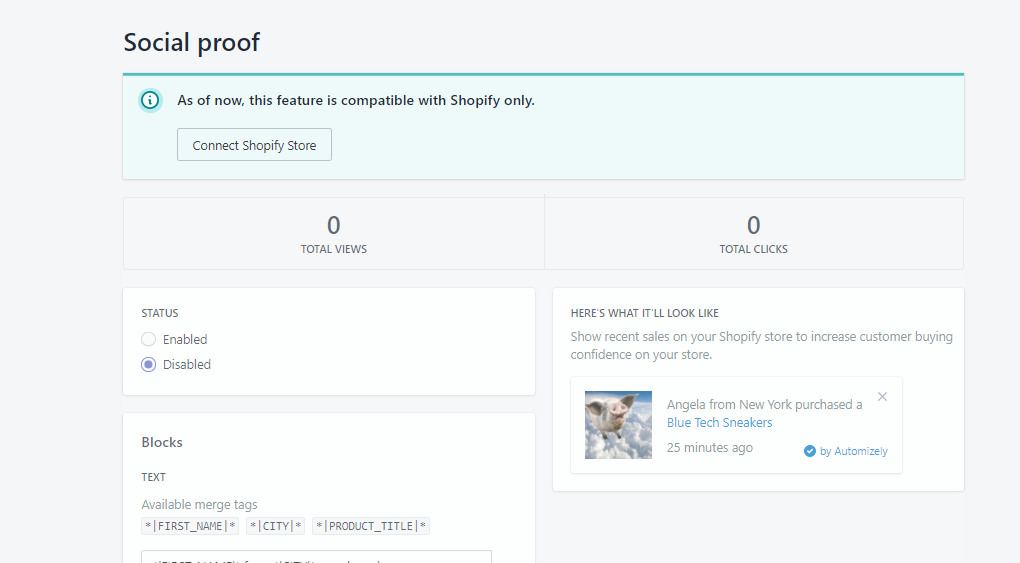 Increase sales & conversions through building FOMO and showing a sense of urgency that people want your product.
Make your store look busy since clients want to know before making transactions that you get real orders.
1-click setup. In one minute, Automizely powers you to enable your shop's recent popup to boost FREE urgency.
Verified sales only. Automizely helps you show that your recent transactions are verified and valid to create trust in your brand.
Control what details to share. Show user-based popups to increase the click rate. The data can include:
First name
Town
Product title purchased
Date of purchase
Latest orders only
Looks natural on your store. The Automizely notifications of social proof popups are designed to allow subtle conversions of customers.
Control where to show your I=integrated social proof popups, depending upon your needs. The marketing tool allows you to either on the home, collection or product page.
Contact management (CRM)
Automizely email marketing App provides you with a single-window view of your list of potential customers. It is free! Segmented email campaigns show 50% CTR higher than untargeted ones.
Effective segmentation affords you all Shopify and marketing data in one place. Help you to boost the segment better.
Actionable insights. Automizely actionable insights allow you to easily spot repeat buyers and find out the total order value, thus classify your VIP clients.
1-click setup. Automizely links to your Shopify store and accesses your customer details more effectively.
Your customers 360° view—review customer purchasing patterns to trigger targeted emails and newsletters.
Create target customers segments. Like add the VIP or repeat buyers profile tags. Send customized emails that convert.
Customer analysis. With Automizely, you can analyze customers better. The marketing tool allows you to export raw customer data in CSV format, giving a 360-degree view.
CRM designed for Shopify store. The app offers access to all Shopify contact information, marketing activities all in one place.
Coupon management
Show recent sales popups to build trust and urgency of your products. Close to 93% of shoppers use a coupon or discount code throughout the year. Make your store look busy 1-click setup.
Saves time and efforts: In minutes, generate large sets of unique discount codes for personalized marketing. Generate codes that can only be used once to avoid abuse from coupon sharing sites.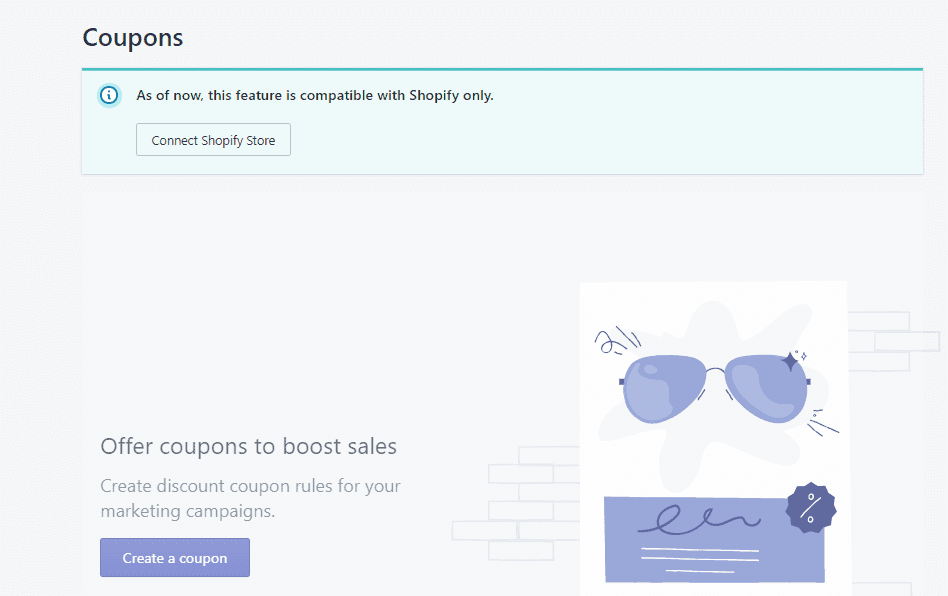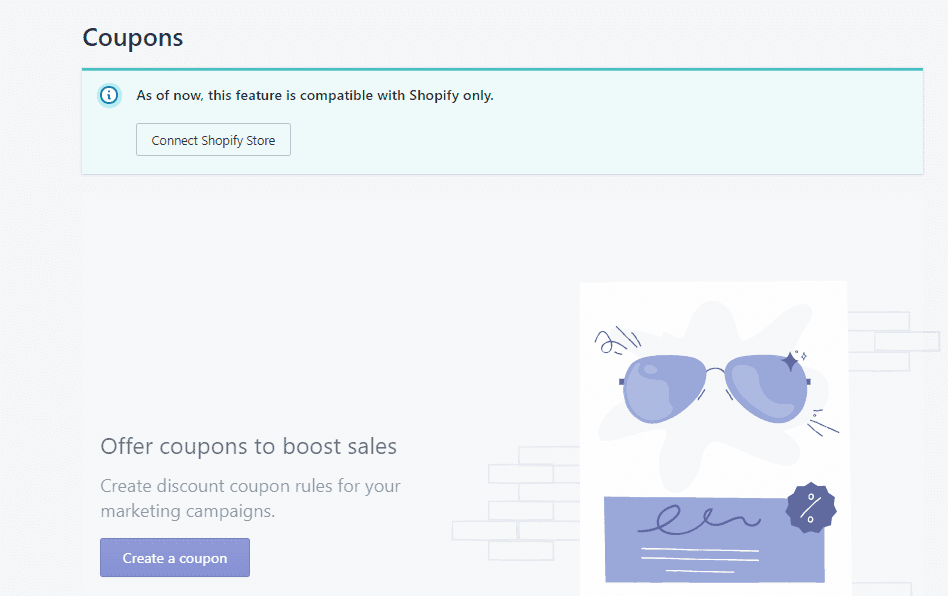 Add a coupon to popup or email marketing campaigns in a few clicks. Coupon generator generates a unique coupon for each signup or email sent.
Hence you can add a coupon to your popup or email marketing campaigns in a few clicks. Sync coupons to your Shopify store; thus, customers can use the coupons at checkout.
Web push notifications
Web push click rate is seven times higher than that of email marketing. Send personalized promotional messages to:
Drive more upsells
Re-engage customers after-sales
Drive website traffic
Unlimited subscribers & messages: install Automizely app in a minute and get unlimited messages for free.
Real-time reach: Send instant messages to your subscribed audience with the latest updates and offers.
Higher after-sales engagement: Nurture your leads and sales. Create triggered notifications that grab user attention.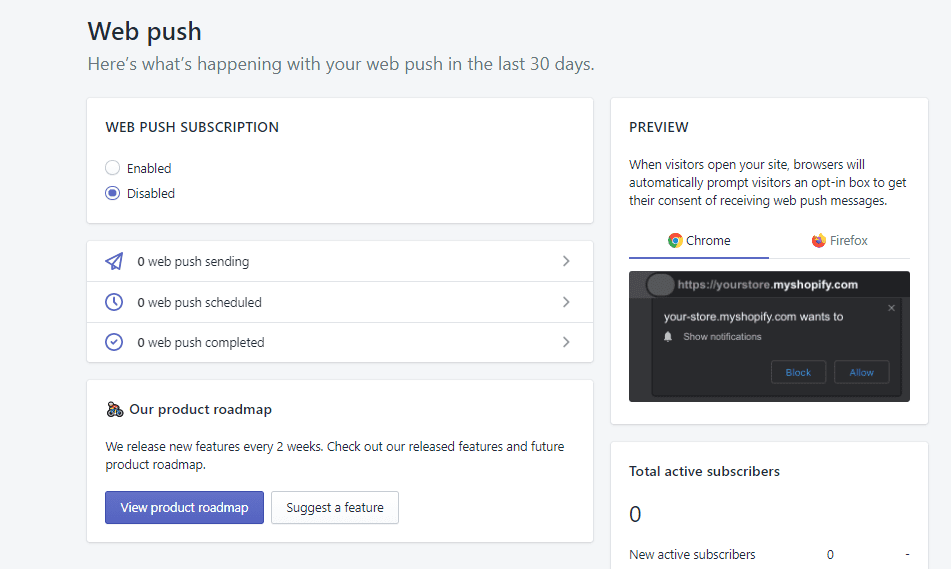 Web push notifications work on Windows, Android, and iOS. Works well on Chrome for users shopping on Chrome.
Fully customizable: With Automizely, you can easily update content and action buttons for different web push campaigns & promotions. You can:
Edit action text and URL
Edit web push message
Update hero image
Add brand logo
Welcome, web push message: The first impression is crucial, and Automizely email marketing App helps do just that by creating a warm welcome notification to new subscribers.
Free shipping bar
80% of consumers are more likely to shop at a site if it offers free shipping. You want to promote free shipping by advancing messages and cart objectives to improve order value. Free shipping is free to use in your store. Use Automizely inbuilt design template to set up an engaging and beautiful shipping bar in minutes. No code is needed to use Automizely template. This Shopify marketing app powers you to:
Drive more purchases
Maximize cart value
And no code needed
No code needed. Set up an engaging and beautiful shipping bar in minutes with the tools inbuilt design template.
Drive more purchase by enticing customers to buy more with free shipping and show progress when they add items.
Maximize cart value: Customers can get free shipping by adding more. Encourage customers to add more items to the cart to hit the free shipping cart threshold.
Show the free shipping threshold. Motivate customers to increase cart value order to get free shipping.
Update progress in real-time by motivating customers to add more items then congratulate them upon hitting the threshold.
Automizely looks excellent on the store. Easily change the look and design of your free shipping bar to align with the store design. You can:
Select display position
Customize the look and feel
Change mobile responsive
With Automizely, you can launch free shipping at no cost. No coding needed.
Automizely email marketing App :Announcement bar
92% of consumers access online promotions browsing via smartphones. Promote discounts and special offers via a fully customized website banner to boost sales. The announcement bar help:
Boost sales
Improves conversion rate
Designed for all occasions
It help direct customers to your high converting pages with clickable bar text and call to action Announce sales, promotions, changes to hours, or other critical updates in just a few clicks.
Clickable call-to-action enables you to promote 1, 2, or 3 offers on one bar. You can rotate the offers for the mobile view. Clickable CTA powers you to display up to 3 offers & clickable text.
Drive more sales: By running special offers and holiday, promotions can drive customers to checkout.
Designed for all occasions; In a few clicks, you can announce sales, promotions, changes to hours plus other vital updates.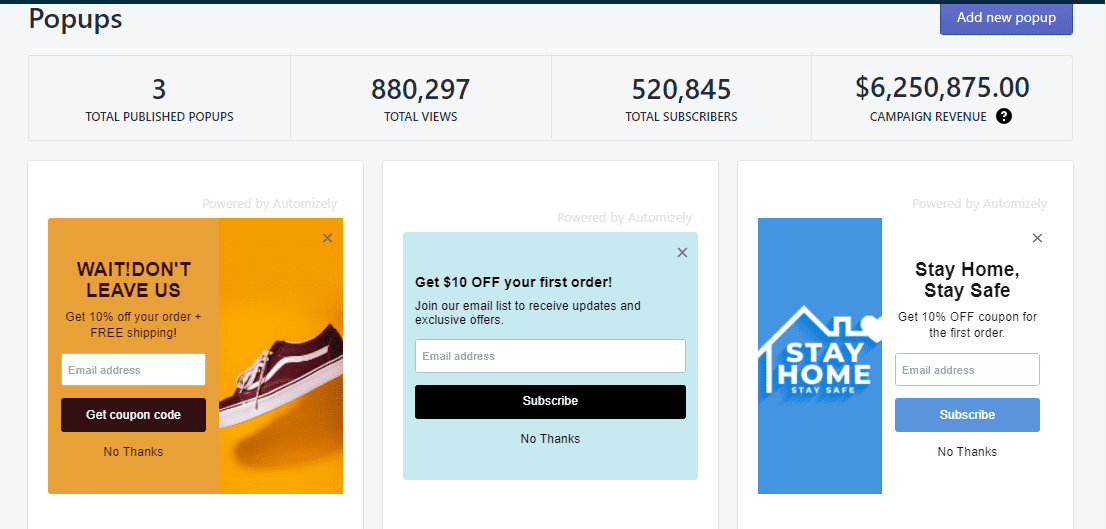 Align style with your promotion: Express the holiday & seasonal vibes to prospects to boost conversion to generate more sales. To match style with promotion, Automizley allows you to:
Select display position
Customize the look and feel
Show/hide close button
Automizely email marketing App pack fantastic Mobile responsive banners designed to boost sales on both mobile & web
Display position: Pick your store's best position to flash your incentives to max out on the conversion.
Trust badges
Display payment badges on product pages to build trust fast. 81% of online shoppers exercise extreme caution when shopping on unfamiliar platforms. Showing payment badges on the product page is free! Trust badges get:
Setup takes 2 mins
Higher conversion rate
Build trust fast
Build trust fast: Assure customers of checkout's security; that you're a trusted store so they can shop from you with confidence.
The marketing app packs 100+ free badges to choose from. Choose from their large selection of payment badges. Save your time designing from scratch. Developer free. Mobile responsive. Always beautiful mobile responsive, trusted badges that work perfectly on both web and mobile.
Sales stickers
82% of customers report feeling more-smart by landing a terrific deal on a product online. Therefore, to show new, selling or hot goods, add labels on product images. Create urgent sales boost.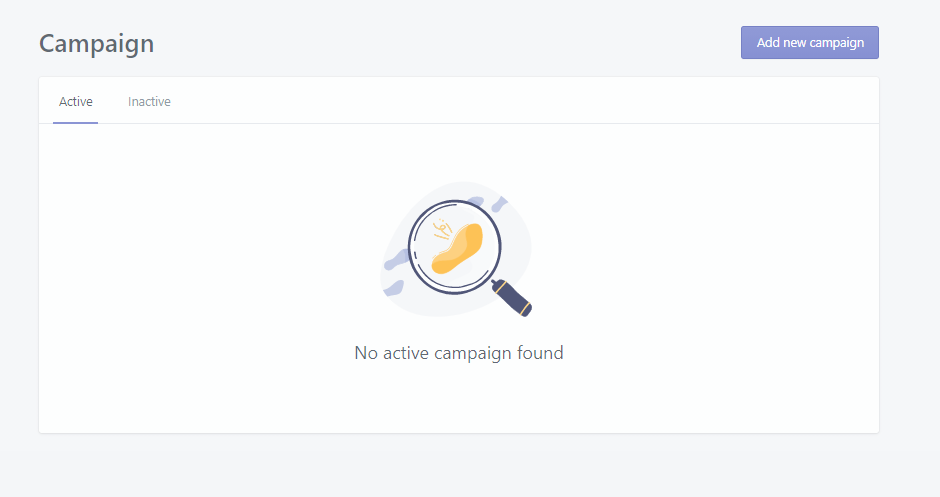 Make products stand-out on home, collection or/and product pages with bold sales stickers. Boost checkout conversion Let customers know products are on sale, hot or new. Urge them to make checkout faster.
Countdown timer
Add urgency to product pages results in a revenue boost. Create a free countdown time bar in real-time to boost sales for the product page.
Then you can set up a countdown timer bar in less than a minute. 1-click installation. No need for developers. Real-time countdown Counts down in seconds, minutes, hours, and days to any date in any time zone.
Stock countdown bar
Add urgency to product pages results in a revenue boost of 27%. Encourage customers to add to cart give a low stock countdown integrated on the product page. It's free!
Adding urgency to the product pages results in a revenue uplift rising from increased impulse purchases.
Display a low-stock countdown which in return creates a sense of urgency in your customers to buy now. Use FOMO to get customers to checkout faster. Add low stock countdown in just one click. Set up in 2 mins.
Instant product search
43% of prospects on the retail websites go directly to the search bar. Automizely affords you a smart, fast & impressive product search bar that converts searches to sales.
Generate sales faster Works with any themes 1-click installation. You get access to a real-time search that gives customers the best search experience and to buy faster. Suggest products and collections direct customers buy it faster.
Mobile app builder
Mobile apps boost conversion rates 3X as much than mobile sites. Given this information, it's vital that you launch Android & iOS apps for your Shopify store and that you can do in a minute.
Shop faster and more with Automizely mobile apps.
You Can List your store for free, and generate free traffic to your store. Save money on app development and skip the app submission process—one app for all platforms.
Blinking browser tabs
Automizely email marketing App powers browser tab flash with an attractive message to engage customers. You want blinking browser tabs because more than ¾ of shoppers opt to leave websites without making a purchase.
Get customers back to your store as soon as they switch tabs with the flashing browser tab. Attract customers with bold flashing tab titles to make left off sales and drive profitability.
Facebook live chat widget.
Live chat boasts the second-highest customer satisfaction ratings at 85% right on phone support heels at 91%.
In a click, launch the Facebook Messenger chat widget and turn visitors into followers. Boost Facebook followers Inspire trust. Get more sales Boost Facebook followers Engage customers via Facebook Messenger. Show Facebook live chat on mobile to drive a higher engagement rate.
Automizely email marketing App Conclusion
Automizely email marketing App, the marketing tool works well with several other platforms. Automizely powers you to integrate any app into your Shopify store.

The marketing tool will come up with a feasible solution and provide consumers with value simultaneously—Automizley offers hassle-free support to integrate any Shopify App.