Best Clothing Dropshipping Suppliers To Contact
In this comprehensive guide on dropshipping, we delve into the world of online retail and uncover the key strategies to succeed in the industry. If you're considering venturing into the lucrative market of clothing dropshipping, you've come to the right place. We will explore the ins and outs of dropshipping, explicitly focusing on finding the best clothing dropshipping suppliers to fuel your success.
Dropshipping has revolutionized businesses, allowing entrepreneurs to start an online store without needing inventory or upfront investment. With the rising demand for fashionable clothing and accessories, the clothing niche presents a promising avenue for aspiring dropshippers.
However, the success of your dropshipping business relies heavily on the choice of suppliers. Partnering with reliable and reputable clothing dropshipping suppliers is crucial to ensure product quality, prompt fulfillment, and customer satisfaction. In addition, the right suppliers can provide you with a vast catalog of trendy clothing options, seamless order processing, and efficient shipping services.
We will also flash out the qualities to look for in the best clothing dropshipping suppliers, including product quality, variety, competitive pricing, and reliable shipping; discuss the importance of supplier vetting and how to establish strong relationships with your chosen suppliers.
Whether you're a beginner looking to launch your first dropshipping store or an experienced entrepreneur aiming to enhance your current operations, this guide will equip you with the knowledge and insights needed to navigate the competitive landscape and find the best clothing dropshipping suppliers that align with your business goals.
Get ready to discover the secrets of dropshipping success in the clothing industry. This blog article in the following sections will empower you to make informed decisions and take decisive action to build a thriving dropshipping business in the clothing niche. Let's get to it!
Table of Contents
What is a Clothing Dropshipping Business?
A Clothing Dropshipping Business, also known as fashion dropshipping, revolutionizes how clothes are sold. It's an innovative approach that allows you to connect effortlessly with the perfect suppliers who handle inventory and shipping. Collaborating with these trusted partners eliminates the need for excessive overhead. Instead, your focus shifts to receiving orders and promptly relaying the details to your chosen dropshipping supplier. From there, the supplier takes charge, expertly managing the fulfillment process on your behalf.
This streamlined arrangement allows you to immerse yourself in the heart of your business—delivering top-notch clothing products to your valued customers. Discover the epitome of convenience and efficiency by exploring the realm of Clothing Dropshipping with the assistance of the industry's Best clothing dropshipping suppliers.
Best Dropshipping Supplier Directories
Finding reliable suppliers for your business can be time-consuming, but online dropship and wholesale supplier directories can simplify and expedite the search. These comprehensive research tools serve as virtual encyclopedias, providing extensive lists and organized categories of thousands of suppliers and their product offerings. While some directories are available for free, it is often worthwhile to consider the paid options, as they rigorously vet and thoroughly research their listed suppliers before featuring them on their platforms.
Vetting suppliers requires a significant investment of time and resources. The premium associated with paid directories is a valuable investment for businesses with limited means. By opting for a paid directory, you gain access to a curated selection of trustworthy and reputable suppliers, saving you the hassle of conducting extensive background checks independently.
When it comes to sourcing suppliers, utilizing the services of the best dropshipping supplier directories proves advantageous. These directories offer a wealth of information, enabling you to discover various suppliers and their product offerings. Whether you're searching for clothing dropshipping suppliers or suppliers from other industries, these directories serve as invaluable resources, streamlining your supplier research process.
Dropshipman stands out as a premier option in dropshipping clothing suppliers, hailing from China. Specializing in high-quality clothing and accessories, this supplier offers entrepreneurs a convenient and comprehensive solution. What sets Dropshipman apart is its flexibility, as it has no minimum order quantity requirement, allowing you to start small and scale at your own pace.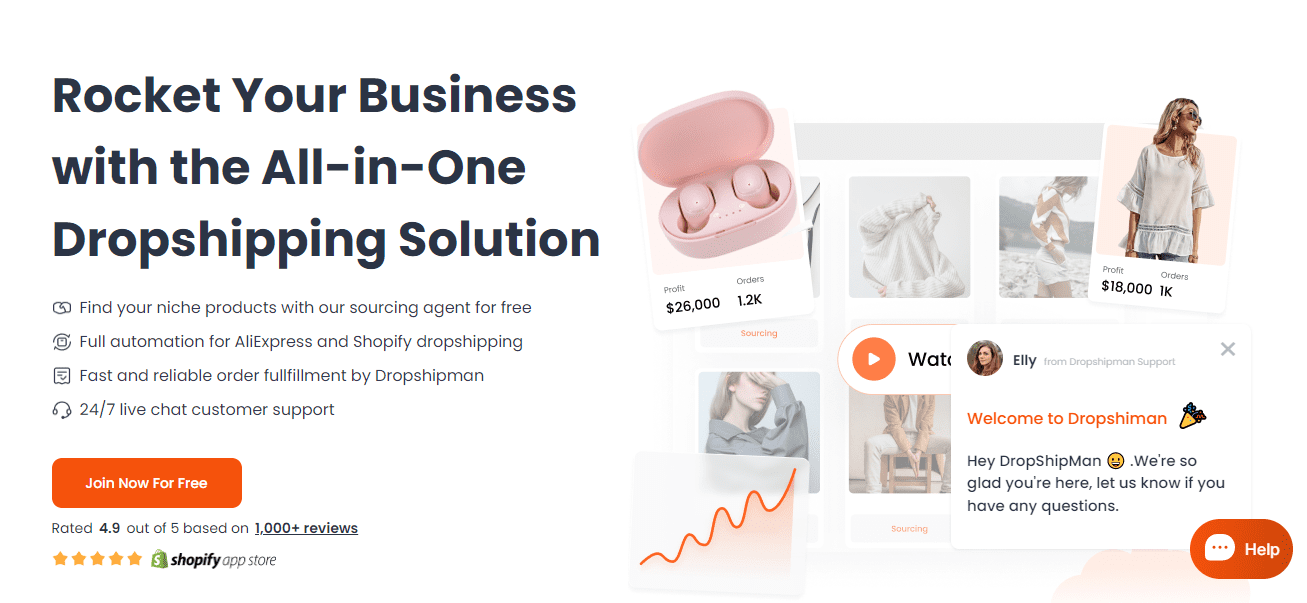 With a remarkable track record of fulfilling over 40 million orders, Dropshipman has earned a reputation for reliability. Their extensive range encompasses various styles and outfits across men's, women's, and children's clothing categories, ensuring a diverse selection for your customers.
One of the standout features of Dropshipman is its low-priced shipping options. With over 30 affordable shipping methods, you can choose the best suits your needs.
The supplier guarantees delivery within 7-15 days, a commendable timeframe considering the logistics involved. Dropshipman also offers to ship to most parts of the world, ensuring global accessibility for your business.
The advantages of partnering with Dropshipman are numerous. You can expect exceptional support throughout your dropshipping journey, from efficient order fulfillment with a logistics tracking service to round-the-clock customer service and a personal agent.
Additionally, the platform provides a free service for finding and importing products, streamlining your sourcing process. Managing your inventory becomes easy with features like one-click batch ordering and real-time status tracking.
While Dropshipman has many merits, it's important to note that shipping time to certain areas may be longer due to customs procedures. However, this hurdle can be overcome with effective communication and proper expectation management.
Integrating Dropshipman with your Shopify store is a seamless process. Utilizing the Dropshipman Shopify app lets you easily connect your online store and embark on your clothing dropshipping venture.
Take advantage of the incredible benefits offered by Dropshipman, one of the Best clothing dropshipping suppliers, in your entrepreneurial pursuit. With its extensive range of high-quality clothing, affordable shipping options, and user-friendly platform, Dropshipman provides a solid foundation for your business. The free entry point makes it an attractive and accessible choice for aspiring clothing entrepreneurs.
One of the premier contenders in the realm of clothing dropshipping suppliers is AliExpress, an e-commerce powerhouse based in China. Renowned for its extensive range of clothing across various categories, AliExpress boasts a vast network of manufacturers, including those offering private labeling services.
With regular flash deals on fashionable items like jeans, tank tops, and swimsuits, this platform provides a treasure trove of possibilities for your business.
The shipping prowess of AliExpress is remarkable, reaching over 200 destinations worldwide. This ensures seamless delivery of products to your country, alleviating any concerns.
Moreover, their customer-centric approach is exemplified by an easy refunds and returns policy. If you receive the wrong order or size, you can find solace in knowing your money is protected.
AliExpress presents a plethora of advantages. Not only can you access clothing on both wholesale and retail levels, but you can also communicate effectively with many English-speaking suppliers. Additionally, efficient and swift fulfillment becomes a reality with strategically located warehouses in the US, Europe, the UK, and Russia.
While AliExpress excels in numerous aspects, there are a few potential drawbacks. Customer support may not always meet the highest standards, and shipping times to Western countries can be relatively long. Moreover, identifying niche suppliers within the platform can be a time-consuming endeavor.
To seamlessly integrate AliExpress with your online store, utilizing an app like DSers is recommended, particularly if you operate on Shopify. This facilitates a smooth connection, enabling you to leverage the vast array of products available on AliExpress and embark on your journey toward success.
Embrace the boundless opportunities that AliExpress, one of the Best clothing dropshipping suppliers, presents to entrepreneurs like yourself. With its extensive catalog, global reach, and user-friendly platform, this supplier can become an invaluable asset in your business endeavors. The best part? AliExpress is free to use, making it an accessible and cost-effective choice for aspiring clothing entrepreneurs.
Founded in 1999 by renowned eBay seller Chris Malta, Worldwide Brands is a well-established U.S.-based company with over 20 years of experience in the industry. Like SaleHoo, Worldwide Brands specializes in connecting you with wholesalers and distributors worldwide. With an impressive catalog of over 16 million certified products, they offer a wide range of options for your clothing dropshipping business.
One of the notable advantages of Worldwide Brands is their extensive menu of options, which has been built up over their long-standing presence in the industry.
However, it's important to note that suppliers on the platform typically require a tax ID before engaging in business, which can introduce some initial friction when forming new relationships. However, their customer service is also limited, lacking live chat support and exhibiting a response time of nearly two business days for email inquiries.
Worldwide Brands' pricing starts at $299 annually, reflecting their commitment to providing comprehensive supplier resources and services in the clothing dropshipping niche.
Inventory Source is a well-established US-based dropshipping provider serving the industry since 2002. It offers a comprehensive solution as an inventory management tool and a catalog of suppliers, seamlessly integrating with various eCommerce platforms and online marketplaces.
With Inventory Source's inventory management module, you gain complete control over essential aspects such as price markup, low stock limits, custom categories, and product filters. In addition, you can integrate your existing suppliers and utilize their extensive supplier directory.
The supplier directory is a valuable resource, providing detailed product information, images, pricing, and real-time stock levels. In addition, it offers access to over 200 suppliers spanning the USA and China. These suppliers boast extensive catalogs, with some offering tens of thousands of products across 30 different categories, including clothing, electronics, books, outdoor items, and pet supplies.
There are several advantages to using Inventory Sources. Firstly, they ensure that your product inventory and virtual storefront are always up to date by syncing with the latest data from your suppliers. They also streamline order processing by automatically routing orders to the appropriate suppliers and syncing shipment details with your customers.
While Inventory Source offers numerous benefits, it's consequential to consider some limitations. First, the starter plan restricts you to connecting with only one supplier. Additional monthly fees will apply to accommodate your needs if you plan to source products from multiple suppliers.
Pricing for Inventory Source's services begins at $99 per month for Inventory Automation and $150 per month for Full Automation, providing you with robust features to optimize your clothing dropshipping operations.
If you're seeking a wide range of products for your dropshipping business, ChinaBrands.com is the perfect platform. Focusing on products made in China, this comprehensive Marketplace offers an extensive assortment of items, including toys, electronics, apparel, and small accessories.
At ChinaBrands, you gain direct access to hundreds of thousands of products, allowing you to cater to various customer preferences and niche markets. Moreover, they consistently update their inventory with new and exciting arrivals, ensuring you can offer your customers the latest trends and innovations.
One of the standout features of ChinaBrands is its commitment to providing competitive prices. They strive to offer the very lowest prices, allowing you to source products at affordable rates and maximize profit margins.
Whether you want to expand your product offerings or venture into new niches, ChinaBrands provides a vast selection and a seamless platform to facilitate your dropshipping business. Explore their extensive catalog and discover the endless possibilities for your clothing dropshipping business.
For those seeking a premium dropshipping experience in luxury fashion brands, Buy2Bee emerges as a prominent player. With operations across Europe and the US, this supplier offers enticing opportunities to showcase renowned brands like Hugo Boss, Giorgio Armani, and Dolce & Gabbana.
Buy2Bee sets itself apart by providing a flat shipping rate of €9.90, regardless of the order size. This ensures transparency and predictability in shipping costs for your business. For example, with a delivery time of 3-6 days and a processing time of 4-7 days, Buy2Bee strives to deliver orders promptly, enhancing customer satisfaction.
One of the appealing aspects of partnering with Buy2Bee is the absence of a minimum order quantity requirement. This grants you the flexibility to start small and grow your business at your own pace. Furthermore, setting up an account with Buy2Bee is free, eliminating any financial barriers to entry.
The advantages of collaborating with Buy2Bee are numerous. Their product range encompasses a wide selection of 100% authentic luxury brand products, guaranteeing the highest quality for your customers. By operating out of the US and Europe, Buy2Bee offers convenience and accessibility to a diverse customer base.
While Buy2Bee excels in many aspects, its catalog may be limited, focusing primarily on luxury brands. However, this specialization ensures a refined and exclusive selection for your discerning clientele.
To integrate Buy2Bee with your Shopify store, a CSV file from the company is required. This process seamlessly incorporates their store into yours, allowing for efficient management and inventory synchronization.
Embrace the world of luxury fashion dropshipping by partnering with Buy2Bee, one of the best clothing dropshipping suppliers. With its authentic luxury brand products, fixed shipping costs, and presence in key markets, Buy2Bee provides an exceptional platform to showcase the finest in high-end fashion. The entry point is free, enabling you to embark on your entrepreneurial journey without financial constraints.
Dresslily, based in China, specializes in women's fashion and offers a fantastic range of clothing options. While their primary focus is on women's fashion, they also have a limited selection for men and babies. Dresslily takes pride in organizing its products based on current bestsellers and in-fashion items, ensuring you can stay on top of the latest trends.
With a wide range of women's clothing, Dresslily caters to diverse fashion preferences. Their in-fashion and popular item selections make it easier to curate a trendy and sought-after collection for your customers. Additionally, Dresslily offers worldwide shipping, enabling you to reach customers across the globe.
However, it's important to note that Dresslily's selection for men and babies is more limited than its women's fashion range. For example, if your target market includes men or babies, consider additional suppliers to fulfill those needs.
When connecting Dresslily to your Shopify store, no app integration is available. This means the only option is to import Dresslily's products into your store manually. While it may require additional effort, it allows you to leverage Dresslily's offerings and provide its fashion products to your customers.
Choosing Dresslily as one of the Best clothing dropshipping suppliers grants you access to a wide range of women's fashion options, curated based on current trends and popular choices. While there are limitations regarding men's and babies' selections and the absence of app integration, Dresslily's worldwide shipping and focus on in-fashion items make it a valuable resource for women's fashion entrepreneurs.
Embarking on a journey from China, KakaClo shines as a versatile and dynamic clothing dropshipping supplier. While rooted in China, they offer shipping options to various locations, including England, Germany, and the USA. KakaClo caters to all fashion types, presenting a diverse range of stylish garments that cater to various tastes and preferences. Notably, they excel in providing an extensive collection of beautiful maternity wear, ensuring that expecting mothers can embrace fashion and comfort.
What sets KakaClo apart is its commitment to customization. They offer print-on-demand and packaging-on-demand services, enabling you to seamlessly integrate your branding into the products. This empowers you to create a unique and memorable customer experience, elevating your brand identity. By staying attuned to Instagram trends, KakaClo ensures their popular clothing selection aligns with the latest fashion sensations. This positions you as a reliable source for all the sought-after fashion trends, further enhancing your brand's reputation.
Remarkably, partnering with KakaClo comes at no cost. Instead, they provide their ever-growing catalog of globally sourced products without any fees, making it an enticing option for aspiring entrepreneurs in the clothing industry.
The advantages of collaborating with KakaClo extend beyond their diverse catalog and free services. They offer multiple dispatch location options, allowing you to optimize shipping efficiency and deliver products seamlessly to your customers. Additionally, their provision of custom packaging and branding options empowers you to create a unique and cohesive brand experience for your clientele.
While KakaClo offers many benefits, it's worth noting that occasional reliability issues have been reported with their basic help center setup. However, proactive communication and resourcefulness can help overcome these challenges.
Integrating KakaClo with your Shopify store is a straightforward process, as they have their app readily available in the Shopify store. This enables seamless integration and ensures efficient management of your dropshipping operations.
Embrace the world of versatile fashion dropshipping by partnering with KakaClo, one of the Best clothing dropshipping suppliers. With its global product selection, multiple dispatch locations, customization options, and cost-free services, KakaClo provides a solid foundation for your clothing business. Tap into the endless possibilities and build your brand's success without financial burdens.
Read Also:
Unveiling its purpose boldly, Dropship-clothes.com emerges as a prime destination for women's fashion, with its roots firmly planted in China. With a laser focus on seasonal trends, this supplier offers a treasure trove of fashion-forward products catering to women. Each item is thoughtfully categorized according to its seasonal relevance, making it effortless to stay abreast of the latest fashion sensations. With Dropship-clothes.com, launching a new dropshipping business in fashion has never been easier.
The advantages of sourcing from Dropship-clothes.com are abundant. Their organized range of seasonal fashions ensures you can curate a trendy and up-to-date collection for your customers. Whether it's summer dresses, cozy winter wear, or stylish spring ensembles, finding the perfect pieces to reflect the current fashion climate is a breeze. This allows you to position yourself as a go-to source for the latest fashion trends, catering to the ever-evolving tastes of your clientele.
Dropship-clothes.com provides global shipping, enabling you to reach customers worldwide. This expansive reach opens doors to a diverse customer base and offers immense growth opportunities for your business.
It's important to note that Dropship-clothes.com exclusively focuses on women's fashion. While this specialization allows them to deliver a comprehensive and tailored experience in this niche, it limits the potential for diversification into other markets.
To connect Dropship-clothes.com to your Shopify store, it is recommended to contact the company for more information. They will guide you through the necessary steps and provide the details to integrate their offerings seamlessly.
Embrace the world of women's fashion dropshipping by partnering with Dropship-clothes.com, one of the Best clothing dropshipping suppliers. With their curated range of seasonal fashions, global shipping capabilities, and dedication to staying ahead of fashion trends, Dropship-clothes.com presents an exceptional opportunity for aspiring entrepreneurs. Best of all, their free services allow you to embark on your fashion venture easily and flexibly.
Printful, based in the US, is a leading option for custom-branded apparel in the dropshipping world. With a vast array of customizable clothing options, Printful lets you infuse your unique brand identity into every garment. From shirts and hoodies to dresses and pants, their product range is fully customizable, empowering you to showcase your branding or designs proudly. This makes Printful an excellent fit for any affordable clothing business seeking to create a distinct and personalized customer experience.
Printful enables you to establish products under your brand by offering the opportunity to sell private-label custom clothing. In this highly competitive field, it's essential to craft a unique and compelling design that captures the attention of your target audience. With Printful's customization capabilities, you can unleash your creativity and bring your brand vision to life.
Printful pride itself on delivering high-quality and affordable products. Their commitment to excellence ensures that your customers receive items that meet their expectations, combining style and durability. Additionally, Printful operates with a cost-effective approach, as no upfront costs are associated with using their services. This allows you to focus on building your business without financial constraints.
While Printful offers worldwide shipping, it's important to note that there may be limitations on shipping certain items to specific locations. However, their extensive shipping network ensures you can reach customers globally, broadening your market reach and maximizing your business potential.
To seamlessly integrate Printful with your Shopify store, you can leverage the Printful Shopify app. This integration simplifies utilizing Printful's services and ensures smooth order fulfillment and management.
Embrace the world of custom-branded apparel with Printful, one of the Best clothing dropshipping suppliers. Their fully customizable range, commitment to high-quality and affordability, and the opportunity to sell private-label custom clothing make them an ideal partner for your clothing business. With no upfront costs and a seamless integration process through the Printful Shopify app, you can confidently build your brand and deliver unique, personalized experiences to your customers.
Printify, based in the US, provides exceptional print-on-demand (POD) services for men's and women's fashion. Their extensive range of high-quality products ensures that you can offer self-designed or branded clothing that meets the highest standards of quality and style.
With Printify's wide selection of clothing options, you can cater to your customers' diverse needs and preferences. From everyday clothing essentials to trendy fashion items, Printify has you covered, allowing you to curate a compelling collection that resonates with your target audience.
While Printify offers a subscription service that transitions to a paid plan after a limited time, this ensures you stay connected with their exceptional customer service teams. Their support can guide you throughout the process, answering questions and providing valuable assistance. Moreover, Printify offers a fantastic opportunity for private labeling, allowing you to imprint your brand's logo on the clothes and showcase them through your storefront. This enables you to strengthen your brand identity and create a unique selling proposition in the market.
Printify's popularity as a global POD service stems from its commitment to delivering high-quality products and services. Operating from the USA, they have gained the trust of businesses worldwide, making them an ideal choice for building your brand and expanding your reach.
To seamlessly integrate Printify with your Shopify store, you can utilize the Printify Shopify app. This user-friendly app facilitates the connection between Printify's platform and your online store, ensuring a smooth and efficient process for managing your print-on-demand products.
Printify offers flexible pricing options to accommodate different business needs. You can begin with their free plan, which allows you to set up and operate your first five stores. Their Premium plan is $24.99 for more extensive operations and supports up to ten stores.
Choose Printify as one of the Best clothing dropshipping suppliers and unlock the potential of print-on-demand fashion. With their wide selection of high-quality products, focus on building your brand, and easy integration through the Printify Shopify app; you can embark on a successful journey of offering personalized and stylish clothing to your customers.
Shein, a prominent B2C online retail marketplace based in China, specializes in offering a wide range of fashionable apparel. With a constant focus on staying up-to-date with the latest trends, Shein has a team of dedicated designers who work tirelessly throughout the year to create new lines and products that reflect the evolving fashion landscape.
One of the key advantages of sourcing products from Shein is their emphasis on providing affordable clothing options. This enables you to keep your product costs low, allowing for better profit margins when selling through their platform. In addition, the competitive pricing structure ensures that you can offer your customers attractive prices while maximizing your earnings.
Although Shein doesn't officially endorse dropshipping, a workaround allows you to sell their products. You can feature Shein items in your store by taking product images and negotiating terms with suppliers. It's important to note that Shein products come in the company's branded packaging, so you won't be able to incorporate private labeling. Instead, you must inform your customers that they are purchasing a Shein product.
Shein's strengths lie in its ever-evolving catalog of products, providing a diverse selection for your customers. Their global distribution network ensures you can cater to customers worldwide, expanding your reach and potential customer base.
However, Shein has faced some challenges regarding negative reviews that have affected its public image. Additionally, there have been occasional reports of delivery issues, which is an aspect to consider when partnering with the platform.
To connect Shein to your Shopify store, you can leverage the AutoDS app. This app facilitates the seamless import of Shein products into your store, streamlining your dropshipping operations.
Choosing Shein as one of the Best clothing dropshipping suppliers allows you to tap into various trendy fashion products at competitive prices. While there are certain considerations to keep in mind, such as the absence of private labeling and potential delivery issues, Shein's extensive catalog and worldwide distribution make it a valuable resource for fashion entrepreneurs.
SaleHoo, founded in 2005 in New Zealand, is a reputable search directory with a track record of serving over 137,000 merchants. With over 8,000 suppliers and 2.5 million products, SaleHoo easily finds legitimate suppliers for brand-name companies. Every supplier is thoroughly verified, ensuring the authenticity and legality of their products. In addition to exceptional customer service, SaleHoo offers a robust resource center.
However, SaleHoo is not an integrated technology solution for your store, and you cannot sync products directly from suppliers on their database. While the database has thousands of pre-vetted suppliers, it must be refreshed and updated with newer vendors. The pricing starts at $67/year, making it a budget-friendly option for those looking for reliable suppliers in the clothing dropshipping niche.
DSM Tool is an innovative automation solution designed to streamline your dropshipping business on eBay. With its powerful tools, you can easily add products to your eBay store from various vendors, including popular platforms like Walmart, Sears, Aliexpress, and Amazon in the US, UK, France, Germany, and Canada.
One of the standout advantages of DSM Tool is that it offers free subscribers the ability to create over 50 listings. In comparison, paid subscribers can enjoy the benefit of managing up to 150,000 listings. Moreover, in addition to AliExpress, DSM Tool provides access to other popular catalogs, such as Walmart and Amazon, allowing you to choose from various suppliers and start selling immediately.
While DSM Tool offers impressive features, it's worth noting that its database currently includes 50 dropshipping suppliers, which may be relatively limited compared to other competitors in the market. However, it still provides access to a significant number of reliable suppliers.
Pricing options for DSM Tool cater to different needs. They offer a free plan with essential features, and for those looking for more advanced functionality, paid plans are available, ranging from $24.97 to $499.97 per month.
With its comprehensive automation tools and diverse vendor options, DSM Tool empowers clothing dropshippers on eBay to efficiently manage their business operations and maximize their potential for success.
Modalyst is a comprehensive dropshipping automation software that simplifies starting an online business. With a vast marketplace of high-quality suppliers and products, it offers powerful automation tools that streamline your dropshipping operations.
One standout feature of Modalyst is its official partnership with AliExpress. This partnership provides eCommerce store owners exclusive access to the AliExpress Dropshipping Center, valuable analytics on trending products, and a suite of tools to import and sell AliExpress products on their storefronts seamlessly.
Modalyst also integrates smoothly with the Wix eCommerce platform, making it even easier to manage your online store.
Through AliExpress, Modalyst opens the door to a vast range of possibilities, including:
Over 100 million dropshipping products
More than 4,000 product categories
Analytics to identify the best-selling AliExpress products
A convenient Chrome Extension for effortless product importation and order synchronization in just one click
One of the central strengths of Modalyst is its curated Marketplace, which features reputable suppliers based in the US and EU. Each supplier undergoes a thorough vetting process to meet Modalyst's high standards. Additionally, all suppliers on the Marketplace adhere to strict requirements regarding returns, shipping, and pricing, which have been pre-negotiated by Modalyst. This eliminates the need for separate negotiations with individual suppliers, streamlining your business operations.
However, it's worth noting that the Pro plan is required to access premium, brand-name products for your store, which comes at an additional cost.
Modalyst offers a free plan with limited features, allowing you to explore the platform. In contrast, their paid plans start at $35 per month, providing enhanced functionalities and greater flexibility for your clothing dropshipping business.
Regarding dropshipping in Europe, BigBuy is one of the leading providers. With its headquarters in Spain, this B2B eCommerce company offers a diverse range of products to businesses of all types, specializing in assisting merchants who resell items online.
BigBuy's extensive catalog encompasses thousands of items, providing a wide selection to cater to your customers' needs. You'll find various products to build your clothing dropshipping business, from clothing and accessories to electronics and home goods.
As a trusted player in the industry, BigBuy prioritizes the success of its merchants. They offer reliable shipping services and excellent customer support to ensure smooth operations for your business. Their platform is designed to streamline the dropshipping process, allowing you to focus on growing your online business.
By partnering with BigBuy, you gain access to a reputable supplier network and a comprehensive range of products to impress your customers. Take advantage of their expertise in the European market and leverage their services to establish a successful clothing dropshipping venture.
Key Takeaways
In conclusion, finding success in dropshipping relies on strategic decision-making and partnering with the best clothing dropshipping suppliers.
By carefully selecting your products, identifying profitable niches, and implementing effective marketing strategies, you can unlock the potential of this business model. Whether it's trendy clothing, popular accessories, or innovative gadgets, the key lies in offering unique, high-quality items that resonate with your target audience.
Remember, the competition in the dropshipping industry is fierce, so it's crucial to differentiate yourself from the rest. Research your competitors, stay up-to-date with market trends, and continuously optimize your operations to provide an exceptional customer experience.
Now is the time to take action and embark on your dropshipping journey. Don't let hesitation hold you back. Instead, start by identifying the Best clothing dropshipping suppliers that align with your business vision. Then, equip yourself with the right tools, leverage the power of automation, and create a seamless customer experience that drives sales and fosters brand loyalty.
In this fast-paced world of e-commerce, seizing opportunities and staying ahead of the curve is paramount. Embrace the challenge, tap into your creativity, and build a thriving dropshipping business that captivates customers and brings you financial success.
Remember, the world of dropshipping awaits—unleash your entrepreneurial spirit and carve your path to success today!
FAQs
Is clothing a good option for dropshipping?
Yes, clothing can be a profitable product category for dropshipping. It is a popular and evergreen niche with high demand. However, success in dropshipping clothing depends on factors like finding reliable suppliers, offering unique and trendy designs, and effective marketing strategies.
What products sell best in dropshipping?
The best-selling products in dropshipping can vary based on trends and market demand. However, some popular product categories include clothing, accessories, electronics, beauty and skincare products, home decor, and fitness equipment. Researching and identifying trending products within your target market is essential to maximize sales potential.
Who is the most profitable dropshipper?
The profitability of dropshippers can vary based on factors like their chosen niche, marketing strategies, and operational efficiency. However, there isn't a definitive answer to who is the most profitable dropshipper, as success is subjective and can differ from individual to individual. Therefore, building a profitable dropshipping business is crucial to finding the right products, suppliers, and marketing techniques for your specific market.
Who are the competitors of KakaClo?
Without specific information about KakaClo, it is challenging to identify its direct competitors. However, the dropshipping clothing industry has several popular platforms and suppliers like AliExpress, SaleHoo, Modalyst, Oberlo, and Spocket. Researching and comparing different suppliers is recommended to find the one that best suits your business needs.
Is dropshipping T-shirts worth it?
Dropshipping T-shirts can be worth it if you can find a reliable supplier, offer unique and appealing designs, and effectively market your products. T-shirts are a popular clothing item with a broad customer base, making it a potentially profitable niche. However, competition can be high, so you must differentiate your brand and products to stand out.
What is the easiest thing to sell in dropshipping?
The easiest thing to sell in dropshipping depends on various factors, including your target market, competition, and personal interests. Products with a broad appeal and relatively low competition can be easier to sell. Examples include fashion accessories, home decor items, smartphone accessories, and niche-specific products that cater to a passionate audience.
How many items should I start with in dropshipping?
The number of items you should start with in dropshipping depends on your business goals, budget, and available resources. Starting with a manageable number of products is recommended, typically a few key items representing your niche.
You can gradually expand your product range as you gain experience and understand your customers' preferences. Focus on quality over quantity and ensure you can effectively manage inventory, shipping, and customer service for the number of items you offer.
Small Request
Kindly share it with your friends. Especially the ones you believe need this information. Sign Up Now and Get your first 3 months for only $1 monthly.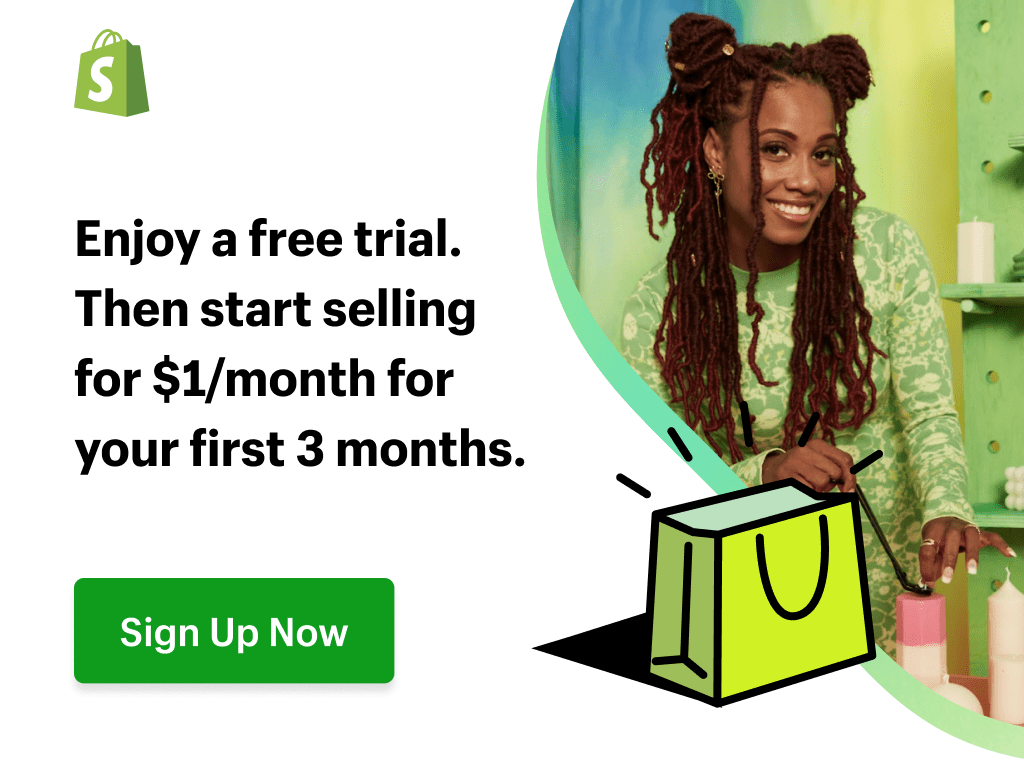 Sharing this information with others can make a huge difference. You may ask why.
Well, the truth is, my main aim is to provide the best information about drop shipping for both beginners and experienced dropshippers.
And I plan to continue doing so for as long as I can.
I would also like to thank those who support my work by reading and sharing my content.
Trust me, when you take your time to share, it will greatly help me and others who need this information.
Here are some great suggestions:
Pin it
Share it on another blog.
Share on Facebook (Share it with friends and even on Facebook groups)
Tweet it
Stumble it
This will only take a few seconds of your time, and I would appreciate it.
I appreciate you a lot. Thank you!
Join my Shopify dropshipping group mastermind and follow my blog to learn more about Shopify tips, dropshipping guides, tricks and checklists, and e-commerce in general.
If you enjoyed and learned something from this post, you can get me updates for free!
I send out email newsletters about new blog posts, tips, and tricks to help you grow your dropshipping business, new YouTube videos to give you more insights into the e-commerce market, and much more.
If you enjoyed reading this, you could also join my Facebook group. Thank you for reading how to make money dropshipping online from the comfort of your home.
Click here to Join My Facebook Mastermind Group