Best Dropshipping Store Examples (20 Most Successful)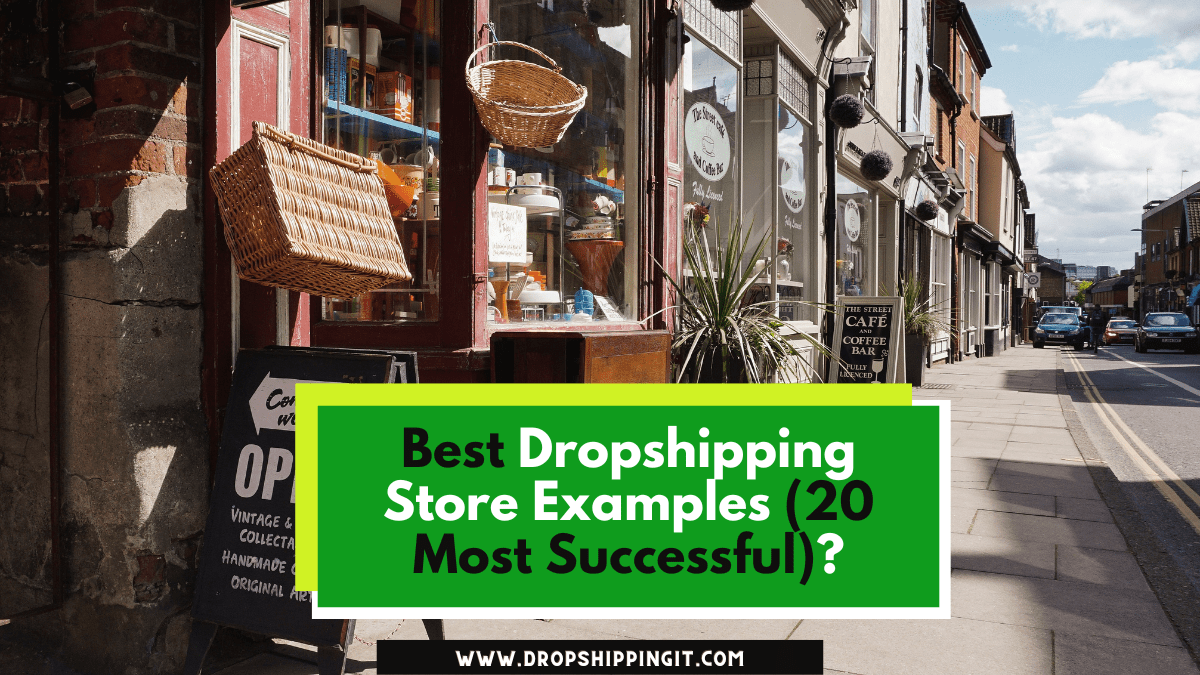 In the ever-evolving e-commerce landscape, dropshipping has emerged as a game-changer, revolutionizing how entrepreneurs conduct business online. With its low barriers to entry and minimal upfront investment requirements, dropshipping has empowered countless individuals to start their online stores and tap into the vast potential of global markets.
In this article, we embark on a journey to explore the best dropshipping store examples, shining a light on their innovative approaches, seamless user experiences, and exceptional product selections. Welcome aboard as we uncover the pinnacle of e-commerce success and unlock the secrets behind these remarkable online ventures.
The best dropshipping stores are virtually indistinguishable from their non-dropshipping counterparts. Through extensive research of a hundred-plus dropshipping store, it becomes clear that many can be easily identified. However, the distinguishing factors are apparent—shoddy web design, lackluster product photos merely copied from suppliers, flawed product descriptions, forced social proof, and suspiciously low prices that raise eyebrows. Moreover, an unappealing domain name can be an instant giveaway.
Conversely, exceptional dropshipping stores, which I am about to reveal, effortlessly blend in with the crowd of non-dropshipping stores within the same niche and price range. These stores range from individual or founder-made ventures to small businesses built on a shoestring budget. Unfortunately, the design of their websites is nothing short of masterful.
Identifying some of these stores as "dropshipping" may be challenging due to limited information. Nevertheless, each store featured in this collection has something valuable for your take home.
Table of Contents
General Overview
Dropshipping allows entrepreneurs to sell products without the hassle of stocking inventory. This resource explores successful dropshipping store examples across different niches, analyzing their unique selling points, store design, SEO strategies, shipping policies, and social media presence.
By studying these successful stores, you'll gain a deeper understanding of the essential hallmarks and strategies that set them apart from the competition.
Whether you're an aspiring entrepreneur looking to enter the world of dropshipping or an existing business owner seeking to optimize your current store, this guide will equip you with the knowledge and inspiration you need to make informed decisions and achieve success.
Seek Discomfort stands out as an exceptional dropshipping store in the industry. Their unique approach sets them apart by inspiring individuals to embrace uncertainty and venture beyond their comfort zones. With a diverse range of products, including apparel, accessories, and merchandise, Seek Discomfort empowers people on their growth journey.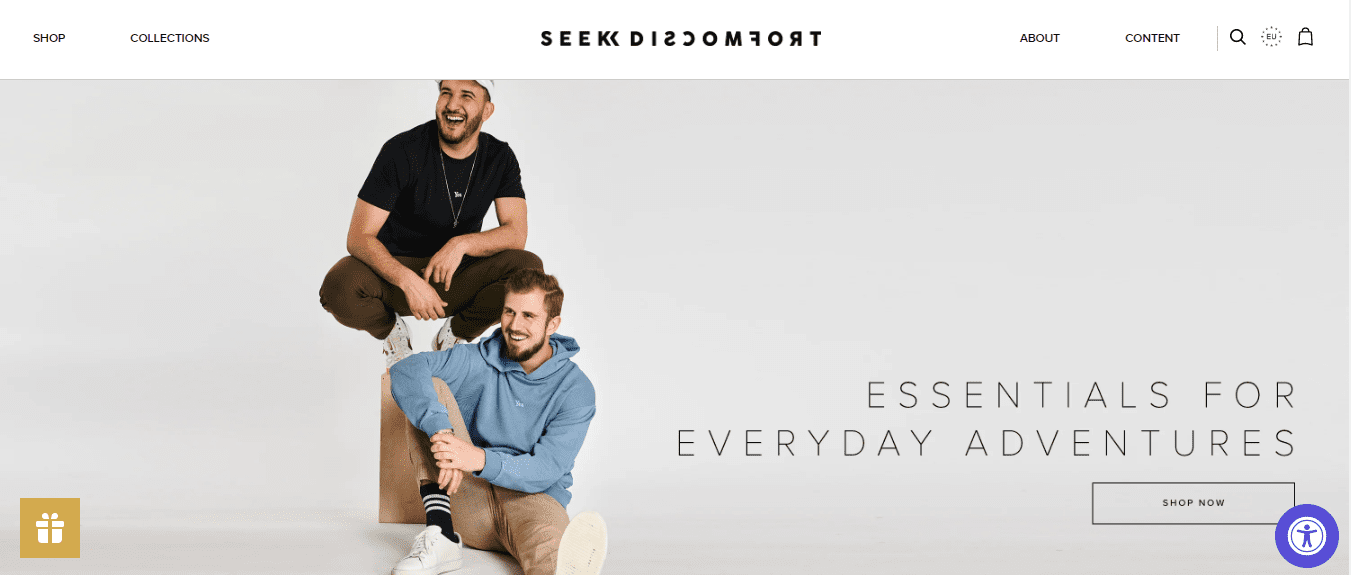 What distinguishes Seek Discomfort is its dedication to fostering a community of like-minded individuals who fearlessly pursue their passions and challenge themselves. Through storytelling, inspirational videos, and a social media presence, Seek Discomfort provides a platform for individuals to connect, share their stories, and gather the courage to confront life's uncertainties.
Seek Discomfort encourages individuals to lead lives rich in purpose, meaning, and fulfillment by emphasizing adventure, self-discovery, and pushing boundaries.
Kylie Cosmetics sets itself apart as a highly successful dropshipping store. Serving as the official online platform for Kylie Jenner's renowned cosmetics brand, KylieCosmetics.com offers a vast array of beauty products. From lip kits and eyeshadow palettes to face makeup and skincare items, their collection is diverse and appeals to a wide range of skin tones.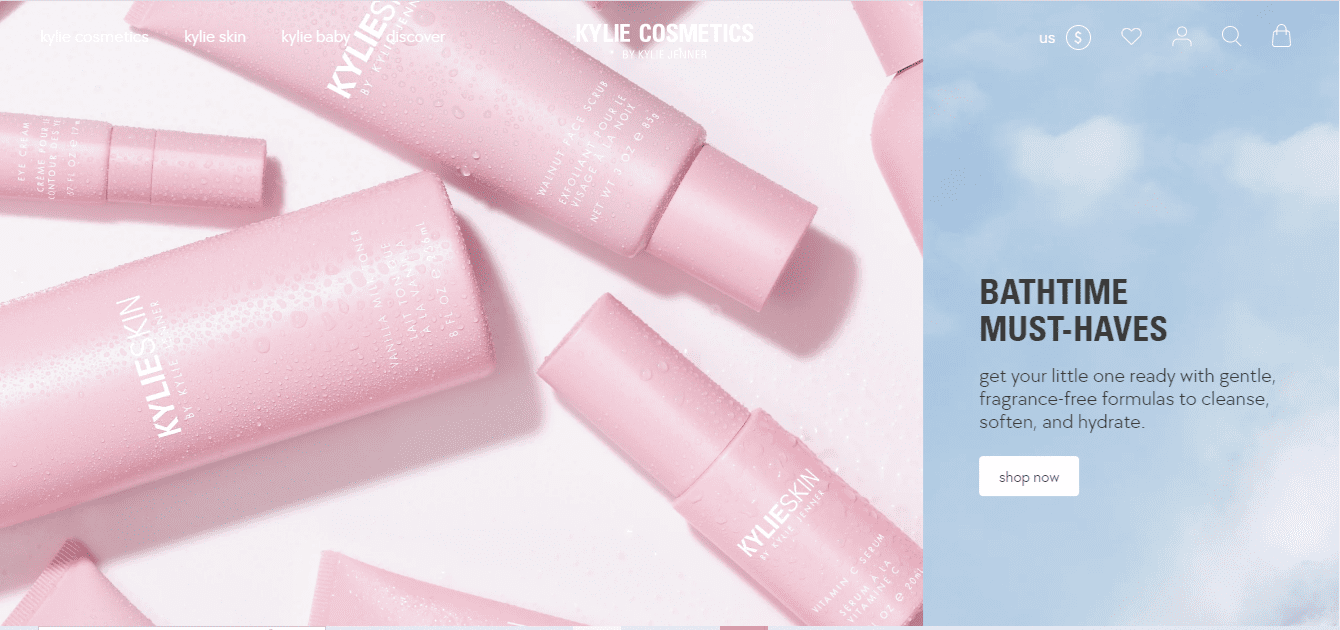 The website boasts an attractive and user-friendly interface, ensuring a seamless shopping experience for customers. Innovation and style are at the forefront of KylieCosmetics.com, as they consistently introduce new and captivating collections through collaborations with influential figures and celebrities.
Customers can explore an extensive range of shades and finishes, empowering them to create their desired makeup looks. Additionally, the website provides valuable product descriptions, tutorials, and customer reviews to assist shoppers in making well-informed choices.
With a loyal following and a reputation for delivering high-quality and fashionable beauty products, KylieCosmetics.com has become a go-to destination for makeup enthusiasts.
ShopMrBeast
ShopMrBeast stands out as a highly successful dropshipping store. ShopMrBeast.com is an online platform that offers a diverse range of merchandise and products associated with the popular YouTuber MrBeast.
The website showcases a vast collection of apparel, accessories, and exclusive items inspired by MrBeast's brand and philanthropic endeavors. What sets ShopMrBeast.com apart is its emphasis on quality and creativity, allowing fans and supporters to connect with MrBeast's content and mission. In addition to purchasing unique merchandise, customers can actively contribute to various charitable causes endorsed by MrBeast.
The website ensures a seamless shopping experience, featuring clear product descriptions, user-friendly navigation, and secure payment options. Serving as a central hub for MrBeast's devoted fan base, ShopMrBeast.com enables them to express their support while making a positive impact through their purchases.
Let's kick off our list of dropshipping business inspirations with a remarkable example—Gymshark. This renowned fitness clothing brand, valued at billions of dollars, started as a dropshipping business. Founder Ben Francis disclosed that in the early stages, they turned to dropshipping because they lacked the funds to keep stock on hand. However, they already had their design concepts; they entrusted the manufacturing and shipping process to others once orders were received.

If we glimpse one of Gymshark's earliest website versions, it was impressive for a 2013 site. The homepage boasted a clean layout, decent product photos, mobile optimization, and a focus on conversion optimization. However, the product pages left room for improvement. The product descriptions were minimal, lacking the necessary details for confident purchase decisions, and the absence of reviews was noticeable.
Fast forward to today, and the current Gymshark website is nothing short of perfection. Instead, it showcases its evolution and growth as a brand, embodying the essence of a successful dropshipping store.
Notebook Therapy, featured in our collection of dropshipping store examples, has garnered an impressive following of over 1.5 million on Instagram. While their primary focus is on selling journals and notebooks, they also offer a range of other items through dropshipping, including tote bags, watercolor pens, sticky notes, and more.
The store's layout is clean and straightforward, ensuring a seamless browsing experience. Upon landing on the homepage, visitors are greeted with a captivating cover image showcasing their main products in a visually appealing manner. A section highlighting trending products captures attention, while the most significant social proof element lies below an invitation to join over 1 million followers on Instagram.
The product pages showcase professionally captured photographs presented in a gallery view. Detailed descriptions accompany each item, allowing customers to make informed purchasing decisions. Customer reviews provide valuable insights, and a dedicated "Free Shipping" section outlines the availability of free tracked shipping and the estimated arrival time for different locations.
Notebook Therapy's successful blend of aesthetically pleasing visuals, compelling social proof, and informative product pages contributes to its status as a standout dropshipping store. With a strong Instagram presence and a focus on quality stationery and related products, Notebook Therapy has cultivated a loyal following and established itself as a reputable brand.
Mooshe Socks, featured in our collection of dropshipping store examples, cleverly conceals its true nature as a dropshipping site. I would have never guessed if I hadn't encountered the same socks on AliExpress.
Mooshe Socks has truly mastered the art of branding. With a beautiful logo, minimalist web design, and captivating photographs, their website exudes charm. They even offer a monthly club, adding a touch of exclusivity to their offerings. The persuasive copy on their homepage further enhances their brand image. Here's an excerpt: "Join The Family: Mooshe is a socks brand from Canada that stands. We consistently introduce one-of-a-kind designs every month, as our ultimate objective is to bring joy to our clients without inducing any financial burden. So throughout the years, we have expanded our business with this core value always in mind."
The minimalistic approach to product descriptions adopted by Mooshe Socks works incredibly well. However, one aspect that could be improved is the absence of customer reviews, which would provide valuable social proof.
Despite being a dropshipping store, Mooshe Socks presents with such finesse that its operational model remains a secret. The impeccable branding, along with the engaging website design, contributes to an exceptional user experience.
HeySilkySkin, showcased in our collection of dropshipping store examples, takes a contrasting approach to conceal its dropshipping nature while being equally effective.
Unlike the subtle and clean design of Balls, HeySilkySkin embraces a bold and vibrant aesthetic that perfectly complements its product: a laser hair removal device. Given the need for extensive social proof to assure customers of its efficacy and safety, HeySilkySkin strategically incorporates user-generated and influencer-generated content across all landing pages, including home and product pages. Furthermore, its substantial social media presence, boasting over 350k followers on Instagram, is compelling evidence of the product's legitimacy.
Start a free trial today and enjoy 3 months of Shopify for $1/month Instead of $39/month on selected plans. Sign up now
In addition to emphasizing social proof, HeySilkySkin excels in other aspects of store design and messaging. The color scheme is carefully chosen to align with the product's image, the copy is concise and impactful, and including a 90-day money-back guarantee instills confidence in potential customers.
HeySilkySkin's deliberate combination of eye-catching visuals, persuasive social proof, and well-crafted messaging successfully disguises its dropshipping model. By delivering a compelling user experience and addressing customer concerns, HeySilkySkin establishes itself as a trustworthy brand in the laser hair removal niche.
Sudden Weal, featured in our collection of dropshipping store examples, embodies the essence of an urban streetwear sneakers brand. The store's visual aesthetics align perfectly with keywords such as "urban," "streetwear," "sneakers," and "brand."
Upon exploring the store, you'll notice its brand-like appearance, which stems from well-curated hero images, thoughtfully organized collections, professionally captured photographs, and meticulously crafted product pages. These elements contribute to an overall cohesive and appealing design.
However, it's important to note that Sudden Weal's branding primarily focuses on aesthetics rather than branded shoes or compelling description copy. While the shoes may not bear a specific brand label, and the description copy may not meet expectations, the store still serves as a valuable source of design inspiration for those seeking to create an urban streetwear brand.
In summary, while Sudden Weal may lack some key aspects, such as branded products and compelling copy, it excels in visual presentation, collections, and overall design. By drawing design inspiration from Sudden Weal, entrepreneurs can create visually appealing and cohesive urban streetwear sneaker brands that resonate with their target audience.
Bring your business ideas to life for $1/month On the Shopify Platform. Click the Image Below.
Meowhiskers, featured in our collection of dropshipping store examples, is a delightful niche store catering to cat lovers. The store offers a wide range of magnetic products, including cute stationery, handbags, earrings, decorative items, cat food, and cat outfits.
Upon visiting Meowhiskers, you'll immediately notice its strong branding presence. Every aspect of the website aligns perfectly with the theme, featuring soft and captivating product photos, engaging descriptions adorned with adorable cat emojis, and an overall aesthetic that caters to the target audience.
The website design itself is remarkable. The homepage elegantly showcases various collections in a four-column grid layout, allowing visitors to explore the offerings easily. The product titles are kept minimal yet descriptive, ensuring clarity and capturing attention. Furthermore, hovering over the product images provides a delightful glimpse of multiple photos. The overall design follows a minimalist approach, contributing to a visually pleasing and user-friendly experience, both on the homepage and the product pages.
In summary, Meowhiskers delivers cat lovers a comprehensive and visually appealing experience. From its on-brand imagery and charming product descriptions to its well-designed website interface, the store sets a remarkable example for dropshippers in the niche market. Entrepreneurs seeking to create a successful dropshipping store catering to cat enthusiasts can draw inspiration from Meowhiskers' delightful approach to branding and design.
Shop Kako is an enchanting online kawaii store specializing in dropshipping a delightful array of fun and cute products. Their catalog includes women's apparel, houseware, footwear, hats, and bags.
The store's name, "Kako," embodies the essence of a summer rainbow, and this vibrant theme permeates the entire shopping experience. The product photos are thoughtfully presented within square frames adorned with curved edges, creating an appealing and playful visual aesthetic.
Each product exudes an aura of colorfulness and cuteness, captivating visitors' attention. The carefully selected font, featuring rounded edges, further complements the overall visual appeal of the store. Moreover, the light blue and pink color scheme enhances its personality, evoking a delightful and joyful ambiance.
Shop Kako effortlessly captures the essence of a summer rainbow, infusing its store with a whimsical and vibrant atmosphere. The creative presentation of product photos, the choice of font, and the carefully curated color scheme collectively contribute to an engaging and immersive shopping experience. For aspiring dropshippers seeking inspiration, Shop Kako serves as a prime example of how to create an enticing and visually captivating online store in the Kawaii niche.
Warmly featured in our collection of dropshipping store examples, it defies the typical appearance of a store. Instead, it exudes an air of premium quality, which aligns perfectly with their expensive home decor items offerings.
Warmly pays great attention to typography and utilizes high-quality photographs throughout its website. Moreover, their site is exceptionally well-structured, enhancing the overall user experience:
The homepage prominently displays various product categories at the top, allowing easy navigation.
A quick satisfaction guarantee catches your attention as you scroll down: "Love your items or return them for a full refund, no questions asked."
Each category is then highlighted in short collection sections, showcasing the range of products available.
When it comes to the product pages, Warmly continues to impress. They showcase fantastic product photos, provide informative and compelling product descriptions, include customer reviews for social proof, and maintain a clean design. However, there is room for improvement, as the vertically stacked product photos could have been better presented in a gallery view, enhancing the visual appeal.
Overall, Warmly sets an exemplary standard for dropshipping stores by crafting an elegant and sophisticated online presence.
Vertoku, featured in our collection of dropshipping store examples, specializes in chef knives. At first glance, one might consider their knives overpriced. However, upon exploring their website, the store design works its magic, convincing visitors that the price reflects the exceptional quality of a premium product.
The homepage of Vertoku captivates with its outstanding logo, professionally taken photographs, robust social proof, and strategically organized sections that create a perfect hierarchy. The product landing pages maintain the same level of excellence, offering well-written descriptions complemented by relevant visuals. Additionally, user-generated content and customer reviews are at the bottom, adding authenticity to the brand's offerings.
Now, let's compare Vertoku with another site that attempted to replicate its success, including using identical images—Hector Knives.
While both sites feature a similar image at the top of their home pages, Vertoku's presentation of the heading and their Trustpilot rating stand out prominently. Furthermore, Vertoku includes trust indicators such as free shipping on all USA orders, easy 14-day returns, and 24/7 support, which Hector Knives lacks. In addition, Vertoku strategically highlights four best sellers and two collections on the homepage, providing a clear focus for potential buyers. In contrast, Hector Knives' list of 15 products on the homepage may confuse visitors.
On the product pages, Hector Knives falls short by not incorporating customer reviews or other forms of social proof. Additionally, some may find their font size slightly smaller than ideal, although that's a minor detail.
In essence, Vertoku's store design excels at conveying value and persuading customers to trust the premium pricing of their chef knives. The meticulous attention to detail sets them apart from imitators, leaving a lasting impression on potential buyers.
BALLS, featured in our dropshipping store examples collection, may not be confirmed as a dropshipping site, but its branding prowess is undeniable. During my research, I discovered that the same product is available for a fraction of the price on Alibaba. Nevertheless, BALLS provides valuable lessons in effective branding.
As a men's grooming store, BALLS effortlessly earns a spot among our exemplary Shopify stores. It excels in every aspect:
Stunning product photographs
Impeccable typography
An appealing color palette
Strategically placed social proof
Concise and well-written product descriptions highlighting each feature
A clean and visually pleasing design
What sets BALLS apart is its distinctive and quirky copywriting style. Examples include phrases like "The best care for down there" at the top of the homepage, "Designed with your junk in mind" as a heading to describe product features, and a playful "Add to sack" call-to-action.
While we cannot confirm whether BALLS operates as a dropshipping store, its branding accomplishments are worth emulating. The combination of captivating visuals, attention-grabbing copy, and a user-friendly interface creates a memorable and engaging shopping experience.
Wallplate Warehouse is a prime example of a successful dropshipping store specializing in the decorative wall and switch plates. Despite operating in a less glamorous niche, this store has identified its market and thrives with minimal online competition. Over time, they have expanded their product range and generated millions in revenue.
What sets Wallplate Warehouse apart as a successful dropshipping store?
Unique selling point: Wallplate Warehouse is likely the sole online dropshipper specializing in wall plates, providing a niche offering that sets them apart from competitors.
Clear and simple store: While its layout is easy to navigate, it may lack a bit of visual flair or excitement.
Great SEO score: Ranking fourth in the US for the keyword 'switch plate covers,' which receives 5,300 monthly searches, demonstrates their strong search engine optimization efforts.
Free shipping: Customers enjoy free shipping on orders over $50, adding value to their purchases.
Social media following Similar to Bidet Genius, Wallplate Warehouse faces challenges in building a substantial social media following around a seemingly mundane product.
Why is Wallplate Warehouse a successful dropshipping store?
Niche expertise: Wallplate Warehouse capitalizes on an overlooked but essential niche. Every household requires wall plates, making them an essential product. The store's focus on this untapped niche provides significant opportunities in the dropshipping industry.
Extensive blog content: Wallplate Warehouse boasts an impressive blog with 20 pages and around 100 individual articles. Although writing extensively about walls may seem challenging, this substantial blog drives traffic to the site, even without a large readership.
Localized approach: Wallplate Warehouse exclusively dropships within the US due to the specific compatibility of American wall plates. Rather than being a drawback, this localized approach allows faster and simpler shipping while focusing solely on the American audience.
Wallplate Warehouse's success stems from its ability to identify and dominate a niche market, leverage comprehensive blog content, and optimize its operations for the US audience. Aspiring dropshippers can learn from their approach to identify untapped niches, create valuable content, and tailor their services to a specific target market.
Everloom Baby is a dropshipping store specializing in affordable fashion for babies and infants. Despite having a decent layout using default Shopify themes, they have implemented successful strategies to establish themselves in the industry.
What sets Everloom Baby apart as a successful dropshipping store?
Unique Selling Point: Everloom Baby focuses on offering affordable fashion items for babies and infants, catering to the needs of budget-conscious parents.
Clear and Simple Store: While the overall layout of the store is decent, it lacks a compelling design that could further enhance the user experience.
SEO Score: Everloom Baby has made significant efforts in SEO, ranking 20+ keywords at the first position on Google. This indicates a strong optimization strategy contributing to their visibility and organic traffic.
Free Shipping: Everloom Baby offers free shipping with a 1-3 week delivery time, providing an attractive incentive for customers.
Social Media Following: With 39,415 likes on Facebook, Everloom Baby has built a substantial social media following, indicating a successful presence on that platform.
What contributes to Everloom Baby's success as a dropshipping store?
Organic Traffic Growth: Unlike most dropshipping stores that heavily rely on PPC channels like Facebook Ads, Everloom Baby has achieved consistent organic traffic growth since early 2020. Their considerable SEO efforts have resulted in more keywords ranking in the top 10 on search engines, indicating effective optimization and visibility.
Everloom Baby's success can be attributed to its unique selling point of affordable fashion for babies and infants. While their store layout could be further improved, their focus on SEO has yielded positive results with high keyword rankings and organic traffic growth. Their free shipping offer and significant social media following also contribute to their success. Aspiring dropshippers can learn from Everloom Baby's emphasis on affordability, SEO optimization, and alternative marketing channels for driving traffic and achieving success in the dropshipping industry.
Dude Gadgets is a dropshipping store that caters to a general audience, offering a curated selection of innovative and cool gadgets for men. While specific peak traffic data is unavailable, they have implemented several strategies to establish themselves as a successful store.
What sets Dude Gadgets apart as a successful dropshipping store?
Unique Selling Point: Branded as "the supreme hub for uncovering the most impressive gadgets for men, carefully selected by the world's foremost authority," Dude Gadgets delivers on its promise through an extensive and innovative product curation tailored to men's interests.
Clear and Simple Store: While the overall layout of the store is decent, there is room for improvement in enhancing the user experience and design.
SEO Score: SEO is not one of Dude Gadgets' strengths, indicating where they could improve to attract more organic traffic.
Free Shipping: The availability of free shipping is not specified for Dude Gadgets.
Social Media Following: With 71,300 followers on Instagram, Dude Gadgets has established a significant social media presence, leveraging engaging content and effective content marketing strategies.
What contributes to Dude Gadgets' success as a dropshipping store?
Quick View Feature: Dude Gadgets implements a quick view option for all products on their collection page, allowing visitors to view product details without leaving the main page. This feature enhances convenience and keeps customers engaged on the site.
Impressive Instagram Following: With over 70K followers on Instagram, Dude Gadgets demonstrates a solid social media presence. By strategically combining product posts, photography posts, and memes, they effectively utilize content marketing to engage their target audience and build a loyal following.
Dude Gadgets' success can be attributed to its unique selling point, which focuses on curating a range of innovative gadgets for men. While there is room for improvement in SEO and store design, they excel in engaging their audience through the quick view feature and impressive Instagram following. By continuously refining its store and leveraging effective content marketing strategies, Dude Gadgets has positioned itself as a notable player in the dropshipping industry. Aspiring dropshippers can learn from their focus on niche curation, convenient features, and engaging social media presence.
Club Fit Wear is a remarkable Shopify dropshipping store specializing in workout clothes with printed designs. With a peak traffic of 1.1k in December 2019, they have successfully targeted the gym-going audience, particularly in the US, by offering a wide range of motivational workout clothing.
What sets Club Fit Wear apart as a successful dropshipping store?
Unique selling point: While their products may not be groundbreaking or revolutionary, their collection of printed workout clothing caters to their target audience's specific desires and motivations.
Clear and simple store: Although there are some pop-ups upon first arrival, the overall layout of the store is decent and facilitates easy navigation.
Great SEO score: Club Fit Wear ranks number 1 in the US for the search term 'strong women lift each other,' highlighting their expertise in search engine optimization.
Free shipping: Customers enjoy free shipping on all orders over $40 within the US, incentivizing bulk purchases.
Social media following: With 31,000 likes on Facebook, Club Fit Wear has successfully built a substantial following on social media platforms.
Why is Club Fit Wear a successful dropshipping store?
Extensive catalog: Club Fit Wear offers an extensive range of products, allowing customers to find workout clothes with motivational sayings that resonate with them. This flexibility contributes to their appeal and customer satisfaction.
Audience understanding: The store effectively targets middle-aged women, understanding their preferences and needs. Their strong presence on Facebook and the involvement of middle-aged ambassadors further enhance their connection with the target demographic.
Effective ambassador outreach: Club Fit Wear incentivizes its audience to showcase its products on Facebook and Instagram through cash incentives. This approach harnesses the power of happy customers as brand advocates, resulting in increased visibility and credibility for the store.
Club Fit Wear's success can be attributed to its diverse product catalog, understanding of its target audience, and strategic use of ambassadors and social media. Aspiring dropshippers can draw inspiration from their ability to offer personalized products, engage with their audience effectively, and harness the power of customer advocacy.
Aesthentials is an exemplary dropshipping store that caters to the niche of unique clothing for teenagers. With a vibrant and stylish aesthetic, they successfully capture the attention of their target audience.
What distinguishes Aesthentials as a successful dropshipping store?
Unique selling point: Aesthentials sets itself apart through original photography featuring models, creating a distinct identity that differentiates them from other stores.
Easy store: The store's fantastic design resonates with its audience, featuring large pictures, colorful displays, and gaming fonts that appeal to teenagers.
Great SEO score: Ranking first in the US for the keyword 'school girl skirts' demonstrates their effective search engine optimization efforts.
Aesthetics offers free international shipping on all orders, which customers highly appreciate.
Social media following: Aesthentials boasts around 400,000 followers across Facebook and Instagram, with YouTube as a significant referral source.
What contributes to Aesthentials' success as a dropshipping store?
Personal touch: Aesthentials has successfully created a site that doesn't feel like a typical dropshipping store. They establish a strong brand identity and unique selling proposition (USP) through exclusive photography, hand-drawn logos, and custom fonts.
Free shipping: Aesthentials offers one of the best shipping policies among the dropshipping store examples mentioned. Their commitment to providing completely free worldwide shipping, even if it impacts their profitability, is greatly appreciated by customers.
YouTube outreach: Aesthentials generates over half of its social traffic through YouTube, leveraging the platform's effectiveness in working with video influencers within the teenage market. This strategy has proven to be highly beneficial for the store.
Aesthentials' success is creating a unique brand experience through original photography, attractive store design, and a solid social media presence. By offering free shipping and utilizing YouTube influencer partnerships, they effectively engage their target audience and differentiate themselves within the competitive dropshipping industry. Aspiring dropshippers can learn from their emphasis on branding, customer experience, and strategic social media marketing.
Oddity Mall is a prime example of a successful dropshipping store specializing in unique and wacky gifts. With a peak traffic of 240k in March 2020, they have tapped into an audience seeking original and distinctive gift options for their loved ones.
What sets Oddity Mall apart as a successful dropshipping store?
Unique selling point: Oddity Mall's concept revolves around offering unique products, catering to customers who crave novelty and uniqueness.
Clear and simple store: The store's layout ensures easy navigation without overwhelming visitors with excessive distractions or aggressive advertising.
Great SEO score: Oddity Mall holds the top ranking in the US for several of its unique products, showcasing its proficiency in search engine optimization.
Free shipping: Instead of shipping products, Oddity Mall directs traffic to other companies that sell the products, allowing customers to purchase directly from those companies.
Social media following: With an impressive 3.1 million Facebook fans, Oddity Mall has built a substantial social media following, further contributing to its success.
Why is Oddity Mall a successful dropshipping store?
Viral potential: Almost everything promoted by Oddity Mall can go viral due to its quirky and one-of-a-kind nature, attracting a broad audience and generating buzz.
Exceptional gift guides and blogs: The store's comprehensive and detailed blogs, such as "unique gifts for gadget lovers" or "10 unique toasters that belong in your kitchen," drive significant organic traffic. This reduces reliance on costly paid advertisements and strengthens their online presence.
Massive social media following: With over 3.1 million Facebook fans and over 10 million unique viewers monthly on Pinterest, Oddity Mall benefits from an extensive and engaged social media audience. This substantial following dramatically contributes to the store's revenue.
Oddity Mall's success can be attributed to its focus on unique products, user-friendly website design, robust search engine optimization, strategic use of affiliate links, and the immense reach of its social media presence. Aspiring dropshippers can draw inspiration from their ability to curate viral-worthy products, create engaging content, and build a dedicated online community.
Daily Steals is a remarkable dropshipping store focusing on technology, home, and office products. With a peak traffic of 1,000,000 in October 2020, they have established themselves as a prominent player in the industry.
What distinguishes Daily Steals as a successful dropshipping store?
Unique Selling Point: Daily Steals offers premium and latest deals on a wide range of products, including electronics, phones, designer brands, home essentials, and even unique and amusing finds that customers may not have realized they needed.
Clear and Simple Store: The overall layout of the store is well-designed, immediately showcasing hot collections and the best deals with discounts of up to 70% on the homepage. This compelling presentation encourages visitors to explore further.
SEO Score: While SEO may not be their strongest suit, Daily Steals still generates 8.31% of their total traffic from organic searches.
Free Shipping: They provide free shipping within the US, enhancing the value proposition for their customers.
Social Media Following: With 185,573 likes on Facebook, Daily Steals has cultivated a substantial social media following, further expanding its reach.
What contributes to Daily Steals' success as a dropshipping store?
Consistent presentation of unique selling points: Daily Steals ensures that customers remember them as the go-to destination for great deals on technology, home essentials, and more. Prominently displaying discount badges on all products throughout the site reinforces their reputation as the best in the business.
Excellent Display Ads Performance: Daily Steals effectively leverages display ads, which account for nearly one-third of their traffic. They capitalize on this PPC channel to attract customers and reinforce their unique selling points through strategically placed and attention-catching premium deals and discounts. This combination of effective advertising and compelling offers proves to be a winning strategy.
Daily Steals' success can be attributed to its ability to deliver on its unique selling points consistently, effectively utilize display ads, and create a clear and engaging store layout. Despite their relatively lower organic search traffic, they have thrived by focusing on their strengths and providing exceptional deals and discounts to their customers. Aspiring dropshippers can learn from their emphasis on compelling offers, effective advertising channels, and a user-friendly store experience.
Until Gone is a noteworthy example of a successful dropshipping store specializing in daily deals. With a peak traffic of 13.2k in October 2018, their entire approach revolves around leveraging the psychology of FOMO (fear of missing out) to create a sense of urgency and drive impulse purchases.
What distinguishes Until Gone as a successful dropshipping store?
Unique selling point: Until Gone excels at encouraging customers to act in the spur of the moment by presenting limited-time offers and emphasizing the exclusivity of the deals.
Clear and simple store: While the design is straightforward, the store's layout is clear and user-friendly, ensuring a seamless browsing experience.
Great SEO score: Until Gone secures the top ranking in the US for the keyword 'until gone,' which receives 5,300 monthly searches in America alone. This demonstrates their robust search engine optimization.
Free shipping: Customers enjoy free shipping on orders over $25, adding value to their purchase.
Social media following: Until Gone boasts a following of 20,000 Facebook fans, although social media channels contribute just 0.5% of its overall traffic.
Why is Until Gone a successful dropshipping store?
Trust building: Recognizing that customers may have trust concerns when prompted to make immediate purchases, Until Gone highlights its positive TrustPilot rating and provides warranties on all goods, instilling confidence in their customers.
Customer retention: To encourage repeat purchases, Until Gone implements a loyalty program that offers exclusive coupons and up to 3% cashback, fostering customer loyalty and incentivizing future transactions.
Balanced approach: Unlike some daily deal stores that can come across as overly pushy, Until Gone maintains a pleasing design with clear spacing that empowers customers to make independent decisions, avoiding excessive pressure tactics.
Until Gone's success can be attributed to its ability to capitalize on the FOMO psychology, offer clear and simple shopping experiences, excel in search engine rankings, provide value-added services such as free shipping and warranties, build trust through customer reviews, and implement effective customer retention strategies. Aspiring dropshippers can draw inspiration from their approach to create a sense of urgency, prioritize user experience, optimize search engines, and foster long-term customer relationships.
Modelones is a successful dropshipping store specializing in beautiful and affordable nail products, including nail powder, kits, and gels. While their website layout may leave something to be desired with its bold text and hot colors, they have established key strategies that contribute to their success.
What sets Modelones apart as a successful dropshipping store?
Unique Selling Point: Modelones' unique selling point lies in offering beautiful and affordable nail products, catering to the needs of nail enthusiasts.
Clear and Simple Store: Although the website layout may appear crammed to some visitors due to the overt use of bold text and hot colors, it maintains simplicity and clarity in presenting its products.
SEO Score: Modelones focuses on SEO optimization, with 35.7% of outsider total traffic coming from organic search. This indicates their efforts to improve visibility and attract organic traffic through search engine rankings.
Free Shipping: Modelones offers free shipping to customers in the US and UK for orders over $40, providing an appealing incentive for potential buyers.
Social Media Following: With 177,114 likes on Facebook and an active Amazon Modelones Facebook group with 7,302 members, Modelones has built a substantial social media following its successful presence on these platforms.
What contributes to Modelones' success as a dropshipping store?
Facebook Community: Modelones has cultivated its Facebook community with over 7,000 active members. This loyal customer base enables them to leverage word-of-mouth marketing and create a sense of community around their brand.
Excellent Social Media Marketing: Modelones has established a strong presence on various popular social media platforms, as evidenced by 34.39% of its total traffic from social media channels. Their compelling social media marketing efforts increase brand visibility and customer engagement.
Modelones' success as a dropshipping store can be attributed to their focus on beautiful and affordable nail products, dedication to SEO optimization, and the ability to build an engaged Facebook community. Additionally, their strong presence on social media platforms further enhances their visibility and drives traffic to their store. Aspiring dropshippers can learn from Modelones' strategies in niche-specific product offerings, SEO optimization, and leveraging social media to create a dedicated customer base.
Read Also:
Key Takeaways
In conclusion, beating the competition in dropshipping requires a strategic approach focusing on niche selection, unique value propositions, effective marketing, and continuous optimization. While there is no one-size-fits-all answer to the most successful dropshipping products, popular categories such as fashion, beauty, electronics, and home decor have demonstrated consistent success.
The dropshipping business model exemplifies a streamlined process where the seller doesn't hold inventory and relies on suppliers to fulfill orders. To find successful dropshipping stores, conduct thorough research, analyze competitors, seek recommendations, and stay updated with industry trends.
Remember, success in dropshipping is multifaceted and requires adaptability. By incorporating the insights from the best dropshipping store examples, you can position yourself for success. Now is the time to take action, start your dropshipping venture, and carve out your place in this thriving industry.
Have you identified a niche and taken the first steps toward creating your successful dropshipping store?
FAQs
How do you beat competition in dropshipping?
To beat competition in dropshipping, it's consequential to focus on several key strategies:
Niche selection: Find a specific product category or target audience with less competition and high demand.
Unique value proposition: Differentiate yourself by offering unique products, superior customer service, competitive pricing, or faster shipping times.
Marketing and branding: Develop a strong brand identity and implement effective marketing strategies to reach your target audience and build customer loyalty.
Continuous optimization: Regularly analyze and optimize your store, product selection, pricing, and marketing campaigns to stay ahead of the competition.
What dropshipping products are most successful?
The success of dropshipping products can vary depending on market trends and consumer preferences. However, some product categories that have shown consistent success in dropshipping include the following:
Fashion and accessories
Beauty and skincare
Home decor and furnishings
Electronics and gadgets
Health and fitness equipment
Baby and children's products Ultimately, the success of a product depends on factors such as quality, uniqueness, target audience demand, and effective marketing.
What is an example of a dropshipping business model?
An example of a dropshipping business model is as follows:
The dropshipper creates an online store and lists products from suppliers without holding inventory.
When a customer places an order at the dropshipper's store, the order and customer details are forwarded to the supplier.
The supplier processes and ships the product directly to the customer on behalf of the dropshipper.
The dropshipper earns a profit by charging a markup on the product price, covering the wholesale cost from the supplier and other expenses.
How do I find a successful dropshipping store?
To find a successful dropshipping store, consider the following steps:
Research popular marketplaces and platforms: Explore Shopify, AliExpress, and Oberlo to discover successful dropshipping stores.
Analyze competitors: Study the top-performing stores in your niche and identify their strengths, such as product selection, branding, customer engagement, and marketing strategies.
Look for indicators of success: Check for positive customer reviews, high website traffic, active social media presence, and strong sales performance.
Seek recommendations: Engage with online communities, forums, and social media groups related to dropshipping to ask for recommendations on successful stores.
Stay updated: Monitor industry news, trends, and success stories to find emerging or profitable niches and stores.
Small Request
Kindly share it with your friends. Especially the ones you believe need this information. Sign Up Now and Get your first 3 months for only $1 monthly.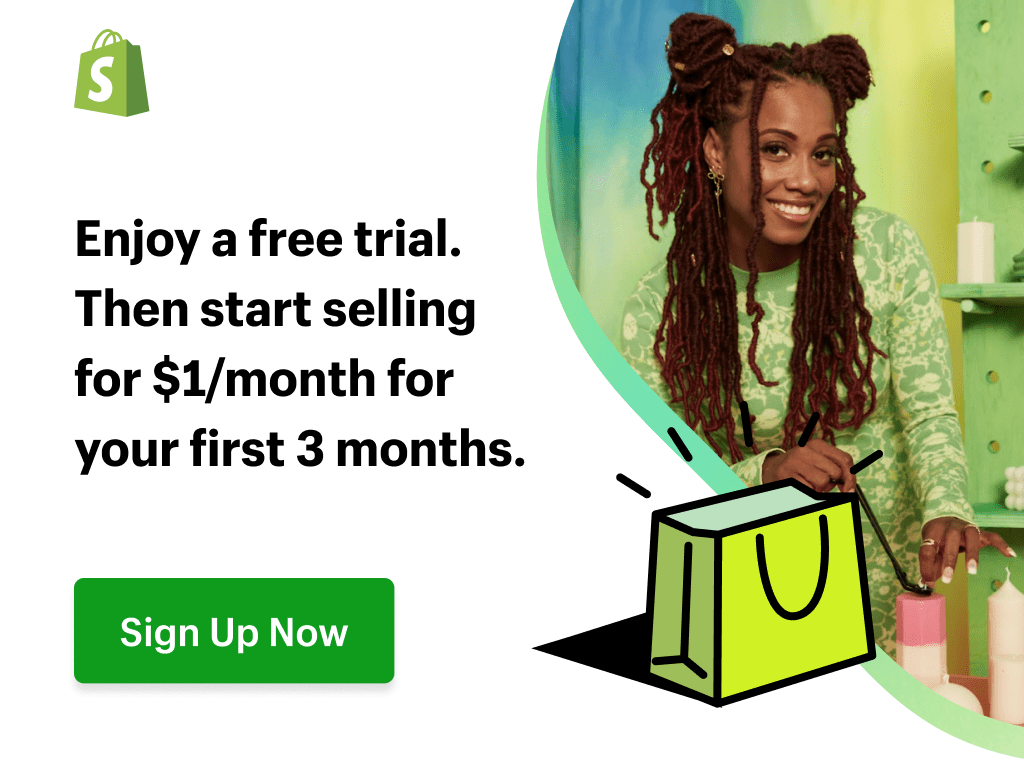 Sharing this information with others can make a huge difference. You may ask why.
Well, the truth is, my main aim is to provide the best information about drop shipping for both beginners and experienced dropshippers.
And I plan to continue doing so for as long as I can.
I would also like to thank those who support my work by reading and sharing my content.
Trust me, when you take your time and share, it will greatly help me and others needing this information.
Here are some great suggestions:
Pin it
Share it on another blog.
Share on Facebook (Share it with friends and even on Facebook groups)
Tweet it
Stumble it
This will only take a few seconds of your time, and I would appreciate it.
I appreciate you a lot. Thank you!
Join my Shopify dropshipping group mastermind and follow my blog to learn more about Shopify tips, dropshipping guides, tricks and checklists, and e-commerce in general.
If you enjoyed and learned something from this post, you can get me updates for free!
I send out email newsletters about new posts published on the blog, tips and tricks to help you grow your dropshipping business, new YouTube videos to give you more insights about the e-commerce market, and much more.
If you enjoyed reading this, you could as well join my Facebook group. Thank you for reading how to make money dropshipping online from the comfort of your home.
Click here to Join My Facebook Mastermind Group