How To Dropship Shark Tank Products On Shopify Store
You can call me Mr wonderful As Kevin O' Leary would put it. In this post, I am going to show you how to dropship shark tank products and how you can be profitable before a product is saturated.
If you love entrepreneurship, then I believe you have come across the famous reality tv show for entrepreneurs dubbed shark tank.
In the show, startups and serial entrepreneurs pitch their business ideas to the investor's "sharks' with objectives of getting investments .
This show stands out since most of the products featured are unique and new; hence the idea of how you can dropship shark tank products came into play.
The show has help startups launch successful businesses and an increase in sales. The sharks not only invest but become part of the company and help with mentorship and running the business.
Why Dropship shark tank products?
As earlier said, the products featured in this show are either new, rare to find anywhere or have wow factor.
The show also boosts product popularity, making it easy to target with ads.
There are high chances to be among the few sellers drop shipping the product when it is still new and has low competition in the market.
Sign up for a free trial and enjoy 3 months of Shopify for $1/month on Select Plans.
How to Start the process
The catch is to keep up with every episode of the shark tank. It is how you will identify a potential product to test in your Shopify store.
If you haven't watched shark tank show, do so to grasp the idea of what I am talking about.
To start, you need a Shopify store; if you don't have one consider sign up here for 14 days free trial.
I assume you have a shop already, and you know how to use Aliexpress and Dsers dropshipping app.
Just a few days ago, I watched the latest episode of shark tank season 11, and two budding entrepreneurs appeared in the show as a drop shipper.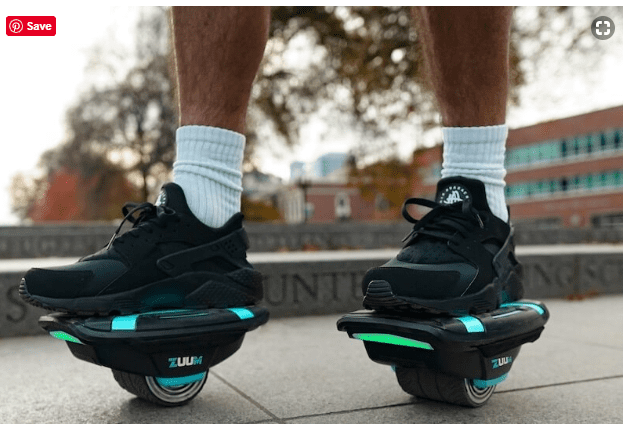 They identified a hover shoe on Aliexpress, branded it as Zuum, and presented it on the show. The product idea was great, but the only challenge faced has they never owned the product or had rights to the products, which means everyone can do the same thing they did.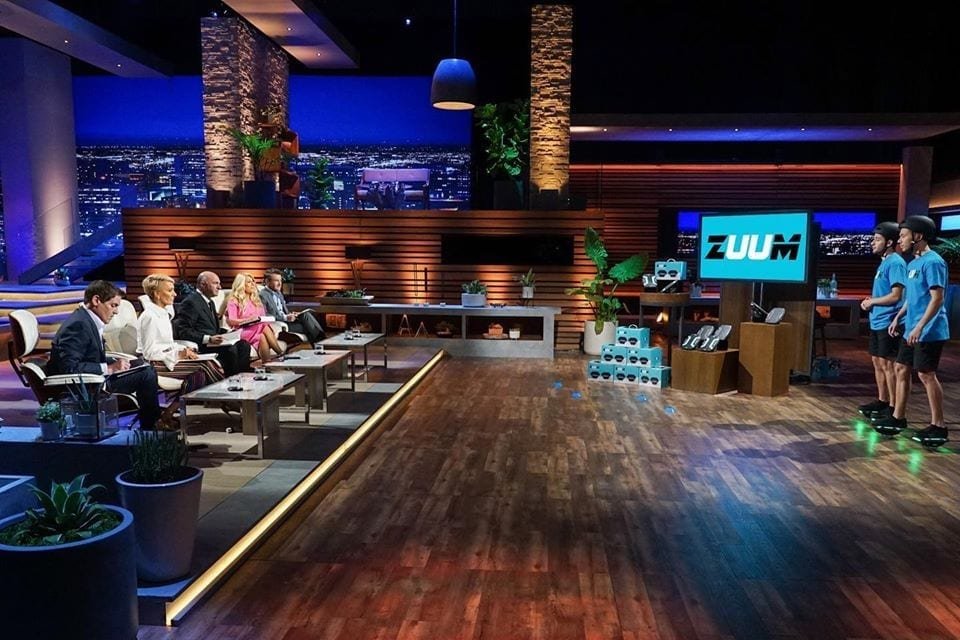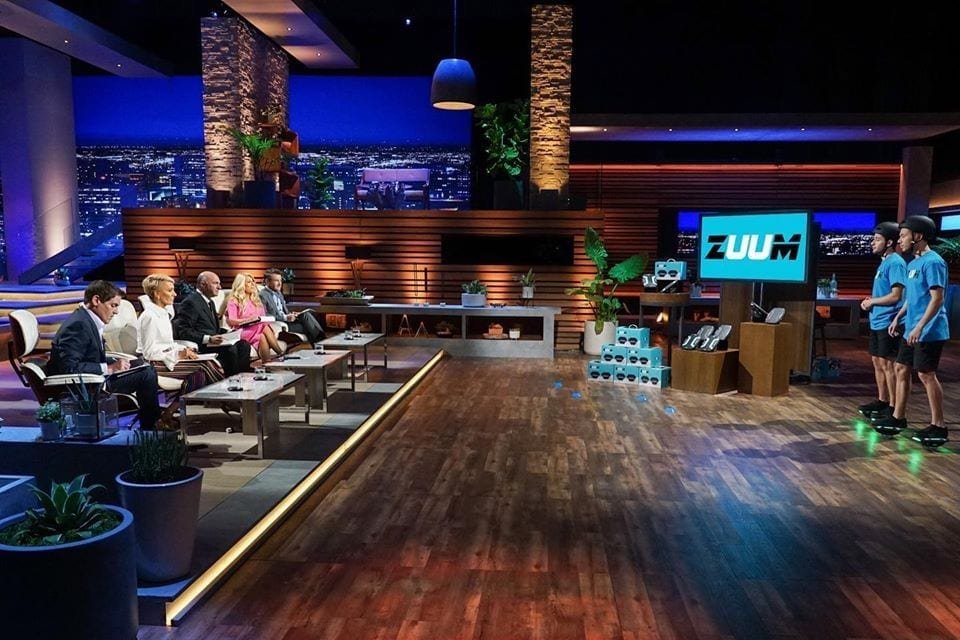 But the idea is, if they did that, you too could do it.
As you can see, the shoe sold on Aliexpress; the only difference with theirs is just the branding.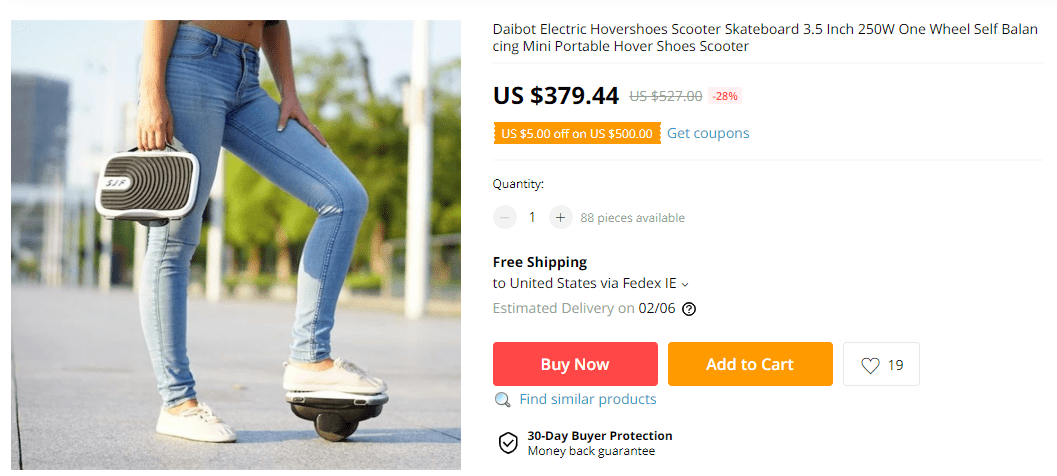 But that is beside the point, watching the show, identify a product based on the following factors:
Must have a wow factor

Low in competition

High in demand

Solves a problem or offer a solution
The right product on the shark tank has the potential to scale and make millions, but not every product on the shark tank show can be dropshipped or found easily on the web apart from the original manufacturer.
For instance, in season 11, a startup eCommerce company presented its pitch as a wise pocket, which was specialized in designing pockets in women's leggings and socks.
As you can see, the below product solves an issue for work out enthusiasts who can't do without their phones.
This pocket legging helps them carry their phone to whatever exercise they are involved in.
Finding the product on Aliexpress
Now here is the catch, you are to go to Aliepxress and type a similar keyword related to the product you just watched launch don the show.
This must not be their original product, but a variant or similar to the one featured on the show.
So I just went to Aliexpres and type pocket leggings, and as you can see, there is a product that serves the same purpose as the one featured on Aliexpress.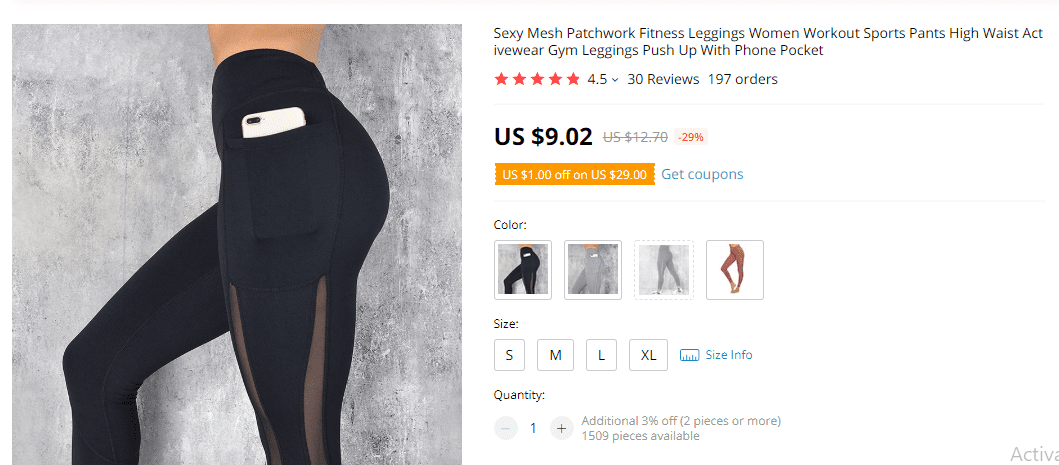 Now you ask yourself how comes the product is on Aliexpress.
Let me explain this to you:
Its either the startup's companies on Shark tank borrowed the idea from Aliexpres and branded it to fit their market and consumers.

The suppliers on Aliexpress are keen on trends and entrepreneurship Tv shows like the shark tank, and they gather product deads and produce similar products a the one launched but avoid infringing rights by not having anything to do with the company that launched the product on the Tv show.
So you will find similar products but with different branding and even different materials used.
Targetting and product pricing
Now that you've imported the product to your shop, the number of products you want depends on how far you willing to research and look for a look-alike product or similar product as featured on the show.
It is time to take you through how to do your pricing and targetting to reach your market.
If the pocket legging product was presented to be $19.99 retail price on the show, then you must go that price below to at least $17.99.
The reason for lowering your price is simply logical; millions of the show lovers have been exposed to the product and the official website for only y$19.99.
The only way to catch their attention is to have a similar product at a much lower price than the one they just watched.
As we all aware by now I assume you have a killer product page, upsell, and cross-sales set up and ready to launch your first ad.
I would suggest you target QBC as you aware Lori Greiner, also known as the queen of QBC, helps most of her startups get featured in the show.
It is obvious most products see the light of the day at QBC and relates to the shark tank.
A customer who watches the show must have watched Lori on QBC and is likely to buy a product they just watched on Shark tank at a lower price.
You can either do image carousel ads, image ads or just video ads as long as there are your creatives designed by you.
What are the risks involved in dropshipping shark tank products?
When it comes to dropshipping business, they are a few risks involved since you are not in control of the product production or handling the shipping.
Now since we are dropshipping products from shark tanks, some of these products are trademarked and are pattened; hence using some images or video content can have your Facebook business account banned.
So you have to create new content for your marketing without copying or infringing on the content rights of the original creators.
You may also face low conversion if you are running ads on alow budget; this is because the original creators or startups maybe be spending much on ads compared to your store; hence you may struggle on conversions.
A video is easy to create, and you can either hire a freelancer on Fiverr for as low as $5 per 30 seconds video length or you ship the product ad make your own video.
So yes, you can dropship shark tank products, and you can either make a one-product store or a general store or just a niche based Shopify store around the shark tank products.
You can extend this research by watching all episodes of shark tank; they have shark tank shows in few countries, create time to watch all of their shows, and also watch The Lion's den too.
The best way to go through all the products that have appeared on the show is to check out this website that features all the products based on episodes, categories and also videos. Check out all shark tank products.
Do you have a question in regard to this post?
Kindly comment below and follow me on Instagram.
If you want to start a dropshipping business, start on signing up on Shopify for 14 days free trial and install the booster theme. it is one of the best Shopify themes that combines all the premium functions offered by third-party apps at a fee.
Small Request
Kindly share it with your friends. Especially the ones you believe need this information. Sign Up Now and Get your first 3 months for only $1 monthly.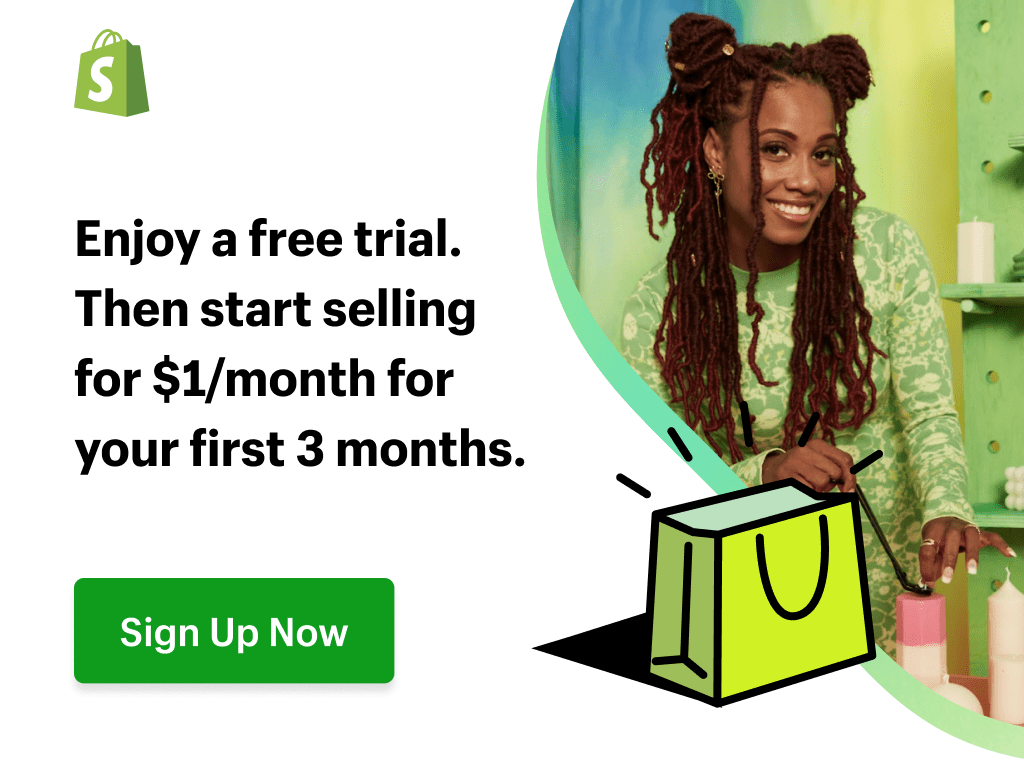 Sharing this information with others can make a huge difference. You may ask why.
Well, the truth is, my main aim is to provide the best information about drop shipping for both beginners and experienced dropshippers.
And I plan to continue doing so for as long as I can.
I would also like to thank those who support my work by reading and sharing my content.
Trust me, when you take your time and share, it will greatly help me and others needing this information.
Here are some great suggestions:
Pin it
Share it on another blog.
Share on Facebook (Share it with friends and even on Facebook groups)
Tweet it
Stumble it
This will only take a few seconds of your time, and I would appreciate it.
I appreciate you a lot. Thank you!
Join my Shopify dropshipping group mastermind and follow my blog to learn more about Shopify tips, dropshipping guides, tricks and checklists, and e-commerce in general.
If you enjoyed and learned something from this post, you can get me updates for free!
I send out email newsletters about new posts published on the blog, tips and tricks to help you grow your dropshipping business, new YouTube videos to give you more insights about the e-commerce market, and much more.
If you enjoyed reading this, you could as well join my Facebook group. Thank you for reading how to make money dropshipping online from the comfort of your home.
Click here to Join My Facebook Mastermind Group