How To Find A Great Dropshipping Supplier For Shopify
You must find a great Dropshipping supplier because if you don't have the right supplier, you'll have whacky products, and your store will suck to the point of pissing off your customers.
You don't want that to happen.
That be the case, I'll show you, drawing from my many years of speaking to hundreds or even thousands of suppliers at this stage, how to find the best dropshipping supplier, the best websites to find them.
Importantly, I'll share a personal Branded Dropshipping supplier template that I've used for all of my successful stores.
I developed the template drawing from my previous experience at selling so, I wrote up a supplier template that I always use but of importance is that you can adapt it to Shopify, and I'll give it to you free of charge.
So, I hope you get some serious value from it and an incredible Dropshipping supplier!
You can use the template to contact the suppliers key points to remember; don't forget you'll need to either use Alibaba or AliExpress when contacting suppliers.
Now, I'd suggest that you use Alibaba.
Finding Alibaba Dropshipping Supplier
Always try and use Alibaba for most of the products that you search for. Let's say you want a particular item.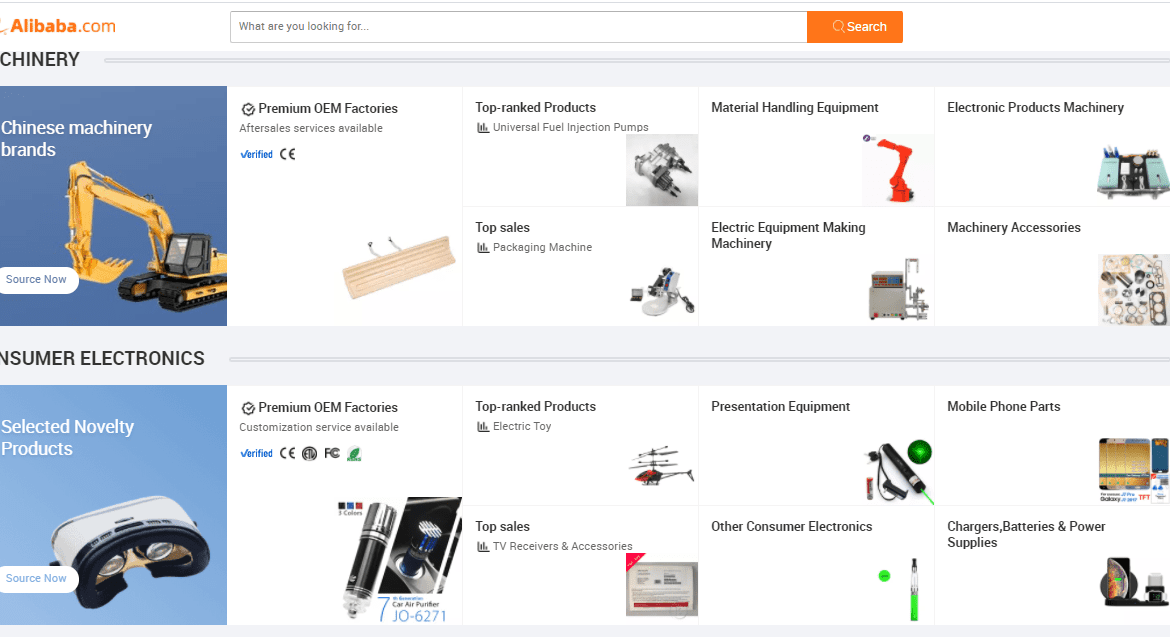 You'll likely find it on Alibaba and miss it on AliExpress. And that could arise simply because AliExpress has a bunch of lower quality gimmicky products, I suppose, based on my experience.
As such, you want to ensure that the suppliers that you contact:
They are raking in millions in sales revenue annually. You'll learn how to look at that here.
Have been in business for a minimum period of two years.
Contact at least 3-5 Dropshipping suppliers because if you contact only one supplier means you won't have any reference point in pricing.
If you fail to reach out to multiple dropshipping suppliers, you'll negate your negotiation powers because you lack information regarding the accurate prices for a particular product, for example.
You can't tell whether it's a fair deal or a ripoff or if we're getting by contacting only one supplier.
Manufacturers vs. Traders
Also, we'll look into the difference between manufacturers and Traders. It would help if you appreciated the difference.
The data in this area online is rare in this, and that's for sure. Contact the manufacturer instead of a trader; understanding the difference affords you an edge.
Branded Dropshipping Supplier Template
For the template, use it when contacting dropshipping suppliers on Alibaba or AliExpress and edit all the fields where you have to fill in your brand name, company name, etc.
You can make a few tweaks like, for example, where you find an italic letter, you want to change that.
Also, where I put my name is Samwel, make sure you change that lest you risk looking like a clown to the Dropshipping Supplier.
Because you want the supplier to take you seriously, you want to come across much more significant than you are and look the part.
Make it seem like you're already established, and therefore, you can't tell the Dropshipping supplier stuff like
Hey, I'm just a guy or a girl trying to venture into the Dropshipping business.
And if the supplier sort of asks for your website and stuff, you can say it's under development or like we're redeveloping right now.
You can make up a brand name for the company name and not necessarily the final name you'll use.
You can always say something along the line of Hey, this is our brand name.
It counts for less, again, there's a language barrier anyway, so in our case here, our store specializes in selling Category of products.
Indicate the Category or the niche. You want to underscore that you look to establish a long-term business relationship with the company.
Often, Chinese suppliers focus on establishing a long-term business relationship.
Usually, what that means is that suppliers, like the ones you'll contact on Alibaba, won't Dropship.
They won't start Dropshipping with most of their orders. As such, emphasize your interest in creating long-term relations. That way, you start on a good note.
That's perfect since the dropshipping supplier will want to start Dropshipping because subsequently, they know that you'll start ordering inventory in thousands of units, and that's where the suppliers make money.
You can frame your questions using the template's format as follows, for example:
Before proceeding, we have a few questions we were hoping you could answer:
Do you offer Blind Dropshipping – or without sending an invoice and any associated marketing materials, including in or on the packaging?
So, the last thing you want is your customer receiving a product that they paid $40 for on your store, then what they get is a product that has Chinese marketing materials worse still, it has the invoice indicating that you paid $3 for it.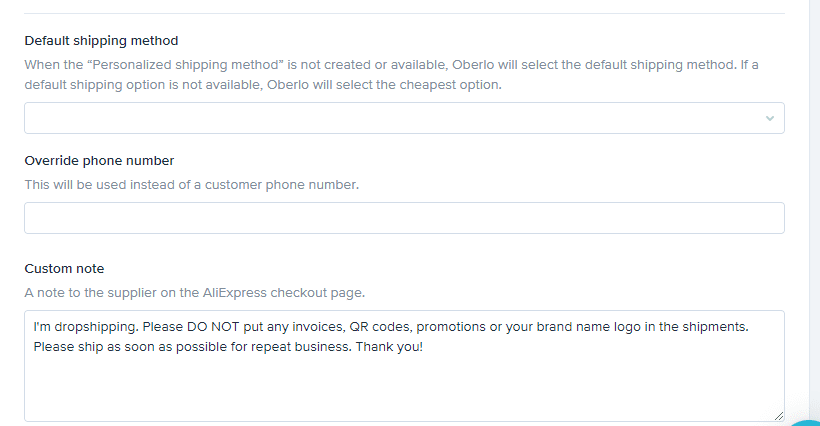 Undoubtedly, they'll get pissed off, and that's what's called Blind Dropshipping.
Some of the suppliers don't know what it is, as such, explain to them what it is later on when you get to chat them.
Do you offer Bulk Dropshipping? – our store's current selling volume is too large to place orders individually. For Bulk Dropshipping, what that means you'll send them an Excel sheet of the orders. You can easily get that from Shopify, and I'll show you how to do that.
You can do that once daily or even once every two days. Send them your order sheets, and they'll proceed to individually fulfill each order, which then ships straight to your customer. You won't have to ship & package anything. It works great.
Do you have a MOQ (Minimum Order Quantity) required for any of your products? You need to know if they have a MOQ for any of the products. And crucially, enquire if it's possible to apply your company's logo on the products. You always want to try to get your logo on the product, whether it's dropshipping or not.
They're times they'll agree, if you want the logo, usually you need to meet the 50-100 MOQ, well, it's just how the printing system works. As such, try negotiating downwards, and to achieve that, you can say something along the lines;
"Hey, we're doing a test, and that's why we can't order the MOQ right now, but if you can print the logo on the product and dropship, then we'll sure order thousands of units." This way, the dropshipping suppliers will be more willing to transact with you.
And to help you explain to them how you'll do it, you can draft as follows:
Our company would like to send you an Excel Spreadsheet (CSV) file with each customer's info (full name, email, address, product, etc.) and have you process each order individually by sending each customer their ordered product.
Usually, they'd send you a complete invoice, and you'd readily pay via PayPal or Wire transfer.
I prefer I would recommend PayPal. However, if you have a reputable dropshipper supplier and perhaps have sort of already established a good relation, then Wire is excellent.
I highly advise you to communicate with the dropshipping supplier via WhatsApp because the other AliExpress & Alibaba text platforms are incredibly unresponsive.
Honestly, it could take days to negotiate a fair price, whereas the same negotiations via WhatsApp might take way-shorter time.
And so, at the bottom, ensure that you put in your company name, WhatsApp number and it can read as follows:
Please let us know if you are interested in forging this mutually beneficial, long-term business relationship with us.
Please add us on WhatsApp and promptly send us a message via (provide your WhatsApp Number).
We look forward to doing business with you for many years to come.
Sincerely, (Provide your Company Name).
Exemplar: Finding An Item on AliExpress
Alright, we'll proceed to AliExpress and go over how you can find; in this case, we'll use the Supreme selfie stick. You'll sure find great looking stores.
If you head over to AliExpress, first, in search area enter, let's say, Flexible Selfie Stick then hit enter.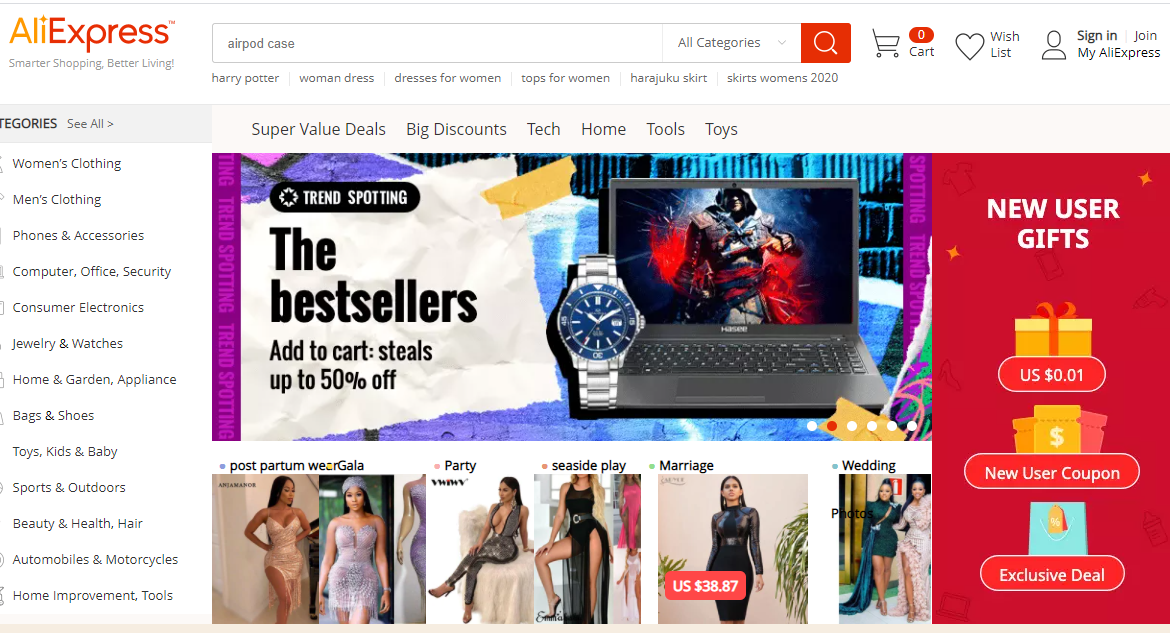 You'll have your search results returned in no time. Although you're likely to find impressive selfie sticks, the problem is that the item might prove too expensive at times.
Again, that's subjective.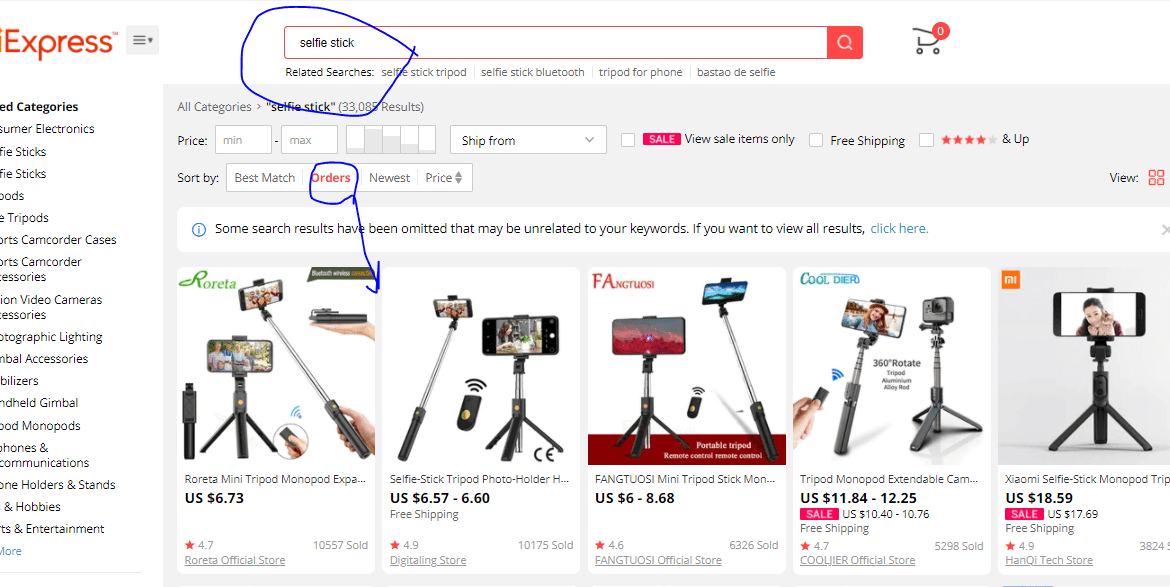 Either way, the product shouldn't be that expensive. A look at the wide range of prices, and you can tell that possibly.
The prices come from traders in China. Folks who most likely are sat on their computer, essentially cutting deals between factories.
And there are lots of people like us trying to launch a dropshipping business, and so, this is a ripoff, I mean there are scenarios where you'd even buy orders, and not find. We want to avoid that.
When you find a dropshipping supplier and find them authentic, click on the product page on AliExpress, and you don't want to do what everyone else does.
I mean, folks, they click on, whatever like Norway, China, color and then Buy Now or use Oberlo-a free app to copy-paste the product to their store.
You don't want to do that. You want to contact the suppliers and have them put your logo on the product. And that's just about Branded Dropshipping.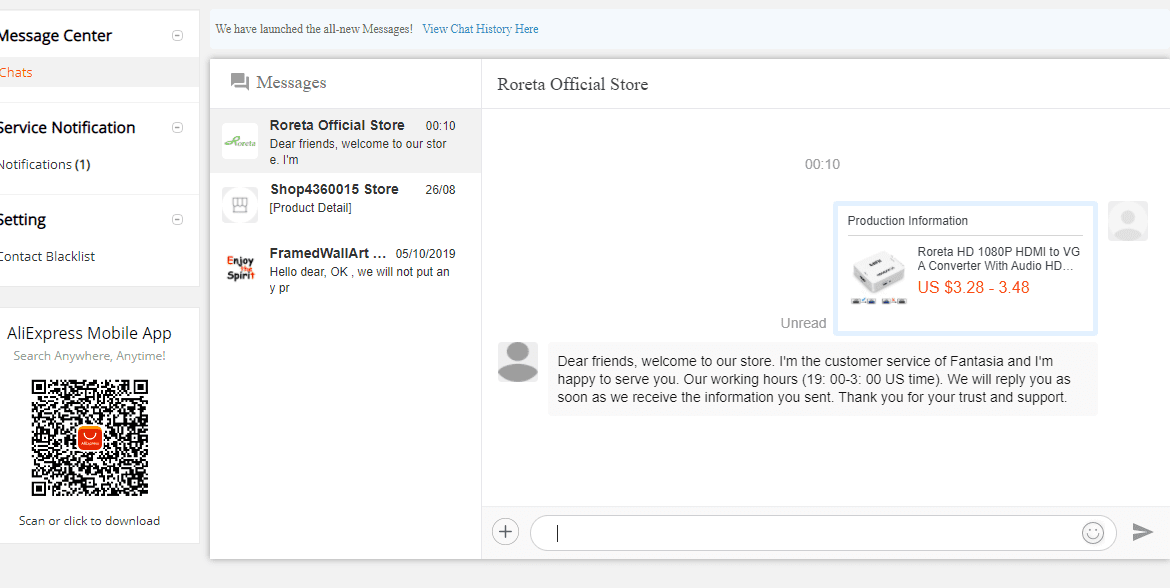 Rest assured, you cannot build a successful long-term store by Dropshipping a gimmicky product without a logo. It can be a great product, but only if a reliable brand backs it.
So, right at the top of the product page, you can go and click Contact Now. It's here you'll copy-paste the template. Ensure that you edit the names and stuff.
Don't put in the title. Don't put a template. You must remember that. Copy-paste the template, key-in your WhatsApp number, and all the stuff we've discussed.
Exemplar: Finding An Item on Alibaba
I've shown you AliExpress. However, I prefer going over to Alibaba. I have more experience with the site, and you'd find a lot of incredible products from here and much better and overall, such amazing suppliers.
Like you can order a new product, and within a week, your suppliers are already asking for your links to your product page to check whether you put in the proper instructions, the right descriptions because they want to make sure that you sell; if you sell, that means that will translate to you putting in more orders.
That way, they make more money, you all make more money, win-win. That makes Alibaba a fantastic spot.
For Alibaba, we'll still use the Flexible Selfie Stick as our search item. So, type in a flexible selfie stick. Trust me; this method works the best way for branded Dropshipping.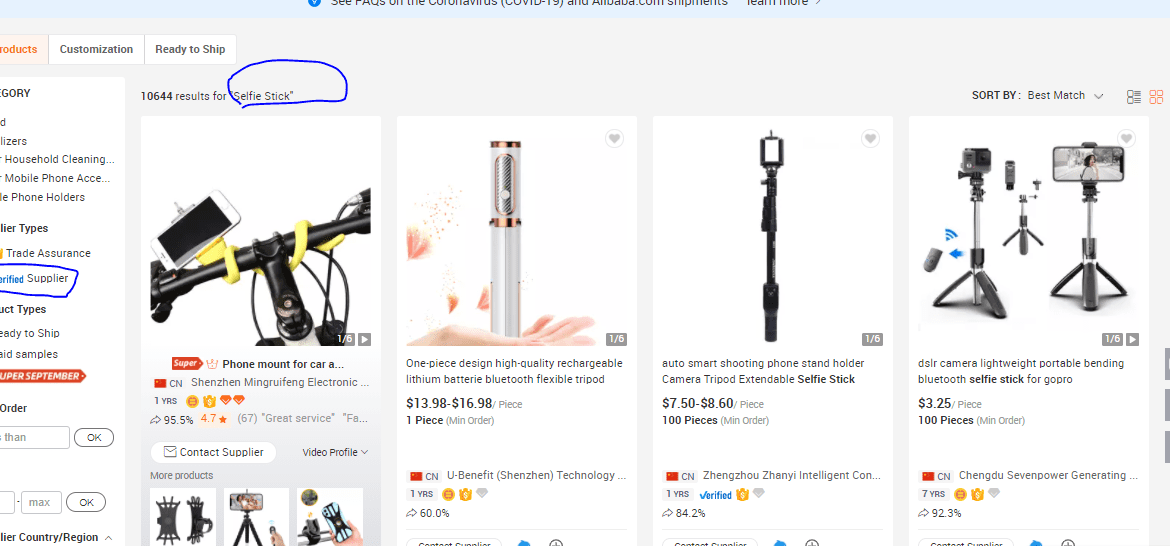 The thing with search results is that you'd need to dig a bit, sometimes the products are not one but not the other, but you'll sure find the product, flexible selfie stick.
First, always ascertain Verified Supplier. Verified supplier compares to a program through which Alibaba vets and inspects to confirm the supplier's authenticity.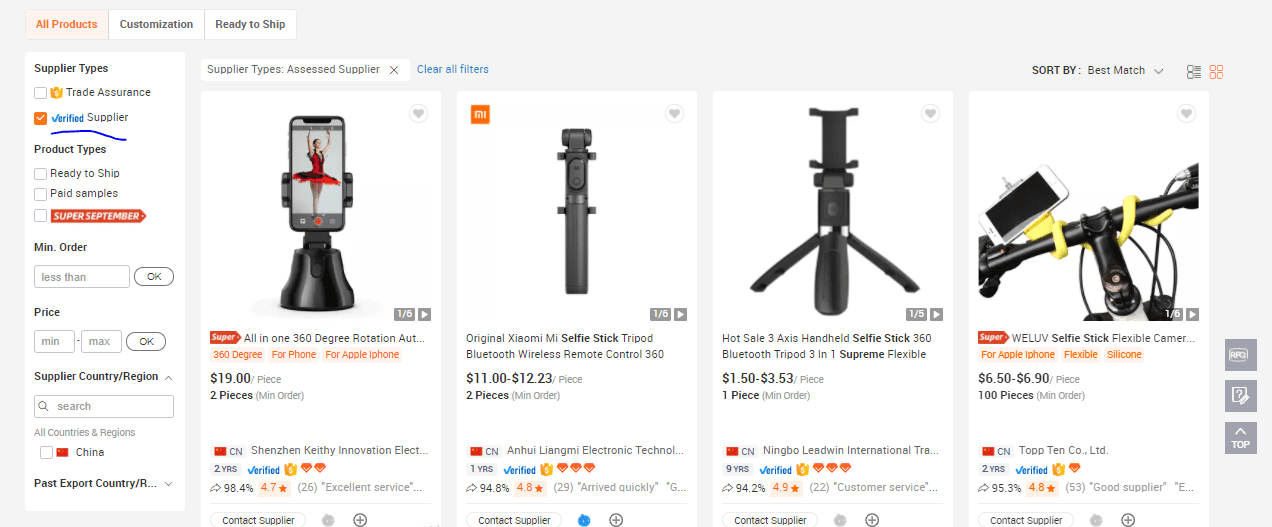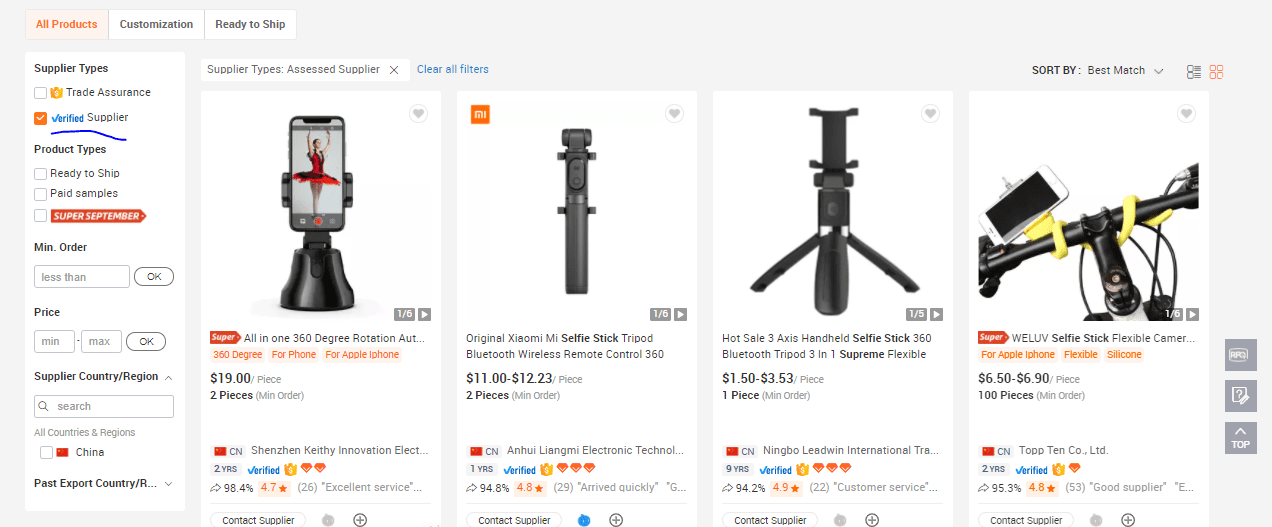 However, because the dropshipper supplier isn't a verified supplier doesn't mean that they don't fit the bill.
If it's more problematic to get the product, in this selfie stick, you can try and tweak like the name, let's say like monopod monkey holder, cool flexible selfie stick, or something guess.
If you find it or get stuff that closely resembles, you can check out the supplier.
Reach out; they'll perhaps find you a better model.
And that means that you don't have to buy the item that exactly resembles your products of choice.
That's why Alibaba is incredible because you have a much higher chance of contacting the factory than traders who make money off you on AliExpress.
In our case, you'd readily notice lower prices.
Sometimes you'd find the same product on Alibaba except that it's presented differently on AliExpress.
That be the case, proceed and hit Contact Dropshipper Supplier, in the order quantity field, put in your quantity and by the way, even for dropshipping, put in 1000 for quantity.
There isn't any supplier who'd see a 1000 quantity message & fail to act on it asap. That's bankable.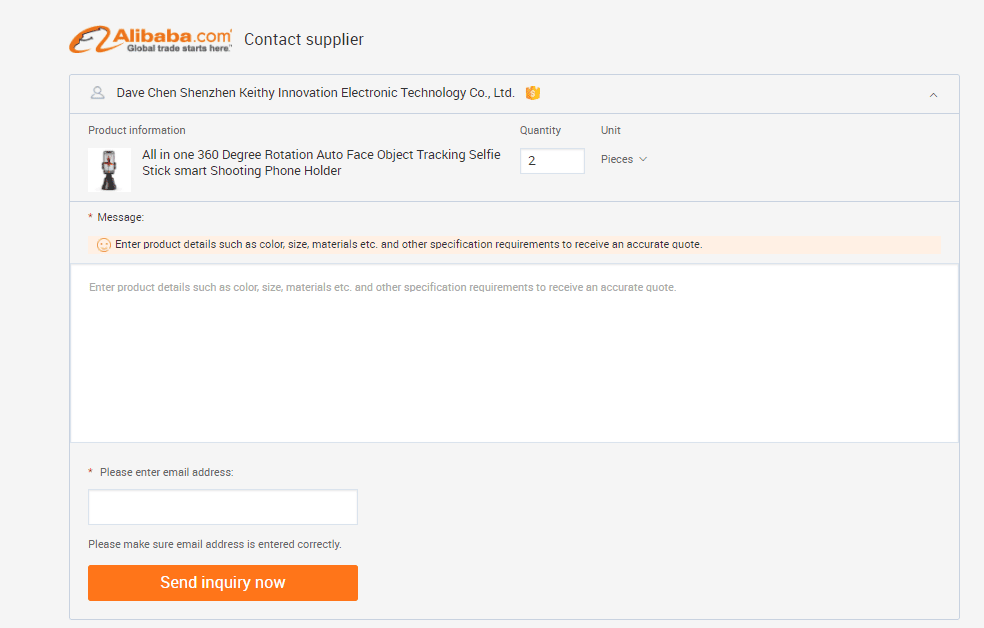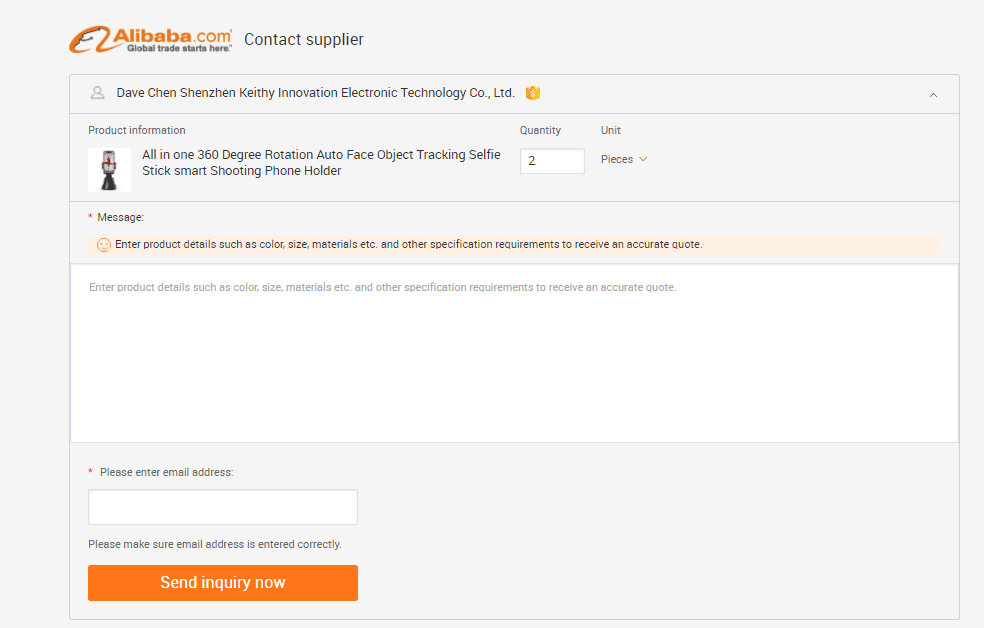 Then copy-paste our dropshipping supplier template without the title, remember.
Also, ensure that you edit the name, the company name, and stuff. To send an inquiry, leave the shipment agreement checked and then hit send inquiry.
And when you check out the supplier you'd opt to transact with, and it turns out that the Dropshipping Supplier has say, three years in business then bingo, mind you, I recommend at least two years.
One year can work, but you'd have to dig beneath their profile.
For this tutorial, let's use the supplier with three years under its belt. If you click on them, let's hypothesize you figure out that the suppliers base in Shenzhen.
Shenzhen is renowned for electronics, phone accessories, and stuff like Bluetooth. As such, a lot of suppliers come from Shenzhen.
You get to see the year they were established, how many employees they have.
For transactions, sometimes suppliers won't put it up, but for our case here, our Shenzhen based Dropshipping Supplier posts a total annual revenue in the millions.
They even got pictures of their factory. Sometimes the suppliers do not use their real photos, but if you get reasonable pricing, it's all that counts, right?
As soon as you contact the dropshipping suppliers, get them on WhatsApp, negotiate with them and see which one offers the best pricing and the one you can negotiate the price down in this regard, it doesn't matter whether they're traders or a factory.
Alibaba & Branded Dropshipping
Ordinarily, the factory offers you a better price. That said, you'd perhaps ask, "Alright, if we use Alibaba to find a product for the Branded Dropshipping business model, how then can I put it on my store?"
Well, that's a valid question at the same time, very simple, and I'll show you.
So, let's make it clear, you don't need Oberlo to copy-paste stuff from AliExpress or any of that.
You'd have to proceed to a sales page, manually add your pictures, and add your own sales tax.
That's how you leverage Alibaba for Branded Dropshipping business. And create.
That right now, as we move into the actual design and building of the Shopify store.
ePacket
ePacket delivery is the trade agreement between China and the US, although lately, trade relations have sort of soured largely due Trade Wars but fuss not because the trade wars haven't impacted our line of trade globally in any way.
Remember that about 99% of products come from China. That can only mean had the soured trade relations adversely impacted global trade; the domino effects would not only affect our line of trade but businesses across the board.
You'd do incredibly better by tuning out all the doom news and articles instead of focusing on what's important. That's doing your first profitable online business with Dropshipping, with Branded Dropshipping.
So, briefly, ePacket is a slightly faster method shipment from China. Instead of it taking 4-weeks, it might take 2-3 weeks to reach the customer.
Now, for Branded dropshipping, you may want to try to ask them for DHL shipping.
As such, they'll ship via DHL; although it costs more, it's faster that way, taking 3-5days from China.
Ultimately, you must move on to Branded private labeling on your store; that's how you build a multi-7 figure store that sets you up for life.
Setting Up Your Shopify Store
Now, in this next part, we'll look into how to set up our store, the actual design of it. You must put it all together such that it looks impressive to your customers.
At this juncture, I suppose that you've already set up your Shopify free trial, as I suggested right from the outset of this article.
Herein, I'm going to explain how you'd set up the store step-by-step, and the steps highlight some elements of the store and the elements include:
Domain Name
Themes
Uploading Logo
Uploading Product Pictures
Store Email Address
If you are yet to set the free trial, set it up now. The Shopify free trial page will require that you put an email address, a password, and store name.
If you already know your product, you have a brand name; then, I'd recommend you don't use your email address.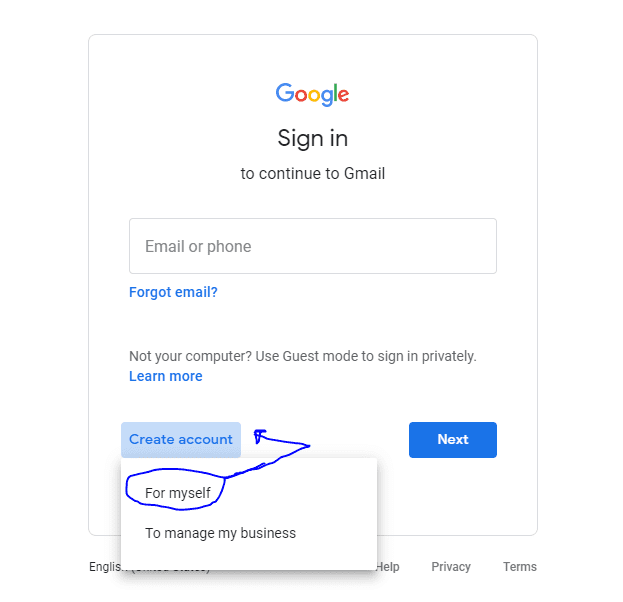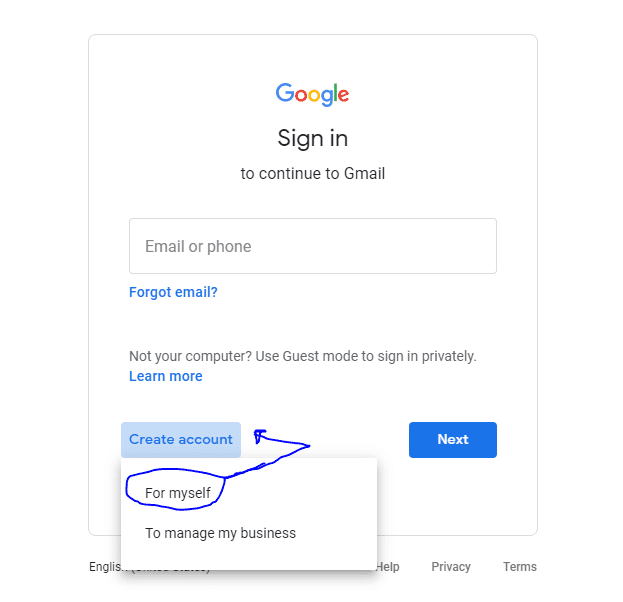 Instead, set up a temporary Gmail under your store name. For that, you'd go over to gmail.com. Click on Create account then hit on For Myself.
Go ahead and create a Gmail. For the first name, let's say that our store name is Smoothshave Today, assuming that you already have a store's domain name.
If not, I'll show you how to get one. So, in this case, you'll put Smooth shave now, for the username since you'll like to have an email with the Smooth Shave now store.
The email address can read along with stuff like Smoothshavenow@gmail.com, or Smoothshavenow@gmail.com; this is only temporary you want to have your support email look more legitimate.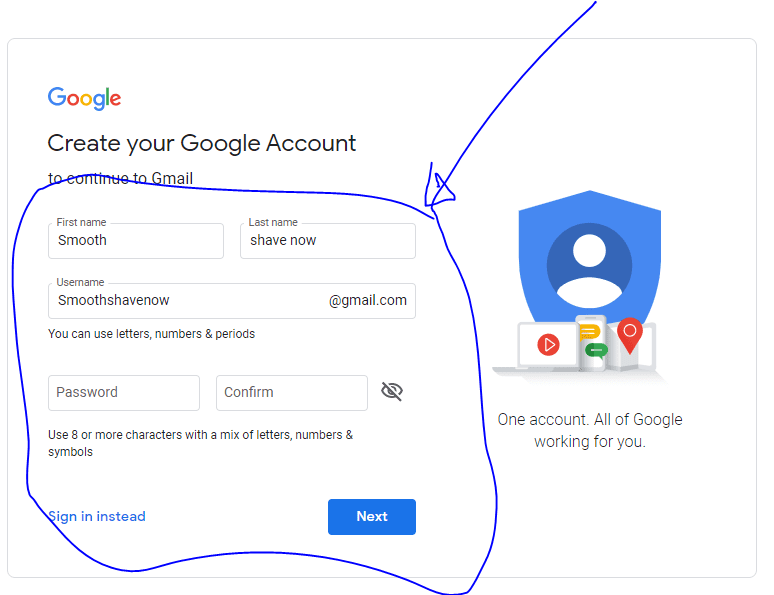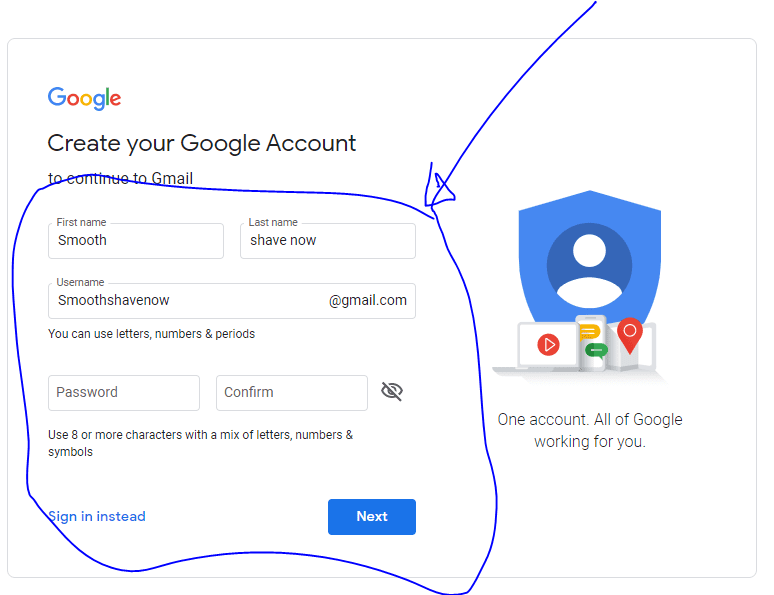 Later on, I'll explain how to get that, how to get like an actual domain name, with Gmail email you can have it.
So you can have like Support@Smoothshavenow.com or Smoothshavenow.co, whatever your domain name. Go ahead and put in your password and confirm.
Click next, and once you've created your email, then go back on the free trial page and put it into the email address field put in Smoothshavenow@gmail.com.
And for the store name, put in Smooth Shave now.
Then proceed to check and see if that's available. It's crucial that confirm if the store already exists.
Domain Name
And the store Smoothshavenow might already exist. But in case your actual store name, Smooth shave now Today, isn't available, add Co at the end, and also while at it, I highly recommend you check if you can get the domain name for your store if it's even available.
In that case, you want to go on Google domains, or you can go on Namecheap or GoDaddy, and that's how you get the domain name for your store.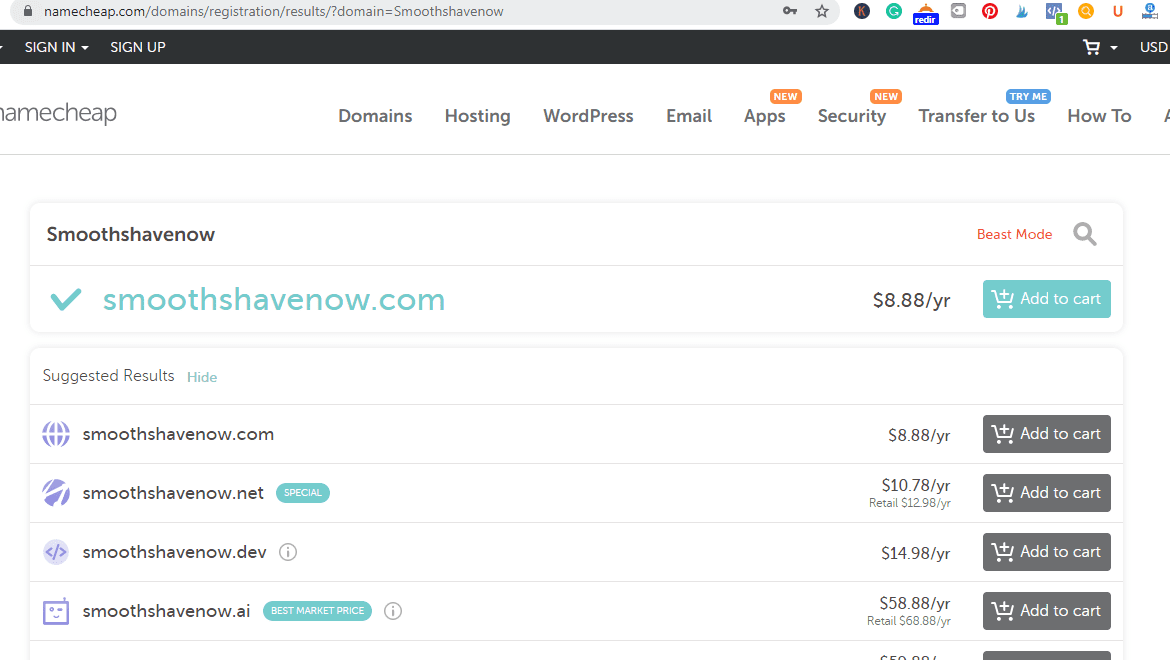 That's like www.Smoothshavenow.com or whatever that's in between the www & .com. So, go to the domain. google search for your domain.
You'll type in Smoothshavenow.com.
On its page, Google will indicate whether it's taken or not. Your domain name may be already taken by someone else.
You can also read: How To Create A Profitable Shopify Dropshipping Store From Scratch
As long as you can find like a Smoothshavenow.co is fine as well. In that case, then, you can still use the name.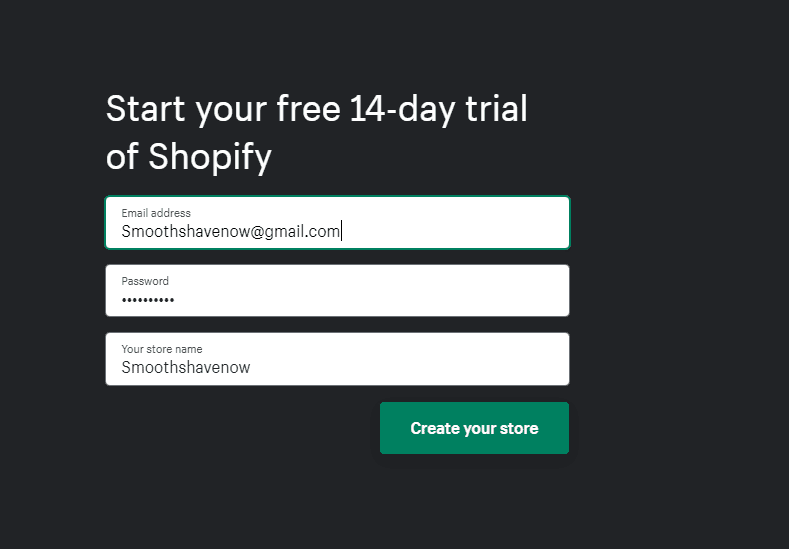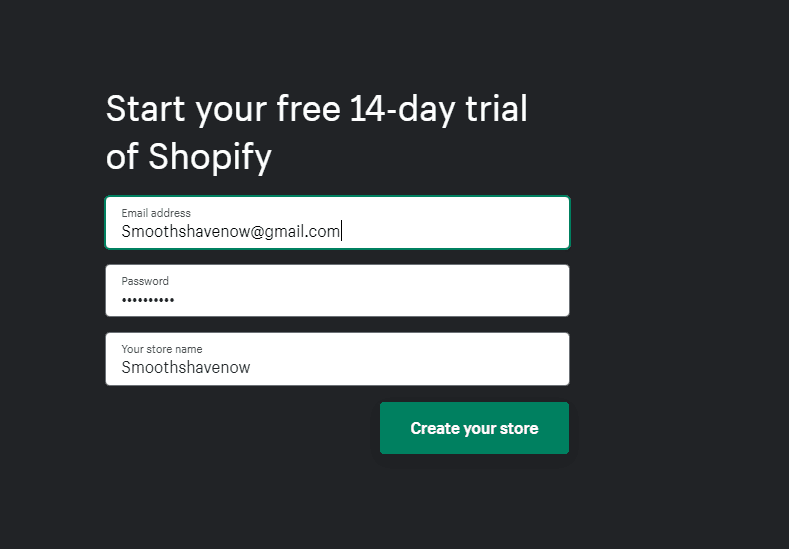 That way, you won't get surprised when at the time of setting up your store, you want to buy your domain, and you can't even buy a suitable domain.
If you don't buy a domain, you're your store will reek unprofessionalism, and you'll get a store link like, for example, Smoothshavenow.myshopify.com.
Once you've checked out all this stuff, you know created the temporary support email you'll use for your customers, then it's time to start a free trial.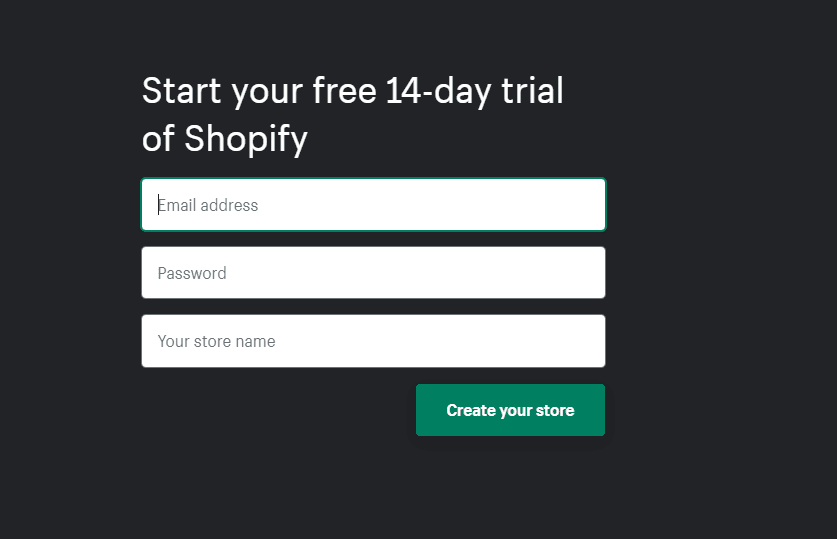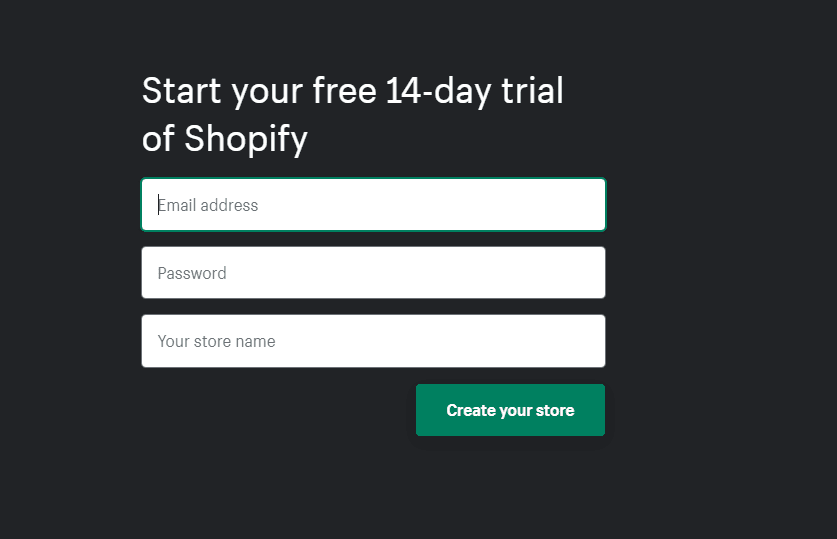 Now, you'll get to the part where the trial page says, "Success, your store is ready to go.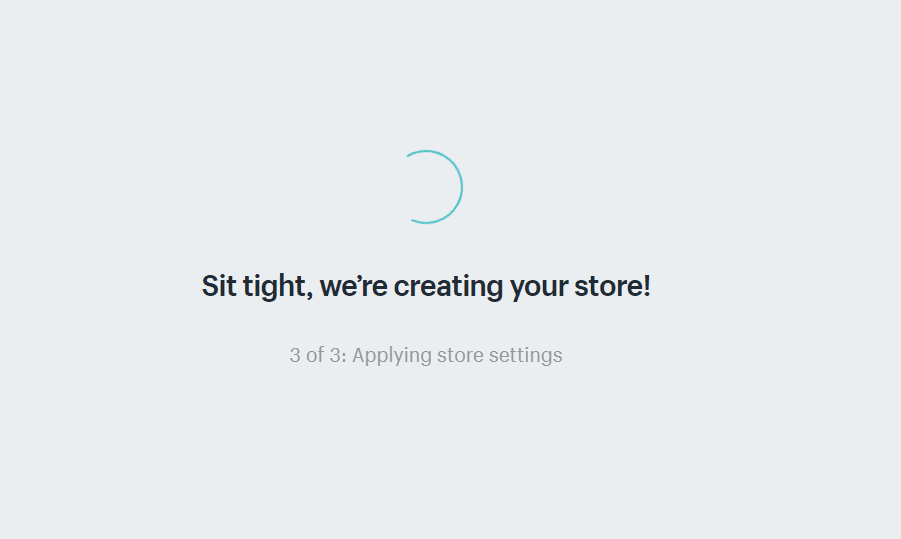 " Next, it says, "Tell us a little about yourself." I'll walk you through what they say here, and the questions go: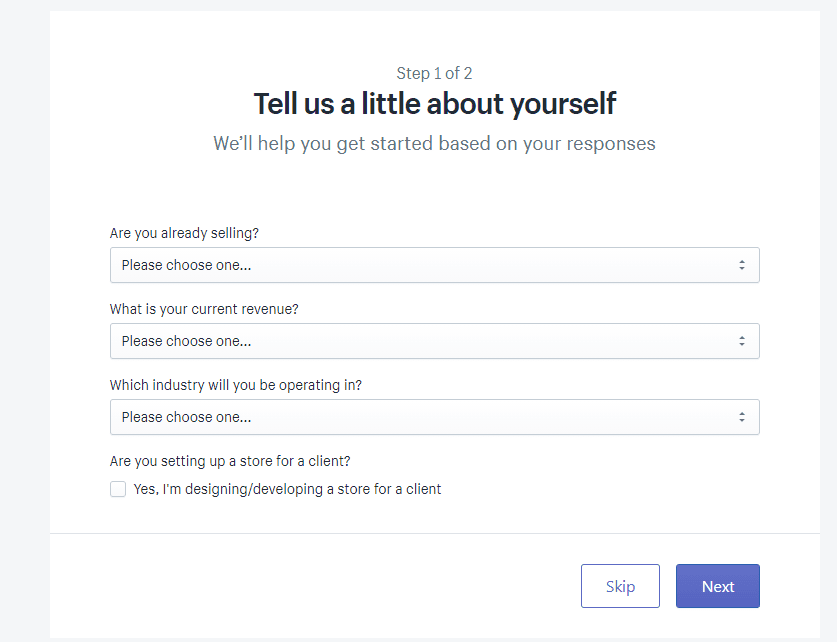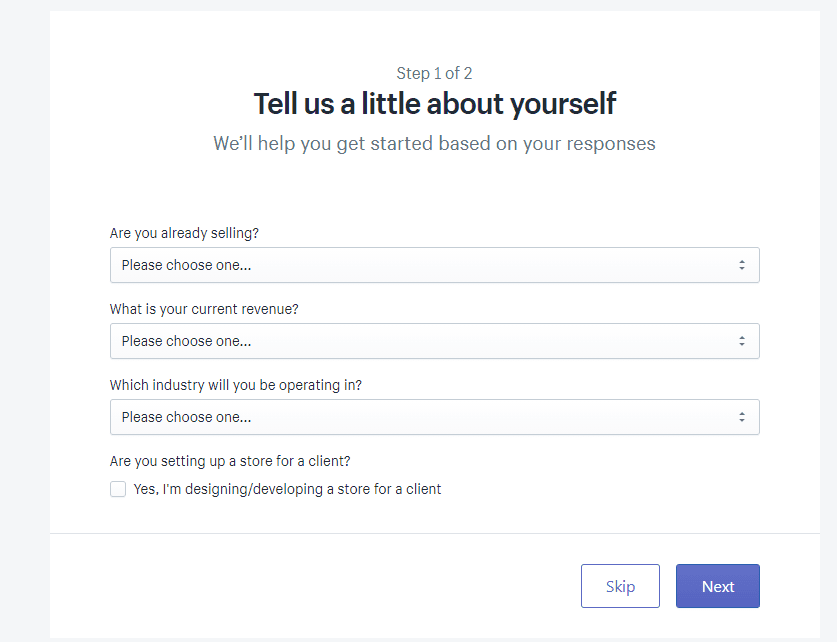 Are you already selling? Select I'm selling just not online, or you can put I'm not selling products yet.
Do you have something to sell? Say yes, I have a product I'll ready to launch soon.
Current Revenue? You can put like up to $5,000, or I'm just getting started. It doesn't matter. If you put the higher figures, you're going to get a call from a Shopify Specialists, and they'll try to sell you on their Enterprise plan. As such, it's better to just put like 5,000 or zero. Also, you can skip it if you want
Click next, and you land on an "Add address" page, and here you want to add an address to get paid.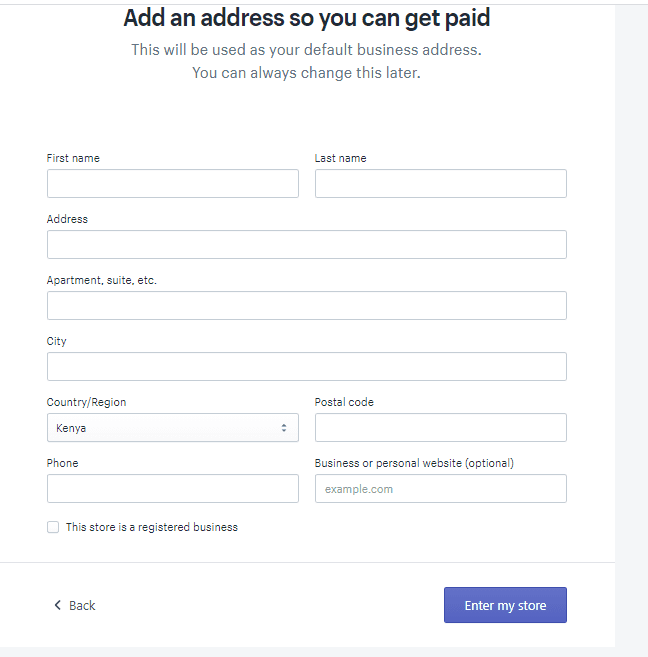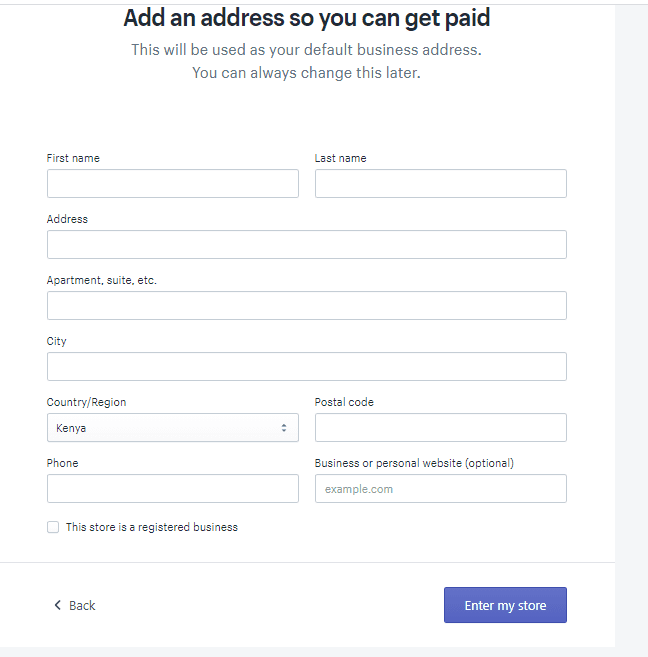 It's like your default business address. Enter in the address either of your house, where you live, or of your registered business.
If you already have, then put the address of that business. However, you don't necessarily need an LLC or a corporation to start. If you don't have one, that's fine.
However, I'd recommend getting that set up in your home country.
Wherever you are, for instance, for Canada, get a corporation.
If you're in the US, get an LLC, and some of the US's best states include Wyoming. Nevada, Florida Delaware.
You must have a look at each State because they all have their benefits.
Those are typically those states with like the lowest taxes. Without an LLC, it's okay to start as a sole proprietorship. However, as soon as you make money, ensure that you get an LLC.
It's not that expensive. It costs a couple of hundred bucks. An LLC will save you a lot of money in taxes and spare you many headaches.
So on the "Add an address" page, enter your first name, last name, address put in your phone number, and then your domain if you already have one.
If not, you can leave it blank because we'll cover buying a domain later on in this article. Click Enter my store.
Themes
All right, so now you're in our new store on the Shopify store dashboard. Once you start making sales, you'll see many new things pop up here like how much money you're making, and you can do a breakdown of each day & each month if you want.
You can see things like your conversion rate and all that kind of stuff. For a start, you'll have a pretty basic look.
It doesn't have a lot of stuff; it's telling you to add a product, a theme, and a domain.
The first thing you'll need to do is add a theme. Now, there are both free & paid themes for themes, and I'll explain the difference between the two, other than the fact you'd have to pay for the paid theme.
Free theme
There are terrific free themes that you can use. I've used free themes and made tons of money using free themes. It's not cast on a stone that you use a paid theme that depends on what kind of look you want for your store.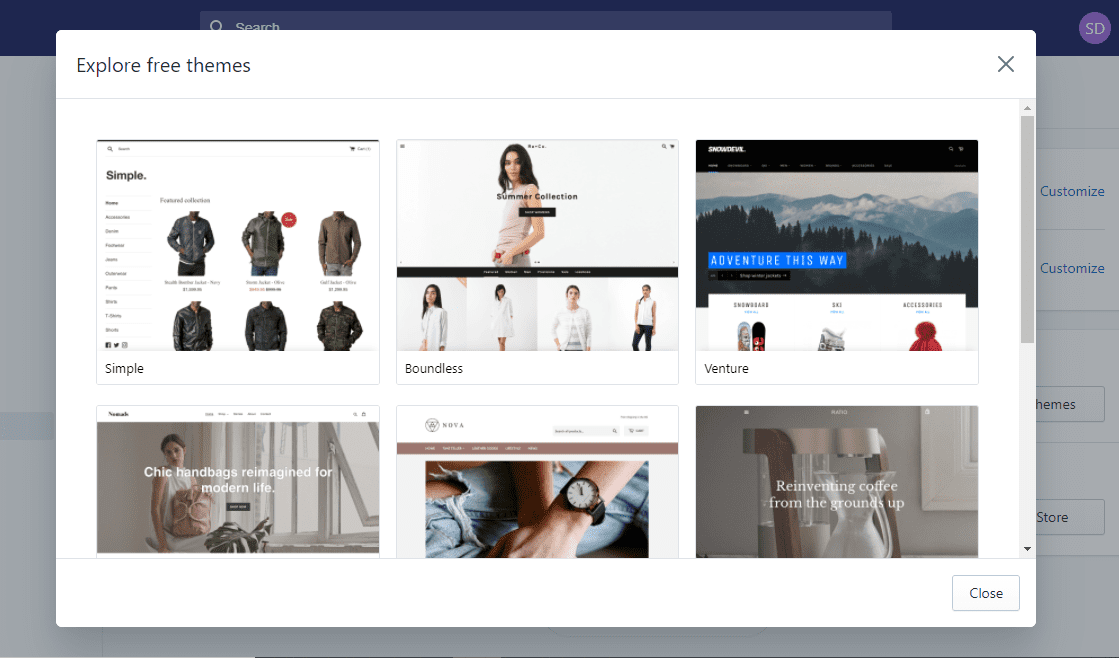 Now, click on Online store, then Themes scroll down and click on the Shopify theme store, then hit Visit theme store. Here, you'll get all the themes that you'd need.
If you go to Collections, then go to, for example, select Minimalist style, look at what they have. They sure have many amazing free ones, the likes of Pop, Boundless, and Debut.
I've used Debut. You'll need to open up the good free themes. For this guide, we'll design the store with a free theme just so that you can follow along in case you don't want to pay or on a tight budget because free themes are great and you don't need anything
In this case, you're going to build a hair removal store.
For this article, that means Smooth shave now product is a hair removal handset. It's an advanced laser hair removal device. It's found on Alibaba. Go to Alibaba and type in hair removal IPL device or laser hi enter, you should see it.
Though sometimes you'd have to scroll through because you'll find like similar items, I guess that's a copy. It's interesting how fast Chinese suppliers make copies real fast.
Ideally, that's a good thing because that means you can always find a higher-quality version.
So, while at Alibaba, you'd probably slightly different hair removal handset but all the same, we'll use the product as a prototype for building the store.
I'll clarify that I'm not pursuing this product and that its use is purely for this article.
For Debut, you can either do Default or Light and the Minimal, Vintage, Fashion; it's up to you, which on the one to use.
I find Vintage best suiting like for clothing. Pop strikes me as a little too basic.
Click on Debut go and then get like a product page. You can do a demo as well. Proceed and add the theme, now we'll use Debut. For theme Styles, select default and perhaps use the light, which looks much better.
Add the theme and then install the theme in your store. Then it will say, "Are you sure you want to publish tab?" Click Publish and the theme goes live on your store if you go and click on Customize.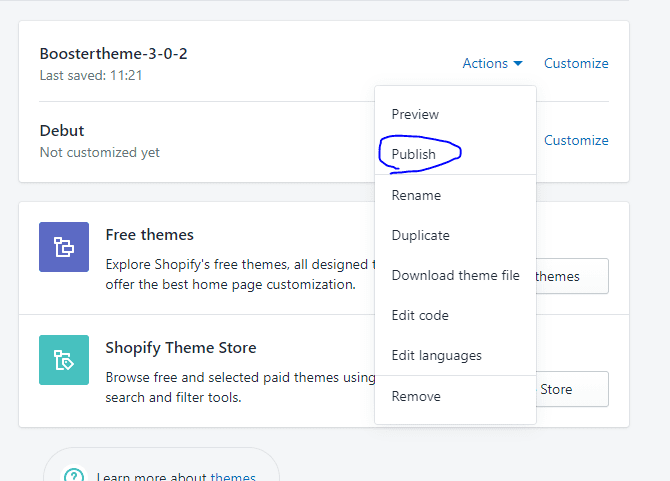 Since now you're in your theme, you can see it indicating the store name, Smooth Skin, and that sort of looks nice.
And because the store will be a Branded Dropshipping Store, it will only carry one product at first, and you'd perhaps add on some complementary products later once you've made money.
And since you're making money, for now, Delete like the Featured Collection.
Jumpstart is another theme I've personally used, Jumpstart. It's terrific. Go to Jumpstart and see the product page. The theme oozes lots of suave. You can always click on view demo.
Paid Themes
If you seek to deviate and move away from the Shopify generic look, I suggest that you do a paid theme.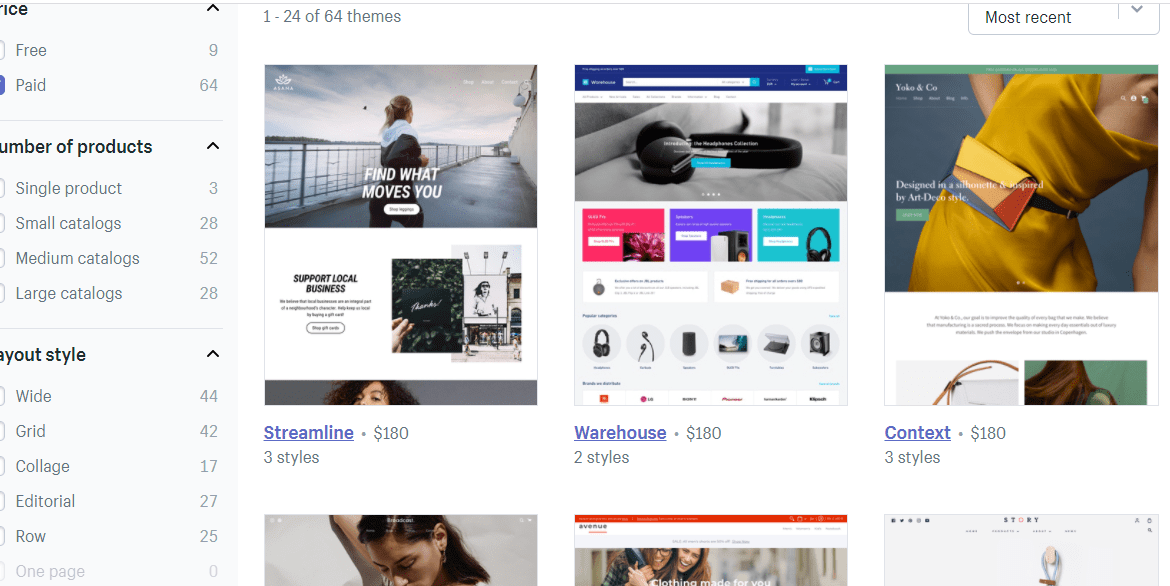 They're not even that costly. I'll show you some fantastic paid themes that I use and cost about a $100-$200, a one-off fee.
Launch is an example of a great paid theme and costs $180. The beauty with launch is that the theme is about multiple Styles that include Fresh, Cool & Bold.
So, Launch Theme won't limit you to just one style.
For example, you can consider launch, and a great theme or style for this product would be between Bold & Fresh. For this product, I don't find Fresh a befitting style.
I think Bold would be good.
Look and compare big Dropshipping Stores, preferably Branded Dropshipping stores this way; you'll see that my strategy is not exclusive to me, but it's used by many out there.
Take blend.com. For instance, you'll find they use Launch theme & Cool for style.
And if you pull up the Alexa site rank on the store, it reads tens of thousands in the US alone, that's huge, and that translates to a multi 7-figure annual revenue in sales.
Almost 90% of drop shippers are using Debutify Theme. The debutify theme is free you can try out.
Uploading Logo
You want to make some adjustments to the store, and the first thing you'd have to do is upload your logo. You need a logo, you know, like a few pictures for the brand.
Now, for your logo, I'd highly recommend that you have some photography done for your brand.
Herein, I'll suggest you some options because you'll need a logo to start selling.
The first step, head over to canva.com, a fantastic, free website and much easier to use than Photoshop.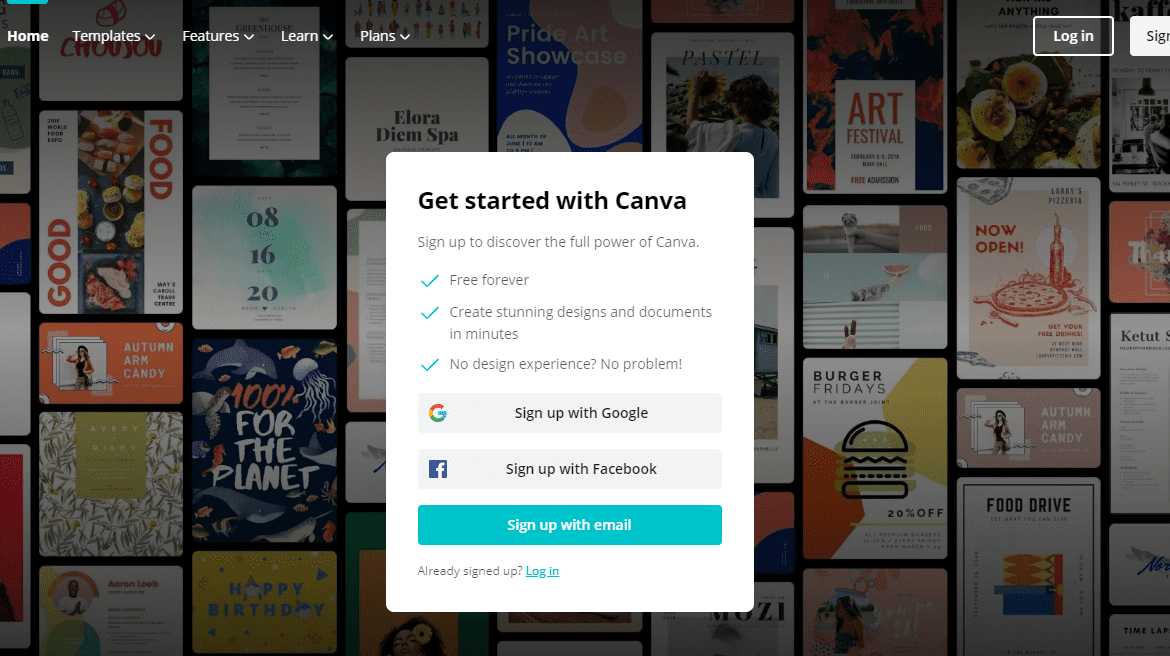 The website is so good. I've used canva.com for years and even have had monthly paid plans with all my businesses.
So, for example, go to Create design and create a logo. If it's just a text logo, the customize dimension would be about say 400 by 150, that should suffice.
But 800 by 300 is even better, and that sort of gives you a wide space.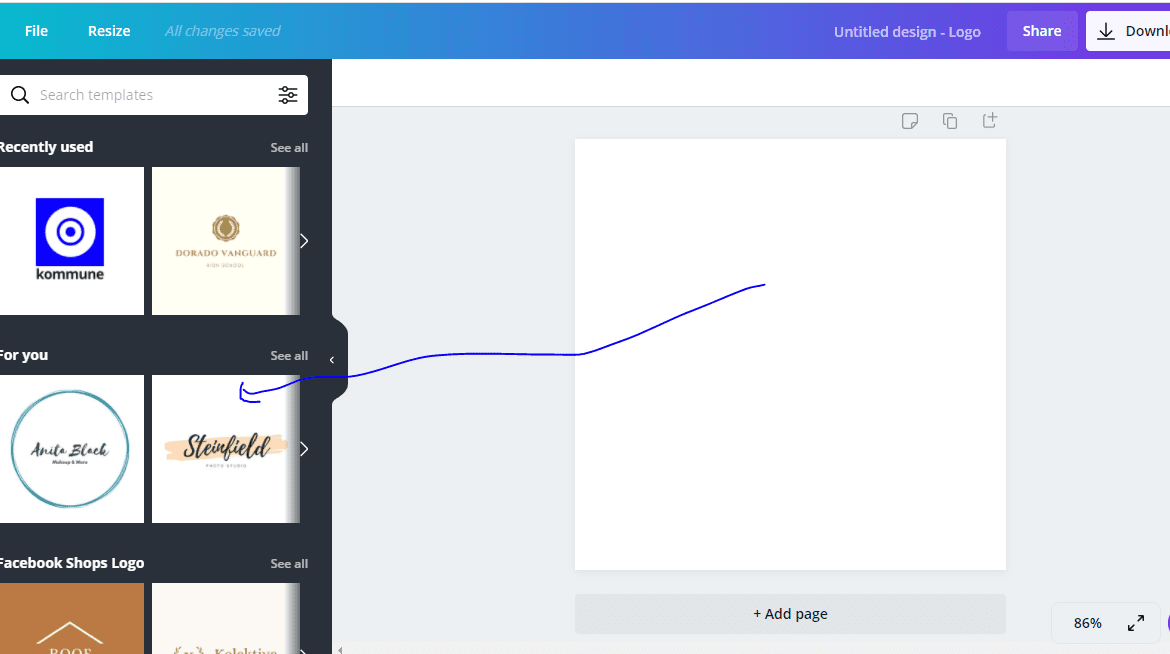 Then for a logo, you can go to text. First, add a Heading, for example, and then for a Font, you can use a Monserrat font. Boom, you have a logo, right?
You can go on Google, and then you take like an emoji of Stars pick Sparkles, for example.
Copy the Sparkles and see whether that works. Try and place the emoji Sparkles before your store name in this case, Smooth Skin, you have a logo.
It's simple as that. Next, go to Publish click publish; also, you want to ensure that you mark it as a Transparent background and then click Download. You want to download it as a PNG; thus, you can upload it onto your store.
The beautiful with canva.com is that you won't incur charges whatsoever; it's free reasonably easy to use. You'll have access to lots of other superb Fonts.
For example, League gothic is nice best suiting for like a high-tech store. As such, it essential that your logo fits your product niche.
In case you can't design a logo or the free website isn't working for you, then it would best that you proceed to either fiverr.com or upwork.com.
However, although Upwork is pricey, these websites prove the best freelancing websites online, home to exceptional graphic designers.
On the search, type in logo, and at the top on upwork.com, the same thing go, and you type in the logo design. Turn off the US Only and then proceed to filter.
Amazingly, we're going into everything here. I'm pleased that I have the chance to write this article for you guys. Now, if you go on the left & tick:
Hourly rate- $10 & below or if you want high-quality $10-$30, though you don't want that -Earned Amount-$10k+ earned
Hours billed- 1,000+ billed
Job Success-90% & up
English level-doesn't matter, and you just go, and you look at their portfolios, right?
Take, for instance, graphic design. There's a lot of really excellent graphic designers from India, the Philippine, and the only charge like $7-$8 an hour. Upwork is a great website, but that's if canva.com doesn't work for you.
With your logo, on the store, go to logo image, click Select Image and then click upload and then boom! Smooth Skin picks. Now, that is your logo. You can even edit the logo width and resize your logo. At this point, it sure looks great. For more details on this, we'd touch on it later.
Uploading Pictures
Next up is an exercise that involves uploading some pictures to your website. You need real quality pictures for your Brand store.
Pictures are immensely crucial, and with brand-new Dropshipping, you want to present your product in the best possible light to succeed.
And to do that, you must have professional quality pictures. I'll explain how to do that right now.
First, you'd at least need to get a sample of one or two of your products to take pictures of them. Or so you have them sent over to a photographer if need be.
Okay, so this how it works.
When you talk to your supplier via WhatsApp, ask for a sample. Typically, they'd charge you more than what a single unit would typically cost, but that's because it costs more to process sample with your logo. And you want to make sure that your supplier produces the sample with your logo.
You must tell them to produce a sample with a logo, and they're going to send it over to your address.
Once it arrives, you can either take pictures of it yourself. Take a couple of shots on a white background. Check out some examples of pictures on a white background.
.
Or have your photographer take pictures. Yes, you can have a photographer who takes pictures of your products for your eCommerce businesses.
That's simple. And if you launch this Smooth Skin product, I bet you'd rake in lots of dollars.
Honestly, I have so many Brands, thus several businesses, that sometimes it feels overwhelming, but that's perfect.
Now, that qualifies this tutorial as an authoritative walkthrough manual to help you build the store.
Besides the sample of examples of pictures on the white background, you also want to get some lifestyle pictures.
If you can get a nice camera, possibly, try even using your phone camera if it's good enough, then try & take photos of your product in use.
So, you want shots of every angle on a white background. Equally, you want your product shots when in use, like outside or in the environment where your product is usually used.
I mean, you can even have pictures of a female model with your product brand. Take a bunch of photos, and these you can use for your website it's essential.
If you don't have the pictures yet, that's okay. Skip and proceed to the next timestamp.
Here, the next part of setting up your store. However, you must wait until you get the sample, then take shots or hire a photographer off Upwork or Fiverr.
When you hire someone off Upwork, in the messages, go ahead and ask for their address then have your supplier directly send a sample to them.
A Store Setup Rundown
Alright, go ahead and upload an image by choosing Select the picture you can upload a couple.
Try out one, sometimes it won't look the best, and you'd have to make necessary adjustments later.
You'd need to edit like image alignment and see how it looks when it's middle, top, or bottom aligned.
In this case, do middle. For Layout, either choose Fixed width or Full width, just do Fixed width, and text you can put in the text if you want.
You sure want to check out your competition for the product and draw inspiration from their stores.
Suppose their annual turnover in sales is an uptick of a multi 7-figure, like millions, the better.
I'm of the view that you check out your competition to get ideas.
You don't want to copy your competition, and neither do I teach nor provide a lesson to buccaneers looking to line their pockets and pry on people.
People neither sell, solve, nor offers nothing of value for the world. I don't want nor intend to provide data to buccaneers who look to exploit others.
If you're not that kind of person, you will leverage competitors for ideas, like getting a sense of the type of text headlines they use.
Don't copy like their text headlines.
There's no need to come from a different angle, from your angle and improve on it. So you would try not to copy them exactly.
Your store has a different theme, I suppose, as such, it already looks significantly different. Assuming that your text headline reads like "DIY laser hair removal is Here" in the Headline field, you can try putting in Do-it-yourself laser hair removal is here try that out.
That looks too long, so. we can revert to "DIY laser hair removal is Here."
Suppose it looks great, bingo! You wouldn't try to copy them exactly.
You can even do like "Premium laser hair removal is Here," right? You can also change the size text headline, which we'll get into later to customize your website.
For the text, you can key in whatever you want. For this case, put The best laser hair removal device on the planet, and you can even put a button like Shop Now; usually, the button pops up. You can, however, put the Shop Now button when you have a product page up.
Since you don't have a product page yet, go back, and at the top, there's the Menu. You also want to add the Menu options as, and you also want to add the apps.
And for the FEATURED COLLECTION, click on it, but since we've only and one product. And you can't put less than two items, for now, you'd have to hide the section. There's also like a Slide show; perhaps you'll have that in the future.
For the "Talk about your brand" section, you can like put in some text about your brand. Click on that and customize everything you want. Customization is what we'll do next.
For the Map, you don't need a map; therefore, you can take that section.
That's pretty much it. Customize stuff like your footer to display payment icons; you want to turn that on; thus, your customers can see that you support credit cards, VISA, and all that kind of stuff.
Colors, you can change the colors for background & text. In the Content section, newsletter, that's not effective email marketing as such; you want to click remove content for the newsletter.
You must make it as minimalistic as possible. You don't want to have a bunch of clutter on your page.
On the Theme settings, click on Typography. You can change the HEADING BUTTON fonts go to change.
Usually, you'll get like the default typography that comes with your theme. Try out different texts to see how that looks; essentially, you want to make your store stand out, you don't want the page to look like the basic Shopify store, right?
So, for example, for this case, test out like Assistant, Alegreya, Arvo. I think Assistant looks good; you can try. If you select, it will change the Heading typography in your store. For the body text, you can elect Muli.
You can even change the text size for both body & heading. Go to change, and then for heading, you can make it bigger. There's a limit here for desktop.
If you click on the icons page's top, you'll have a preview of how your store looks mobile. When you build it up, ensure that you have an optimized picture and stuff.
If you don't have pictures yet, you can always go on Google and have temporary pictures. It's often better that you have your brand pictures but before getting them, go on Google like images.google.com, go to images, then you can type in, for instance, laser hair removal device and choose a picture from there.
If you find a best-fitting photo, you can save it and upload it onto your store as a temporary picture while you're waiting for your pictures, I mean your professional pictures to come,
Before you continue customizing and making your page look better, the next thing you need to do is you need to set up a Collection of products.
So go back to your store, go-to products, and then add a product.
Setting up a Collection of products is essential, and with branded dropshipping, it's a one-product store, so you only need to add one product unless you have two products that complement each other, then you can start with two.
Although I always recommend that you start with one, that's how you make sure that you focus on a product until you succeed.
Under the title, type in a title, and you can put Smooth Skin Advanced Premium laser hair removal device.
In the description, put in The best laser device in the world just for now, although you'd need more.
For images, you'd have to drag & drop some pictures here. Take a look at your photos, go to a quick look, then drag and drop, and so now each image uploads.
For the price, you can put the price that factors in your competition price points. For our case, again, for illustration's sake, you can sell at $50-$70.
So, in the Price field, put $66, and in the Compared field, let's say $107. The system will cross $107 off then indicate the sale price as the permanent sale, and that way, it entices people more to buy.
You want to charge tax on the product unless you intend on handling taxes (sales tax) yourself.
For an inventory, you don't have to fill out. And if you scroll down quantity, you want to put like 100,000, thus unlimited. Indicate that it's a physical product.
In the weight field, you want to key in 100 grams, and the reason for doing so is such that you can structure the shipping zones in a way where it all makes sense.
You'll see the essence but if you wish, put in a kilo, it doesn't matter what you enter. However, having it at 100 grams arises from how your store calculates the shipping prices, although it's not the actual weight.
For Customs info, leave it blank. You only need to fill it out when using the Shopify mailing system. For the Search engine listing preview, you can edit the website SEO.
Now, SEO is how Google ranks your product, and if you want to rank your product better, you can write like the Best DIY hair removal device in the world, Smooth Skin.
SEO requires to fill up with keywords. For example, you can put in description like DIY or the best DIY hair removal or laser hair removal device for home use fill up with keywords.
Then for URL and handle, don't touch, and that's pretty much it for now. Go ahead and click Save.
Now, you created your product page, go ahead & confirm; click on view to see how it looks right now. You can customize the product page later on.
So, you'll make a significant change for your dedicated product page, like ensuring that the sales text is much longer. You must do that.
Also, you want to make sure that your product pictures are of high quality. That way, you'll have the zoom feature in effect.
This is part 2 of how to find a great a Dropshipping Supplier, and of you have any questions in regards to finding a Dropshipping Supplier let me know in the comment section.