How To Use Ecomhunt For Dropshipping Product Hunting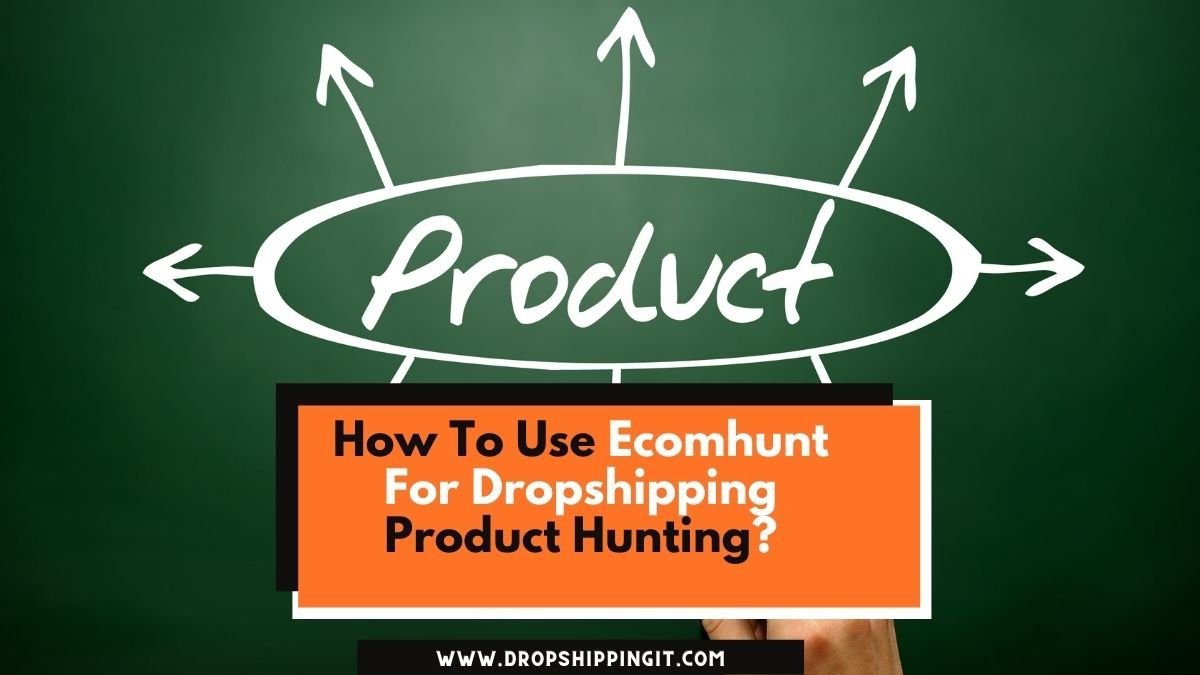 Have you ever asked yourself if Ecomhunt can help a dropshipper find winning products for their online store? Well, you are in the right place to learn how Ecomhunt helps with product hunting for newbies who are looking for winner products for their Shopify dropshipping store.
I still count myself lucky, having felt the first come first served experience when Ecomhunt all started.

The idea of having a site like Ecomhunt saved thousands of dropshippers like me; I would have wasted time browsing through the web looking for uprising products or hot selling products based on someone's else store success.
I resorted to spying on people's pages and keeping up with a hundred dropshipping stores to catch a glimpse of what was working for them that I could easily replicate.
I know you are wondering why I am complaining about the time it took me to find a winner product, yet as a dropshipper, I am required to spend a lot of time in product research more than anything, right?
My resolution to depend on Ecomhunt for my dropshipping products came after I realized, I was the only dropshipper or among the 1% spending tones of time into data scraping, mining for winning products based on either Aliexpress best sellers or using the Facebook feed 'Get Yours Here' method while other dropshippers were thriving with ecom hunt Product hunting tool.
EcomHunt is gradually becoming a household name, and it's almost a common saying lately; "With no capital, you can start dropshipping today."
But obviously, no one would tell you that you shouldn't expect a massive turn-in at the start.
There are many things to consider if you want to make it big: like aggressive e-commerce SEO and social media marketing. And in some cases, you might still not get your desired results.
It is effortless to give up on a dropshipping business, as is the case with many today. But is this the best option?
Why do they give up you may as ask? It has happened because, instead of a profit which is the primary reason for the business, they pay a lot of recurring fees by the end of the month with no results.
And it's not their fault to chicken out because business is a two-way thing; you gain or lose.
Though drop shipping is one online business that can grow from a side hustle to a full-scale business for you, however, you still need an excellent strategy and winning products to earn from this business.
Dropshipping has gained dangerous ground in the e-commerce industry, and you don't need to wait for months to earn from this business.
As quick selling product search tools have been introduced into the system, it is possible to make your money back in weeks of your business' kick-off.
However, you can get these product searching tools with meager budgets. Though the only challenge, you would have is choosing the right one for you, as there is so many of them available presently.
It is for this sole reason, that I decided to do a review of some of these tools I've tried out. And this is to aid in your choice of the right tool for your dropshipping business.
Hence this EcomHunt review!
Looking for a hot and winning product can be very hard to go around. But with a fascinating Product-Searching tool like EcomHunt, your stress of getting the best product for your store is eliminated.
Daily, this platform updates so many amazing products; vetted explicitly by professionals.
The following are the product updates to expect: Facebook Ads, Product Video, Profit, Analytics, Facebook Targeting, Links, Engagement, and so much more.
Along with best-selling sourcing products for you, EcomHunt helps you market and sell your goods on other e-commerce platforms like Amazon, eBay, WooCommerce, Shopify, etc.; on the go.
As an EcomHunt user, you get access to hot selling and the latest winning products every day.
However, the good news is that EcomHunt allows you to add these best-selling products to your store once you get the link to the online stores hosting the products.
So you are doing two things in one function, Sourcing and embedding the products at a stance.
And the most fantastic part of EcomHunt is the 30-day money-back guarantee the platform offers if you are not satisfied with their services.
So EcomHunt is telling you that if by any means, what you expected is not what you are getting; they will pay you back within the 30 days deadline.
Have you been stressed out while finding a winning product for your Shopify business and still end up with a bad one? Have you your store not been yielding revenues as you have wished for? Have you been thinking of a way of improving your sales through the selling of winning products on your Shopify store?
If you have been faced with any of the above difficulties, you need not worry as well will be taking you through explanative steps in finding a winning product for your Shopify store. In the end, we will have shown you how to see the best and winning products that you can sell to improve your online store in this competitive world of Shopify.
Sometimes while surfing through the internet, you will come across lots of tools that will be said to be a means of getting you winning products, but most times these tools end up being unreal and mediocre, some don't even worth giving a try.
We have painstakingly done the work of finding you a lasting solution that will assist you in finding the winning product, one of these solutions is ECOMHUNT.
The bad Thoughts about Ecomhunt
So, a whole grown man sat down and came up with a product hunting tool that claims to have high potential and easy-to-scale products. Huh! Really?
Then why can't the same person use the same product to make sales and keep the secret to himself rather than share it with the whole wide world if indeed the products listed on platforms are real winners?
Then a little bird told me, the founder Mordecai is a six-figure drop shipping champ who decided to use the same method he has been using to find winners to help newbies find hot selling products Ecomhunt platform.
By then, we were just a bunch of dropshipper, and word of mouth was enough to make a site like Ecomhunt go viral. Exactly I knew the site through a fellow dropshipper before bumping into any form of advertisement two years later.
In-depth Review Of Ecom Hunt
Welcome to the Ecom hunt review. One of the most effective ways of earning a living in this present age is earning through the internet. If you are not earning through the internet, you are really in the medieval age, neglecting the most potent tool to earn a good amount of money.
There are lots of people who are maximizing the power of the modern internet facility to earn a large sum of money and cater to their needs without even affecting their day to day jobs; sometimes they make a passive income through the internet that is paying them what their job couldn't afford.
The most exciting part of the internet is that there are many ways through which you can make a whole lot of money.
One of these ways is to set up an online store; you can earn money by setting up an online store that wouldn't give you a whole lot of stress like the physical store. You can sell your products on the Shopify store, Amazon, eBay, and others.
One of the most booming businesses in the world this century is e-commerce. You might have trouble setting up a Shopify store, but git pissed off after getting stuck along the line, thereby killing your dream of owning an online store.
You might have been told that setting up a Shopify store and selling your products on Shopify is simple.
Yes! It isn't a tough task at all, but there are some factors that, if considered, will improve your sales massively and you thereby earn more money. One of these factors is to find a winning Shopify store.
A daunting task that is usually faced by e-commerce store owners is to find a winning product on Shopify; it is sometimes difficult and time-consuming as many people are competing with different categories of products with each edging out each other in price and quality.
So it is very important for a Shopify store owner to find a winning product that you can sell on your Shopify store to get massive sales and generate enormous revenue.
Joining Ecomhunt
The decision to join Ecomhunt took me ten days. I am glad I took the steps because I have been testing random products, finding winners, and referring friends like you to join Ecomhunt for the sake of saving time researching products, they have a done for you product layout which gives you everything you need to launch and test ads.
Have you been stressed out while finding a winning product for your Shopify business and still end up with a bad one? Have you your store not been yielding revenues as you have wished for? Have you been thinking of a way of improving your sales through the selling of winning products on your Shopify store?
If you have been faced with any of the above difficulties, you need not worry as well will be taking you through explanative steps in finding a winning product for your Shopify store. In the end, we will have shown you how to see the best and winning products that you can sell to improve your online store in this competitive world of Shopify.
Sometimes while surfing through the internet, you will come across lots of tools that will be said to be a means of getting you winning products, but most times these tools end up to be unreal and mediocre, some doesn't even worth giving a try.
We have painstakingly done the work of finding you a lasting solution that will assist you in finding the winning product, one of these solutions is ECOMHUNT.
What is EcomHunt?
The definition given according to Ecomhunt is that "Ecomhunt is the curation of the best of the product and the newest of them, that shows up in the market on a daily basis."
To simply say, Ecom hunt is one of the most legitimate ways to search for hot and winning products on your Shopify store on a daily basis. It allows you to hunt for the best selling product, hot product and will enable you to capitalize on new products with a high sales percentage which can be sold on your Shopify store to boost your sales and gives you a very high volume of sales.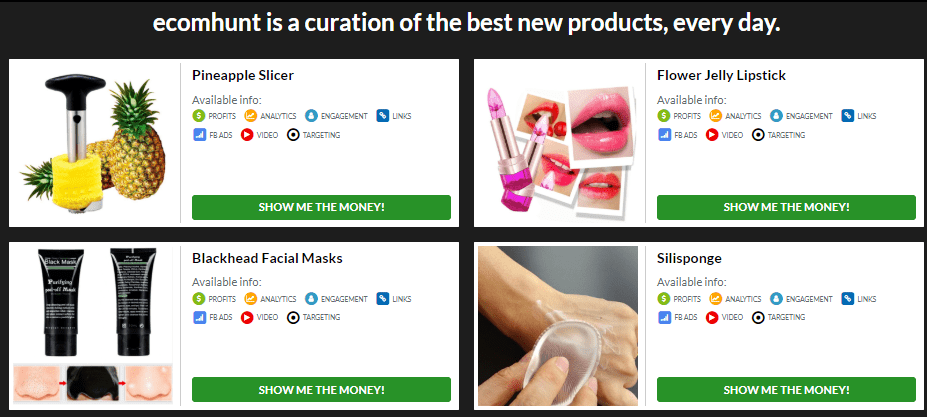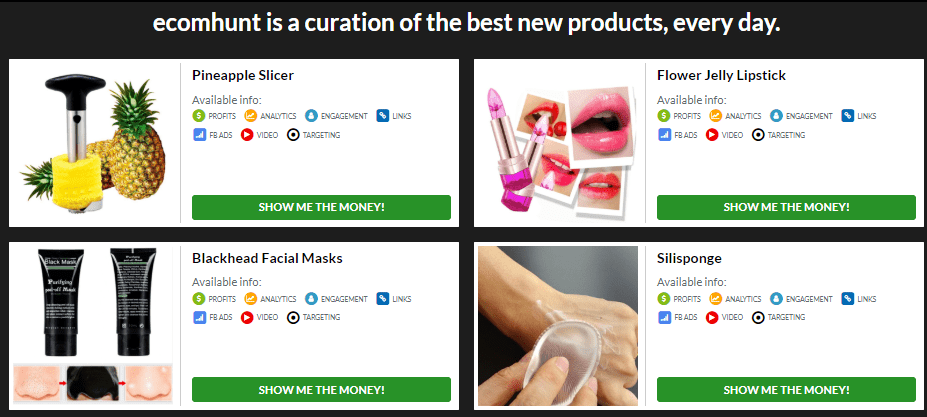 Using Ecomhunt will manually add a winning product to your online store on a day to day basis, this will allow you to spend less time on poor products and wasting your money on irrelevant products.
Ecom hunt will do the most laborious work of searching for winning products that are available on online stores, find products that are fast selling in stores such as AliExpress.
One of the standard measures taken by Ecom hunt that sets it apart from others is that Ecom hunt will show you all the details and information about the best-selling products including the ads, your competitors' strategy, and how your competitors are working out the product.
With Ecom hunt, you will be able to find enough information about the best-selling product to sell on your Shopify store. With this, Ecom hunt will allow you to save a lot of money, time, and energy in manually searching for winning products that can help improve your sales and output in the e-commerce industry.
After finding the winning product and best selling products through the Ecom hunt, all you need to do is to select these products, invest your money and start adding the products to your Shopify store which will, in turn, attract customers to your store and boost your income and revenue, boom! Your bank account will increase in figures. Check out the key features available on Ecomhunt.
Features:
One of the unique features available on Ecomhunt is that it gives you information on the product engagement for all associated ads.
Ecomhunt displays the Facebook Ads for any product you select to have more information about.
Ecomhunt allows you to get started with a paid account and an unpaid "demo" account.
It displays all the information about the product and the respective dates in the results.
It shows you with liable details regarding the Shopify store that is selling the winning and best selling products.
Finding Winning Products With Ecomhunt
The ecomhunt Product dashboard is updated daily with hot selling dropshipping products scrapped from aliexpress and other dropshipping stores doing massive numbers in sales on the same product or its variant.
The winning product dashboard consists of products on the rise, high potential, and already proven data for a product with the highest conversion rate when launched.
Your work is cut out. Copy and paste, then use the available targeting data to launch your ad and observe the advertisement.
So when you logged in to the ecomhunt website, you are greeted with curated products on the dashboard.
Each product shows the time it was added to the platform. Since they update the product daily, you are guaranteed to see products posted within a few seconds ago or minutes, depending on how frequently you stay online.
Each product posted on ecomhunt consists of:
Product Name:
It is the edited name given to each product on the dashboard, and the name is ready to go, unlike the lengthy and keyword-stuffed aliexpress product names.
This saves you time from editing the product name from Aliexpress; you copy and paste the product name in this section or add your brand name as a suffix, e.g., Dropshippingit Jet Blender.
Product Profit Magin
In this section, Ecomhunt makes it clear to you how much you can make from a specific product; the profit margin calculated at this stage is based on the product cist, the suggested selling price, and the percentage in profit.
Another scintillating feature of Ecom hunt is that you will be getting enough information about the engagement rates of all adverts and you will be able to view all of the current profit margins of the product.
This vital information will be critical to your store as you will also have the details of any product that you wish to display on your Shopify store, get their highest ratings and also know the product that is mostly ordered.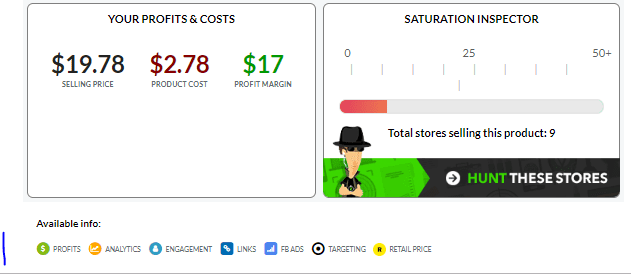 Ecom hunt will also ensure that you will be getting pieces of information about the number of Shares the product is having, the number of likes it is possessing, the number of comments from its customers and buyers alike.
All these will enable you to know "How popular the product is." this analysis will aid you in selecting the best-selling product that will bring huge revenue and massive customers to your store.
i.e.
Product Cost on Aliexpress $2.99
Suggested Selling Price $12.99
Product Profit Margin $10
Suggesting product pricing is just but an estimate of how much you can make when the above rule is followed, but ecomhunt doesn't emphasize using their figures, you are free to price your product how you want it.
Product Analytics
This section gives you a product report as gathered from Aliexpress; the insights shared here include the number of orders the product has.
The Aliexpess reviews left and focused more on positive feedback and highly rated reviews of the product.
You will see the number of 3-star reviews,4-stars, and 5-star reviews left on aliexpress by previous buyers.
How To Target Customers
One of the factors that make you a successful online seller is to know your target market. Before you sell a product, you must know who your customers are, their country, the age of your target audience, their interest, their interaction with such products, and their backgrounds. All these will assist you in selecting the right place to place your advertisement and promote your products.
With Ecom hunt, you will be provided with pieces of information about your target market; you will have more details about their reactions to similar products, this will enable you to have a better understanding of how and where you can place your products for a massive outcome.
Product Engagement
Ecomhunt extracts data from an existing online campaign, and in this case, the data shared here are from Facebook ads.
The product engagement based on the current ads is what their focus is on.
You will see the number of likes, comments, and shares a specific product has, this helps you make a clear judgment if you want to test the product.
These are live data from an active Facebook ad promoting the specific product on ecomhunt.
Ecom hunt is assimilated with a feature which enables you to know more about the engagement of a product. The feature allows you to have an idea about the number of people that have already purchased the product.
One unique attraction to this search tool is that you have access to the product reviews from customers that have already bought the product and product review from the buyer.
The Product Links
Ecomhunt has provided you with the analytics, engagement, and what you need to import the specific product to your shop, what is missing?
The links play a vital role in the ecomhunt product hinting tool; without the links, you won't be able to find the specific product suggestions on the dashboard.
You may end up with look-alike and not the actual product. The links consist of:
Aliexpress supplier link of the product,
Stores that are already selling the specific product
The link to Alibaba for wholesale price
The link for eBay supplier
And the link to existing active Facebook Ad
Facebook Ads Data
Ecomhunt searches and provides you with existing Facebook ads on the specific product on the dashboard.
Facebook Ads is one of the most effective ways that will assist you in getting information about a product that you wish to choose and the Facebook Ads that are already running for the product. On the Facebook Ads, you will have access to the links that will lead you to the stores along with the Facebook Ads that are associated with the link.
Another information which you will be getting along with the link is the actual video that is currently used by the store and all necessary information on an advertisement that is associated with the store and that product in particular.
This available information and details will be of greater help for you to display to your customers especially those that do not have any idea for the Ad copy and those who do not have videos about the product.
All these are made available through Facebook Ads.
Links to videos that can be of great importance to your store
The more significant part of the opportunities rendered by the Ecom hunt is that Ecom hunt generally provides you with a meaningful product copy that you can add to your Shopify store.
Without an iota of doubt, it is one of the most effective tools that can assist you in getting tons of Ad copies from the manufacturer of your desired product.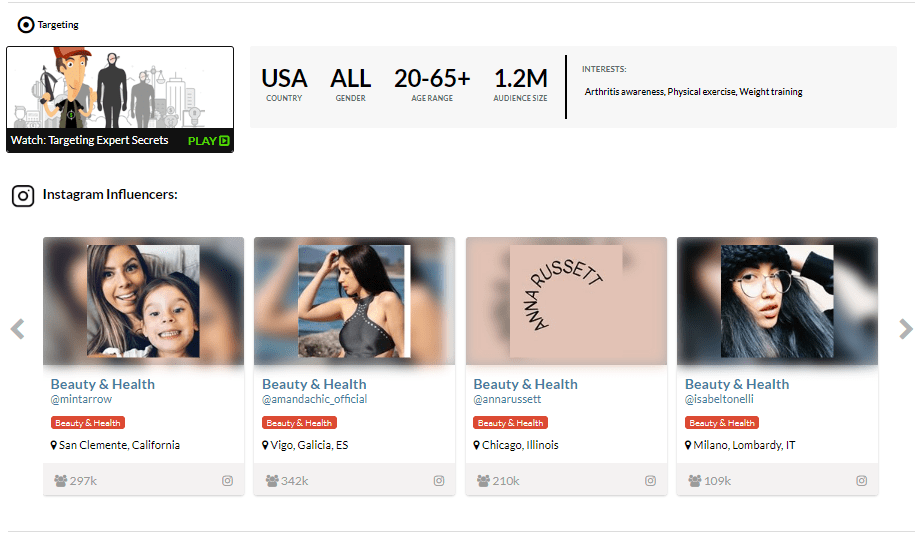 After getting the necessary details and video links of your product through Ecom hunt, all you need to do is to add a couple of Facebook videos right on the product page of your Shopify store, this will really assist you in relating easily with your customers and allow them to have access to vital information about the product.
To download those Facebook Ads videos, various downloading tools that are available to you on your internet can be used.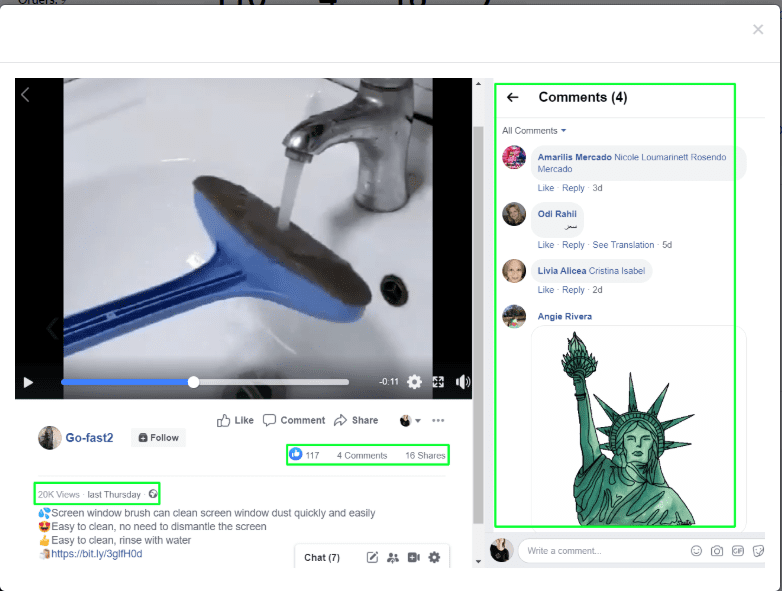 The Facebook ad is just but a suggestion on how you can launch your Facebook ads targetting customers using the data provided.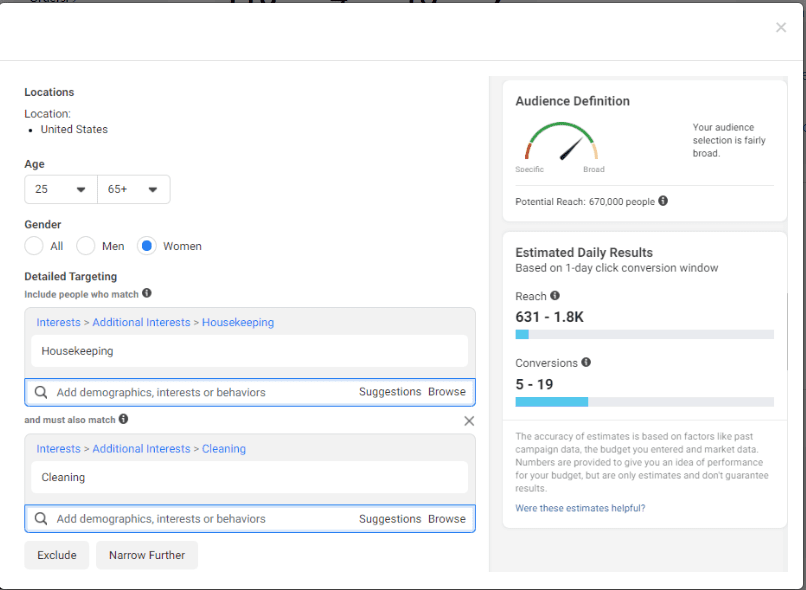 You are not guaranteed any conversion using the suggested audience in this section, but will at least act as a guideline for this specific product.
The Facebook ad targeting suggestions consist of :
Demographics (Age,country)
Interests ( Keywords & Search Volume)
Ad creatives (either video ad or Image Ad)
Audience Size based on your interests
Product Video
Most drop shipping stores or ads are of a video as the best alternative ad creative used.


Ecomhunt doesn't stop by just giving you a product but also showing you an existing video.
It is up to you to make your product video or redo the existing to evade copyright claims.
You can find an experienced freelancer in dropshipping ads video to make you a product video.
Bigwigs doing massive numbers in dropshipping prefer making their dropshipping videos by shipping sample products to their location.
The ability to find new products daily has made ecomhunt stood out among other product hunting tools, which of course, came after ecomhunt and tended to copy and paste what they are doing.
Read Also:
The benefits of using Ecomhunt and its additional benefits
Ecom hunt has given other benefits to provide their users with a great experience, easy access, and simplicity.
To enjoy these benefits, the tool is in a software firm that is easily accessible for web intarsia, tutorials, winners club, blogs and other higher modes that are enlisted below.
Facebook Ads Hunter
The Ecom hunt tool is incorporated with the great feature which enables you to know more about your competitors Facebook Ads performance, their details, and information. This feature is one of the best. With this, you can hunt down the Facebook Ads of your competitors without stressing yourself. This will allow you to be on top of your game.
Since this Facebook Ads is running along with some useful data, the Ecom hunt feature will allow you to find the details of your competitors Facebook Ads performance, make a sure analysis of how it's functioning, and also have more detailed information about the country your competitors are targeting during that period, the chrome extension enables this feature to work correctly.
Tutorial and Webinars
Sometimes in life, we have the necessary tools, but we do not know how to use the tool correctly to maximize its potential and use the tool judiciously. With Ecom hunt, this is not the case, lots of Webinars and helpful tutorials will be provided to assist your E-commerce store in various ways.
It is unusual that lots of people do neglect the importance of Webinars, contents, and tutorials, some great tips will be provided to you to help you maximize this opportunity.
When you subscribe for the Ecom hunt tool, you will be provided with a detailed video to serve as a self-training section and a Webinars which will assist first-time customers and beginners on how to use this tool to improve their online business.
Although sometimes you will notice that not all available Webinars and tutorials are available for the free users, lots of sections of the tutorials and Webinars are available for the pro members only.
This is because it is just like additional benefits to pro when you pay for the Ecom hunt software, and you are getting tutorials additional training, and Webinars for free. From a sincere point of view, it is best advisable to subscribe to the pro version to enable you to have access to these opportunities and benefit most from it.
The team at ecomhunt makes it easy to use with the tutorials, giving a new user a step-by-step guide to using ecomhunt.
The video tutorial covers how to sign up, finding products, and testing the same with Facebook ads.
They occasionally have live webinars talking about dropshipping trends, product research techniques, and scaling a dropshipping business.
The videos in the webinar and tutorial section of your ecomhunt account prepare you with skills.
You will learn about:
Product selection techniques
Facebook targetting and audience insight
How To Scale Your Facebook ads
Best ways to increase your store conversions
Dropshipping case studies and success stories
Ecomhunt Winners Club
The Ecomhunt rewards, hardworking store owners whose stores have made sales through the products listed on their website.
The Winners Club
The winners club is a forum whereby pros discuss and engage themselves in discussing methods and ways of maximizing their online stores.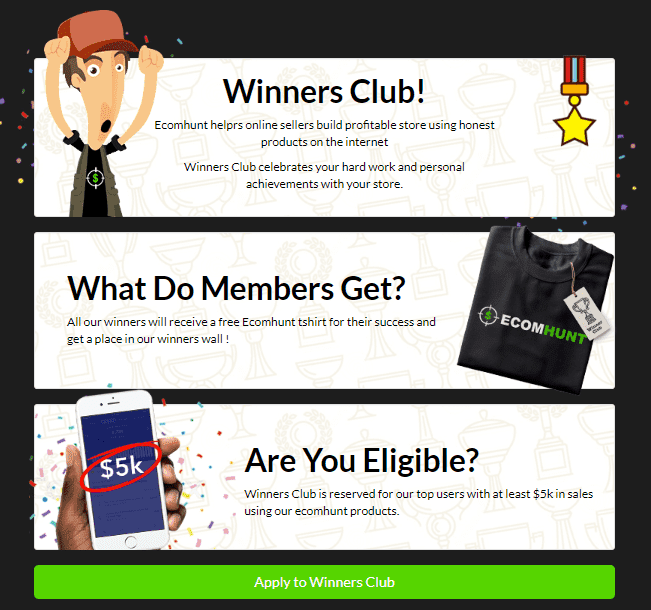 As Ecom hunt makes this forum as a way of assisting their online sellers in building their stores by providing them with products that are winning and best-selling, this products can be advertised right on their Shopify stores and other online stores.
The winners club also celebrate the achievement of the members and makes them improve more.
On this forum, all the winners will be given a free Ecom hunt T-shirt for their achievement, hard work and dedication. Successful members will also be given a chance to be placed on the winner's wall.
In this program, store owners are appreciated and celebrated for hitting specific goals and achieving a set level of success with their stores.
They have freebies giveaways used as incentives to motivate and appreciate top sellers using the ecomhunt product hunting tool.
As a winner club member, you stand a chance to win an ecomhunt T-shirt or secure a place in ecomhunt winners wall.
If your store does $5k and above in sales, you will stand a chance of entry into the winners club in ecomhunt.
Customer Support
I tend to cancel membership in any subscription software I am using when customer care sucks. Unlike other new hunting tools that lacks online support,ecomhunt has invested in that sector heavily.
They have a real-time LiveChat and email-based support that is answered within 24 hours. On many occasions, i chat directly with the founder Mordecai via email or through Facebook chats, and he is a nice guy who cares about his business and the effects it has on its users.
The team at ecomhunt went further to create a Facebook group for all members with active subscriptions.
In the forum, most questions are answered, and essential threads pinned.
Why You Should Join Ecomhunt
The products at ecomhunt are selectively hand-picked by research experts based on demand, the ability to solve a problem, wow factor, and other hidden factors the team applies in doing their research.
I learned that ecomhunt is meant not only for Shopify dropshipping business but also for eBay, Amazon. You can as well create a self-hosted website and still use the product.
More dropshippers are finding success with ecomhunt, and this shows the potential of having a data-backed up winning product done for you.
Over the past years have seen product hunting tools comes up like Nichescraper (which is very good also), Sell the trend and e-sniper.
If ecomhunt weren't successful, all these newcomers would be anywhere trying to get a pie.
Don't stress out,ecomhunt is budget-friendly and can save you significant time.
My journey with this tremendous dropshipping product grunting tool continues. Now, all you can do is join me and experience the magic of finding winning products with no sweat.
There are other traditional ways of finding dropshipping products undisputed, but consider the time it will take you to dig the data given to you by one click on ecomhunt.
Some would say ecomhunt is congested bt many dropshippers, well, even aliexpress is congested by the same dropshippers, but still, the market is too broad for one party.
As you walk around, how many shops do you see? Uncountable right? But that doesn't stop an entrepreneur from opening a shop, does it? I guess not.
Ecomhunt is the pioneer of product hunting in the dropshipping niche.
The business has been featured in both oberlo and Shopify and has had a series of videos with oberlo on their youtube channel just to highlight the role it plays in making eCommerce business easy.
If you still have doubts, you can try out ecomhunt the free version and share your experience with us.
The work has been done for you, login, import, and sell.
How many ecomhunt alternatives have you come across? Have you tried them?
Do you think they can match what ecomhunt offers, or are they just but duplicates of what already exists?
The future of ecomhunt is bright as the founder Mordecai assures its members of the new features and functionalities added soon.
I am not sure if the ecomhunt pricing will remain the same considering the number of people joining, the need is high, and the owner may decide to increase the price.
It would be wise for you to join now and experience the convenience it comes in with.
If you want to make dropshipping business work for you in 2020, then stop wasting money on bad products and bad ads, there is no need for re-inventing wheels, sell what is already selling.
What sets Ecomhunt apart from other tools uses for hunting winning products?
What makes Ecomhunt stand out and different from other products is their legitimate means of finding out winning products and their mode of providing valuable information about the best selling products that provide their users with useful ideas that help them stand out in the Shopify competition.
With their hunting tools, you will acquire valuable information about winning tools which will help you generate more customers in your stores and also helps you to create more earning.
Besides, you can also invest more and subscribe for the pro version to get more conversion sales, and this will enable you to have access to some features that will give you opportunities over others.
As a pro member will have access to features such as getting information about hot and winning products on Shopify, you will also be opportune to know the new products that are less known by other members of the Shopify store.
You should also know that for each of the features of the product that you will have access to on Ecom hunt The following statistics and information of the products will be available to you
The Ecom hunt gives users a free version, but with that, the user will only have limited access to products which may not assist in providing lots of sales as expected as the results of the product that will be displayed will also be accessed by many other people using the free version. Also, instead of having more products information, you will only be given access to two products per day which is limited.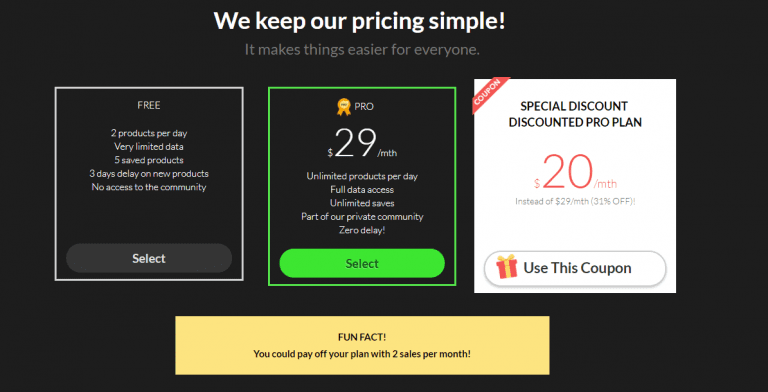 Another disadvantage of the free version is that detailed information about the product will not be provided, detailed insights into the Facebook Ads, links, videos, and lots more that can aid your analysis will not be provided.
Recommendations
Without mincing words, I will highly recommend anyone who desires to use the Ecom hunt software to go for the pro version to have access to the full range of information, details of the Ads, tutorials, and Webinars.
Another additional benefit of subscribing to the pro version is that you will be given access to the Ad Hunter extension which is a vital tool that helps you to collect all the information about your competitor's Facebook Ads Campaigns.
My final verdict
If you want to improve your business and your online store, if you wish to know the most winning and best-selling products that can help you generate lots of customers and improve your revenue and sales conversion, then Ecom hunt is the best tool to use in achieving your goals.
The outstanding services this amazing tool will provide for you is impressive, works like magic, and is rare to find in other tools.
What sets Ecomhunt apart is that it gives you additional benefits such as video tutorials, Webinars that make you maximize the tool efficiently one noticeable attribute of the tool is that it comes at a reasonable price and it is very affordable.
Besides getting a hunting tool in Ecomhunt, you will be provided with Facebook Ads insights, product links, product videos, and user engagement all along with a reasonable review and other information that assist you In analyzing your product's strength. You enjoy multiple services in a row.
Lastly, I will highly recommend that you should go for the pro version of Ecom hut whenever you are subscribing as this will grant you access to unlimited winning products and lots of promising bestselling products. You can feel free to share your thoughts about this fantastic tool called Ecomhut in the comment section.
Small Request
Did you enjoy this post? Kindly share it with your friends. Especially, the ones you believe really need this information.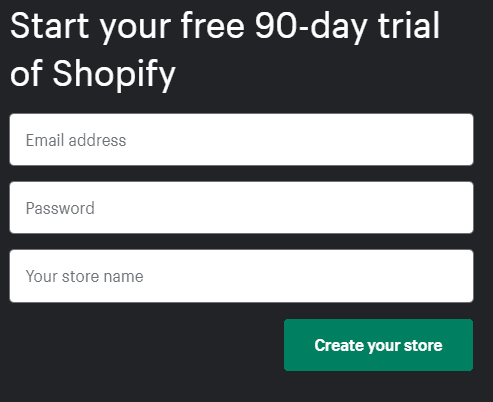 Sharing this information with others can make a huge difference. You may ask why?
Well, the truth is, my main aim is to provide the best information pertaining to drop shipping for both beginners and experienced dropshippers.
And I plan to continue doing so for as long as I can.
I would also like to thank those who support the work I do through reading my content and sharing.
Trust me, when you take your time and share it will help a lot not only for me but also for other people who may really be in need of this information.
Here are some great suggestions:
Pin it
Share it on another blog
Share on Facebook (Share it with friends and even on Facebook groups)
Tweet it
Stumble it
This will only take a few seconds of your time and I would really appreciate it.
I appreciate you a lot. Thank you!
Join my Shopify dropshipping group mastermind and follow my blog to learn more about Shopify tips, dropshipping guides, dropshipping tricks and checklists, and e-commerce in general.
If you enjoyed and learned something from this post, you can get updates from me, free of charge!
I send out email newsletters about new posts published on the blog, tips, and tricks to help you grow your dropshipping business, as well as new YouTube videos to give you more insights about the e-commerce market, and much more.
Click The Image To Join My Facebook Mastermind Group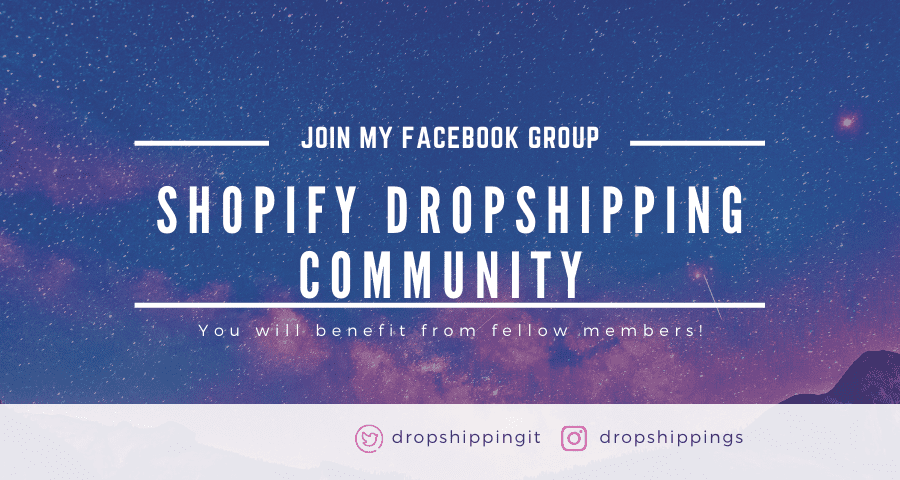 Ready to join? Click the image below.
Join Ecomhunt and share your experience today.