How Do I Find Items To Dropship On Shopify?
Starting a dropshipping business on Shopify can be a lucrative venture, but it all begins with finding the right products to sell. With millions of products available online, it can be overwhelming to know where to start. In this article, we will provide a comprehensive guide on how to find items to dropship on Shopify.
Table of Contents
Introduction
Dropshipping is a popular e-commerce business model where you don't keep the products in stock. Instead, you act as the middleman between the supplier and the customer. You list the products on your website, and when a customer orders, you forward the order to the supplier, who then ships the product directly to the customer.
Shopify is one of the most popular e-commerce platforms that offer excellent support for dropshipping businesses. But, finding the right products to sell can be a daunting task. This article will explore the essential steps to finding profitable products and suppliers to launch a successful dropshipping business.
Step 1: Identify your niche
The first step to finding items to dropship on Shopify is to identify your niche. A niche is a specific area of interest you want to focus on. Choosing a niche helps you narrow your search to a particular group of products, making it easier to find the right products to sell.
When choosing a niche, consider the following factors:
Your interests and passions
Trends and demand
Profit margins
Competition
Once you have identified your niche, it's time to move to the next step.
Step 2: Research products and suppliers
After identifying your niche, the next step is researching the products and suppliers. There are several ways to research products and suppliers, including:
Google Search
Google is an excellent place to start your research. Use specific keywords related to your niche, such as "dropship dog toys," and see what results come up. Look for suppliers that offer dropshipping services and evaluate their product offerings.
Social Media
Social media platforms like Facebook, Instagram, and Twitter are great places to find products and suppliers. Use hashtags related to your niche, such as #dogtoys, #dropshipping, and #petsupplies, to find relevant accounts to follow. Engage with these accounts and build a relationship with them.
Online marketplaces
Online marketplaces like AliExpress, Dsers Dropshipping apps, and SaleHoo are excellent resources for finding products and suppliers. These platforms allow you to browse thousands of products and connect with suppliers offering dropshipping services.
Step 3: Evaluate the competition
Before settling on a product, it's essential to evaluate the competition. Look for products that are in high demand but have low competition. This will help you to stand out in a crowded market.
To evaluate the competition, consider the following factors:
The number of competitors selling the product
The quality of the competition
The pricing of the competition
The marketing strategies of the competition
By evaluating the competition, you'll know what works and what doesn't in your niche.
Step 4: Analyze product demand and profitability
After evaluating the competition, it's time to analyze product demand and profitability. Look for products in high demand but with a low cost of goods sold (COGS) and a high-profit margin. This will help you to maximize your profits and grow your business.
To analyze product demand and profitability, consider the following factors:
Number of monthly searches for the product on Google or other search engines
Number of product reviews on online marketplaces like Amazon or AliExpress
The average price of the product
The COGS of the product
The profit margin of the product
You can find products that will profit your business most by analyzing product demand and profitability.
Step 5: Set Your Prices
Setting the right prices can make or break your business regarding dropshipping. After finding a reliable supplier, take the time to compare their base price against what other sellers are offering.
This will give you an idea of what the market rate is for the product and help you determine if you can offer a similar price while still making a profit.
One tool that can make this process easier is Dsers, which allows you to calculate your potential profit based on your intended selling price.
This way, you can see the profit margin after paying the manufacturer and adjust your price accordingly.
Remember that pricing should cover the wholesale product price, shipping costs, taxes, and marketing expenses. Take all these into account when calculating a healthy markup.
Setting prices too low may seem attractive to customers, but it may also suggest low quality, which can turn them away. On the other hand, pricing products too high can drive customers to competitors.
To set your prices accurately, calculate your minimum retail price based on your wholesale, shipping, taxes, and marketing costs, then research your competitors to guide your pricing strategy. Also, consider your buyer market and their spending habits.
You can gather this information through website analytics, researching the competition, or conducting surveys with your target audience.
By following these steps and carefully setting your prices, you can position your dropshipping business for success.
Step 6: Test and validate your product ideas
Once you have identified potential products, it's time to test and validate your ideas. You can do this by creating a landing page for the product and testing different marketing strategies to see if people are interested in buying it.
Some practical ways to test and validate your product ideas include:
Running Facebook ads to drive traffic to your landing page
Offering a pre-order discount to see if people are willing to pay for the product
Creating a social media post to gauge interest in the product
By testing and validating your ideas, you can avoid investing in products that don't sell well.
Step 7: Choose a supplier and set up your store
Once you have validated your product ideas, it's time to choose a supplier and set up your store. When choosing a supplier, consider the following factors:
Product Quality
Shipping times
Communication and customer service
Dropshipping fees
You can use platforms like Dsers, AliExpress, or SaleHoo to find and connect with suppliers offering dropshipping services. Once you have chosen a supplier, you can start setting up your store on Shopify.
Step 8: Market Your Store and Products
You might have the best products in the world, but your sales will suffer if no one knows about them. That's why creating some buzz about your business is essential to get those initial sales rolling in. So here are some effective marketing ideas that won't break the bank.
Create a Buyer Persona To target the right audience; you need to understand who your ideal buyer is. Consider factors such as their income, shopping habits, and interests. This information will help you tailor your marketing efforts to their needs and preferences.
SEO Optimizing your store for search engines can take some time, but it's worth the effort. Use relevant keywords in your product descriptions, titles, and web copy to improve your search engine rankings. Tools like Google Keyword Planner and Google Trends can help you identify the most effective keywords.
Email Marketing Email newsletters are a great way to keep your customers informed about your products and any sales or promotions you may have.
You can also include product guides and helpful tips to increase engagement. For example, consider offering a discount code to first-time customers to encourage them to purchase.
Social Media Social media is a crowded space, but it's also a great way to reach your target audience. Identify which platforms your customers are most active on and create a strategy to engage with them. Use tools like Buffer or Hootsuite to manage multiple social media accounts simultaneously.
Implementing these marketing ideas can increase brand awareness and attract customers to your dropshipping store. Remember to stay consistent and always put your customers first.
Tips for Landing The Best Dropshipping Suppliers
Congratulations on finding the products you want to dropship! The next step is to find a reliable dropshipping supplier. Luckily, there are many great companies out there, such as AliDropship, which gives you access to thousands of suppliers worldwide and integrates with popular eCommerce platforms like Spotify and Wix.
When choosing a dropshipping supplier, there are a few things you need to keep in mind to ensure that you're getting the best possible service.
First, ensure the supplier is easy to contact and promptly responds to your questions. This is especially important because eCommerce never sleeps, and you want to be able to provide great customer service to your end customers.
You should also look for a supplier that allows you to order sample products to check the item's quality. With some, you can even get a discount on up to five samples per product!
Another important factor is the supplier's returns or refund policy. Knowing that you and your customers are protected if something goes wrong. For example, there is an arrangement where all suppliers will refund broken, wrong, or missing items.
Finally, check out reviews and ratings to understand the supplier's reputation. And don't forget to ensure the supplier can ship quickly to the regions you operate in.
Finding a quality dropshipping supplier is key to running a successful business. With these tips, you'll be on your way to providing outstanding products and services to your customers.
And if you're still wondering how to find items to dropship on Shopify, check out our other resources for more tips and tricks!
Key Takeaways
In conclusion, dropshipping can be an excellent way to start an eCommerce business without worrying about inventory or shipping. To start dropshipping on Shopify, you must find the right products, choose reliable suppliers, and set your prices correctly.
Use keyword research tools, competitor analysis, and advanced website analytics to identify the best-selling products. Then, consider using DSers, a reputable dropshipping company that connects you with thousands of high-quality suppliers worldwide.
Remember to select a supplier with excellent customer service, quality products, and fast shipping. Order sample products, check reviews and ratings, and ensure the supplier's returns or refund policy is acceptable.
By following these tips and tricks, you can set yourself up for success in the dropshipping business on Shopify. You can achieve your entrepreneurial dreams with hard work, dedication, and a willingness to learn.
So, what are you waiting for? Start your journey now and learn how to find items to dropship on Shopify. Good luck and happy dropshipping!
FAQs
Q: How do I find the right items to dropship?
A: Finding the right items to dropship can be challenging, but you can start by researching popular products in your niche, analyzing customer reviews and feedback, and keeping an eye on the latest trends. You can also use dropshipping tools like Dsers to find products currently in demand.
Q: How do I find my winning product for Shopify dropshipping?
A: To find your winning product for Shopify dropshipping, you must research your target market, analyze competitors' products, and test various products through advertising and marketing campaigns. It takes some trial and error, but once you find a product that resonates with your audience, you can scale it up for maximum profit.
Q: Where to find product images for dropshipping?
A: You can find product images for dropshipping from your supplier's website or stock image websites like Shutterstock or Unsplash to source high-quality images. Optimize your images for your online store and ensure they are high quality to attract customers.
Q: What are the best products to sell through dropshipping? 
A: The best products to sell through dropshipping are in demand, have a reasonable profit margin, and are easy to ship. Some popular niches include fashion, beauty, electronics, and home decor. However, the best products ultimately depend on your target market and their preferences.
Q: How do I dropship on Shopify for beginners?
A: To dropship on Shopify for beginners, you first need to create a Shopify store and then source products from a dropshipping supplier. You can then add these products to your store and promote them through marketing campaigns. Shopify also offers a range of apps and plugins to help streamline the dropshipping process.
Q: Can I dropship on Shopify without inventory?
A: Yes, you can dropship on Shopify without inventory. This is one of the main advantages of dropshipping, as you only need to order products from your supplier once a customer orders in your store. This means you can start a Shopify store with minimal upfront costs and scale it up as you grow.
Small Request
Kindly share it with your friends. Especially the ones you believe need this information. Sign Up Now and Get your first 3 months for only $1 monthly.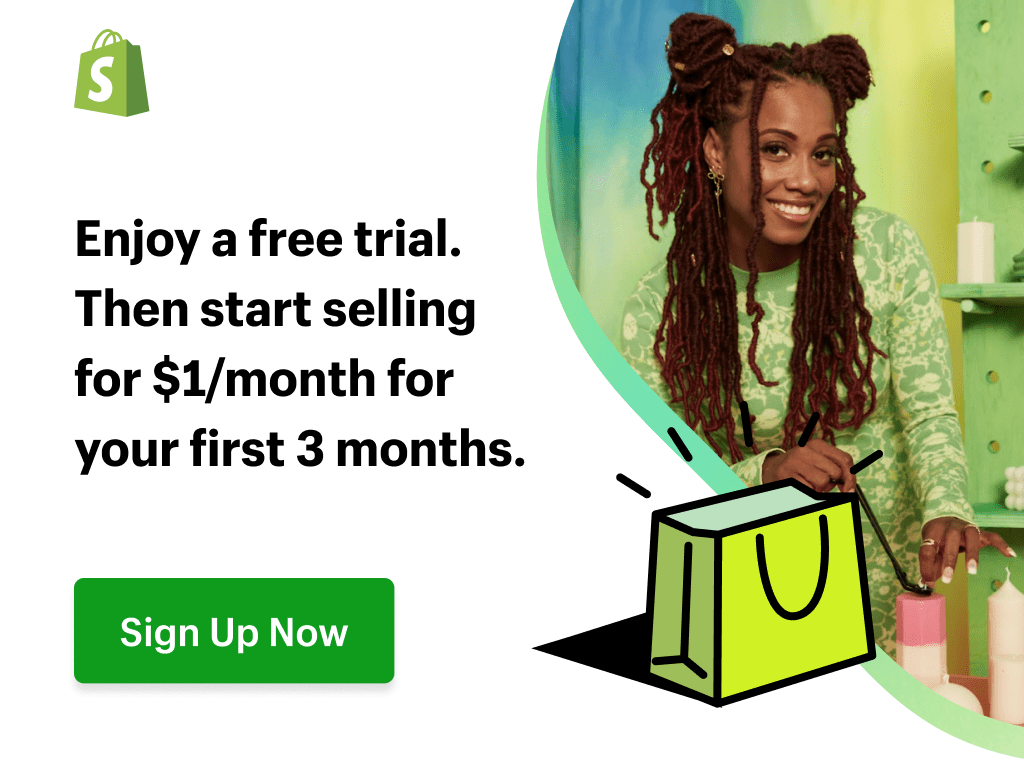 Sharing this information with others can make a huge difference. You may ask why.
Well, the truth is, my main aim is to provide the best information about drop shipping for both beginners and experienced dropshippers.
And I plan to continue doing so for as long as I can.
I would also like to thank those who support my work by reading and sharing my content.
Trust me, when you take your time to share, it will greatly help me and others who need this information.
Here are some great suggestions:
Pin it
Share it on another blog.
Share on Facebook (Share it with friends and even on Facebook groups)
Tweet it
Stumble it
This will only take a few seconds of your time, and I would appreciate it.
I appreciate you a lot. Thank you!
Join my Shopify dropshipping group mastermind and follow my blog to learn more about Shopify tips, dropshipping guides, tricks and checklists, and e-commerce in general.
If you enjoyed and learned something from this post, you can get me updates for free!
I send out email newsletters about new blog posts, tips, and tricks to help you grow your dropshipping business, new YouTube videos to give you more insights into the e-commerce market, and much more.
If you enjoyed reading this, you could also join my Facebook group. Thank you for reading how to make money dropshipping online from the comfort of your home.
Click here to Join My Facebook Mastermind Group