How To Use Instagram For Business For Store Promotion
Not sure how to use Instagram for business? Now would be a good time for someone to instruct you on the most effective ways to use the app for your business venture.
What is the aim of Instagram?
Because the platform offers ecommerce retailers a plethora of ways to select new customers and connect with them, "because the platform offers" And with a variety of targeting and advertising options at your disposal, you can choose precisely which of those one billion users you want to put your content in front of.
Do you want to use Instagram to promote your local business? We will go over everything you need to know to get started in the following paragraphs.
What is Instagram?
Let's start with Instagram for newbies: It is a social media network and app with a strong visual focus that allows individuals and brands to share photographs and videos with the followers of their accounts. It started as a simple app for posting photos.
Still, it has evolved into a platform with various services, including paid advertisements, self-destructing messages known as Stories, and live broadcasts via IGTV.
Using a platform with 2 Billion users worldwide is a fantastic place for brands to connect with consumers.
The demographics of Instagram users are also interesting to read. Even though the audience of users is between the ages of 25 and 34, the gender distribution of users is nearly even. If this is a market you want to reach, Instagram is one platform that can help.
How to Download Instagram Step-by-step instructions
Depending on your smartphone's operating system, you may download the Instagram app from the Google Play Store or the Apple App Store.
The app will not require any downloads. However, you won't be able to use it until you create a new account, which you'll be prompted to do the first time you open it.
Categories of Instagram Posts
If you want to promote your business on Instagram, it is good to become acquainted with different content you can post on the platform. You can include the following categories of Instagram posts in your content mix:
Organic: These can be visuals, films, or galleries of visual content. This appears in your followers' feeds and any hashtags you put in the copy, and it may also appear in the Explore section (Instagram controls this).
Stories: Every day, 500 million Instagram accounts share content through the app's Stories feature, with brands accounting for one-third of the most-viewed Stories rather than regular Instagram people.
Influencer posts: Although it appears that consumers have caught on to how influencers do business, influencer marketing is still a viable tactic. These postings are either shared on the feeds of influencers or your brand (or both), allowing you to reach a new audience while also adding credibility in the form of social proof.
IGTV: IGTV is one of Instagram's more recent additions. This is intended for long-form video content; you can broadcast live, and the footage will remain on your profile even after the live event has ended.
Ads: One billion is a massive number, and not all people who use Instagram will likely be perfect customers for a business. When you use Instagram adverts, you may set restrictions on who sees your ads, allowing you to ensure that they fit the profile of your ideal customer.
How Do I Create an Instagram Business Account?
If you want to learn how to use Instagram marketing for your business, the first step is to create a company account on Instagram. Follow these steps to convert your personal Instagram account into a business account on Instagram:
How to Create a Business Instagram Profile
Navigate to your Instagram profile and select "Menu" from the drop-down menu in the upper right corner.
From the drop-down option that appears, select "Settings" and sees if you can upgrade to a professional account. If you are unable to do so, go to Account> Business.
Follow the on-screen instructions to connect your company's Facebook business and Instagram profiles.
Select a business category and enter your contact information.
After completing the forms with further information about your business, tap the Done button.
Congrats! You've built a presence on Instagram with a business page. Now you must devote some time to optimizing it to attract members of your target audience to your business.
How to Optimize Your Instagram Business Account
Enhance Your Instagram Bio
On Instagram, you may promote your business in various ways by including a link to it in your bio. Your bio is a short text in which you convey information about your brand, such as who controls your Account, who you are, and what an account that follows you can expect to see in their feed.
Your brand's description, profile photo (use your company logo to improve brand recognition), and link (you may use a "link in bio" tool like Linkpop) will all be featured in your Instagram bio.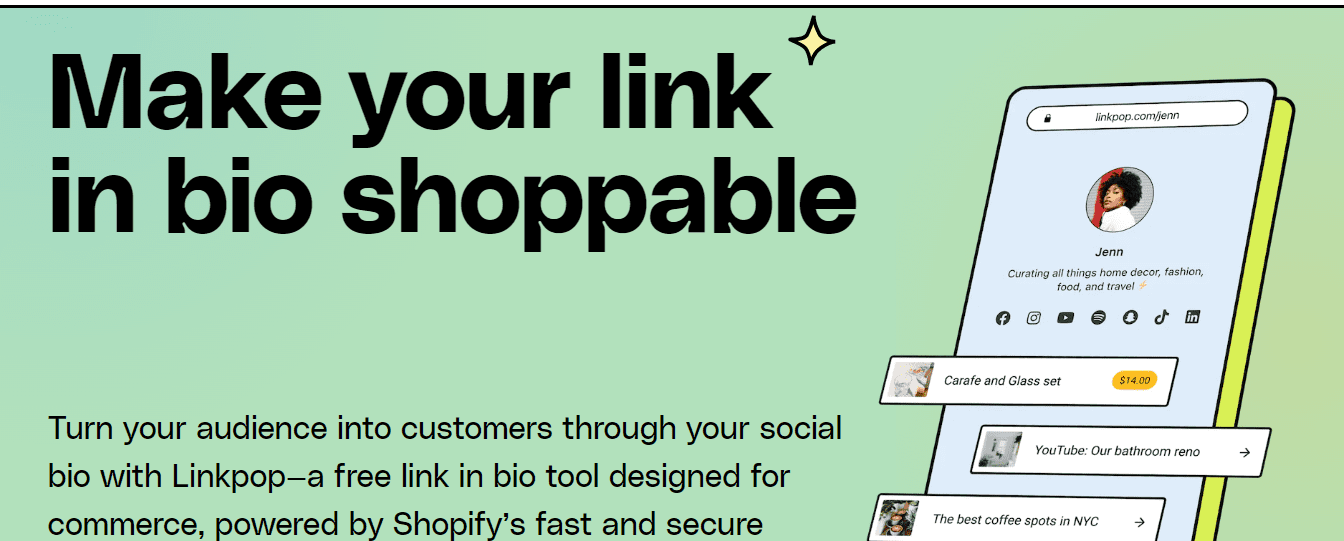 It's also a good idea to reiterate some of your unique selling points in your bio since this will help to develop trust and enhance conversions. Don't forget to include your store's address if you have one; it will simplify customers to find you.
In this aspect, your profile link is essential. Unlike other social media platforms, Instagram does not allow links. Instead, they only allow you to include one in your bio. It is not feasible to link to individual photos (paid is a different story).
You are free to update modifications to your bio link whenever you see fit. It must go to your website, either the homepage, a landing page, a product page, or another page on your website. If you are going to link to a page about a sale, you should post a photo linked to the sale and update the link in your bio. It's typical to practice for brands on Instagram to do so.
Launch an Instagram Shop
Another alternative for people who sell their things online is to open an Instagram store. Your Instagram Shop is another e-commerce channel that allows customers to purchase your product directly from the Instagram app. As a result, you will find it much simpler to persuade customers to buy because they will not have to go through the hassle of closing the app, going to your website, and completing the purchase process there.
Your Content Strategy: Determine What to Post on Instagram
Instagram is all about branding. To successfully market your business on Instagram, you must create a feed of product images, lifestyle imagery, user-generated content (UGC), Instagram shoutouts, and other visuals that bring your brand character to life.
For example, suppose you are selling sunglasses. You should either post images of people enjoying sunny beach vacations while wearing your things or add a pair of sunglasses alongside other clothing and accessories suited for the kinds of activities that your audience might like to go on.
Before we get too far into the weeds, I'd want to point out that starting any marketing campaign for your business with a goal-driven and strategy-first approach is the best way to get things going. The following should be included in your Instagram strategy:
Achieving your Instagram objectives (make sure these support overarching marketing and business goals)
The key performance indicators (KPI) that will be utilized to assess the organization's progress
Who do you want your Instagram posts to reach?
The content you wish to post on Instagram.
Who is in charge of managing the Instagram account and creating content for Instagram?
You will learn a lot over time, one of the most crucial things being how to post content for Instagram posts that will help you achieve your goals.
For example, "Why do people use Instagram?" and "Why do people follow brands?" The answers to these questions will develop you in developing an audience-focused strategy (instead of your sales goals).
How to Grow Followers on Your Instagram Business Page
Keep your primary goal in mind as you grow your feed: gaining a following to help generate additional revenue. This usually necessitates a long-term strategic and targeted strategy.
In addition to creating great content for your audience, you can increase your following by following other accounts with audiences similar to yours.
Sticking with the sunglasses theme, one strategy for growing your network would be to follow beach clothes designers or other influencers who are likely to wear sunglasses comparable to your own.
If you go to your competitors' accounts and add some of their followers, you can steal followers from them if you choose who you follow strategically. One of the best ways to achieve this is to follow people who follow your competitors.
Give back to the accounts that follow you by following them; this will help you create relationships with your audience.
Remember that simply following someone's Account is insufficient. You should also make an effort to like and comment on other people's profiles. Engagement is just as critical, if not more important, than the initial act of following someone or something.
The wait for results will be lengthy! If you are patient and continue to explore Instagram for the most relevant accounts to feed into your network on the platform, you will notice results in a short period.
When and How Often Should I Post on Instagram?
Knowing how frequently to post on Instagram demands a different strategy than other marketing channels such as Facebook.
A decent rule of thumb is to make at least one new post per day, but anything from four to five posts per week, or even a couple of posts per day, is acceptable. So what is the primary focus? Maintain coherence and focus on providing content of the highest consistent standard.
It's important to remember that there is no restriction on the number of times you can post on Instagram; hence, it's better to experiment and figure out what posting schedule works best for you. So, for example, if you want to get off to a solid start, you should probably only post once or twice a day and then adjust.
What is the best time to post on Instagram? This is truly determined by several crucial factors, including your location, your audience's location, and Instagram behaviors.
As a general rule, the optimum times to post are between lunch (between 11 and 1 p.m.) and in the evening (between 7 p.m. and 9 p.m.) What are the best days? The first, third, and fourth Mondays of the week. Sunday is not a good day to post anything.
How to Promote Your Business on Instagram
Share your photos and videos.
It would be best to consider how the images (or video) would turn out. For example, what exactly are you attempting to include in the frame? What will the presentation look like on a mobile device?
Will it showcase the product details you want to be front and center in the presentation? Is it in keeping with your brand's aesthetic? Keep in mind that you are modifying the entire feed, so the visuals must be consistent.
If you only sell t-shirts, it makes no sense to create an image of coats, shoes, or other accessories for your audience.
You can also actively exclude things from consideration if you are aware that they do not meet the criteria for your Account. When you look at American Giant's Instagram posts, you'll notice a certain consistency:
Select a Font and Color Scheme to Go With It
Having a color palette at your disposal may make it easier for you to attain the synergy we are talking about. This does not mean that you must only post completely appropriate information in terms of color. However, everything should conform to the same aesthetic and complement one another rather than appear to be a random selection of posts. This is preferable to the alternative.
You can adjust the look of your Instagram posts by using one of the app's built-in filters. This includes sepia, black-and-white, and a few other effects. In general, it is best to add filters outside of the Instagram app, using your photo editing software so that you may utilize them on your visual assets even when you are not posting to Instagram.
You must also choose and choose a font for your posts. This includes the font type, font style, and font point size. Because you want people to be able to create your brand across multiple platforms, the font you chose for your website will most likely be the same one you use elsewhere.
Use Captions
The visual content you supply is only half of the equation. Additionally, there is space for a caption beneath each Instagram post. You have a maximum of 2,200 characters, which is around 330 words. You must also be creative here.
Captions must be clear and consistent with the brand. If your brand has a sense of comedy, strive to include it in your captions.
Subtlety is crucial if you want to be a luxury brand. It is also important not to be afraid to experiment with different emoticons. These can be playful and conversational, which is ideal for use on social media.
The captions for those images, like the visuals, must be consistent with your brand. Even if your tone fluctuates from time to time, you must remain consistent with the overarching language of your brand. Consistency is critical in today's omnichannel society.
Use Hashtags
The use of hashtags is at the end of the list. If you want to increase the amount of engagement on your Account, one of the most important things you can do is make it a practice to include hashtags in the description or comments section of your posts.
When a user clicks on a particular hashtag, they are brought to a completely other feed that contains all of the posts that include that hashtag. This means that your posts will be discovered by new audiences who were not previously engaged with your Account.
Examine your competitors' and influencers' hashtags and the ones your followers use to get a sense of the hashtags you should be utilizing.
Instagram Paid Ads
You may create paid ads on Instagram in addition to expanding your following organically. The ads will surface in the newsfeed of your target audience in the same way that photos and videos from accounts they follow do.
You can highlight a single photo or video or promote a collection using a gallery. Advertisements can also be inserted within Instagram Stories.
To begin creating paid ads on Instagram, all you need is a Facebook Ads account, which you can obtain by adding the channel from the Business Manager page of your Instagram account. Everything now operates on the same system as Facebook ads.
Tracking Your Instagram Efforts
Tracking your progress over time and adjusting your strategy to achieve the best results is essential in marketing, just as in any other sector.
On Instagram, some key performance indicators (KPIs) to consider are as follows:
• Followers: total number, growth, etc.
• Engagement: likes, comments, reposts, views, etc.
• Visibility, including impressions, reach, and other measures.
• Conversions include clickthroughs, referral traffic, sales, and so on.
Knowing the ratio of people who visit your profile to the number of followers you have can also help you determine whether you need to increase the ratio of engagement you provide to convert more of the people who are merely browsing your profile into followers of your Account.
Read Also:
Summary
Starting a Business on Instagram in 2022
You now have a solid foundation for deciding how to use Instagram for business. First, allow yourself the time to develop your Account into a revenue-generating machine.
To begin, create an Instagram account with your username handle, profile photo, Instagram bio, and link containing tracking data.
Create a content strategy to assist your Instagram content calendar, publication cadence, hashtags, and targeting.
Don't forget to engage with other accounts and follow people, especially when starting.
Build an organic following first, and then experiment with Instagram targeted marketing to reach your target audience.
Don't neglect the significance of tracking your progress over time. Optimization is critical to maximizing your efforts' return on investment (ROI).
Please leave any comments, questions, or experiences you've had using Instagram for your dropshipping business in the section below, where they will be exposed for all to see.
Small Request
Kindly share it with your friends. Especially the ones you believe need this information. Sign Up Now and Get your first 3 months for only $1 monthly.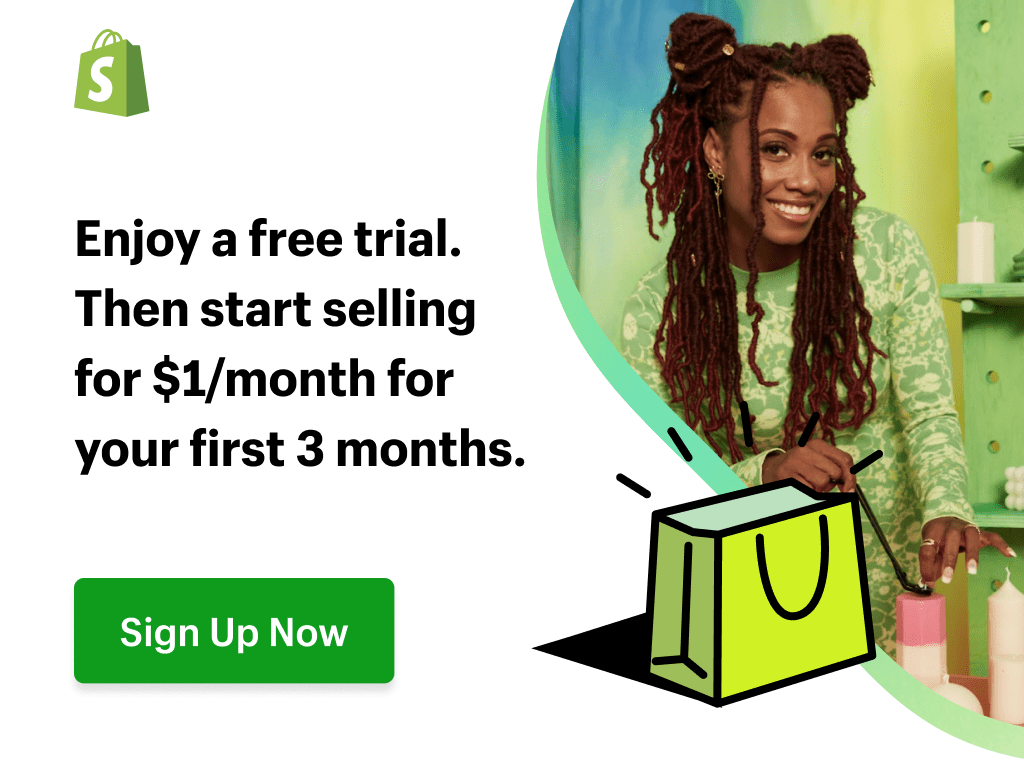 Sharing this information with others can make a huge difference. You may ask why.
Well, the truth is, my main aim is to provide the best information about drop shipping for both beginners and experienced dropshippers.
And I plan to continue doing so for as long as I can.
I would also like to thank those who support my work by reading and sharing my content.
Trust me, when you take your time to share, it will greatly help me and others who need this information.
Here are some great suggestions:
Pin it
Share it on another blog.
Share on Facebook (Share it with friends and even on Facebook groups)
Tweet it
Stumble it
This will only take a few seconds of your time, and I would appreciate it.
I appreciate you a lot. Thank you!
Join my Shopify dropshipping group mastermind and follow my blog to learn more about Shopify tips, dropshipping guides, tricks and checklists, and e-commerce in general.
If you enjoyed and learned something from this post, you can get me updates for free!
I send out email newsletters about new blog posts, tips, and tricks to help you grow your dropshipping business, new YouTube videos to give you more insights into the e-commerce market, and much more.
If you enjoyed reading this, you could also join my Facebook group. Thank you for reading how to make money dropshipping online from the comfort of your home.
Click here to Join My Facebook Mastermind Group