Jasper ai Long-form Assistant Tips To Quality Content
Jasper.ai Launches New Long-Form Assistant, and blogging just got a whole lot easier! This AI writing tool has a plethora of "writing templates" built to assist you in writing for a given structure or media platform.
At the moment, Jarvis.ai offers a mix of writing templates or content building blocks that generate outcomes when used with the Long-form Assistant. We'll illustrate how this Jarvis.ai function works in detail.
Long-form Assistant 101
Adopt this guide to learn how to become an expert in Long-Form Assistant. To access the long-form assistant, you must have either the Pro or Boss Mode plan. The guide is essentially a written version of a walkthrough of Jarvis.ai's long-form assistant.
Jasper has a Start Here step by step, but for this article, I will focus exclusively on how to use the Long-form Assistant template for various writing projects. The software comes with video tutorials and a live training call if you require more support with its use.
The Long-form Assistant template prompts you to write a description or topic for your article. This has a character limit of 600. The description you write serves as the sole basis for Jarvis to suggest ways to write or expand your content. Additionally, it aids in the brainstorming and structuring of ideas for an article or campaign.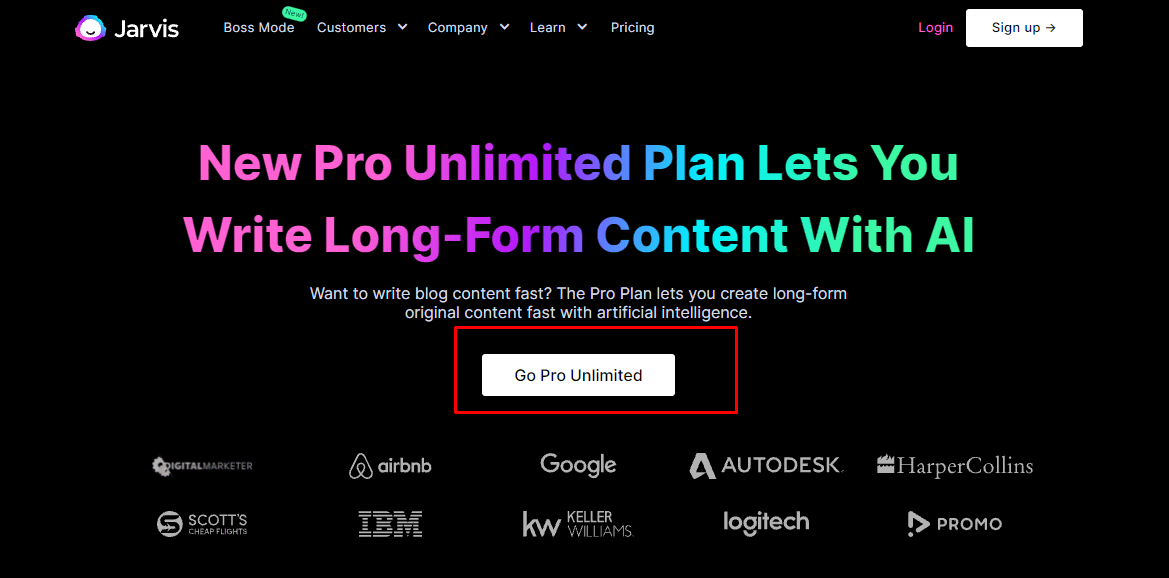 However, you may find that the 600-character limit prevents you from reusing the entire content generated by the AI in the template for improvement.
Yes, it generates marketing text with a character count of more than 600. If you wish to re-publish the updated copy, you may need to do it in two batches. Jarvis can generate as many enhanced writing examples as you require.
To offer a better sense, here are some features and functionality of the Jarvis.ai Long-form Assistant template. This will take a little while, so get your hot chocolate set.
Discover the Long-form Assistant
For starters, the Long-form Assistant outlined herein is only available as part of the pro or boss mode plans. If you only have the beginner plan, you will be unable to access the blog post workflow.
What is the long-form assistant?
The Long Form Assistant is an AI-powered assistant that provides a fast, efficient way to create your long-form content.

With the long-form assistant giving a quick and effective way to create blog articles, as well as additional templates available in 'Power Mode,' you'll save essential minutes typing futilely into a blank document and instead focus on other things.

Complete your projects on time and with less stress and overwhelm. Take time to focus on the important things in life.
As an AI-powered tool, the Long Form Assistant will never crank at writing for you – & there is no limit to words you can create!
"We're delighted about this new feature because it enables us to assist bloggers who want to maximize their productivity without compromising on quality."
Jasper team, said, "This will be particularly useful when content creators require additional content but are short on time between other projects.

Further, the team has been hard behind the scenes introducing templates from 'Power Mode' that provide prewritten content with various topics, such as listicles (for those times when your brain refuses to cooperate), personal stories, and more-providing users with even more versatility. "
Unlock the creative potential of the Long Form Assistant tool by gaining unrestricted access to templates and using the automatic text mode to generate high-quality content quickly.
No need to fuss about how long it has been since your last posting-maintain momentum by developing new ideas while creativity is at its peak (or low) during those times when words leave us all too quickly.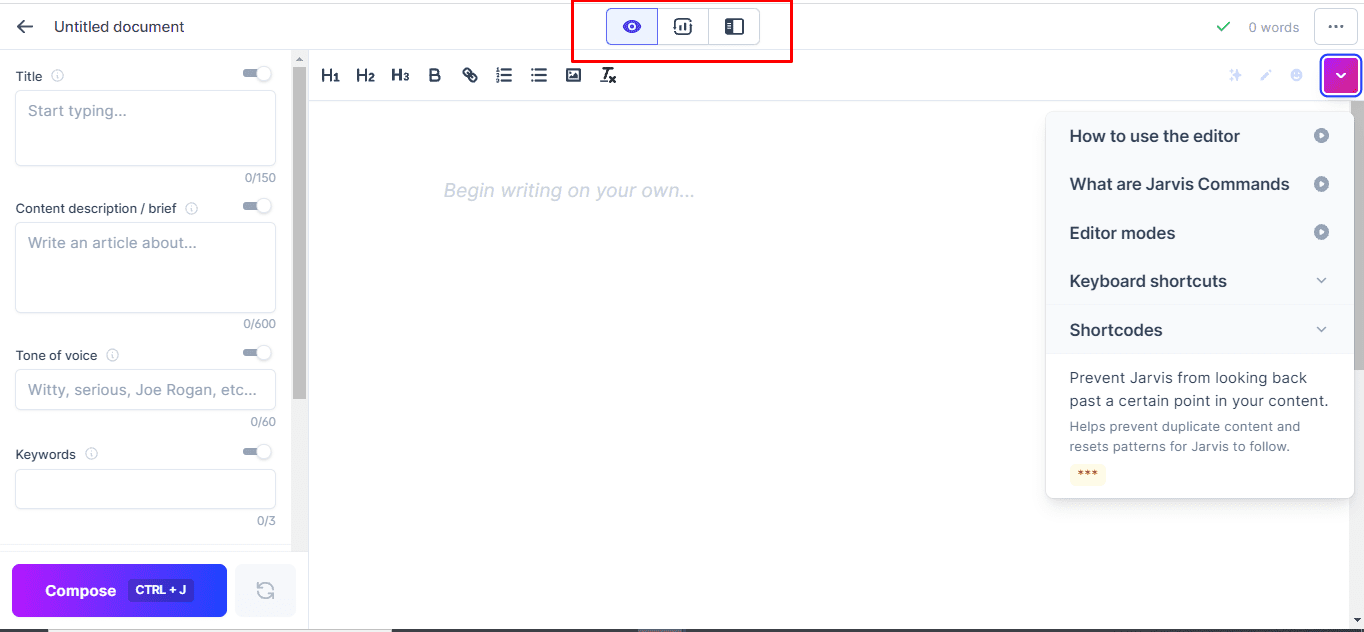 "We're overjoyed to be able to share this update with everyone!" exclaims Jarvis. "We hope everyone loves using the Long Form Assistant."
Write more content in hours than you'd in months, keep your clients satisfied while retaining your blog's freshness.
Write effective ads, witty Instagram captions, and more.
You can Automatically generate highly converting long-form content with the click of a button without worrying about running out of credits on a plan with a word limit.
Help is at hand when you require it the most.
You've been seeking a means to improve the quality of your blog articles, short stories, screenplays, and books. The long-form content can take hours, days, or even months!
Introducing the Jarvis.ai Unlimited Pro Plan gives you access to the new long-form assistant that will help you write your greatest work to date.
With this long-form assistant tool at your disposal, you can easily create everything from blog entries to books. It includes all of the features included in the other plans but adds an AI-powered writing assistant.
The Unlimited Pro Plan is ideal for anyone who wants to improve their writing's engagement and persuasiveness. This plan includes everything you need, so enroll today!
Need assistance brainstorming ideas to ensure your writing is always at its best?
With a long-form assistant, you can forget about fretting about how to start a blog post or what to say in an email. You also do not require any technical knowledge. The Unlimited Pro Plan is ideal for anyone who wants to increase their productivity as a writer without exerting effort.
You may probably question how effective AI can be when it comes to content creation.
The answer is: excellent, extremely superb!
The long-form assistant has been trained to write engaging blog entries and other types of content that people enjoy. It's an excellent approach for you as a creator of your work or as a business owner with too many duties to do more in less time without losing quality.
Sick of slaving away at your laptop for hours upon hours?
The long-form assistant got you covered. The Unlimited Pro Plan is ideal for anyone looking to improve their productivity as a writer in less time!
The ideal answer is when you require great content but lack the time or resources to create it!
You may use AI technology to write blog posts and other lengthy text in minutes with this plan. All it requires of YOU is a beginning point, which will save you hours staring at an empty computer, eager to get something done before another deadline approaches…
The long-form assistant is the favored assistant for serious content providers.
With this new plan, you may write an infinite number of words per month & create content that converts visitors into leads without worrying about exceeding some arbitrary restriction or depleting credits from existing plans where each word costs money.
Profit from the strength of AI's algorithms, which will magnify your brand's voice and convert visitors into leads. Utilize the content on your blog, social media platforms, and email marketing campaigns.
What is the best thing? It makes no difference what industry we're talking about: fashion bloggers, like foodies, would adore these tools! And who knows, they might even be helpful to real estate agents… but let us know when they start blogging…
Accelerate marketing copy turnaround time by 10x-100x+ and reap the benefits of your efforts-or, more precisely, Jarvis' efforts!
The blog post workflow is the built-in boost for writing great blog posts, emails, and long-form social posts. To begin, click Documents in the side navigation bar. You'll be offered two options: the blog post workflow or creating a new document from Scratch. Both of these operate similarly, but with one significant exception.
Blog Post Workflow: A flow that assists in creating an outline for your document that you may refer to while you write. Additionally, you'll see the blue COMPOSE button is present (seen above). Compose enables direct document writing. You can utilize the COMMAND + J shortcut.
Beginning from Scratch (previously blank doc): This will behave similarly to a Google doc without additional styling and formatting. It's an excellent location for combining template outputs.
Alternatively, in Boss Mode, it's an excellent spot to begin writing. Only the compose button will be available on the blank document under the Boss Mode plan.
The blog post workflow is designed to take care of the heavy lifting involved in completing a piece of long-form writing. However, there are a few pointers to keep in mind to make the most of it.
After clicking the COMPOSE button, you will be prompted to make some adjustments (0 percent). (in the pro plan). As you write ten more words or change the content Jarvis has just created for you, and the proportion will climb until the blue button becomes accessible for usage again.
This guarantees that you're guiding Jarvis in the direction you want him to take.
How do you use the blog post workflow well?
To begin with, you'll want to recall the ideal way to communicate with Jarvis to generate the finest output. Once you're confident you've mastered that, proceed to create your first piece of long-form content with Jarvis.
Configuring the Document's Settings
To begin, start the long-form assistant. This is accessible through your dashboard or by clicking content and creating a new long-form assistant document. To begin, complete the prompted flow. This is the hub of information for your document.
Step 1: Complete the prompted blog post workflow outline.
1.1 Describe: For instance, if I write a blog article about five different coffee alternatives, I will write stuff along these lines in the input. "Write a blog post outlining 12 email marketing alternatives that will jumpstart your marketing career."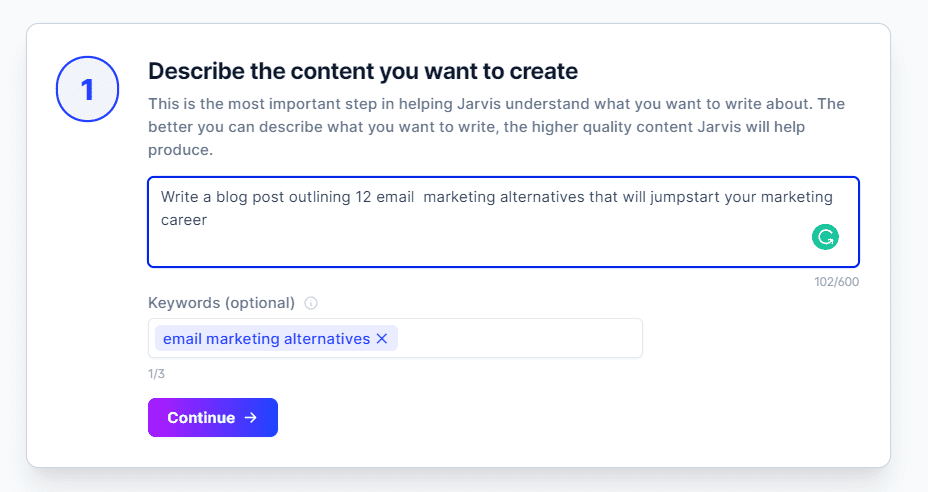 You have 600 characters to use here, but try to write simply and clearly about the content you wish to create. As a result, in many cases here, less is more.
Describe the type of content that you wish to create.
Instruct Jarvis on the type of content you wish to write.
"Write a blog entry about…"
"Write a short tale about…"
"Write a marketing email promoting product X for my email list."
"Write a script for a YouTube video about…"
"Write a birthday card…"
You can incorporate a tone of voice.
"This post's tone of voice should be funny."
Include or write any additional info you wish to include or let Jarvis.ai know.
You must be willing to adjust it as you go. You'll be able to make changes as you go. The art of document description trumps science. Not every document description will follow the same formula for producing the best output.
You can incorporate keywords.
We limit you to three keywords because Jarvis becomes confused about which words to include if you enter more. Additionally, these will be modifiable as you progress.
1.2. Choose a title: write one in or select generate ideas if you don't like what Jarvis generated. Resist overthinking it; you can always change the title of your document retroactively.

Title
You have two options for the title:
You may also use your title by simply writing it in.
You can generate ideas-simply select 'use this one once you've discovered one you like.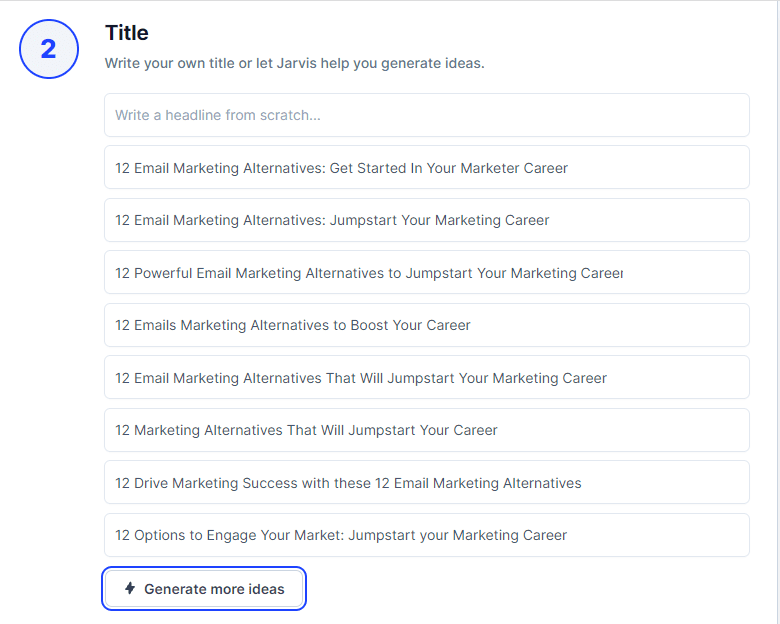 Interesting note: all generated content will be saved in your AI output folder if you wish to revisit it later.
1.3. Write an intro paragraph: You may either write your own or generate ideas and let Jarvis choose one for you. After selecting an introduction paragraph, you'll be prompted to launch the editor.
Introduction Paragraph
Jarvis generates an intro paragraph written on the title, description, and keywords you've already entered. Additionally, you have the following two options:
You may type your introductory paragraph.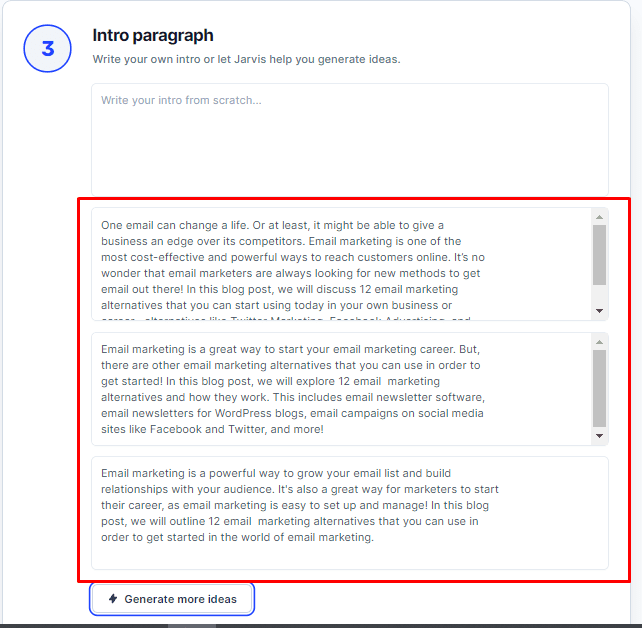 You can generate ideas-simply select 'use this one once you've discovered one you like.
Interesting note: all generated content will be saved in your AI output folder if you wish to revisit it later.
You can always go back and change the document's description retroactively as you work. We recommend that you do so. This enables Jarvis to continue producing relevant content. Consider the following.
Step 2: Compose the next sentences.
You've now provided Jarvis with the skeleton of your document. As a result, you can continue to hire him to write content for you on your chosen subject. You'll be prompted that the compose button is now available, prompting you to make edits as you go.
A piece of advice for you is to lead Jarvis by writing a few sentences. If you're truly stumped for ideas, go ahead and make some edits by substituting words from previously created content. You'll want to increase the proportion of making some edits to 100% before the blue button shows again.
Step 3: Write & write some more
Write your content creation. I'd urge you to switch to power mode in your editor and use some of the templates to guide you through your long-form.

Specific instructions and use cases will be discussed in greater detail in the following section.
Step 4: Don't forget these handy hints and pointers in mind as you proceed.
Use the various modes: Focus, SEO, and Power.
Within the Long-form Assistant, there are three modes that you may choose between by just clicking on them.

Eye = Focus mode will be nothing more than a document.
To use the Graph = SEO mode, Surfer SEO integration is required.
Three-lined sidebar = Power mode; apply the templates in conjunction with the Long-form Assistant.
Modify your document description
By clicking on the title of your document, you can quickly change and adjust the subject matter that Jarvis will write about.
Use templates & copy-paste content
By switching to power mode, you can generate content immediately in the templates you're used to and paste it into your document. Once the content is copied, you can even compose other content on top of it.
Highlight & rewrite
Simply highlight and click the button to rewrite the content.

Highlight and correct errors in grammar
With the green pencil, correct all of your grammatical errors.
Highlight & explain it to a child.
Reduce the complexity of a sentence by rewriting it.
Apply SEO keywords
Learn how to use keywords effectively in your Long Form Assistant (here).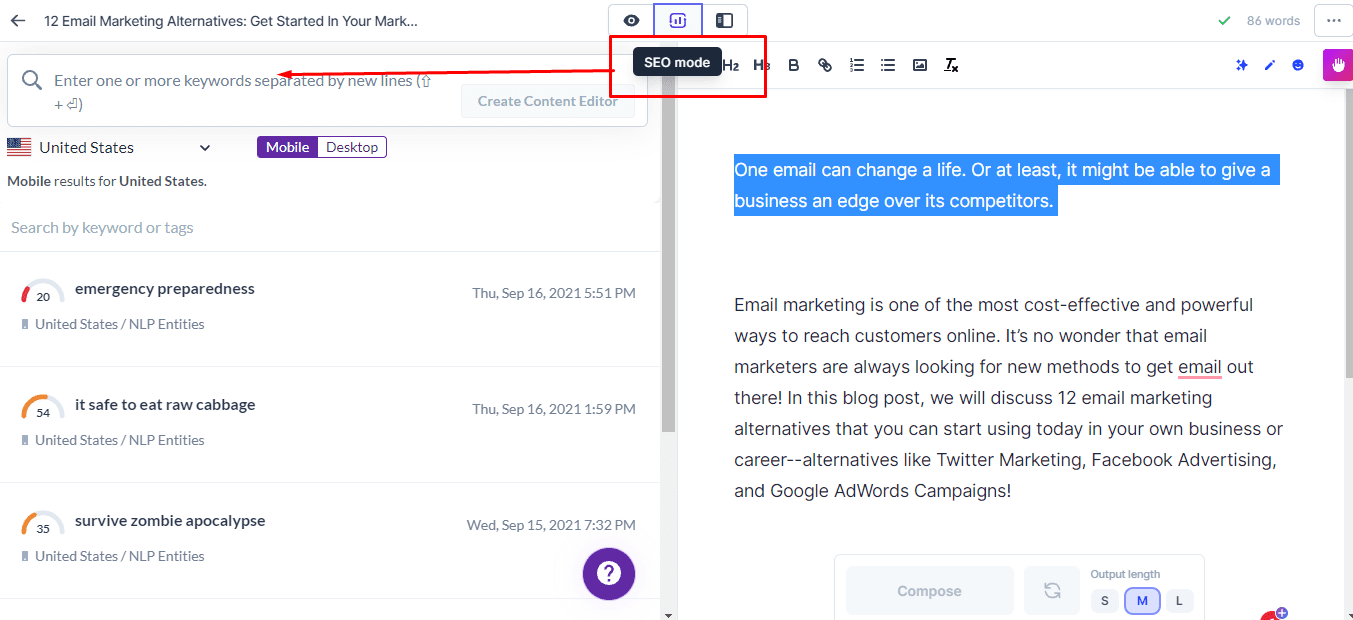 Understanding Jarvis
Jarvis has a reason. He is an expert at creating content that is human-quality and can write nicely for you. However, because he is not a person, he will make errors and even do strange things.
Jarvis was taught until October 2019 — which is not very recent —, and we are working on ways to keep him updated on current happenings.

He will not always be up to date on current events. If your content is based on more recent history, you must "feed" that information to Jarvis via your document description.
Jarvis has read approximately 10% of the internet. Therefore, if your content has been widely discussed, he is very likely to be familiar with it.
If you have a specialty or a new business, you'll want to err on the side of informing Jarvis about it rather than relying on his prior knowledge. He prefers to read content that is well-written and concise.
Allow Jarvis to blossom your writing for you. Be as direct as possible.
He attempts to forecast the next great word to write. Jarvis chooses one word at a time what to write. Because he is not copying large sections of other content from the internet, the likelihood of plagiarism is extremely minimal.
It examines the intent of your previous writing and attempts to output the next best word based on the intent obtained thus far.
While it excels at creative writing, it is not necessarily factually accurate. It is your responsibility to act as a fact-checker and steer him toward the truth.
We are working on ways to improve the facts, but one of the drawbacks of Jarvis's artistic writing is that he is not built to write accurately. Therefore, if you wish to include facts, make sure they are included in the document description.
For further details on how to interact with Jarvis, check out this guide (here).
What Jarvis Sees
He creates your next output by reading the title, document description, keywords, and the last 600 characters.
Bear in mind that characters are not equivalent to words, and hence he is only reading 600 characters. If you wish to change the subject of what he is writing, either type anything for Jarvis before hitting compose again or change the document's description, title, and keywords.
Generating Content
The compose button is featured in the long-form assistant. Because the compose button is not present in the blank document flow, ensure that you are in the long-form assistant flow if you do not see it.
After clicking the compose button, you'll notice that the compose button has been replaced with a grayed-out make some edits (0 percent). This is your opportunity to revise Jarvis's work or write a few words directing him to your next output. Jarvis is your assistant when it comes to writing.
You remain the captain of your content, and he will want your assistance to steer him in the direction you desire. This percentage will increase as you feed Jarvis or update current content until the compose button reappears.
You can select from three different output lengths: short, medium, or long. As previously stated, the medium output produces the most consistent output at the moment.
Long outputs can occasionally produce outputs that appear to be somewhat wrong. If this is the case for you, feel free to reduce the length of your output or increase the length of your document description.
It's also worth noting that Jarvis will read wherever your cursor is. Therefore, you can generate content in the middle of an article. He will read 600 characters above your cursor and nothing below.
Shortcodes
*** Shortcode: Include three asterisks in your content to keep Jarvis from seeing anything above that point. This enables Jarvis to combat the generation of duplicate outputs.
He will still read your document's title, description, and keywords. He will read the preceding 600 characters. This is the most efficient way of refocusing Jarvis. You may include as many as you wish within your content.
##Shortcode: Include two hash symbols in front of headers to prompt Jarvis to write a paragraph beneath them. It thus tells Jarvis that it is a header.
More information about shortcodes may be found (here).
Conclusion
More Training!
Bear in mind that Jarvis is serving as your writing assistant. Understanding how to employ him most effectively is an art, not a science. You'll want to exercise patience as you become familiar with the platform. It takes considerable effort to write with Jarvis.
Want to learn more?
You will not be able to create a blog post with a single click automatically. He is quite capable of writing high-quality content for any purpose you may have.
You must overcome a slight learning curve. If you have any questions along the way, don't hesitate to reach out to Jarvis and ask!

This is merely the beginning of the journey. Moving into the future, expect more changes and improvements to Jarvis as it expands! Continue being part of the journey.
Join Jarvis and get 10,000 words to test and see if it's something you can use before commitment.
Long-Form Assistant FAQs
How many members of my team does my plan include?
PRO: At the moment, the pro plan includes access to a single team member. Extra team members will cost an additional $40 per person on top of your $109 payment. If you need to add additional slots, send the unique link found in your team tab.
BOSS: At the moment, the boss mode plan provides access to a single team member. Additional team members cost $50 each in addition to the $119 purchase. If you need to add additional seats, send the unique link found in your team tab.
Is this content entirely original?
Yup! As said previously, we taught Jarvis to read 10% of the internet. We have had no instances of plagiarism with any of our users or AI partners. Jarvis does not scrape URLs; rather, it creates content from fragments of previously identified phrases from the internet.
There is a possibility that general language gets shared among blogs on the internet, but this would not be the case with Jarvis, as Jarvis would not have seen the blog. Jarvis is trained on trillions of data points and relies on pattern recognition rather than previously written texts or phrases.
We strongly recommend passing the outputs via Copyscape or another form of a plagiarism checker if you are concerned about plagiarism, and then emailing us at hey@jarvis.ai if anything comes up.
What's the issue if Jarvis keeps writing the same stuff?
As with the templates, Jarvis is writing in response to the information you've provided. A simple hack would be to edit your document's description as you write by clicking on the document's title and editing the description there.
What shortcuts and shortcodes are available & how do I use them?
This guide is well worth reading.
How do I save changes?
All changes are stored automatically. Everything you've created can be found under the content tab > AI outputs.
How do I change the language?
Enable language customization under your Account Settings' workspace tab.
What do I do if I get a "sensitive content" flag?
Jarvis does have a filter. You'll want to make sure that you're current with it here.
How can I undo changes or revert to a previous version of a document?
You can also revert to a previous document history by pressing Command + Z or clicking on the three dots in the top left-hand corner of your document.
Small Request
Kindly share it with your friends. Especially, the ones you believe really need this information.
Sharing this information with others can make a huge difference. You may ask why?
Well, the truth is, my main aim is to provide the best information pertaining to drop shipping for both beginners and experienced dropshippers.
And I plan to continue doing so for as long as I can.
I would also like to thank those who support the work I do through reading my content and sharing.
Trust me, when you take your time and share it will help a lot not only for me but also for other people who may really be in need of this information.
Here are some great suggestions:
Pin it
Share it on another blog
Share on Facebook (Share it with friends and even on Facebook groups)
Tweet it
Stumble it
This will only take a few seconds of your time and I would really appreciate it.
I appreciate you a lot. Thank you!
Join my Shopify dropshipping group mastermind and follow my blog to learn more about Shopify tips, dropshipping guides, dropshipping tricks and checklists, and e-commerce in general.
If you enjoyed and learned something from this post, you can get updates from me, free of charge!
I send out email newsletters about new posts published on the blog, tips, and tricks to help you grow your dropshipping business, as well as new YouTube videos to give you more insights about the e-commerce market, and much more.
If you enjoyed reading this, you can as well join my Facebook group. Thank you for reading how to make money dropshipping online from the comfort of your home.
Click The Image To Join My Facebook Mastermind Group