17 Free QR Code Generator Tools To Use For Free
What are the best Free QR Code Generator tools of 2023? First, we see and use QR codes everywhere we go in our daily lives, including restaurants, businesses, schools, streets, and so on.
This is because it is one of the easiest ways to ensure that potential clients find and use your online resources right now.
You can put any information in your QR code, and anyone who sees it will be able to open it on their phone in seconds.
You might miss out if QR codes aren't a part of your current marketing strategy. Try Shopify QR Code Generator Today

So, you should use QR codes if you run a local business.
In 2020, when the epidemic started, QR codes became the center of attention. Many business owners and marketers wanted to use QR codes because they were a contactless option.
These scan codes are everywhere nowadays, from printed on product packaging to being used instead of traditional menus.
What started as a way to spread information quickly and efficiently has become a way for most businesses to talk directly to their target audience. Now, the problem is figuring out how to create one.
Worry less because the best free QR code generators listed below let you make standard white/black codes and decorate and improve them to make them stand out. These are the best free QR code generator apps, but if premium features are available, some may charge a small fee.
What's a QR Code?
QR code is an abbreviation for "Quick Response Code." It is a square-shaped barcode that machines can read to access the information inside. It was made by a Japanese company called Denso Wave in 1994, and since then, it has been used in many different ways worldwide.
What's a QR Code Generator?
A QR code generator makes for a type of software that lets you easily create a QR code. For example, you can link a URL, digital file, or media to a unique QR code that can be downloaded in PNG format with Mention's free QR code generator. This can then be printed or put onto your website, depending on what you need from a QR code.
How to create a free QR code
Follow these six simple steps to create a QR code.
1. Select the QR Code type
You can choose between a standard QR code and one that is branded. Choose one type of content to share when people scan your code, like a website, an image, or your current location.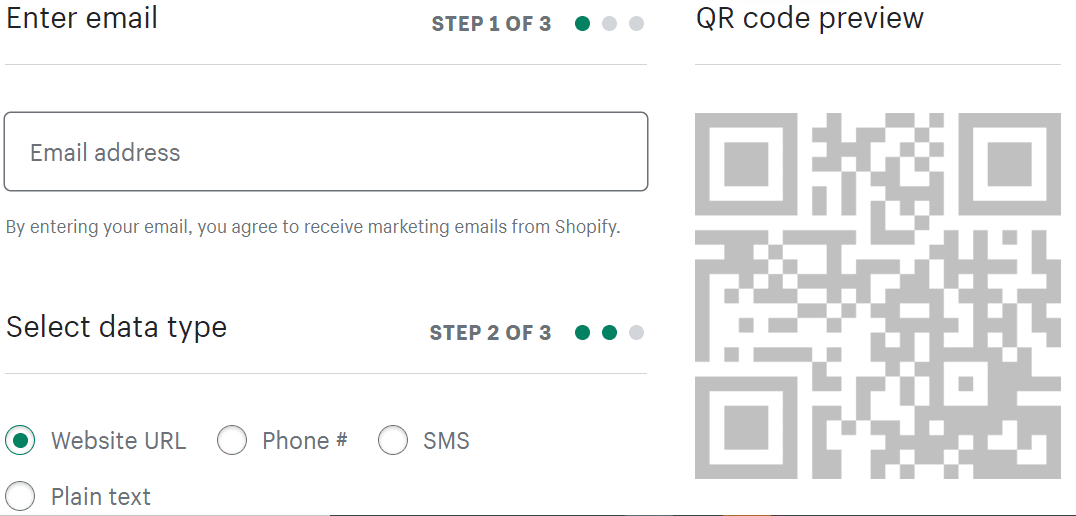 2. Enter Relevant Details
Fill in all the information needed to share your content, such as your URL or contact information. Enter the URL that you want to be linked to your QR Code. This will be the website that opens whenever someone scans your QR code.
3. Customize the QR code style
You can choose from four different QR code styles and six corner shapes. Choose a size and customize the colors of your QR code's background and dots to match your style. Add your company's colors to the QR code to make it your own. You can choose the color of the QR code, the corners, and even the background. Upload your logo. Upload your logo to the QR code to make it your own.
4. Enter your email and download the QR code
Click the "Download" button and choose SVG, PNG, or JPG as the image format. You'll get an email with your QR code. The QR Code will also be available to download in.png format immediately.
5. QR Code Validation
Before sharing your code with the world, scan it with a QR code scanner, such as the camera on your phone, to ensure it takes you to the right content.
6. Share Your Code!
Use the images to share your information. For example, print the image on business cards, flyers, or other printed advertising materials.
QR Code Types
SMS: Open a draft text message that people can send you, like an opt-in for SMS updates on your latest deals.
Geolocation: Show where your business or event is on a map so people can easily find their way there.
VCard: Use a digital business card to network. All of your information can be saved directly to the phones of the people in your contacts list.
Email: Let people send you a prewritten email, like a request for more information.
Wifi: Let people connect to your network without typing in a password.
Image: Choose a digital picture to share, like an invitation to an event or a thank-you card.
Text: Use plain text to show a message in any language, like a coupon code or instructions.
Phone Number: Point people to your business phone line for questions or orders.
PDF: PDF makes sharing documents like menus, forms, and flyers.
QR Code Generator with a Logo
Create a one-of-a-kind branded QR code using your logo and brand colors.
Logos
Add a logo or icon to your QR code to make it unique and branded. Square logos look better with QR codes because they are symmetrical. For example, if your QR code leads to your social media page, you could use Facebook, Instagram, or another social media logo to show where the user will be redirected.
Colors
Pick the colors you want for your QR code. You can use this feature to ensure that the document's colors on which the QR code will be shown match your brand. Different parts of the QR code, like the patterns, corner position markers, and background, can also have their colors changed.
Uses for a QR Code
QR codes can be used in your business or organization creatively. Here are seven ways that QR codes are often used:
Share a document or PDF file with a QR code.
You can also link your QR code to PDFs and other online files. This is a great way to share important documents with your customers in a way that is good for the environment and doesn't require printing paper copies. It's also great for documents that often change, like a restaurant menu with monthly specials that changes with the seasons.
Generate QR code for URL
QR codes often direct potential customers to a website or landing page. For example, if a user scans the code, they will go straight to the right landing page or page. Use your QR code to make people to the website of your business or a specific landing page.
For example, instead of typing in a long URL, which takes time and can lead to mistakes, users can scan the QR code and be redirected to the right page. This is a great way to shorten long, complicated URLs and hide ugly UTM tags to be easier to track.
QR Code app download
Make a QR code for your app to get more people to download it.
When someone scans your QR code, it will open your app's listing in the App Store or Play Store, just like social media QR codes. This means that they won't have to look for your app.
Social media QR Code
Make it easy for people to follow you on social media, whether it's Facebook, Twitter, Instagram, LinkedIn, YouTube, or other social media platforms.
When someone scans a QR code with their phone, the page will usually open in their app instead of the browser if logged into their social media app. Then it will be even easier for them to keep up with you.
Online forms QR code
Ask your customers to fill out the online forms you provide.
Reviews QR code
QR codes are a much better & quicker way to get customers to review your store or products instead of asking them to do so at checkout. If you want to, you can also give a discount with each positive review.
Video QR Code
Create a QR code to promote your company's video, product tutorials, how-tos, brand videos, and other materials.
Read Also:
Benefits of Using QR Codes
QR codes are one of the most creative ways to smoothly connect offline and online experiences. For example, before QR codes, people had to open a browser, type in a long URL, or search for you on social media.
All these extra steps make the user more likely to make typing mistakes and get frustrated, stopping them from finding the information they need or doing what you want them to do.
Good use of QR codes makes the user experience smoother. So, the user is more likely to do what you want, whether going to your information page on the website, filling out a form on your landing page, or following you on social media. QR codes will likely improve your conversion rates compared to the traditional method of typing a URL by hand.
In summary, QR codes can enable you to:
Quickly and publicly share information with anyone who has a smartphone.
Point users to specific pages
Connect the offline and online experiences of your brand smoothly.
Make your landing pages more likely to lead to sales.
Use UTM tracking in a way that doesn't get in the way.
Best Free QR Code Generators
Shopify QR code– The QR Code Generator for Small Businesses
The free QR code generator from Shopify has the fewest features. It allows you to insert a link, text block, or phone number. Your email address gets the QR code that was made. The service isn't as good as others because you have to sign up, and you can't customize it. But it is still a free tool.
You might miss out if QR codes aren't a part of your current marketing strategy. Try Shopify QR Code Generator Today

QR Menu Maker – Free QR Code Generator For Restaurant Menu
This app not only lets you make QR codes, but it also lets you make menus for restaurants. For example, you can change the fonts, add images, set logos, choose colors, and make your menu look how you want it to. As a result, you'll get a QR code that customers can use to find your menu. You don't have to pay for any of this.
QRCodeMonkey – Lifetime Free QR Code Generator
QRCode Monkey is a very simple app that allows you to make beautiful QR codes that are unique to you for free. The process is simple.
The first step is to decide what kind of content your QR will have. For example, it could be plain text, a URL, an email address, an SMS, a location, wifi, Bitcoin, or links to social media.
Then, you can give your QR code color if you want to. After that, you can insert your logo or a social media icon into your QR.
The final step is to customize the body, eye frame, and eyeball shapes to make your QR code stand out. Use the slider below your QR preview to set the quality and size of your QR code. Download the "Download" button to get the image in the format you want.
QRCode Chimp – The Free QR Code Generator With Logo
This tool gives you many options for how your next QR code will look. For example, you can change the color and shape of each part of your QR code, add a logo inside, use funny and eye-catching stickers, and make your QR code using one of the already available templates.
You can also create a small web page to which your custom QR code will take people. This could be a social media page, a Google form, a Google map, a Vcard, a coupon, or something else.
QRd.by – The Free QR Code Generator For Business Cards
You can use this free generator if you want a cool QR code template.
It has a variety of ready-made designs that you can use to make a beautiful QR code and add a frame and caption to it so you can use it in your ads.
Beaconstac QR – A Completely Free QR Code Generator
The most important thing about this best free QR code generator is that you can put a logo in the middle of an image and create dynamic QR content. This means you can change the information and data behind the QR code without changing the code itself.
You'll get detailed analytics and high-quality templates if you sign up. But the free version offers you everything you need to make a unique QR code for personal or business use, including many customization options.
Unitag QR – The Free QR Code Generator With Tracking
When you go to the Unitag QR code generator page, the first thing that offers out is that it already has many great-looking QR codes. You can make unique QR designs here by replacing the color of your QR code with an image, using shaded colors and gradients, choosing any shape of modules and eyes, putting your logo in the middle, and giving your QR code a shadow. Your QR code is free to download, and you can use it anywhere for the rest of your life.
Best Free QR Code Generator – QRCodeGenerator
If you need a good QR code for business or personal use, this is one of the most accessible apps that does not require you to sign up. You can choose what kind of information you want to encode, fill out a form if you have to, and then your QR code is ready to go.
CodigosQR – Free QR Code Generator with No Sign Up
This app is the best choice if you need to create a QR code quickly. Choose the type of content, fill out the required fields with your information, and voila!
Your QR code is ready to be downloaded and placed. It is an easy way to make a QR Code that is black and white. It can read simple QR Code formats like text, URL, contact or vCard QR Code, call, and SMS.
When you sign up for the tool, you can create dynamic QR codes, but you don't have a lot of options. This shouldn't be your first choice if you want a personalized QR Code.
The website has a "Sign-In" button, but there's no way to tell what you're signing up for or what you'll get if you do.
This QR code is simple to use; however, there are two simple options to change your QR code: size and correction level.
Zebra QR – QR code generator wifi password
Zebra QR is mainly meant to be used in restaurants and other places that serve food. It allows you to customize the digital menu and make cute QR codes. The only specialization will be in a small area, and registration will be required.
Generator by TEC-IT – The Free QR Code Generator
Consider this one of the best QR Code Generator programs if you need a QR code for a specific data type. For example, making a QR code for a URL, phone number, Twitter account, wifi connection, events, email, and other information is easy.
GoQR.me – The QR code generator for Google Forms
GoQR.me's user interface is not the most attractive. There are tabs for various kinds of QR codes. For example, you can make QR codes for web addresses, text, contact information, calendars, and geolocation. Each of these has its tab. Unfortunately, there aren't many ways to change things, which is a shame.
QR Code Generator -The Best QR Code Generator
It's simple and one of the best QR code generator websites. If you're an authorized user, you can add your logo to the code, track scans, and do much more. Like many other QR code generators, this one allows you to style and color your QR code to look the way you want.
UQR.me – The Free QR Code Generator For Pdf
You can make a dynamic QR code for any link you want with UQR.me. It gives you several options, such as the ability to change the information in your QR code easily, make a micro page for your QR, change the design by changing the error correction, canvas, and QR colors, and put your logo in the middle of your QR code.
Also, uQR.me allows you to change the form of the pixels and make a gradient to your QR code. By setting the statistics, you can easily track how many people used your QR code.
QRStuff – Online Free QR Code Generator
You can make a simple QR code for any data you want on QRStuff.com. It can be the address of a website or app, a location, an image, a Skype call, Dropbox, plain text, a phone number, an SMS, an email address, an event, a wifi login, a PayPal address, and many other things.
After choosing the data type, you must fill out the fields on the second Content tab.
The website is hard to use, and the QR Codes can only be customized after you sign up; however, even the free QR Code can only be scanned 50 times.
Once this step is done, you can style your QR code by changing the size, resolution, file type, error correction, shapes & colors for dots and corners or just using one of the available templates. If you become a subscriber, you will also have access to QR code analytics.
Visualead – QR code generator for vCard
Over 500,000 companies like eBay, BMW, Unilever, MasterCard, and Unilever trust Visualead. According to their website, their technology can double the number of leads and social engagement and increase brand scans by 400%. In addition, you can manage up to three active QR code campaigns with the free plan, and each QR code can be scanned 500 times.
You can also use mobile targeting sites, animations from the collection, complex QR code effects, and graphic QR codes. For example, Visualead's commercial plans, which start at $7.52 per month, let you get rid of ads and use advanced scanning statistics, dynamic QR code editing, and other features.
Should you want to use your QR codes for printed materials, it might be better, in the long run, to sign up for one of the premium plans. In this case, you can change the QR code's functionality after printing it. This might be cheaper because you won't have to print as much, which costs less than $8 per month.
QR Tiger – Image QR Code Generator
QR Tiger lets you make your QR code. According to the company, the number of scans increased by 30% during personalized codes. But you can completely customize the way your code looks. For example, static QR codes can be scanned as often as needed, but dynamic QR codes can only be scanned 100 times.
Final Thoughts
A QR (Quick Response) code makes for a type of barcode that contains information that can be read by a smartphone and shared online or printed.
A certain thing happens when someone scans a QR code, like sending them to a certain page or letting them connect to wifi.
As you can see, there are many best free QR code generator apps to choose from. For instance, you can create colorful QR codes in any shape and layout for free.
I hope one of the above tools for making QR codes will help you grow your business more efficiently.
You must have QR codes if you own a local business, but how do you make one? Here are the best QR code generators, which let you make standard white-and-black codes or codes that stand out more by being decorated.
In any case, it's much easier to pull out your phone and scan a code than to find a sales representative. But given how flexible they are and how their customers act, it seems reasonable to look into this possibility in the next section.
More than ten free QR code makers in this post will help you get started. I've listed the best free QR code generator apps and, if any are available, the bare minimum for premium services.
FAQs on the Free QR Code Generator
What is a QR code?
Quick Response is what QR means. For example, a QR code contains information that can be read by a QR code scanner, usually a smartphone camera or app. When someone scans a QR code, they will get a piece of particular information. QR codes can also keep track of documents, inventory, and product IDs.
What are the uses of QR codes?
You can create a QR code and put it on your website, a flyer, a business card, the packaging of a product, a menu, or even a billboard. You can use a QR code to send customers to a specific product page, your social media account, connect to wifi, and so much more.
How many times can you scan a QR code?
Your QR code can be scanned as many times as people want.
Will my QR code expire?
QR codes can be used as long as you want and never go out of date. The code will only "expire" if the destination URL is changed or deleted.
Small Request
Kindly share it with your friends. Especially the ones you believe need this information. Sign Up Now and Get your first 3 months for only $1 monthly.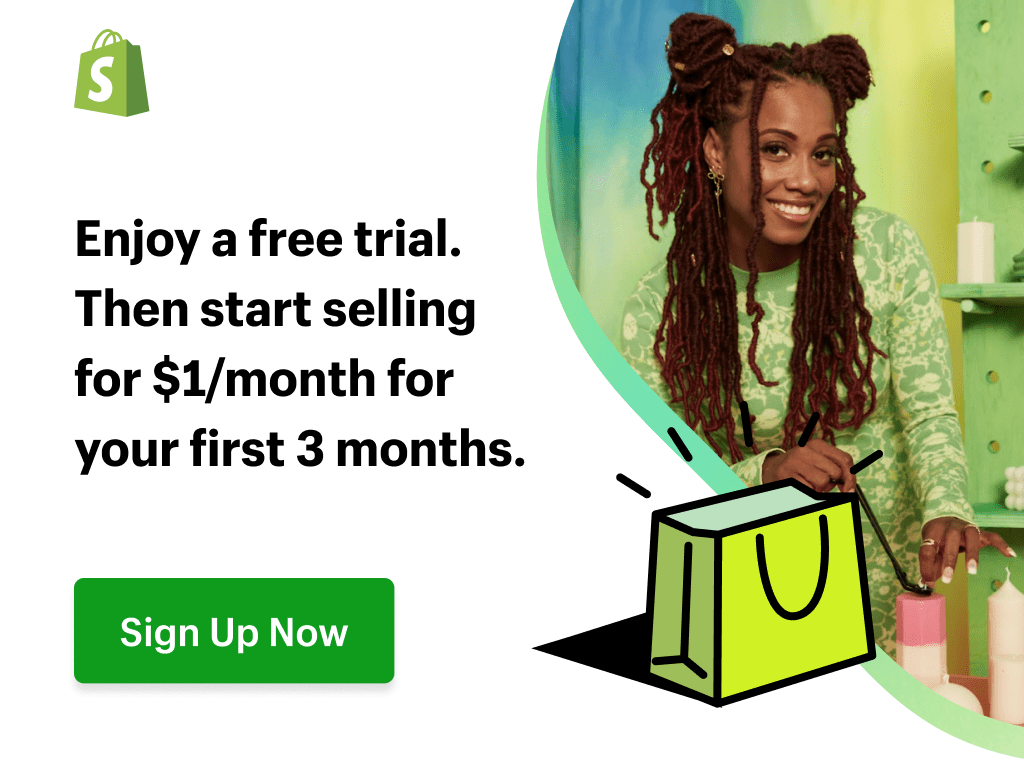 Sharing this information with others can make a huge difference. You may ask why.
Well, the truth is, my main aim is to provide the best information about drop shipping for both beginners and experienced dropshippers.
And I plan to continue doing so for as long as I can.
I would also like to thank those who support my work by reading and sharing my content.
Trust me, when you take your time and share, it will greatly help me and others needing this information.
Here are some great suggestions:
Pin it
Share it on another blog.
Share on Facebook (Share it with friends and even on Facebook groups)
Tweet it
Stumble it
This will only take a few seconds of your time, and I would appreciate it.
I appreciate you a lot. Thank you!
Join my Shopify dropshipping group mastermind and follow my blog to learn more about Shopify tips, dropshipping guides, tricks and checklists, and e-commerce in general.
If you enjoyed and learned something from this post, you can get me updates for free!
I send out email newsletters about new posts published on the blog, tips and tricks to help you grow your dropshipping business, new YouTube videos to give you more insights about the e-commerce market, and much more.
If you enjoyed reading this, you could as well join my Facebook group. Thank you for reading how to make money dropshipping online from the comfort of your home.
Click here to Join My Facebook Mastermind Group