How To Use Shopify Theme Store To Install A Theme
Shopify Themes are hosted in the Shopify theme store or theme marketplace and they are a collection of paid and free themes thoroughly tested by the Shopify team to make them work well together and are compatible. Customizing Shopify isn't tricky, but it's much easier to switch themes if you start with one similar to what you had in mind when you first started your business.
Take Action
Build your Ecommerce website with Shopify Today!
Shopify offers customizable themes, unique apps, and vital tools to start selling online. Try Shopify free for 14 days; no credit card is required.

What's the Shopify Themes Store?
The Shopify Themes Store is where you can browse available ecommerce website templates for your online store. You can browse through nearly 100 Shopify themes; create search filters based on free/paid options, the number of products, navigation options, layout style, industry, and other factors.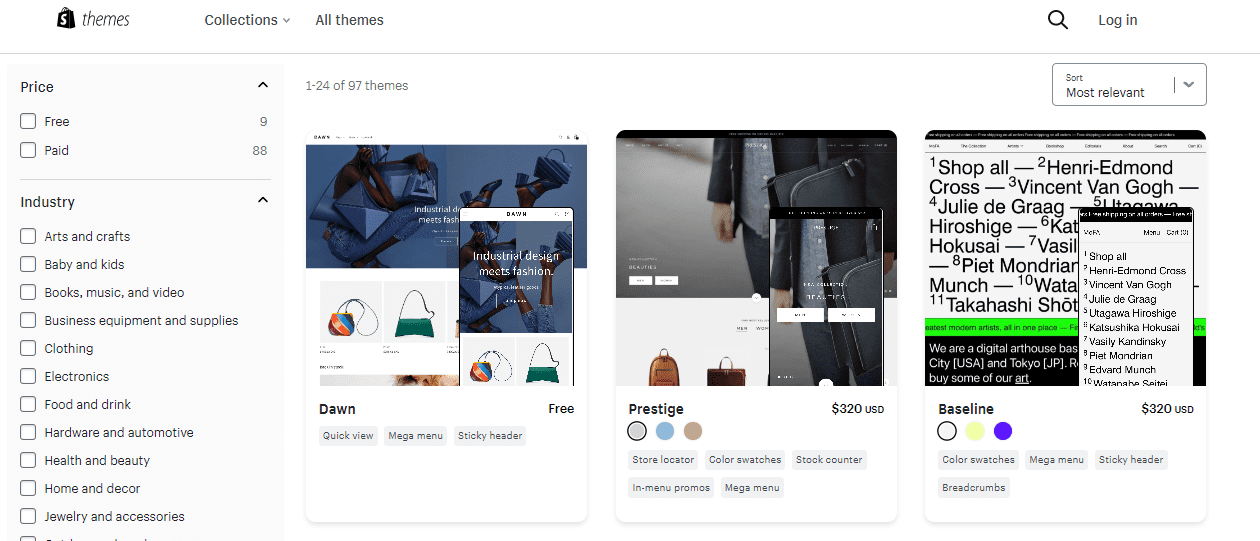 To help you find the right one, you can also sort the themes by price and popularity. With the addition of the Shopify App Store, you can easily install a variety of tools to help you boost sales and run your online business.
What are Shopify Themes?
Shopify themes are a collection of pre-made templates, modules, and style settings that decide how your website appears and feels. In addition, there are pre-designed "off-the-shelf" themes, which are "turnkey" templates that allow you to customize the built-in easily modules and create a beautiful ecommerce website.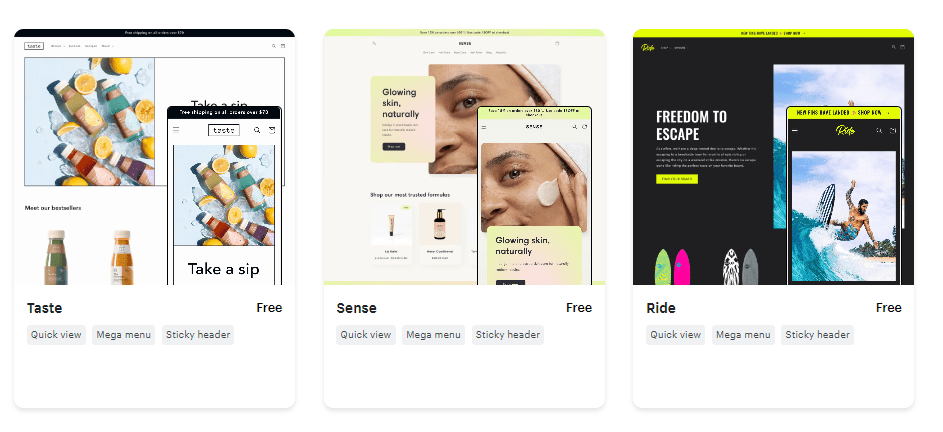 Off-the-shelf themes are available in various free and paid options depending on their overall design and functionality. For example, you can select a theme that best represents your products, brand, industry, or the type of experience you want your customers to have when they visit your online store.
Then there are custom themes, which a developer can create. For example, custom themes can be created from scratch or modified off-the-shelf themes to support more complex functions or designs.
Best themes Optimized for selling online
Take your store from launch to scale with themes Packed with built‑in features that make selling easy, exclusively on the Shopify Theme Store.

The number that there are so many Shopify themes available is fantastic. For example, third-party marketplaces like Envato Elements have many Shopify themes that can be used in various niches.
They're also simple to customize, and the majority of them allow you to import demo content with a single click, so all you have to do is replace it with your own instead of starting from scratch.
Which Shopify Theme do You Have?
Anyone who set up your Shopify store before Online Store 2.0 and hasn't changed anything; in their original default theme, "Debut," will be loaded.
It is made to provide all the required features while remaining simple to use, allowing you to get up and running quickly.
If you have a newer store, you may use Shopify's latest default theme, Dawn.
Dawn's Online Store 2.0, which lets you place Shopify sections on every page, is the most notable difference between these themes.
Both are easy to set up and ready to use right away. You only need to load your products, personalize your store's admin information, and change your content. Then you're all set.
You can make minor changes to Shopify's default theme, but if you want to make your store stand out, you won't be able to do much, particularly since most Shopify stores use Debut or Dawn.
Finding new, one-of-a-kind themes is one way to distinguish your store. Some will naturally fit your brand better than others.
Where Do You Find New Shopify Themes?
Finding new Shopify themes to add to your store is a breeze. However, there are numerous themes to select from. For example, there are a few places where you can conduct your search for Shopify themes.
The Shopify Theme Store is the first place to look, and numerous third-party theme marketplaces offer a wide range of paid themes.
If you like the look of some Shopify stores, you can easily discover what theme they're using and purchase it yourself. To make your job easier and increase conversions, finding a theme that looks good, works well, and is mobile-friendly is critical.
Accessing the Theme Store from your Shopify dashboard, navigate to Online Store > Themes, then select "Visit Theme Store" for all themes or "Explore free themes" for free themes.
The Theme Store homepage has a few categories of themes to choose from based on your store's needs. Themes for international stores, stores that sell both online and in person, or specific industries, for example.
You can also sort themes by clicking All themes at the top.
Price
Quantity of products
Layout's complexity
Design style
Industry
Choosing a premium theme that has already been built can make Shopify theme customization much faster for stores that do not require a custom store experience.
Pre-built themes can also assist brands in getting closer to their desired outcome before making final changes themselves or with a page builder.
Best themes Optimized for selling online
Take your store from launch to scale with themes Packed with built‑in features that make selling easy, exclusively on the Shopify Theme Store.

Third-party Sites and Developers
Don't be concerned if you don't find a Shopify Theme Store theme that speaks to you. Instead, several other marketplaces provide Shopify-specific themes.
Third-party developers sell Shopify themes on websites such as ThemeForest and Debutify. Themes are usually peer-reviewed in these markets, so you can sort by popularity and rating.
Alternatively, the most popular themes And, just like the Shopify themes, changing any theme once it's been uploaded to your store is simple.
I recommend trying out Debutify theme, it is designed and built for Shopify store owners and it addressed every seller's concern.
Finally, if you are familiar with Shopify development, you can always create a Shopify theme from scratch or hire a developer for you. It wouldn't be easy, but it would be one-of-a-kind.
However, going this route may require significantly more time or money than customizing your theme.
Shopify Theme Installation Process
This section will install you through the process of selecting and installing a theme for your store.
Step 1: Decide on a theme for your store.
Go to Online Store > Themes to install Shopify's themes. Some are free, while others require payment. Shopify themes aren't plentiful, even though they all have excellent, responsive designs.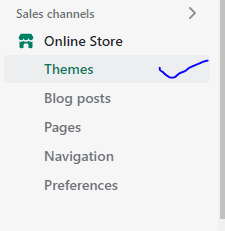 Shopify had 97 themes available at the time I wrote this article. That may appear to be a lot, but someone else will likely use the same theme as you. 
The good news is that additional Shopify themes are now available on third-party marketplaces. Aside from having a more extensive selection of Shopify themes, many third-party themes are also relatively inexpensive.
It is not an easy task to select a Shopify theme. However, there are a few things to consider when looking for a theme that will assist you in making a decision:
Attractive design. The selected theme should be visually appealing and appropriate for the products you sell and the people you wish to reach. If you can't find a theme that fits your niche, consider using a multi-purpose theme.
Regular updates and support. Choose a theme that is well-supported and receives frequent updates. This lets you contact the theme author if you require assistance and ensures that your theme is compatible with Shopify updates.
Features. When it comes to themes, don't overlook the features. For example, you're less likely to miss out on features that can help increase your conversion rates if you choose a theme with built-in widgets, the ability to show items on sale, or a mega menu.
Easy to use design and fast loading time. With mobile usage and shopping trends on the rise, your theme must be responsive and quick to load to avoid losing customers who visit your store via mobile devices.
All you have to do when you find a theme you like is buy it and download the files to your computer. The main folder will need to be unzipped. It will include the theme files in another zip folder and the documentation and demo content for the theme that you can import into your store.
Step 2: Third-Party Theme Installation Process
Go to Online Store > Themes and click the Upload theme button under More themes to install a theme from a third-party source.
Use the zip folder to upload your theme files from the main theme folder that you downloaded. Shopify will proceed with the theme upload and notify you once it is complete. To activate the theme, select Publish from the Activate drop-down menu next to its name. Your website's theme is now live.
Uploading Your Shopify Theme
If you got your theme from the Shopify Theme Store, it would be available in your Shopify dashboard, in your theme library, almost immediately.
Click Customize in the theme to get started to make it your current theme, go to Actions and Publish.
Before you can begin customizing a theme purchased from a third-party site or developer, you must first upload it.
To sell your theme, navigate to Online Store > Themes. Click the "Add Theme" button in the Theme Library section. You have the option of uploading a zip file or connecting to GitHub.
You'll most likely upload your theme as a zip file.
Drag the file into the window, then click "Upload file." Then, when you're finished, it will appear in your theme library.
Adding, Previewing, and Buying Themes
Upon creating an account with Shopify, a default theme is installed on your admin's Themes page to assist you in getting started. For example, if you want to change your online store's theme, you must add a new theme to your admin.
You can add a theme in a couple of ways:
You can use your Shopify admin to add a free theme.
You can use a paid Shopify theme from the Theme Store. Any theme can be previewed and customized using the theme editor. Before you can publish a theme to your online store, you must first purchase it.
You can upload a theme already in a ZIP file on your computer.
You can also add a theme to your store if you're a developer or work with a Shopify Partner or agency.
You can use the Shopify GitHub integration to add a GitHub-hosted theme to your store.
Using Shopify CLI, you can install a theme on your store.
When you purchase a theme from the Shopify Theme Store, it is only licensed for the store for which it was purchased. To transfer a theme license to another store, for example, you must contact Shopify Support.
Non-licensed themes do not receive support or updates when new features are released. Check out Shopify's Terms of Service to learn more about licensing.
You can add multiple themes to your account to test new themes, keep seasonal versions of your published theme, or test changes on a duplicate of your published theme. Any of these themes can be previewed, but only one can be published at a time. Even if you switch to a new theme, you can find your old one on Shopify's Themes page.
Read Also:
The number of themes you can add is specified in your plan. For example, you can have up to 20 themes in your Shopify account. Find out how many themes you can use with Shopify Plus at Shopify Plus. If your plan has reached its maximum number of themes, you must remove one before adding another.
You can link a theme once you've added it so that others can see a preview of it. This is useful if you want to solicit feedback on a new theme or online store before launching it.
Add a Free Theme From the Admin
Free themes are available from Shopify. Shopify offers assistance with free theme customization.
Steps:
Go to Online Store > Themes in your Shopify admin.
Near the bottom of the page, in the section titled "Free themes," click Explore free themes. A window will appear that displays all of the free themes.
Select a theme to learn more about it and view a preview of the available styles.
When you click the "Add" button on the theme, it will be added to your admin's Themes page.
A Paid Theme from the Shopify Theme Store
Before purchasing a paid theme, you can preview it in your Shopify admin. While previewing a theme, you can use your theme editor to change the colors, style, and products to match your brand's. When you purchase the theme, any changes you make are saved.
You can compare up to 19 paid themes at the same time. Paid themes that you're testing out are labeled as Theme trials.
If you need support with a paid theme, contact the theme developer.
Steps:
Choose a paid theme from the Shopify Theme Store.
Click "Try theme" to install the theme on your website.
Go to the Shopify admin and navigate Online Store > Themes.
Click Actions next to the theme you want to preview in the Theme library.
Click on Preview.
You can also alter a preview theme. For example, if you like how the theme appears on your store, you can buy it and keep all the changes you made while previewing it.
Buy a theme from the Shopify Theme Store.
You can choose to purchase a paid theme after you've tried it out in your online store. However, you can only publish themes purchased from the online store.
Third-party theme developers develop paid themes. The developer of a third-party theme, for example, handles general support and updates. If you require advanced customizations but lack experience building websites with HTML, CSS, and JavaScript, you should consider hiring a Shopify specialist.
Steps:
Go to Settings > Apps and sales channels in your Shopify admin.
On the Apps and sales channels page, navigate to the Online store.
Click the Open Sales Channel option.
Go to Themes.
In the Theme library, click Actions next to the theme you want to purchase.
Press the Buy button to begin the transaction.
If you have a theme saved on your computer as a ZIP file, you can upload it to the admin's Themes page.
Make sure all your theme files are compressed into a single ZIP file before uploading.
Steps:
Go to Online Store > Themes in your Shopify admin.
Click Upload theme from the Theme library.
In the Upload theme window, select the ZIP file you want to upload by clicking Choose File.
Click Upload- The theme will be added to your admin's Themes page.
Final Thoughts
The theme of your Shopify store decides almost everything. From what your customers see, how they interact with your brand, the media and the extras you can provide, and so on.
A Shopify theme is a template that provides a starting point for your website's design, layout, and navigation. The Shopify Themes Store is where you can browse available ecommerce website templates for your online store.
Best themes Optimized for selling online
Take your store from launch to scale with themes Packed with built‑in features that make selling easy, exclusively on the Shopify Theme Store.

You can browse through more than 70 themes & create search filters based on free or paid options, the number of products, layout style, navigation options, industry, and other factors.
It is, in some ways, a shortcut. For example, you can have a well-designed, professional-looking website without knowing how to code.
Result! (If you're not a programmer.) Before you get carried away by the fabulous color palettes and fun plug-ins, think about what you need from your theme.
Small Request
Kindly share it with your friends. Especially the ones you believe need this information. Sign Up Now and Get your first 3 months for only $1 monthly.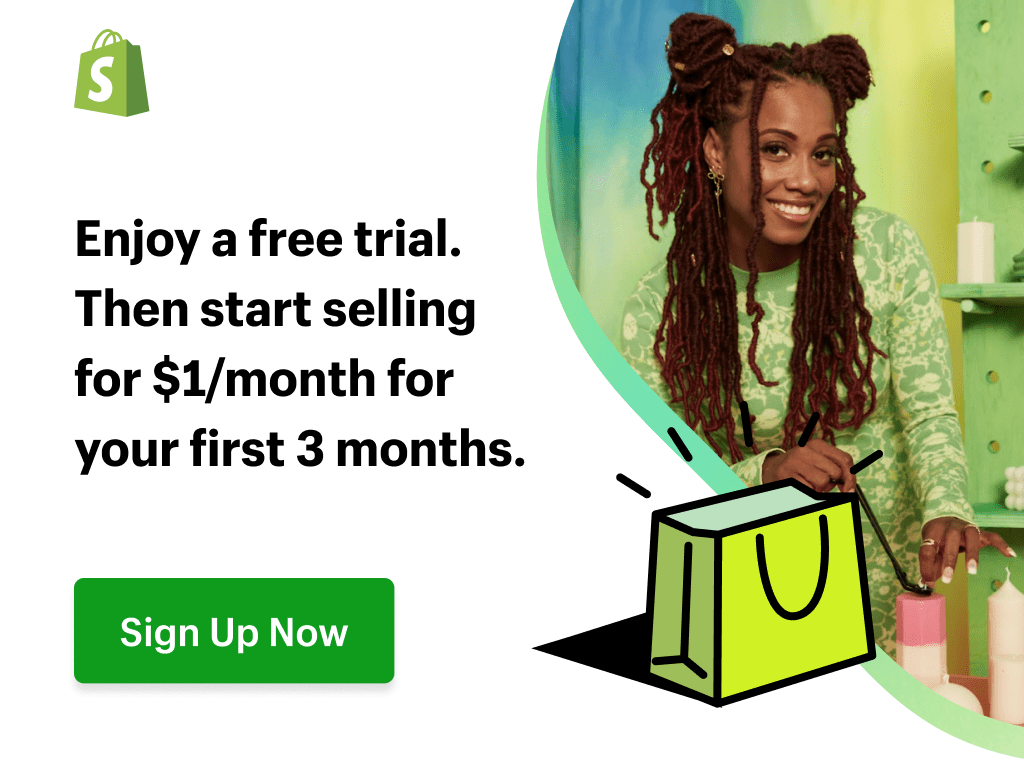 Sharing this information with others can make a huge difference. You may ask why.
Well, the truth is, my main aim is to provide the best information about drop shipping for both beginners and experienced dropshippers.
And I plan to continue doing so for as long as I can.
I would also like to thank those who support my work by reading and sharing my content.
Trust me, when you take your time to share, it will greatly help me and others who need this information.
Here are some great suggestions:
Pin it
Share it on another blog.
Share on Facebook (Share it with friends and even on Facebook groups)
Tweet it
Stumble it
This will only take a few seconds of your time, and I would appreciate it.
I appreciate you a lot. Thank you!
Join my Shopify dropshipping group mastermind and follow my blog to learn more about Shopify tips, dropshipping guides, tricks and checklists, and e-commerce in general.
If you enjoyed and learned something from this post, you can get me updates for free!
I send out email newsletters about new blog posts, tips, and tricks to help you grow your dropshipping business, new YouTube videos to give you more insights into the e-commerce market, and much more.
If you enjoyed reading this, you could also join my Facebook group. Thank you for reading how to make money dropshipping online from the comfort of your home.
Click here to Join My Facebook Mastermind Group