How To Register A UK limited Company As Non Resident
As a dropshipping entrepreneur who is neither a US nor a UK resident, you should register a UK limited company for your e-commerce business and save yourself the headache of creating an LLC company in the US; the documentation, the charges, and the process is tedious enough for a start-up.
International e-commerce business owners, specifically dropshippers, go through many setbacks when starting a Shopify dropshipping business; they are subjected to various validation and proof of address by payment gateways like Stripe, PayPal, and the like.
Payment gateways like stripe or Paypal require documentation, e.g., a Business certificate and proof of address, and this happens when the orders start streaming in; they start putting a hold on your Account and having your revenue in reserve, which means you can't run your dropshipping business generally as the person in UK or US.
A ban or a request to verify your identity and provide them the legal business documentation follows. In most cases, they reject local documentation, i.e., providing business documents from a third-world country.
You will be slapped by ;
'After doing our due diligence, we've decided to close down your account since your business has been classified as a high-risk business."
So most dropshippers lose the battles since they do not have the documentation required by the payment provider, more so if the payment gateway doesn't operate in their respective countries.
So, most of the time, international dropshippers seek to partner with UK or US residents to get a valid US stripe or UK payment gateway.
In any case, documentation is required, and the partner would provide his documents to lift the Ban on the Account.
It has proven difficult to secure a fully-fledged registered LLC as a non-US resident, despite many obstacles, long queues, and back-and-forth verification.
But hope is here, and you can now set up a limited company in the UK and have yourself run the business owning 100% of the business without having to partner with anyone.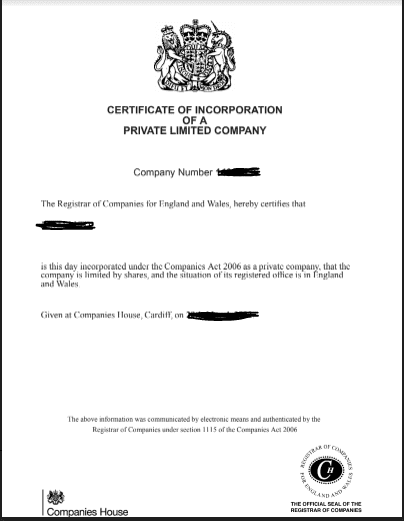 Company formation in the UK has eased the burden one has to go through to register a company as a non-UK resident.
You can now set up a limited company online. It takes barely 3-48 hours to get your certificate sent to your email and a hard copy forwarded to your local residential address in your respective country.
But you ask, why UK and not US LLC formation?
Since the UK has one of the world's largest economies and a high ranking for the convenience of conducting business, it is a prime location for companies to set up a business.
High Consumer Purchasing Power, High GDP, and Strong Currency can only encourage international dropshippers to set up their business using UK limited company formation instead of an LLC.
What if I tell you that to get your LLC formation, you will need over 2-3 weeks and a bunch of documentation, which includes but is not limited to the following:
(IRS) Form Or EIN
Business Name reservation application.
Articles of organization.
Business Operating agreement.
Initial and annual reports.
ITIN
To mention a few, unlike registering a limited company in the UK, one only needs:
Identification (ID, Passport, Driving Licence)
Proof of Address (utility Bill or bank statements)
That is it; now, let me introduce you to the company that will make your dropshipping business smooth and easy to run.
1st Formations: Background
1st Formations positioned itself as one of the best online company formation firms in the United Kingdom, and it helps people worldwide register a UK limited company within 48 hours.
As an eFiling agency authorized by Companies House and a member of the Association of Company Registration Agents (ACRA), 1st Formations is in a position to facilitate the formation of businesses online for non-UK residents. 
According to the agency, most registration applications are handled in under three hours.
So you get UK Business bank accounts, and a Covent Garden mailing address is part of the package Prestige, which comes with VAT Filing and is done for your business documentation delivered to your postal address. ( Please note UK business bank accounts are available to UK residents, while overseas customers will be referred to Wise (They are working on adding new global business bank account options to our offering)
You must get your VAT number, considering you would want to sell your business or attract investors in the future.
Most investors or companies shy away from dealing with companies that don't have VAT numbers hence the need to choose the Prestige package (this is a special 10% discount link for my readers)
In the UK, any company with a turnover exceeding £85,000 per year must register for VAT.
The advantage of having your VAT Number is that you can reclaim most product sales or services from other businesses.
Because of my extensive experience in company formation with over 15 UK limited companies registered, 1st Formations is the company formation agency that I recommend to help you register a company with less hustle.
Register A UK limited Company As Non-Resident.
For just £62.99 instead of £69.99 when you use my Prestige package, which is a 10% discount for a limited time, you are set to form your first company in the UK.
The Prestige Package allows non-UK residents to register a limited company in the United Kingdom and use a prestigious business address in the heart of London's bustling Covent Garden district.
There is a lot that comes with company formation in the UK.
Using 1st Formations, we will talk about it at the end of this guide, but for now, let's do the necessary and have your company formed in less than 48 hours. Sometimes it only takes 3 hours, depending on the workload.
Step 1: Choose a company name and check its availability
Before forming a company in the UK, please select a name for it and make sure it's available. Please consider what best exemplifies the nature of your company's business or its guiding principles. If the name you want is already taken, keep trying other variations of the search.
In our case, we will check if Dropshipping business Name is available for registration. And as per the below images, the name is available and can be quickly reserved.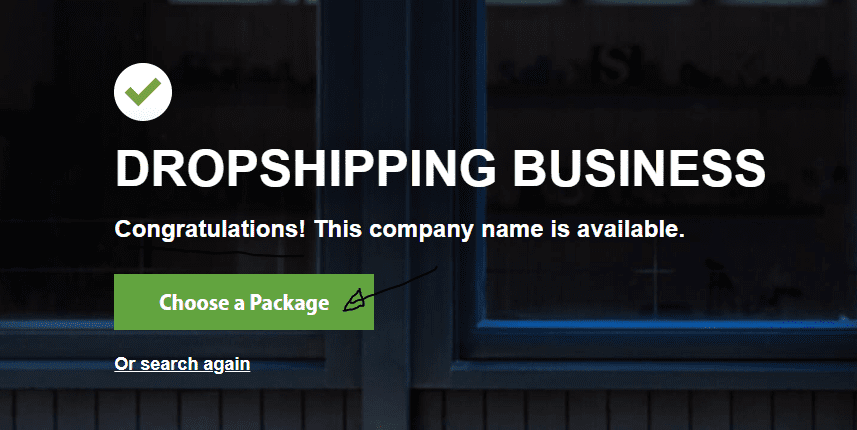 Suppose you need help with your business name. In that case, you can use a business name generator which will suggest names suitable for your business based on the keywords and description you provided the tool.
Step 2: Choosing the Business Package You Want
The second step is deciding on a package; I recommend the Prestige Package (10% OFF Pay Only £62.99 ) because it includes everything you need to keep your business up and running quickly and efficiently.
The Prestige package is an all-inclusive choice for your limited company needs; it comes with address services in London that provide privacy for your business; let's say it's the WHOIS privacy for companies.
Here are some of the things you get when you choose the Prestige Package:
High-quality printed company documents.
Impressive London registered office address.
A service address
A business address with mail forwarding
VAT registration and the filing of the first confirmation statement.
Later in this guide, we will highlight in its extensiveness the benefits of choosing the 1st Formations Prestige Package for your UK company formation, but for now, take advantage of my exclusive discount on the Prestige Package by clicking here.
There are different companies you can form with 1stformation as guiding in their business structure which includes:
A limited company,
A company limited by shares,
Companies limited by guarantee,
Nonprofits
Limited liability partnerships
Step 3: Proceed to the Checkout page and complete The order
Third, head to the checkout and pay for your chosen package. After completing your debit or credit card payment, you will receive a confirmation email with your Online Company Manager credentials.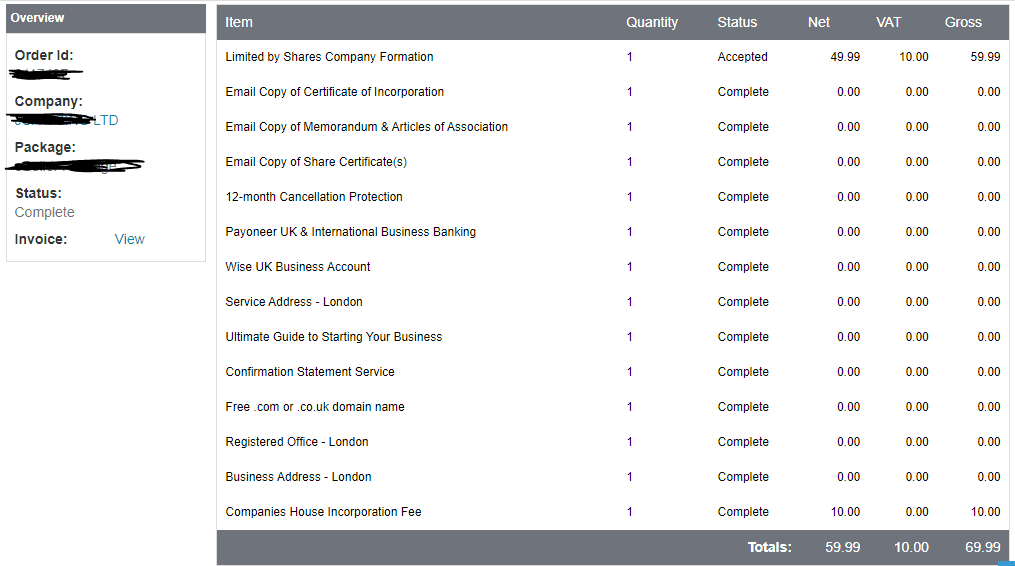 Step 4: Fill in the company details
The fourth and final step in forming a corporation is deciding where the company will be officially based and designating a director, shareholder, and PSC.
A Company Formation Checklist is available for review on their website on data to hand. Now then, at this stage, Fill in the company details, and that can take the shape of:
You must either add LTD or LIMITED after the first company name you entered, for example, in our case, Dropshipping Business LTD or

Dropshipping Business LIMITED

.
Specify the appropriate industrial classifications (SIC Codes), also known as your company's business activities (up to four are allowed, but one will suffice. The Ecommerce and Online Retail codes are designated by the number

47910

.
Registered Office: Use 1st Formations' Central London address as your company's "Registered Office." Specify the new address where you want official mail delivered by filling out the "forwarding address" field (only those that cannot be scanned and emailed). 
Their location can also be the Company Address (where you will receive regular mail, not official). A business address is not required. You don't necessarily need a Business Address, but I highly recommend you purchase one; To put; this is part of the exclusive Prestige Package.
Appoint company shareholders, a director, and a person with significant control in your company's management.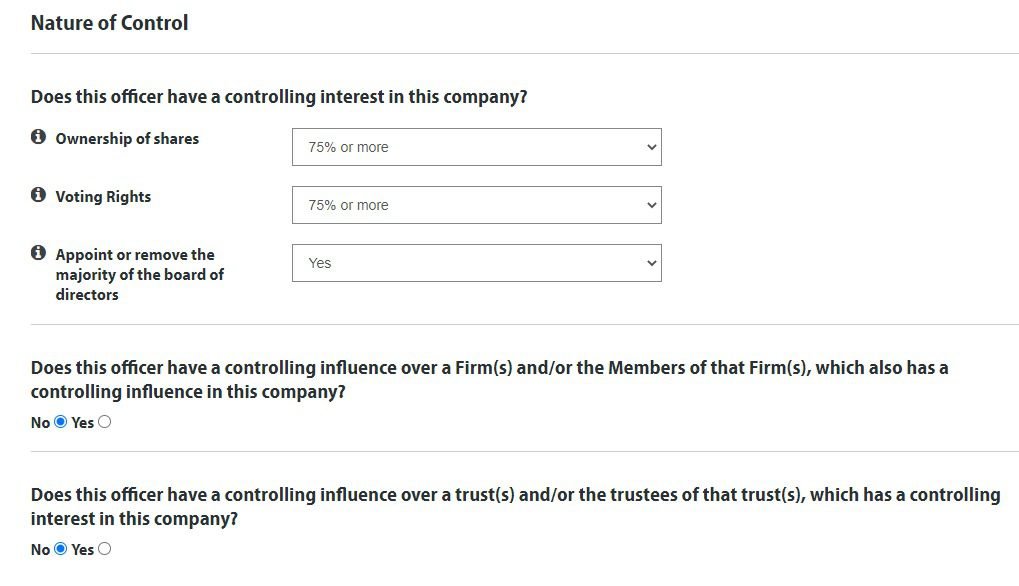 To form a company with just one person, click the "person" button, then check the boxes for the positions that person will hold (director, shareholder, and person with significant control), answer the final pop-up question, click "next," and finally click "select" next to "new officer.
"This is where you'll enter your contact information (name, date of birth, nationality, and occupation).
You can use the mail forwarding address or enter a new one for primary use.
The next step is to supply security information; this will function as your online signature.
The director's address (Service Address) must match 1st Formations' Central London address. The forwarding address for hard copies mail must also be specified.
Since a single individual is forming your company, you can ignore the other questions about the level of control other shareholders will have an answer "75% or more" anywhere that option appears. It would be best to leave "no" for the subsequent questions.
If you are the only shareholder, it makes no difference if there is one share or one hundred; you can leave stuff as they are.
Document delivery — You can select whether you want your paperwork sent via email and regular mail or digitally exclusively. In this case, I think it's best to pick "Go Green," but the decision is ultimately yours to make.
Addendum
Proof of address and Identify Verification through Credas mobile app and form submission may be required as an additional step in 1st Formations of ID verification.
Once approved, their staff will send you an email invitation with brief instructions on accessing and using the Credas App.
Using the App requires two pieces of identification, one of which must be a passport and the other a proof of address document issued within the last three months can be a utility bill of any nature or bank statement.
Your certificate of incorporation and other documents will be emailed to you once 1stFormations has approved your registration.
They will be mailed to the address you provided during registration. But you will also get soft copies via the email you provided.
What next…
After you have finished the 4 steps, your application to form a new company will be sent to Companies House for approval. Companies House is the UK's registrar of companies.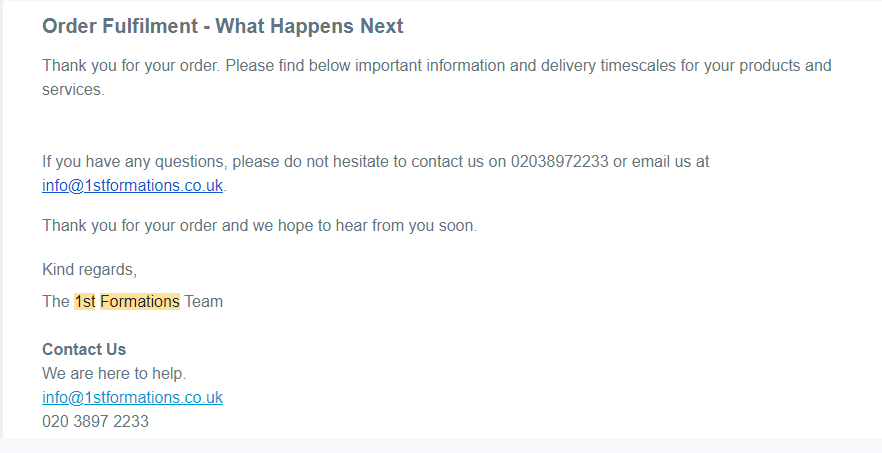 Processing times for applications submitted to Companies House range from three to six business hours; however, this time frame is not guaranteed and can vary depending on the volume of submissions received.
The company formation documentation, VAT invoice, and Webfiling Authentication Code will be emailed to you after the company has been incorporated.

With the prestige package, you get a free UK domain name, e.g., 'free.co.uk' domain name and 'UK Bank account, and other bonuses with your order.
Following the formation of your company, if you request the UK business bank account, you will receive an email with a link to the Wise Account, where you can begin the application process.
In addition, some financial institutions can open your Account in minutes. In contrast, others may take up to five days.
Prestige Package Features
So, what exactly is a prestige package, and why would you want to go with one?
The Prestige Package, available for the low price of £69.99 +VAT, is an incredible value and offers substantial savings over buying these items separately.
But you can get it at £62.99 with my unique link (click here for a 10% discount).
This package is all-inclusive, giving a limited liability company a private mailing address and a high-end public image.
Everything from a prestigious London address for your company's registered office and other official documents to a service address and a business address with mail forwarding and VAT registration is part of the package.
Particularly notable are the digital and printed company paperwork, VAT registration, and the use of one of three central London addresses (registered office, business address service, or service address).
Register for VAT?
By law, you must register for VAT if your company's turnover is expected to be over £85,000 in the next 12 months.
If your annual turnover is expected to be less than £85,000, you can voluntarily register for VAT.
Voluntary registration is something that some businesses do to improve their public image and to recoup the VAT they've already spent on things like equipment and costs.
Consider this if…
You need a discreet location for your company's registered office and service address, a prestigious mailing address in the heart of London's financial district, and access to a full suite of business services—including VAT registration—in Covent Garden.
Savings with this package?
It would cost you £344.99 if you bought everything in this bundle separately. As a result, you can save £275.00 by opting for the Prestige package and paying only £62.99.
What are the Annual renewal costs?
Costing £39 + VAT per year, the Registered Office Service must be renewed annually and costs £26.00 +VAT each year to maintain the Service Address.
You can keep your Business Address Service active for another year for £96.00 + VAT. It costs £44.99 +VAT to renew the Confirmation Statement Service per year.
Features
Sign-Up for Value-Added-Tax (use at any time);
Ready to Trade Company (Limited by Shares) with Registered Office in Covent Garden, London WC2; Printed Share Certificate(s);
Printed Certificate of Incorporation;
Printed and Bound Memorandum & Articles of Association;
Free Online Company Manager to Maintain Your Companies; Free Online & Telephone Support for the Life of Your Company; Free Business Bank Account (Optional); Free.com or.co.uk Domain Name; Free Filing of the First Confirmation Statement; Free Business (Subject to Companies House workload)
In that case, how long does it take to execute?
To a large extent, this is consistent across the various company formation services. Because everything hinges on how quickly Companies House processes applications.
However, the 1st Formations review discovered that the company has a direct interface to Companies House, which sped up the process. Within a day, most new businesses will be up and running.
Is it Value for Money?
When working with 1st Formations, you won't have to worry about any surprises with their outlay because they are always listed upfront. Affordable packages start at just £12.99 and go up to £165.99. You'll need to account for value-added tax and the stated price.
1st Formations Feedbacks
When registering a company online, 1st Formations has repeatedly been shown to be the quickest and most straightforward option. Customer service is responsive and helpful over the phone, or the 'Chat with us' pop-up on their homepage. They are available 24/7!
Customers have rated 1st Formations 5 stars because of how easy and pleasant their experience was. We promised a simple and fast method of forming a company, and we delivered. A+ work for a very fair price.
Customers said they would recommend and support 1st Formations Limited in any matter involving Companies House in the United Kingdom of Great Britain and Northern Ireland, despite the company's severe KYC (Know your customer) requirements.
The cutting edge
There are many advantages to using 1st Formations; here is a preview of the perks available to 1st Formations' users. 
Senior and experienced team members answer calls from customers within 7 seconds, 99 out of 100 times.
Partners of the company's caliber are also found all around the globe (including Lloyds Bank, Tide, Barclays Bank, and Amazon Business).
Everything is done online, and if you have any questions or concerns, much support is available.
Final Thoughts
When you need help registering a UK limited company as a non-resident, 1st Formations is here to help. Yes, foreigners are permitted to set up a company in the UK. 
You must have a UK mailing address, but it's optional to reside in the UK.
So if you plan to have employees, you must obtain employers' liability insurance and possibly additional policies of insurance as well.
For example, a tax accountant can help you determine what you owe and when to file your taxes.
We recognize the transparency regarding fees (no one appreciates being surprised by hidden costs). Still, the bill may quickly add up when you factor in VAT and other features.
However, 1st Formations' prestige package is value for money.
The company is highly regarded in its industry and provides exceptional customer service.
However, we can see why many customers prefer this agency when setting up a limited liability company.
At this point, is it fair to ask So, Is 1stFormations Legit?
According to our review, 1st Formations is a reliable company formation agent in the UK and one of the best. That is supported by the thousands of favorable reviews they have received on platforms like Google and Trustpilot.
FAQs
Why should I go for the prestige package?
It's a package that includes a prestigious prestige address in a discreet location, perfect for a limited private company.
A prestigious London address for your company's registered office, a service address, a business address with mail forwarding, VAT registration, and the initial confirmation statement are all part of our package.
How do you register an LLC in the UK?
Forming a limited liability company requires minimal effort. Each shareholder must have at least one issued share, a registered office, and a minimum of one director (who can also be a shareholder).
You don't have to sign anything or submit any paperwork. The online form will only take you 5 minutes to complete. After that, your company should be prepared to go in three to six hours.
Do you need to register for VAT?
Companies are required by law to register for VAT if their annual revenue is projected to be more than £85,000.
You can register for VAT voluntarily if your expected annual turnover is less than £85,000.
Some companies register voluntarily to recoup VAT on capital purchases and operational costs and improve their public profile.
A 12-month Cancellation Protection?
Suppose you inform 1stFormations within the first year after forming your company that you no longer require it. In that case, they will shut it down immediately.
This product significantly discounts our typically priced Company Dissolution Service of £69.99.